Dubbed "Challenger 2," this twin-Hemi-powered streamliner holds the certified record run as the fastest naturally aspirated, piston-powered vehicle in history—an automotive milestone that was 50 years in the making.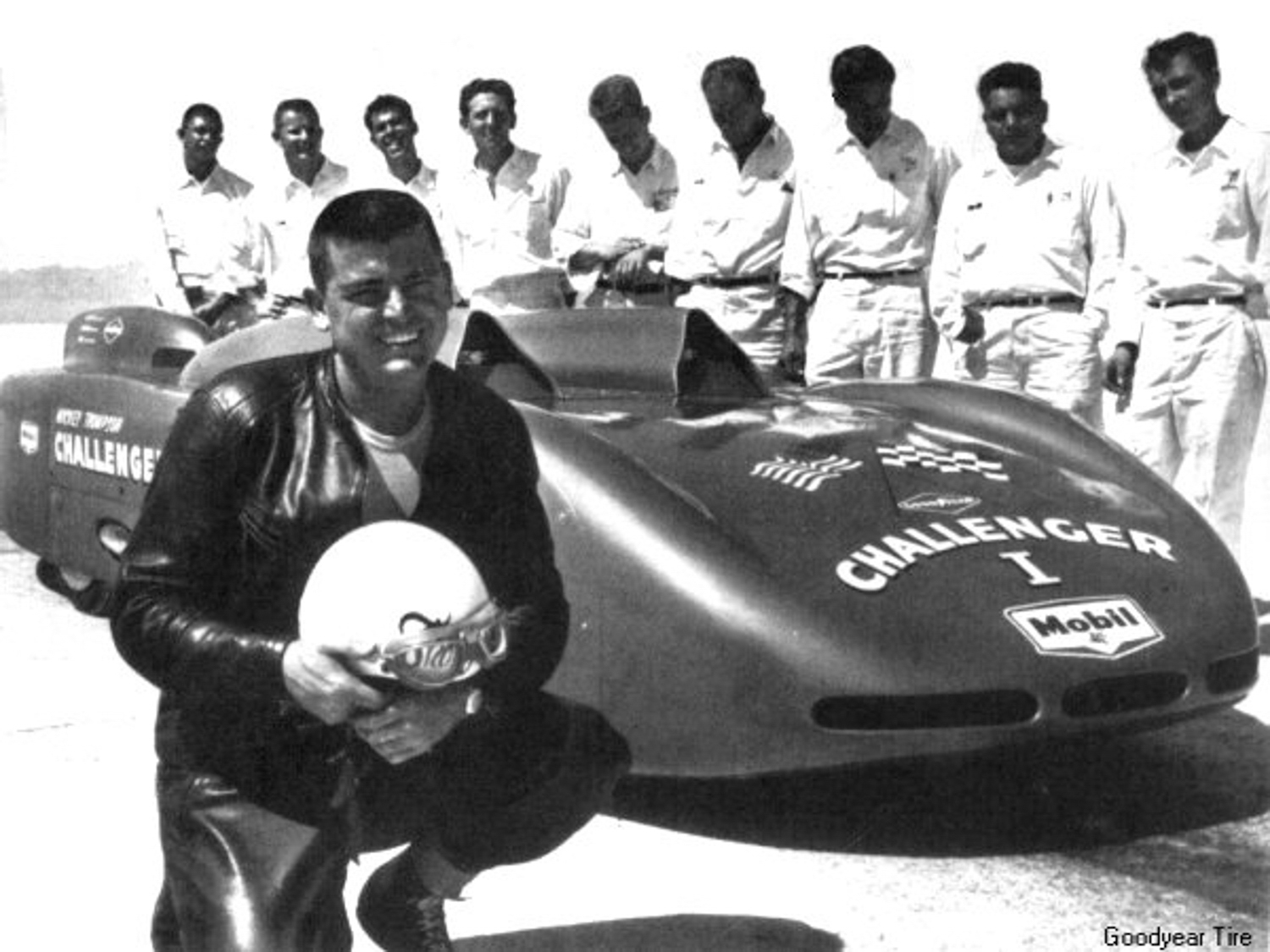 Designed and built by Hall of Fame driver, self-made engineer and prolific promoter Mickey Thompson in collaboration with Kar Kraft of Brighton, Michigan, Challenger 2 was Thompson's second land speed car intended to break the overall piston record. In 1960, Thompson had become the first American to break the 400 MPH barrier, piloting his Challenger 1 streamliner to 406.60 MPH at Bonneville to exceed Englishman John Cobb's one-way record of 402 MPH. Unfortunately, the car broke on its return run, robbing Thompson of the coveted two-way record, but it ultimately set the stage for his next attempt.
That came in 1968, when Thompson returned to the famed Salt Flats with the Challenger 2, which was originally christened the "Mickey Thompson Autolite Special." In contrast to the somewhat heavy-handed approach taken in the four-engined, Pontiac-powered Challenger 1, Thompson's new creation was a tour-de-force of elegant engineering, described by "Sports Illustrated" at the time as "a rolling textbook in sophisticated automotive design."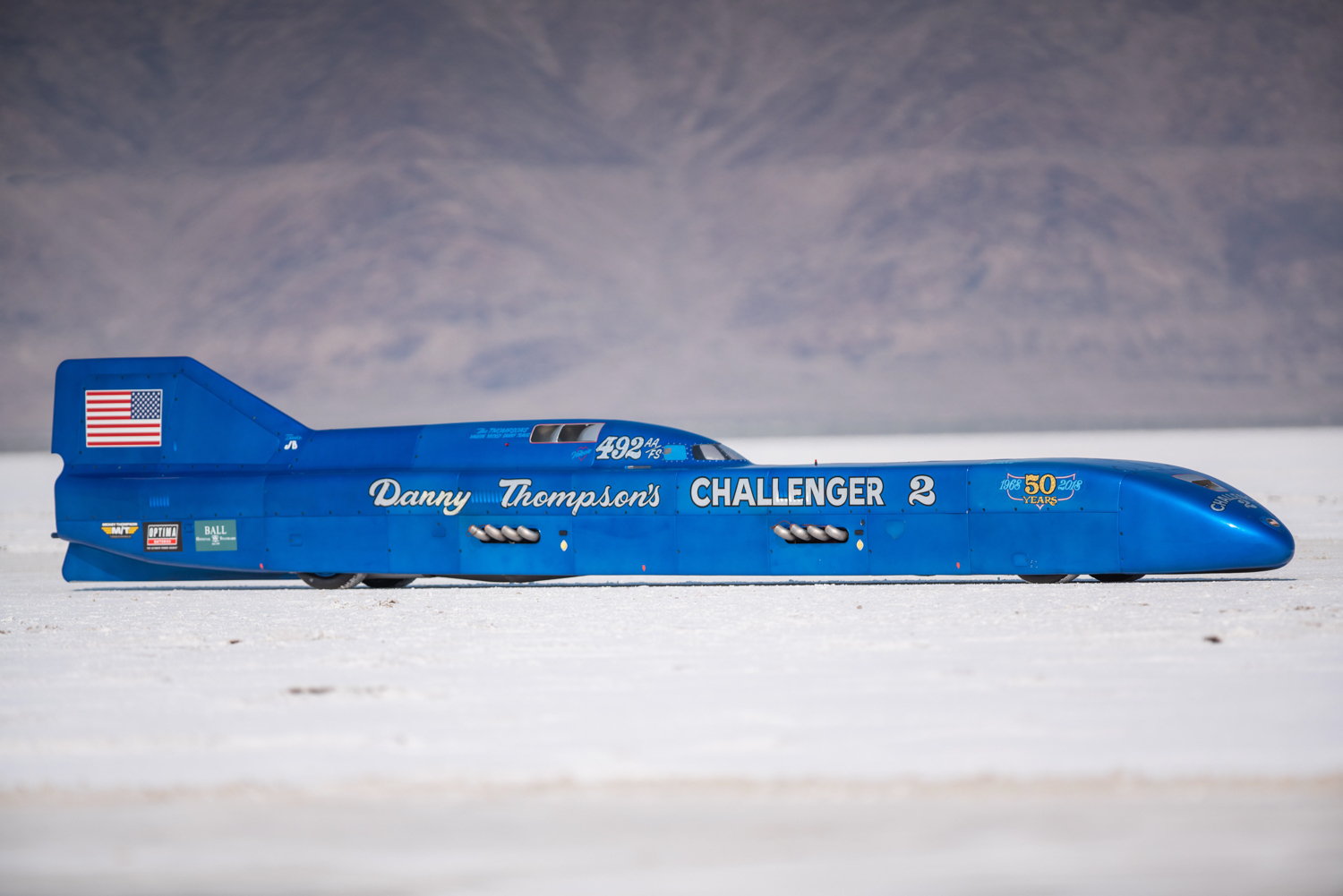 With financing and engineering input from Ford, Thompson hand assembled an all-star team of California Hot Rodding and racing talents to handle the job. Drag racer and fabricator Pat Foster managed the project, and famed IndyCar constructor Quinn Epperly built a portion of the chassis in his shop with the remainder completed by the team at MT Advanced Engineering. Meanwhile, Tom Jobe of "Surfers" Top Fuel dragster fame and the ubiquitous Nye Frank massaged the aluminum panels used to form the car's slippery envelope, with assistance from the talented Louie Teckenoff.
The completed streamliner's first tests at Bonneville showed great promise. Thompson initially drove it to approximately 365 MPH, eventually reaching a terminal speed in excess of 400 MPH, but rain flooded the dry lakebed, preventing another record attempt. Ford subsequently pulled its sponsorship, Thompson moved on to other racing activities, and the quest for a new record was abandoned.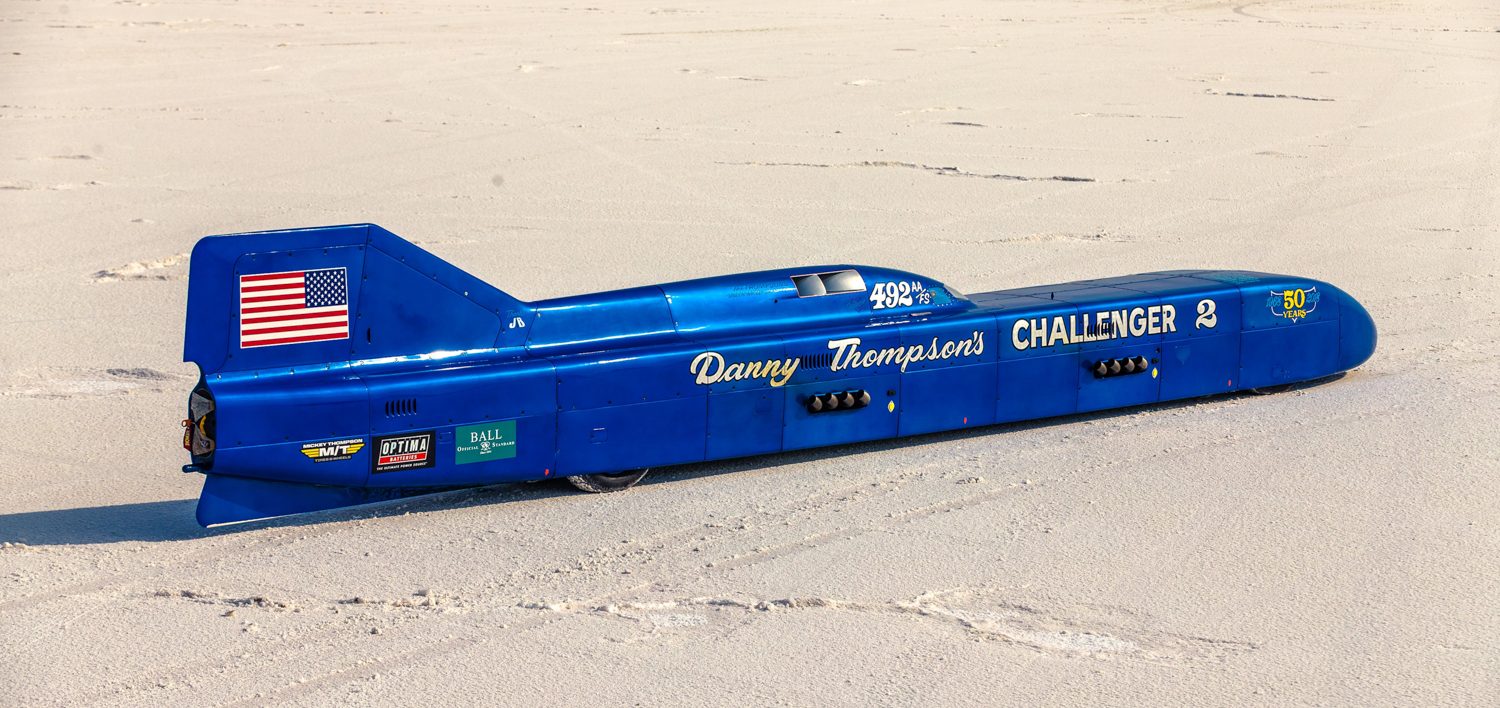 Having already retired from racing, Mickey and his son Danny pulled the car from storage 20 years later with plans for another record attempt, but tragedy struck; on March 16, 1988, Mickey and his wife, Trudy, were murdered in front of their home in Bradbury, California, and their grieving son placed the car and the rest of his father's racing memorabilia into storage for another two decades.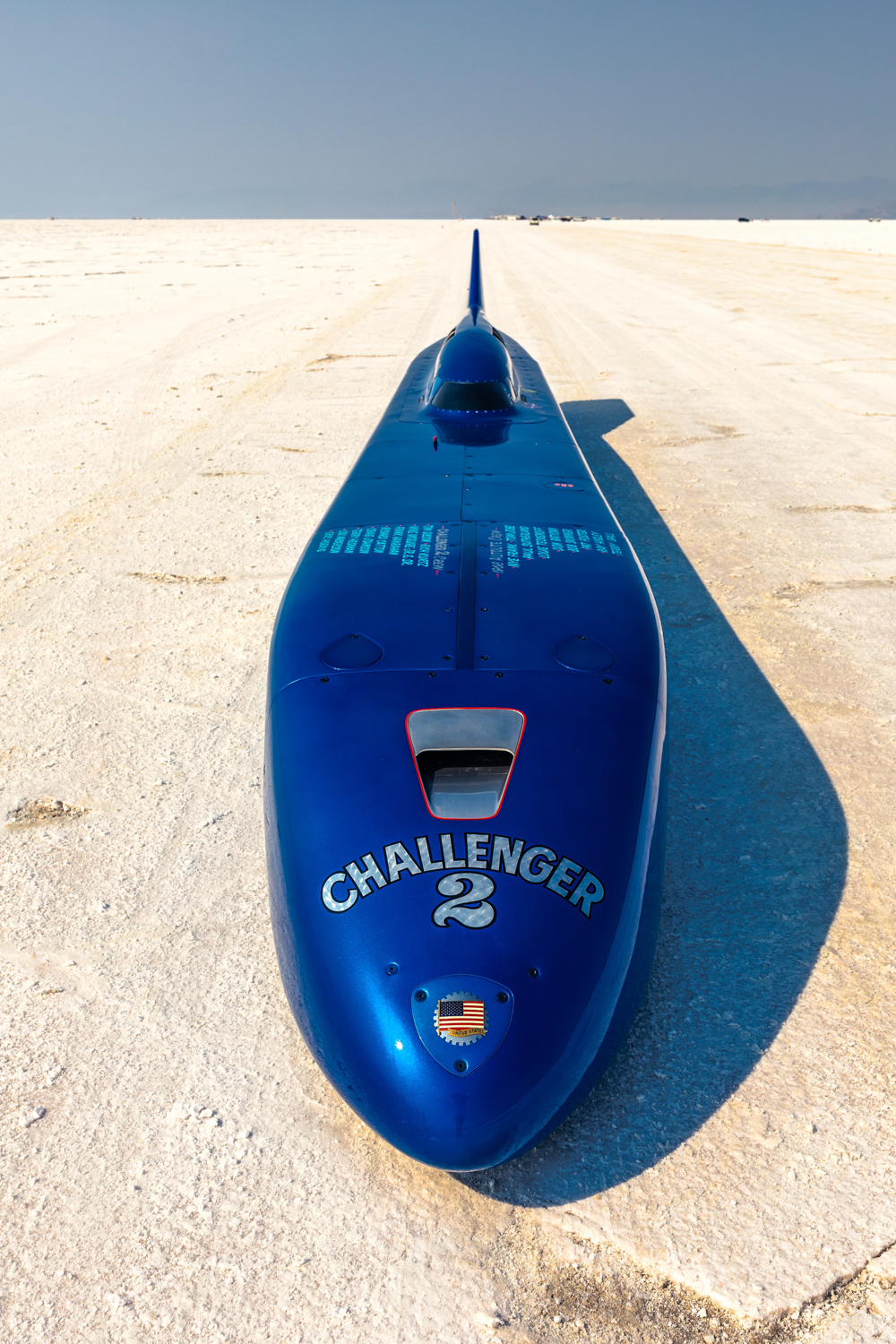 But Danny never lost sight of the dream he shared with his father, and on the 50th anniversary of the original 406 MPH run, he took the wraps off Challenger 2 and moved it to his Huntington Beach, California, shop to facilitate its resurrection, during which he restored, retrofitted and updated the car to meet contemporary SCTA (Southern California Timing Association) requirements.
The basic machine remained unchanged; fully 32 feet in length, it is just 36 inches wide and 37 inches high at the canopy. Its 4130 chrome-moly steel tube chassis is cloaked in 68 lightweight hand-formed aluminum panels affixed by Dzus fasteners, yet it stills weighs in at a mighty 5,800 pounds.
Beneath the repainted aluminum envelope, Danny and his team executed a plethora of upgrades. The two Ford 427 SOHC engines that originally powered the car were replaced with twin Brad Anderson 500 CI dry-block, A-fuel-type Hemi V-8 engines, each driving one set of wheels and running on a brew of 87% nitromethane and 13% methanol through Accufab throttle bodies, more than doubling the original output from a combined 1,800 HP to 5,000 HP. Twin 3-speed gear boxes connect the engines through two Top Fuel triple-disk clutches, two B&J Big Boy 3-speed transmissions, two Hadley Box belt-drive engine connectors and two specially manufactured extreme heavy-duty magnesium quick-change differentials.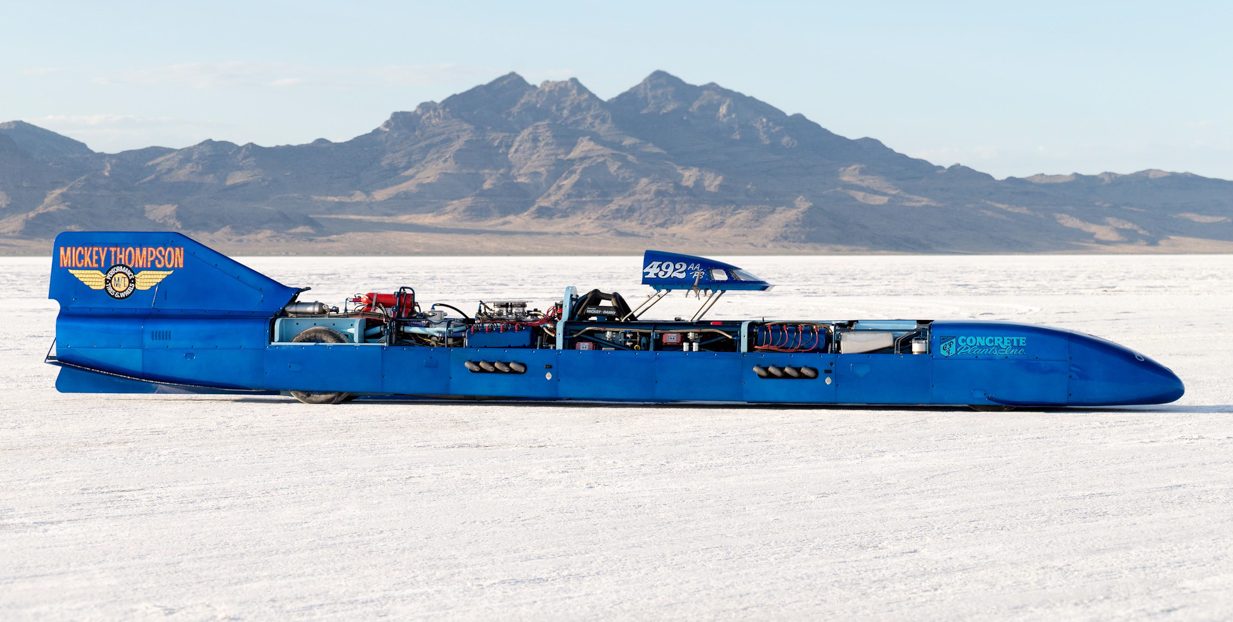 Suspension design is by Kar Kraft with a one-off set of ultra-high speed shock absorbers from King, while the rolling stock is a combination of SK Specialties billet 2024-T351 aluminum wheels fitted with Mickey Thompson Bonneville LSR tires with 1/32-inch rubber/prototype nylon weave/banded steel reinforcements to withstand the tremendous centrifugal loads of 400-plus MPH speeds. New engine mounts, cockpit driver controls, fresh air tanks, steering-wheel-mounted air shifters and a three-bottle fire suppression system were added along with a new steering system. Four carbon-ceramic disc brakes and dual 400 MPH-rated parachutes with 4-foot blossoms ensure safe, sure stops.
On August 12, 2018, Danny Thompson drove the resurrected Challenger 2 to a new SCTA AA/Fuel Streamliner record of 448.757 MPH, vindicating his father's faith in the streamliner and closing the circle on a 50-year quest to return the Thompson family name to the top of the Bonneville record books.
Now the Thompson family's historic Challenger 2 will be offered for sale at Mecum's Annual Kissimmee auction January 2–12. For more information visit www.mecum.com