It was "California dreaming" for Peter and Zoe Lovett when they crossed the San Francisco finish line as overall winners of the Endurance Rally Association's Trans-America Challenge—their second long distance rally win this year.
Competing in their 1973 Porsche 911T for the 22-day rally across Canada and the United States, the Lovett's also won the inaugural Road to Mandalay Rally back in February behind the wheel of a different Porsche.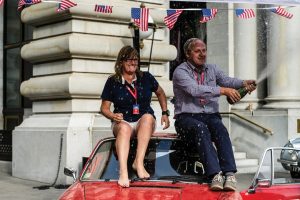 The pair had been hot on the wheels of the longtime leaders Phil Garratt and Kieron Brown in a 1977 Triumph Stag, constantly in the top three since the first day. But when the Stag had mechanical problems on day 17, the Lovett's took the top spot and finished with an overall total of 0:09:07.
In 2nd place was Paul and Sandra Merryweather in the 1974 Mercedes 450 SL on 0:10:05, with Philip and Yvonne Haslam in the 1954 Jaguar XK120 DHC right behind them in 3rd place with 0:10:11.
The 1927 Bentley 4½ Le Mans of Martin and Olivia Hunt won the Vintageant Class, while there were also class wins for Marco Halter and Claudia Engelhardt in their 1963 Ford Falcon Coupe, and David and Jo Roberts in a 1968 Triumph TR250.
Two special "Spirit of the Rally" awards were presented during the prizegiving at the iconic Fairmont Hotel. The first went to Malaysia's Hok Kiang Sia and Eric Kuan Rong Sia who had battled through the rally in their 1934 Rolls Royce Phantom II, the biggest car on the event.
The second went to Richard Martin and Travis Cole who started the rally in a 1936 Alvis Speed 25 but ended up on a recovery truck on the first day. After a few days in a rental car, the crew purchased an unprepared Datsun 240z in Duluth and then set about having parts and spares delivered to each hotel they stayed at to create a rally car by the end of the event!
Around 40 vintage and classic cars arrived at the San Francisco finish line of the Endurance Rally Association's second Trans-America Challenge, having crossed 15 states and travelled almost 6,000 miles by its end.
To find out more about the ERA's events, visit www.endurorally.com.