With Porsche as the featured marque for the 36th Monterey Historic Automobile Races, attendees were treated to a broad variety of machinery from the Stuttgart concern that comprised nearly a third of the 450 total entries for the event. Porsche brought a number of cars from its museum to supplement the private entries, and a number of drivers with prominent Porsche histories were also on hand.
This group included Big Three Enduro winners Derek Bell, Hurley Haywood, Gijs van Lennep, Jürgen Barth, Brian Redman, Vic Elford, Kevin Buckler, and David Donohue. Other Porsche pilots of note who took some part of the festivities included George Follmer, David Piper, John Morton, and Bruce Leven. Sir Stirling Moss—in a Lola Mk1—headed the non-Porsche contingent, joined by Dick Guldstrand, Howden Ganley, Pete Lovely, Peter Brock, and Desiré Wilson, among many others.
A pair of recently departed "Porsche People," Bob Carlson and Bob Snodgrass, were honored with a Porsche Race Car Parade. Carlson's quarter century with Porsche public relations earned him and the marque many friends across the sport, while Snodgrass's efforts as leader of Porsche stalwart Brumos Racing enhanced the brand's standing in the North American marketplace. The front row of the parade featured historic Brumos machines handled by Haywood and Donohue in a side-by-side tribute.
Event sponsor Rolex once again erected its big-top tent in the paddock to house its "Moments in Time" tribute to the sport. Featured this year were famous endurance racers such as the Le Mans-winning Ford GT40 chassis 1075 that remains the only car to win the race consecutively, having turned the trick in 1968 and '69. Also on display was the Porsche 908LH that chased the Ford home in '69 in the closest nonstaged finish in event history. Also on hand was the Porsche 936 that won Le Mans in 1977, a Porsche 917K and Ferrari 512S that fought for the World Championship of Makes in 1970, and a McLaren M20-Chevrolet, the last of the almighty McLaren machines that dominated the Can-Am.
Another special moment came from Briton Peter Clark who brought the Porsche 356 (right) with which he contested the Carrera Panamericana in 1953, flying the car from London to San Francisco and then driving it down to the circuit. He earned the prize for Best Presentation and Performance for his efforts.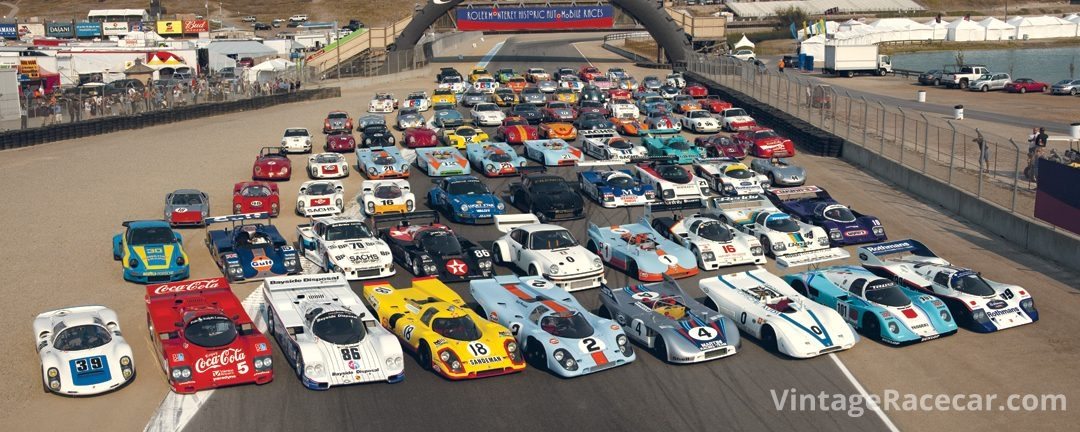 The event once again drew a massive crowd to Mazda Raceway Laguna Seca, but was the last to be run under the guidance of founder Steve Earle's General Racing Ltd. Next year's 37th renewal will be held on August 13-15, organized by SCRAMP, Sports Car Racing Association of the Monterey Peninsula, the organization that originally built the circuit and oversees it to this day.