Attorney, collector and racer, Dr. Christian Zschocke, who lives in Frankfurt, Germany, is passionate about the E3 BMW, often referred to as the "Bavaria." Dr. Zschocke has created a collection of very special E3 BMW "Wundercars" four of which were sent to the Seattle Car show in November 2022. The following weekend these cars were put on display for BMW Club members at BMW of Seattle. Dr. Zschocke introduced the cars with local noted collector, Pete Gleeson who graciously stored them between the two events. Dr. Zschocke spoke about the concept behind each car, its use, configuration and specification, as well signing books and models that were purchased at the presentation. An incredibly generous man, Dr. Zschocke flew to Seattle from Frankfurt on Saturday to make the presentation Sunday morning and then returned home Sunday afternoon! He was in the air something like 22 of 48 hours!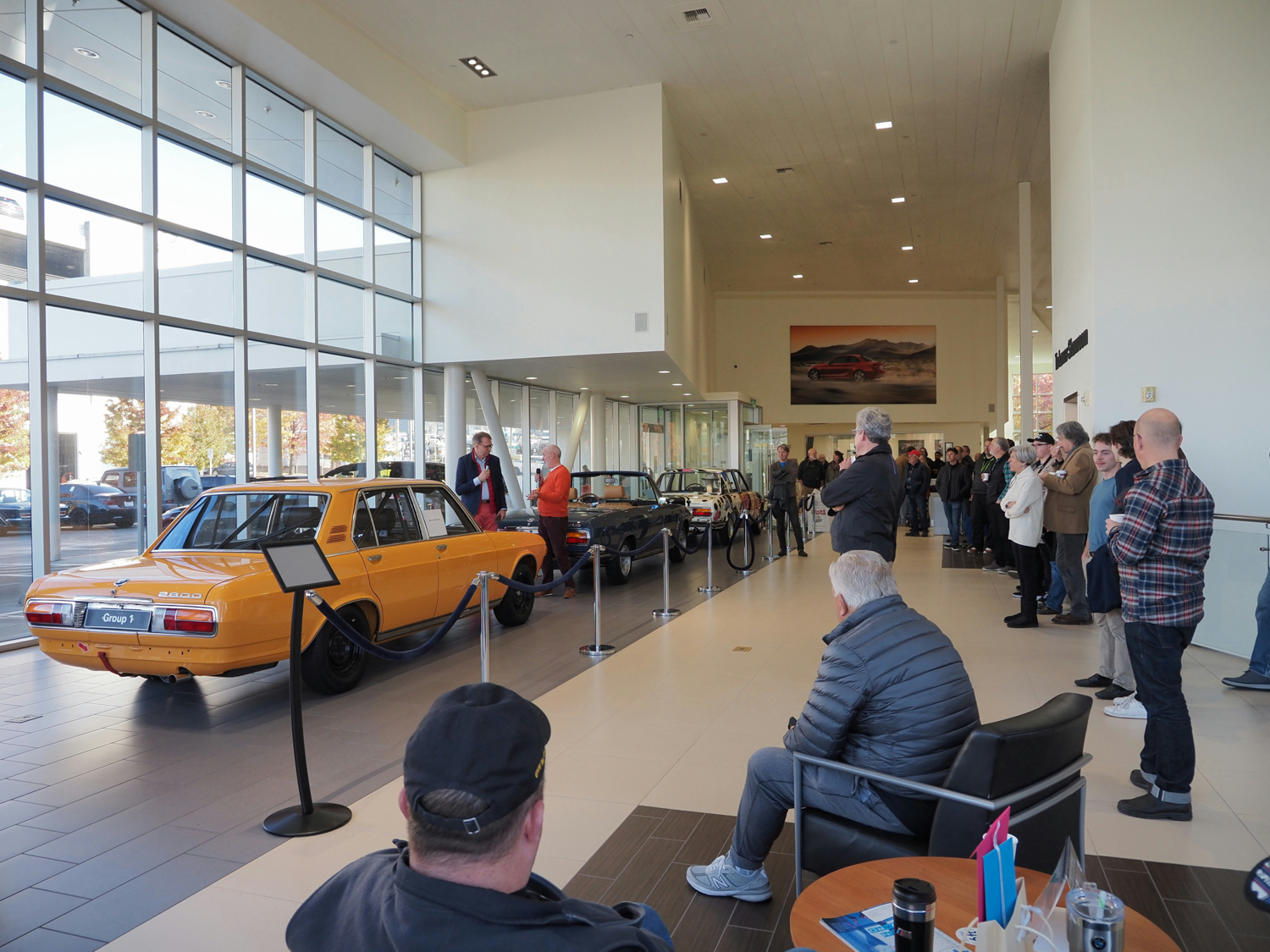 Dr. Zschocke explained the purpose behind the creation of these special cars is to promote the theme "New Horizons" based on events of the late 1960s (1969 in particular) to inspire people to try new and great things and to tackle the future challenges of humanity. He chose the E3 as his subject because it was with this car model that BMW rose to challenge the highly competitive large sedan segment of the automobile market, where they previously had not enjoyed success.  

All four cars (and a fifth car under construction, a shooting brake) are based on the BMW E3 sedan platform. Dr. Zschocke envisioned each car and commissioned a variety of specialty automotive craft vendors, a legendary automotive designer, and a highly regarded German artist to design and build them.
The Inka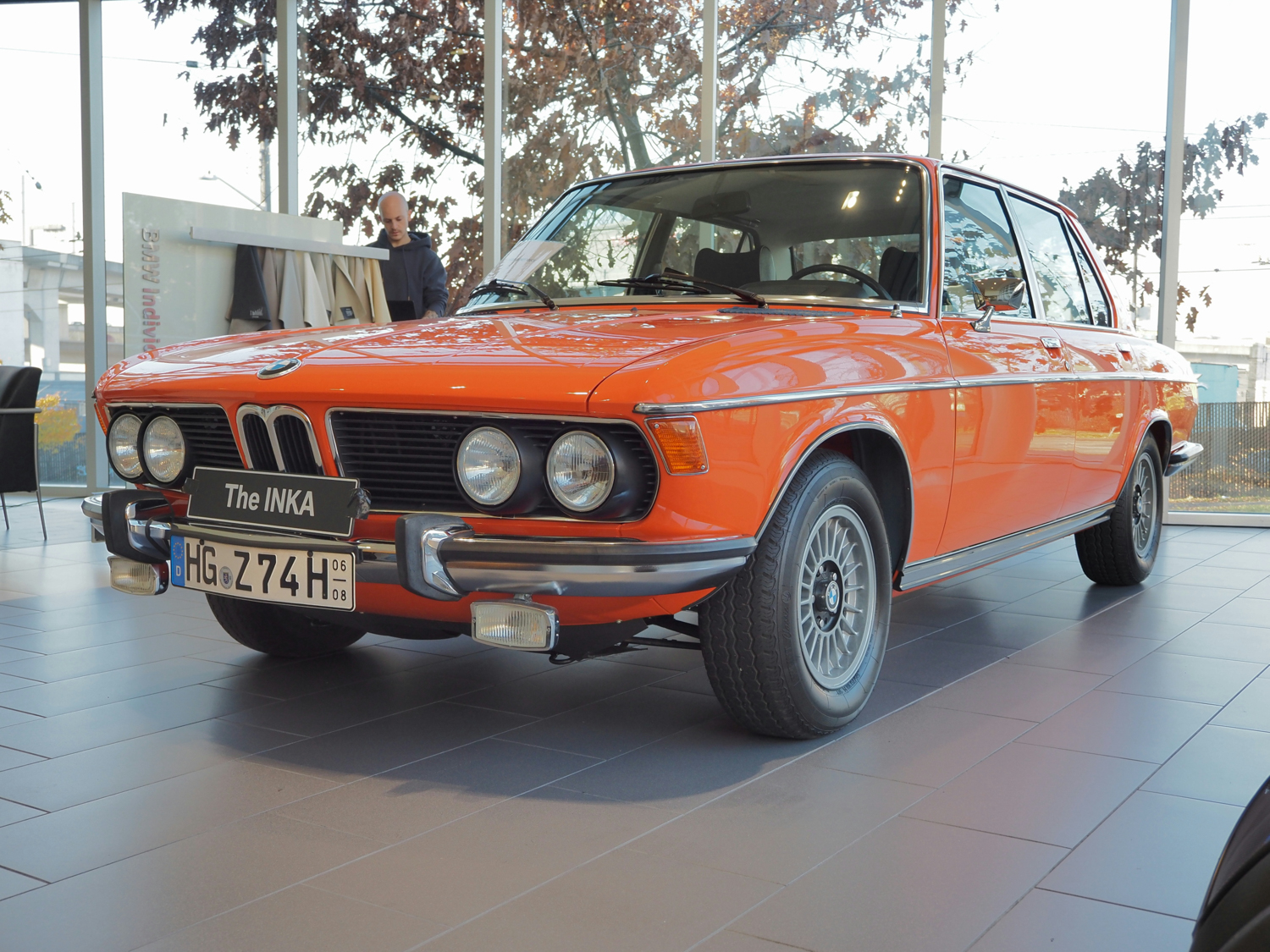 A completely stock 3.0-liter car painted a bold orange "inka", licensed for driving on the street.
Group 1 2800 Race Car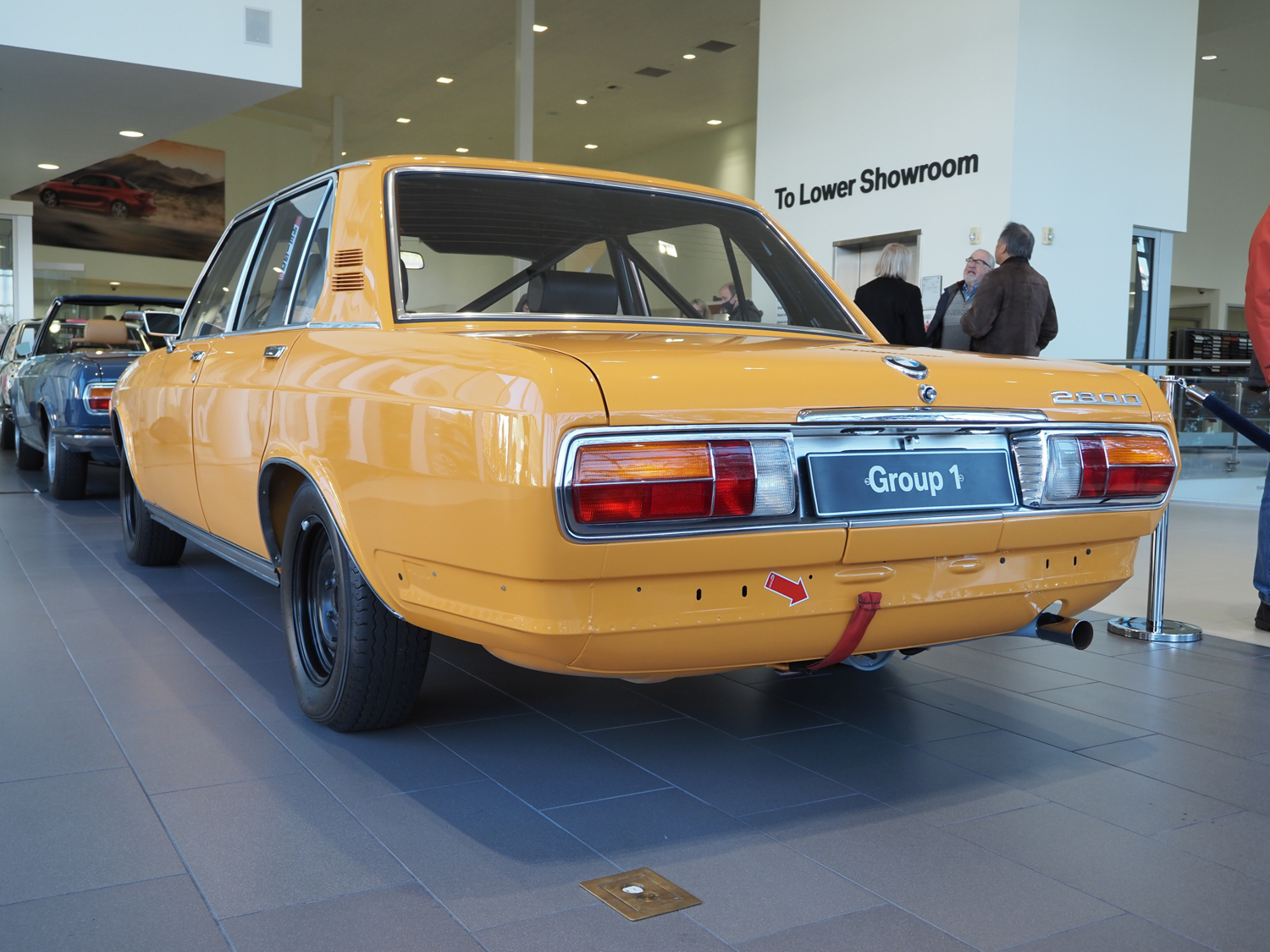 This is the car with which Dr. Zschocke is proud to say he beats some Porsches in rallies and hill climbs, including a recent class win at a mountain race in St. Moritz, Switzerland. This car has been made competitive by optimizing the power of the legendary M60 six-cylinder engine and installing a 3.0 CSL differential and transmission gears. The longer wheelbase and better balance of the E3 offsets the Porsche's rear-engine installation behind the axles, enabling Dr. Zschocke to compete with them, in the rain especially, where the 911 becomes so difficult to drive without spinning. It is the only Wundercar with a modified engine and drivetrain. Dr. Zschocke races the car with original 1969 stamped steel wheels. These wheels will not win a beauty contest, but are the lightest wheels he can bolt to the car. Racing pur.
The California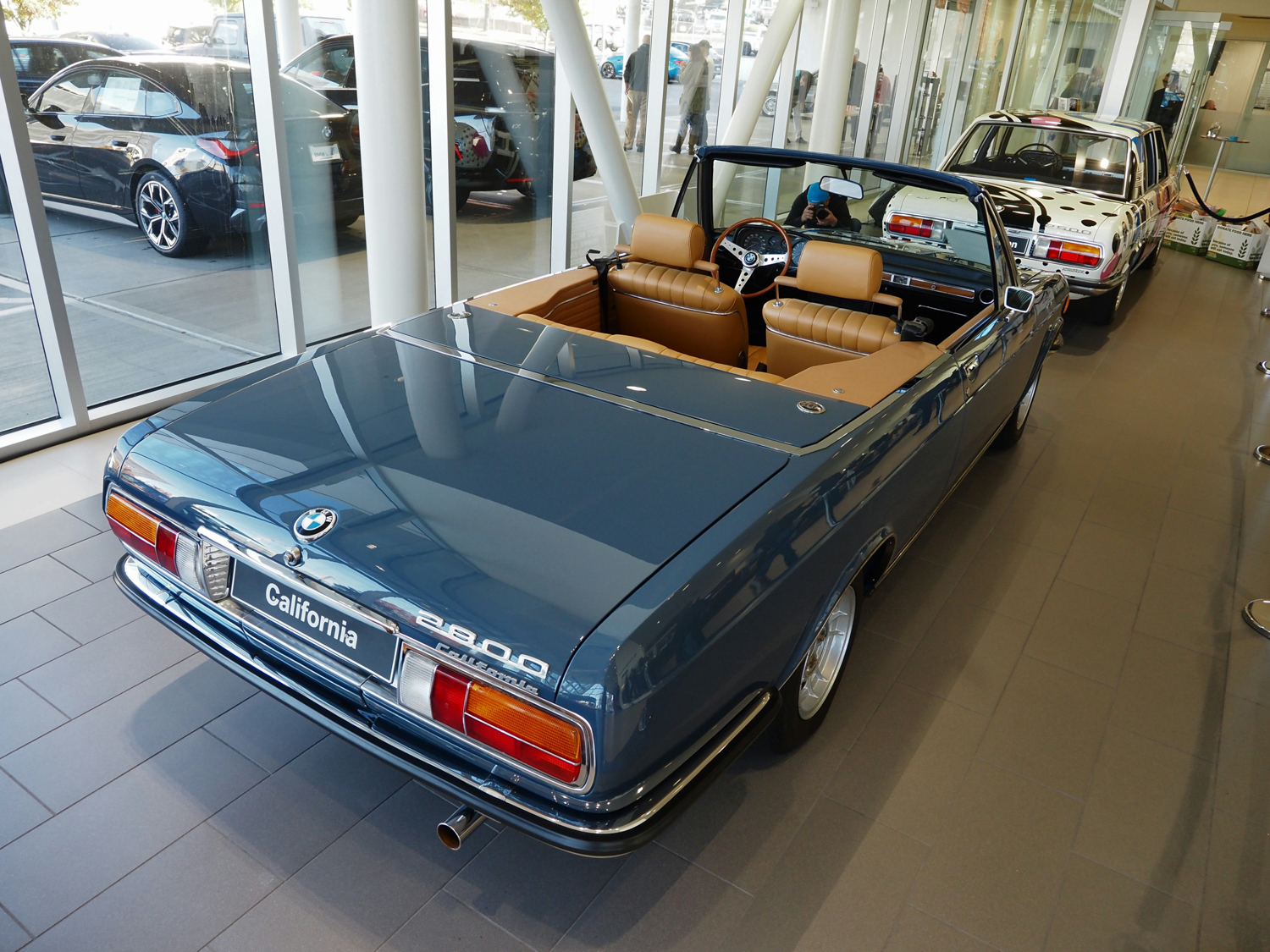 This is truly a one-of-one car in an absolutely beautiful color combination built to the highest quality concours standard. This car, Dr. Zschocke explained, while appearing simple, took several years to build. It is double rare because BMW never made a two-door open version of the E3. This car began life as an E3 4-door sedan. Conversion to two-door roadster was accomplished by lengthening the front doors and adding a unique lockable storage compartment behind the rear seats. It looks like a long wheelbase two-door convertible with a functional back seat. Why didn't BMW think of that? But "California" is not a convertible. Dr. Zschocke explains it has no top at all, neither hard nor soft because he says California is the beautiful weather state where a proper California car has no top and does not need one because; "It never rains in California".
The New Horizon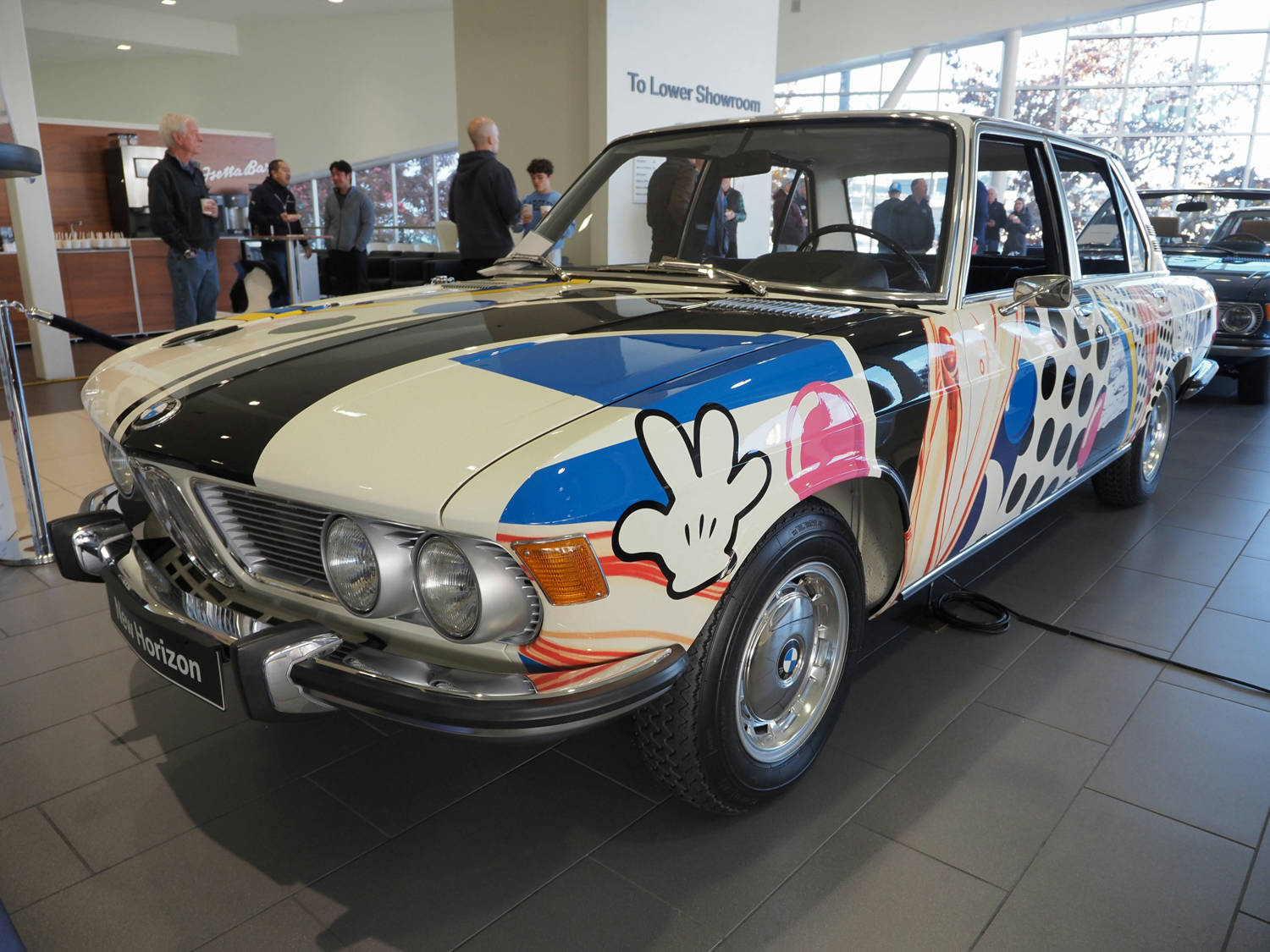 The car which epitomizes the theme for which it is named is a stock E3 with custom paint. The theme harkens back to events of the year 1969 and the late 1960s. Man walks on the moon. Jimmy Hendricks rocks the Monterey Pop Festival (1967). Who has to explain Woodstock? The Pink Panther becomes a cartoon. Andy Warhol and Pop Art. The Concorde. Famous German artist, Heiner Meyer designed and Walter Maurer painted it all on "New Horizon".
Fly, Baby. Fly.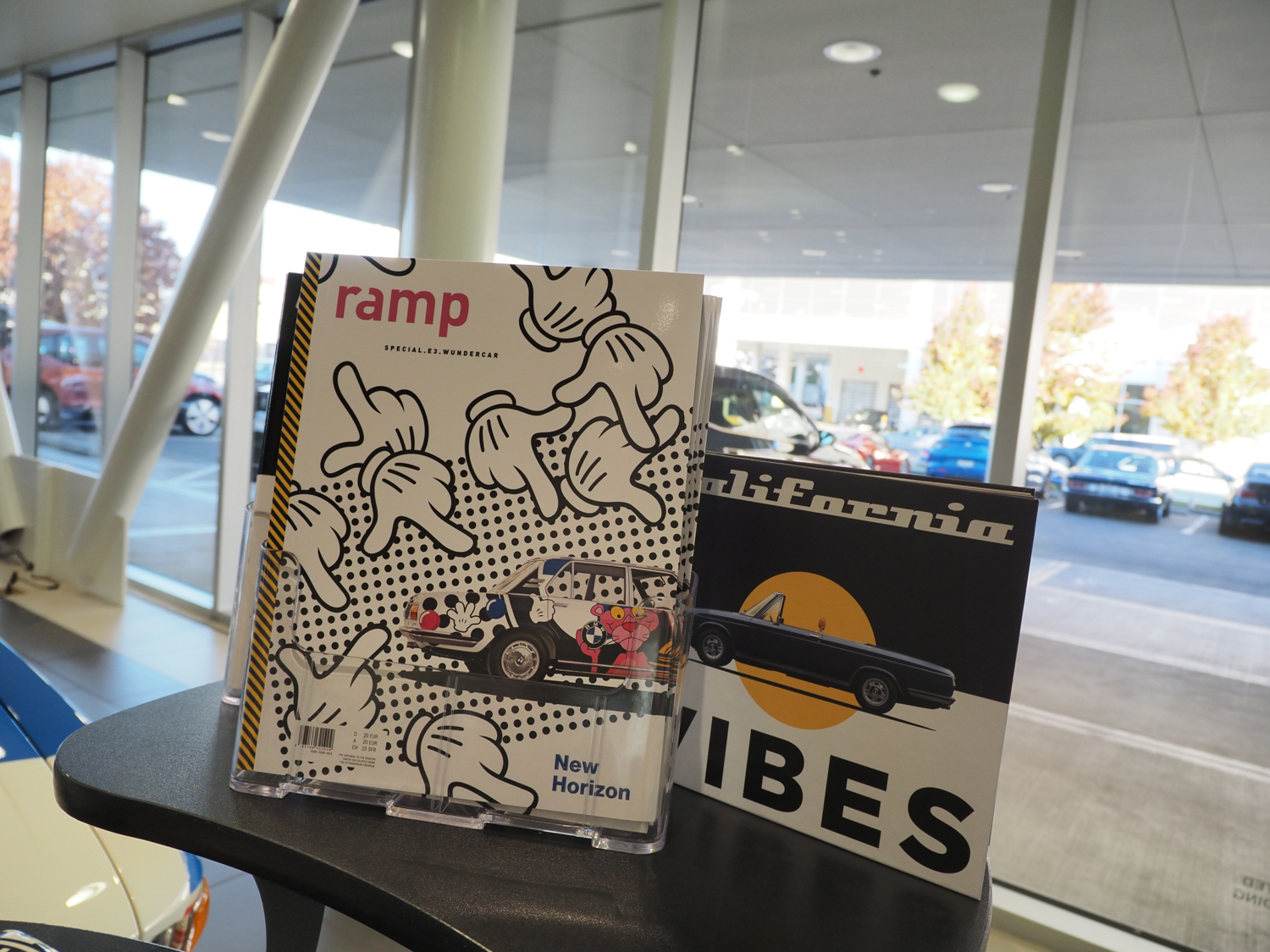 The cars have been out for display before. This is the first time all four completed cars have been in public showing together in the US. They have become famous during their international exhibition tour.
A 1:18 and a 1:43 model car of New Horizon can be purchased from Minichamps. There are books and magazines available of the collection.
Anyone interested in more information including videos can visit the sites below.
For the Wundercar Collection:  www.e3-wundercar.de
For the New Horizon Art Car Project: E3-wundercar.com)