Jaguar had entered three XK120s for the 1950 Le Mans race and while two cars finished 12th, and 15th respectively, the third, which retired with clutch failure, had been running as high as 2nd at one point. These results encouraged a purpose-built car for the following year, the C-type. Using the same engine and front suspension principles as the XK120, the C-type utilized a multitubular space frame with the rear axle located by trailing links. The mechanicals were clothed in a slippery, lightweight, aluminum body.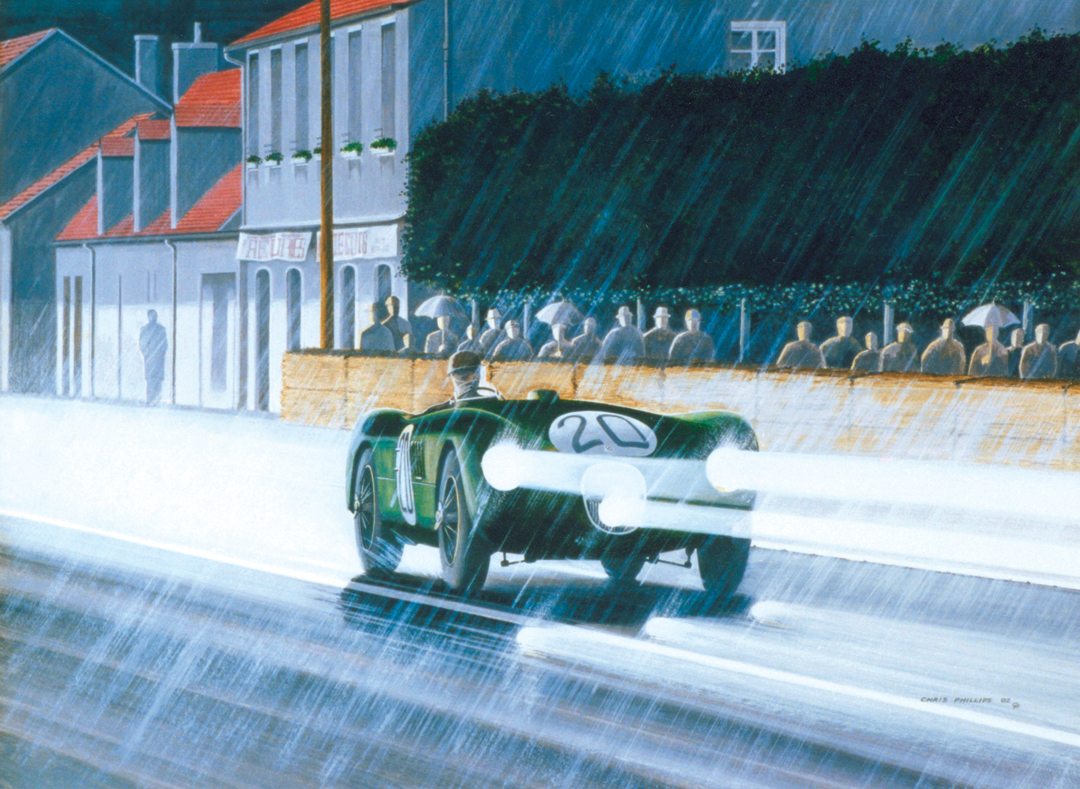 A team of three cars was entered for 1951 with the driver pairings composed of Stirling Moss/Jack Fairman, Peter Walker/Peter Whitehead and Leslie Johnson/Clemente Biondetti. Moss was given the role of the hare and effectively broke the opposition, even lapping his teammate, Walker, but the satisfaction of seeing the new cars running one, two and three was not to last. Loss of oil pressure felled Biondetti first and the same fault claimed Moss around midnight. The remaining car of Walker/Whitehead, with instructions to run at slightly reduced revs, soldiered on to victory.
The winning car is depicted accelerating up the early stages of the Mulsanne straight through the pouring rain, with Peter Walker driving.
For commissions, originals and prints, contact:
Chris Phillips, (905) 648-0329, or see more of his artwork at www.racing-art.com