Mecum's 32nd Original Spring Classic auction was another pronounced success with overall sales totals reaching an all-time Indy-auction high at more than $70.4 million. With a consignment list steeped in headline-worthy cars, the auction saw a total of 1,189 vehicles hammer sold May 14-19 at the Indiana State Fairgrounds in Indianapolis. Sales were topped by two Shelby Cobra Roadsters from the Steven Juliano Estate Collection that sold for $2.86 million and $2.42 million, respectively, with the top-six-selling vehicles at the auction all exceeding the million-dollar mark and five of the top 10 cars boasting ties to the Juliano legacy.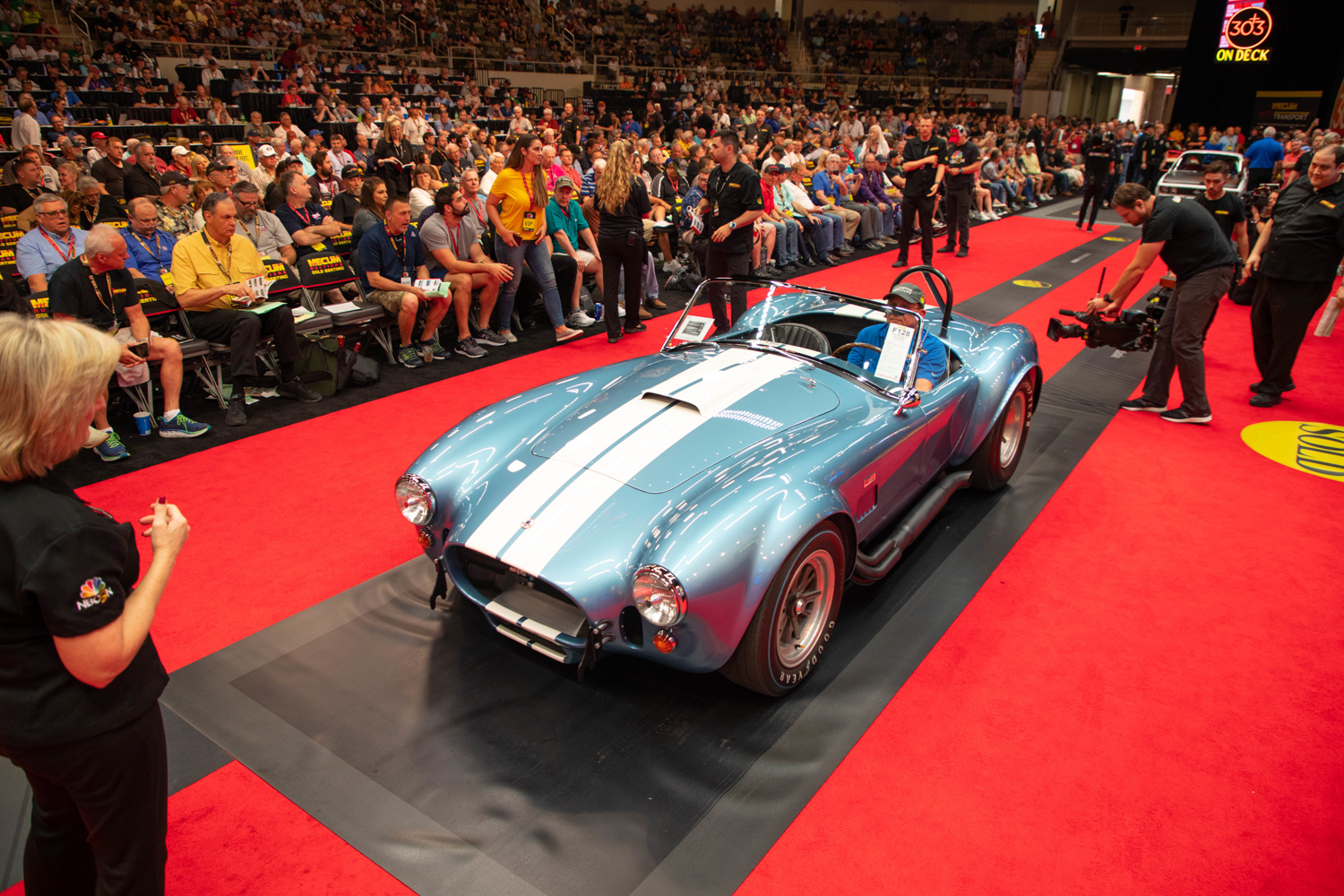 The celebrated collection of the late Steven Juliano undeniably dominated the Indianapolis auction with both his car and his Road Art collections highlighting the six-day event. His 1967 Shelby 427 S/C Cobra Roadster took top sales honors followed closely by his 1966 Shelby 427 Cobra Roadster, and the1964 Shelby 289 Cobra Roadster, 1971 Plymouth Cuda Convertible and 1970 Dodge Hemi Challenger R/T Sunroof in the top 10 were all previously owned by Juliano as well. The selection of Rapid Transit Caravan vehicles in the Juliano collection proved extremely desirable with the 1971 Plymouth Road Runner bringing $236,500, the 1970 Plymouth Duster selling for $264,000 and the '70 Hemi Road Runner demanding a total of $341,000. A unique 1969 Plymouth Barracuda Mod Top was another from the Juliano estate that sold well, bringing a whopping $440,000. Even Juliano's display engines sold for hearty sums with prices for the two Hemi engines and the 440 6-BBL engine ranging from $159,300 to $218,500. In total, the more than 1,000 vehicles that sold in Indianapolis reached $66.7 million overall.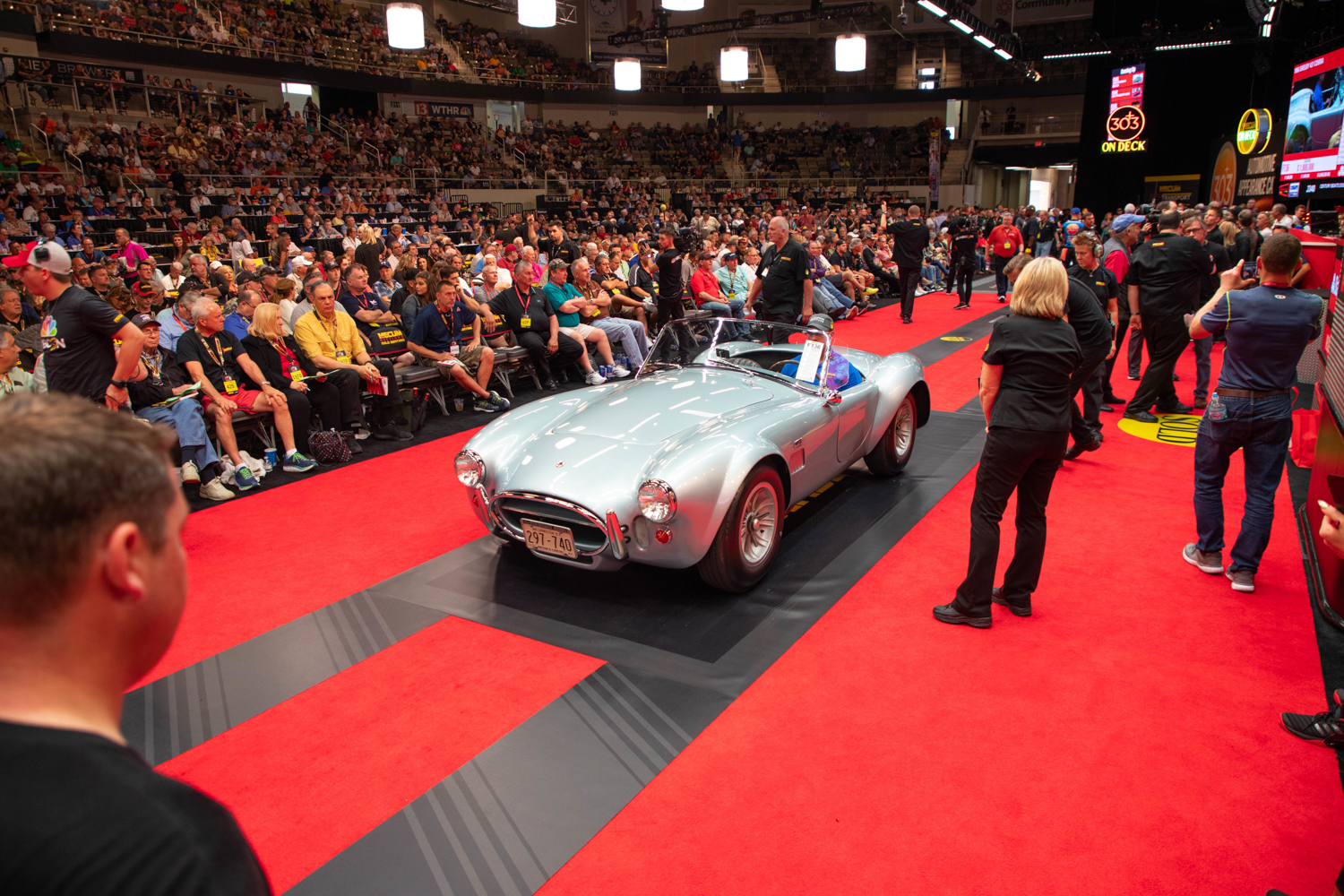 Similar to his cars, Julianos more than 2,500 lots of Road Art seemed to take over the Indy event in scope while inducing an almost tangible wave of excitement among collectors. Featuring mainly 60s- and 70s-era Mopar promotional materials as well as Shelby and Ford collectibles, the massive assemblage was offered both live at the Indianapolis auction and online via Mecums all-new timed web-based auction platform, Mecum On Time. A 1950s Ford Dealer Crest that hung at the historic Floyd Rice Ford Dealership located in downtown Detroit before joining Juliano's private collection sold for an impressive $55,460, and a full-size outdoor billboard featuring the 1970 Dodge Challenger brought an amazing $44,840. Between live-auction Road Art offerings and Mecum On Time sales, Indianapolis Road Art totals reached $3.73 million overall.
The complete top 10 collector-car sales at the Mecum Indy 2019 auction include:
1967 Shelby 427 S/C Cobra Roadster (Lot F128) at $2,860,000
1966 Shelby 427 Cobra Roadster (Lot F136) at $2,420,000
2015 Porsche 918 Spyder Weissach (Lot S155) at $1,980,000
1970 Plymouth Hemi Cuda Convertible (Lot F120) at $1,980,000
1964 Shelby 289 Cobra Roadster (Lot F132) at $1,760,000
1971 Plymouth Cuda Convertible (Lot F142) at $1,155,000
1970 Dodge Hemi Challenger R/T Sunroof (Lot F143) at $660,000
1969 Dodge Hemi Daytona (Lot F177) at $577,500
1940 Crocker 'Big Tank' Big Twin (Lot S124.1) at $550,000
2016 Norwood 330 P4 Replica (Lot S252) at $467,500