1954 Chrysler Ghia GS1
When Bob Frumpkin drove up in his 1954 Chrysler Ghia GS1 Special, at the Marina in Santa Monica, California, where we had agreed to meet, office workers and the boatyard crew came out to have a look. Several of them took out their cell phones and grabbed snapshots, stepping in front of Vintage Roadcar photographer David Gooley to do so. It didn't take long for us to realize we needed a more secluded spot for our photo shoot. We decided to head to another location, so Bob tossed me the keys.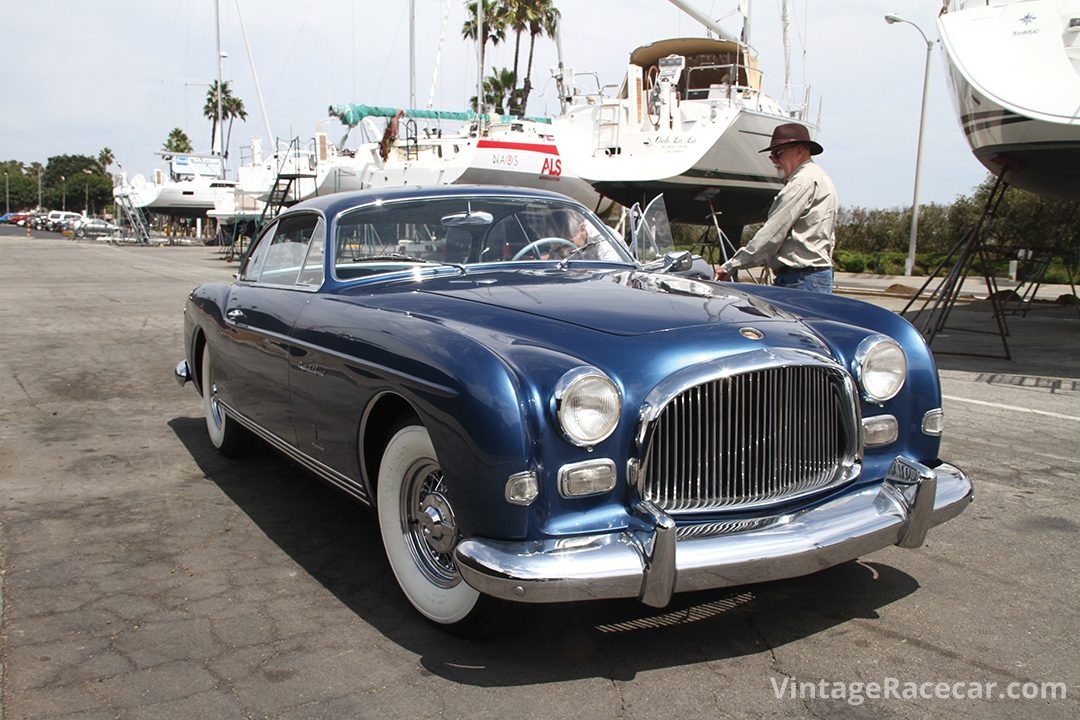 I open the big, broad driver's side door and climb into the low bucket seat. I give the key a twist and the engine comes to life instantly. It is then I realize that under this stunningly beautiful Italian/American bodywork beats the stout heart of a Chrysler New Yorker. And, in 1954, that would have been the best of both worlds. Chrysler was known for great engineering, and the Italians have been the designers of the world since Roman times.
There is no Park on the PowerFlite two-speed automatic transmission for 1954. It didn't exist when this car was built, so to achieve the same thing you put the car in reverse when you shut it off. I pull the shift lever into Drive and we wheel out onto the highway. The big 331-cubic-inch Hemi V8 gets us up to speed in no time. The feel of the car is smooth, powerful, soft and luxurious. It is a New Yorker after all.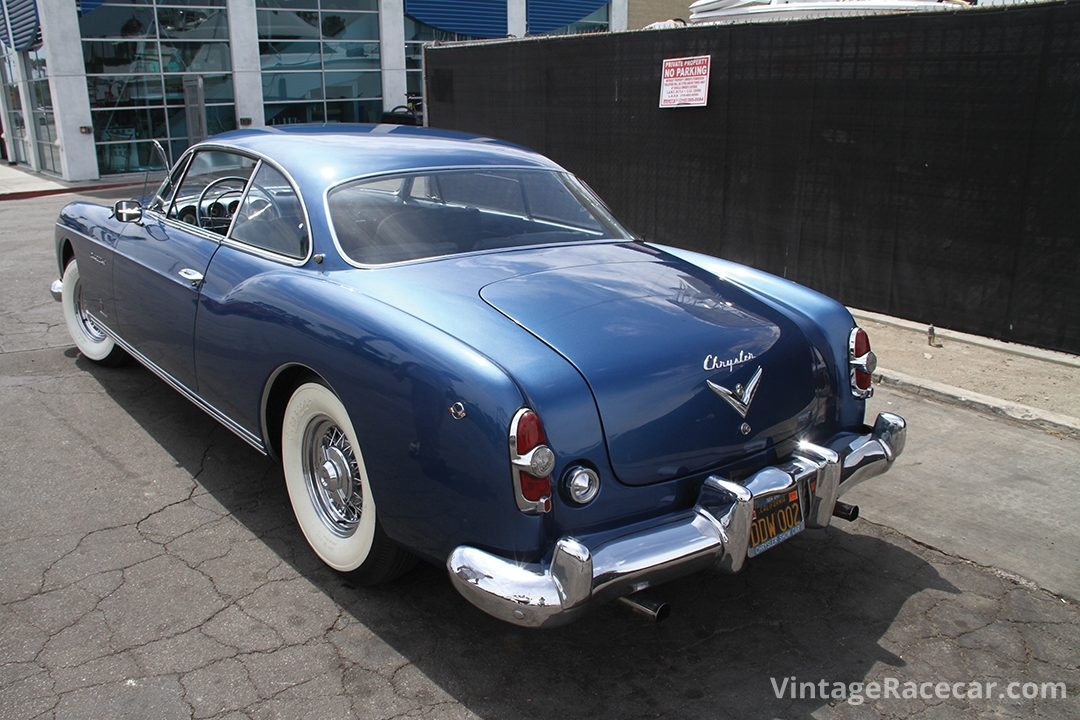 The bucket seats are low, sumptuous and contoured, unlike the living room sofa bench seats that were standard in the Chryslers of the period. The standard New Yorker upright bench seat did allow three abreast seating though, and that might have been convenient for a family, but for just two people up front this is as good as it gets.
I can't resist putting my foot in it, and the big Hemi kicks into action with a subtle but powerful rumble and puts me back into the seat. We are beyond the legal limit almost instantly and I tap the power brakes to get us back down to what the law will allow.
The steering is eerie. It is as if the steering wheel is not attached to anything. No effort is required to turn the wheel, and at first I tend to over-steer. Braking is excellent too, with almost touchy power brakes, even though the car is equipped with drums at all four corners, as was typical of the time. This is a lady's car in that it is almost effortless to drive and stunningly elegant, but a man can hold his head high while driving it too, because it looks so sporty.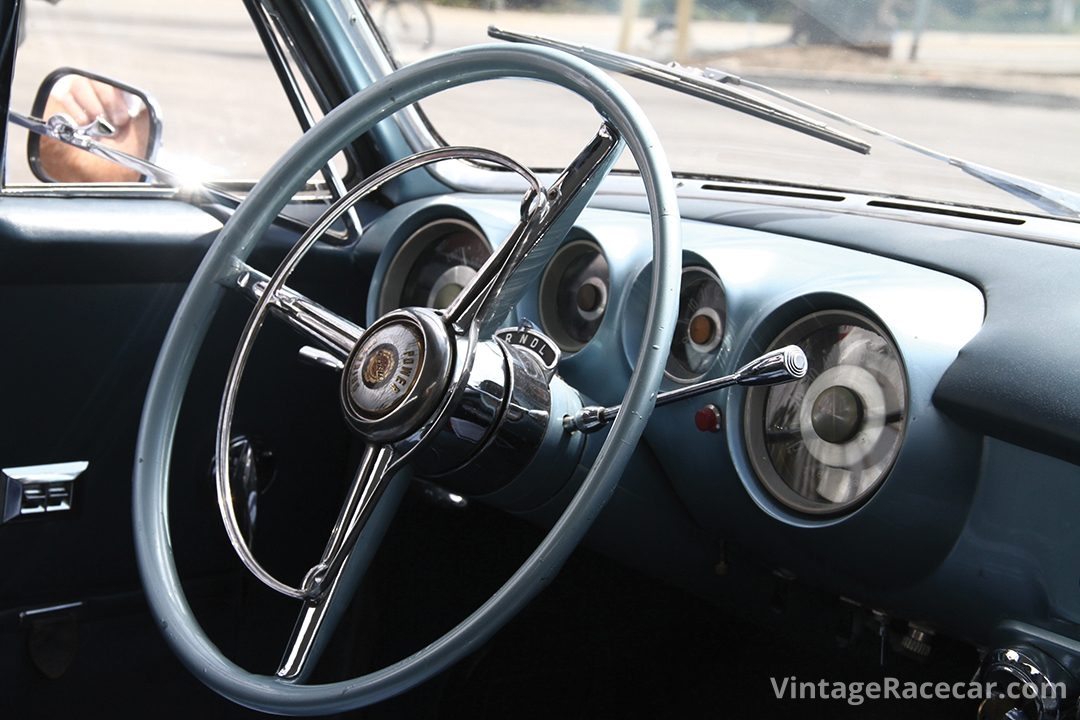 The Ghia corners with little body lean, and I assume it is because of the low center of gravity and lighter weight of the Ghia body. A sports car it is not, with its 125.5 wheelbase, but it is no mastodon either, unlike most of the high-end cars of the era. Instead it is a luxurious high performance touring car that will take you anywhere you want to go in comfort and, especially, style. There is no maintaining a discrete profile in it though, because people smile, stare and wave while you drive along, and if you stop you will be questioned and photographed.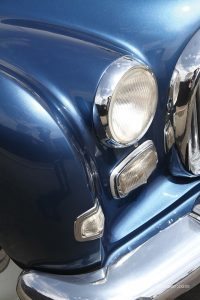 So how did this dream machine come to be in the first place? It all began indirectly, decades earlier, with the Chrysler Airflow in 1934. The Airflow was an engineering marvel of the time because Walter P. Chrysler had hired some of the best engineers of the day to work for him and they determined that aerodynamics was the way to go. The result of their efforts was a car that looked like a gigantic VW Beetle in its coupe manifestation. It was a wonderful machine that drove and handled like a modern car; but its looks were radical at the time.
America was not ready for it, even though the Europeans and the Japanese loved it and copied it throughout the 1930s. The Volkswagen Beetle, the 1937 Peugeot 302 and the 1935 Toyota A1 all knocked it off unapologetically. Nevertheless, in the States, the Airflow was a commercial failure. Chrysler was so stung by this that their styling became stodgy, square and behind the curve for the next decade. As a result, the design department atrophied when compared to GM and Ford in the early '50s.
The Mopar products of the day were tall and boxy because management decided that a gentleman should be able to wear his fedora while driving. However, when the post-war seller's market had largely run its course and the other carmakers were offering new models that looked more exciting and contemporary, Chrysler realized they needed to do something fast if they were to maintain their place in the market.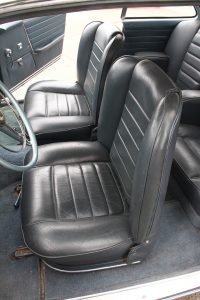 That is when they hired Virgil Exner, who worked for Raymond Loewy at the time, and had been instrumental in designing the radical 1947 Starlite Coupe, but got no credit for it. When Exner arrived at Chrysler, he discovered that they had virtually no design facilities, so he came up with the idea to take the styling department overseas to Italy. He knew show cars could be fashioned in Italy for a fraction of the cost of setting up a suitable design studio, and in the process he would be able to learn from the Italian masters.
It was after seeing the XX500 Plymouth concept car created by Luigi Segre at Ghia to promote their design studios back in 1950, that Exner got the bright idea to farm his "Idea Car" projects out to Italy. However, later when he got to Turin, he was taken aback by Ghia's facilities. It was basically a big barn, and out in front were several tree stumps shaped to be used as bucks for metal shaping.
In 1952, Exner had sent a plaster model of what he had in mind for the specials to Ghia, but by the time it arrived it was in pieces. However, he also sent drawings, from which Ghia was able to make a full size wooden buck for shaping the body panels. He also discovered that the workmen at the shop were mainly very young local men from the street who had learned how to shape approximately ten-inch square panels of sheet metal to be welded together to make the body panels.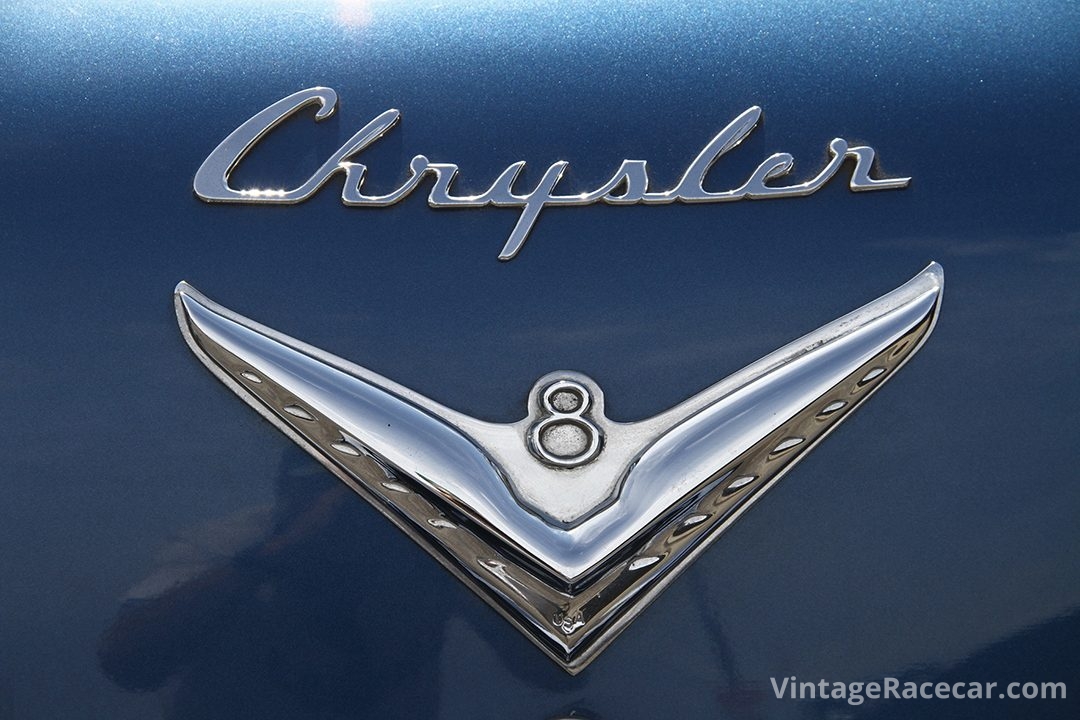 Though unbelievably primitive by American standards, their work—and Ghia's and Exner's design flair—resulted in some beautiful cars. Chrysler's concept cars were unlike those of the big three in that they were actually intended to go into production, albeit on a very limited scale. As a result, several "dream car" specials were built in the early '50s, all on the same theme, but none of which could interchange panels with the others. "Even the glass from car to car is unique," says Bob Frumkin.
It was around that time that Frumpkin fell in love with the Ghias as a kid in New Jersey, when he went to local Chrysler dealership with his dad. "My father was a big Chrysler guy, and I bought into it. Especially after seeing the illustrations of the Ghia specials on display. They didn't have the Specials at the dealership, but the pictures alone were enough to make me vow to own one someday. And now I have had several and still love them." Bob is a man of rather expensive tastes. The few Ghias that come up for auction fetch well over half a million these days, and rightly so.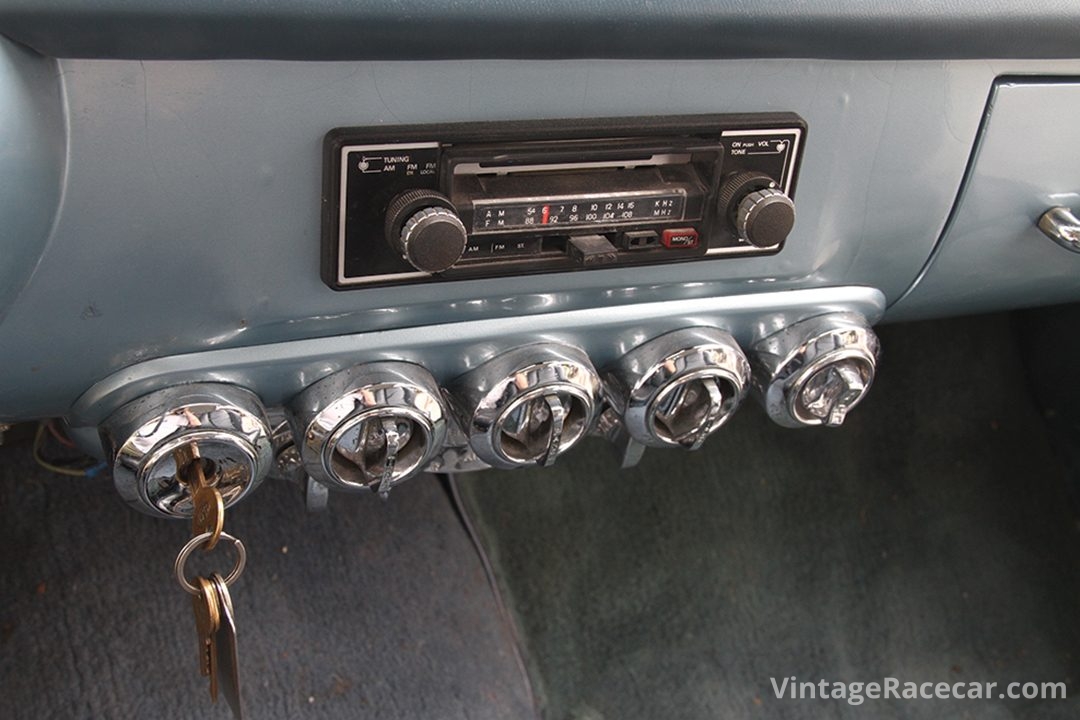 Chrysler shipped a New Yorker Chassis to Turin, and Ghia worked their magic. High, radiused fenders instead of the envelope look with fender skirts typical of the day, made the car look leaner and sportier. Sensuously curved glass, low hood line and a paucity of ornamentation made the cars look classically elegant. The large trapezoidal grilles of the Specials hinted at what was under the hood too.
A few modifications were necessary to drop the hood line, such as adding special fittings on the power steering pump and a special low-profile air filter, but the rest of the car is pretty much standard New Yorker running gear with its 331-cubic-inch Hemi V8 pumping out 235 horsepower, PowerFlite transmission and sturdy well engineered conventional Chrysler chassis.
Exner and Ghia's design work affected Chrysler styling for years to come, and had an even longer-lasting influence with the Karman Ghia, which debuted soon after Frumpkin's Special was built, and lasted until 1976. It had the same low profile, sweeping hood and deck lines and fender dips as the Chryslers, and was one of the most imported cars of all time in the United States. Unfortunately, Ghia never got paid for their design work according to their last CEO.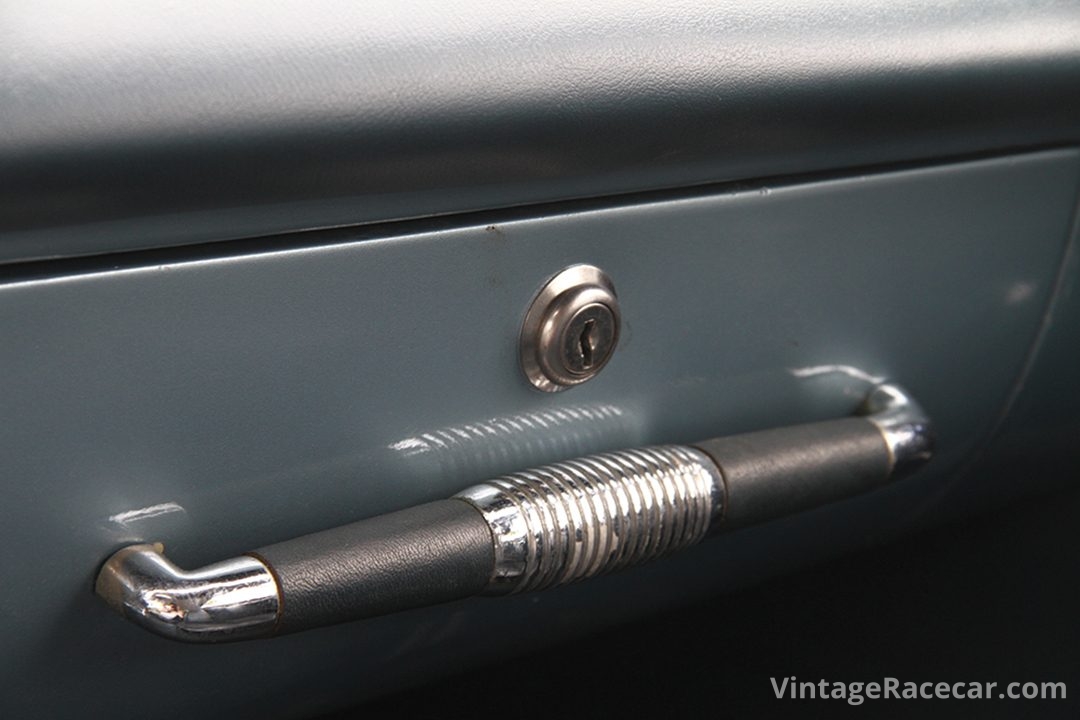 Ghia and Exner later went on to design and build the magnificent Dual Ghias of 1956-1958, which were also stunning one-off machines built on Dodge chassis that sold for $200 more than Cadillac's top of the line Eldorado. However, if you wanted to be hip in the late '50s and early '60s, like such celebs as Frank Sinatra, Sterling Hayden, Desi Arnaz and Dean Martin, as well as not so hip Richard Nixon, you needed to acquire a Dual Ghia imported through Dual Motors in Michigan.
After that, Ghia did work with Ford, starting with the De Tomaso Pantera. And finally, as time went on, Ford purchased Ghia and became more and more dominant. For example, from 1973 the Ghia name became Ford's top trim level for its mainstream offerings. Examples can be found in the Mustang II, Granada, Capri, Cortina and Escort, and later on the Fiesta, Sierra and Focus. Sadly, Ghia is no longer with us today.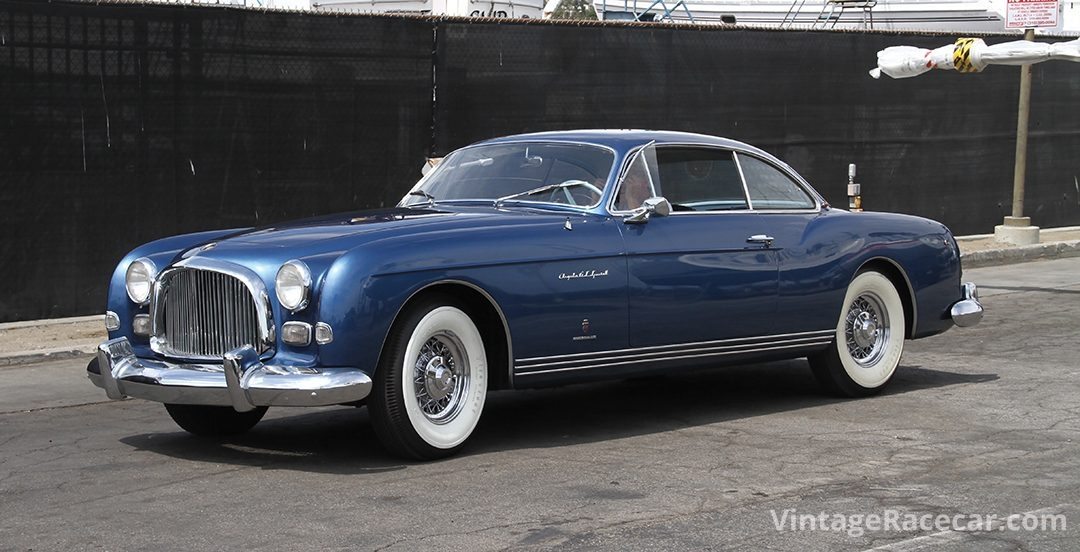 Back in the middle of the last century, Europe was still considered the fashion and design capital of the western world, but that started to wane in the 1960s and American design thinking started permeating Europe in a sort of reverse osmosis. And, not long after that, Japanese students came to the United States, enrolled in the Art Center College of Design in Los Angeles and went home to develop cars of their own for the American market. However, in the early '50s, anything Italian or French was considered more stylish than its equivalent American domestic product.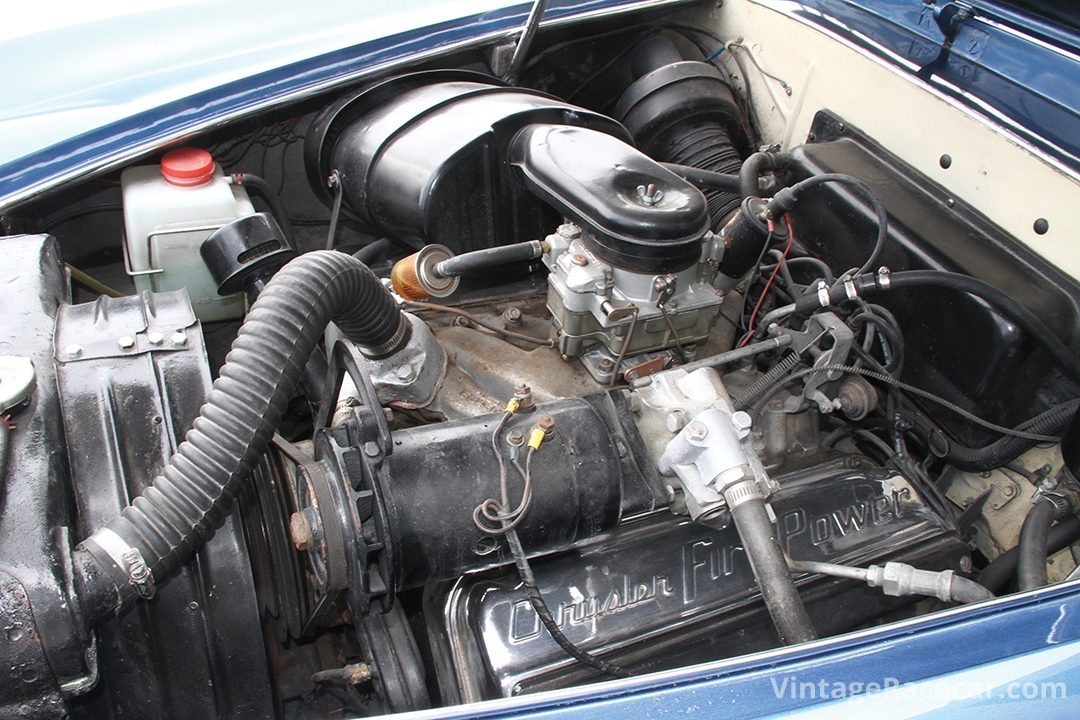 In fact, everything Italian was "in" during the early '50s. Pizza was a new sensation, Italian crooners such as Perry Como and Dean Martin were popular, and we were in love with Sofia Loren, Gina Lollobrigida and Yvonne DiCarlo. Back then you could have stopped in for a pizza, and then rolled around town in your Ghia listening to such tunes as "Que Sera Sera," "Come back to Sorrento," and "Mambo Italiano" on your deluxe AM radio.
We saw little of the minuscule Fiats and Isettas that were common in Italy, but we drooled over the fabulous Ferraris, Maseratis and Alfa Romeos that made it to our shores. They were the most beautiful, fastest, best sounding cars on the planet. Of course, such cars were also high-strung and cramped by American standards. But a Chrysler Ghia had it all. Looks, beauty, luxury and durability. However, if you wanted a Chrysler with a beautiful custom body you had to pay for it.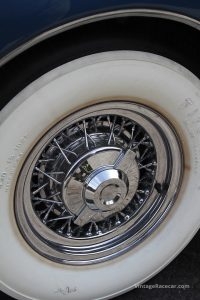 That is until the late '50s. At that point Exner's Ghia dream cars had been so well regarded and were so stunning that he was given the opportunity to put many of the styling cues and exciting design thinking into Chrysler's whole line. It was called the "Forward Look," and it was like nothing else being produced at the time. Fins, of course, were a big part of it and started with Cadillac and Alfa Romeo, but the curved glass, grilles, rooflines and low hoods were all from the earlier efforts with Ghia.
The year 1957 was when Chrysler made their big Virgil Exner fashion statement. Ghia style grilles, fins, dual headlights and lots of Exner/Ghia styling cues were in evidence on the complete Chrysler line, and they blew the doors off of the competition stylistically. Chevrolet went from the warmed-over tri-five look to an entirely different style in 1958 only to do another radical restyle in 1959 with more audacious fins. And Cadillac took the look to a ridiculous extreme in order to "out fin" Chrysler.
The late '50s and early '60s were Exner's halcyon days too, when his forward look and Jetsons' styling were evident all across the Chrysler line. But it wasn't quite a runaway success. Because Chrysler was so conservative until the mid-'50s, they felt they had to rush the new designs into production a year earlier than projected. As a result, major quality problems soon emerged, including leaking bodies, rusting and fit and finish problems. This was devastating for a company that had made its reputation on quality and solid engineering. Most of the problems were dealt with by 1958, but by then the damage was done, and Exner's Forward Look didn't sell as well as Chrysler had anticipated.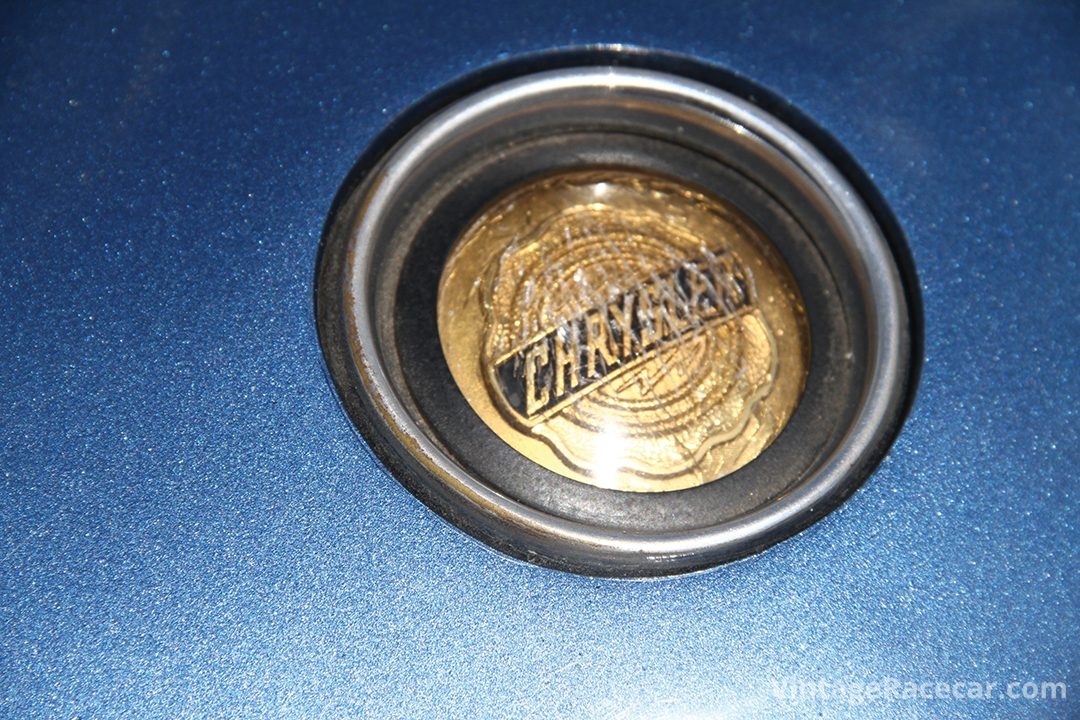 Exner's jet fighter styling and space age interiors lingered on until 1963, and became even more flamboyant. However, by 1964, the Forward Look was history and Chrysler went to more staid, dignified slab-side styling. The look that started with his Idea Cars in the early '50s had taken Chrysler through a fiercely competitive time, when stylists were given great leeway in order to gain a sales advantage. But society became sated with fins and furbelow and things calmed down.
Is the 1954 Chrysler Ghia GS1 Special a true classic? Well . . . that is an over-used word when it comes to old cars, but in this case I would say, yes indeed, if there ever was one. It's beauty transcends its time, and it influenced auto styling for years to come; especially the Chrysler products. It is also hand-built and unsurpassed in quality, fit and finish. And after half a century plus, the car still looks contemporary and stunning and there are no rattles or squeaks.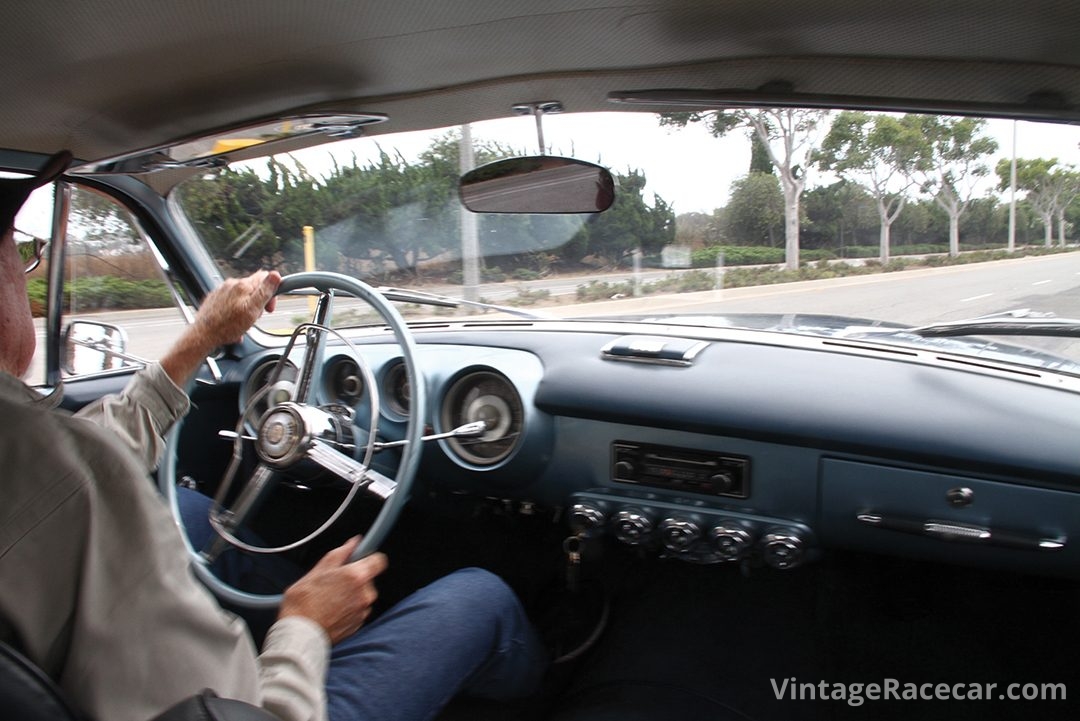 I could drive around in this Italian masterpiece forever, waving at the fair sex, even though they are not likely to wave back at a non-Italian bald, florid faced 75-year-old in a scruffy Australian stockman's hat, blue work shirt and faded Levis. But all good things must end; the sun is setting on the bay, and Bob Frumpkin needs to get home for dinner. And we need to hit the 405 before the world's largest traffic jam gets under way.
We say our goodbyes and I reluctantly hand Bob the keys to his Italian American masterpiece. We get into my shoebox 1955 Chevrolet station wagon and leave what has been a lovely elegant interlude behind.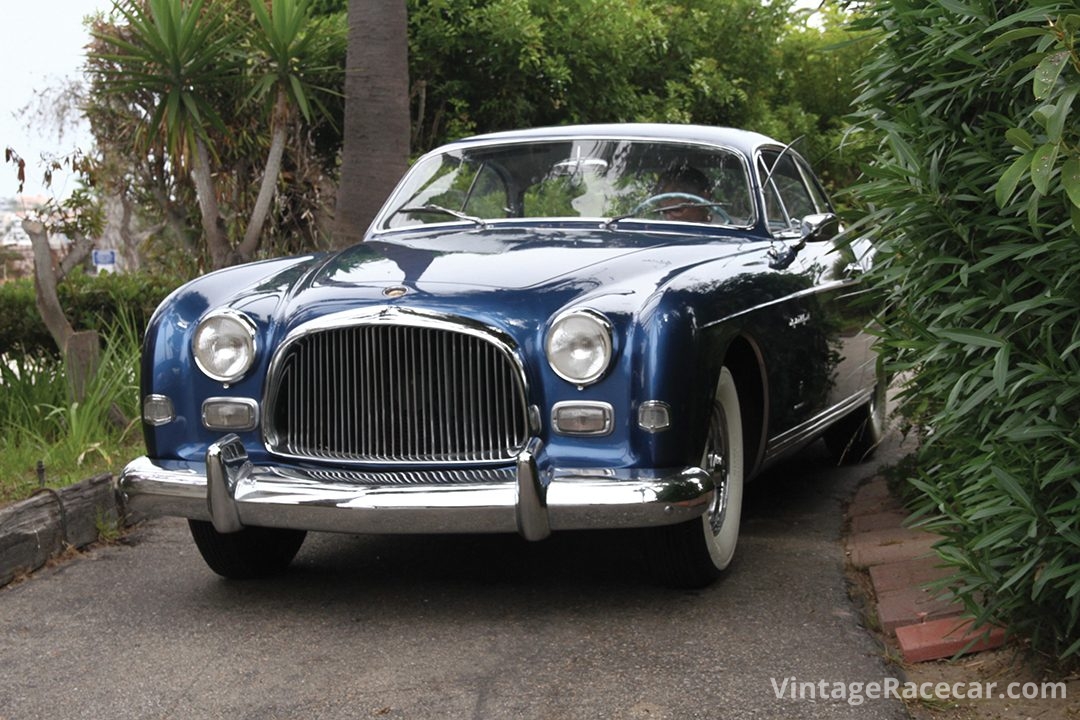 SPECIFICATIONS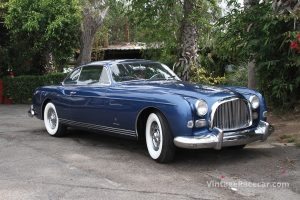 Weight: 3,995 pounds
Wheelbase: 125.5 inches
Front Tread: 56 5/16 inches
Rear Tread: 59 5/8 inches
ENGINE
Type: 90 degree V8 Valve-in-head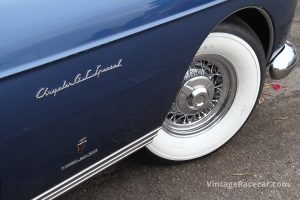 Displacement: 331 cu. in.
Cylinders: 8
Bore & Stroke: 3 13/16 x 3 5/8 inches
Compression Ratio-Std: 7.5 to 1
Brake Horsepower: 235@4400
CARBURETOR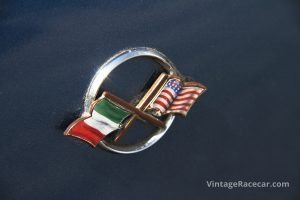 Type: Carter Downdraft 4-barrel
TRANSMISSION
Type: Powerflite automatic
SUSPENSION
Front: Independent coil springs
Rear: Longitudinal leaf spring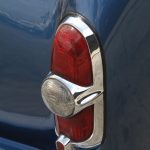 STEERING GEAR: Worm & roller
BRAKES
Service: Power hydraulic
Front Size: 12 inches