Some of you mo­del makers, I know, and pro­bably you historic art­ists too, have been wondering why Jo Siffert's 1971 Can-Am Porsche, which normally was painted all Day-Glo red, had blue trim on its nose for a couple of races mid-season. At long last I can tell you why.
That's because my wife, Lorna, and I undertook to spend the Monterey His­toric weekend selling our photos and books from Vintage Racecar Journal's booth in Vendor Alley.
Though I agreed taking care of business is important, I secretly groaned. ("Not that secretly," Lorna is muttering.) I hated the idea of being locked away in tent city, out of the action, unable to see the racecars or talk with the racers.
What I didn't foresee was how many of the racers would come to the VRJ booth, and how much I would learn from—and enjoy—their visits.
"Hey…That's the TREE!" we heard a woman squeal. She was pointing at a picture hanging on the tent wall. I'd taken it here at Laguna Seca during the 1970 Trans-Am race. My wife, who has the people skills in the family, cozied over to the lady and inquired as to her interest in old-time Trans-Am cars.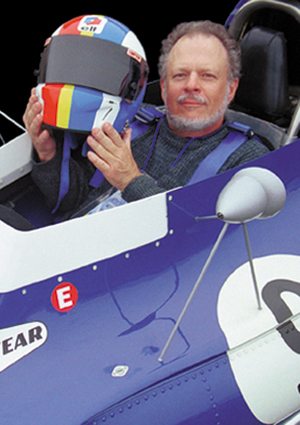 "No, the tree! I've been looking all over for a picture of that tree!"
To me, the photo depicted two Pony Cars plunging down the Corkscrew. The frankly scraggly old oak was merely a compositional detail in the background. But to our excited guest it was an old friend.
Jane Newbury was a corner worker, she explained, and had been working that corner for, well, for a while. The tree used to shade the flag station at the crest of the hill, driver's left. "Then CART came along, and they said the tree was too close, it had to go," she related. "But the county wouldn't let 'em cut it down. So they moved it. Cost $16,000. And now it blocks our sightline."
We were delighted to provide her with a picture of how it used to be.
A man strode straight to a view of the starting grid of the Laguna Can-Am race in 1972, and tapped his finger on a blue McLaren positioned on row four right behind Denny Hulme. "That's my car."
Chuck McConnell was crew chief on that Mike Hiss–driven car that year, he continued, but he was also a Can-Am driver himself. Today he restores these grand machines. I was thrilled to talk with him.
And not half an hour later, a youngster came by and asked, "Do you get any race drivers coming in here?" Well, son…
Hey, we also got Tony Adamowicz. The F5000 champion, Can-Am and Le Mans racer and founding member of the Polish Racing Drivers of America stopped for a nice chat. So did historic Can-Am-mer George Drolsom. We also met David and Lorina McLaughlin of Europe's FORCE vintage series. I like their slogan: "History Not Victory." Lorina was driving a March 721 in Monterey's Historic Grand Prix event. Other vintage racers to grace our booth included Brian Blain, John Delane, John Dimmer and Dave Pozzi.
We even got David Hobbs. The jovial TV star said he was looking to find a photo of the GT40 he drove at Le Mans. I told him sorry, I wasn't there for that. "Well, if you ain't got anythin' of me, I'm leavin'!"
Someone else from the TV world drop­ped in, too. Apparently, he knows our editor. Didn't catch his name, but he's got a rather notable jawline, and I hear he has a rather amazing collection of cars. Later I noticed him in the booth next door, shopping for a giant tool chest. The salesman was jumping up and down in a drawer to demonstrate how strong it was. "I'm not going to keep people in it," quipped the TV guy. I think he could make it as a comedian.
We met owners of historic cars—Lolas, McLarens, Tyrrells, even a Cun­ningham—who wanted pictures from historic times. Even more, they wanted to talk about those times.
"Our dad used to race a Porsche Speed­ster back east," brothers Asher and Dan Chapman told us, "and we used to sleep in George Weaver's barn at Thompson Speedway with his pre-war Maserati and all these great old posters, and we never thought anything about it."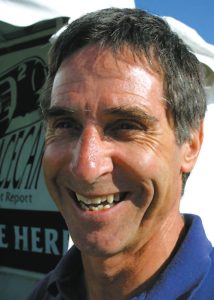 Other visitors brought other stories, or observations, or questions. One introduced himself as model maker Gary Horrocks. He reminded me we'd corresponded by e-mail and asked, "Did you ever find out why Siffert's Porsche had blue on its nose?"
Ah! I remember that puzzle. Another of my e-buddies, Joao Freitas in Portugal, also wanted to know. Sorry, I had to tell Gary, I still have no idea.
The weekend went on. A big, muscular guy enfolded my wife in a bear hug. "I'm Bob West! Remember me from IMSA?" I caught up with an old friend of my own, Larry Roberts, who was art director at "RACECAR" when I was editor. A gentleman who used to know my father said hello. One of my favorite editors came along and gave me another assignment, and a couple of fine writers presented me with copies of their latest books. Legendary photographer Jesse Alexander took the trouble to look at my pictures and say polite things. So it was already a fabulous event for me, full of exactly those experiences I think we all enjoy about vintage racing, and then Edi Wyss appeared.
A master craftsman from Switzerland, Edi was Jo Siffert's mechanic in the 1971 Can-Am. He actually built that Day-Glo red roadster from a pile of aluminum tubes in the Porsche factory, then shepherded it to a lucrative 4th place finish in the points that season.
Siffert's Porsche. Edi Wyss. The penny dropped.
"Edi!" I exclaimed. "Why did you paint the nose blue halfway through the season?"
He smiled at the memories. He told the story. The little privateer team turned up at its first race, Watkins Glen, with the 917/10 finished in Porsche's standard, plain white. But Siffert, an energetic businessman, had cut a last-minute deal with STP. The night before the race a painter sent all the way from California sprayed on the company's trademark iridescent red, or "STPink," as we used to call it.
"Then the painter went home, and we went on to the next races," Edi continued. "When Seppi would hit something, we didn't have any more of the special paint, so I went to a store and found a shade of blue I thought looked nice with the red.
"When we arrived in Laguna Seca, the STP guy came back and painted the whole car again."
See why I love vintage races? So Gary, Joao—that's why.