The 45th Historic Sportscar Racing (HSR) Mitty at Michelin Raceway Road Atlanta went into the record books as one of the biggest editions on record of HSR's oldest and first blockbuster race after an exciting and competitive final day of racing on Sunday April 30. A pair of overall weekend race winners finally hit the top step of the podium while another well-known competitor stepped up to win his second-straight Gene Felton Memorial Trophy Award after a podium finish in Sunday's final NASCAR 75th Anniversary Historic Stock Cars race.
Early Sunday rain showers gave way to sunny skies by noon but not before a robust group of HSR Vintage and GT Classic (GTC) competitors took to a wet and cloudy Road Atlanta road course for a one-hour B.R.M. Chronographes Endurance Challenge race at 8:15 a.m. EDT.
After 60 minutes of outstanding car control in tricky conditions by some of HSR's best drivers, Angus Rogers emerged for the overall and GTC win in his KMW Motorsports 1973 No. 15 Porsche 911 RSR.
Rogers shared the podium with Vintage-class winner Colin Dougherty who crossed the line second overall his 1988 No. 86 Porsche Turbo Cup series car prepared by DAS Sport. The win was Dougherty's second feature race victory of the 45th Mitty weekend after finishing first in the Porsche class in Friday's Sasco Sports B Race.
Peter Dolan closed out the overall top three and finished second in GTC in his Cobra Automotive 1965 No. 76 Mustang Shelby GT350.
The remainder of the Vintage podium completed the overall B.R.M. race top five. George Balbach led the race and ultimately crossed the line fourth overall and second in Vintage in his Ecurie Engineering 1966 No. 0 Porsche 911. Jamie Busby finished third in Vintage and fifth overall in his KMW Motorsports 1970 No. 188 Porsche 914/6.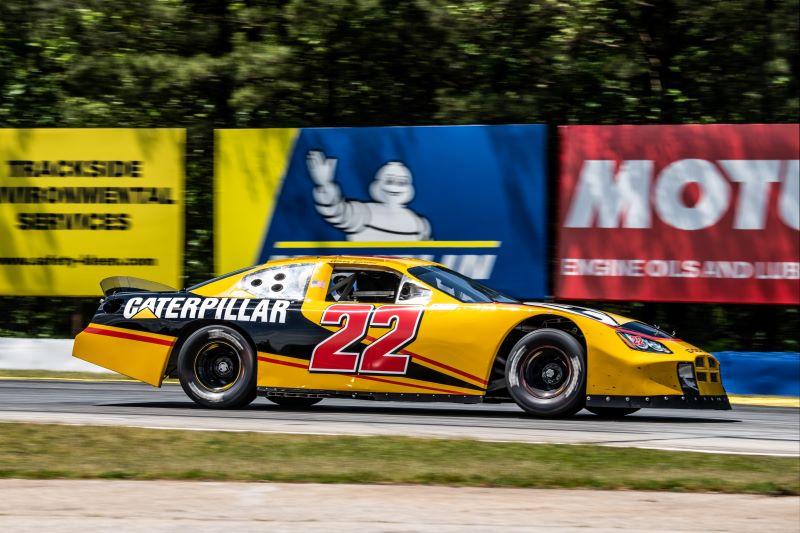 Reigning Gene Felton Memorial Race winner "Front Row" Joe Nemechek won the opening round of this weekend's featured NASCAR 75th Anniversary doubleheader on Saturday. He was out front again in his NEMCO Motorsports 2007 No. 22 Chevrolet Silverado for the majority of Sunday's final race but felt his tires going away in the closing laps. Ryan Gemmell, in his 2009 No 419 Toyota Camry, and longtime HSR comptitor Jack Finch, wheeling his 2002 No. 22 "CAT" Dodge Charger, were each on new tires. After pressuring Nemechek throughout the race, Finch – who passed the No. 419 a few laps earlier – and Gemmell both slipped by Nemechek on the uphill run out of Turn 1 on the final lap of the race.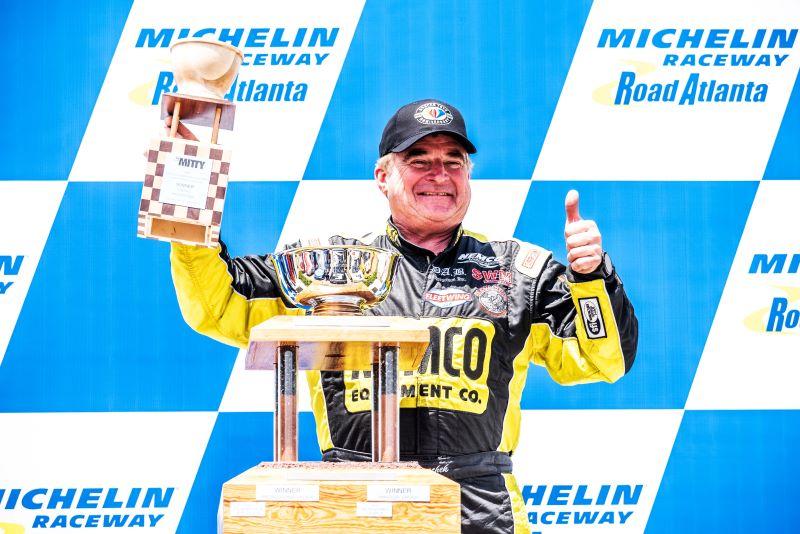 Finch, 71, took the overall win for a victory that was popular and appreciated in both the Historic Stock Cars "garage" and the HSR paddock. Gemmell finished second while Nemechek's third place, along with his Saturday victory, was enough to clinch the Gene Felton Award a second time. Nemechek's name will be added to the Gene Felton trophy again while Finch will also see his name affixed to the perpetual award as the weekend's top finishing amateur Historic Stock Car driver.
Sunday's other feature race winner was Mark Brummond who drove his No. 101 Lamborghini Super Trofeo to victory in the HSR Stoner Car Care Global GT race that brought the HSR Mitty to a grand conclusion Sunday afternoon. David Richardson finished second in the FlatSix Motorsports 2018 No. 06 Porsche 991 GT3 Cup while Dougherty stepped up to his 2008 No. 92 Porsche 997 Cup to snag yet another podium on the weekend with a third-place showing with DAS Sport.
Next up for HSR is the HSR Historic Stock Car Invitational that will be part of the Official Throwback Weekend of NASCAR at Darlington Raceway, May 12 – 14. Please visit www.HSRRace.com for more information.