The Porsche 550 Spyder left an indelible imprint on the motorsports world during the 1950s. It was Porsche's first purpose-built racecar, and it immediately made its presence known on the international stage by winning its class at Le Mans in 1955 and taking first overall at the 1956 Targa Florio. It convincingly defeated, with regularity, cars of much larger displacement and higher class designation, earning it the moniker of "giant-killer." The 550 was followed up by the 550A, an evolved version that first appeared in 1956. It incorporated a series of significant changes, including a tubular space frame to replace the ladder frame for increased structural rigidity, a 5-speed transmission to replace the previous 4-speed unit, and 15-inch wheels with wider offset that stood in place of the 16-inch wheels, thus providing both a lower center of gravity as well as an increased contact patch area.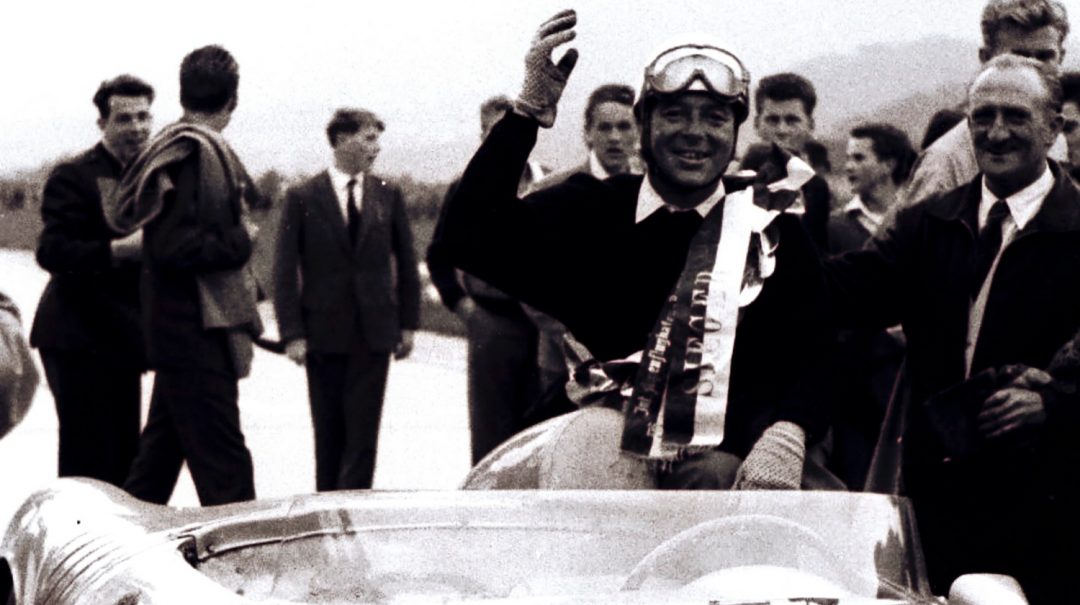 The Porsche 550A-0141 Spyder featured here captured multiple podium finishes during its maiden 1958 season with driver Ernst Vogel, who just happened to be a virtuoso composer and professional concert pianist. One of a mere 39 examples built, the 550A-0141 Spyder is one of the last to leave Porsche RennWerks and is believed by current owner Steve Terrien to initially have been a Piech family-owned car that was raced in competition by the Porsche Salzburg team—the same de facto Porsche works team that captured the marque's first overall win in the 24 Hours of Le Mans. Louise Porsche was the matriarch of the Piech family, and her son, Ferdinand Piech, later ran operations at both Porsche and Volkswagen Group and today owns 10 percent of Porsche shares (at the time of this writing there is no documentation in hand to verify the Piech and Porsche Salzburg provenance).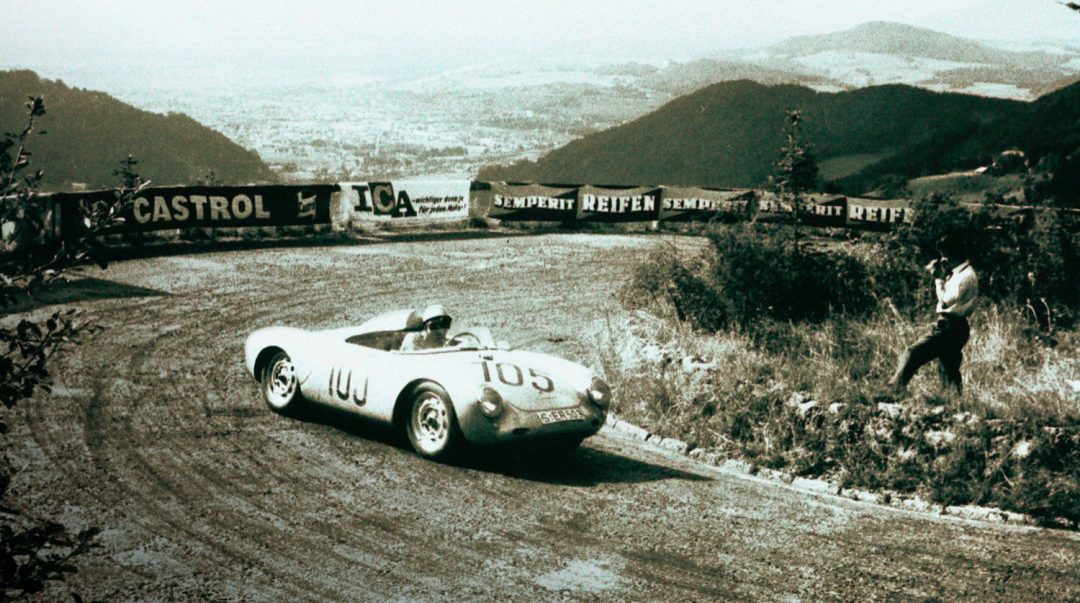 The 550A-0141 Spyder would depart Porsche KG in March of 1958 and be delivered to Salzburg, Austria—a mere 80 miles away from the first Porsche Factory in Gmünd, Austria. Vogel would race at the following venues during the 1958 season and record an impressive first overall in Yugoslavia and first-in-class at both Zeltweg and Innsbruck in Austria in only five starts:
May 15, 1958      Flugplatz Wien Aspern, Austria      2nd overall
June 15, 1958     GP Circuit d'Opatija, Yugoslavia      1st overall
August 15, 1958  Gaisberg Hill Climb, Austria            8th overall
August 17, 1958   Flugplatz Zeltweg, Austria              1st in class
October 5, 1958   Innsbruck Flugplatz, Austria          1st in class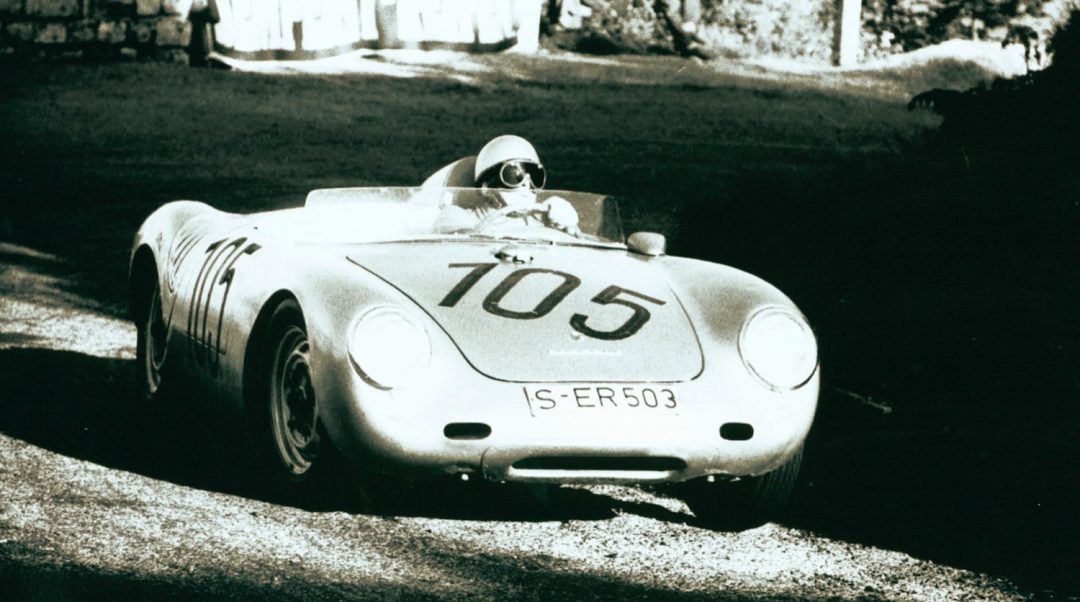 The 550A-0141 Spyder would rendezvous with Vogel for their final drive on November 12, 1958, with a record attempt on the motorway section of Salzburg between the border of Germany and Austria. He recorded an average speed of 218.182 KPH (135.27 MPH) based on a flying-start average of two runs in opposite directions over a 1 kilometer distance. Prior to the 1958 season, Vogel had a proven track record of Porsche racing success in the three previous years of 1955, 1956 and 1957, earning 10 podium finishes, including eight first places, one second place and one third place at various European tracks including Grenzlandring, Baden, Opatija, Beograd, Aspern, Kottingbrunn and Zeltweg.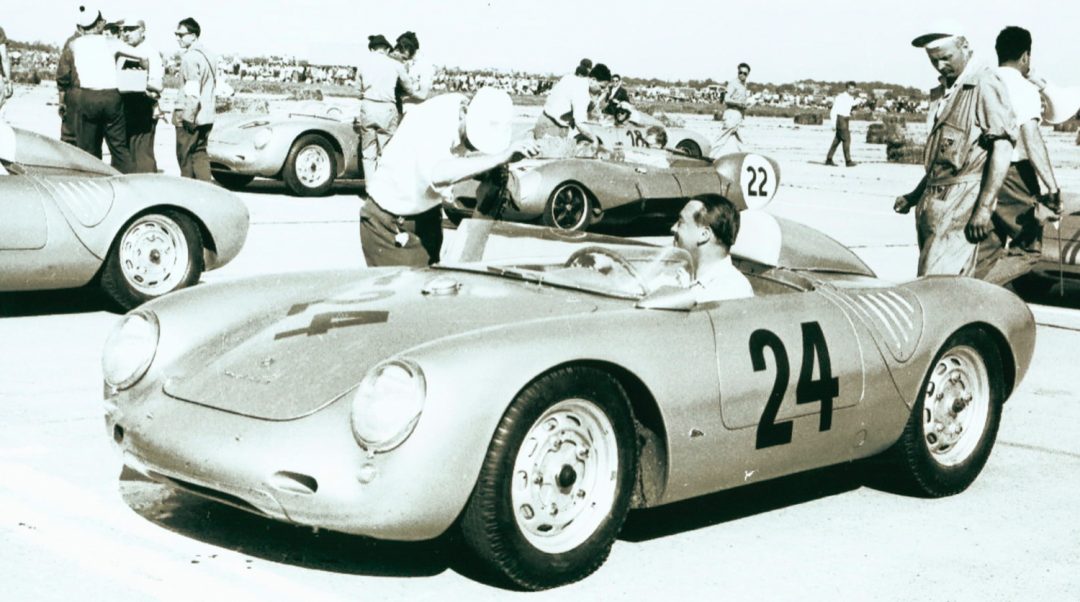 After its European racing tour, the 550A-0141 Spyder was returned to Porsche KG, reconditioned and then sold to Connecticut Porsche dealer and road racer Harry Blanchard who entered it in SCCA regional events along the east coast. It would later be sold to Chuck Stoddard and ultimately go through a string of private owners. The current caretaker, Steve Terrien, of Issaquah, Washington, located the car in a warehouse in 1984. Throughout the next 30 years, the car underwent a comprehensive restoration that was done to exacting standards. The body was treated to fresh aluminum skin with close attention paid to authenticity. Terrien was fortunate to locate a sister car—Serial No. 550A-0135, one that proved to be a benchmark of originality—from which a wooden buck was constructed and used as a reference point to accurately duplicate the complex compound curves of the Erwin Komenda-designed body. The sister car was also used to validate myriad details such as wire color coding, switch placement, attachment methods, hinge design and windshield angle. Expertly executed by the renowned Kimmins brothers out of Lake Havasu City, Arizona—who are widely regarded as world-class metalcraft artisans—the 550A-0141 Spyder is presented in stunning polished bare aluminum. The Kimmins brothers also used this same wooden buck to reconstruct another sister car—550A-0129—which now resides in the Porsche Museum. This 550A-0141 Spyder still retains its incredibly rare and original VDM wood-rimmed steering wheel plus all five original wheels.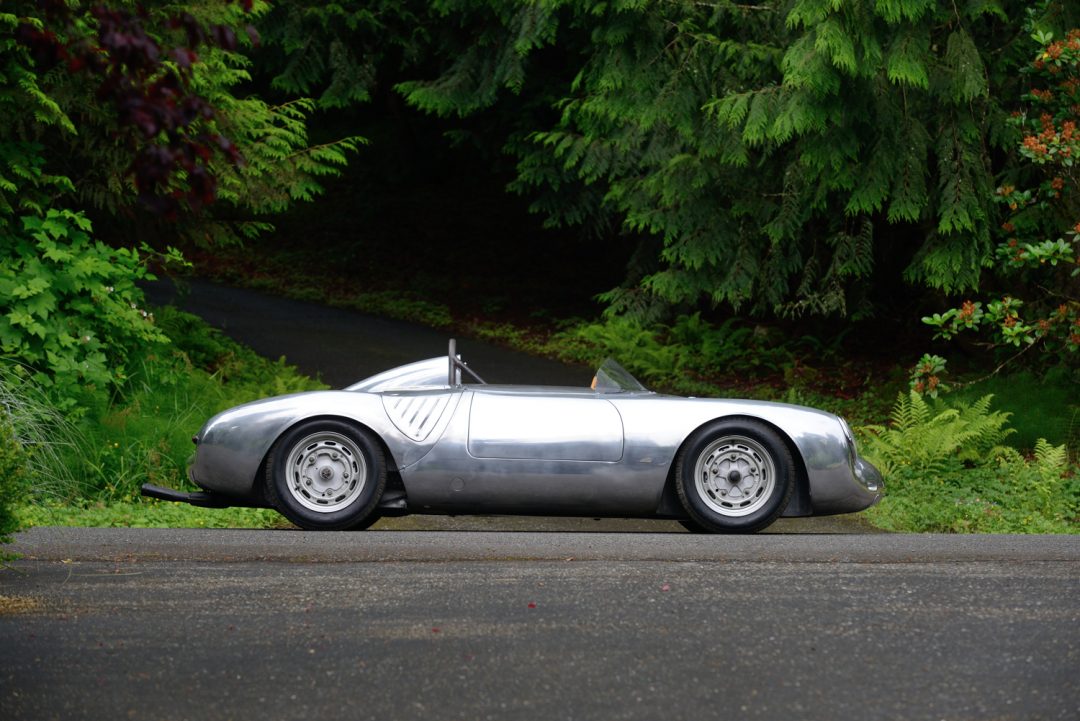 A radical racing engine—referred to as the Type 547 Carrera 4-cam—was designed by Dr. Ernst Fuhrmann for installation into the 550 Spyder. The Carrera has four overhead camshafts operated by bevel-geared shafts oriented to one another at 90 degrees. One notable engine feature is the six-piece assembly, Hirth crankshaft that utilizes caged roller bearings on both the engine main bearings as well as the large end of the connecting rods, enabling the Carrera engine to pick up engine revs very quickly. Although equal in displacement to the standard 1500-cc Porsche, the 4-cam Carrera produces approximately 2.5 times the horsepower as its pushrod brethren. The engine in the 550A-0141 Spyder is authentic and built to exacting Porsche RennWerks specifications. It was treated to a comprehensive balance, blueprint and overhaul by the late Bill Doyle, the well-recognized guru of Fuhrmann 4-cam engines. Doyle also refreshed the rest of the mechanicals, including the original 5-speed transaxle, brakes and suspension.
Terrien has owned several significant 4-cam Carreras, including a 1957 356 Carrera GS Coupe, a 1959 356 Carrera GS Coupe and a 1962 356B Carrera 2 Cabriolet. Terrien's 34 years with 550A-0141 Spyder has been a labor of love that has been driven by his deep appreciation of the marque, most especially the Erwin Komenda, Ernst Fuhrmann and Ferry Porsche era. For it was Terrien who ensured that this arduous restoration was performed to exacting standards by a select group of highly respected marque experts. The 550A-0141 Spyder is a special car and has been featured in "Excellence," "Classic Porsche" and "Porsche Panorama." This breathtaking machine has accrued fewer than 600 miles of pleasure driving since completion of its restoration and currently presents in near flawless condition.
Terrien has decided it is time for his beloved Spyder to find a new custodian and so this unique piece of Porsche history will be offered at Mecum Auctions' August 23–25 Monterey sale. For more information visit www.mecum.com