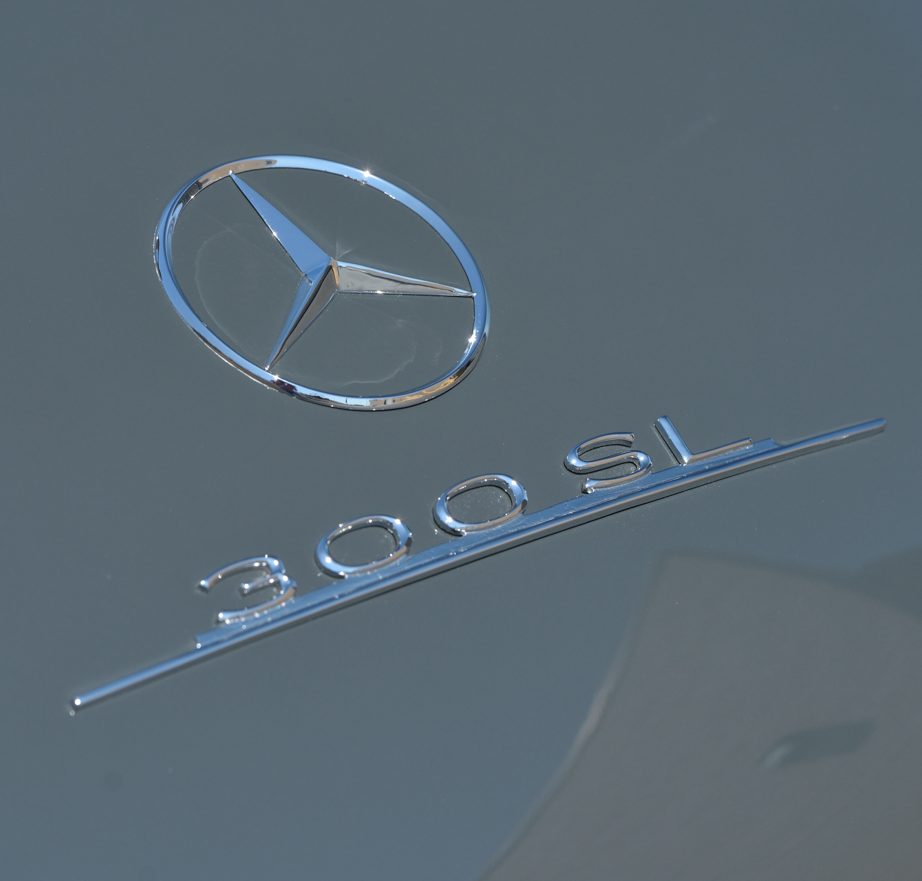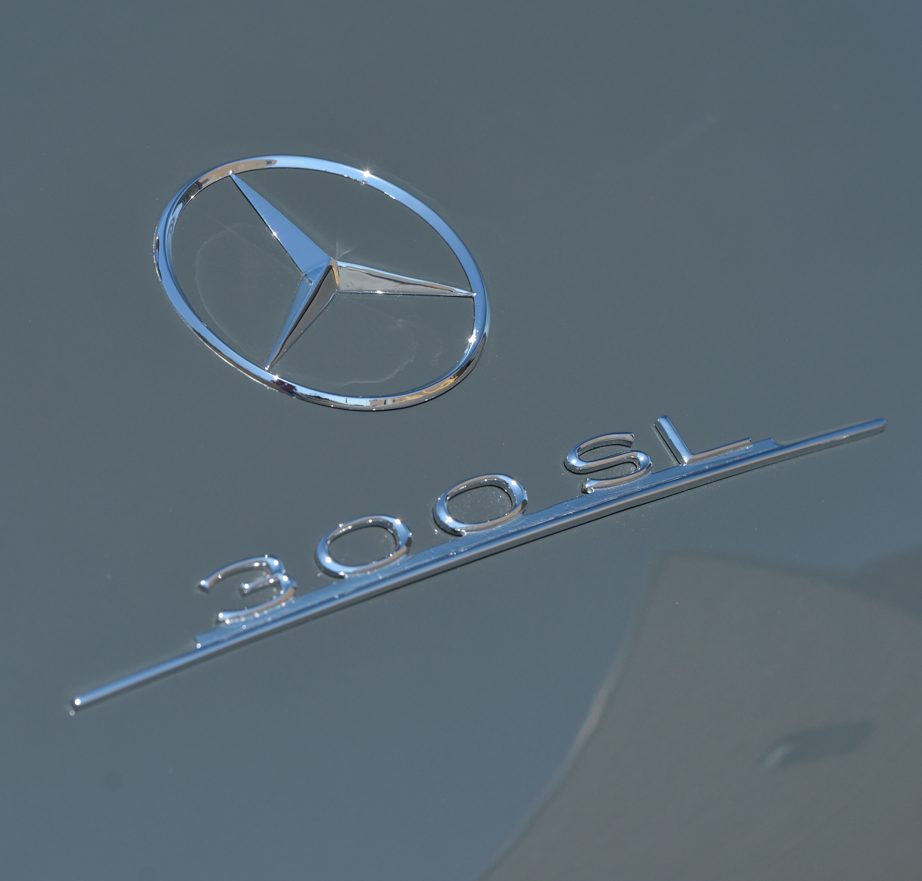 After rising from the ashes of postwar Europe, Mercedes-Benz returned to racing in 1952, winning the World Sports Car Championship with the now-famous 300SL factory sports racer. That might have been the end of the 300SL concept, as the factory was then planning a return to Grand Prix racing, but fate intervened in the form of New York automotive importer and Mercedes-Benz franchisee Max Hoffmann, who convinced Daimler Benz management to approve production of a roadgoing version of the 300SL. Built to the marque's typically exacting standards, the production 300SL coupe and its smaller 190SL counterpart debuted to instant international acclaim in February 1954 at the International Motor Sports Show on Park Avenue in New York, a million-dollar pageant broadcast on nationwide television.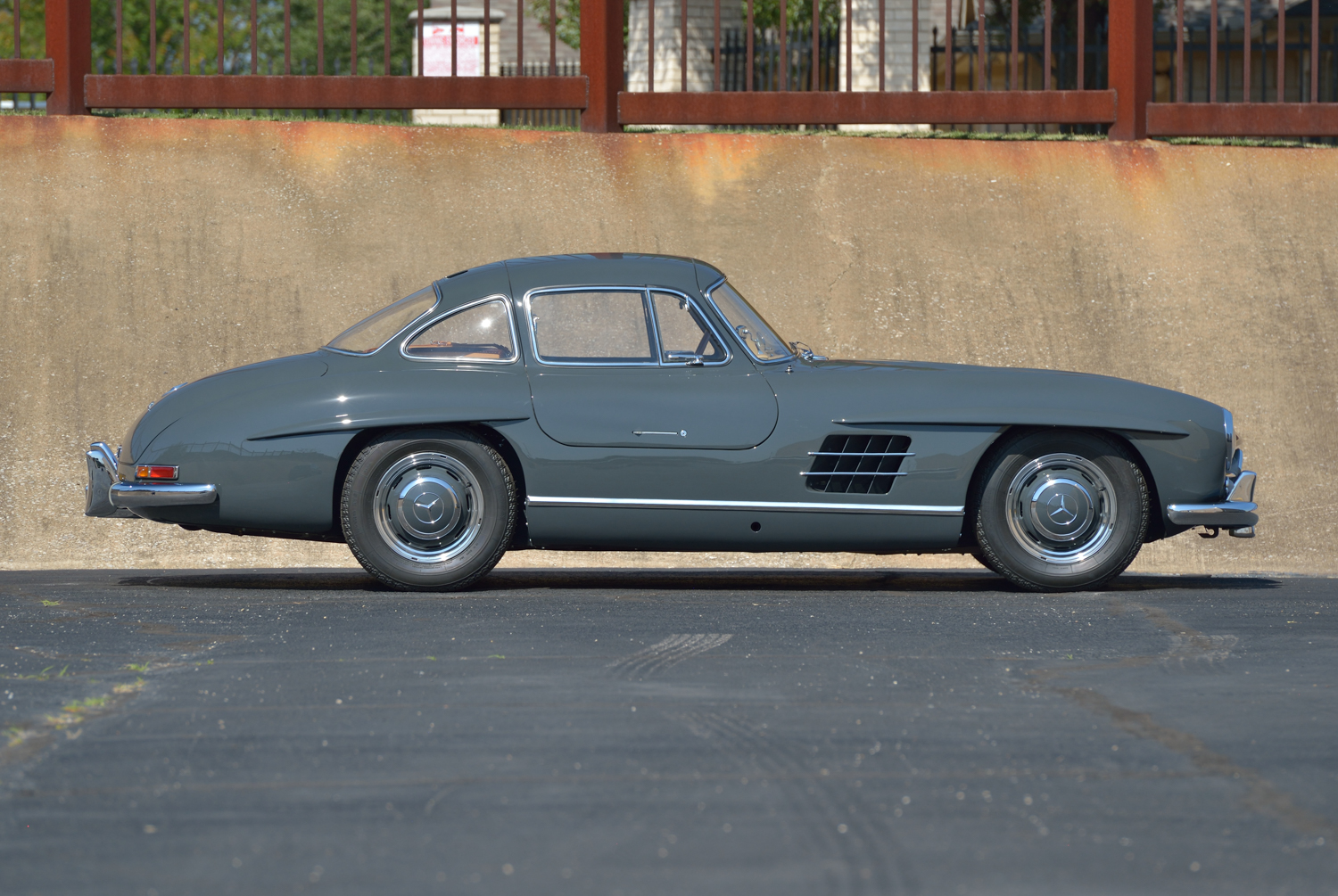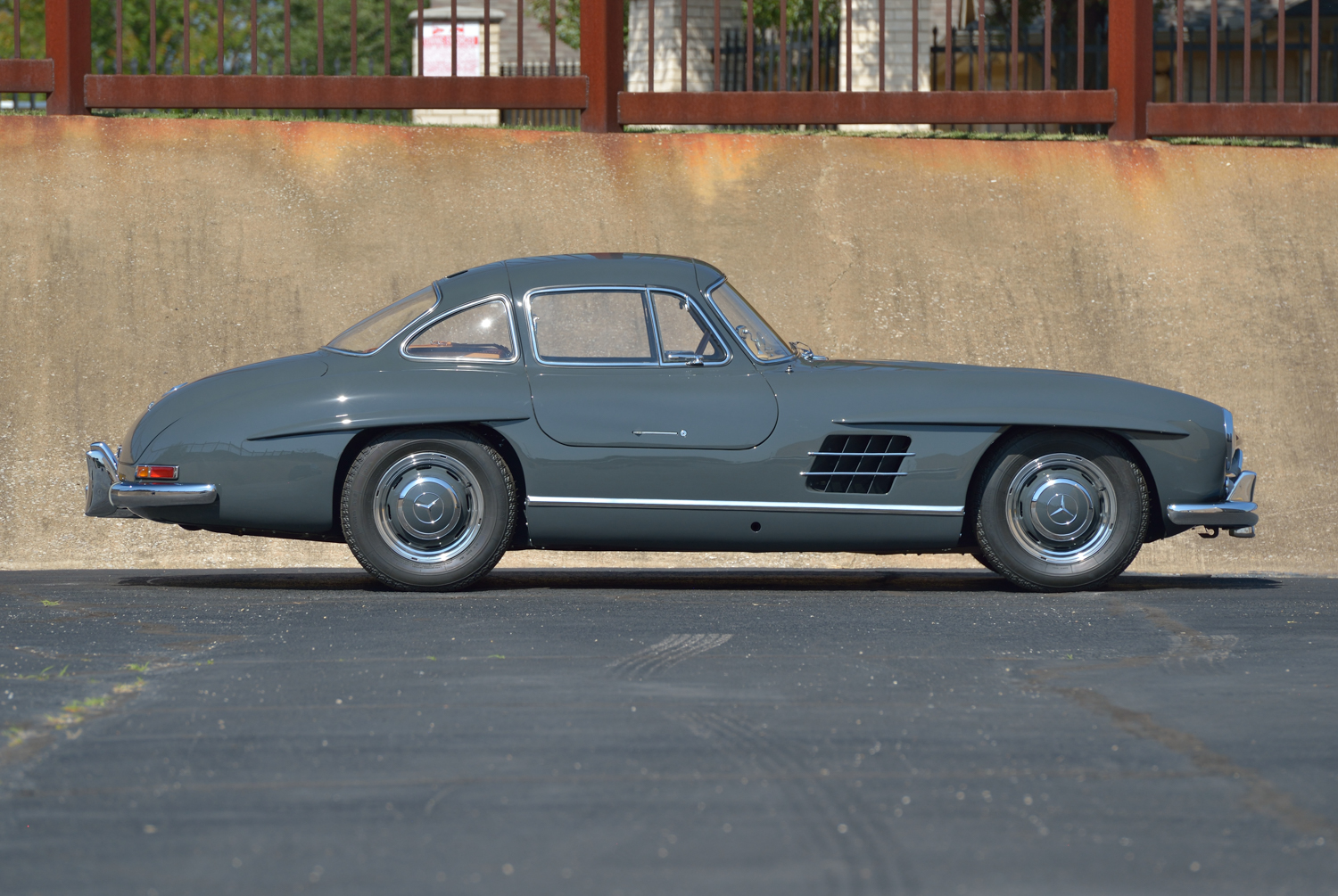 The 300SL lived up to the promise of that extravaganza with a new standard of grand touring performance and luxury, with an emphasis on performance. Its innovative, lightweight space frame virtually duplicated that of the 300SL racers, as did the all-independent suspension and robust drum brakes. The first 4-stroke production engine to employ fuel injection, the SL's dry sump-lubricated 3.0L inline-6 powerplant was laid over at a 50 degree angle to allow the car's low hoodline, and it used long ram tubes feeding the intake charge directly to each cylinder from a single large plenum drawing fresh air from the front of the car. Its 215 HP output was enough to power a car equipped with the highest axle ratio to 160 MPH, making it the world's fastest production car.
Rendered in steel with aluminum doors, hood and trunk lid, the 300SL's purposeful bodywork was elegantly accented with dual hood bulges to clear the cam cover and intake plenum, sculpted spears above the wheel openings, and exhaust vents on the front fenders inspired by the contemporary W196 Grand Prix cars. Even by today's lofty supercar standards, the 300SL's interior excels in comfort and ergonomics with supportive seating and excellent all-around visibility. A set of custom-fitted luggage was a welcome accessory.
According to Mercedes-Benz factory records, this stunning 300SL "Gullwing" coupe was completed on August 11, 1956, with special-order Graphite Grey paint and a blue plaid interior, and then shipped to the Mercedes-Benz dealer in Düsseldorf, Germany, for delivery to the Prince of Salm-Salm, a mediatized principality in the northwestern area of now modern-day France. The prince retained ownership of the Gullwing coupe until Dr. J. Theodore Luros, a neurosurgeon from Indianapolis, Indiana, acquired it in 1961. Active members of the Gullwing Group, Dr. and Mrs. Luros happened to see another member's 300SL at a concours event and were so struck by its factory optional Code DB543 Strawberry Red Metallic paint that they decided to have theirs refinished in the same color.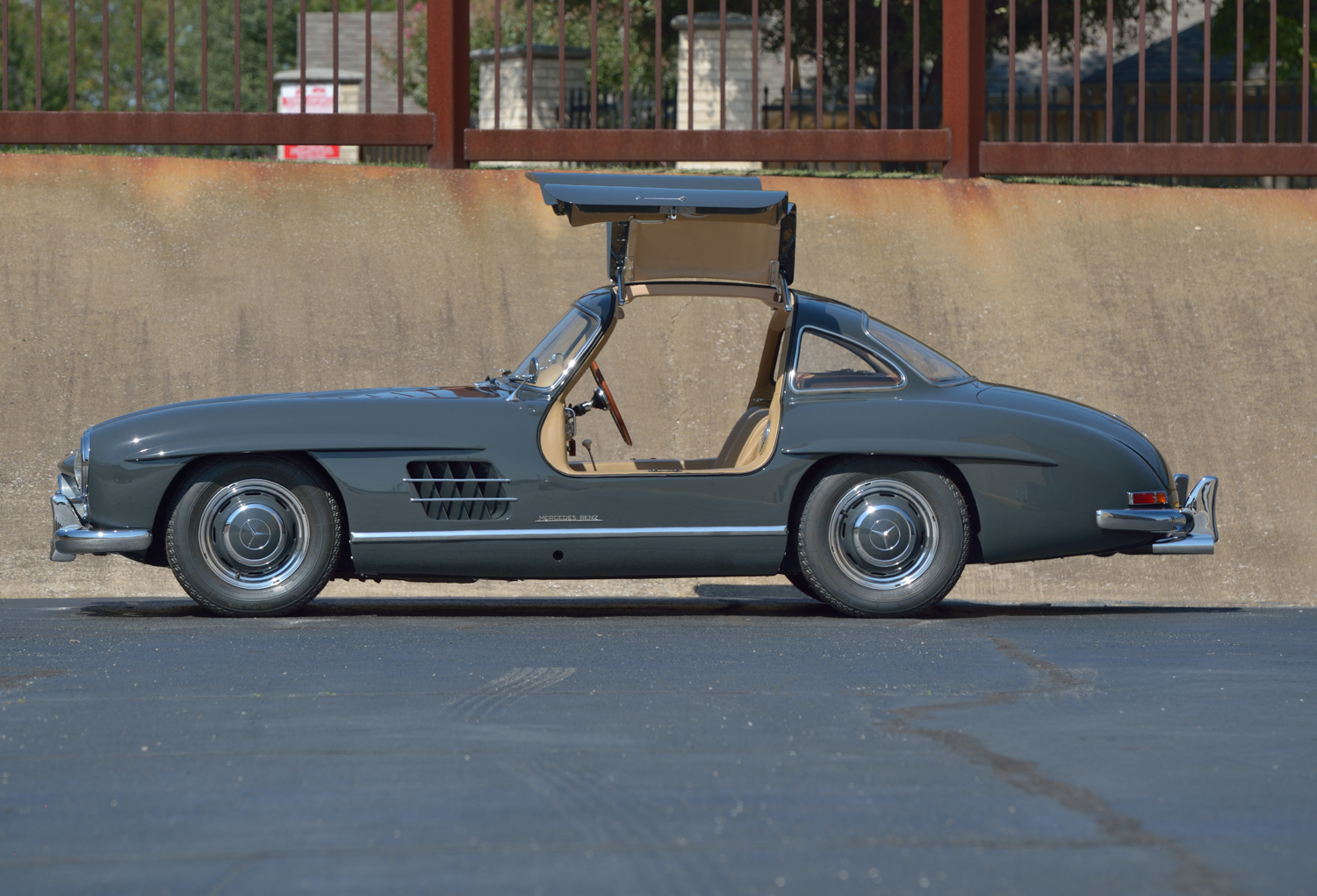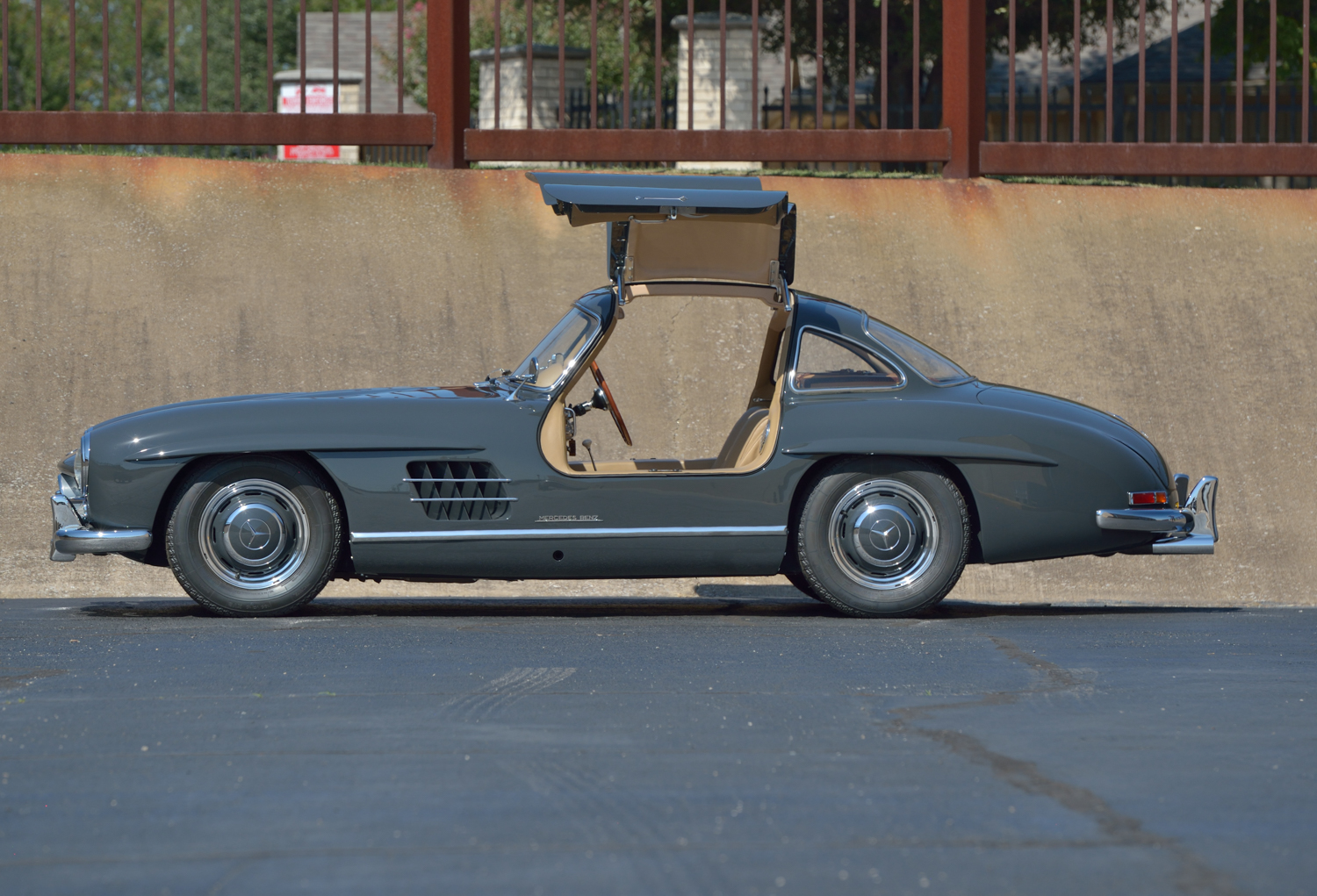 Dr. Luros cared for his beloved Gullwing until 2005, when he sold it to its third owner, a long-time marque owner/enthusiast whose collection had included a number of 300SLs acquired over the years through world-renowned restoration expert Rudi Koniczek of British Columbia, Canada. He commissioned Koniczek and his elite team of specialists to perform a cosmetic and mechanical restoration, once again in the same Strawberry Red finish. Recently, this very special Gullwing's fourth and latest owner has had the car cosmetically refreshed once again, returning it to its original Graphite Grey paint and maintaining the contrasting tan leather interior.
This magnificent 300SL Gullwing coupe retains its original matching-numbers engine, the original belly pans, highly desirable color-matching fitted luggage, factory-installed Becker Mexico radio, SWF windshield washer system, VDO gauges and tool kit, and comes with extensive documentation that includes the original 1961 title and Bill of Sale, prior registrations, restoration records and owner's manual.
This unique Gullwing, fit for a prince, will be offered for sale at Mecum Auctions' upcoming Kissimmee sale, January 7–16. For more details visit www.mecum.com