Mecum's recent collector car auction, held Aug. 15-17 in Monterey, California, brought $32.2 million in overall sales by auction close, and totals have since reached $38 million with the addition of successful post-auction Bid Goes On deals and sales of vehicles within the Blackhawk Exposition offering. As negotiations continue, Monterey totals are still growing and quickly closing in on the $40 million mark. Leading the live auction's top-selling vehicles was a magnificent 1967 Ferrari 275 GTB/4 (Lot F119) that brought in a strong $2.75 million.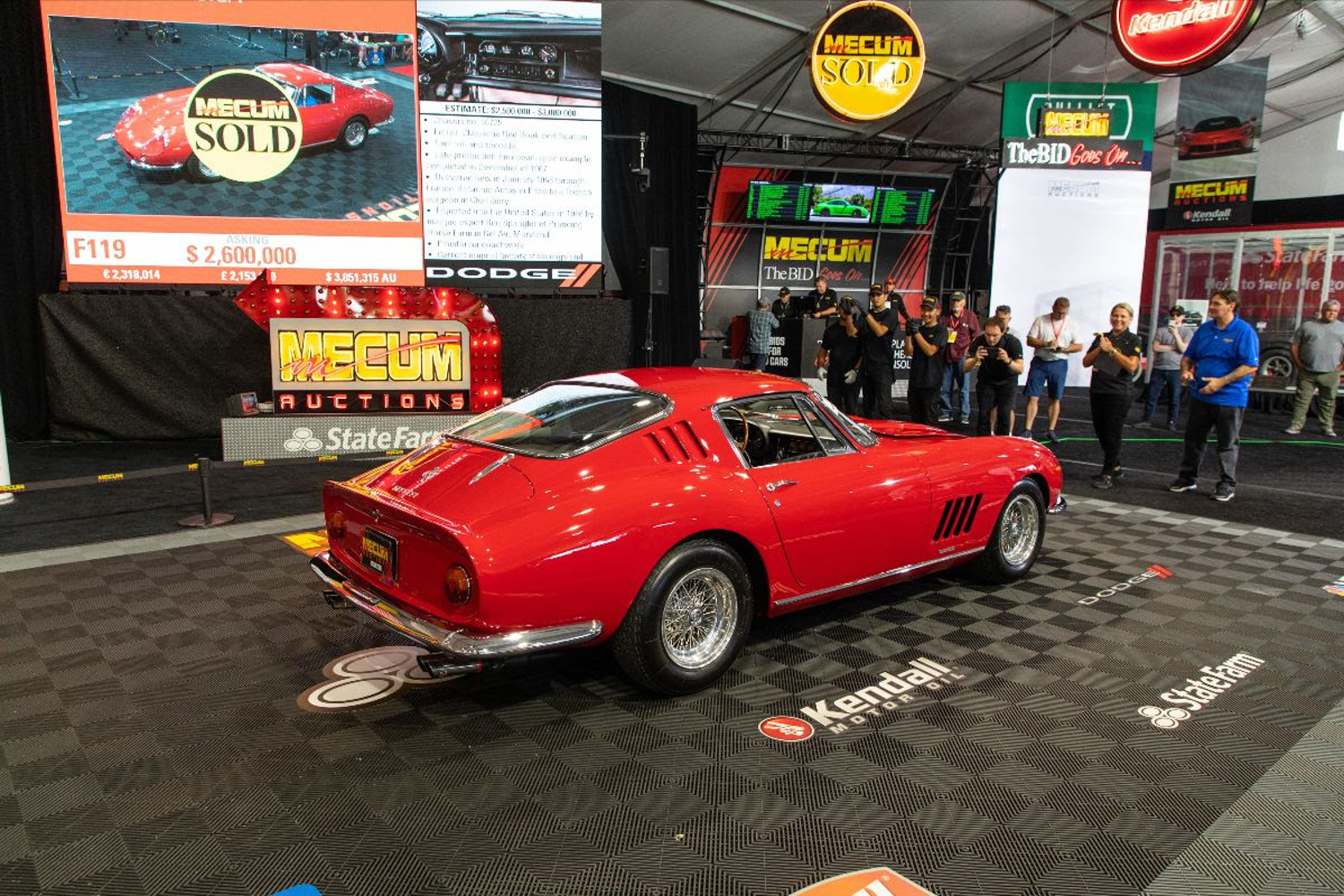 The GTB/4 was far from the only Ferrari to demonstrate a strong demand at the Monterey auction. In fact, top sales were dominated by Ferrari's finest, with the top two high sellers both of the Prancing Horse brand and the top 10 list including a total of four Ferrari factory creations. While it was a vintage Ferrari that came out on top, the second-highest seller hailed from modern-day Maranello in the form of a 2014 Ferrari LaFerrari (Lot S102) that sold for $2.64 million. Other seven-figure sales included a 2015 Porsche 918 Spyder (Lot F91.1) with low miles and the desirable Weissach Package, which sold for $1.43 million; a one-of-200 1966 Ferrari 275 GTS (Lot F122) that brought $1.1 million; and the last 289 Cobra sold to the public (Lot F139), CSX2588, which garnered a $1.05 million sale.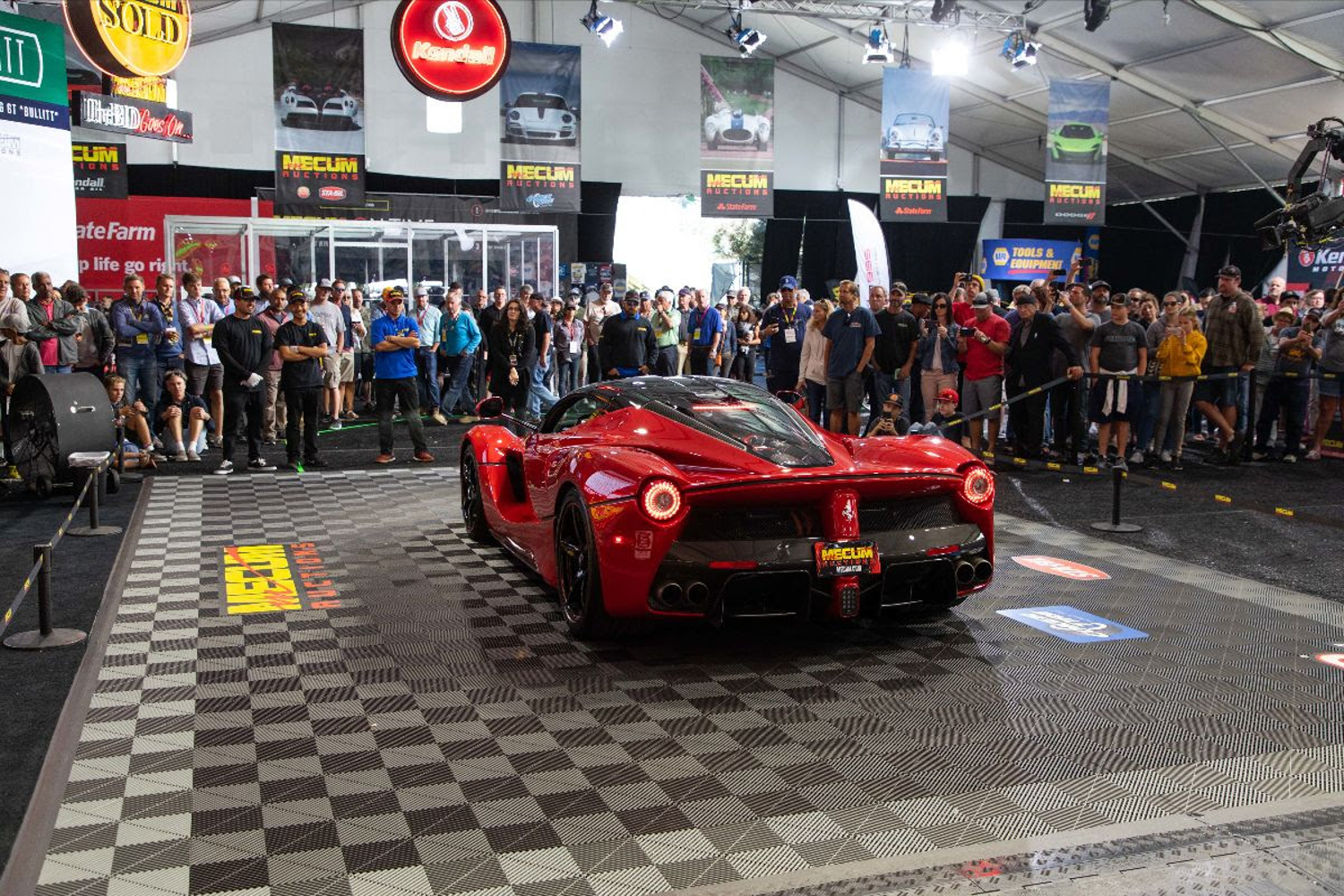 The exclusive lineup of vintage and collectible motorcycles that was offered at Monterey proved to be a winning one as well, with six examples bringing in six-figure sales. Two coveted Crocker small-tanks topped all motorcycle sales as an unrestored 1936 model (Lot S103) brought a whopping $825,000, and a restored 1937 example (Lot S142) achieved $715,000.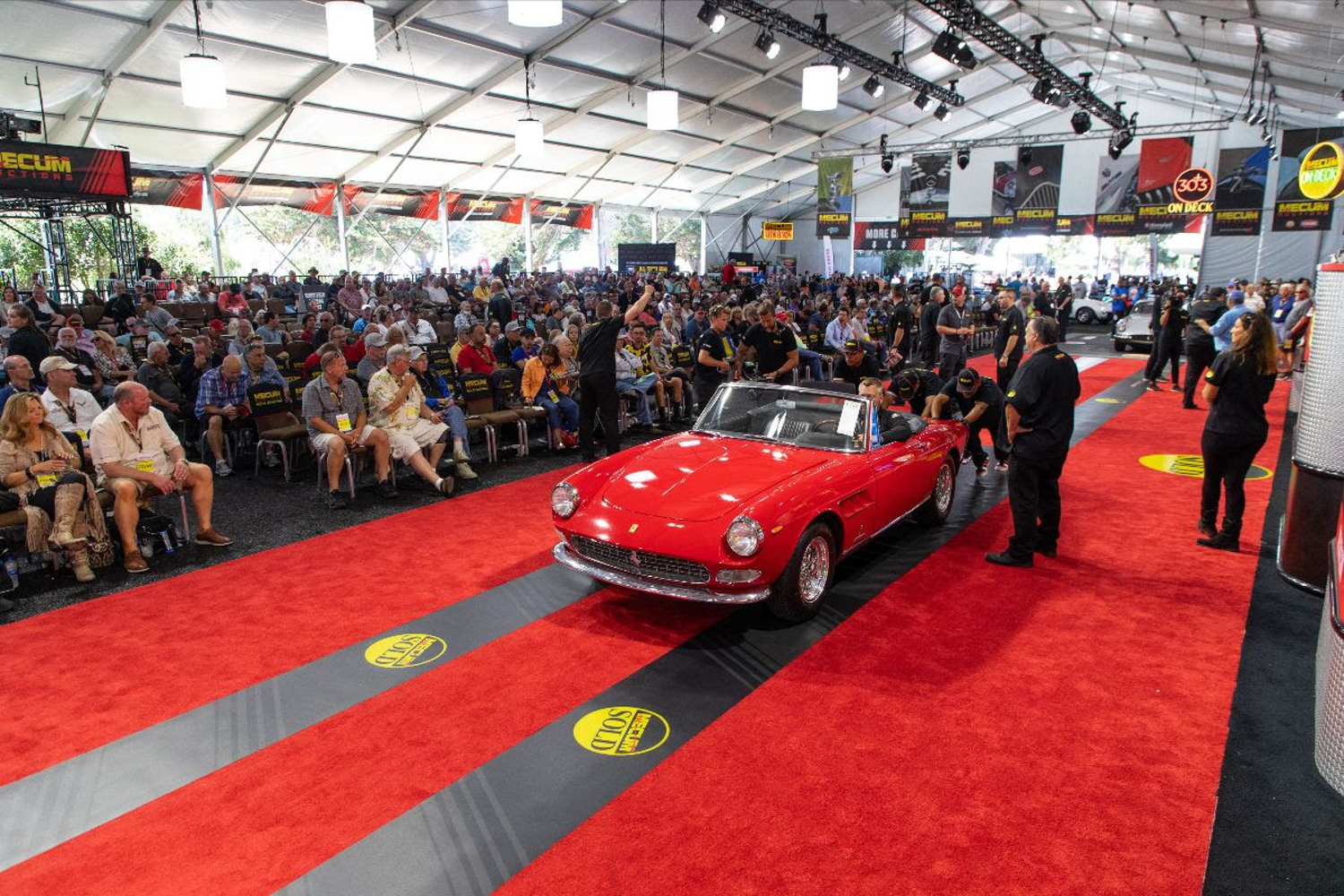 Leading up to the Monterey auction kickoff, on Aug.14, Mecum announced the upcoming offering of the 1968 Ford Mustang GT hero car from the classic Steve McQueen action movie "Bullitt" in a dramatic reveal by Dana Mecum and Bullitt Mustang owner Sean Kiernan. The car, after nearly a half-century in hiding, is slated to cross the auction block at the world's largest collector car auction in Kissimmee, Florida, in January 2020.
The complete top 10 collector-car sales at the Mecum Monterey 2019 auction include:
1967 Ferrari 275 GTB/4 (Lot F119) at $2,750,000
2014 Ferrari LaFerrari (Lot S102) at $2,640,000
2015 Porsche 918 Spyder (Lot F91.1) at $1,430,000
1966 Ferrari 275 GTS (Lot F122) at $1,100,000
1965 Shelby 289 Cobra CSX2588 (Lot F139) at $1,045,000
1936 Crocker Small Tank (Lot S103) at $825,000
1935 Auburn 851 SC Boattail Speedster (Lot S131) at $742,500
1973 Ferrari 365 GTB/4 Daytona (Lot S113) at $715,000
1937 Crocker Small Tank (Lot S142) at $715,000
1933 Stutz DV-32 Dual Cowl Phaeton (Lot S126) at $495,000