Can it be? Well, yes it is! 50 years since Emerson Fittipaldi took his first F1 World Championship. At 25, Emerson was, at the time, the youngest champion in F1 history. Completing the double that year, Team Lotus also won the F1 Constructors Championship using the Lotus 72, or John Player Special as team sponsors John Player preferred them called.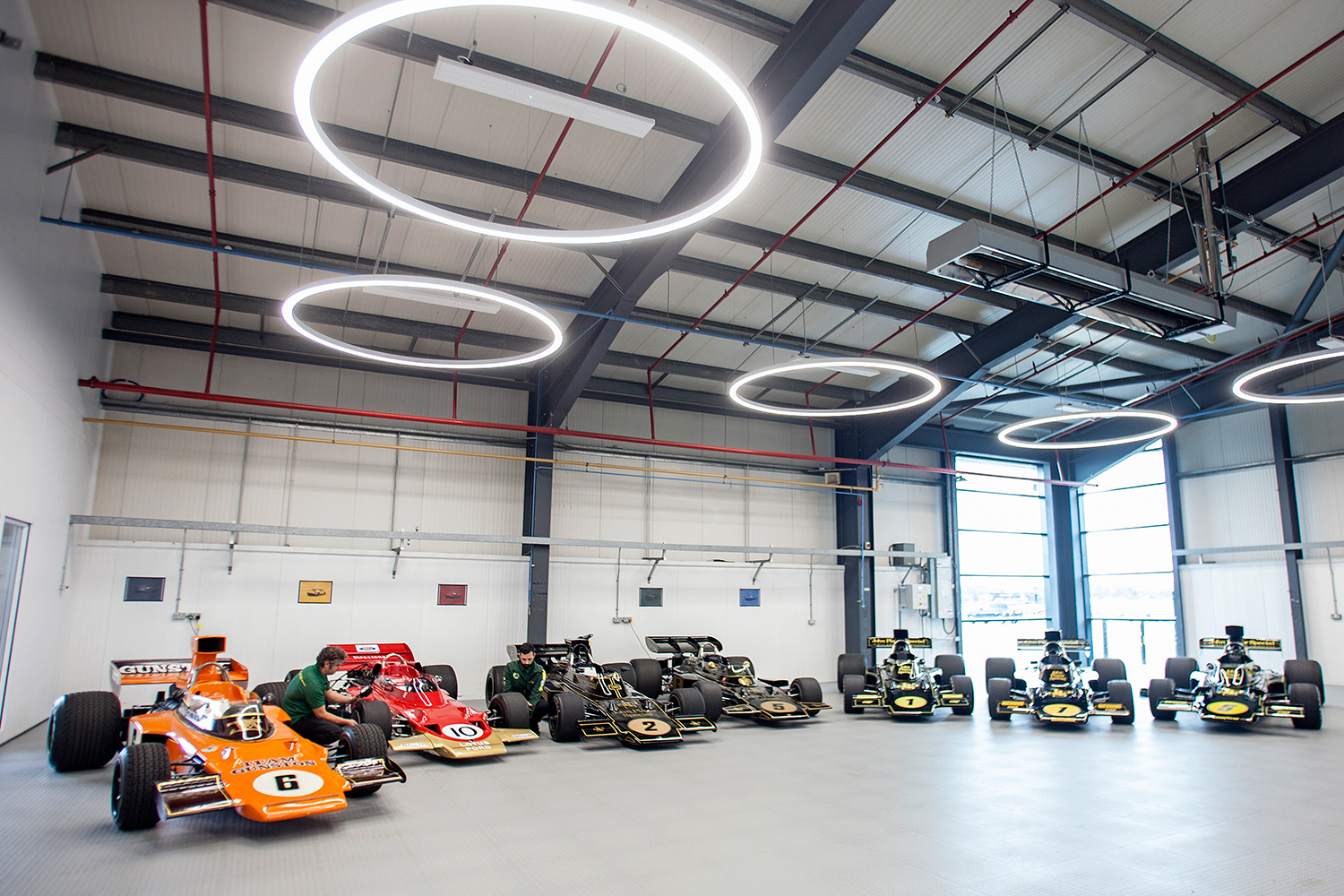 To celebrate this double Golden Jubilee a unique gathering took place at Hethel, Norfolk, UK home to both Lotus Cars and Classic Team Lotus. From 1970 to 1975, Team Lotus constructed 10 Lotus Type 72 chassis, eight of which are still in existence but scattered around the globe. However, all eight made the journey to Norfolk for the party along with Emerson himself.
After launching the "Evija Fittipaldi", a 2011-bhp (yes, that's not a misprint!) Black and Gold limited-edition version of the new Lotus hypercar, created to mark this 50th anniversary, Emerson sat down and talked about his time driving for team Lotus and the Type 72 in particular, "I drove many cars during my career, but the 72 was the best, it talked to me, and we understood each other it was consistently fast."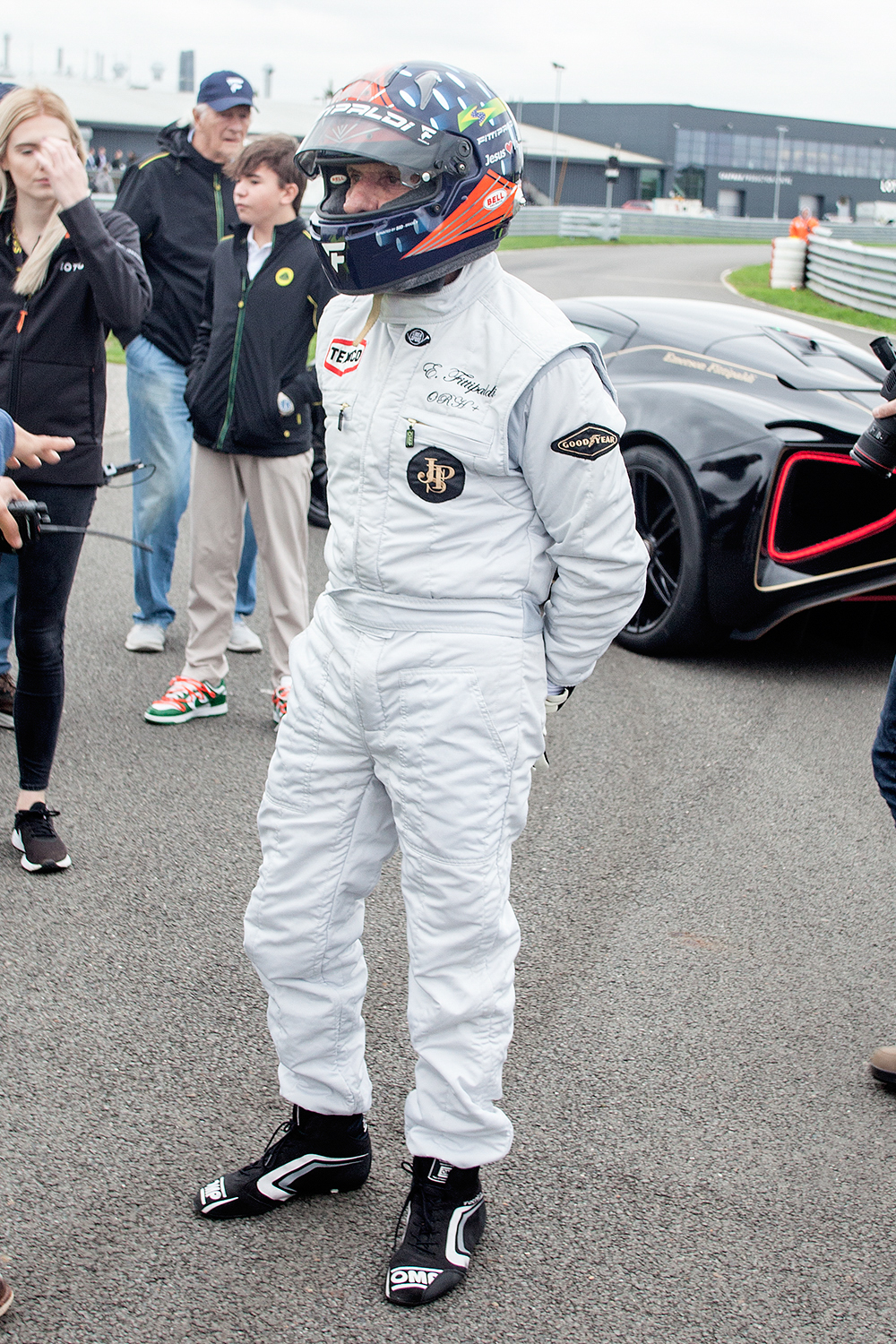 After winning the Lombank F3 series, in 1969, driving a Lotus 59 entered by Jim Russell, Emerson was offered a seat at Lotus as their 1970 F1 test driver and shortly after joining the team he became the #3 Grand Prix driver alongside Jochen Rindt and John Miles. Emerson's first Grand Prix start was at Brands Hatch in an ill-handling Lotus 49.  "I qualified at the back of the grid in the Lotus 49, and then Graham Hill lined up in the car next to me. I was thinking: 'I'm next to Graham Hill. This is a dream! If I die tomorrow I'll die happy', because my dream when I left Brazil was to race in a Grand Prix."
Emerson brought the outdated and misfiring 49 home in 8th place. How did it compare to the Lotus 72 he would drive later in the season? "A forgiving car to drive it was well-developed, remember it had been around since Jim Clark's time, there was a lot of suspension travel, I could slide it around or make a mistake when braking and get away with it. The 72 is much more agile, more precise, but nervous, the torsion bars make the suspension much stiffer, good brakes and good turn in. Very different to the 49."
Fittipaldi showed well at the next Grand Prix, this time in Germany, taking his Gold Leaf sponsored Lotus 49C to fourth place. He continues, "The first time I drove a 72 was in practice at Monza for the Italian Grand Prix, it was brand new and I crashed it. I was only doing a slow lap and as I approached the Parabolica corner, I checked my mirror and saw Jack Brabham catching me fast, but by then I'd missed my braking point and crashed into the back of Ignazio Giunti's Ferrari ending up over the barrier! When I got back to the pits Colin (Chapman) said `What happened?` I had to tell him". Tragically, the next day Jochen Rindt's Lotus 72 crashed at the same corner, but this time with a fatal outcome when the Austrian's car tobogganed under a badly installed Armco. Team Lotus withdrew from the race.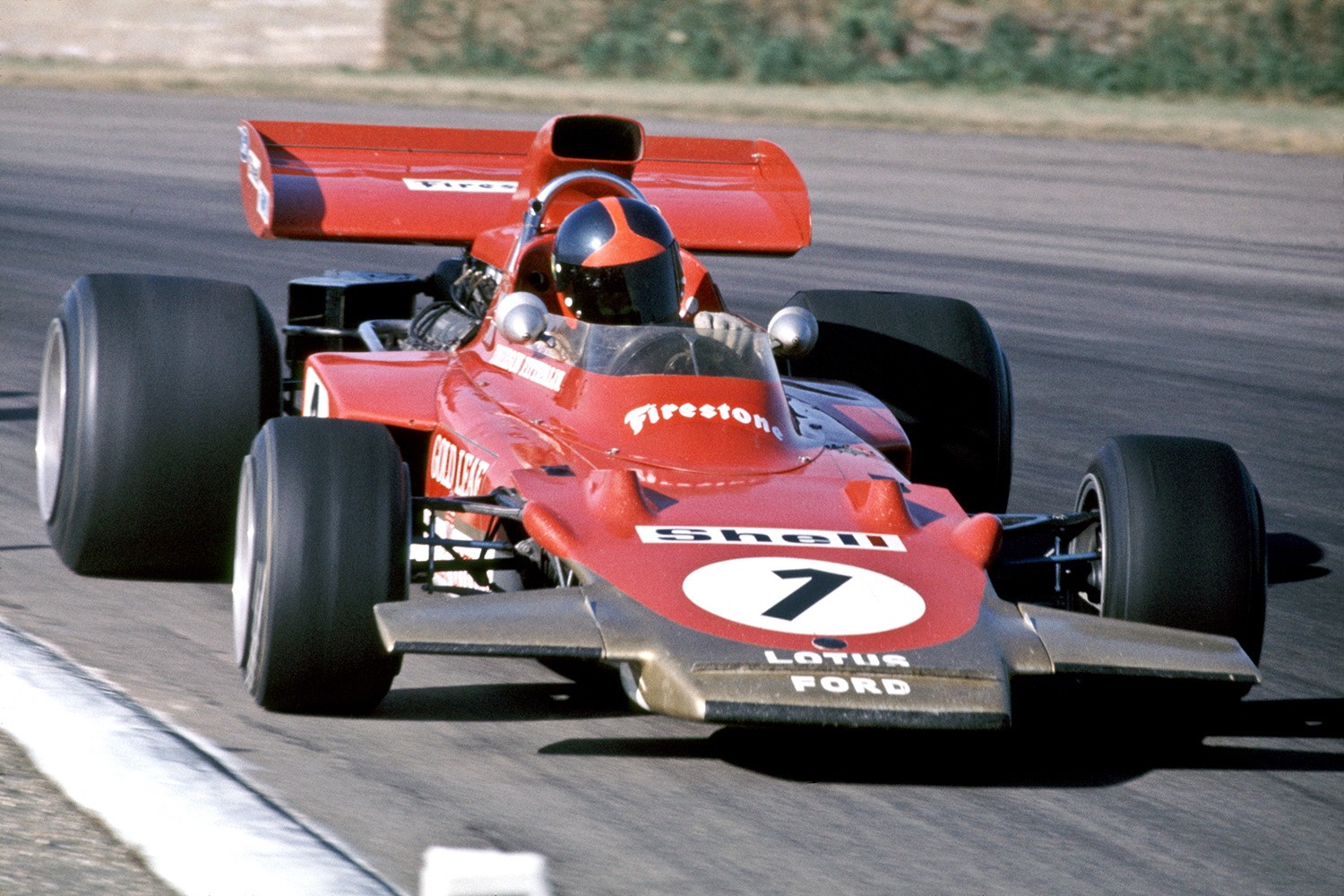 Obviously still moved by the memories, Emerson pauses then carries on solemnly, "We all went home and I heard nothing for 10 days. I was convinced Colin would hire a more experienced driver. I had only finished three Grand Prix and crashed a new car! Then Colin called me and asked me to be his number one driver, I felt I didn't have enough experience but Colin said the team would support me."
Just over three weeks later, Emerson found himself as team leader at Watkins Glen racing the 72 for the first time. " I felt the pressure but the 72 was very good at the Glen, it was a wet start and I lost places, but as the track dried I could maximise all that was good with the 72. To get my first win there so soon was fantastic and with Jacky (Ickx) finishing fourth Jochen (Rindt) would be Champion."
The 1971 season did not prove to be successful for the Lotus 72, the best Fittipaldi could manage was a second place in Austria. "Our problem was the instigation of slick tires," says Emerson. "The 72 was not designed for them, it would only be quick on low grip tracks like Monaco. Our chief designer Maurice Phillippe had to redesign the suspension. On the Firestone slicks, the original suspension was flexing and upsetting the car. It was not until the Victory Race in October that the new suspension was really working and the 72 had good grip."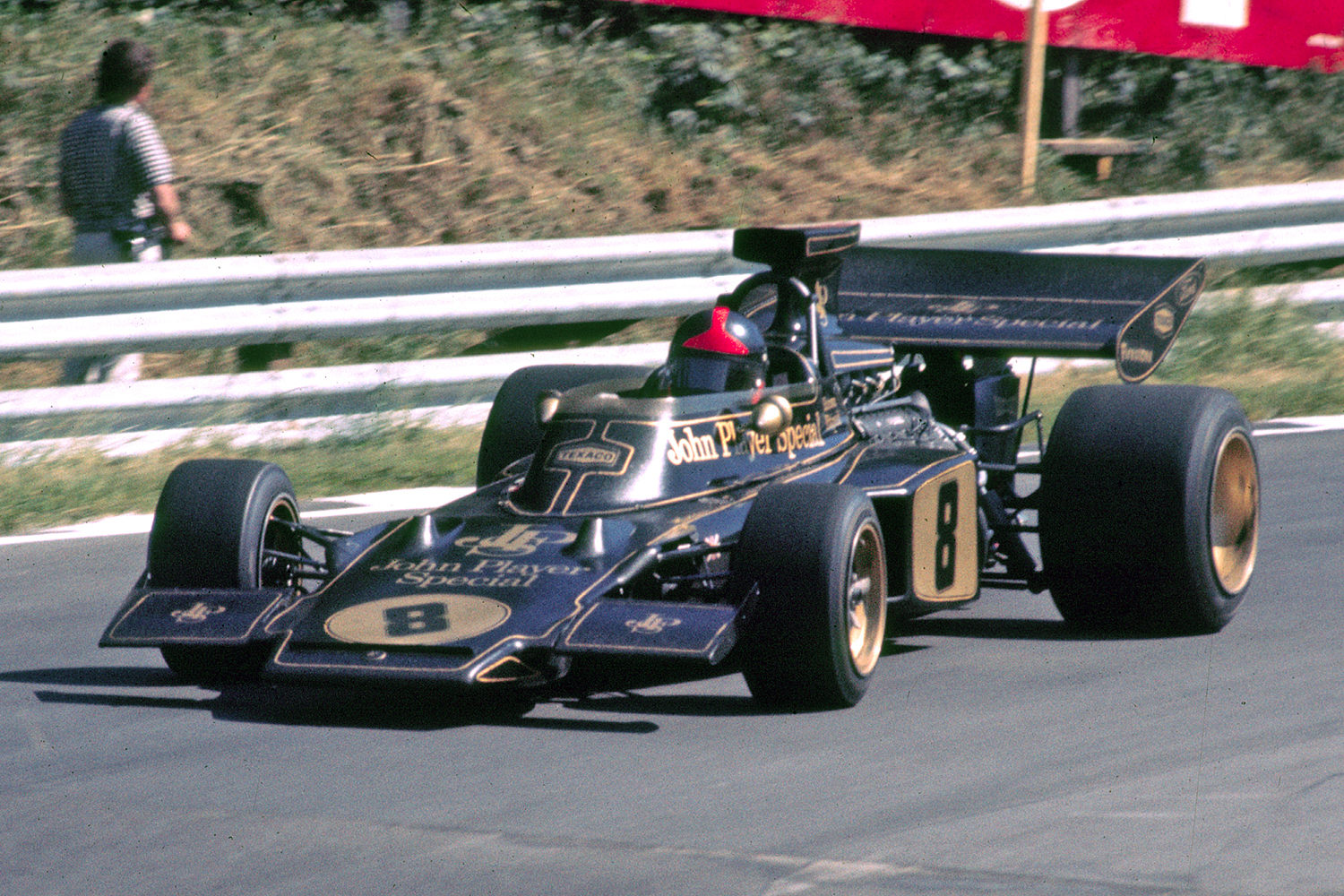 However, 1972 was "A Very Special Year" borrowing the title of a book published at the end of that season. John Player increased their sponsorship with Lotus and changed the livery to match their new brand of cigarettes 'John Player Specials' or JPS as printed on the packs. John Player promotion gurus Barry Foley and Noel Stanbury reputedly came up with that iconic black and gold F1 color scheme sitting around the kitchen table in Barry's house. When Emmo first saw the car, he told Chapman that it reminded him of a coffin and it should have handles on it! His opinion has softened over the years, now he says, "One of the most beautiful color schemes ever seen on an F1 car, so elegant, so different."
It wasn't only the look of the 72 that was right, the chassis had reached the peak of its development and was now the class of the field allowing Emerson to win 5 of the 12 Grands Prix that year and thus securing his title by race 10 at Monza. He remembers, "The team was very solid, working well, the first time I thought I could win the Championship was at Jarama, Spain, in May, the car was good on all tracks. I told Colin, 'We have a chance for the Championship.'"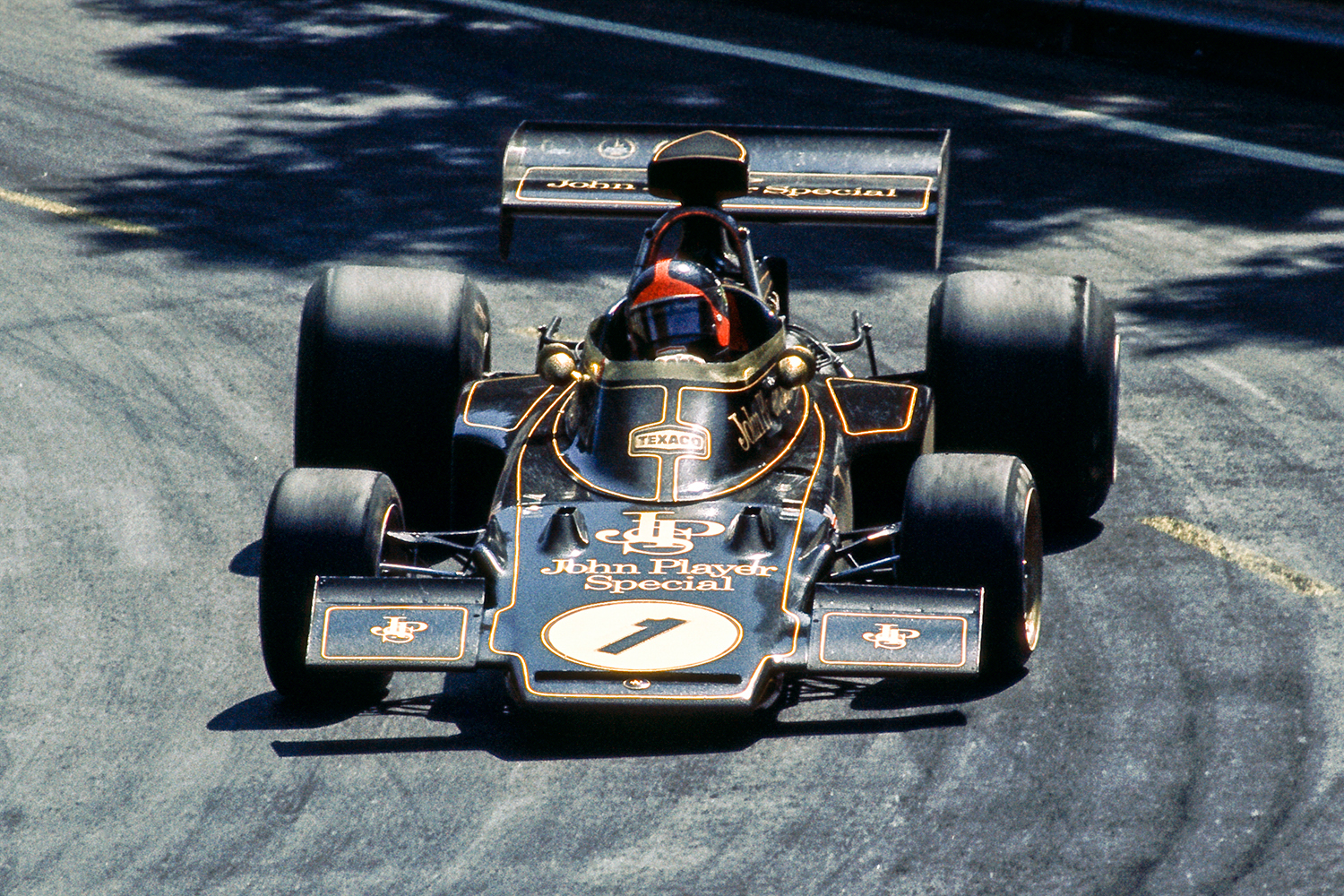 The 1973 season started well for the World Champion, now partnered by his friend Ronnie Peterson. "I won the first two races then the fourth and I thought I can be World Champion again in the 72. But then I scored no points at all in the next four races with Ronnie doing well. It came to Monza and I still had a chance for the title. Colin said if we were 1-2 in the race with nobody close I would be allowed to win. We drove away from them all, and with 15 laps to go Ronnie was in the lead but Colin did not give the signal, so with 10 laps left I started to dice with Ronnie but I couldn't get past. I don't know why he (Colin Chapman) didn't give the signal, I was very upset, after that I decided to leave, I felt let down."
"I don't know why he did that but let me say that of all the cars I drove in my career, Colin's designs were the best. He had an intuition for setting up a car, we would sit down and I would say there are problems and describe to him how it was behaving around the track, he would go back to the garage with the mechanics and change settings or the springs or dampers, toe in or out and the next time I drove it the car would be fast again. He was a genius."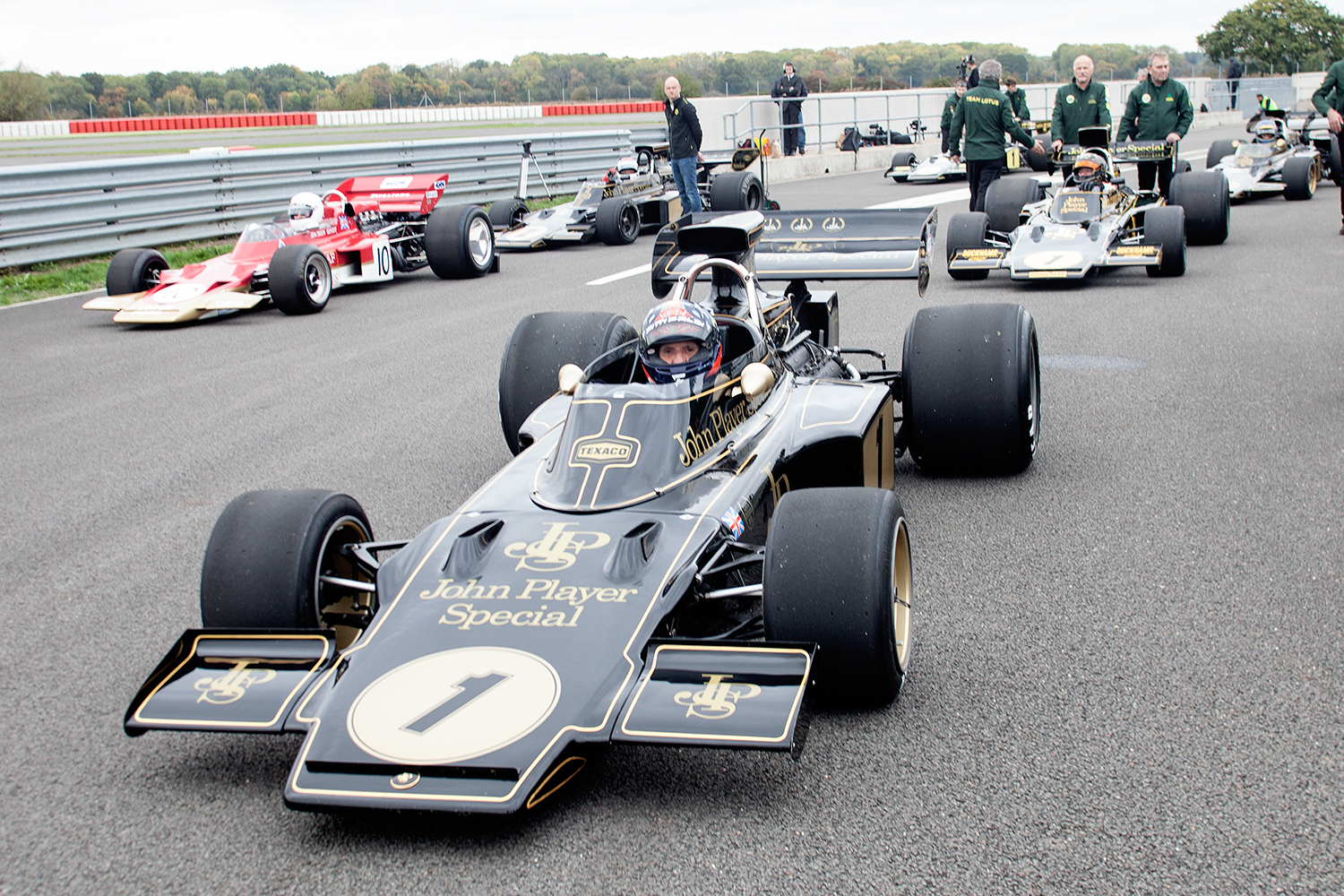 As expected, Emmo chose to drive "Old Faithful", chassis #72/5, to head all the 72s parade laps around the Hethel test track. It was the chassis he crashed at Monza in 1970, but once repaired it was his mount for most of the lack-lustre 1971 season, 5th at Monaco, 3rd in France and the UK, plus 2nd in Austria. Resplendent in black and gold for 1972 #5 took Emerson to 2nd in South Africa before being handed over to second JPS driver Dave Walker for a couple of Grands Prix before reverting back to being Fittipaldi's spare for the rest of the season. Emmo used it to win in Austria and clinch both F1 World titles at Monza after a transporter accident en route damaged his primary racecar. Upgraded to "E" specification, with deformable structures for 1973, Emerson scored 72/5's final GP victory and Lotus's 50th in Spain despite a slow puncture. "Old Faithful's" racing days came to an end in Zandvoort when a wheel failure caused Emerson to crash heavily during practice for the 1973 Dutch Grand Prix effectively writing the car off.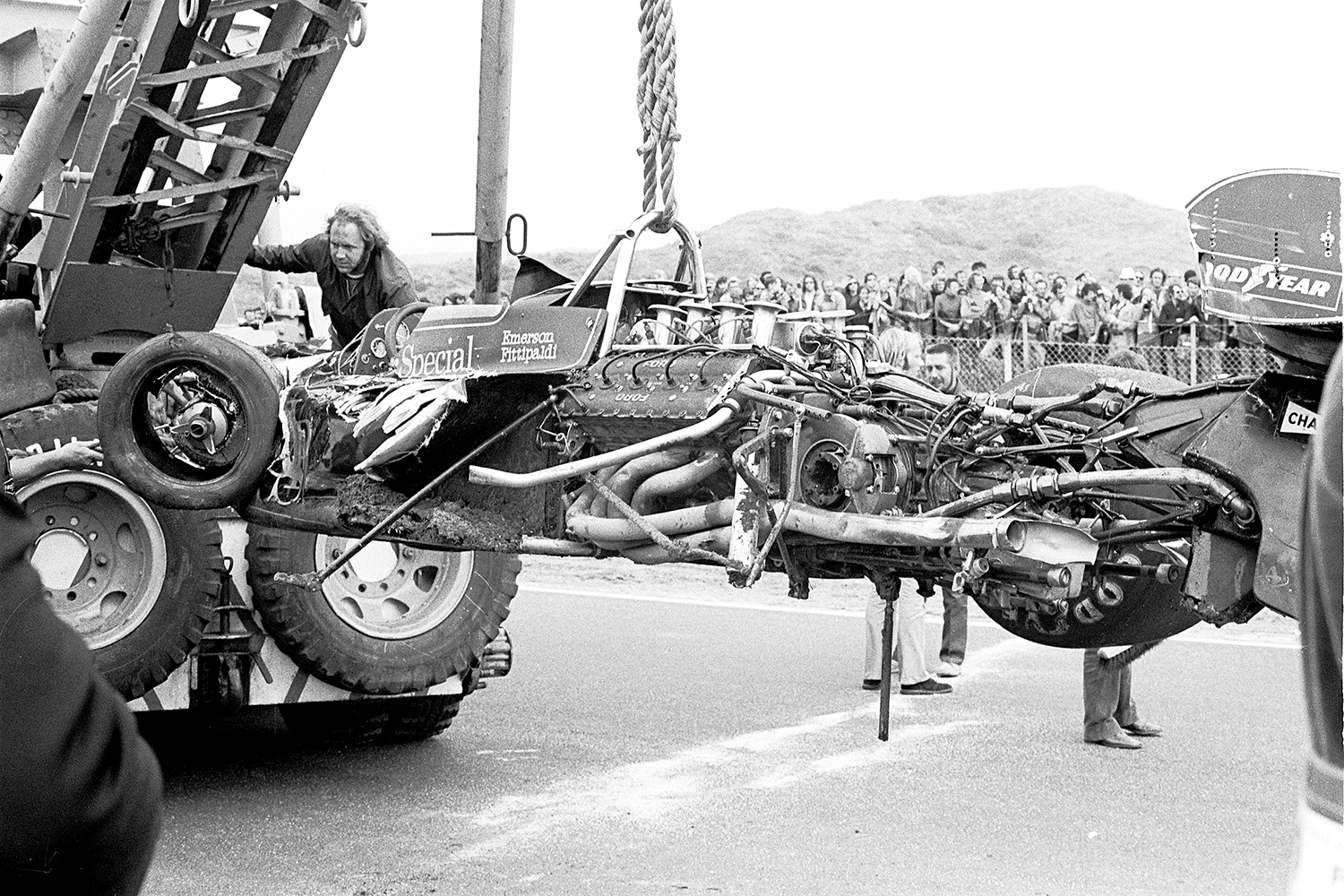 Colin's son, Clive Chapman, takes up the tale of 72/5, "All the other damaged chassis that the team has had over the years were scrapped and thrown away but for some reason this one was put in a corner and used as something of a rubbish bin for some time… we stored technical drawings in it. About ten years ago, I thought, well maybe we could straighten her out, we were able to do that and the tub is almost completely original."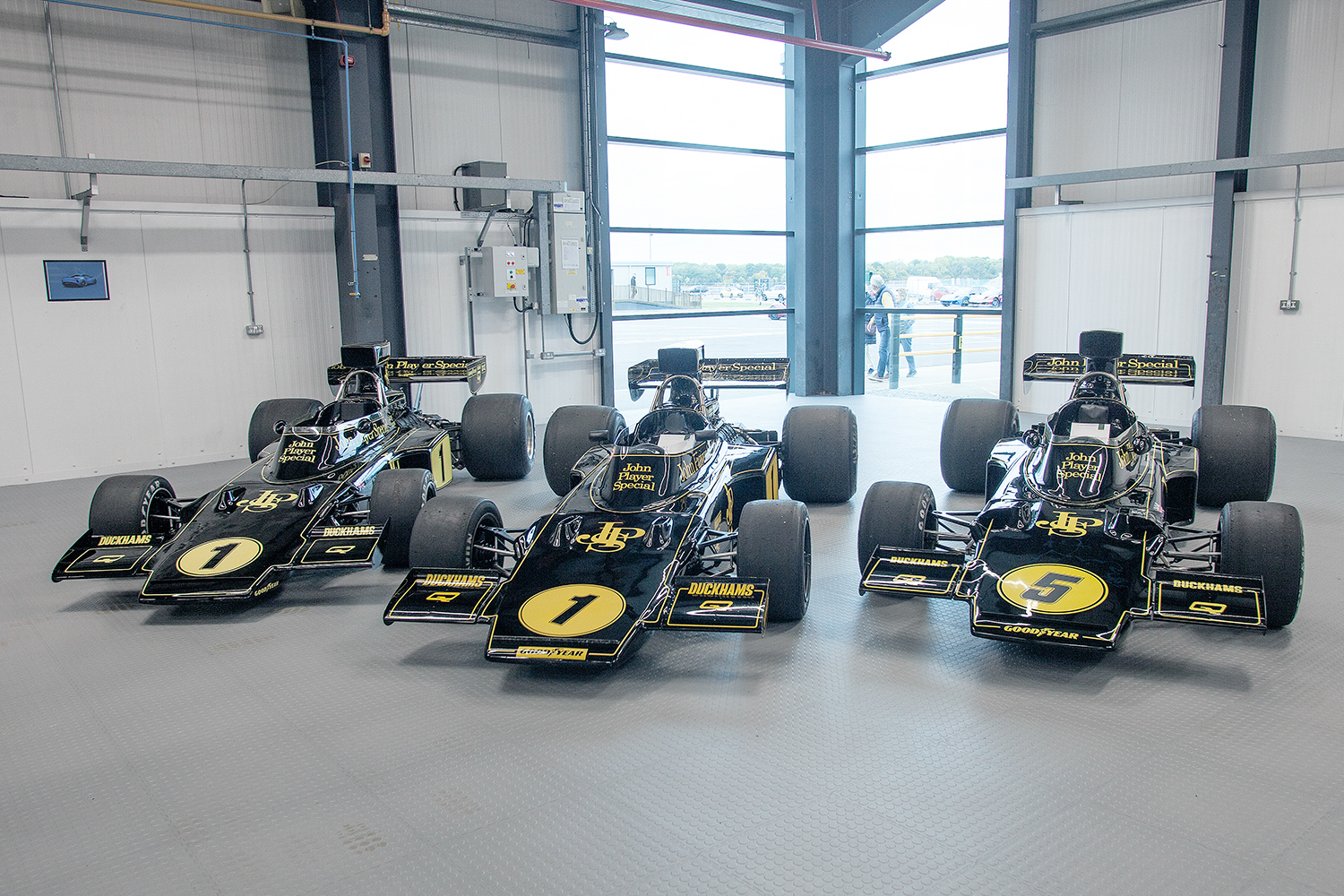 Surprisingly, "Old Faithful" did not secure the most Grand Prix victories for Emerson, that title goes to chassis #72/7 with a total of five under its belt. Built for the '72 season, it took Emerson to three Grand Prix wins that championship year in Spain, Belgium and Britain, with a further two podiums in Monaco and France. For 1973, in E spec, 72E/7 was used by Emerson to take victory in Argentina and Brazil, though he was also using E/7 when Peterson grudgingly piped him to the post at Monza. This chassis was then sold to Team Gunston and campaigned in South Africa, where it was also raced by Michael Schryver, in historics, during the 1990s. Now owned by Clive and the Chapman family, the car has undergone a complete restoration and wears JPS livery sporting race number 5, as used by Emerson to take the chassis's first Grand Prix victory at the 1972 Spanish Grand Prix.
Incredibly, by today's standards, the Lotus 72 line raced in Grands Prix from 1970 to 1975 a testament to the groundbreaking Chapman/ Phillippe design with its side-mounted radiators and wedge shape, which is still mirrored in F1 cars today. It won three Constructor Championships and two Driver's titles. Gathered alongside Fittipaldi's favorites at Hethel this day were 72/3 now the oldest surviving complete chassis raced by John Miles, Reine Wisell and Dave Charlton and restored into its Team Gunston colors of 1975. 72/4 originally constructed with some parts from prototype 72/1 for Rob Walker's 1970 F1 entry driven by Graham Hill but without success, it was then sold to Jo Siffert but never raced again until John Foulston used the car for historic events during the mid-1980s. Now wearing Gold Leaf colors, it pays homage to chassis #1 used by Jochen Rindt. Chassis 72/6 started life in 1972 and throughout that season and the next struggled to achieve results in the hands of Lotus #2 drivers Reine Wisell and Dave Walker, but after it was updated to E spec for 1973 it became Ronnie Peterson's rocket. Driving it, Peterson finished 3rd at Monaco, 2nd at Anderstorp, finally taking his maiden win in France followed by three more in Austria, Italy and the USA. Sold in '74 to John Love's Rhodesian Team Gunson the car continued racing In South Africa, 72/6 is still competing regularly now in historic events. 72E/5 was constructed to replace "Old Faithful" after Emmo's Zandvoort crash. Used by Jacky Ickx for most of the 1974/'75 seasons, the 72 chassis by then had been outclassed by its rivals and retired at the end of 1975, now restored it is also raced regularly at historic meetings. Chassis 72/8, built in 1973, became Peterson's alternative to the ill-performing Lotus 76 in 1974. Ronnie won three Grands Prix with it, the Monaco, French and Italian. For 1975, it was used as a spare eventually being displayed in the now defunct Donington collection, it now resides in the USA. Last of the line is 72/9, built for Peterson's 1975 season with modified suspension that didn't prove successful, the curtain came down on all the 72s at Watkins Glen that year with Ronnie bringing car #5 home, aptly, in 5thplace.
Due to the limitations of the Hethel test facility and the anticipated response, "All the 72s" was not a public event. As such, invitations were restricted to Lotus personnel, former JPS staff and contributors, plus a limited media presence. Never say never, but it's difficult to imagine an occasion in the foreseeable future when all these cars will be together again tracing the lineage of one of F1's greatest marques. It was a grey, damp day but that didn't overshadow this very special and historic occasion.