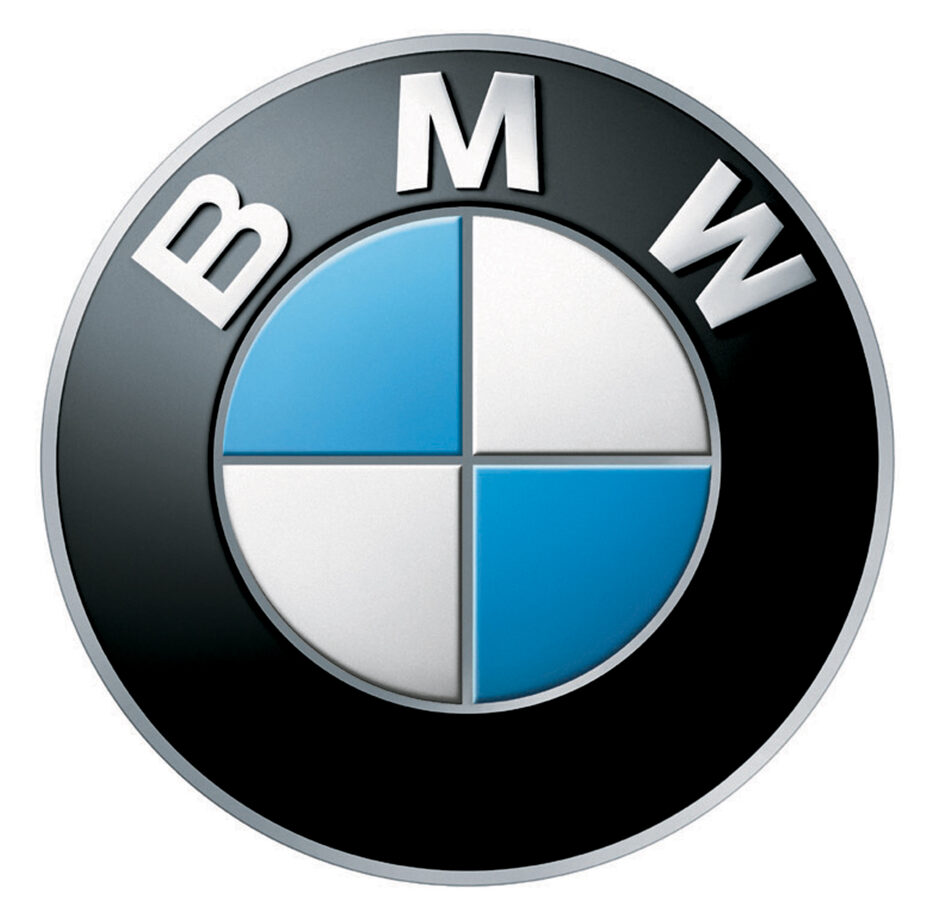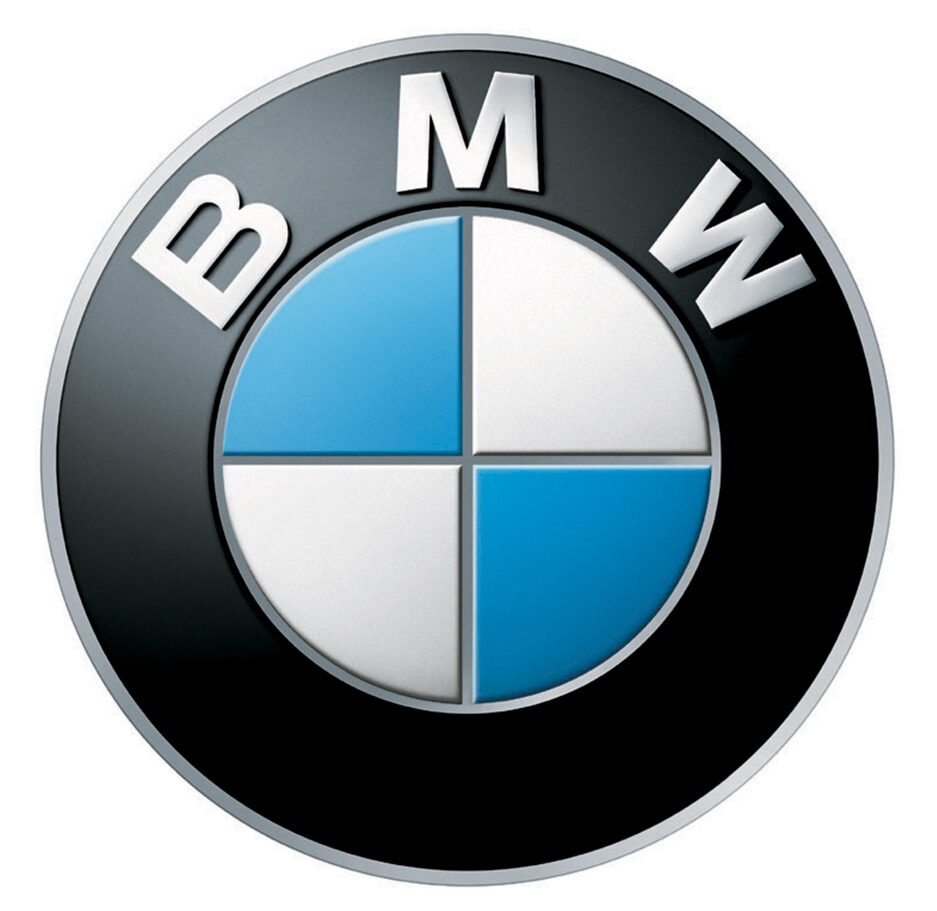 About 30 years ago, BMW shocked the automotive world by introducing a sexy and technically unique 2 place, drop-top sports car prototype at the Frankfurt Motor Show. This exciting show car was the first creation to come from BMW's new skunk works – BMW Technik GmbH. This was a group of over 50 forward thinking automotive engineers headed by automotive design legend, Dr. Ulrich Bez.
Formed in 1985, BMW Technik's mission was to drive innovation and foster new ideas that would find their way to the product line – back then BMW's product offerings were dominated by very conservative, notwithstanding sporty sedans. What made the Z1 prototype so exciting was the fact that, while it had all of the styling cues and exciting design touches of a purely futuristic fantasy, its basic mechanical components – engine, transmission and most brake components – were all right out of the E30 parts bin and therefore were readily available and proven reliable. That meant, the prototype wouldn't be merely an engineering or marketing exercise. It would eventually see production. Like I said, very exciting.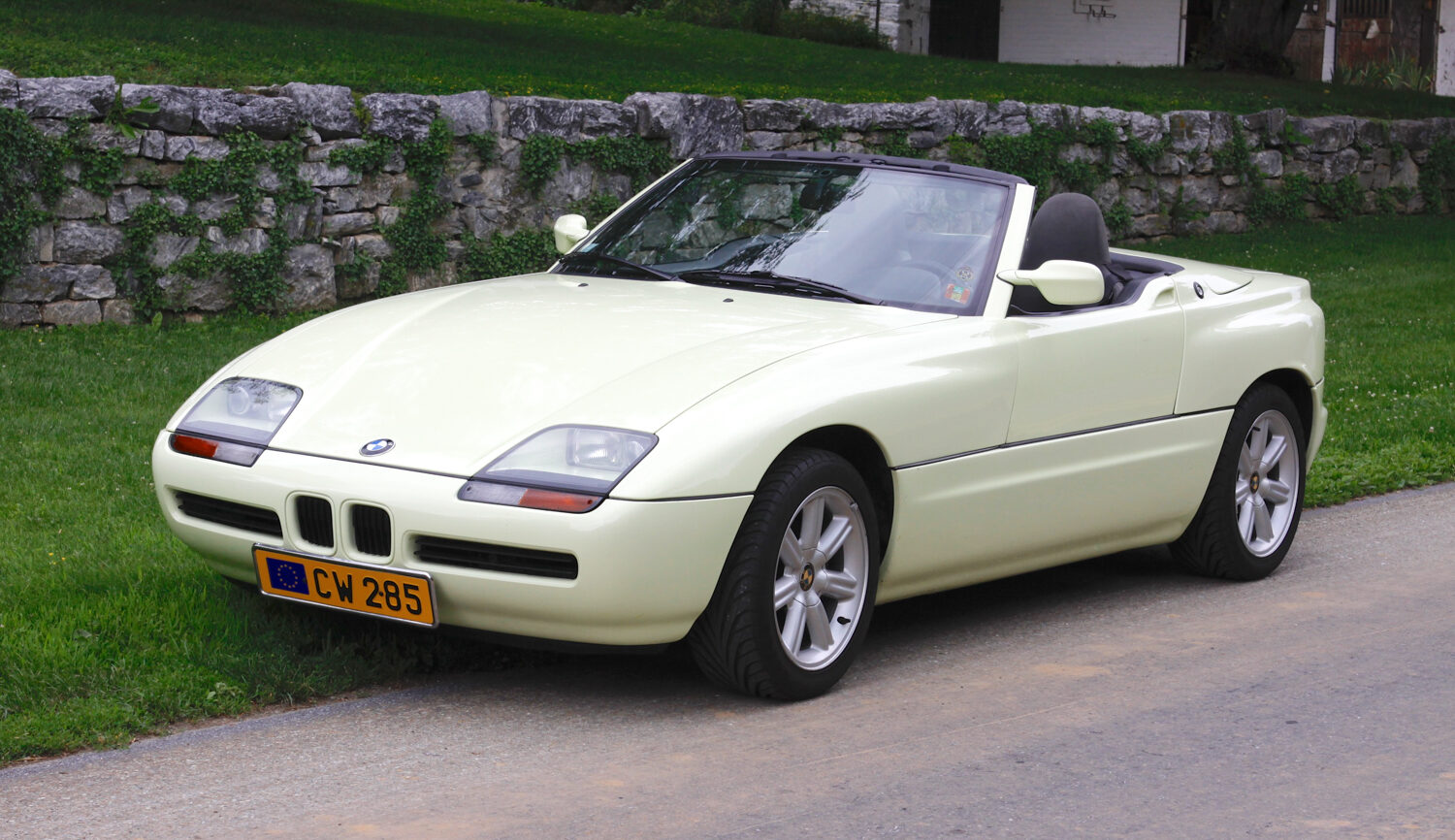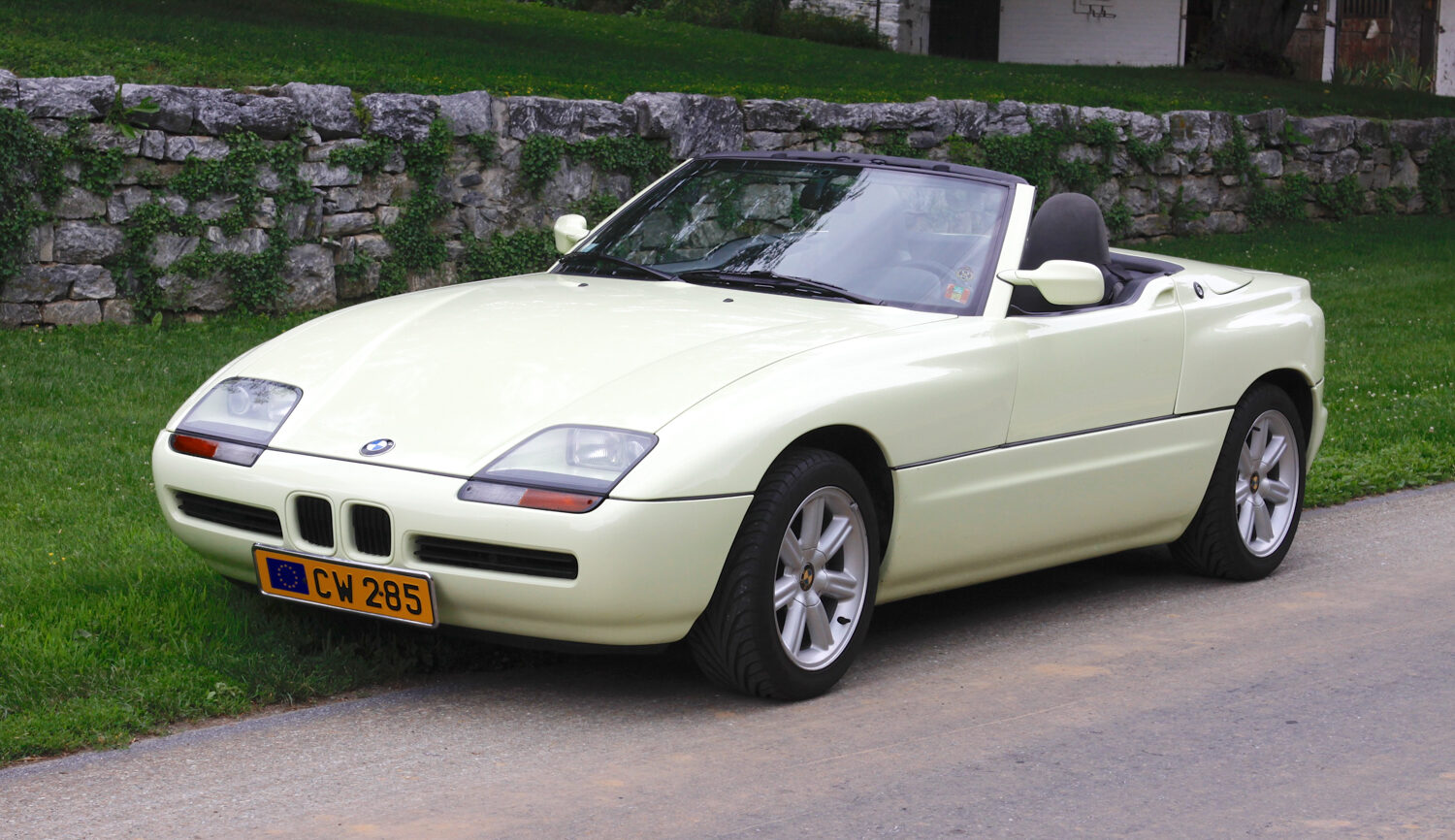 The Z1 is unique in a lot of ways. First, the 1988 press release describes it as "built around a zinc-plated monocoque" or backbone with a flat bonded plastic floor pan. Underneath, the flow of air under the flat floor is directed around a unique wing-shaped transverse rear muffler that acts as an under-body spoiler, reducing turbulence and adding downforce as speed builds.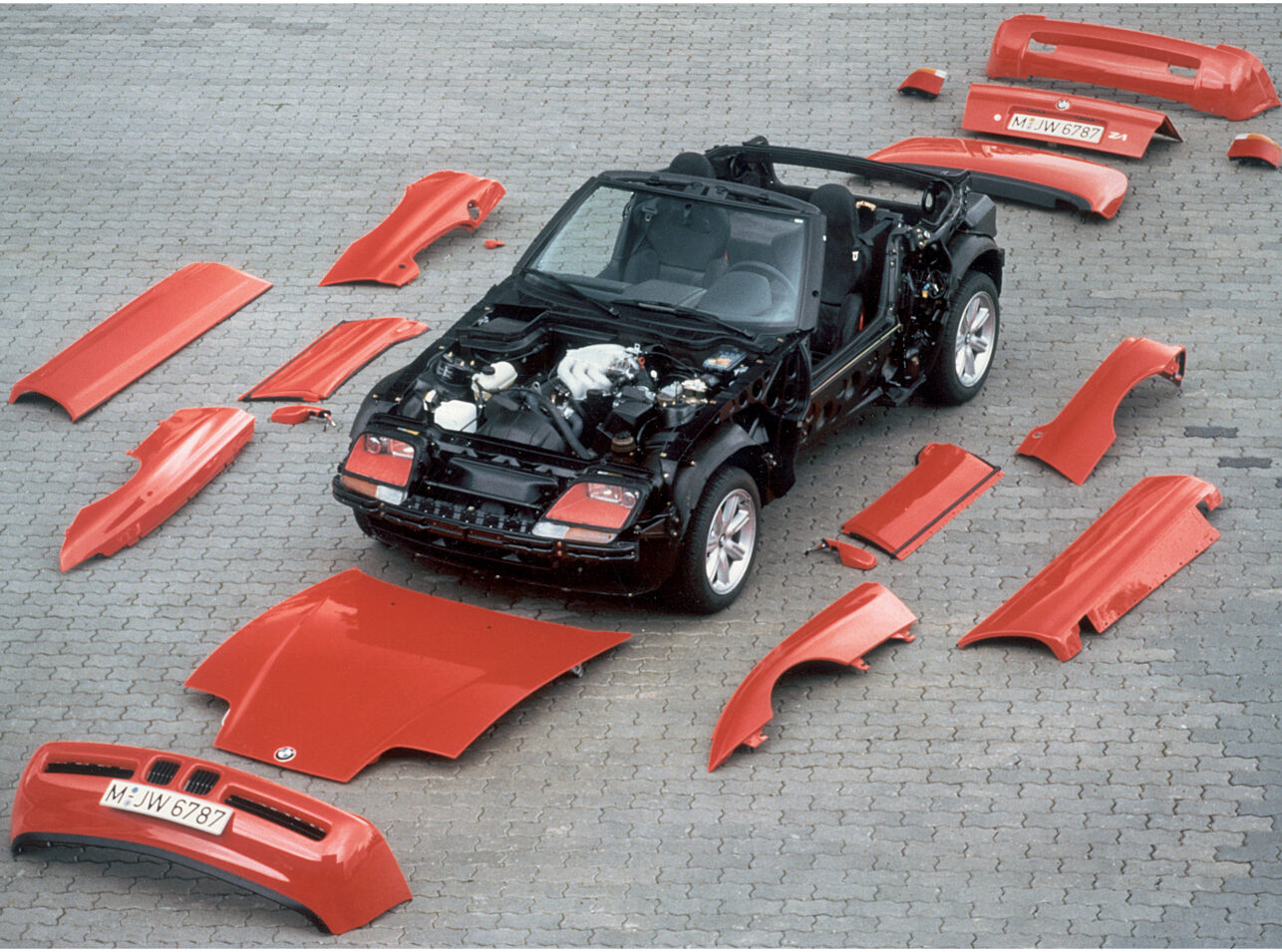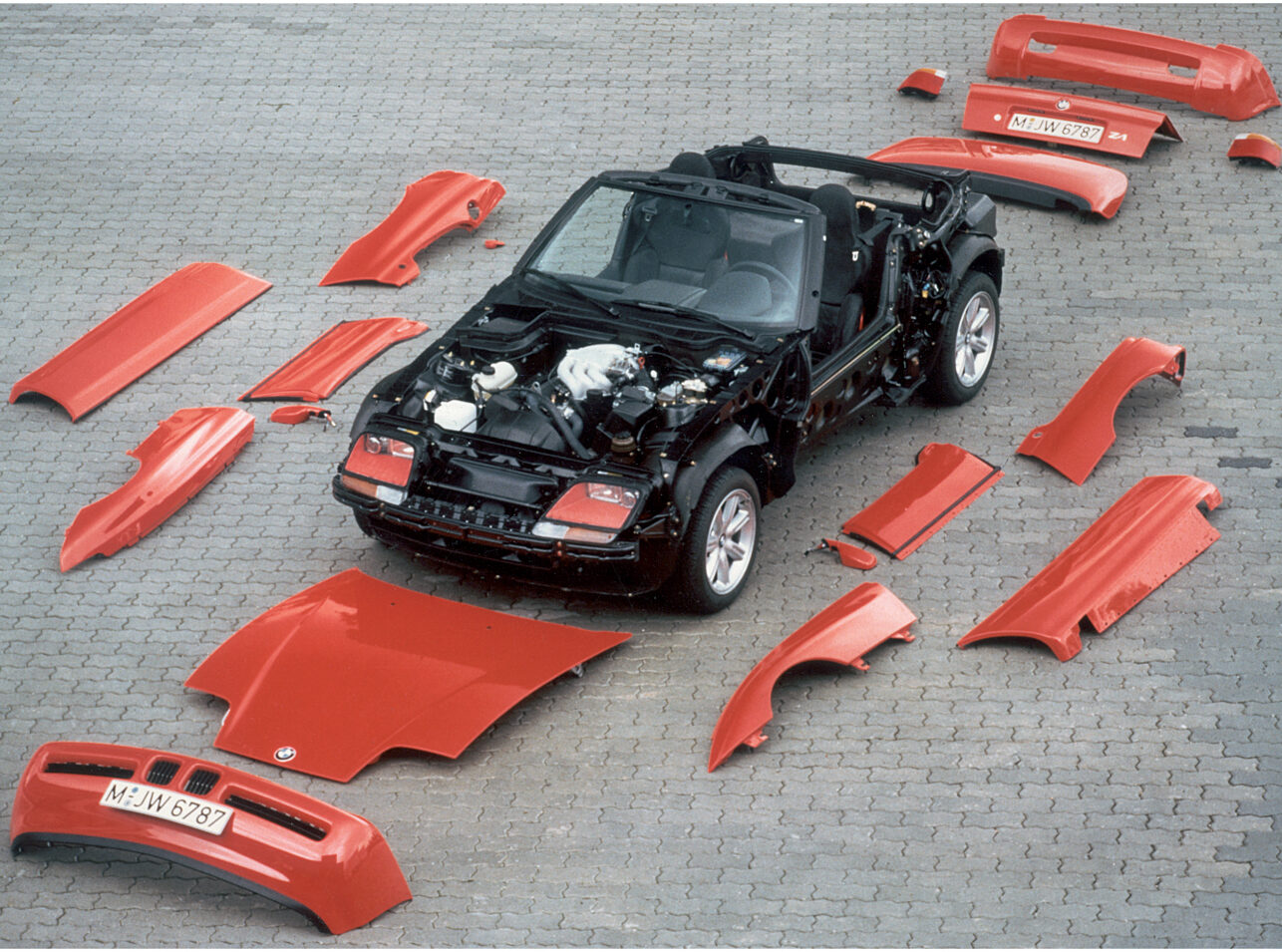 The fenders, hood, deck lid and bumpers are all plastic with each section made from different chemical compositions and tailored to its specific position on the body and its function. For example, the bumpers are made of urethane as this material is flexible and has greater resistance to impact. The doors and side panels are molded from a special GE thermoplastic and the engine hood, rear deck lid and the flip up tonneau cover are made of sturdy fiberglass. The body panels are painted with a special highly flexible coating that was co-developed for the Z1 project by BMW and AKZO. Speaking of coatings, the car only came (officially) in four colors. Red, black and green were most common, making these the color choices for the vast majority of Z1's.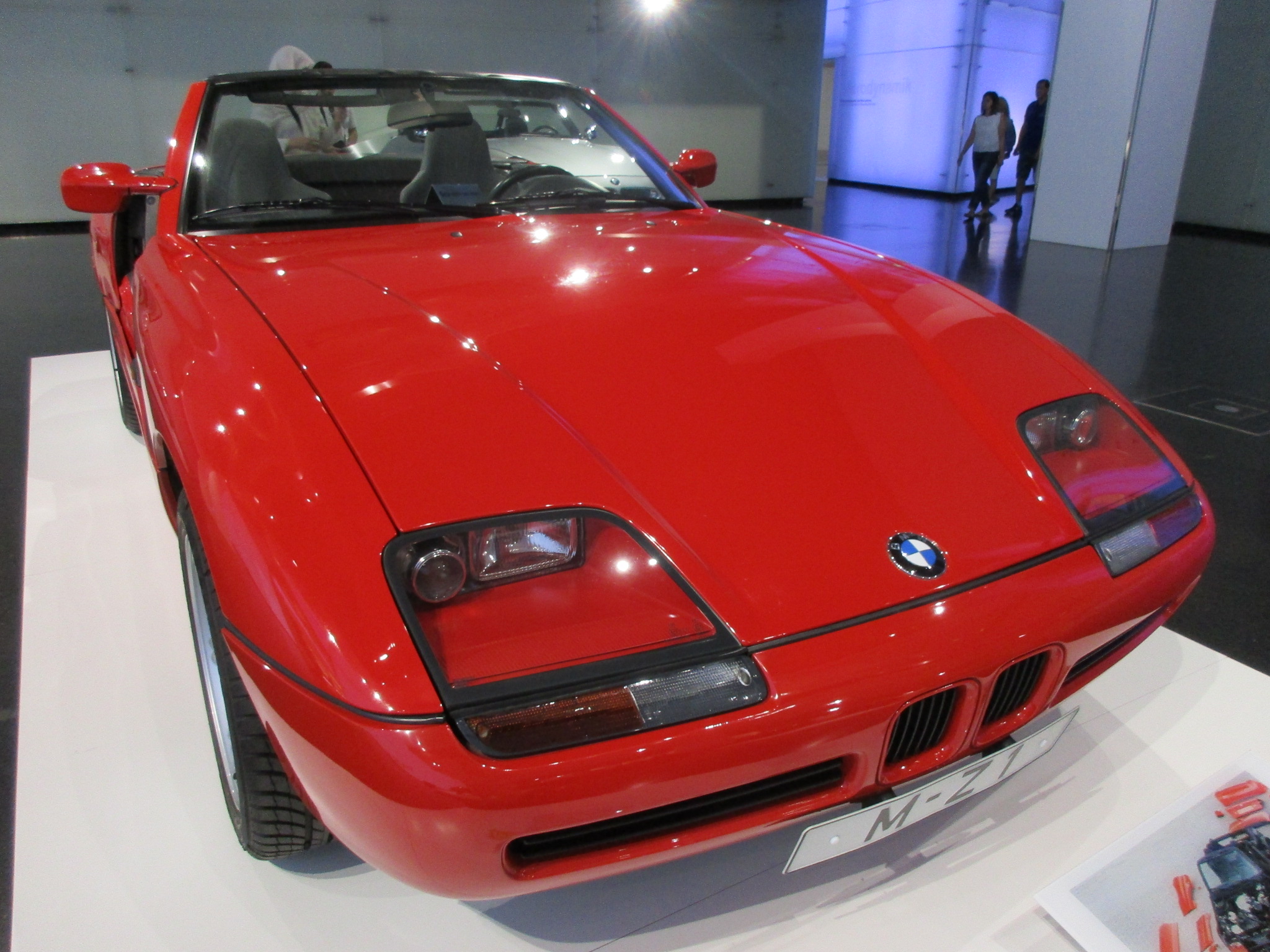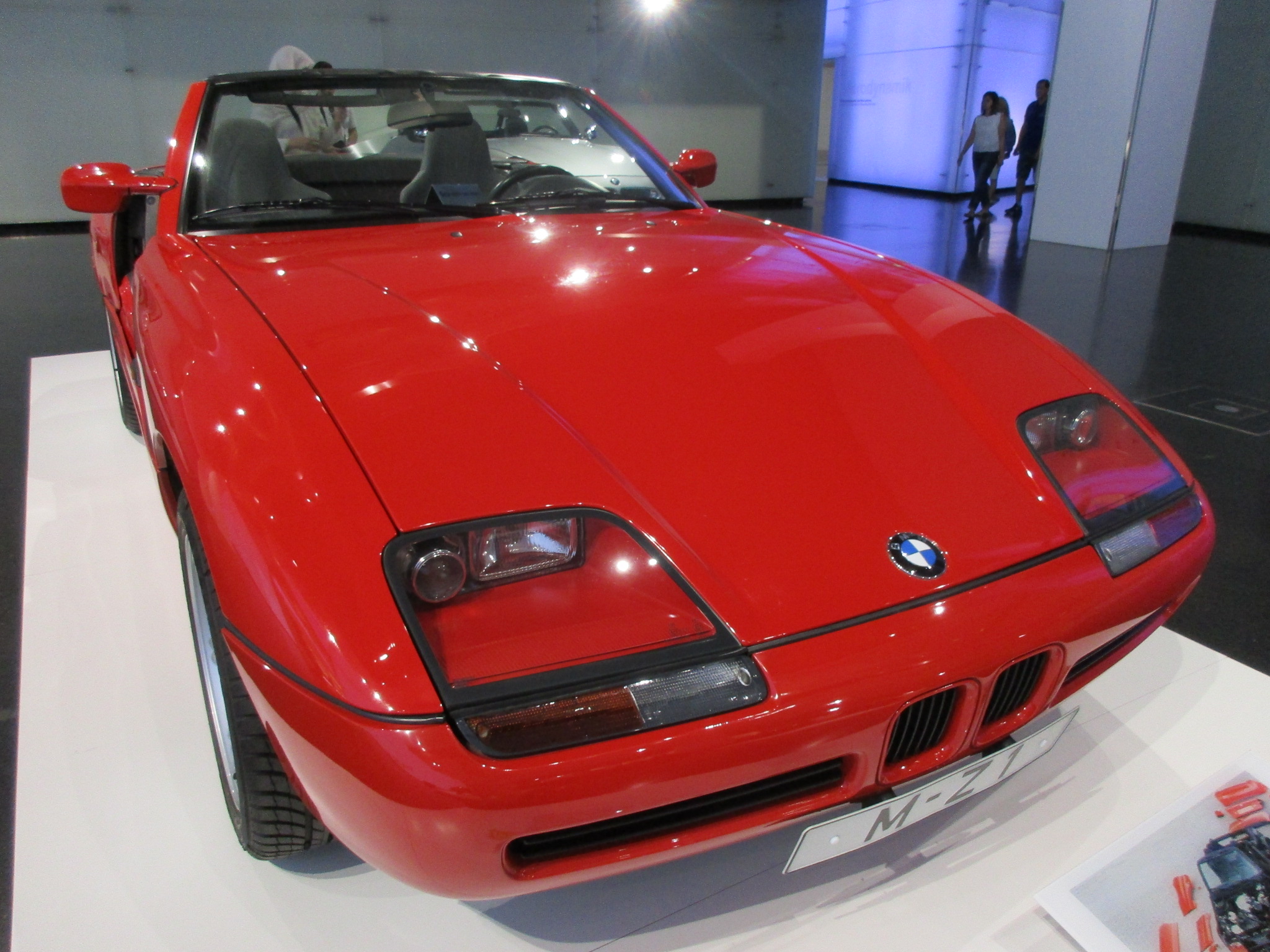 The car pictured in this article is painted the fourth option, "Fun Yellow" (fun geld in German), and is only 1 of 133 ever made in that hue and probably the only one in that color in the USA. The most rare "unofficial" Z1 colors – swimming pool blue and oh-so orange – were reserved for the car's two designers, Ulrich Bez and Harm Lagaay (Lagaay, famous for design of the Porsche Boxster). Near the end of the production run, purple was also made available but legend, rumor and folk lore has it that purple was only available to BMW's top executives. As Mel Brooks once said, "It's good to be the king!"
The Z1 was so technically advanced that it earned a slew of patents for innovations such as the drop-down doors, the car's new high intensity headlight system and the unique underbody aerodynamic design.
Mechanically, the Z1 is mostly 1980s BMW. The engine picked is the 2,495-cc, SOHC, silky smooth 6-cylinder from the E30 325i canted 20 degrees to lower the hood line and fitted behind the front axle for better weight distribution (BMW says the Z1's weight distribution is 49/51.)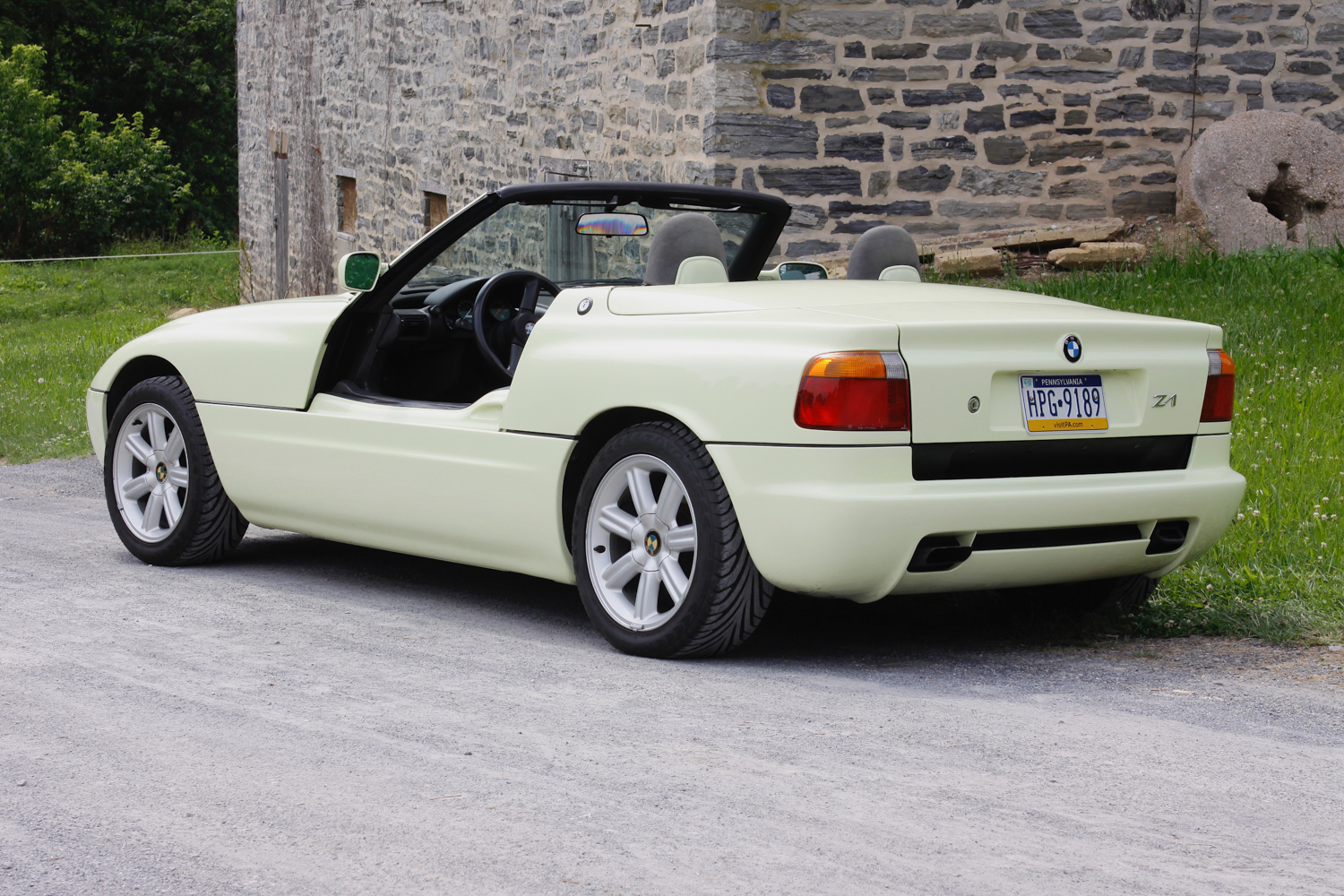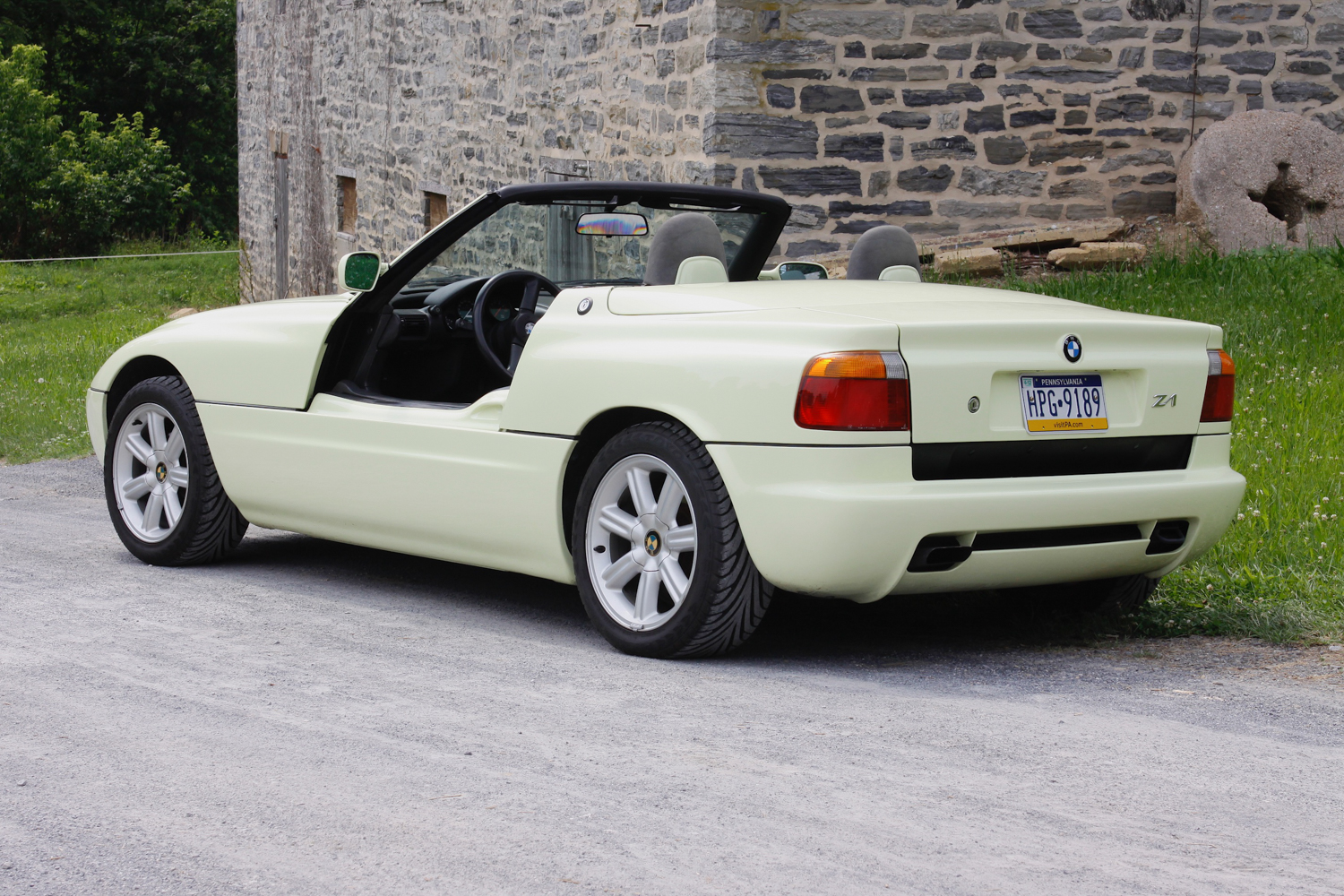 Power was rated as a relatively modest (by today's standard) 170 hp coming on at 5,800 RPM with 164 lb-ft of torque at 4,300 RPM. The transmission is a Getrag 260/5 connected to the rear axle by a rigid transaxle tunnel (think torque tube ala Porsche 928/924/944). Front suspension is pure E30 front coils and struts. Brakes are vented E30 discs up front and unique-to-the-Z1 solid discs out back with integrated hand brake shoes.
While the Z1 came with an in-dash radio and heater, due to space limitations, air conditioning was never offered – not even as an option.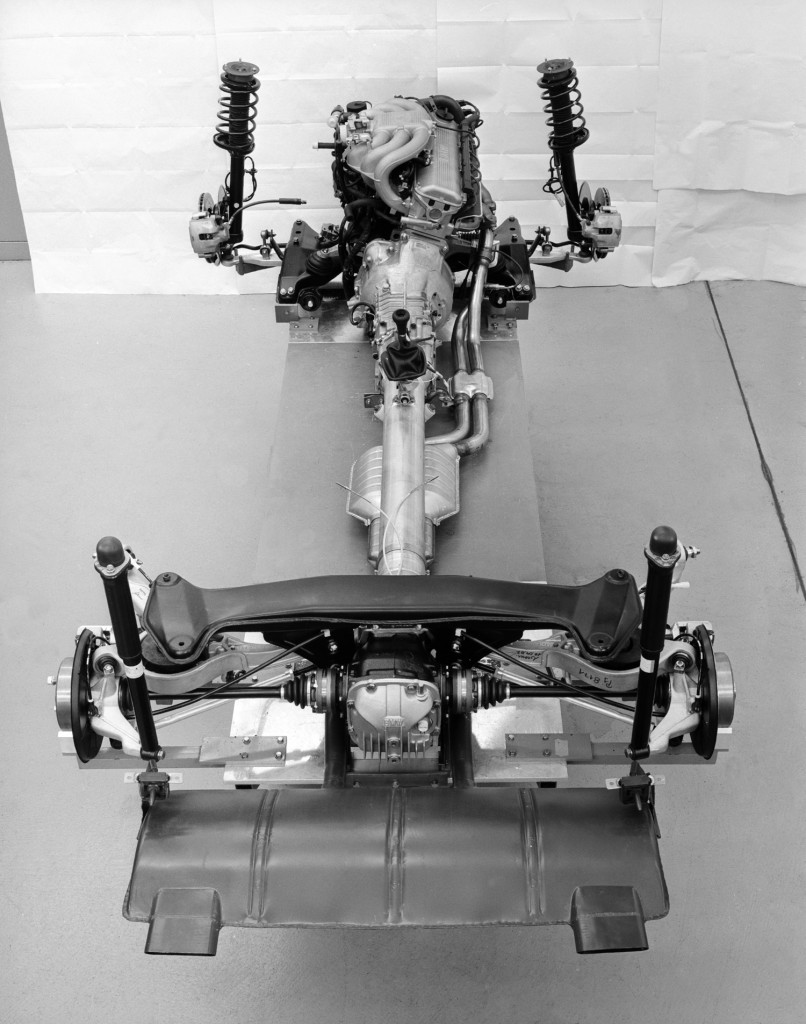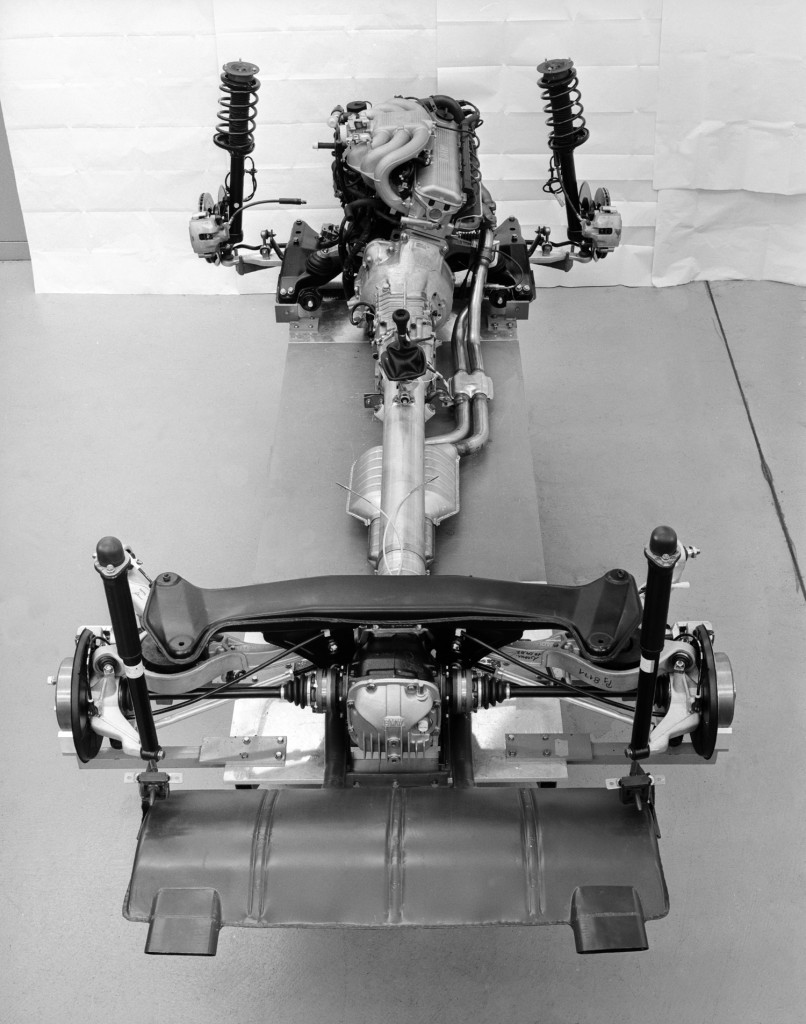 Where the Z1's mechanicals really depart from those on the 325 are in the rear suspension and the choice of wheels and tires. The Z1's rear suspension was BMW's first production "multi-link" affair called (no surprise) the Z-axle and was probably a precursor to the wonderful setup found a few years later on the early '90's E36 line.
Wheels and tires were upgraded over the base E30 as well with 16 inch by 7.5-inch alloys fitted with aggressive, even by today's standards, 225/45 ZR 16's tires.
Performance, based on the 1988 BMW press release, rated the top speed to be 135, (however, the owner's manual says 140!) with a magazine-tested sub 8-second 0-60 run. Maybe these are not very eye-popping stats today with Asian econo-boxes blowing those numbers away, but these figures were quite respectable for the era. Unfortunately, based on its stunning good looks, (and price) potential buyers were expecting more.
Even more unfortunate, the Z1 was never officially imported into the United States. In fact, despite the even greater rarity of BMWs like the 507 (only 252 made) and the pre-war 328 (only 467 made) there is a very good chance that you have never seen a Z1 in person, despite the fact that they built 8,000 (give or take a few test mules) and they are a late-80's early '90's model (1989-1991). Personally, prior to this story, I had only seen one Z1 before and that was on a side street in Heidelberg.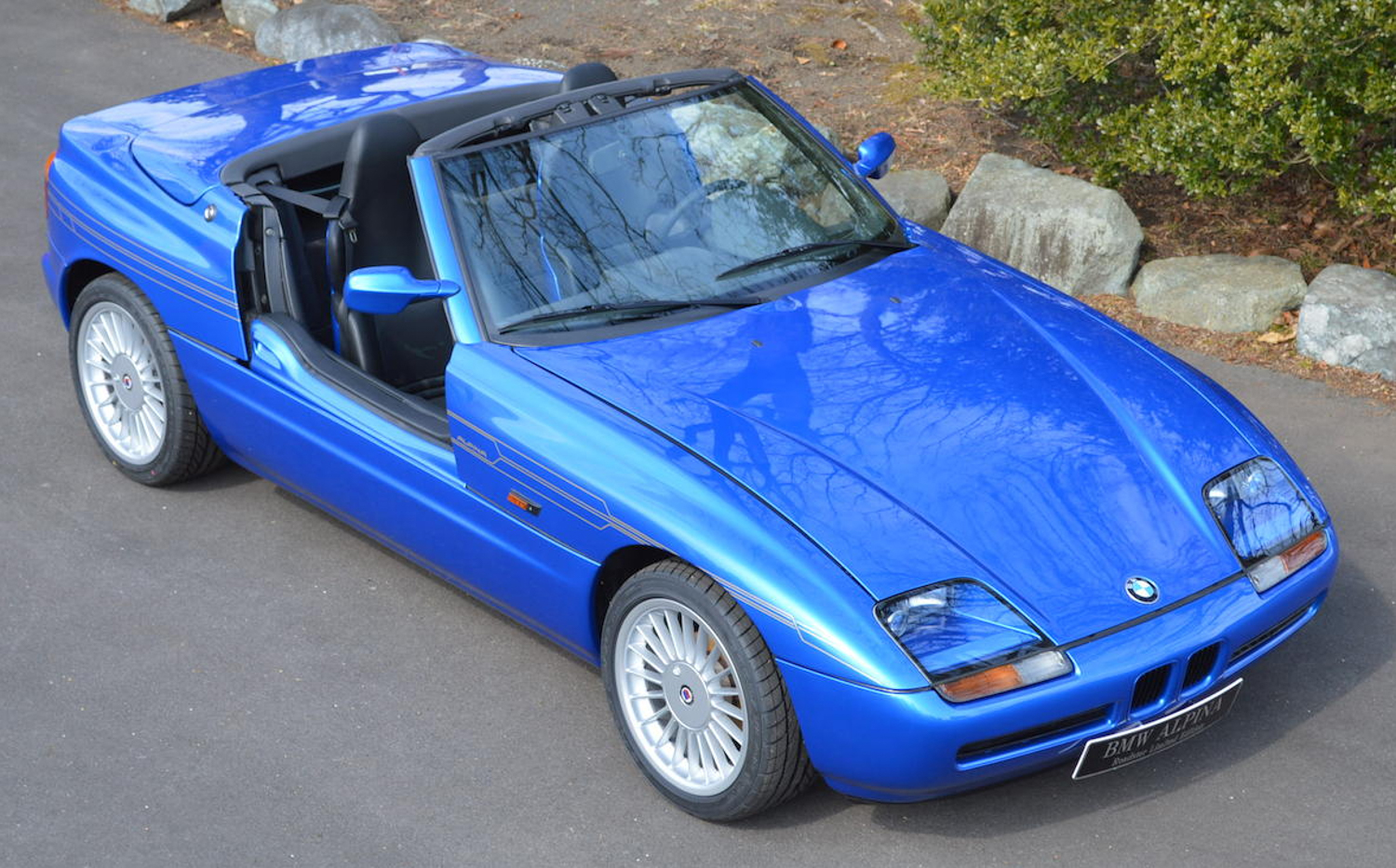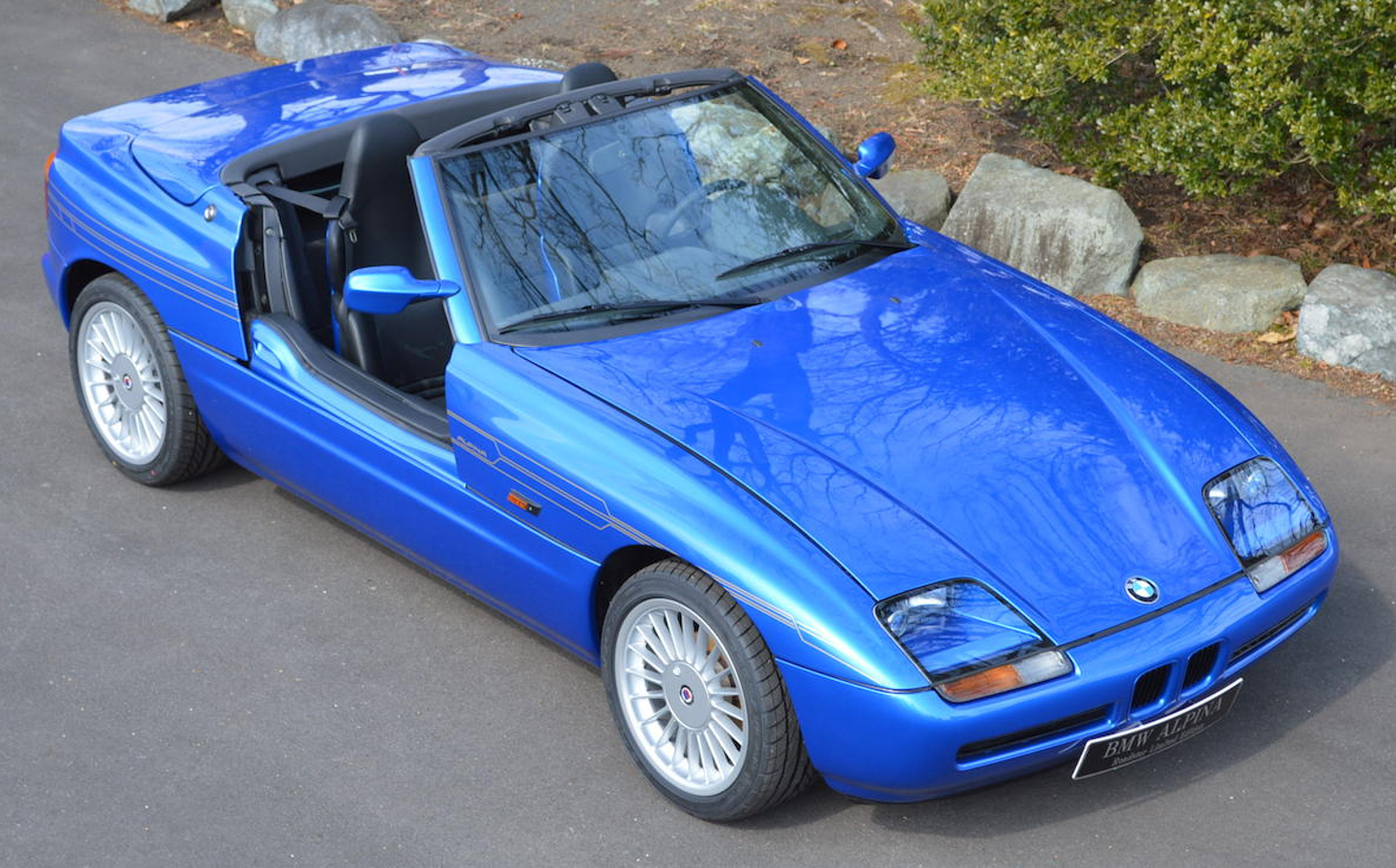 The little BMW roadster's uniqueness and engineering qualities seem to be the major draw for the owner of our "fun yellow" subject car. He said that while he already had an E30 Touring, he wanted something different. He explained, "I wanted a BMW, [but] I wanted something a little off the wall!"
He told me that he had seen a few of cars for sale in Canada, but he was concerned that buying one could become "an import disaster" and so he focused his search for one that was already in the United States.  He elaborated saying, "I didn't want to go through that route. I wanted to buy one States side."
Very computer savvy, he kept searching for a USA Z1 using all of the tools the Internet has to offer.  He told me, eventually, after a lot of surfing, one crossed his radar screen. "[My] car [just] came up; I forget where I saw it, it was on the Internet someplace." But he couldn't pounce because he already had a garage full of cars and needed to make room first, explaining, "I won't keep a good car outside." He added, "I had an Austin Healey 100 at the time and I was in the process of selling that." Fortunately, soon enough, the Healey went to a good home and that made room for the Z1. Even more fortunate, when he finally made contact with the owner, it as yet hadn't been sold.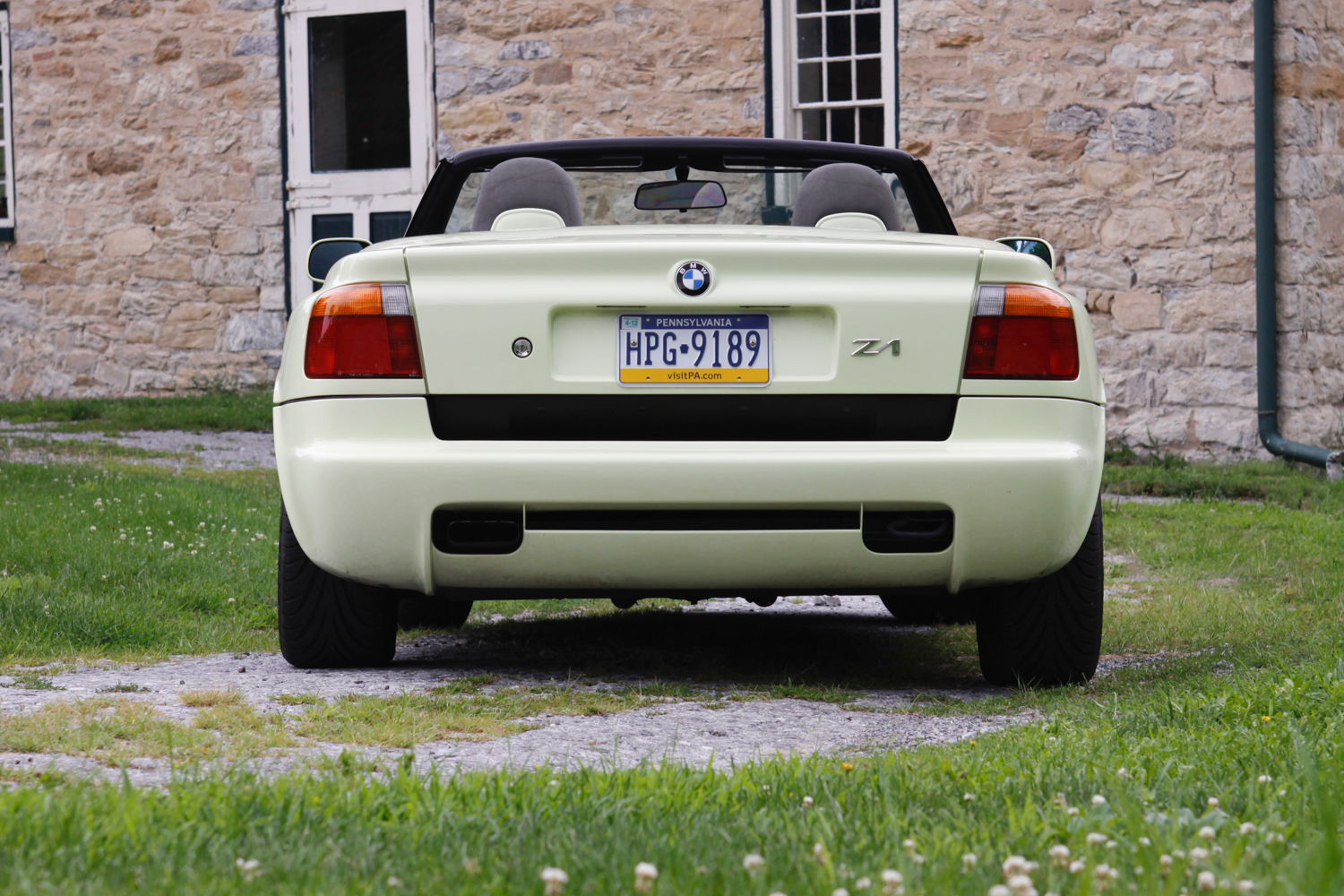 After speaking to the owner, he learned that the car was located in Sarasota, Florida and that it was brought to the USA by the owner's father. He had bought the car new in 1990 in Luxemburg. Jim said that the car came with papers showing that it was approved for the 2,500 mile DOT "show and display" exemption so he knew it was legitimate and that he would not run into any problems getting it road ready in his home state.
After a two hour airplane flight to Florida, the owner picked him up at the airport and took him directly to see the car. The owner gave me some of the details saying, "The owner took me to his garage; it was air conditioned. The car was under a cover. He took the cover off, and then I said; let's take the car for a ride." Smiling he said, "The car shifted [perfectly]…everything was like new in the car." Adding, "The car [only] had forty thousand kilometers on it." Pausing for emphasis, he added, "Mechanically, the car was like new!"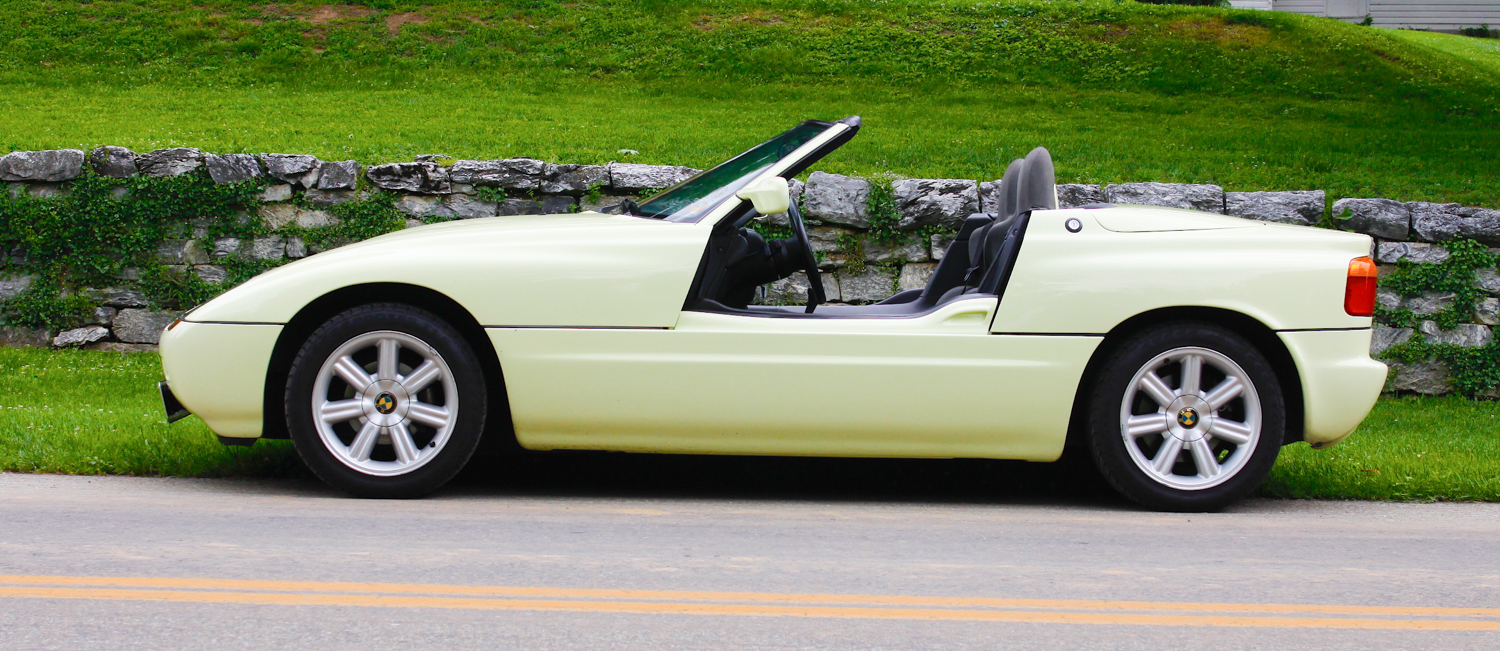 I asked if it was fast. "It's as fast as an E30," he said. "It's a heavy car. It's got that sheet metal frame [and it's] pretty hefty and it's hot tin dipped, you know, galvanized, sort of the same platform that a Fiero had with the plastic panels bolted on except the chassis is galvanized and the Fiero was just painted.
After making the deal, he said he bolted on a temporary tag and drove it home from Florida to Pennsylvania. With a wry smile he said, "I drove it back. Maybe the tires were a couple of years old so I didn't push my luck. But probably the fastest I came on the way back was maybe 110 in some spots. [Plus] I had a temporary plate on the car so I didn't want to push my luck too far." I made the observation that 110MPH is pretty fast, he only said, "I don't like to drive much faster, on the roads, you never know. Deer, groundhogs, birds…"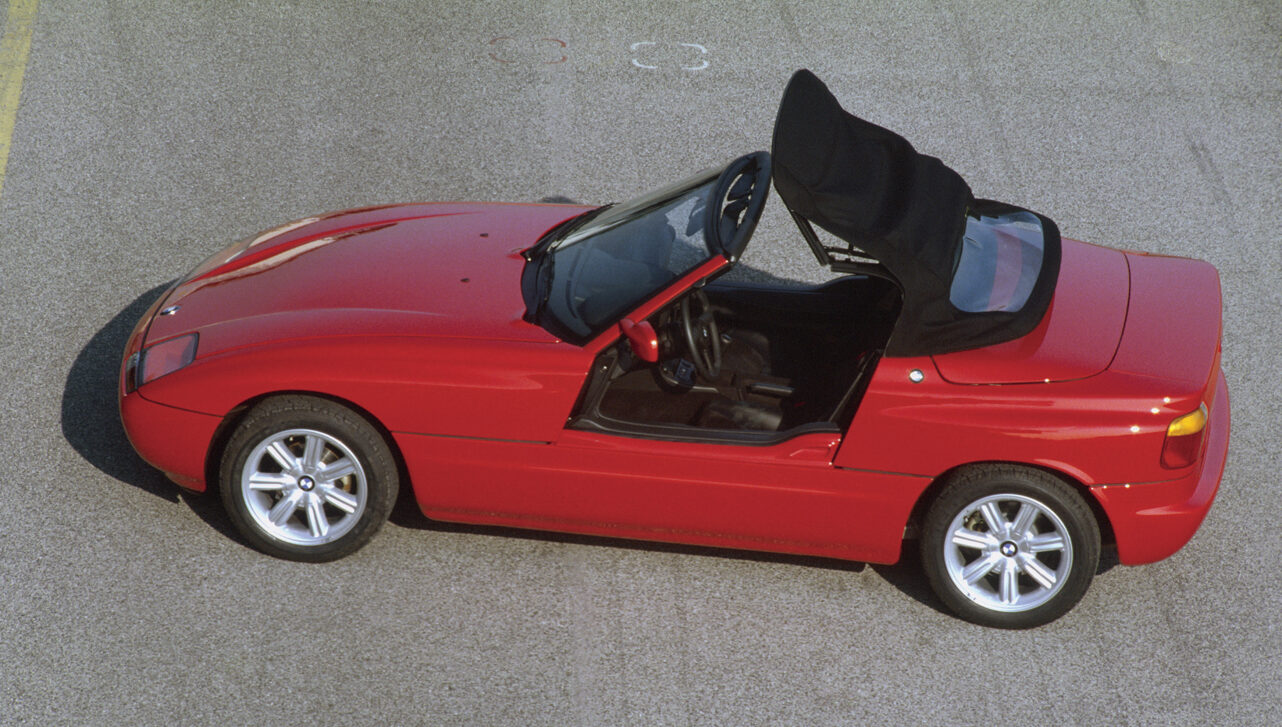 The appeal of this car, compounded by its rarity is not something to be underestimated. He said that when he and a friend, owner of a Ferrari 250 SWB, drove together to a local show and shine event in New Jersey, the crowds were, "2 and 3 deep around both cars." Adding, "They took pictures and took pictures and took pictures…"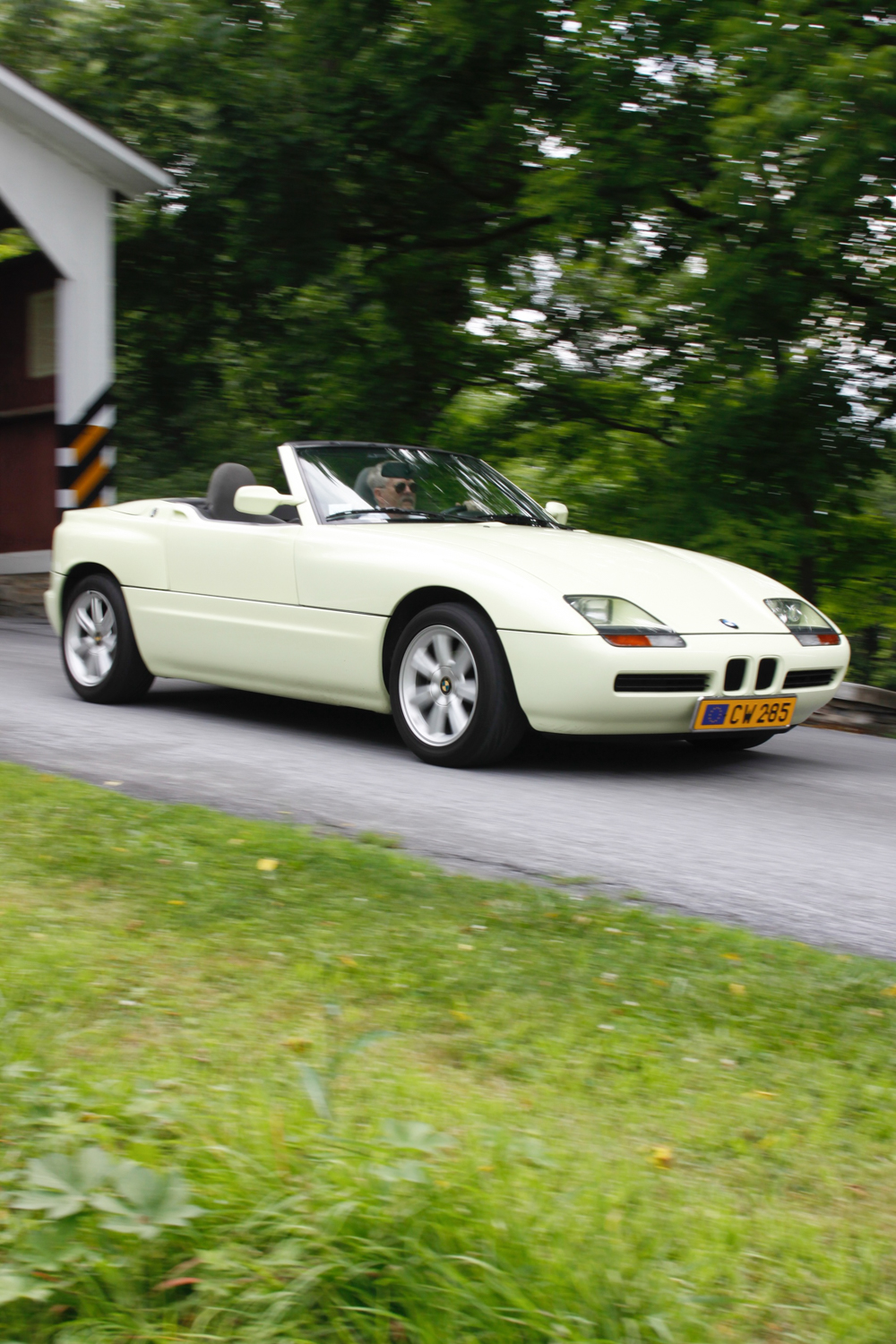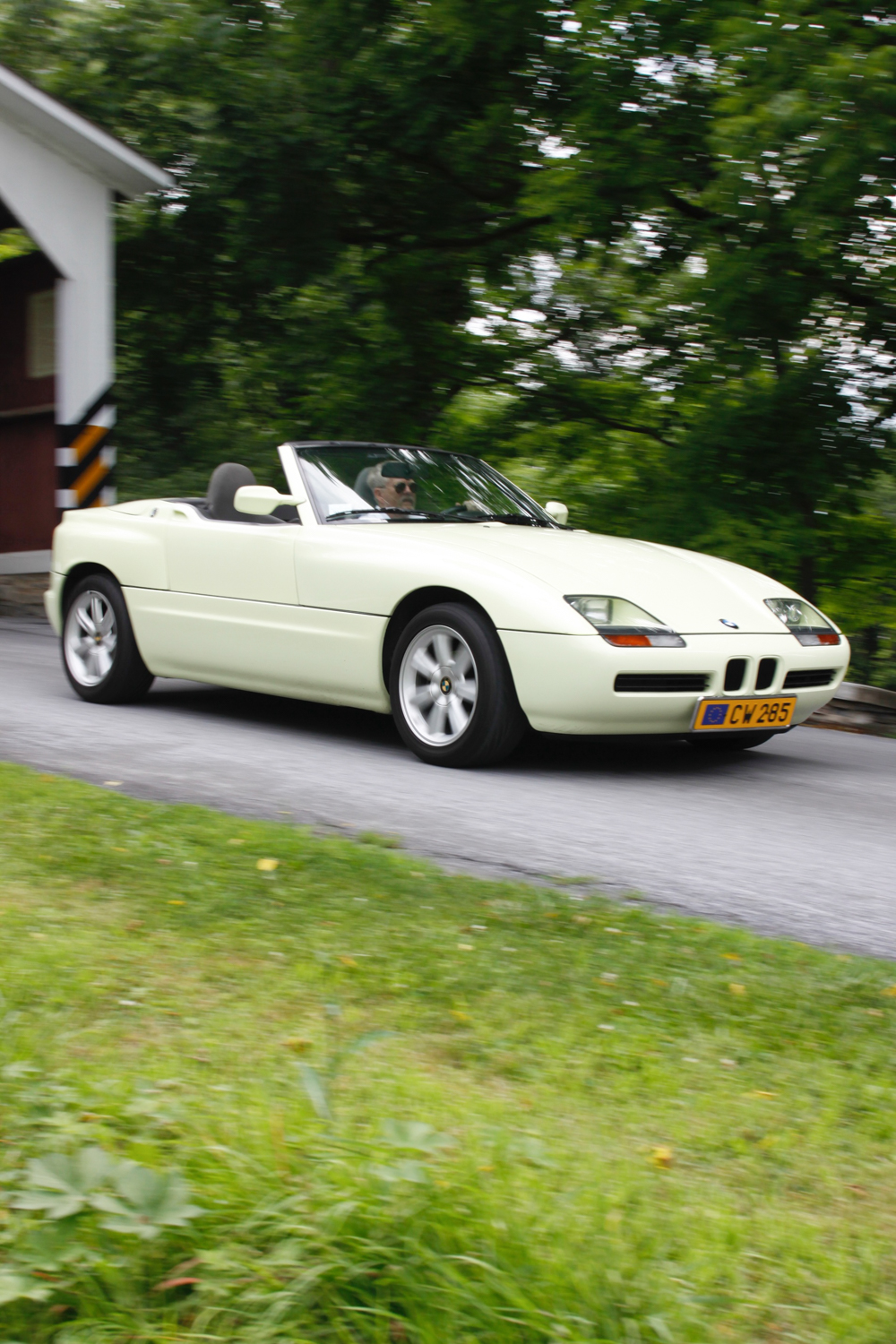 He says that he is still trying to learn everything he can about the car. "There's so much information on the Internet, I spend so much time addicted to looking at [Z1] sites."
Despite owning the car for several months, he is still learning about the technology and what he calls "unique features" on the Z1. I asked for more details and he said, "For example, the doors, obviously. In the rain, you got to be quick if you don't want to get the suede interior wet." He has already memorized the routine and recites it without hesitation. "The window goes down first and then the door goes down. And then you get out and you press the button and then the door goes up and the window goes up." He explained this mechanically complexity doesn't come easily. "There are two motors in each door, one for the window and one for the door mechanism." This whole thing is run by a special one-of-a-kind toothed belt and is governed by a control module under the plastic skin of the body. (It's not in the door to help keep its weight down.)  When I marveled at the Rube Goldberg quality to all of this his only response was. "I hope I never have to repair it! The toothed belt is expensive…it's a very odd belt." Interestingly, he says, the system remembers how it was last configured when the doors went down. If the windows were up, they go back up when the button is pushed. If not, the windows stay down in the door. Surprising, but definitely complex…
Not the least challenging thing about the Z1 is simply getting in and out. I watched the owner who is several inches shorter and many, many pounds lighter than I clamber in and out of the Z1. With the roof up, the word "spelunking" came to mind.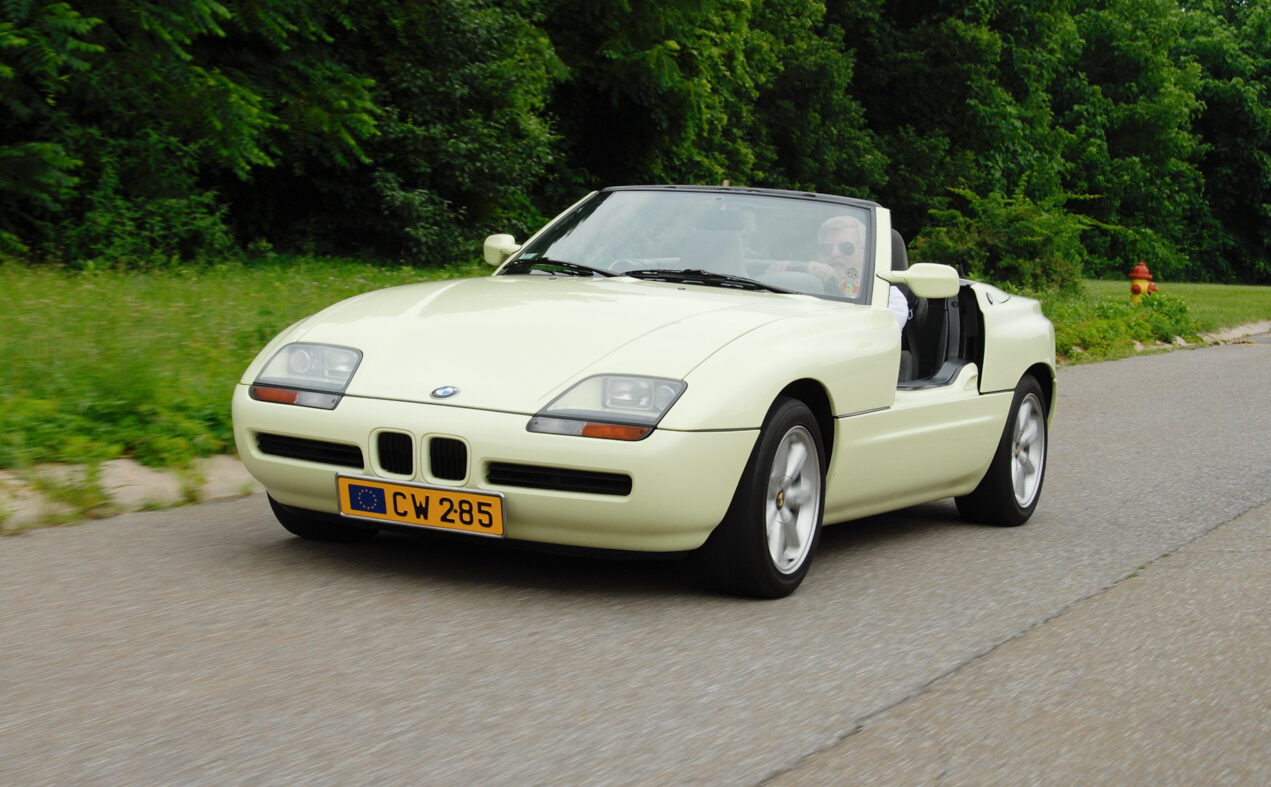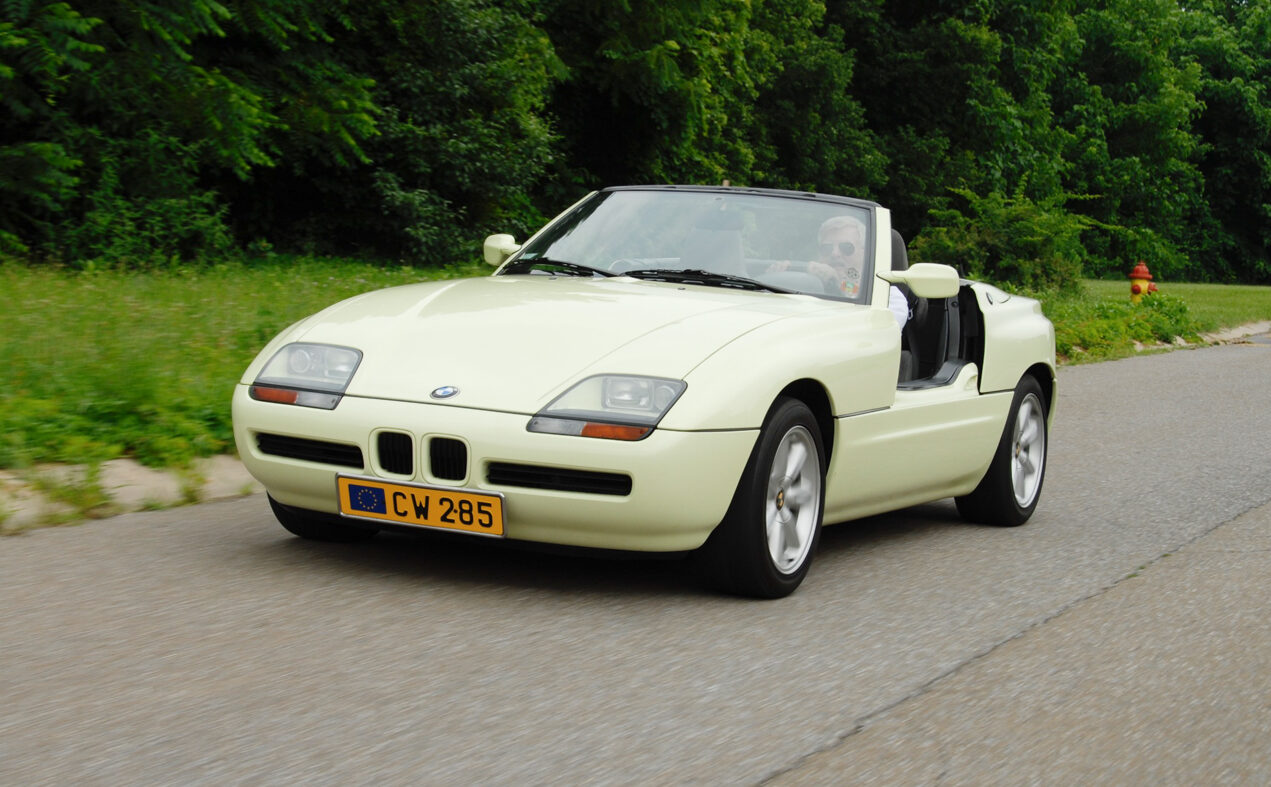 Clearly, this is not a car for the tall or with an avoirdupois challenge – an accurate, unflattering description of yours truly. Fortunately for me, the owner was kind enough to lower the roof so I could get in without creating the potential for a movie clip shown on America's Funniest Home Videos.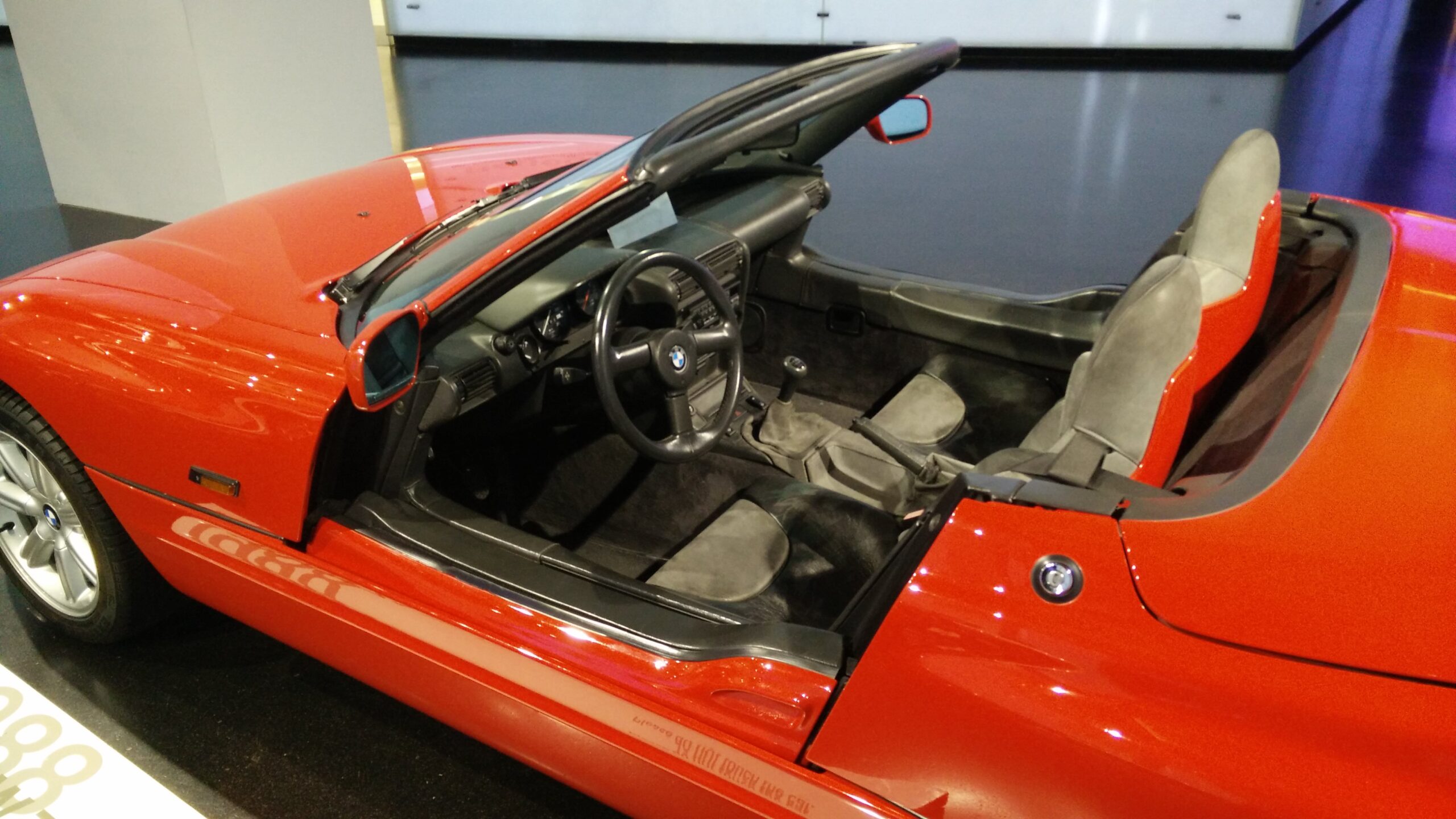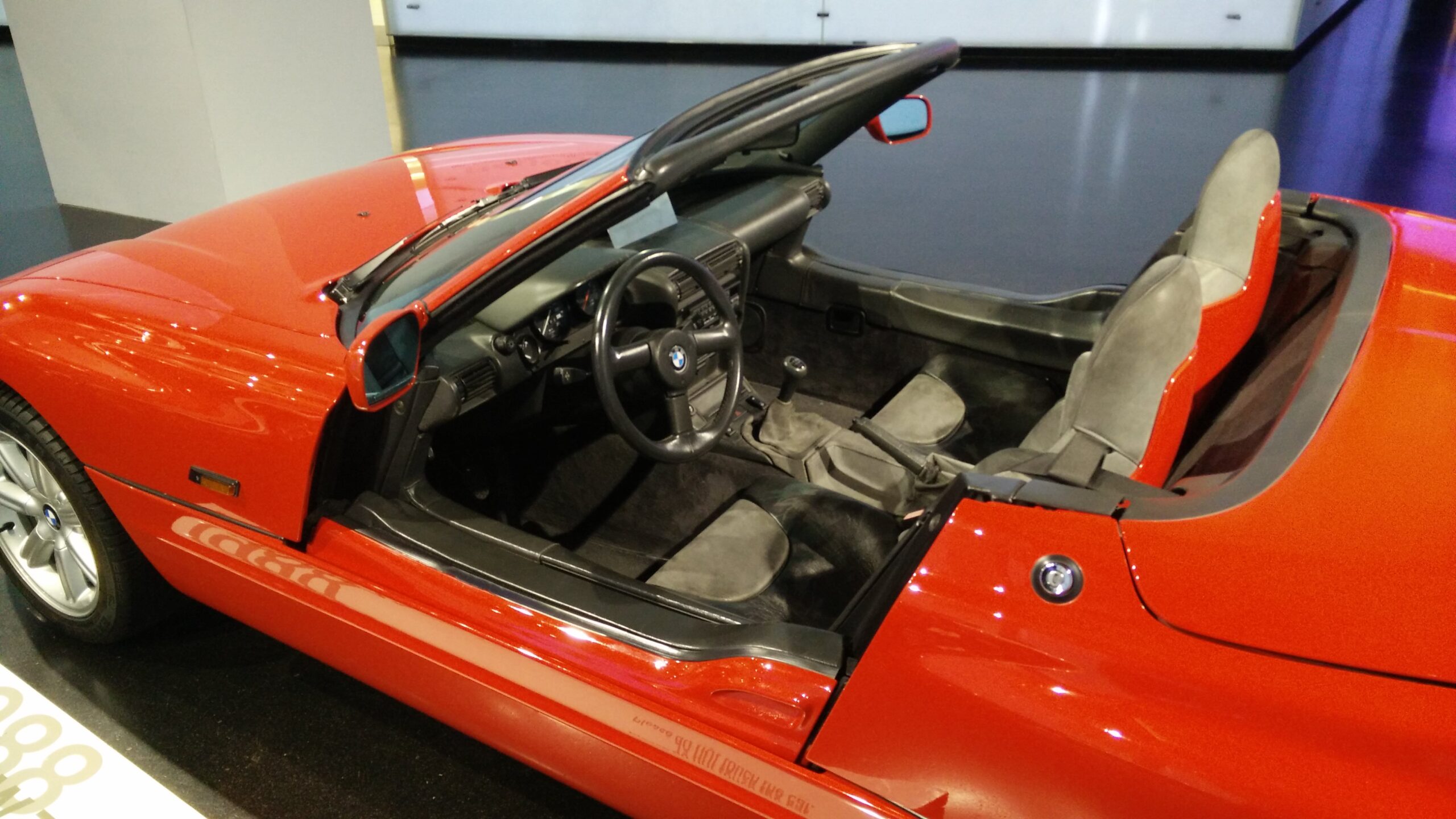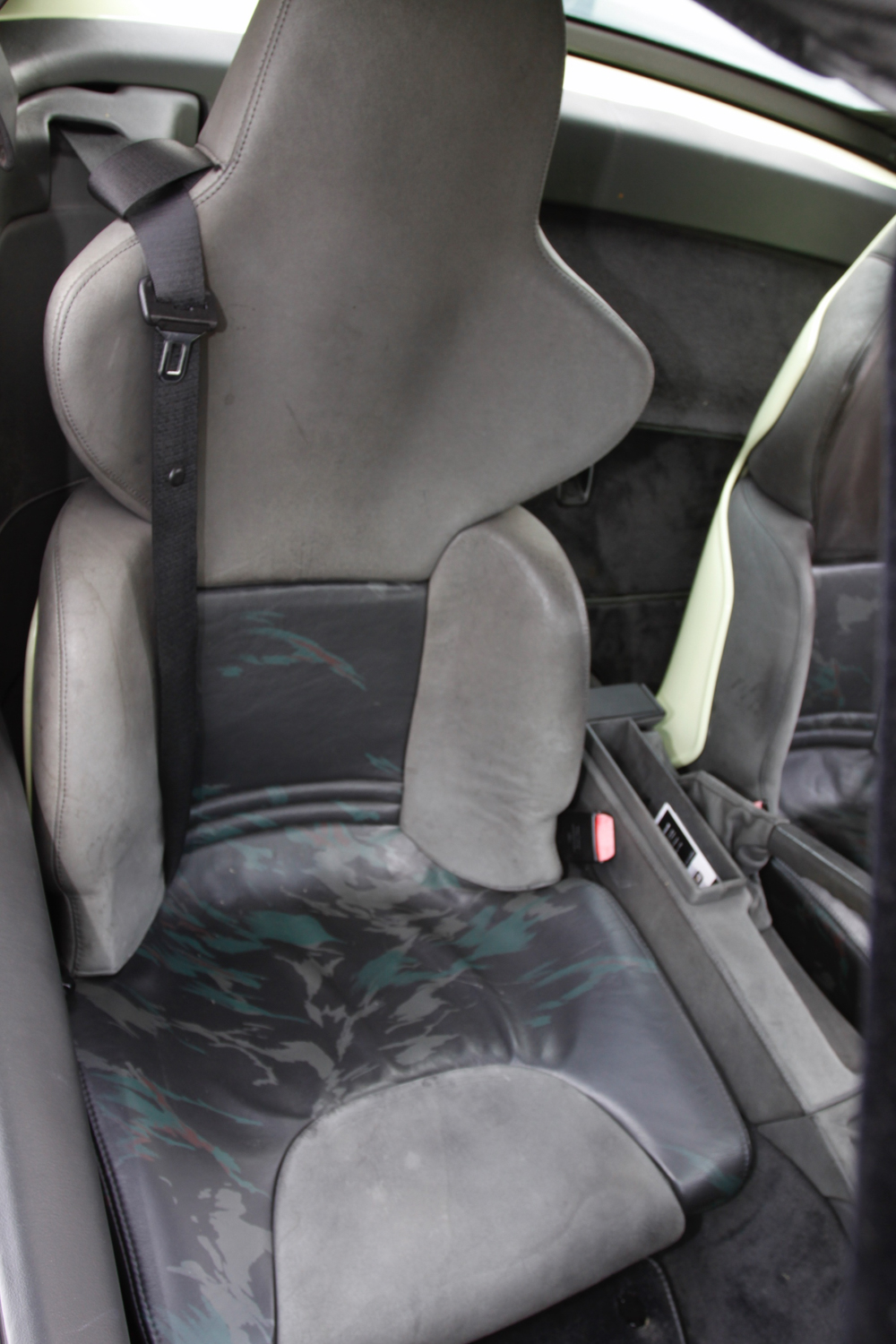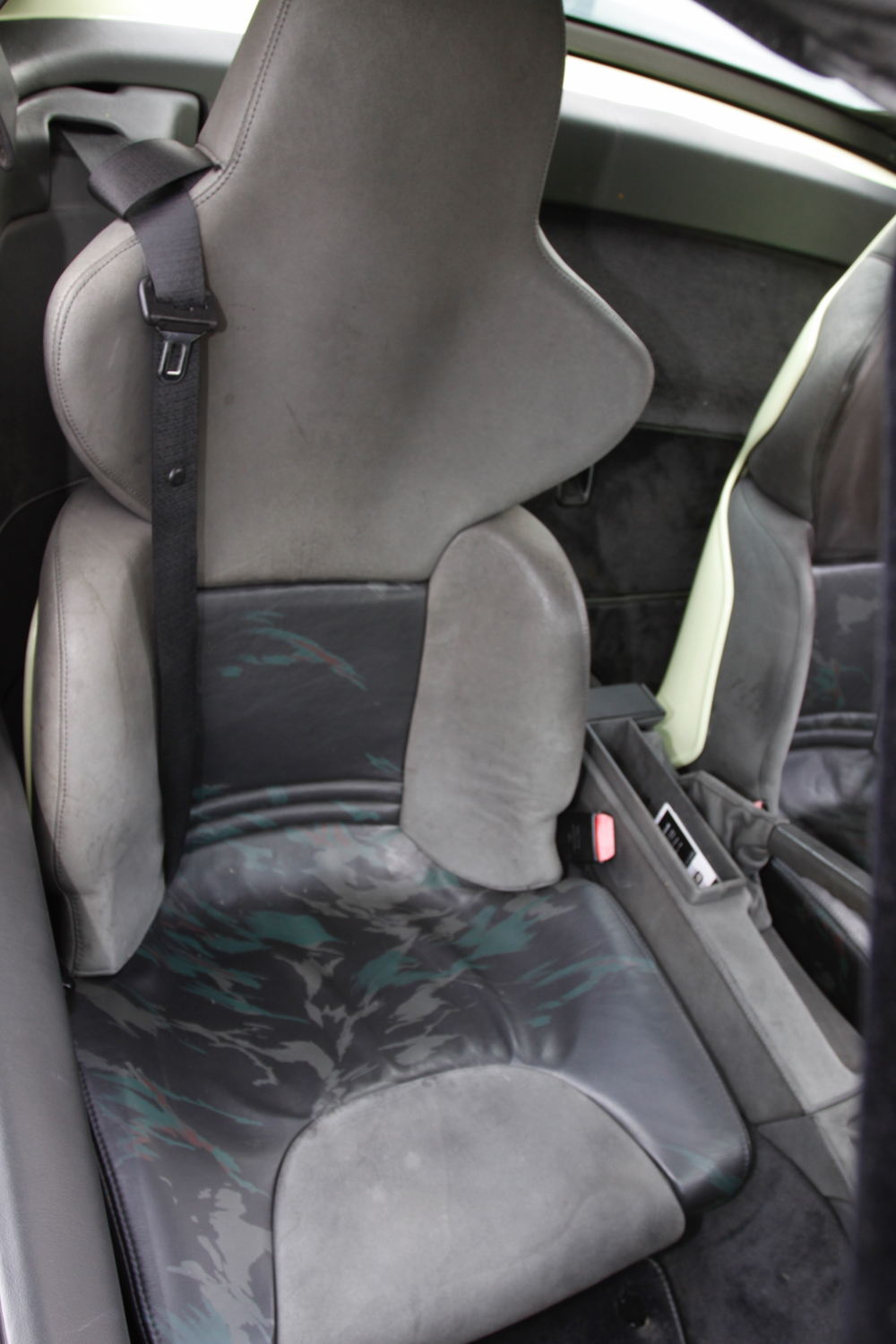 Getting in requires a step up over the tall sill, like getting in a Gull Wing Mercedes. The owner always takes his shoes off first to prevent scuffing the plastic sill or damaging the unique camouflage leather sport bucket driver's seat. Also, with the top down, you have access to a cleverly placed, very sturdy leather wrapped grab rail / roll bar that backs the front windshield frame. With practice, I think getting in and out would become second nature. That, and for me, a membership in Weight Watchers…
Once seated behind the adjustable wheel, the look and feel is very 1980's BMW with gauges, shifter and controls exactly where they should be. However, I felt like I was sitting very high in the amazingly comfortable but non-height adjustable driver's seat, worried all the while that I looked more like Mayor McCheese in Ronald's shoe car than a suave and sophisticated BMW guy. (Note, Thw owner warns that the Z1's seat height may actually be adjustable; perhaps we just haven't figured it out yet!)
Once under way, all of that nonsense faded as we drove the twisty back roads, bathed by the bucolic sights and sounds that were in early summer blossom along miles of perfect country byways.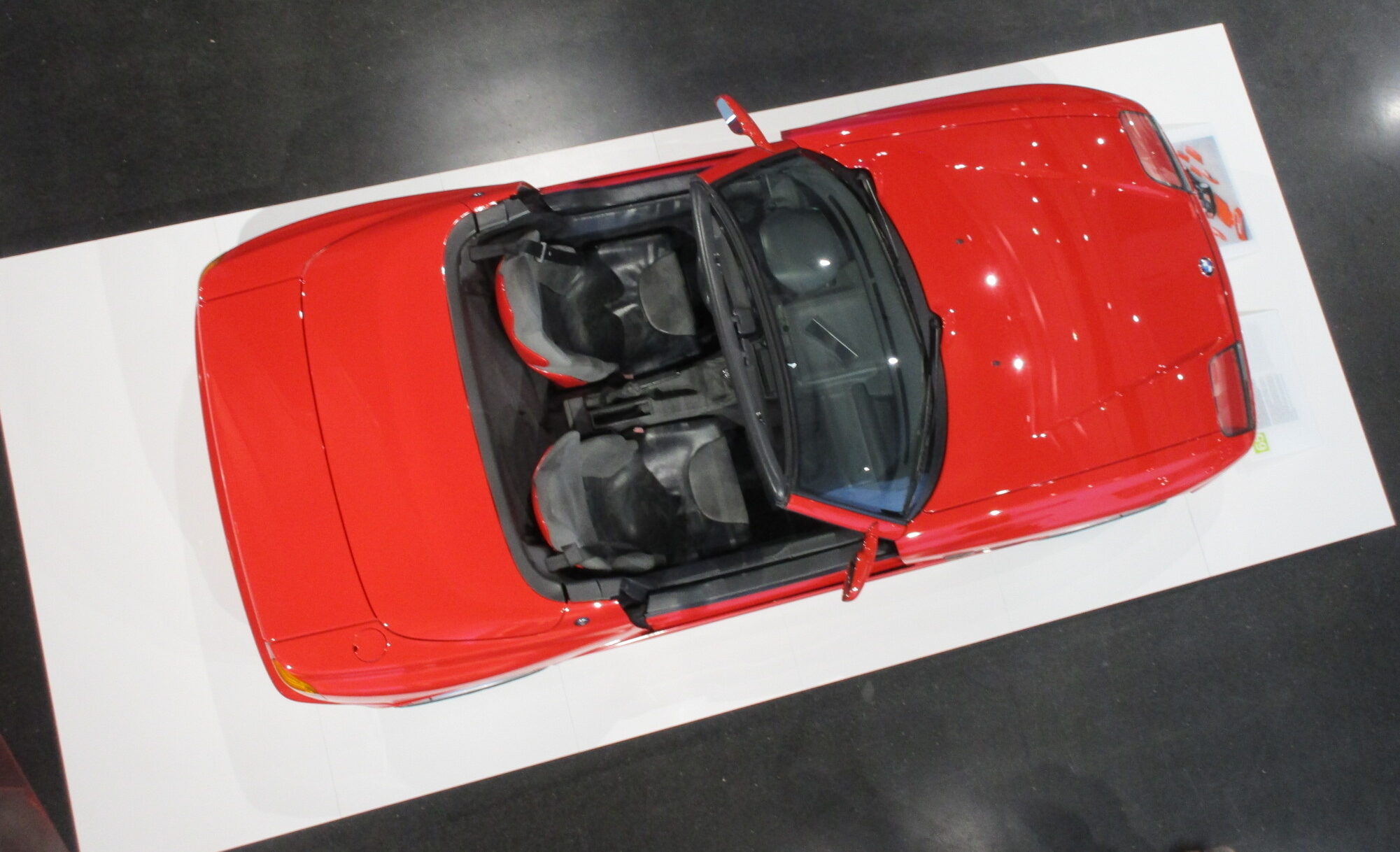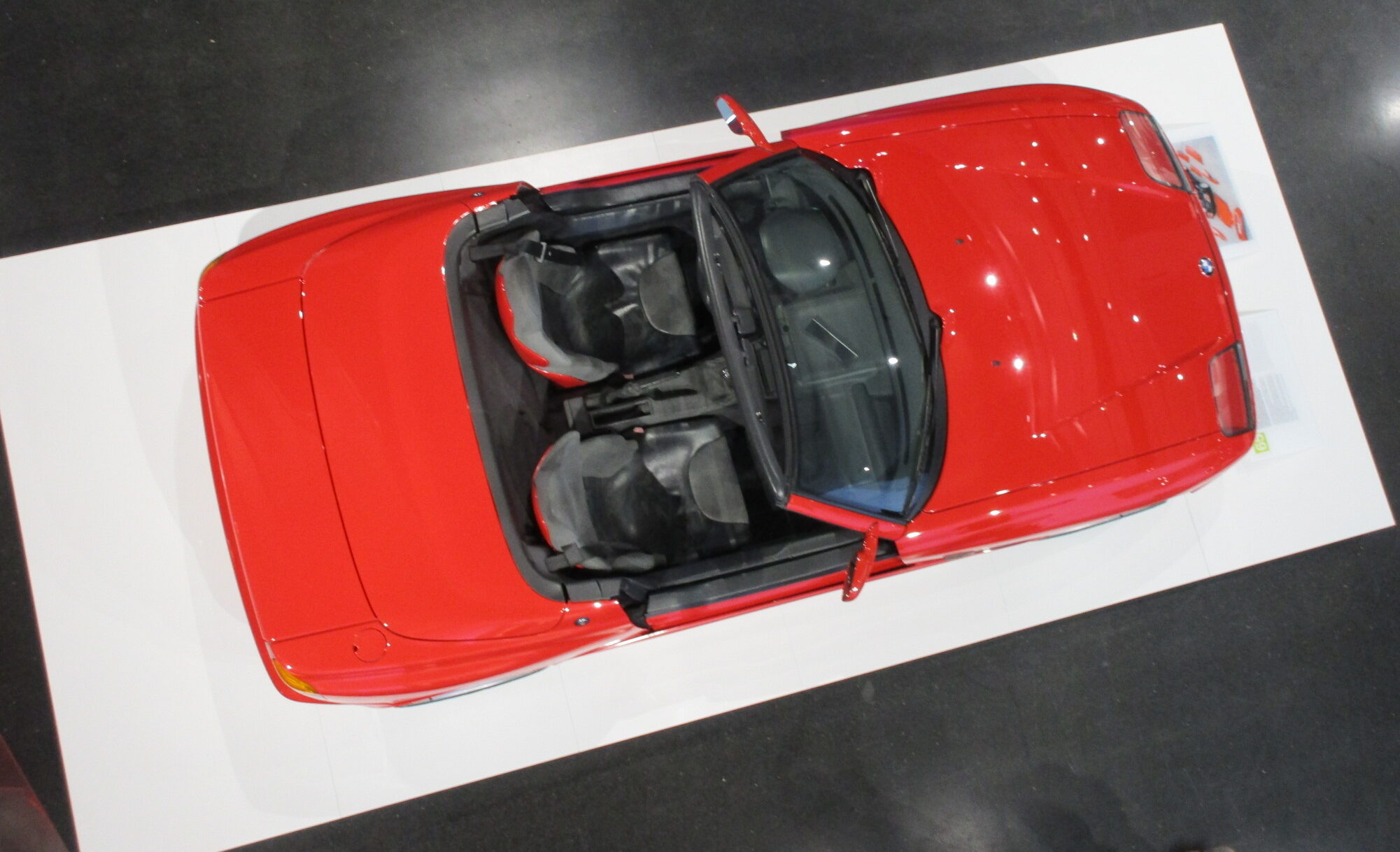 We cruised with both doors down and while the experience of seeing the road, literally inches from your grasp was exciting, when our speed exceeded about 40 MPH (about 70 KPH on the metric speedo), the wind buffeting and noise were intense. Note to self, for high speed cruising, both doors up is the way to go.
While power is certainly adequate, brakes up to the task and the Getrag 5 speed shifts like it was made yesterday, it's the Z1's handling that makes it a star. Turn in on medium speed corners was about as good as it gets – maybe better. Not to take too big a shot at the new BMWs that all have lots of technology flipping bits between the steering wheel and the front tires, the road feel on the Z1 could (maybe SHOULD) serve as the model for all cars. It's that good.
Of course, visibility with the top down (I never could get in with the top up) is amazing and, weather permitting, the only way to go. From the driver's seat, I could see all four corners, making placement in a turn simple and safe.
All in all, the Z1 proved itself to be one sweet BMW – one where its good looks and unique technological features make it a plastic, fantastic ride.