Just three and a half years after the first Shelby Cobra emerged from a rented shop in Venice, California, Carroll Shelby and his brilliant team of grassroots, high-performance technocrats won the FIA World Manufacturers Championship of Makes for GT cars, the first ever for an American manufacturer. This unprecedented feat, however, did not earn the accolades it deserved. The Indianapolis 500 and the 24 Hours of Le Mans, run in May and June, respectively, were front and center in the automotive press in that era of three-month publication cycles. News of the Cobra Daytona Coupe's Championship-clinching victory at the Reims 12 Hours on July 4 was just beginning to trickle in, only to be eclipsed by the annual late summer reviews of the next year's new models.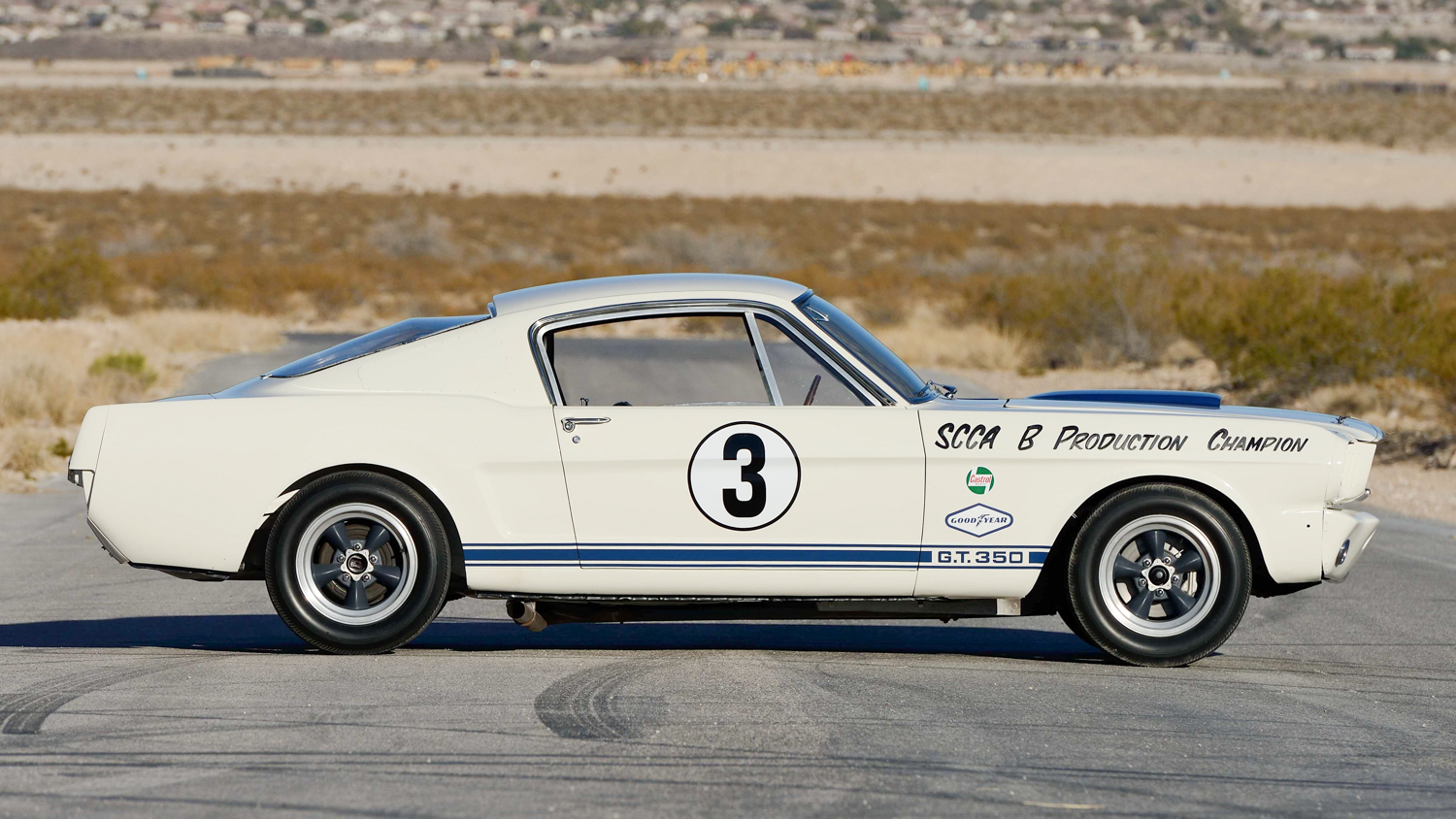 Chafing at the scarce coverage of the World Championship win, Shelby decided to take the matter into his own hands by sending a representative group of Shelby cars on a cross-country promotional tour. Max Muhleman, Shelby American's director of public relations, secured a two-level, 42-foot enclosed trailer, which was painted white with blue stripes and black and red lettering loudly proclaiming "America's First International Competition Champion." Driven by Shelby American driver Bob Parker, the "Cobra Caravan" rig toured 12 cities in four weeks, stopping for pre-arranged publicity events at which local Shelby dealers were asked to display a street GT350 or Cobra with the Caravan cars. On many occasions, Carroll Shelby himself was on hand to add his own brand of charisma to the event, and sometimes even handed over the keys to a lucky new Cobra or GT350 owner.
According to SAAC records, the Cobra Caravan carried a core group of four cars, comprising 427 competition Cobra CSX3011, Ford GT40 P/1004, Daytona Coupe CSX2286, and this car, 1965 Shelby GT350R No. 5R213.
While it may have seemed less glamorous to Caravan visitors unused to rubbing shoulders with purpose-built, championship-winning racecars, Shelby's GT350R had already claimed its own crown in SCCA B Production competition, the title proudly announced in blue script on 5R213's front fenders. In fact, it was right at home alongside the brutish Cobras and soon-to-be-legendary GT40. One of only 34 production GT350Rs built, it shared the same basic, specially modified 289 HiPo small-block V-8 with the Daytona Coupe and the GT40 and, like those cars (and in contrast to any other American production car), was designed to be race ready at the turn of the key. Immediately identified by its fiberglass lower front valence, Goodyear Blue Dot tires on American Torq Thrust wheels, riveted quarter window covers and vented Plexiglas rear window, the GT350R devoured every competitor in its path on the way to what would be three consecutive B production championships.
Completed at Shelby's newly established LAX facility on November 10, 1965, 5R213 was consigned to famed Ford and Shelby dealer Tasca Ford in East Providence, Rhode Island, and then designated to the Cobra Caravan, which commenced its nationwide tour just one week later on November 17. Once the Caravan finished touring, 5R213 was displayed at Tasca Ford through the Christmas holidays. By then, the demand in the U.S. for a full-race GT350R had been satisfied, and after passing through three Northeast Ford dealers, 5R213 was shipped through importer Benito Lores to Peru on June 28, 1966, as one of five similar cars purchased by a group of sportsmen to compete with each other in Alpine rallies and endurance races.
Incredibly, 5R213 remained virtually unscathed throughout its years in Peru, and it was largely intact when collectors Richard Cohen and Gary Nufer of Little Rock, Arkansas, repatriated it to the United States in 1984. Several years and two subsequent owners later, in 1998, it was purchased by Jay Bentley of Woodstock, Connecticut, who commissioned Cobra Automotive to begin a restoration for vintage racing. That was followed by a concours restoration using only original and NOS parts to factory-original form by collectors Corey Lawson and Bruce Serene of Kansas that earned First Place in the Popular Vote Class at SAAC 30 in July 2005.
Later purchased by noted Shelby collectors Len and Linda Perham, 5R213 was delivered by its next owner to John Brown of Thoroughbred Restorations in Piedmont, Oklahoma. A consummate craftsman whose work has won Best in Class honors at the Pebble Beach Concours d'Elegance, Brown began a meticulous three-year restoration to further refine the car to its present immaculate and authentic presentation. Working to his renowned exceptional standards, Brown even had the cylinder heads completely rebuilt by Larry Ofria of Valley Head Service in Northridge, California, who originally built the heads for Shelby American when the cars were new.
The superb quality of Brown's restoration is proven in its results. The magnificent 5R213 has won all three of the most prestigious awards available to this most treasured GT350R: Gold Concours at SAAC 42 in Indianapolis, Gold Concours at the Mid-America Shelby Nationals in Tulsa, and MCA Gold at the Grand Nationals in Kansas City in 2017—the coveted Triple Crown for a GT350.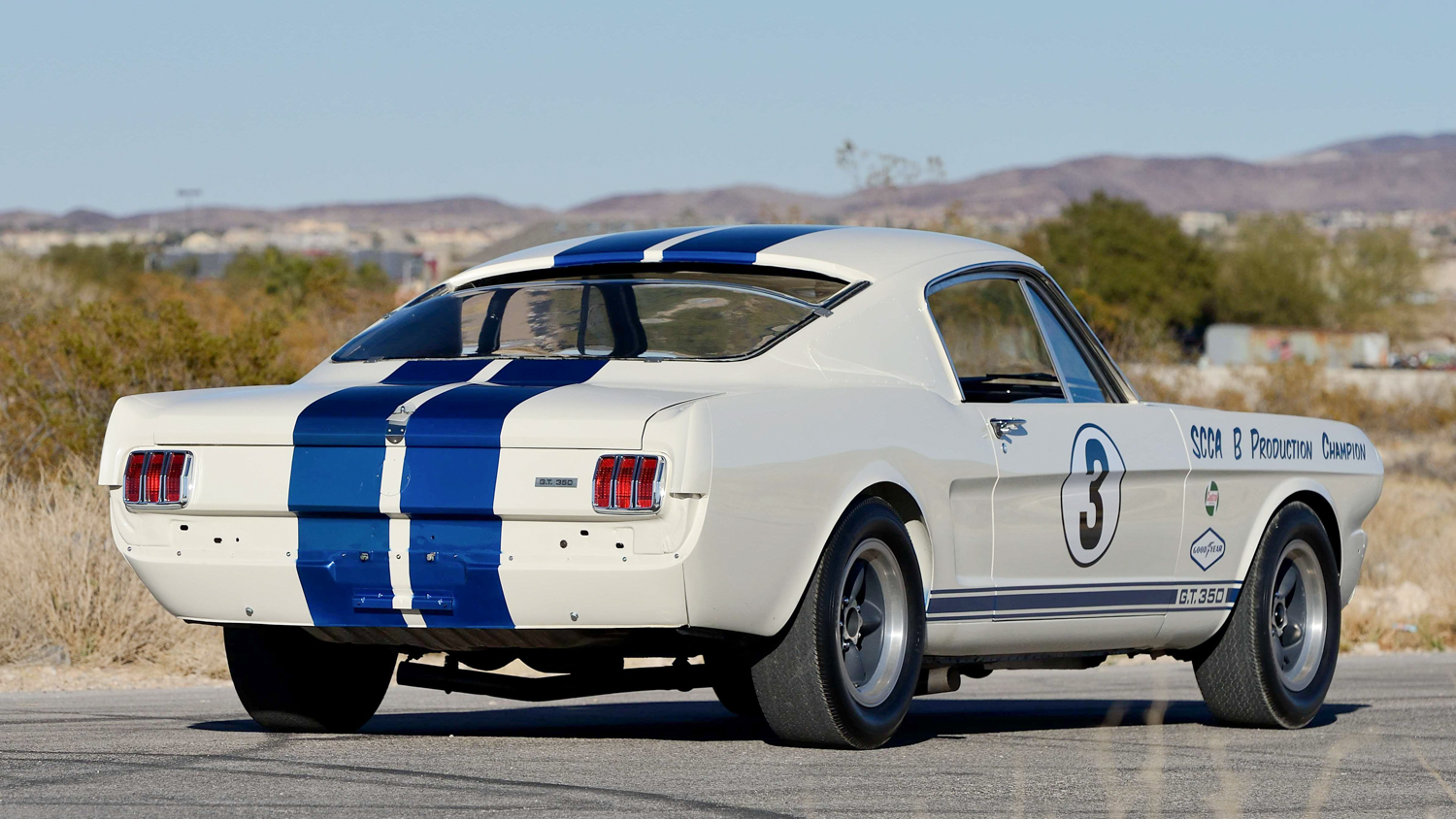 As the official Cobra Caravan GT350R and one of just four with a "factory" history, 5R213 is a unique piece of the Shelby legacy that also carries with it an interesting race history, outstanding provenance and concours-winning authenticity, qualities that together make it one of the most desirable GT350R available today.
The Cobra Caravan GT350R will cross the block at Mecum's Indy Classic auction May 14–22. For more information visit https://www.mecum.com/collector-cars/