Julian Thomas and Calum Lockie grabbed most of the headlines of a thrilling start to the 2019 Masters Historic Racing season by winning both the Pre-66 Touring Car and Gentlemen Drivers races at Paul Ricard, but Matteo Ferrer-aza equalled the pair's win tally by dominating both FIA Masters Historic Formula One races.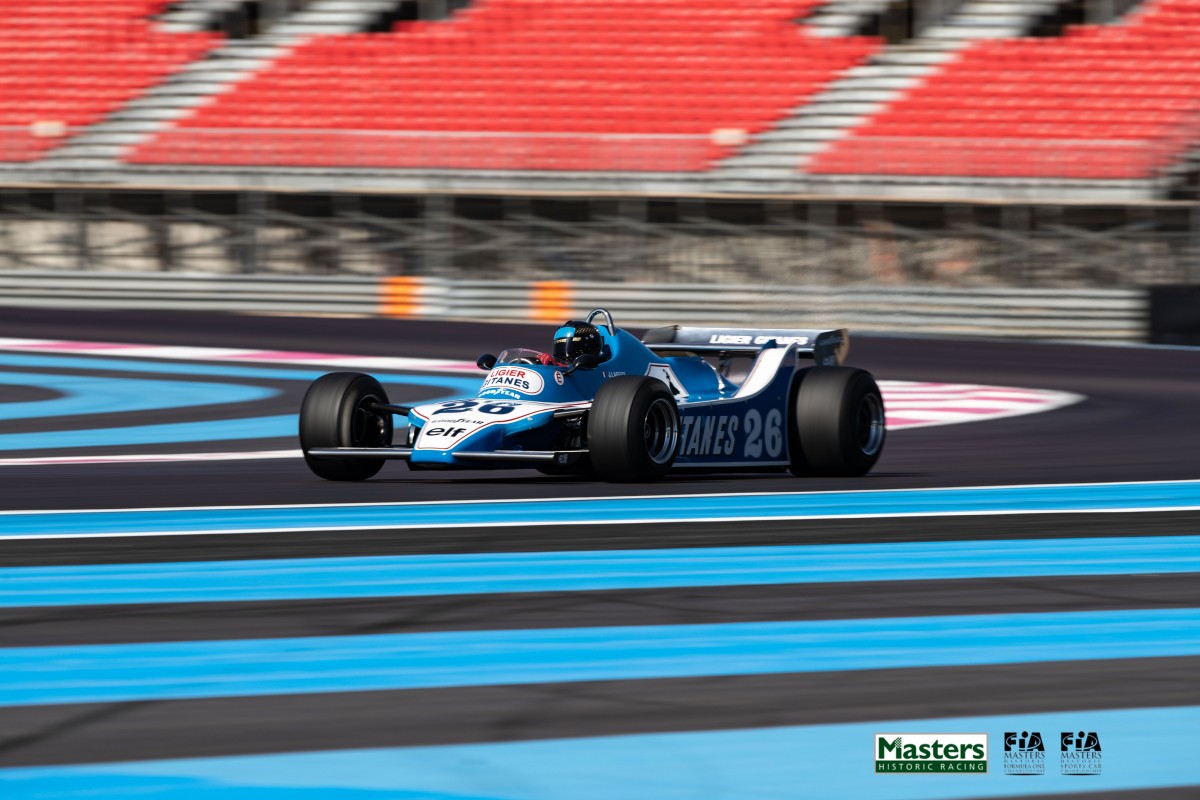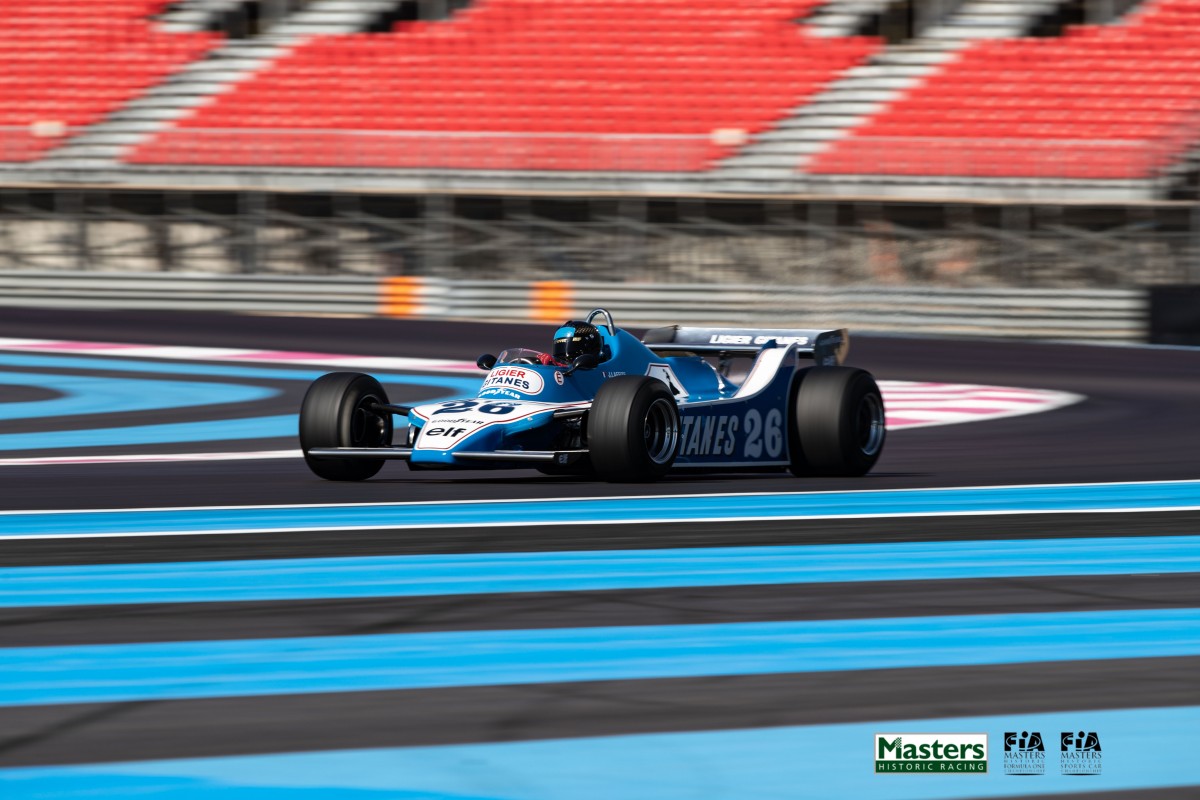 In a form unexpected by his rivals, Ferrer-aza took his Ligier JS11/15 to a pair of convincing FIA Masters Historic Formula One wins, beating an equally strong Jamie Constable (Tyrrell 011) on Saturday and then taking another victory over Mike Cantillon's Williams FW07C on Sunday. Constable added third place in the second race while Saturday's final podium spot was taken by Christophe d'Ansembourg in his newly acquired Brabham BT49. Henry Fletcher (March 761) was a dominant pre-78 winner on Saturday but a mechanical issue prevented him from featuring on Sunday. Instead, local hero Patrick d'Aubréby in another March 761 took the spoils.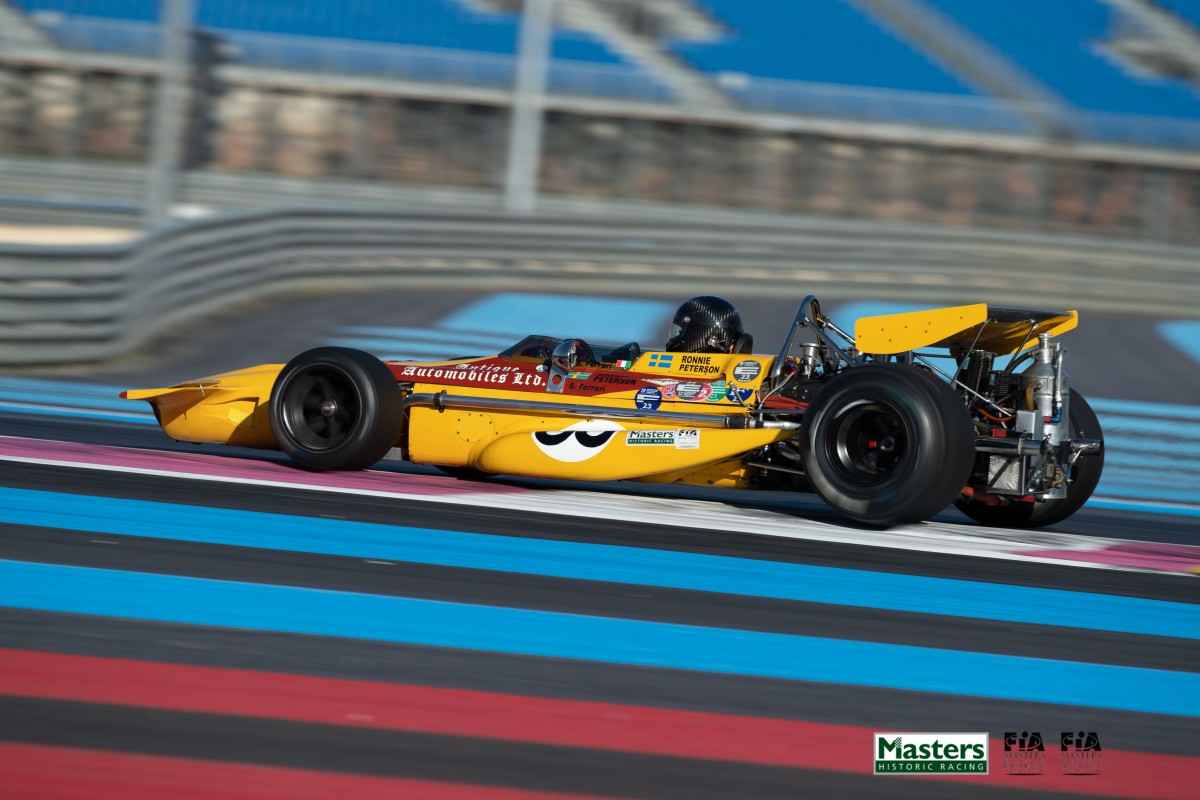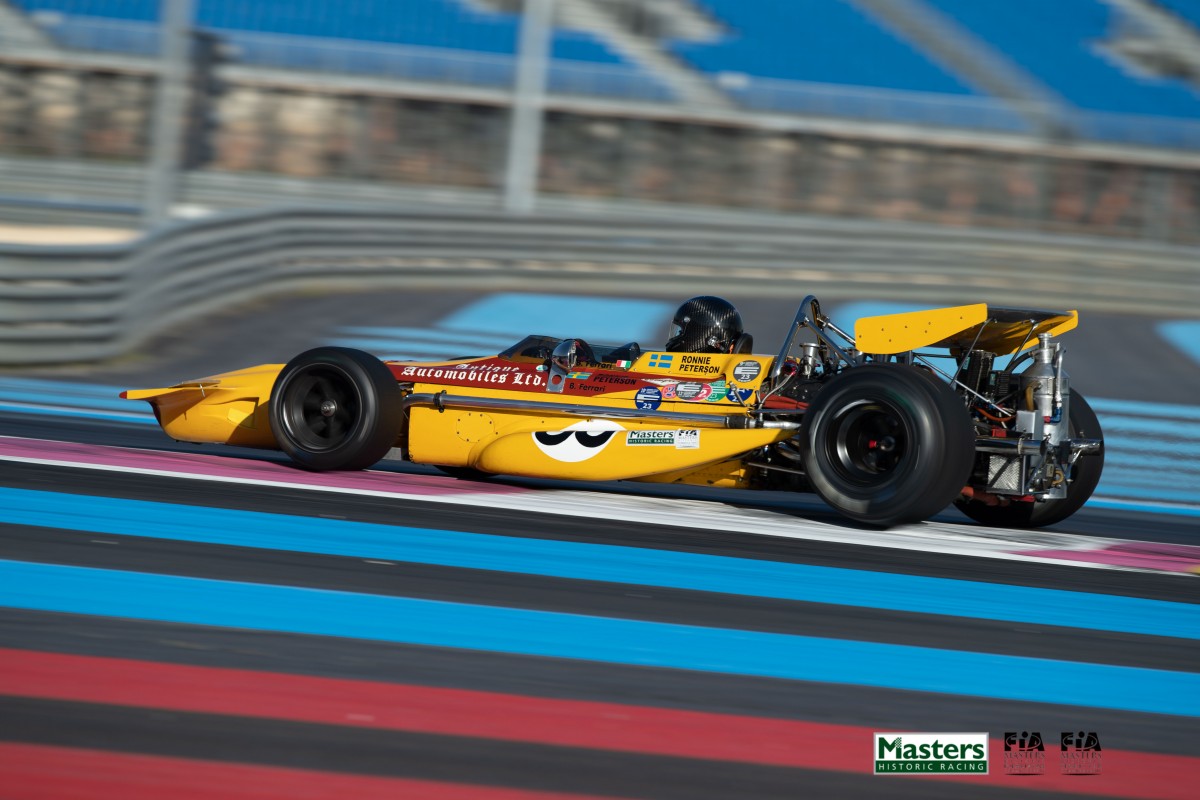 Fletcher made up for his bad start to the Sunday by romping to victory in the FIA Masters Historic Sports Car race later on the day. In his freshly prepared Chevron B26, he finished well clear of the Jason Wright and Andy Wolfe Lola T70 Mk3B while Gonçalo Gomes and James Claridge grabbed third in their Lola T212 when Charles Nearburg suffered heartbreak as his Osella-Abarth PA1 broke down on the final tour. Meanwhile, Chris Jolly and Steve Farthing (Cooper Monaco T61M) beat Keith Ahlers and Billy Bellinger (Cooper Monaco King Cobra) to the pre-66 class win.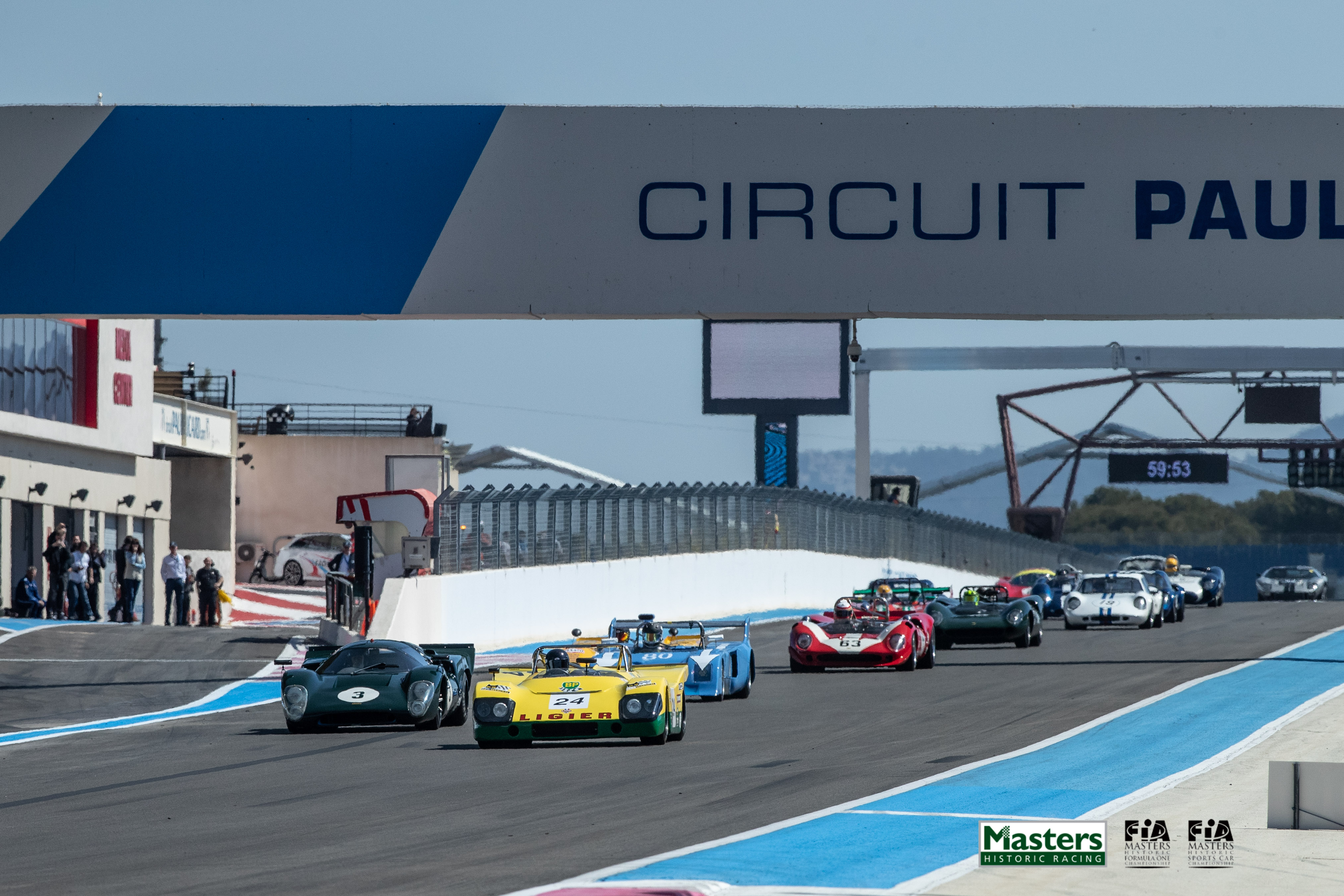 The Aston Martin Masters Endurance Legends welcomed two thrilling races as Kriton Lendoudis (Peugeot 908 HDi FAP), Christophe d'Ansembourg (Lola-Aston Martin DBR1-2) and Steve Tandy (Lola-Mazda B12/60) fought tooth and nail over the wins. The Greek won on Saturday, the Belgian prevailed on Sunday. Nikolaus Ditting (Aston Martin DBR9) took a pair of GT-class wins.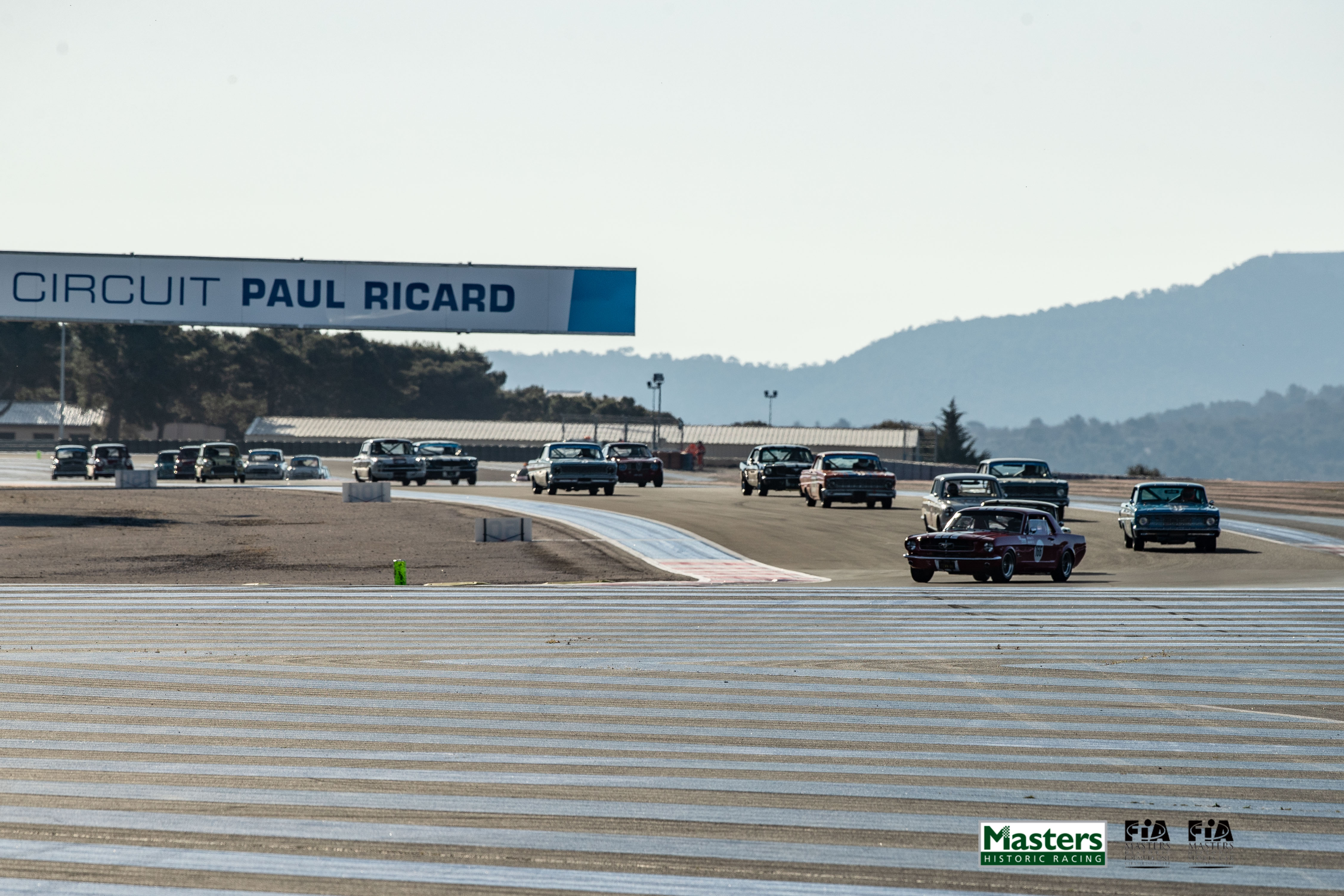 Despite failing to finish in the FIA Masters Historic Sports Car race, Julian Thomas and Calum Lockie capped a very successful weekend by dominating both the Masters Pre-66 Touring Car race and the 90-minute Masters Gentlemen Drivers enduro. The touring-car race saw a brilliant three-way lead battle between Thomas in the Falcon, Jake Hill in the Mustang and Jason Minshaw in another Falcon before Lockie pulled clear of Minshaw's team mate Martin Melling and was left unchallenged when Rob Fenn had to retire the Mustang started by Hill.
In the weekend-closing GT race, Thomas and Lockie were in a class of their own, making a flying debut with their Shelby Cobra Daytona Coupé. Aaron Head looked set to finish second after a storming race in the Lotus Elan, but agonisingly was forced to retire eight minutes from the end. Rob Fenn and Jake Hill (in another Elan) were happy to receive the gift after their earlier mishap. Ron Maydon finished a strong third in his Ginetta G4R while Nils-Fredrik Nyblaeus and Jeremy Welch won the C2 class in their Austin Healey 3000.
You can find full race reports, results and the gallery on the Masters website at http://www.mastershistoricracing.com
The Masters Tour moves to Monza on May 10/12 where the Aston Martin Masters Endurance Legends will showcase on the bill at the ELMS 4 Hours of Monza, swiftly followed by two UK rounds for Masters as we head to Brands Hatch on May 25/26, and then to Donington Park on June 8/9.