Twenty years ago, CSRG (Classic Sportscar Racing Group) decided they wanted to work with the then named "Sears Point Raceway" to support the Sonoma, CA community. Since then, CSRG has raised more than $1,200,000 to help teenagers and young adults, quite a feat. The Charity Challenge allows spectators to purchase rides in real race cars around Sears Point Sonoma Raceway. For many, riding around Sonoma Raceway at near racing speeds in a race car is a once-in-a-lifetime experience. Saturday night, CSRG celebrated the 20th anniversary of the Charity Challenge with a party for team owners, drivers, crew members, track workers, and invited guests. Held in the T11 building. Sears Point's new turn eleven track hospitality center. Chief Registrar Petey Thornton announced her retirement effective at the end of the 2023 season.  She will be missed but has certainly paid her dues.  It's time for her to kick back and relax!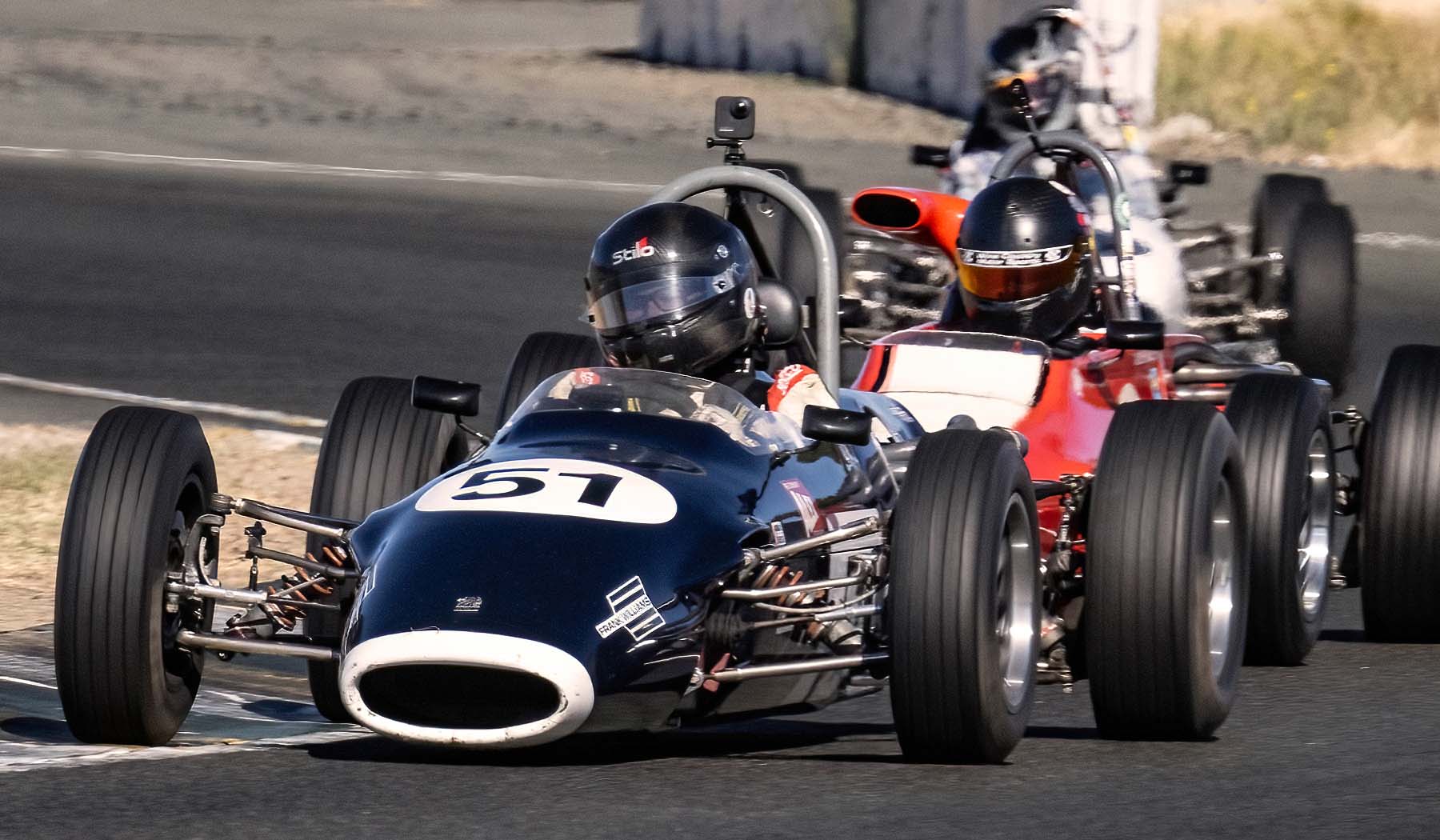 The Track
Sears Point or Sonoma Raceway, is a Northern California twelve-turn 2.520-mile road course featuring more than 160 feet of elevation from its highest point, turn three at 174 feet to its lowest turn ten at 14 feet.
The Cars
This year's event drew cars from New Mexico, Indiana, Utah, and Montana, as well as up and down the West Coast—over 160 Vintage cars in total. Racers were divided into 8 groups by driver/car on-track performance.
Group 1 had 24+ cars from a 1955 Crowley HM Special to a 1970 Leech Mk.1 FV.
Group 2 had 28+ cars from a 1957 Morgan 4/4 to a 1969 Alfa Romeo GTV.
Group 3 had 17+ cars from a 1961 Austin Mini Cooper to a 1971 Datsun 510.
Group 4 had 9+ cars, from a 1961 Huffaker Genie to a rare 1965 Fournier Marcadier Sports Racing car.
Group 5 had 12+ cars from the 1966 Brabham BT18 to the 1972 Brabham BT35-10.
Group 6 had 32+ cars from the 1969 Titan Mk.5 to the 1981 Royale RP31.
Group 7 had 13+ cars, from the 1969 Chevron B16 to the 1984 RALT RT4 Formula Atlantic car.
Group 8 had 17+ cars from the 1965 Ford GT40 Mk.II Roadster to the 1989 Nissan IMSA GTU 240SX.
Each group had a wide disparity of on-track speed making for interesting viewing for spectators and stimulating for the drivers.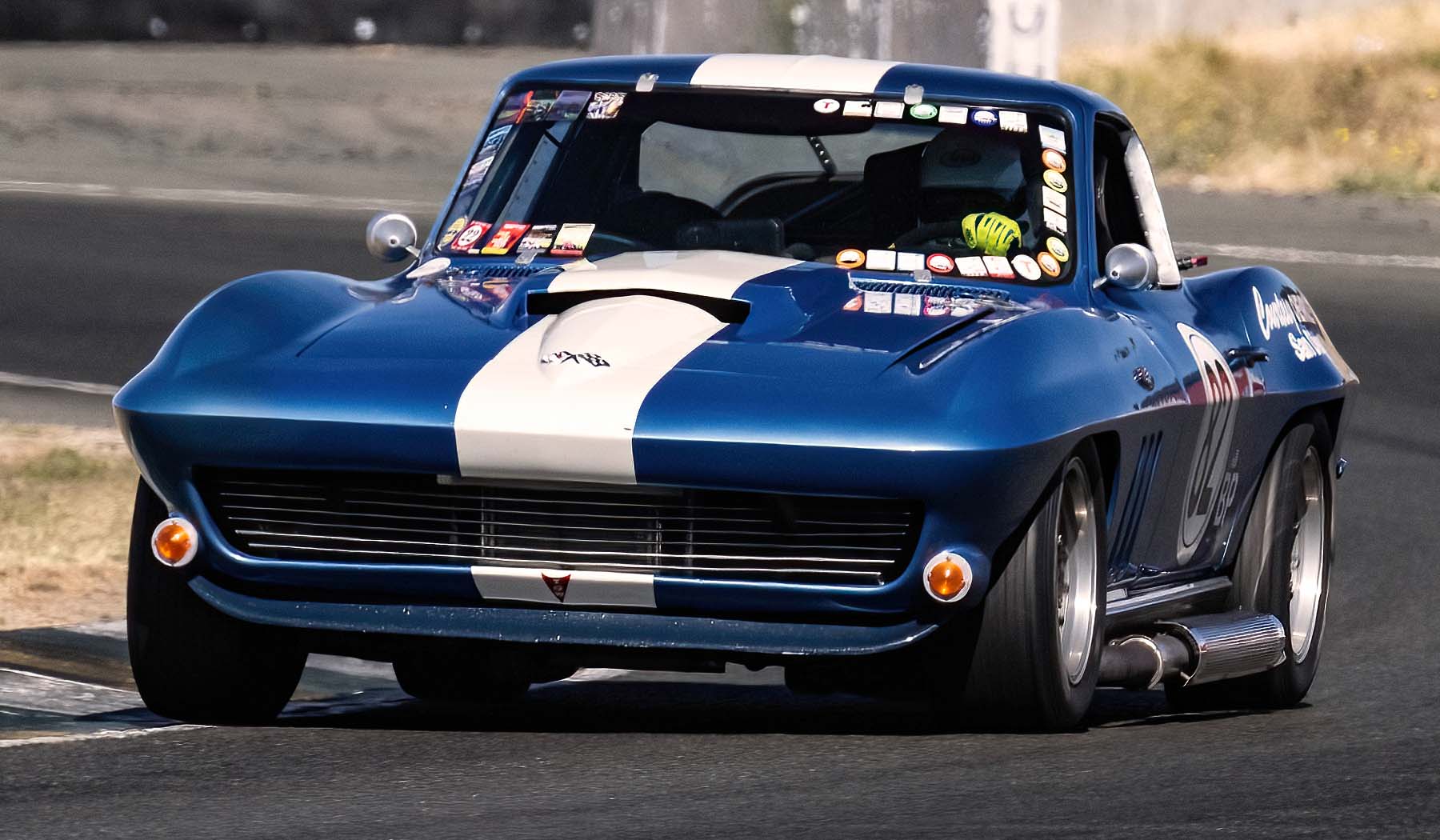 Saturday action
Saturday afternoon, while capturing images from the turn-two seating area, a young couple sat down next to me with two kids. A young girl about 5 or 6 and a young boy about 9 or 10. Each time Mike Thurlow came through turn two, the ground shook, and the air vibrated from the big block Chevrolet Corvette engines. Both the kids laughed and jumped up and down, clapping their hands. I would be willing to bet that Corbett made lifelong Vintage Racing Fans out of these two kids.
Gallery
For artistic reasons including lighting, these gallery pictures focus on the turns where I can capture the most interesting images. If you do not see what you are looking for, email me. I'll let you know what I have. DennisGray711@me.com