The Lamborghini Countach became a legend in its own time, but Automobili Lamborghini took this masterpiece one-step further. To celebrate the 25th anniversary of the founding of Automobili Lamborghini SpA they designed and built what would become the ultimate Countach.
This last-of-line model was largely based on the Quattrovalvole 5000S, incorporating its 48-valve engine. Taking the 5000S further, the Anniversary had redesigned aerodynamic ducts for cooling such as the new brake ducts that are incorporated into the rear sills & front dam. The redesigned front and rear kevlar hoods keep to the agressive duct theme as does the optional rear wing. Also included were 2-piece, forged-alloy OZ wheels.
Inside, the car was reworked more than any previous version. Included were new larger seats, door panels and a new steering wheel. New amenities included power windows, better sound deadening and a more powerful air conditioner.
The Anniversary model is part of the stepwise evolution of the Countach since its inception in 1974. It shares the models complex space frame that is central to all the variants. The chassis is centered around a longitudinal V12 with a transmission & clutch positioned ahead of the engine. A drive shaft runs from the transmission, through the crankcase, to the rear differential. Thanks to this unusual layout, the gearshift is mounted directly to the transmission. This positioning makes for a better front to rear weight ratio, removes the need for any gear lever linkages and provides for more precise gear changes. The only downfall to this setup is the added height of the engine to accommodate the drive shaft which gives for a higher center of gravity.
The chassis was upgraded extensively for this version with help from World Rally Champion Sandro Munari. As a result, the Anniversary really is the ultimate Countach since it is more reliable and better handling than the rest.
627 examples were produced from 1988 through to 1990. Cars delivered to the U.S. were fitted with massive rubber bumpers that were necessary to pass 5 mph tests. Once they passed inspection, many of these were fitted with the European-spec units.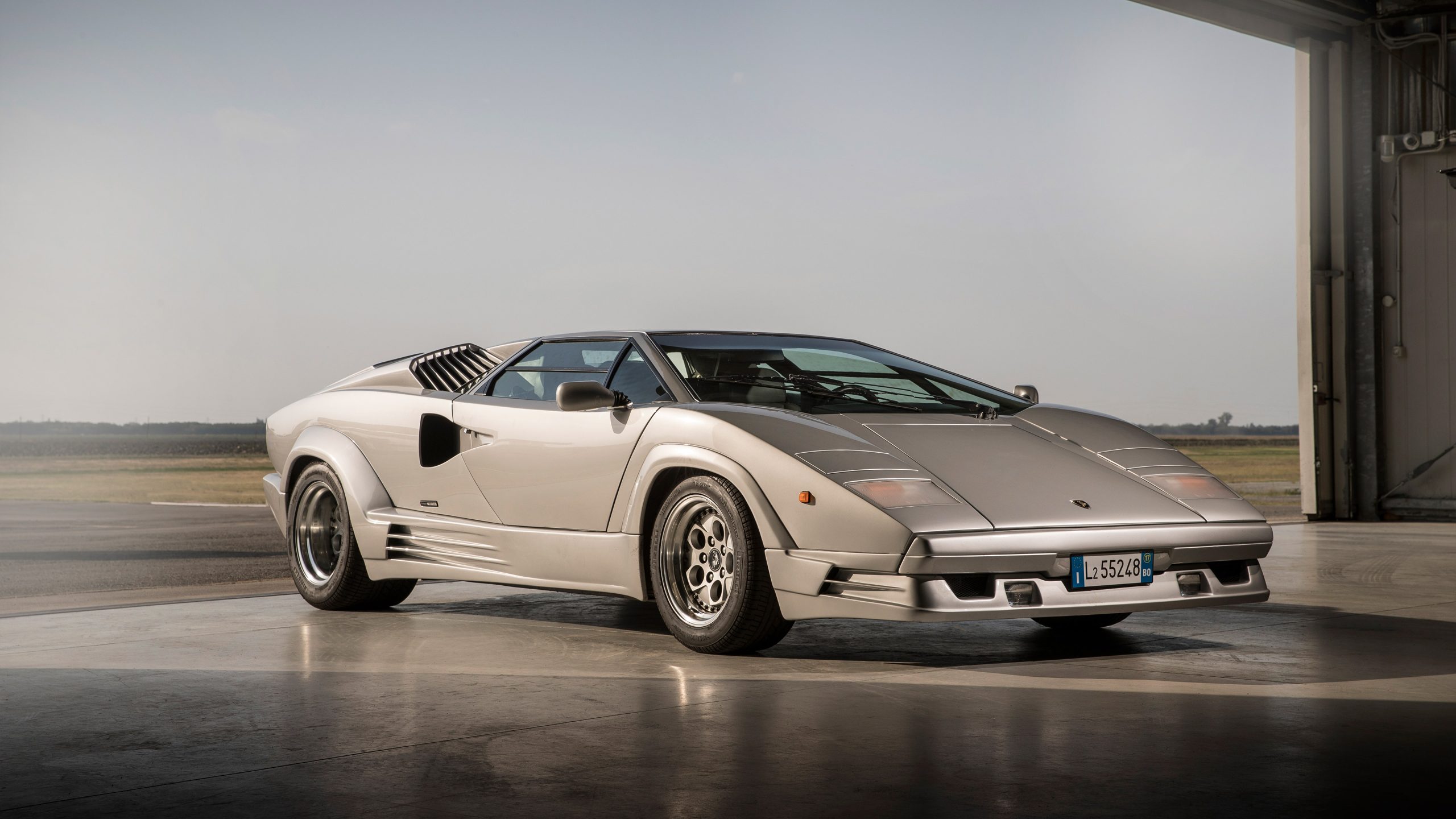 Photo Source: WSupercars.com