July 19th through the 22nd will be a weekend of horsepower in the Horse Capital of the World. Since it began in 2004, the Keeneland Concours d'Elegance has become a community event with national participation. This year, over 160 cars from brass era steamers to exotic future classics will compete at one of Kentucky's iconic horse racing venues, Keeneland Race Course. The concours and all the associated events and activities are charitable fundraisers in support of the Kentucky Children's Hospital.
The weekend's festivities will begin with the Bourbon Tour on Thursday, July 19th. The tour will commence with breakfast at Heirloom Restaurant in Midway. From there, the group will make its way through picturesque horse country to the Old Friends Farm, a thoroughbred retirement farm. Lunch will take place at Wallace Station in Versailles, part of the family of restaurants from Chef Ouita Michel. The trip will conclude with a VIP tour of the Lexington Brewing & Distilling Co., led by Mark Coffman, Master Distiller, and Ken Lee, Master Brewer. This tour is an all-inclusive experience, and only 12 spots are available. To find out more, visit http://keenelandconcours.com/events/bourbon-tour/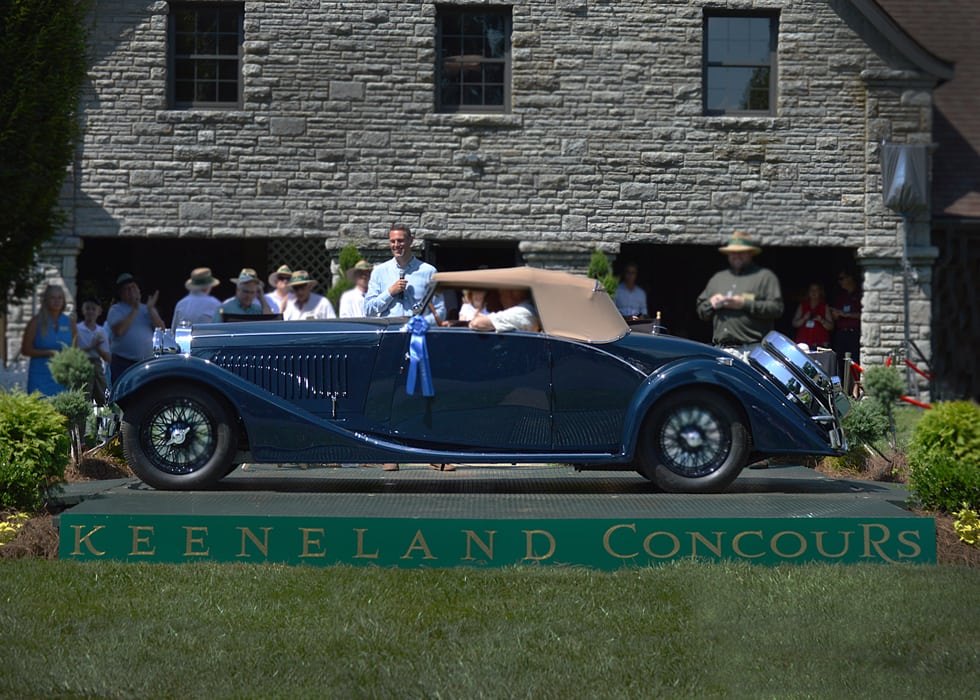 The weekend's main event, the Keeneland Concours d'Elegance, will be held at Keeneland on July 21st beginning at 9:00 A.M. This year's Concours showcases 160 collector cars and motorcycles competing in 20 judged classes. The featured marque this year is BMW, with classes devoted to BMW motorsports, sports cars and motorcycles. The Concours will also showcase a class of well-preserved carriages; in keeping with its equestrian surroundings. The awards ceremony will start at 3:00 P.M. when the winning cars from each class will roll across the awards platform.
The Keeneland Concours has become a gathering place for regional car clubs, and each year the membership of these clubs compete to see who can raise the most money for KentuckyChildren's Hospital. Last year, the car club paddock raised $3,974.11, bringing their total raised over the last ten years to $54,095.62.
On July 22nd, drivers will reconvene at the Keene Library to take part in the 15th annual Tour d'Elegance. This year's tour will be a 90-mile ride through some of the best driving roads in the bluegrass, with a stop along the way at Taylor Made Farm – home to California Chrome. Drivers will then work their way back to Lexington and Red Mile, a harness track that has been a part of the cultural fabric of the community since 1875. For more information on the Sunday tour, visit http://keenelandconcours.com/events/sunday-tour-delegance/