Rarely in the history of motor racing was one person so revered as Ayrton Senna da Silva.
From the start of his karting career in 1973 at the age of 13, he traveled through the formulae at an equally rapid pace culminating in his first F1 race at the 1984 Brazilian Grand Prix. Driving for Toleman, Lotus, McLaren and Williams, he won 41 Grands Prix and 3 World Championships in 1988, 1990 and 1991.
All his Formula-1 victories were eventually eclipsed by another master – Michael Schumacher, at the Indianapolis Grand Prix in 2000 – who in the emotional post-race interview broke down in tears when it dawned on him that had achieved that statistic.
Senna courted controversy throughout his entire career, particularly before and during his turbulent rivalry with his teammate, Frenchman Alain Prost. In the Japanese Grands Prix of 1989 and 1990, each of which decided the world championship, the anticlimactic collisions between them both determined the eventual winner. 
It was said that Prost drove with his head, and Senna with his heart. Both were capable of having such an incredible 'feel' for the car that they could note even the tiniest of set-up differences.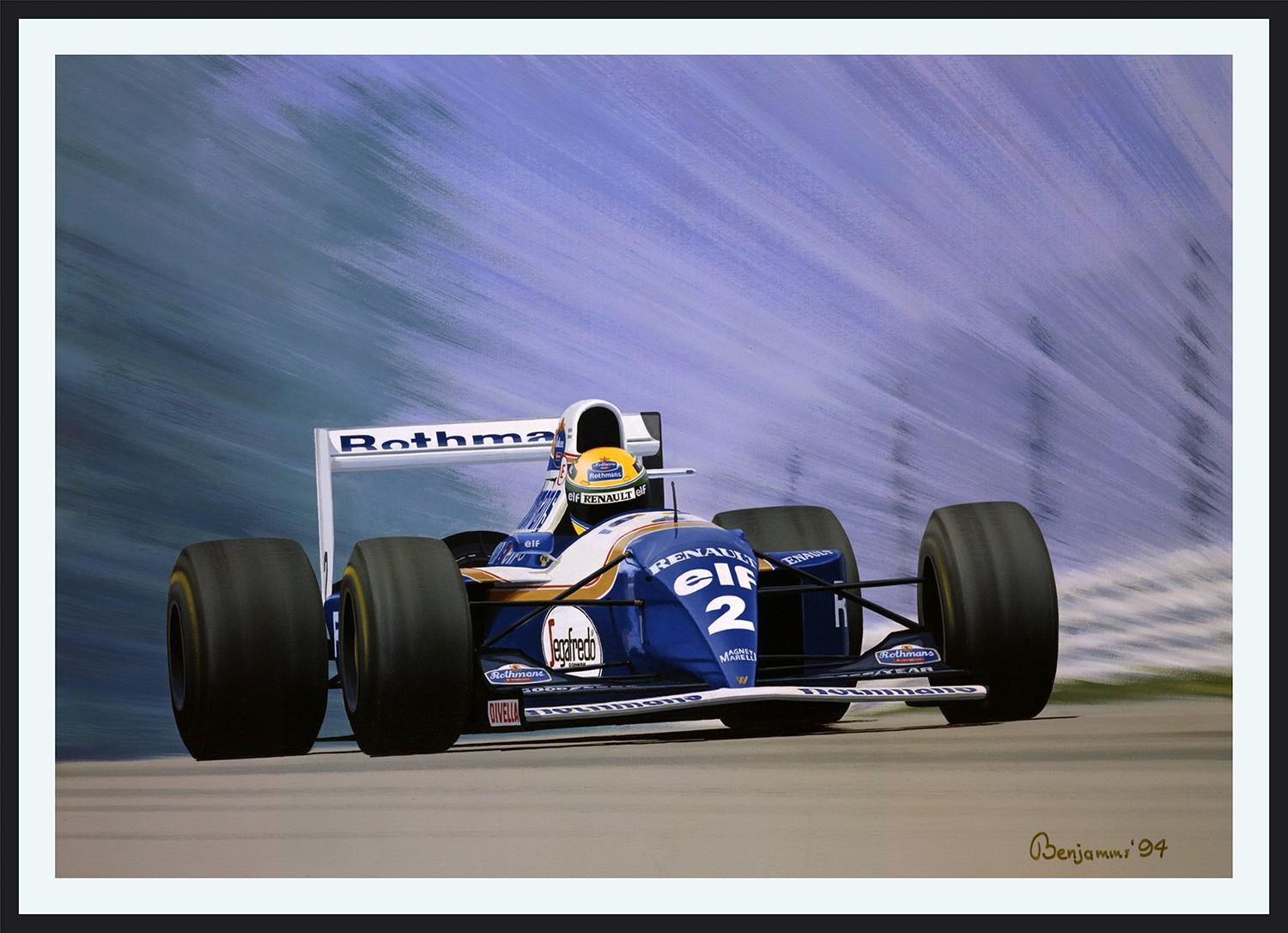 Ayrton's legacy.
Just weeks before his death, Ayrton Senna spoke to his sister, Viviane about his plans to give something back to Brazil. The 34-year-old from Sao Paulo wanted to help those less fortunate than him and reduce the gap between rich and poor. He never got to realize those dreams but, 25 years later, his name still carries a lot of weight and, thanks to his sister, it's being harnessed to make a difference in the country he held so dear. 
Six weeks after her brother's death, Viviane set up the Ayrton Senna Foundation, a non-governmental organization which has gone on to pump hundreds of millions of dollars into Brazilian society, specifically the education of children. This was his lasting legacy and to date, there has not been any racing driver who has returned SO much to society than Ayrton Senna.
This particular image was completed just several days before that May 1st, 1994 at Imola, Italy. 
It had already been OK'd by the Williams F1 team for me to meet Ayrton to sign it when he visited the UK factory where undoubtedly, we would have had a more relaxed chat.
Over the previous years he was so gracious to autograph four of my original paintings and I am honored to say that he was always the perfect gentleman, allowing me to remember him with extreme affection.
Prints – Run of 150, signed and numbered.
22.5 "x 30" – $ 135 + P&P
Giclees – Run of 50, signed and numbered.
24″ x 30" – $875 + p&p
30″ x 40″ – $1500+ p&p