The residents of Highlands, North Carolina, are very proud of their altitude, as is suggested by the motto of their Motoring Festival. They put the altitude, 4118 feet, on pretty much anything related to the town or the Festival. I had heard of the show and had considered attending for Vintage Road & Racecar magazine, especially since it was only a three hour drive from home. Thanks to a chance meeting with Gus Lard at the Trump Charlotte Concours, I made plans to attend this June. You see, Gus Lard had a '66 Shelby GT 350 exactly like my first new car – candy apple red, no body stripes, rear seat option. We became friends.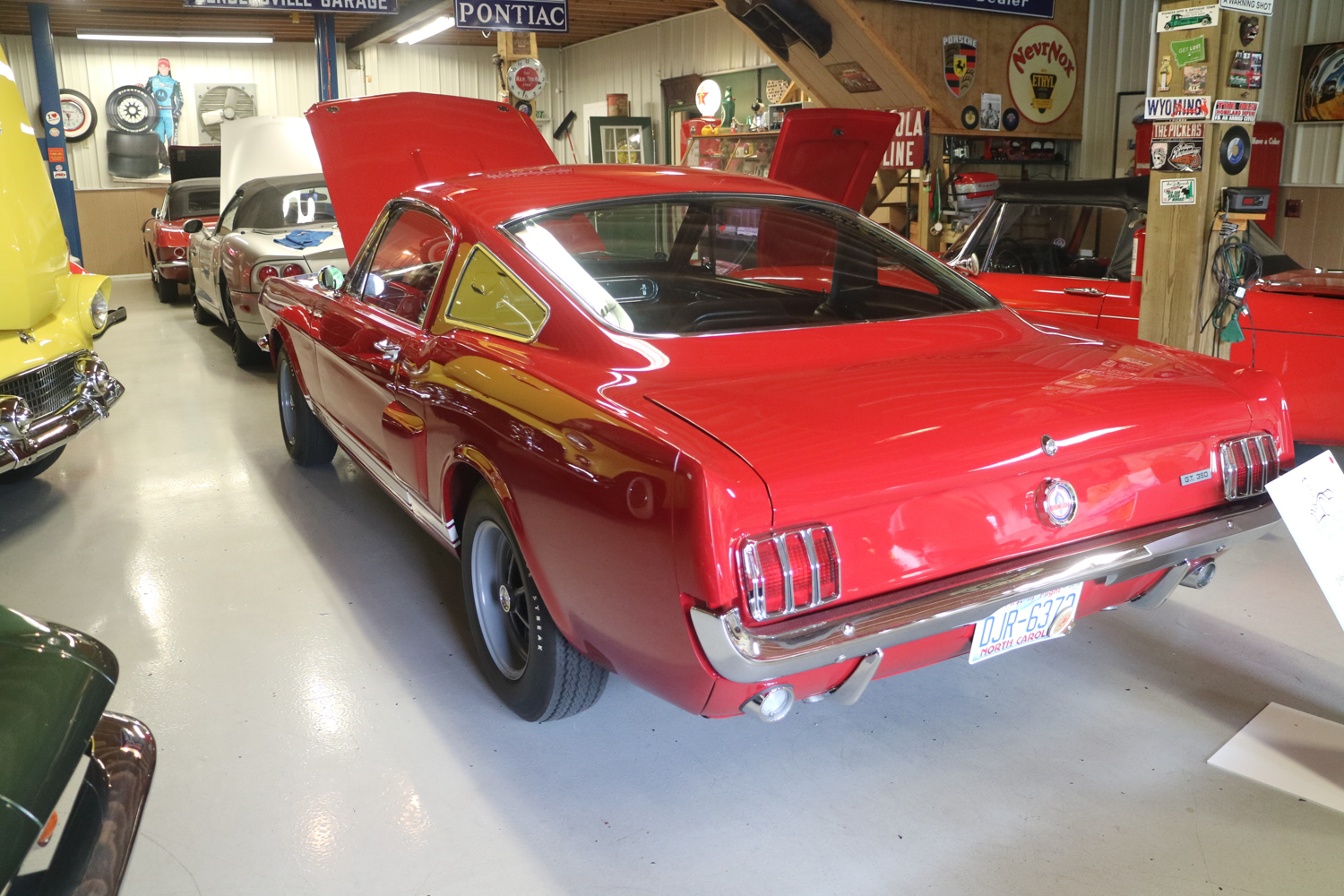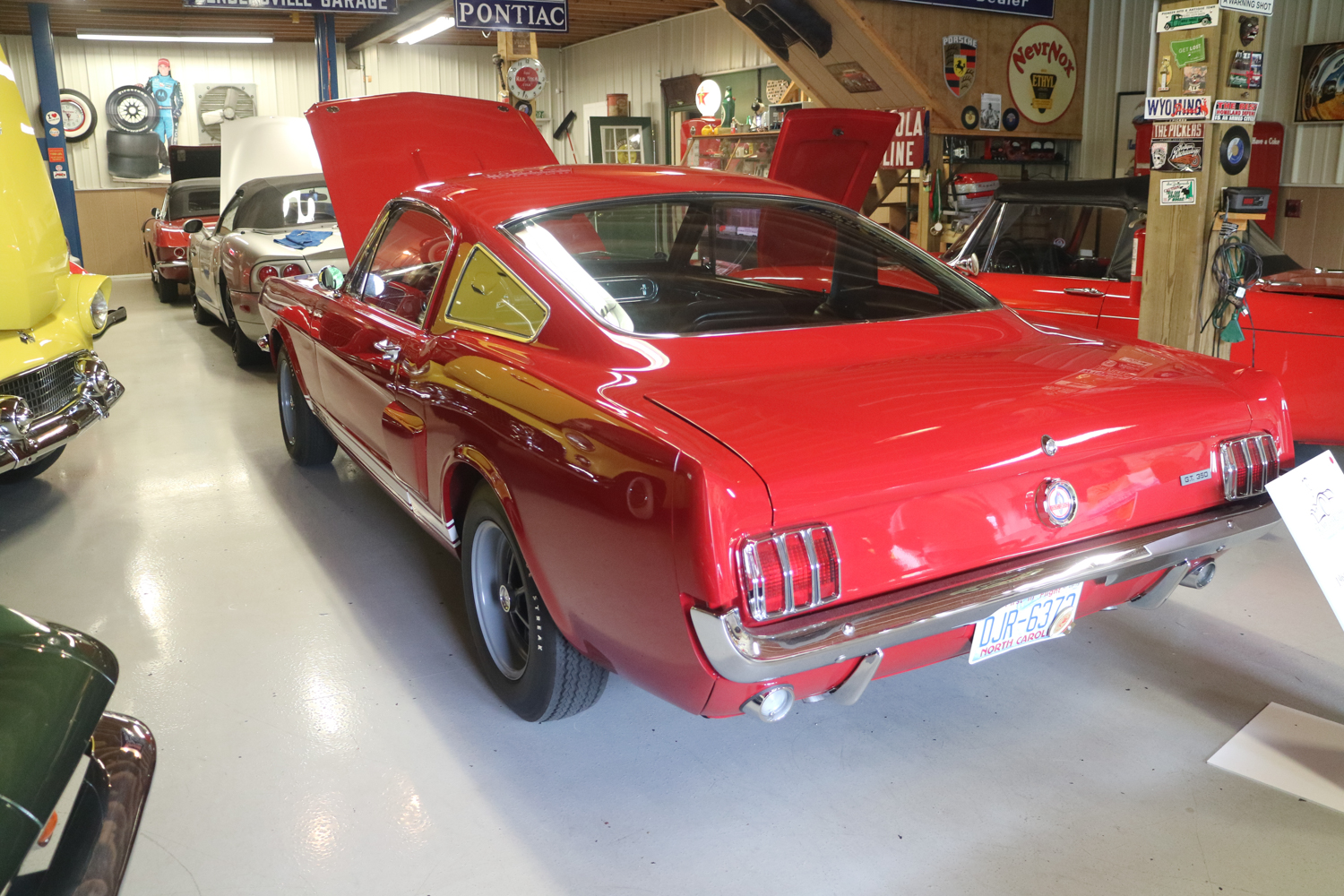 When I emailed about the show, Mark Chmar replied to my questions. His answers and our subsequent conversations caused me to look forward to the show even more. The Highlands Motoring Festival exists to support three local charities. This year the charities were REACH of Macon County, Literacy Council of Highlands, and the Community Care Clinic. There is an entry fee for those who enter their cars, but spectators enter the show free; donations are appreciated. For the first time, I didn't need a media credential to attend. Like everyone else, I just walked in, although I did leave a donation.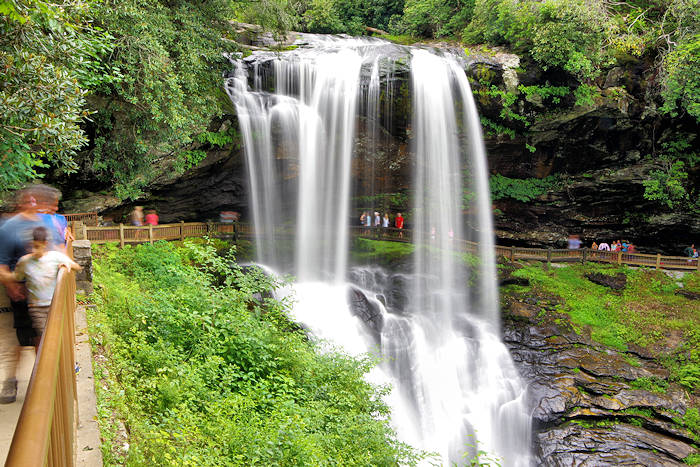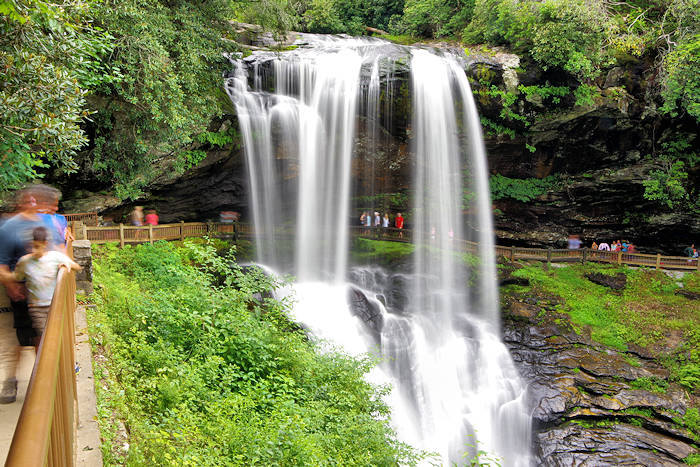 One of the attractions of the Festival is, in real estate terms, location, location, location. The town is in the beautiful mountains of western North Carolina. The permanent population is around 3000, but part-time residents and tourists (like me), can bump that to over 20,000. Don't expect to see a McDonalds or a Holiday Inn in Highlands – all businesses appear to be locally owned. Then there's getting to Highlands – the roads are incredible. You will see a warning sign that let's you know that the road narrows and has many 20 mph turns over ten miles. Perfect! If you enter the Festival, you will have an opportunity to drive those 10 miles and many more, as you'll see.
Thanks to Chmar, I was given access to several events attended by the entrants. On Thursday night, June 6th, I was invited to Monte Carlo Night. There was food, a silent auction, and gambling with play money. Everyone got chips with which to gamble, and you could purchase additional chips. Once the gambling was over, you could apply the chips to the purchase of something of interest in the silent auction. I'm not much of a gambler and was spending my time meeting some of the interesting people who were attending. I gave my chips to a fellow who was lusting after a fly-fishing rod in the silent auction – hope he won.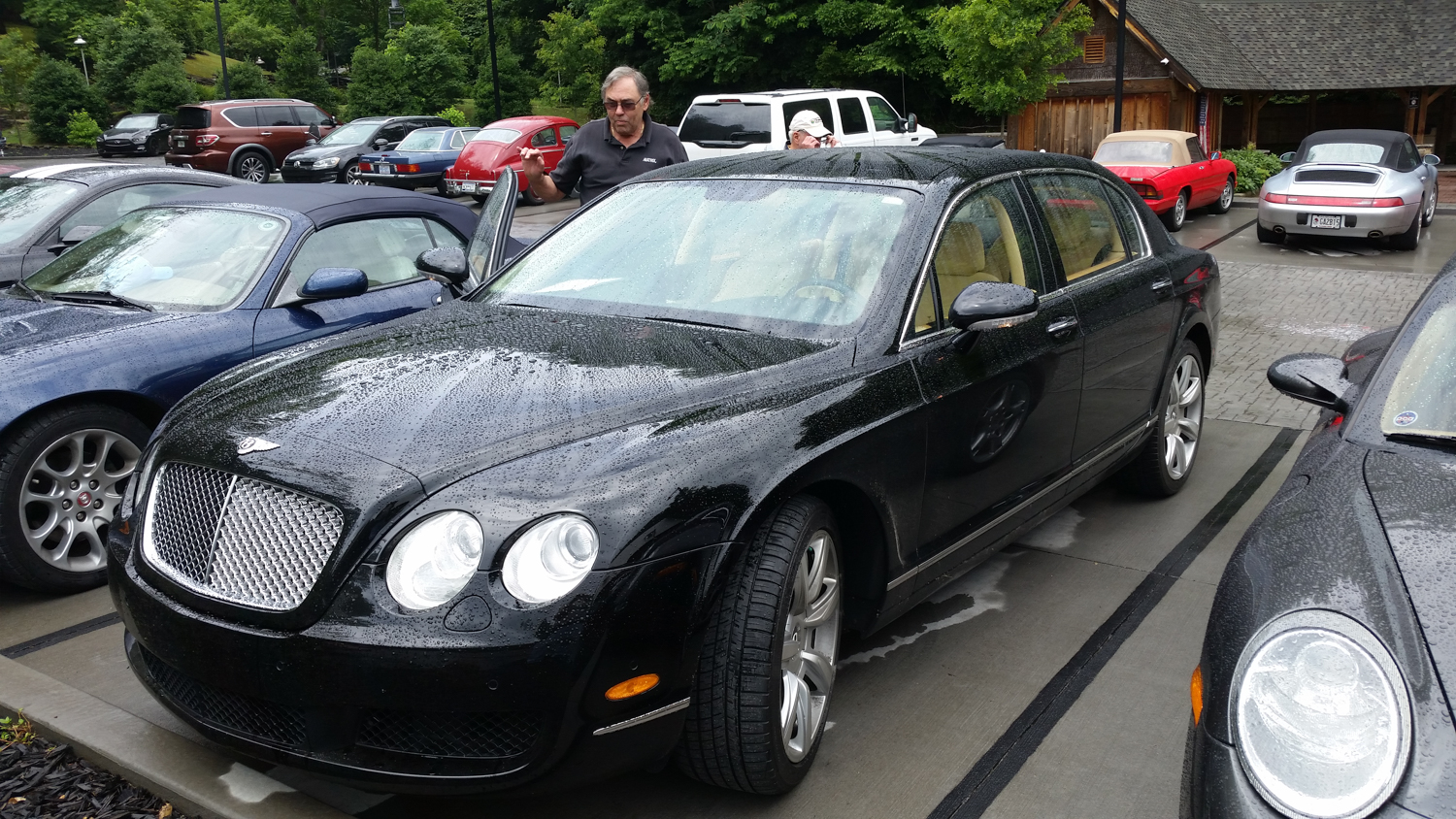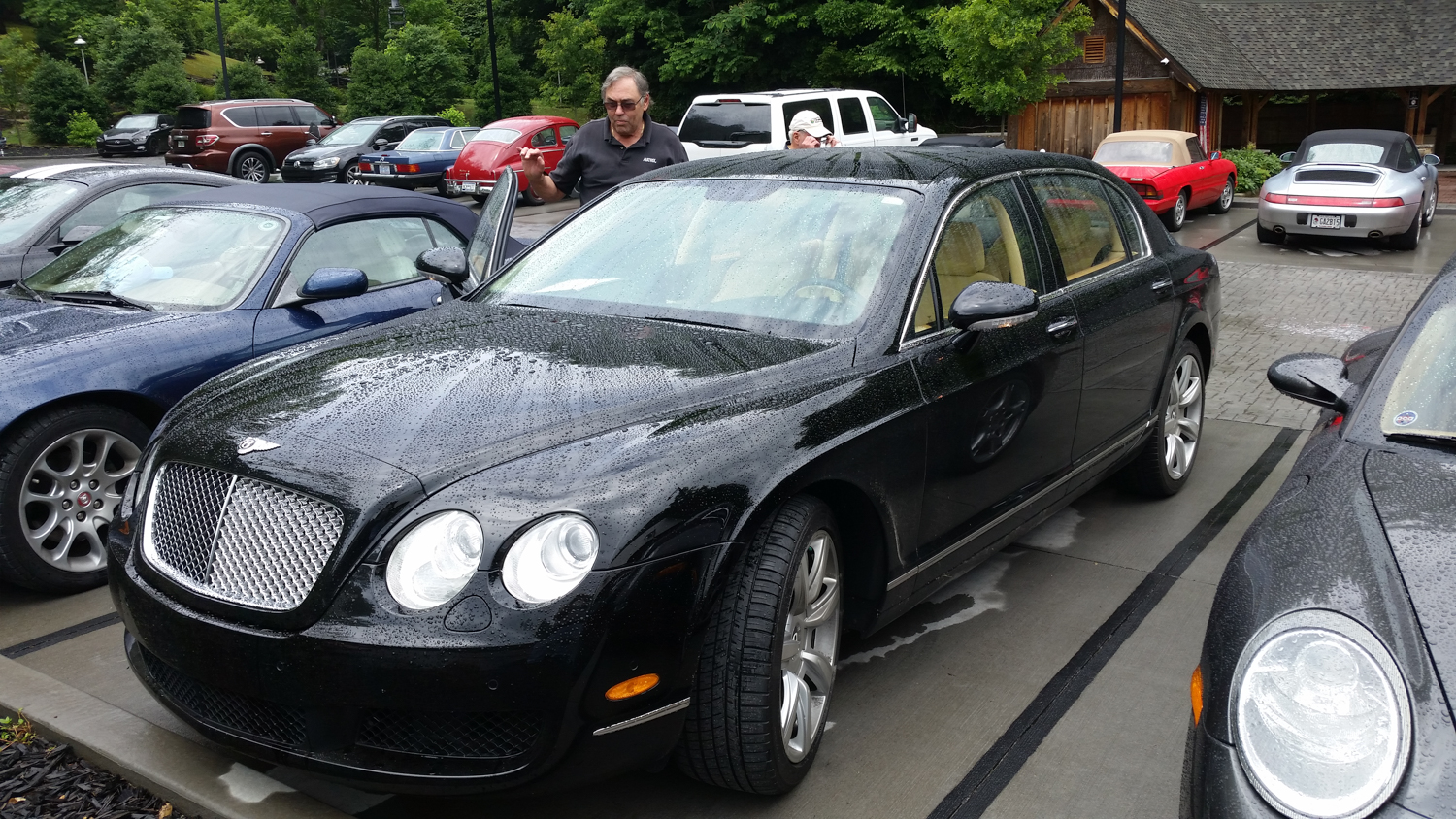 One of the people I needed to meet was Lambert Chandler. Chmar arranged for me to ride with Chandler on the One Lap of the Mountains driving tour on Saturday. We were to go in his Austin Healey, but his Bentley turned out to be the better choice for the drive. Chandler and I had several common threads in our histories in addition to our classic automobile passion – Army service, Germany, BMW motorcycles. We spent a lot of time telling stories to each other, many of them quite similar.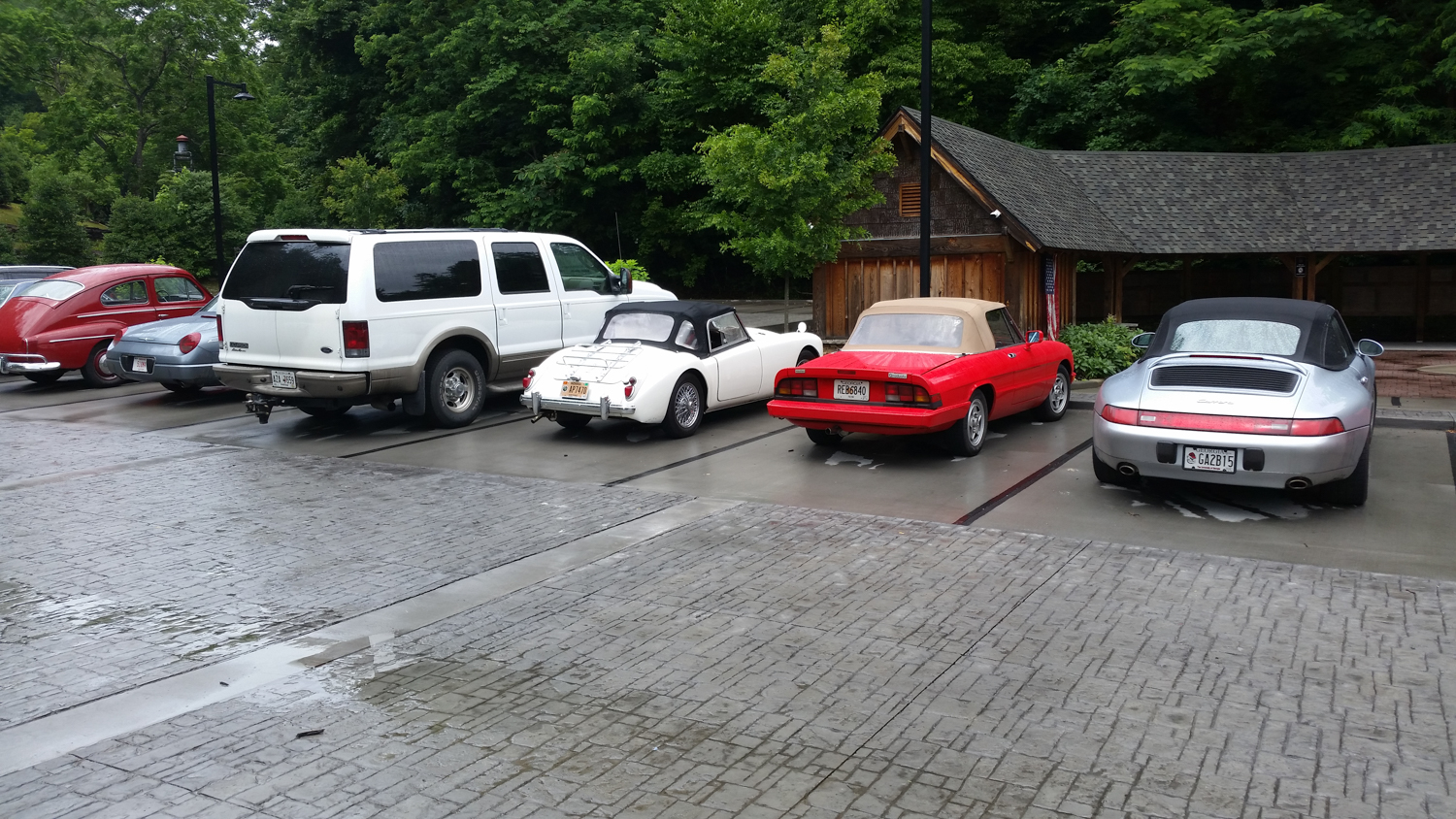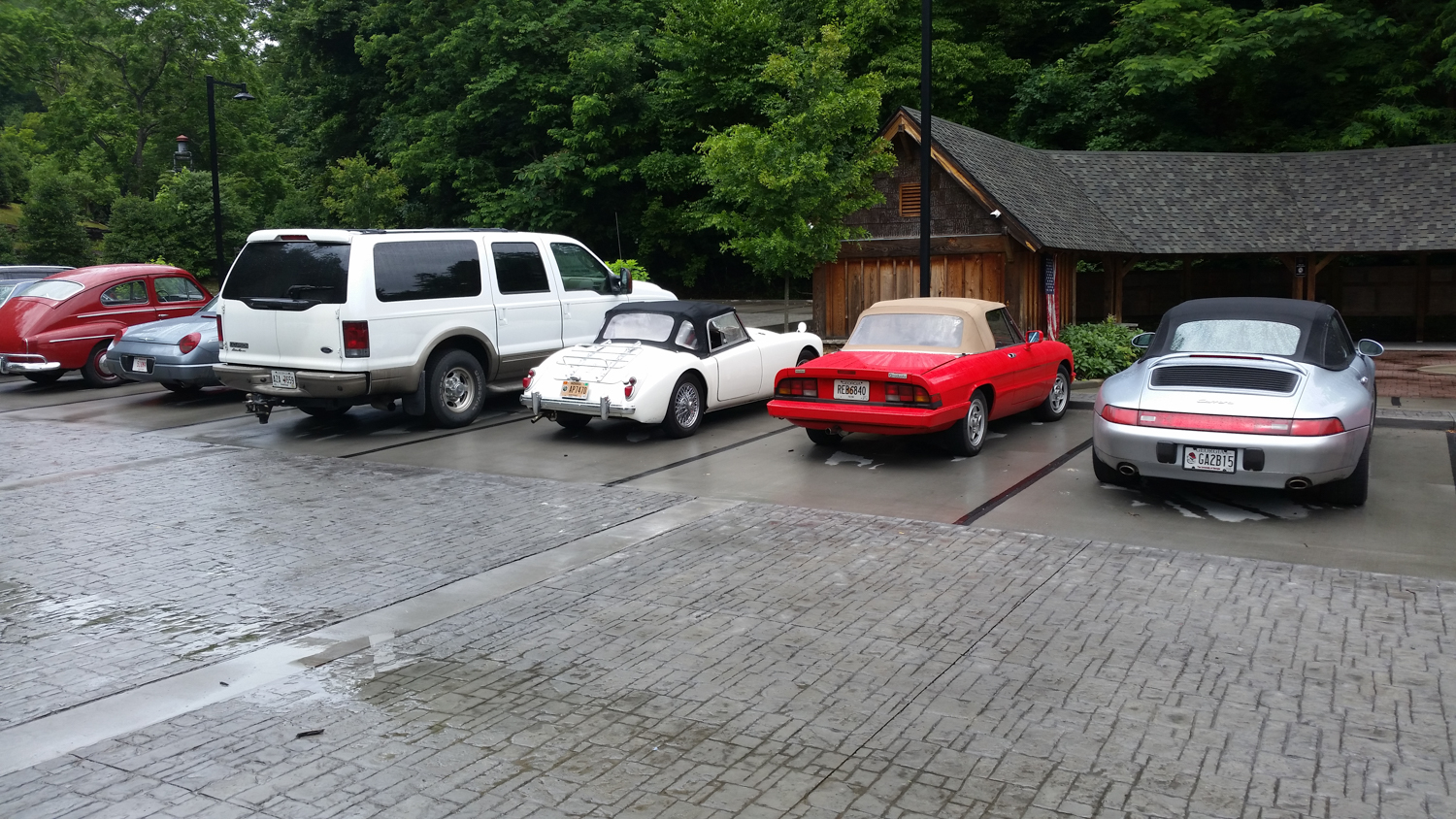 Weather this year was not a friend of the Festival. It was drizzly on Thursday, and Friday started with a good rain storm. By the time we were on the road in Chandler's Bentley (twin-turbo W-12 power), the worst of the rain had stopped. The wipers were on a lot, but mostly just for drizzle and spray. There was one other good storm, but we were at the lunch stop and cozy inside the historic Tapoco Lodge. I got to drive much of the way back to Highlands, and I was impressed with the Bentley's handling. Acceleration, with over 500 hp, was expected, but this big car, in Sport mode and with all-sheel-drive, was a joy to use to carve the mountain corners. It was as satisfying to drive in the mountains as my Focus ST (half the power but about half the weight of the Bentley). It was fun!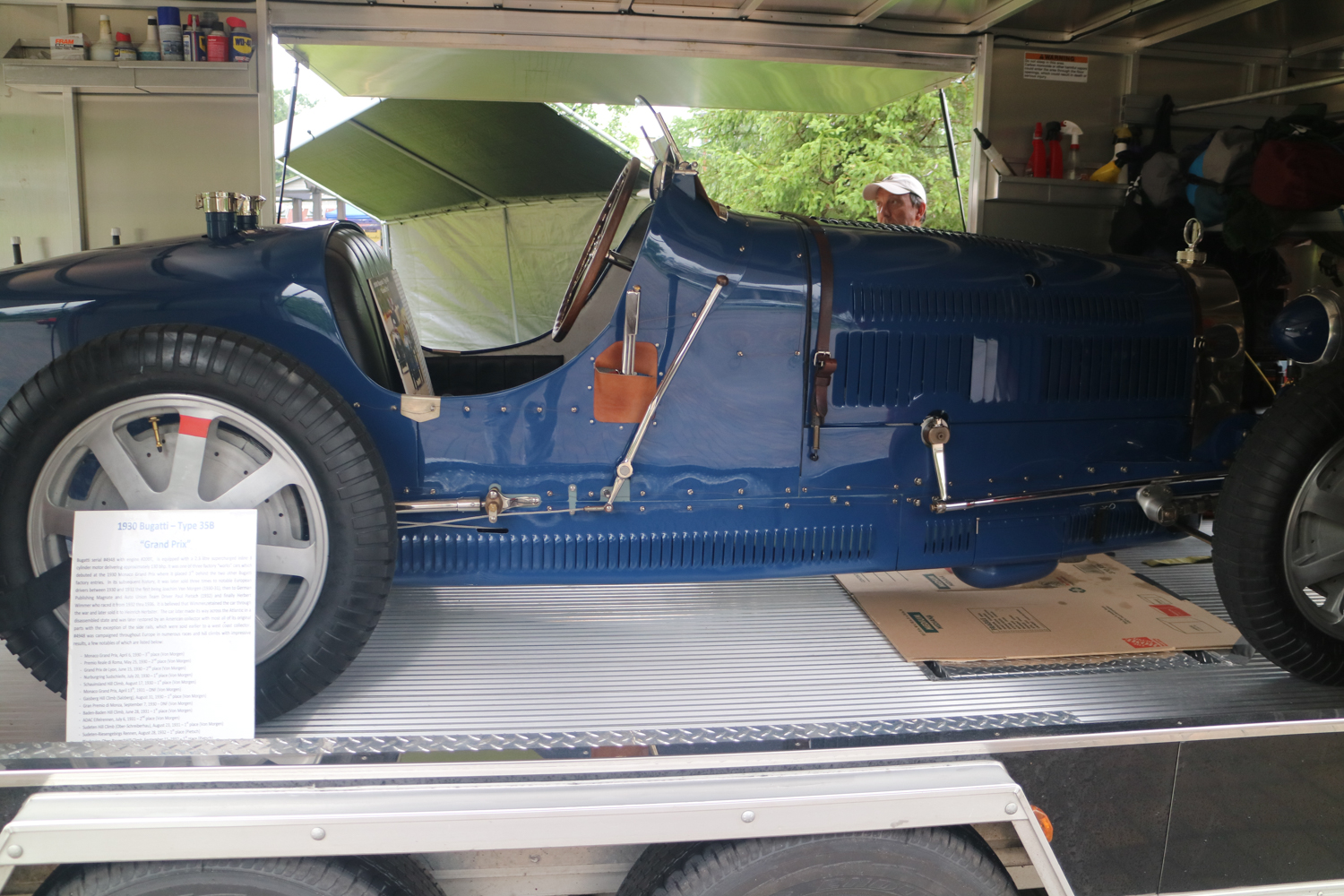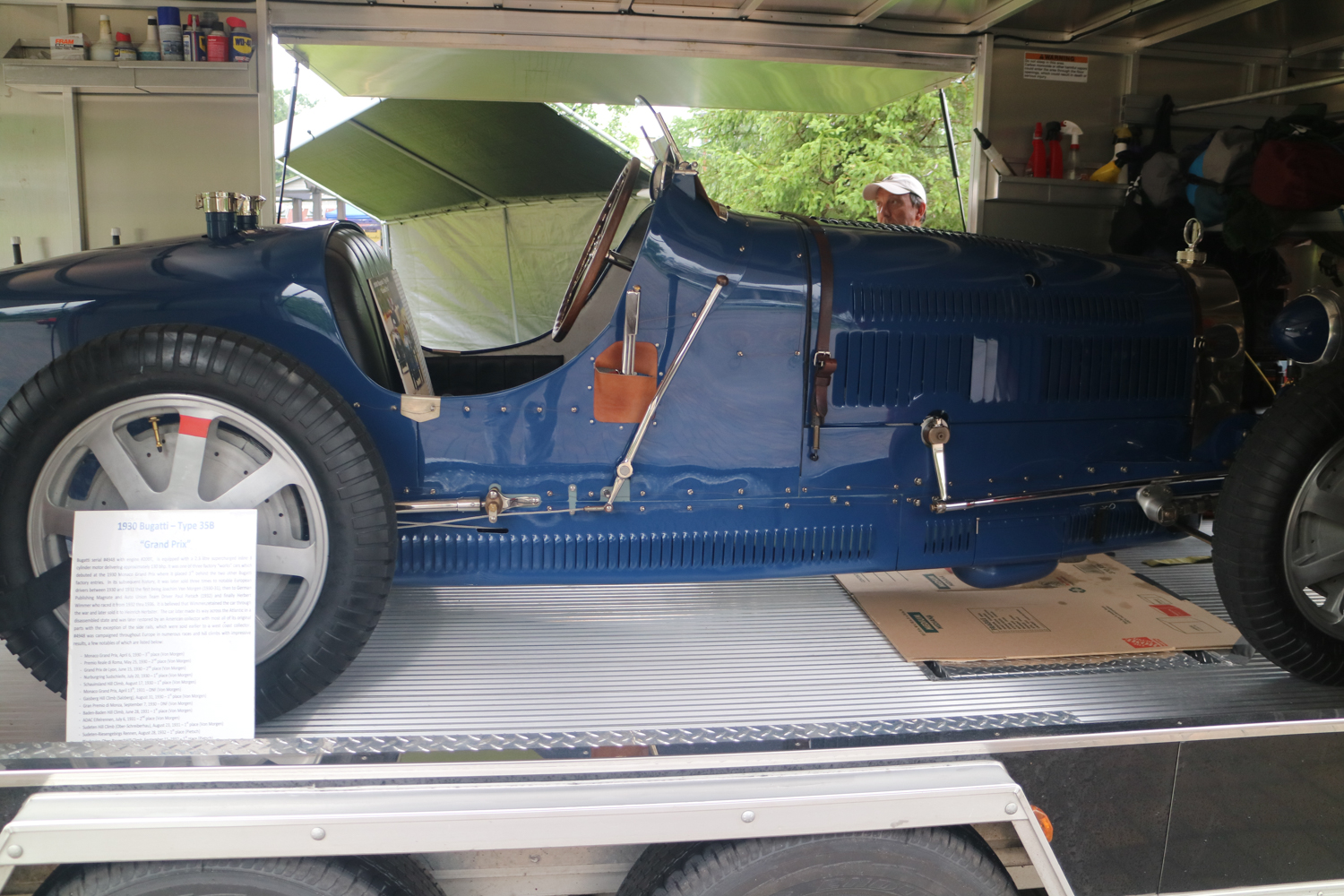 Saturday began with heavy rain early, but it turned to drizzle for much of the morning. Cars began entering Kelsey Hutchinson Park at 7:30, albeit quite slowly at first. As the weather turned into short periods of drizzle followed by drying, more and more of the entrants arrived. Certainly, some decided to pass, but most of the entrants showed up. Arrangements with the Entegra Bank allowed the 1990 Porsche Indycar to sit in one of the drive-through lanes – covered and mostly dry. Eventually, some of the open cars and racecars got covered, including the Bolus & Snopes GT 350, a 1954 Jag XK120 OTS, and the one Lotus 7, but others remained uncovered for the enjoyment of spectators. A 1930 Bugatti Type 35B stayed in its trailer, but the trailer had sides that raised so the car could be viewed. Two cars that remained uncovered, even when the rain got serious around noon, drew my attention. One didn't look very special; just a red 1965 Mustang Fastback. By chance I sat beside the owner and learned that it was the first Mustang Fastback – serial number 1! Look for a profile of it in coming months. The other is another car with quite a story. David Sosebee brought a 1939 Ford Coupe. Sosebee runs the Georgia Racing Hall of Fame in Dawsonville, Georgia, and the Ford was his father's. His father drove this car to victory at the first race on the beach at Daytona, and I believe he won in it twice more. That car deserves a profile as well, and Sosebee seems to be a good candidate for an interview.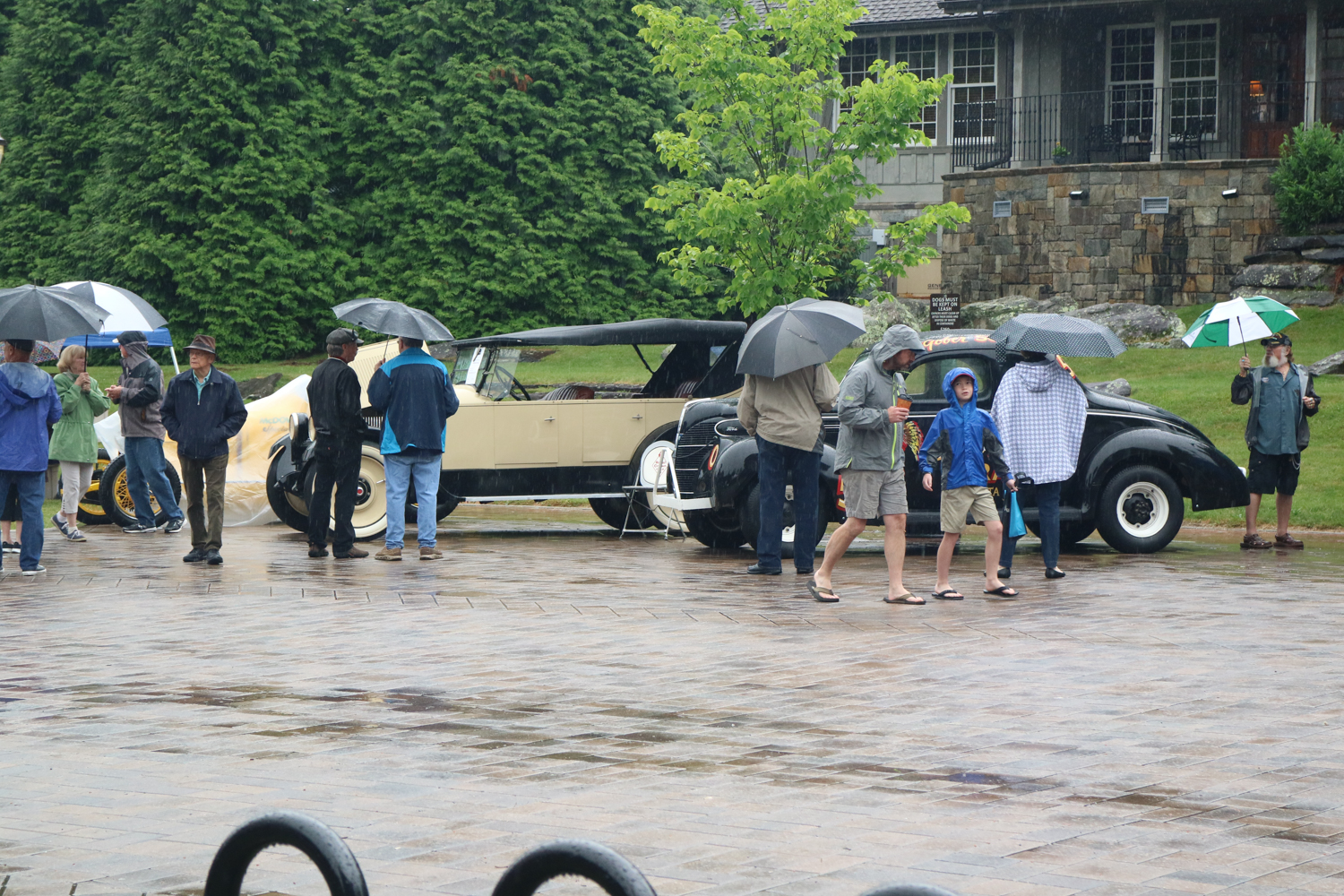 The rain got progressively heavier during the early afternoon, and the show was effectively over by 3:00pm. This was the 12th Highlands Motoring Festival. It was unfortunate that the rain interfered. Still, it was impressive to see the number of spectators who just opened their umbrellas and wandered among the cars. Some spectators came from quite a distance, so they weren't going to allow rain and fog to stop them from seeing the cars.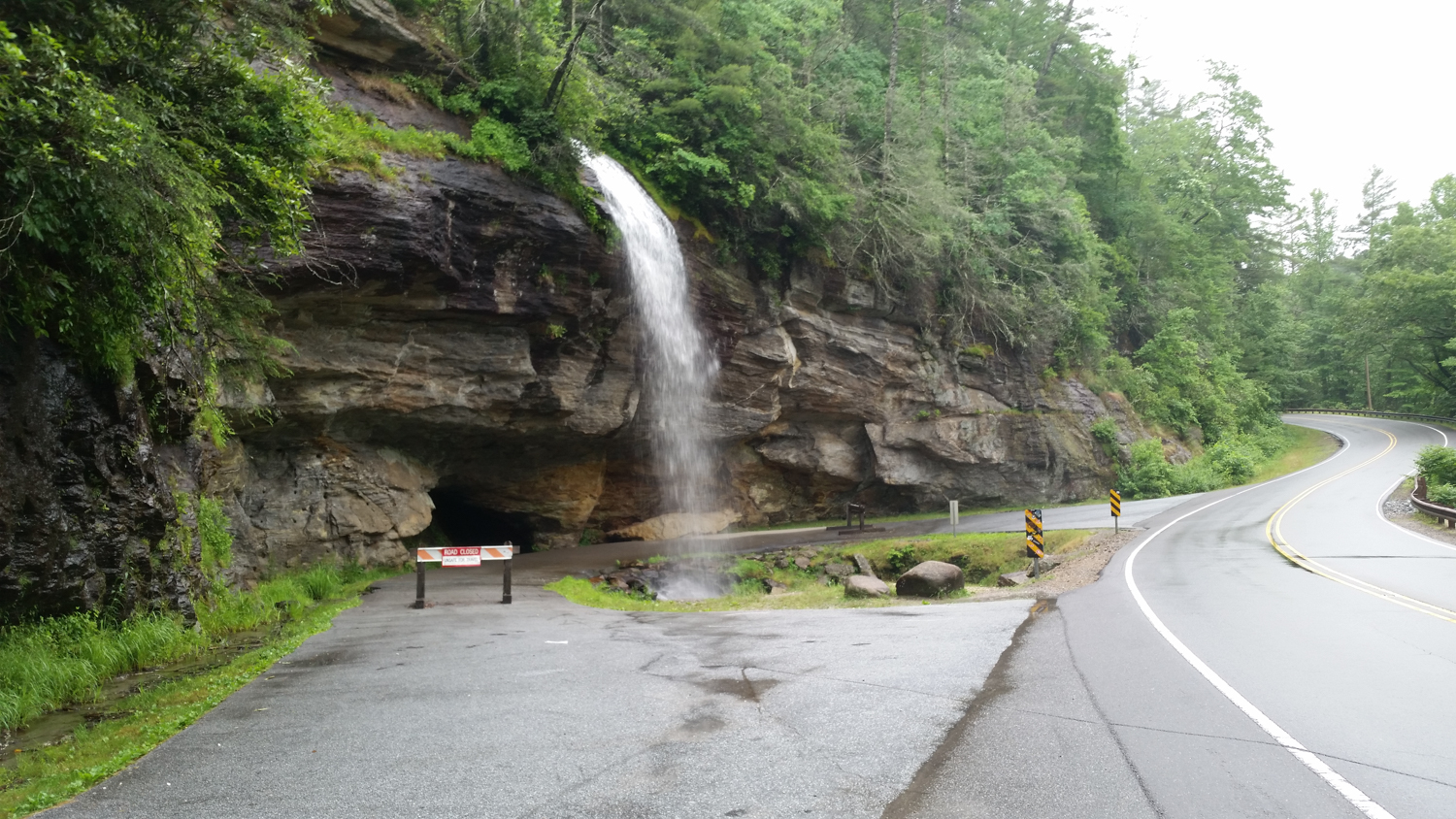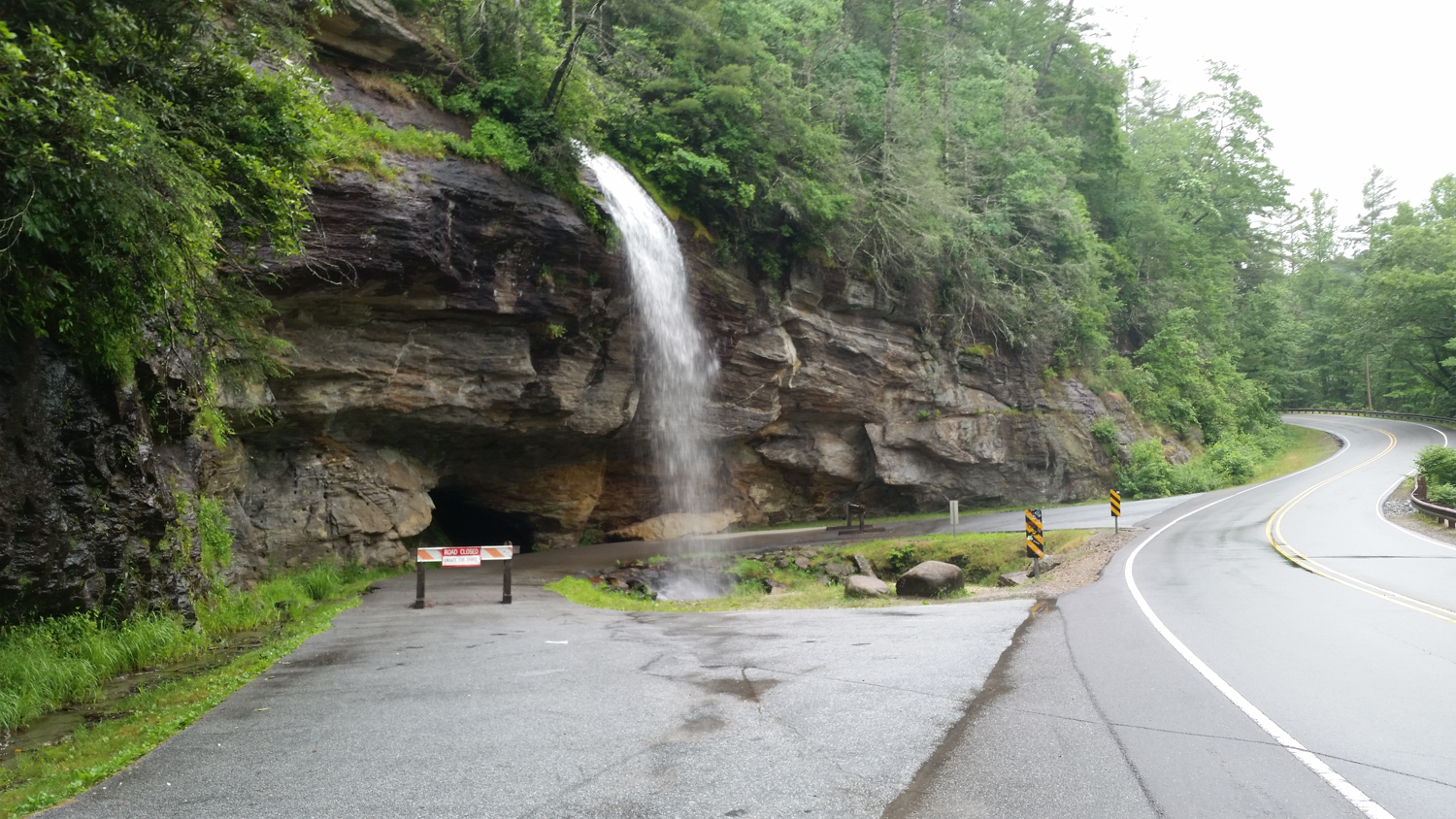 On Sunday, there was a cars and coffee type event, called "High Octane on Main." Rain was again a problem, but still a number of cars turned out. After taking some photos, I left Highlands and enjoyed many of the three hours driving home. If you are a passenger, there's a lot to see on that drive – drivers have to concentrate on the road. Still, I made a stop at Bridal Veil Falls on US-64/NC-28. The road used to go under the falls, but after a large rock fell, the road was rebuilt to bypass the falls. Beautiful drive, just beautiful.
The Highlands Motoring Festival is, in a way, an anti-concours. Cars are judged, and there are rules about what cars are acceptable for the show, but there is a laid-back attitude about the Festival. Plus the people putting it on are great. It impressed me enough that I am seriously thinking about entering my '73 Alfa Romeo Giulia Super next year, although the Lotus would really be fun to drive on those roads.
The Highlands Motoring Festival is a keeper!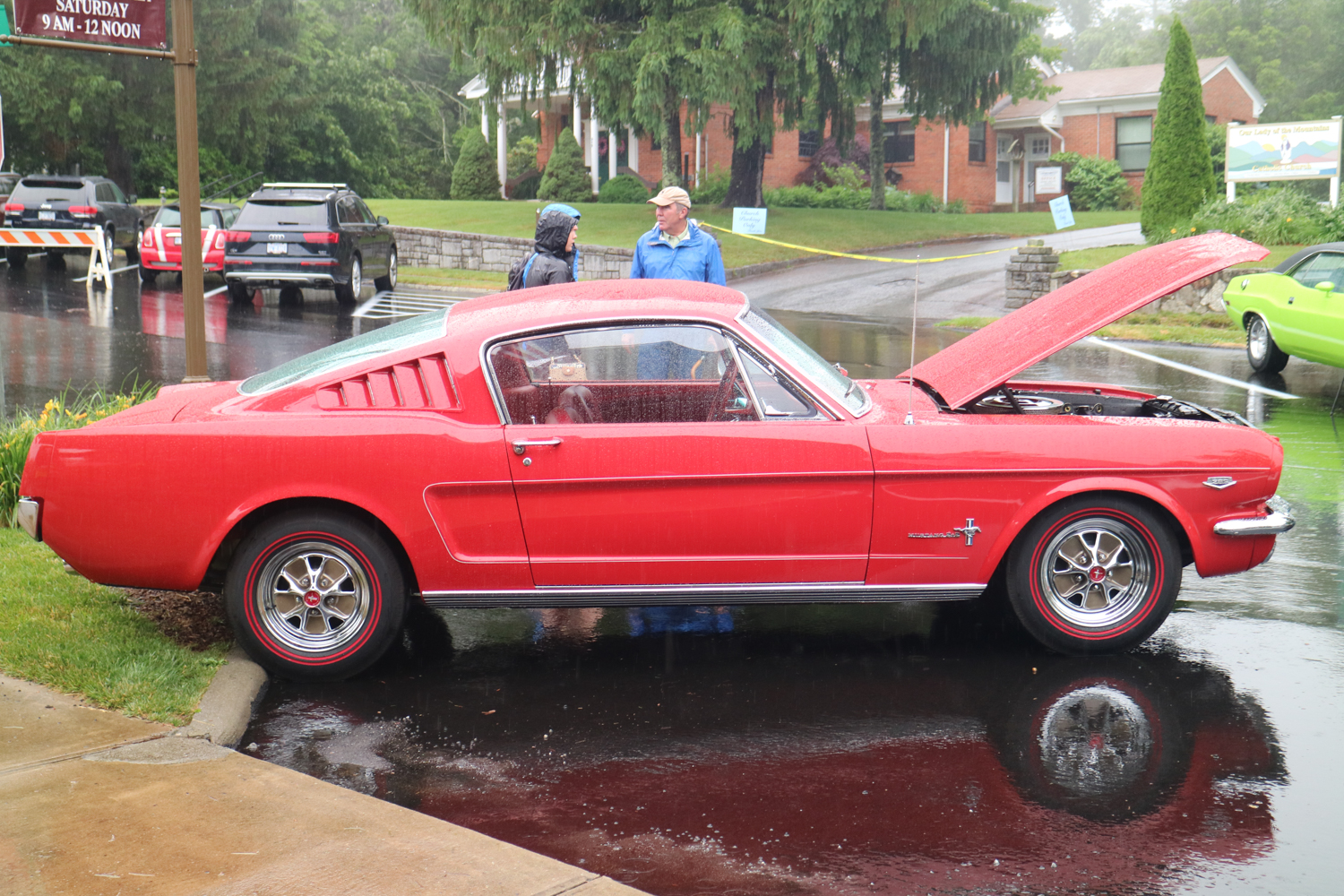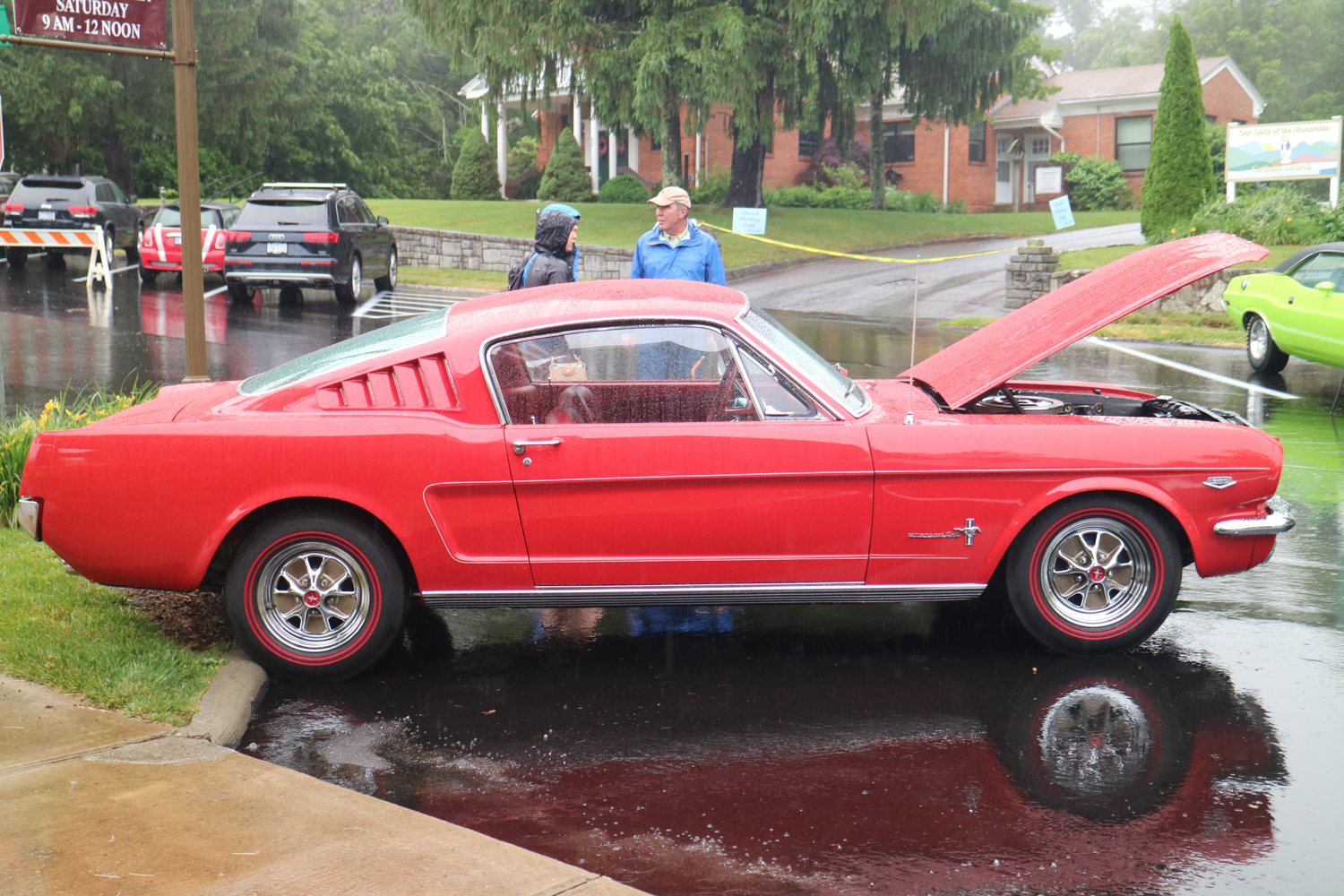 Best of Show
Lawrence and Tees Booth, Cumming, GA. 1965 Ford Mustang Fastback – Serial number 1 fastback in 1965
Dennis Gage "My Classic Car" Award
George Kater, Williamsburg, VA 1974 Alfa Romeo GTV Coupe
American Classics
Best of Class: Dale Woods, Riceville, TN 1961 Chevrolet Impala
Outstanding in Class:
Harry Gambill, Murrayville, GA 1956 Ford Crown Victoria
James LeQuire, Franklin, NC 1968 AMC Rambler
American Performance
Best in Class: Lawrence and Tees Booth, Cumming, GA. 1965 Ford Mustang Fastback – Serial number 1 fastback in 1965
Outstanding in Class:
Brad Bean, Fernandina, FL 1960 Chevrolet Corvette
Allan Jones, Cleveland, TN 1969 Chevrolet Camaro Z28
Foreign Classics
Best in Class: Brian Steiner, Bradenton, FL 1960 Volkswagen Sedan
Outstanding in Class
Don Bower, Watkinsville, GA 1972 BMW Baur Targa Cabriolet
Foreign Sports British
Best in Class: Andrew Krueger, Summerfield, NC 1964 Austin, Cooper-S
Outstanding in Class:
Brooks Jeffery, Largo, FL 1963 Triumph TR4
Richard Martorell, Temple Terrace, FL 1953 Jaguar XK120DHC
Brad Walker, Charleston, IN, 1961 MGA 1600
Foreign Sports Non-British
Best in Class: W.I. Wagnon Stone Mountain, GA 1958 Alfa Romeo Giulietta Spider
Outstanding in Class:
George Word, Savannah, GA 1971 Porsche 911E Targa
Veronica DeGuenther, Tampa, FL 1986 Citroen Deux Chevaux
Street Rods
Best in Class: Roger Sanford, Franklin, NC 1932 Ford Roadster
Outstanding in Class:
Ronald Ludwigsen, Hope Mills, NC 1979 MGB-Ford V8
Touring Cars
Best in Class: Mickey Archer, Nicholson, GA 1936 Chevrolet Master
Outstanding in Class:
Ross Walkup, Venice, FL 1924 Cadillac V-63 seven passenger Touring
Truck/Utilities
Best in Class: Daryle Higginbotham, Kennesaw, Ta. 73 Toyota FJ40