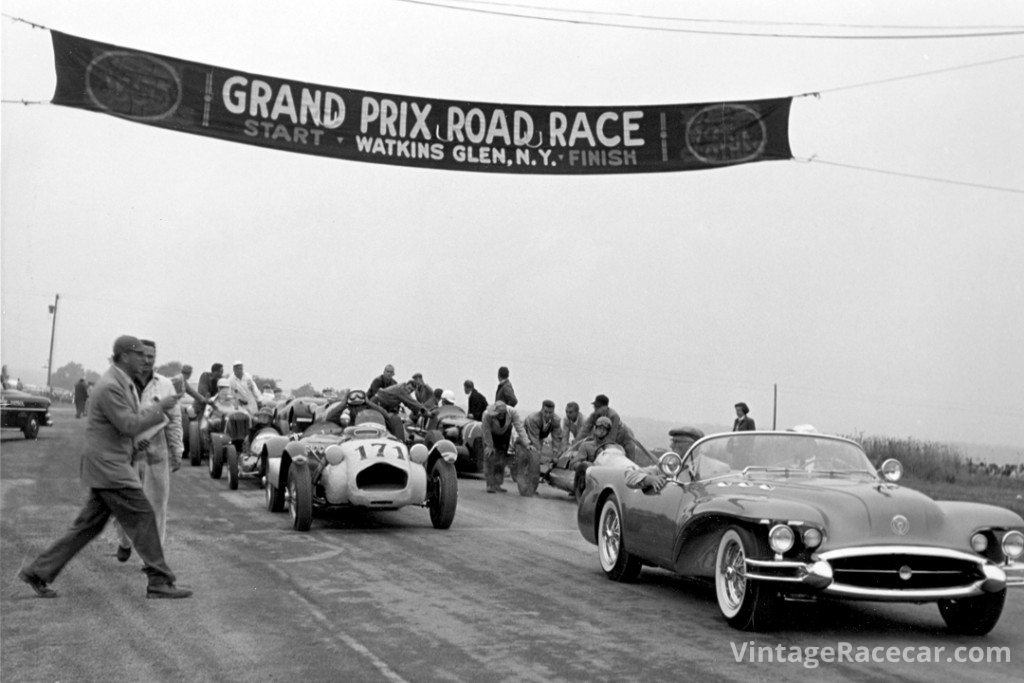 1955 was the last year of racing on public roads for Watkins Glen—September 17. It was the 4.6-mile course up on the hill in Dix Township—the one with the mile and a third steep downhill straight ending in a hairpin turn. If you ran out of brakes or just weren't careful, you could end up on the front porch of a farmer's house, watched by the people sitting on the roof of his barn. As Cunningham driver Phil Walters noted, "it is a course for brave men." Abarth driver John Bentley called it "crazy." Not far from the start/finish line was a new landing field for those among the drivers or spectators arriving in private planes. This simple course actually saved racing at Watkins Glen after the fatal accident in 1952. It had been the next place to race and had gotten the Grand Prix Corporation to the 8th Annual Watkins Glen.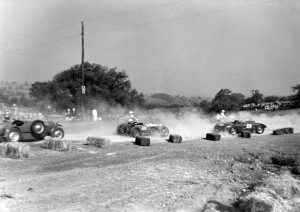 Race #1 was the Seneca Cup and the winner was Pittsburgh driver Dr. M.R.J. Wyllie, once again, in a C-Type Jaguar. He led Dan Boylan in a new Mercedes Benz 300 SL and John Knight in a Jaguar XK-120M. It was a well-deserved win for Wyllie, and his third on the course on the hill in Dix Township. John Plaisted's "Cheetah," a Cadillac-engined special with an MG grille, came in 4th, with 5th overall taken by Ray Saidel in what the results sheet listed as a Cad-Allard but that was actually an Oldsmobile-Allard.
"Dad ordered the Allard," explains Ray's son Alex, "because he had a new Oldsmobile Rocket engine on display in the Oldsmobile showroom—we were an Olds dealer. After it sat for a year, he read that Sidney Allard was making sports cars for big American engines. He contacted Sidney Allard and ordered a J2X Le Mans (it was serial no. J3201)." Ray himself describes the race: "I recall trying hard to catch Gordon MacKenzie, seeing his car upside-down in the road and expecting he must be badly hurt. As I recall, there was a Healey bouncing on its nose on the right side. The long downhill straight ended with a right-hand hairpin. I believe I was going 140 mph down the hill. I kept going deeper and deeper into the corner, but my car was pretty heavy and I kept going farther up on the banked lawn of the house situated there. The residents were sitting on the porch all the time. That was a real fantastic road race." Obviously, Ray liked the course better than some others did. At the same time, many cars that might have made this an even more exciting contest fell out earlier in the race.
The two R1 Grand Prix Maseratis—George Weaver's and Phil Cade's—retired very early. The interesting and sometimes fast AJB four-wheel-drive car of Bill Milliken quit on lap five. Gordon MacKenzie flipped his Jaguar. Vince Sardi's Austin-Healey gave up. The V8-60-powered MG of Burton Jones from Detroit went out. Also retired was the OSCA Mt4 of Otto Linton. The Class E Frazer-Nash of Bill Wonder was battling with the two Class C Jaguars of Evelyn Mull and Peg McClure, eventually passing both of them for 9th overall and 1st in class. 10th overall and 5th in class C was Peg McClure in her Jaguar XK-120M roadster, for which she had recently traded a 120 coupe.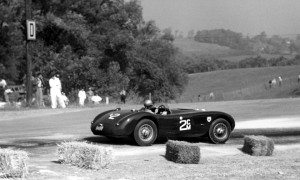 Although it was a large field, some of the more promising cars did not go the distance. Bob Bucher's Cad-Allard went out with carburetor problems. The husband and wife team of John and Evelyn Mull had mixed results with John taking 22nd spot in his #100 Austin-Healey and Evelyn not finishing in her #101 Jag XK120. The fastest race lap, lap two, was set by Phil Cade, at 3:26.6, or about 79 mph. According to Bill Green at Motor Racing Research, the race was under a yellow flag from lap 7 to 11 to clean up after an accident in which David Gilbert's Austin-Healey 100S left the road at Townsend Corner and hit a pole that put radio station WCBA off the air for a short while.
Gordon MacKenzie's accident was a dramatic one, as Gordon himself relates: "The Seneca Cup was a shorter race for people who didn't want to extend their cars in the 100-mile feature race. I crashed on the third lap. I lost it on a turn with a bump. I was still doing 100 mph going backward. Then the car went over backward. It landed on its top with such force that my side mirrors were driven right though the fenders. I had just gotten a Gentex helmet. When I landed, my head was in the door cutout and I was spared." MacKenzie sustained a broken nose and nothing more. Shortly afterward he did a testimonial ad for Gentex.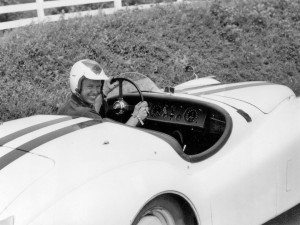 His accident touched off renewed interest in racing safety as MacKenzie sent a letter to the SCCA on the performance of his seat belt and helmet. Contest Board member Bill Lloyd replied: "Your observation that the belt must be located across the pelvic girdle to be effective has been borne out by several medical reports that I have read on the subject…It was too bad you had your accident, but at least you were not seriously hurt and have been able to contribute to our knowledge of safety devices."
Driver Bill Milliken has a long story about the fortunes of his Butterworth Special, powered by a Steyr V8 German tank engine. It begins in 1953: "During the war, the British government picked up these engines from the Germans in order to analyze them. When Butterworth saw the engine, he saw the potential for racing. These engines kept disappearing as people like Sidney Allard found out about them. They had Amal carburetors and a very fancy arrangement of throttle cables.
"The engine in the Butterball has a very high compression, 14 to one. Butterworth insisted that before any event we take the pan off and check the bearings. When we did that before the '53 race, they didn't look good and we couldn't get the parts right away so we missed the race." For some reason he missed the race in '54 as well.
Then, in 1955, after five harrowing trips down the hill to the right-hand turn onto Townsend Street, Bill's car gave up the ghost and quit.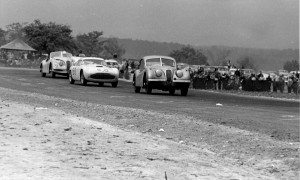 Conspicuous by their absence in the 1955 Seneca Cup was the horde of fast little Formula III cars—Cooper-Nortons and the like—and their colorful, expert drivers including Rowland Keith, Paul Richards and Lex duPont.
The C-Type Jaguar that race-winner Wyllie drove was a different car than the one that won in 1954. The '54 car was XKC 009 and the '55 car was XKC 032. It was formerly owned by Chicagoan Ernie Erickson and had better brake cooling and an improved suspension with a Panhard bar. "It was such a good car," says Wyllie, "that I had no problem in winning. The corner at the bottom of the hill was very abrupt. Unless the gearing was right, you had the risk of a clutch explosion. A friend's foot was injured that way. I would put my foot up in the air, when I could, to keep it away from the clutch."
Race #2, the MG race, called the Collier Brothers Memorial Race, was won by Oakleigh Robinson of Washington DC, in a brand new MG-TF 1500, after the TF of Steve Spitler dropped out of the lead and then out of the race. Second was the MG-TC of Henry Willard (who had started from 40th place) and 3rd was another MG-TF, that of Dick Nash. There was quite a lot of attrition in this race—20 cars of the 45 starters dropped out. The retirements included National Champion Ralph Durbin, the talented Fred Windridge and Put-in-Bay winner Charlie Ellmers who had traveled from Cleveland for the past three years and, unfortunately, DNF'd for three years. His friend Ted Jayne did a little better with an 11th overall in a finishing field of 25, driving the #149 MG-TD.
Uncharacteristically down in the standings was Gus Ehrman, an MG executive with J.S. Inskip, driving his TD into 8th place in G Production, after a near miss with the spinning TD of Clem Boehler, who later retired. All kinds of calamities beset leading competitors, as Ralph Durbin had been black-flagged for leaking oil, and skids and near-flips were common due to the melting of the road surface under the hot sun of the day.
Of the large number of entries in the Collier Cup, eagerly on the starting grid, only 25 finished. All were MGs except the four VWs and one HRG allowed to race with the cars from Morris Garage.
HRG driver Robert Richer drove his car all the way up from Greenwich, Connecticut, to race in the Queen Catharine. "It was a disastrous track," he recalls, "The asphalt hadn't hardened, and big chunks of the track were coming out. They threw dry concrete on it to make it set up and you couldn't see with all the dust. It was the first time I'd run the car hard on a hot day, and the car kept getting slower. After the race I contacted the factory for an explanation. They told me it was built in 1954 when the metal shortages were still in effect. The bushings in the transmission were the wrong metal and, when heated, would squeeze the transmission shaft, slowing the car. Otherwise, I could have finished better." Richer, in the dark blue #126 HRG, was 8th overall, right behind Bob Holbert in an MG-TF. "When I got done with the race," Robert quips, "my car was white, covered with concrete dust."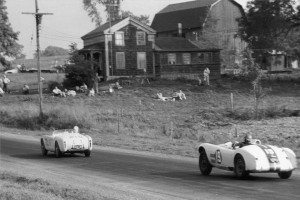 The Glen Trophy Race, Race #3, was won by Paul O'Shea of Rye, New York, in a new Mercedes 300 SL (#18). He was dogged by Ed Hugus in the #65 300 SL, and Dick Thompson in a Jaguar XK-140M. Other notable names in this race include 3rd place George Constantine (140M), Charles Wallace (140M), Harry Carter (140M) and Malcolm Donaldson in an Austin-Healey from Norwalk, Connecticut.
Thompson, later known as a Corvette driver, had taken the lead on the first lap in his Jag 140, followed by the O'Shea SL and Jaguars of Wallace and Constantine. "The 300 SL was my biggest competition," says Dick, who placed 3rd in national points that year, "but Wallace and Constantine were very good drivers, in good cars." By the second lap, O'Shea had passed him. "That course was fairly good," Thompson remarks, "with nice long straights and slow corners. I lucked out as you can see, something happened to the other drivers—I was going as fast as I could. That was the last race in my own car. The next year, '56, I was with GM in a Corvette."
About midway through the race, Peg Wyllie in her XK-140MC and Ed Hugus in his 300 SL were vying for 5th place. Peggy tried an outside pass on the right-hand corner at the top of the pit straight, but a missed downshift made her wheels lock up in the middle of the turn, going off the road and out of the race.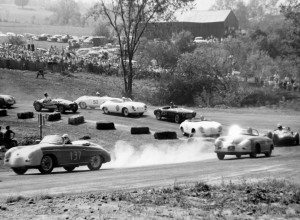 Hugus passed Constantine and then Wallace and O'Shea, then got the black flag for a loose hood. With a quick pit stop to latch the hood, he got back out and passed Dick Thompson, for a 2nd-place finish (O'Shea, Hugus, Thompson). Ed complained about the black flag later: "I could have been going 200 mph and that hood would not come up. It was hinged at the front!" One of the four 300 SLs entered, that of Arthur Simmons (#67), did not finish the race. As a portent of the future, a red 1955 Corvette from Norwalk, Connecticut, ran and actually didn't do too badly—7th in class. It was the car of Addison Austin.
Further down in the pack were several Austin-Healeys, including the #36 car of Stewart Rutherford. Stew's son John recalls a home movie in which his mother and father are seen packing luggage into their Austin-Healey and going out the drive on vacation…then a picture of his mother splashing in the water at Lake Seneca…then a picture of his father on the race track at Watkins Glen. There must have been some on-site repairs, because results show that the car was a DNF. Rutherford was later known for campaigning an Allard and a racing special.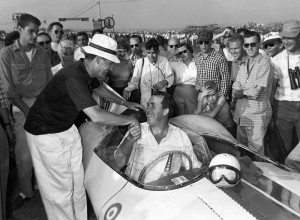 For three years in a row, OSCA cars had won Race #4, the Queen Catharine Cup, the most recent being Frank Bott's great drive in 1954. In '55 it looked like a repeat as Briggs Cunningham took an immediate lead in an OSCA Mt4 with dual-ignition head. But on the 9th of 11 laps, he broke an axle, to let the waiting Porsches into the lead. There were three of the new 550s and Bill Weldon, driving one of them, took over the lead and held on for the win. Art Bunker from Kansas took 2nd in another Porsche Spyder. Len Bastrup was 3rd in a Lotus Mk.9. Fred Proctor, also in a 550, was 4th, just ahead of "Pup" Pupulidy's Speedster.
Also in the Queen Catharine Race were the F-Production Porsches, led by the Speedster of Emil Pupulidy, with Lake Underwood 2nd and his business partner Bengt Soderstrom 3rd. Bengt remembers the course: "It was a narrow road with a long stretch downhill and a 90-degree corner at the bottom. You ended up on a farmer's porch if you didn't make it. I was going 115 or 120 down that hill. I never in my life went that fast. I didn't think a Speedster could do it. I burned up my front brakes—they were black. I don't think I'd like to repeat that drive."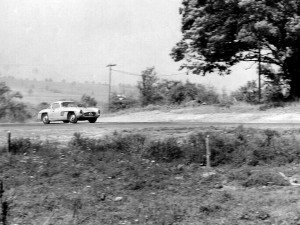 One of the more unique F-Modified cars was the Sadler Special of Bill Sadler, from nearby Ontario. Mixed in with the Porsche Spyders was a front-engined tube-frame car with cycle fenders and a 1.5-liter Jowett Jupiter power plant. It was horizontally opposed, just like Porsche, but water-cooled. The chassis had two-inch top and bottom tubes with diagonal tubes between, and torsion bar suspension using mostly Jowett parts. Bill would have done better than a 5th in class if not for a misfire. Afterward, it was traced to the ignition switch while testing in the dark. Also, the welds broke on the reinforcing bar used to mount the fenders during the race, Bill stopped briefly to rip the fenders off and continue. This car was later Triumph-powered and, still later, Chevy-powered.
A Lotus driver, Bill Klink of Buffalo, suffered the inevitable as his engine blew while going downhill on the sixth lap. Interesting cars in the H-Modified class included the Giaur of Frank Dominianni, Dick Yares' Siata and Bob Kuhn's razor edge Abarth 207 in G-Modified. Recalling the Porsches and OSCAs, Frank comments, "I was outclassed, I was a novice road racer. My background was in aircraft, but then I shifted over to cars and went into business." For years after racing Frank went to work every day at Hi-Speed Power Equipment out on Long Island.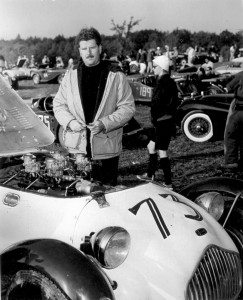 The feature race, Race #5, was taken by Sherwood Johnston in a D-Type Jaguar. He was followed by the Maserati 300S of Bill Spear and a similar car driven by Bill Lloyd. With typical understatement, Doc Wyllie remarked "Sherwood was a pretty competent driver." Gus Andrey was a bit more direct: "Johnston," he said, "was aggressive and fast." Technically, the Maseratis should have won, as they were newer and faster, but they weren't driven by Sherwood Johnston, an under-rated driver who had beaten Phil Hill and Carroll Shelby. As noted by race reports sent in from Watkins Glen, Johnston started beside pole-winner Duncan Black in the 4.5 Ferrari. Johnston was driving the Team Cunningham D-Type Jaguar that was 2nd in the race with Phil Hill's Ferrari Monza the previous weekend. This weekend, the gears were changed for better acceleration. Black had previously campaigned a Lester MG and this was a big change for him. He soon faded and his place was taken by Bill Spear in the Maserati, with two more 300Ss—Bill Lloyd and John Gordon Bennet—following. Bennet went out on lap 17 of the 22 lap event and, at the finish, it was Johnston, Spear, Lloyd, Rich Lyeth's 2.9 Ferrari, Black and Preston Gray in a 4.1 Ferrari.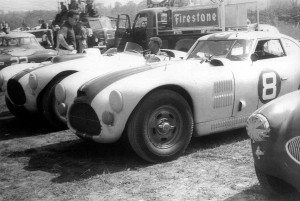 The fast lap of the race was posted by Bill Spear, at 3 minutes and 17 seconds. No driver equaled the 83.3 mph average lap speed of Phil Walters, set in a Cunningham C-4R in 1954. The two C4s in this year's race placed 7th and 8th overall as driven by Charles Moran and Fred Wacker, respectively. Where was the great Phil Walters? Out of racing, unfortunately forever. In March, he and Mike Hawthorn won the Sebring 12 Hours in a close race over Phil Hill and Carroll Shelby. Walters had the fastest lap times. Then they went to Le Mans in June, with Walters again in a D-Jag. When the big accident happened, Phil said "I had gotten used to drivers dying, but could not get used to spectators dying." He called Enzo Ferrari, who had a seat for him on the Grand Prix team, and cancelled out. And what of his frequent co-driver John Fitch? Fitch was still in Europe, finishing out his year with Mercedes. So no Walters, no Fitch at The Glen in '55.
The final year of the interim course at Watkins Glen was witnessed by 50,000 spectators. There was some good competition and no serious accidents. The racing surface was breaking up and it was time to call it a day for the Dix Township course up on the hill. If nothing else, the venue bought some time for the Watkins Glen Grand Prix Committee and lent an important continuity to the event above beautiful Seneca Lake. Already a course with a rich history, the great future of the place they called Watkins Glen lay ahead of it.