8/18/23 Carmel Valley CA: As the morning marine layer dissolved into light blue, the 20th iteration of The Quail, A Motorsports Gathering, unfolded with all the grace and elegance we have all come to expect from the most opulent car event of Monterey Car Week. In its 20th year, The Quail has also become a global showcase for cutting-edge automotive technology and design, including no less than 17 unveils from a variety of brands. "We are grateful for the support and passion for our event that has helped us reach our 20th milestone celebration and make it the true standout event of Monterey Car Week," said Kai Lermen, general manager of Quail Lodge & Golf Club.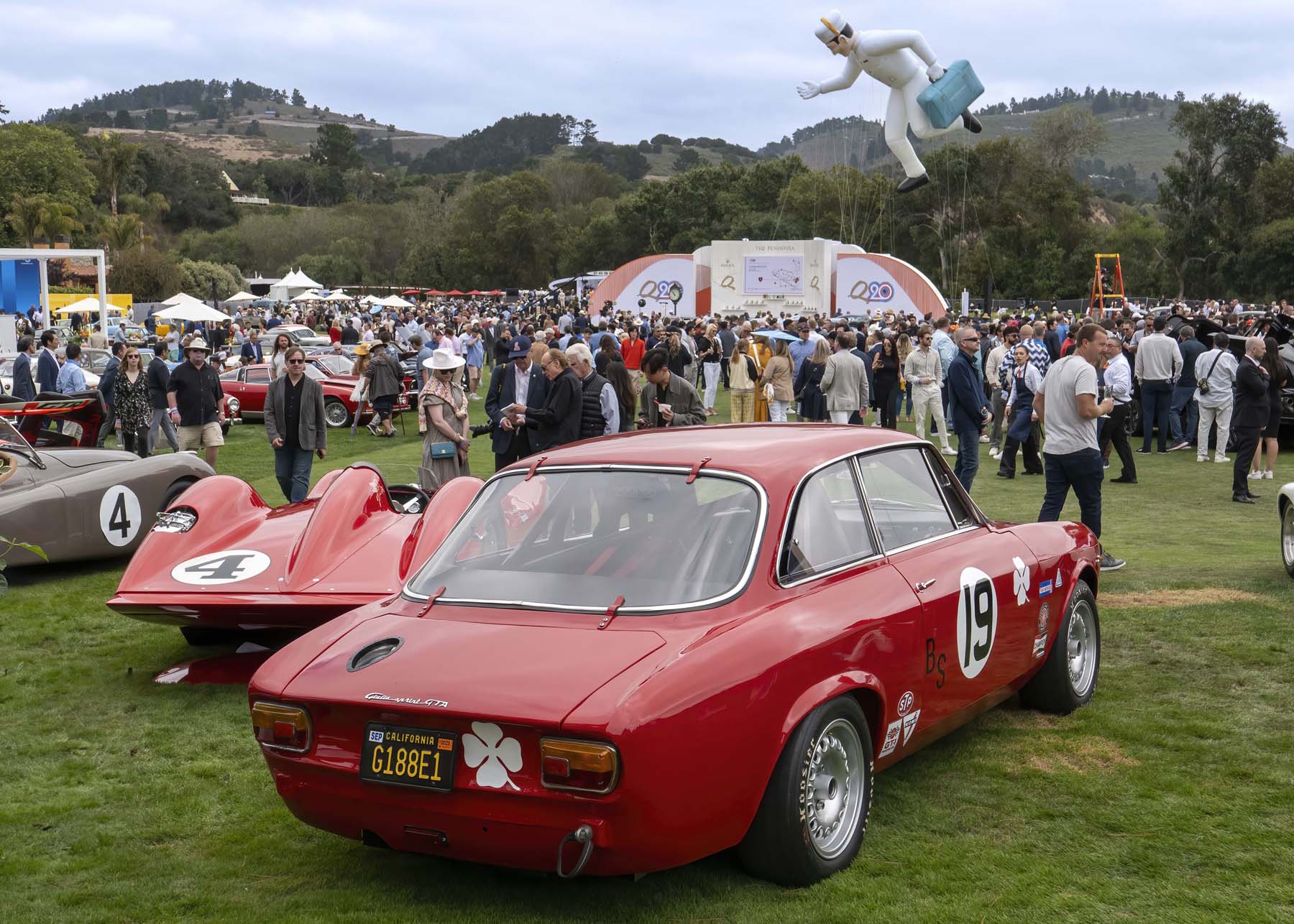 Background
Event founder Gordon McCall was just 15 when he started volunteering for parking lot duties at the nearby Pebble Beach Concours. A true car enthusiast in the making, he worked his way up until he eventually became a judge, quite an accomplishment. Through his many years at Pebble, he observed the pressure on its entrants dealing with the stress of transport, car prep, and last-minute repairs. Having the opportunity to orchestrate his own event, he decided the social element would be the foundation, not a vehicle's level of perfection. His vision became "The Quail, a Motorsports Gathering." And as with each year's presentation, new featured classes keep the variety of cars fresh and exciting.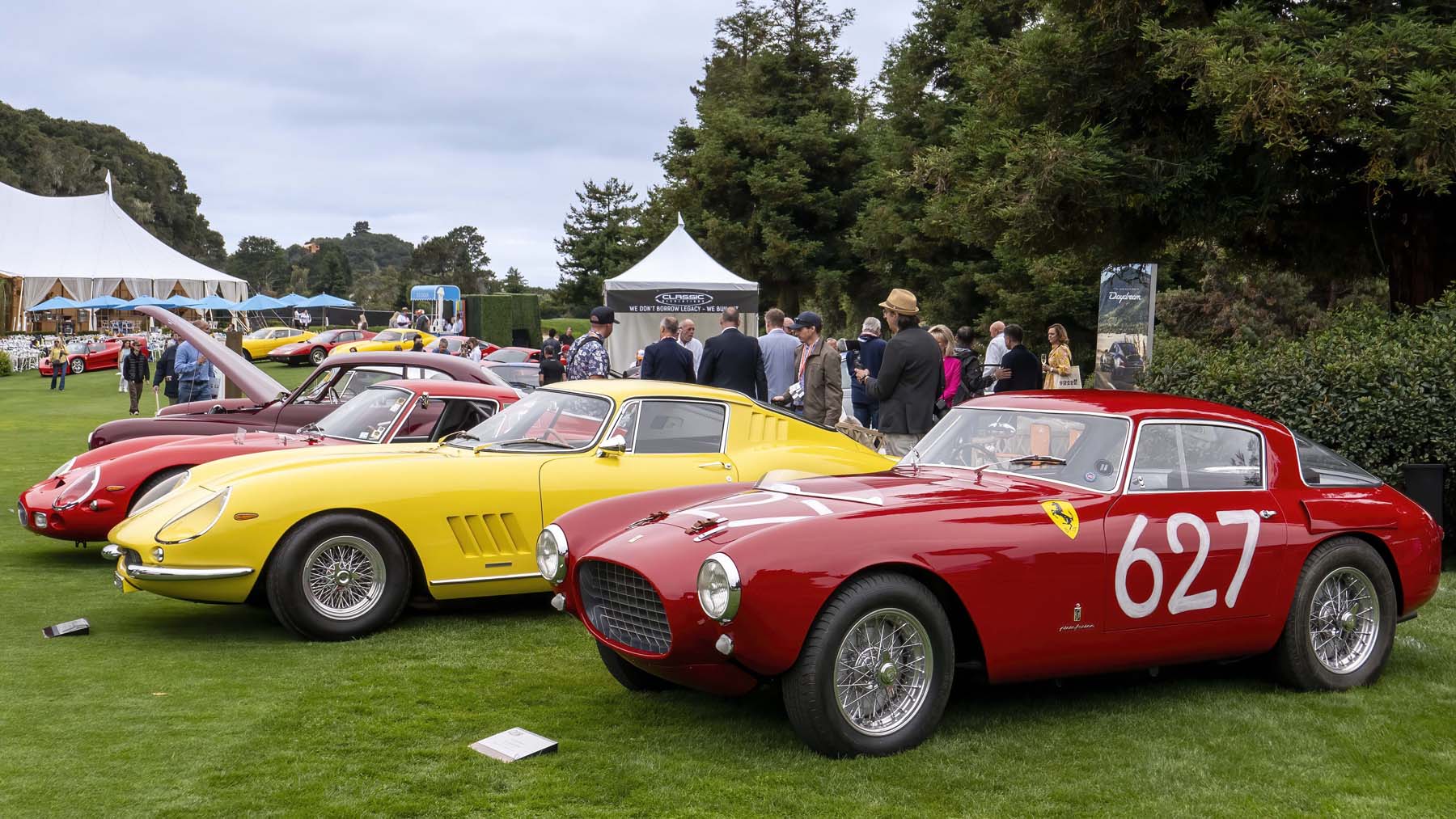 Featured classes for 2023
1973 Porsche 911 RS Carrera
It's hard to fathom that we are celebrating the Golden Anniversary of the groundbreaking 1973 Carrera RS. The 73 Carrera RS is considered the cornerstone for modern Porsche motorsports among Porsche enthusiasts. After winning the 1973 24 Hours of Daytona, Porsche sought to dominate production car racing. It was a lightweight marvel with a distinctive "duck tail" spoiler and increased power. Compared with its road-going 911S sibling, the Carrera RS had a larger 2.7L engine developing just over 200 HP at 6,300 rpm. The suspension was revised and stiffened and incorporated larger brakes and wider wheels. The complete package was effective and reliable, yielding countless wins worldwide.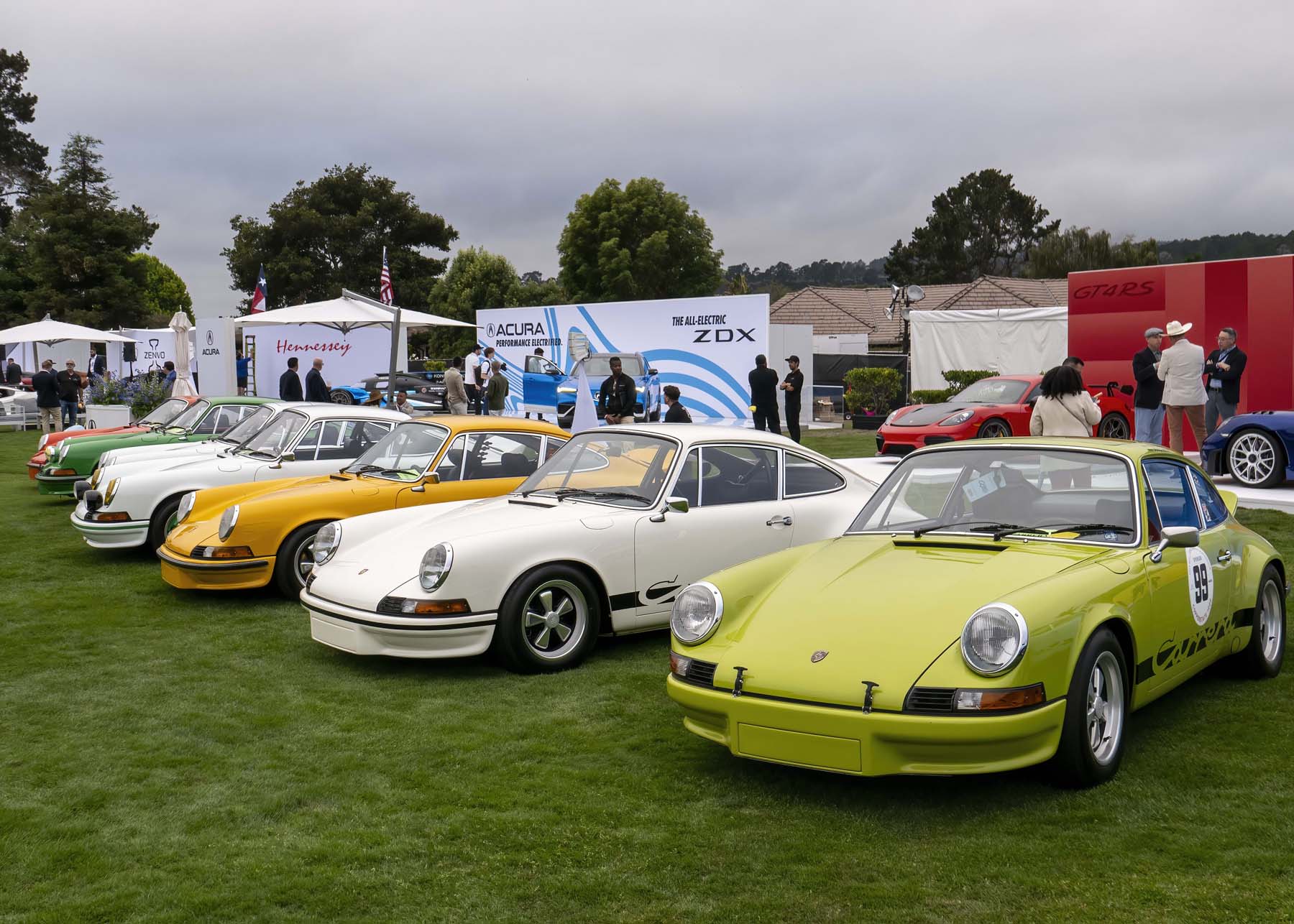 Porsche 959
Representing the pinnacle of technological innovation, the Porsche 959 is often hailed as the precursor to the modern Super Car. Produced between 1986 and 1993, the Porsche 959 is a milestone of German ingenuity. Initially unveiled as a Group B rally car in 1983, it transitioned seamlessly into a road-legal production vehicle and flaunted an impressive maximum speed of 197 mph. Its groundbreaking design laid the groundwork for Porsche's all-wheel-drive 911 Carrera 4 and the 993 Turbo which followed. Acknowledging its monumental influence, Sports Car International in 2004 acclaimed the 959 as the preeminent sports car of the 1980s.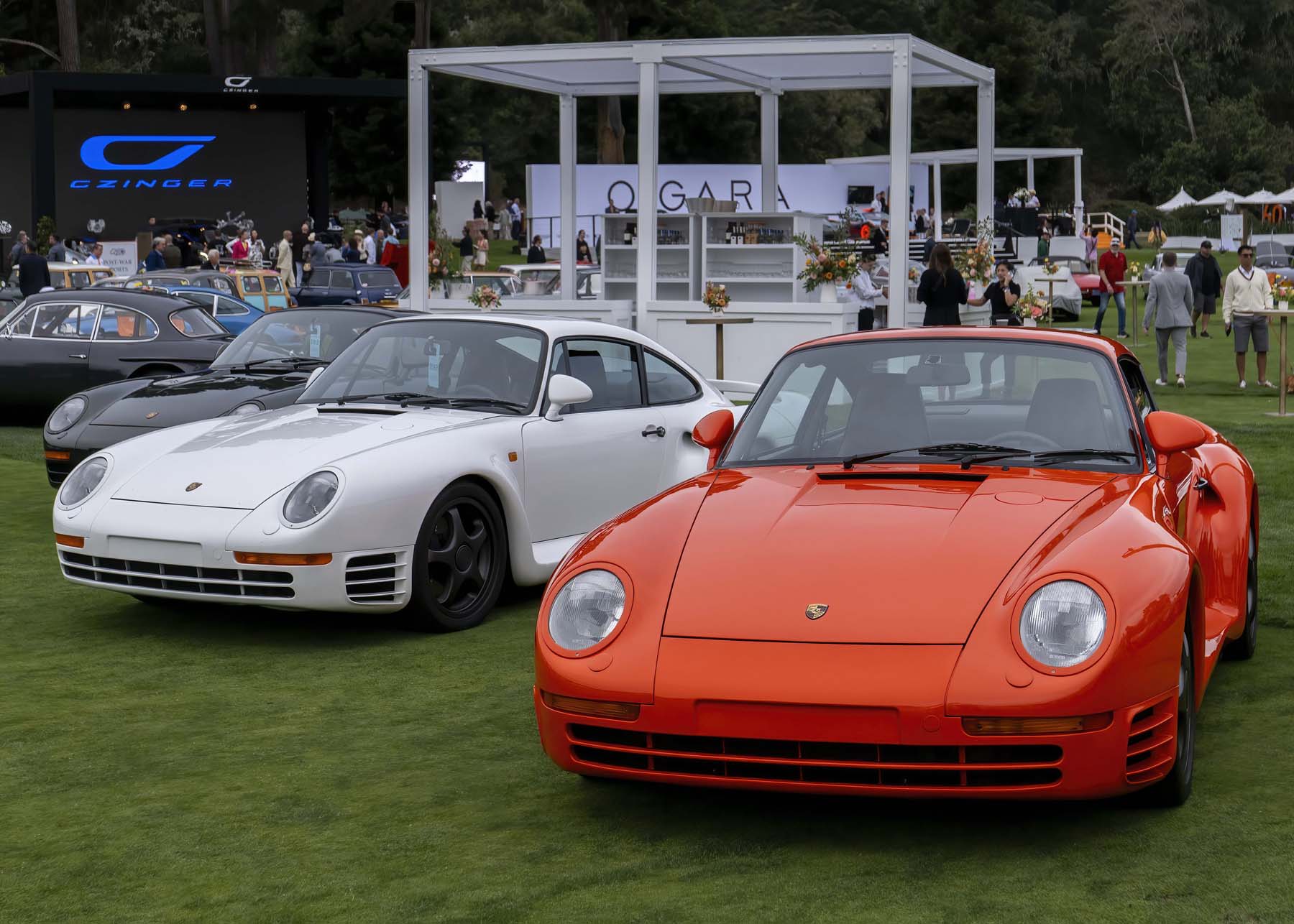 1950s Bentley R Coupes
In the lineage of post-war Bentley vehicles, the Bentley R Type emerges as a successor to the Mark VI. While bearing similarities to the Mk VI, the R Type is perceived by enthusiasts as an intermediary model, bridging the gap until the launch of the S series in 1955. This esteemed model was available in a standard configuration and bespoke versions by coachbuilders like H. J. Mulliner & Co., Park Ward, and Carrosserie Worblaufen, to name a few. It bore Bentley Mark VII's moniker in its developmental phase, with chassis documentation often referencing them as Bentley 7. Powering the R Type is a straight-six, iron-block, aluminum-head engine complemented by dual SU Type H6 carburetors.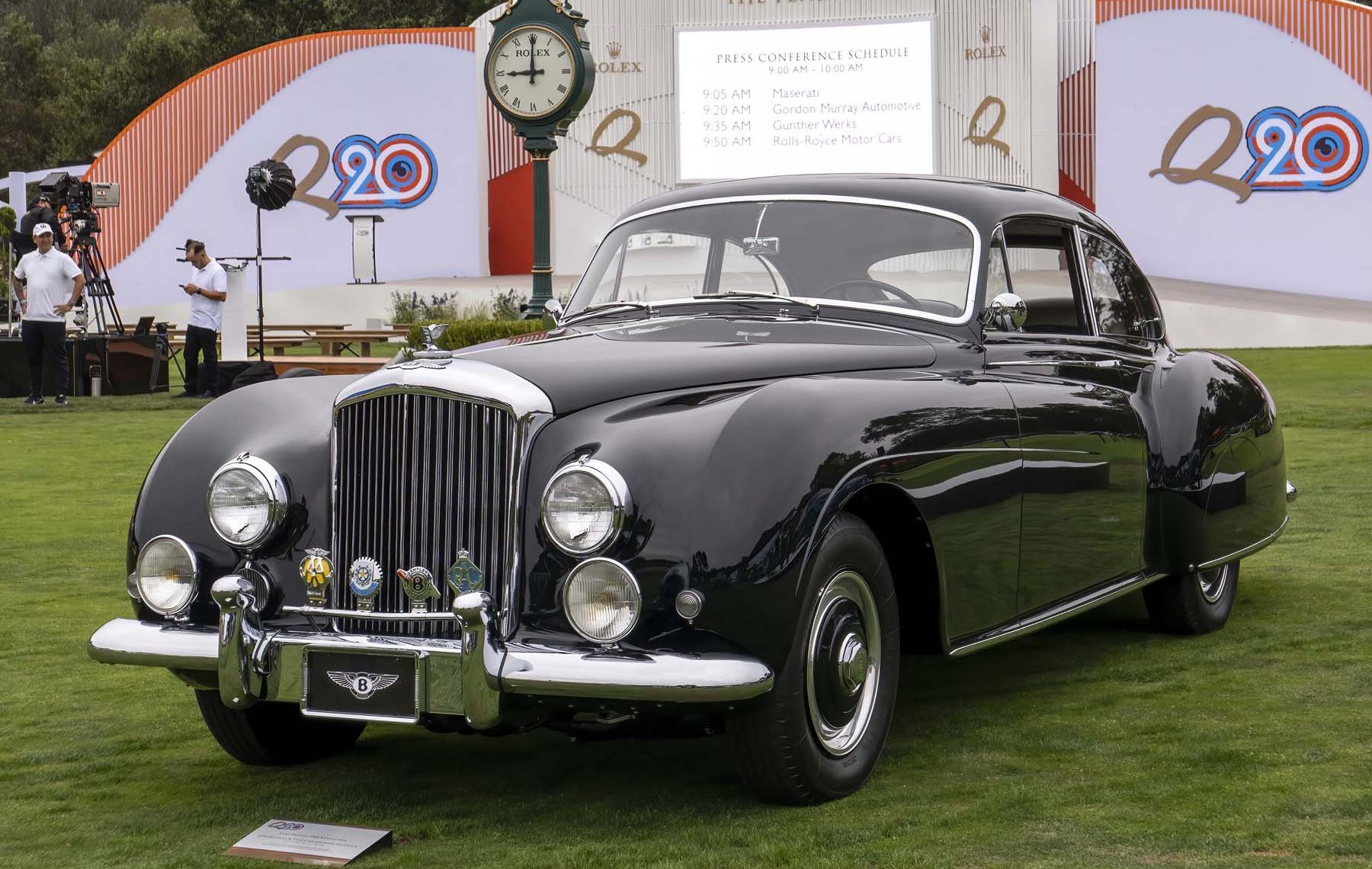 Eyes on Italian Design
Since the early 20th century, Italy has been at the forefront of automotive design, with brands like Fiat, Alfa Romeo, and Lancia laying the foundations. By the mid-century, designers like Battista "Pinin" Farina and Giorgetto Giugiaro began revolutionizing aesthetics, merging art with function. The iconic Ferrari, Lamborghini, and Maserati became synonymous with luxury, performance, and quintessential Italian flair. Turin and Modena emerged as design hubs, fostering innovation. The legacy persists today as Italian cars are celebrated for their blend of beauty, performance, and emotion.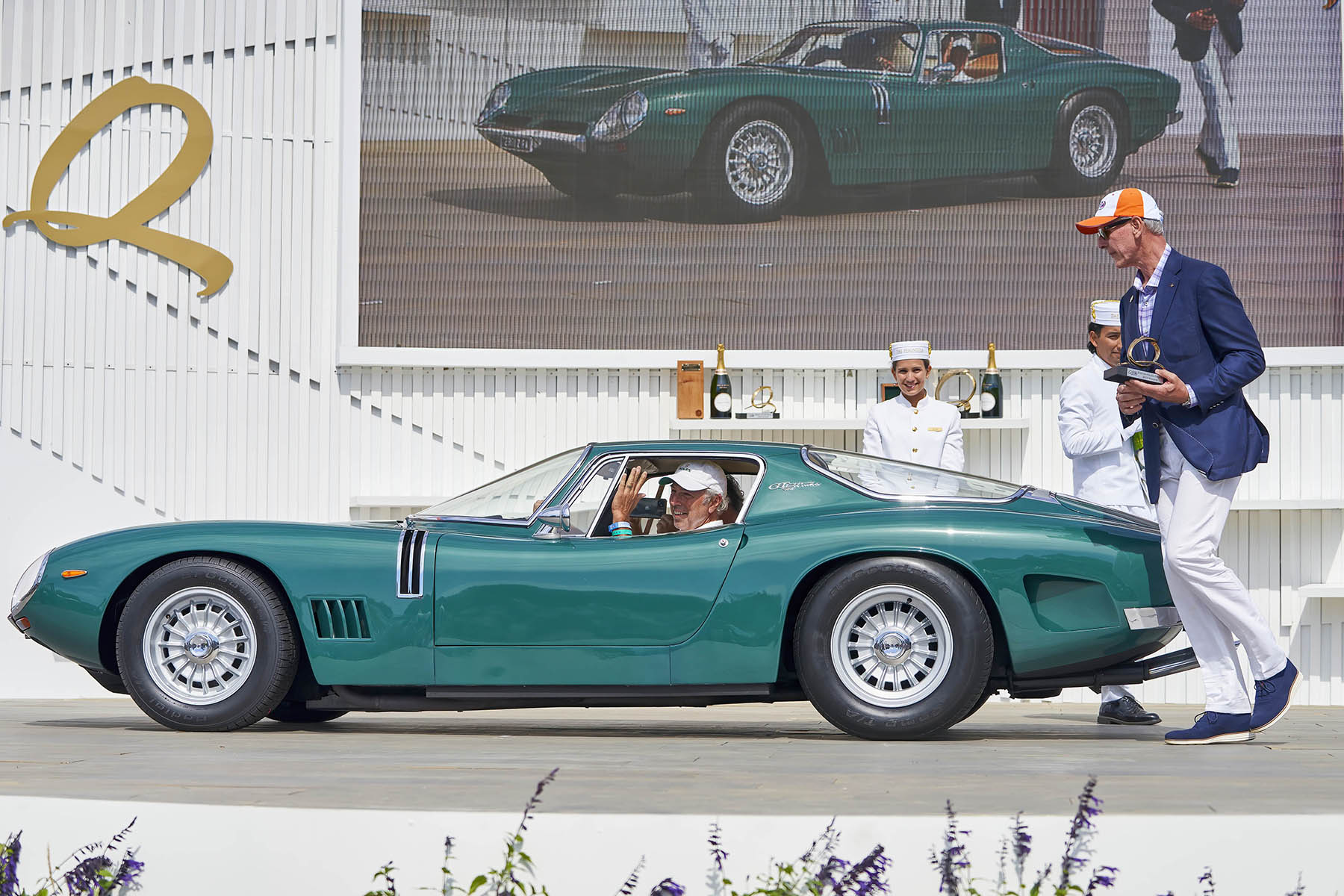 Best of show
Ferraris from the 1950s are rare, so add a unique engine and custom factory body, and you have a very rare vehicle. This year's Best of Show was rightfully earned by a 1956 Ferrari 410 Superamerica "Superfast 1" Chassis 0483SA. Freshly restored with its one-off body sporting futuristic tail fins, it's the only 410 Superamerica with a 4.9-liter Lampredi V12 engine with twin ignition (24 spark plugs). It is one of just four special-bodied prototypes for the 410 Superamerica and the only 410 Superamerica prototype by Pininfarina.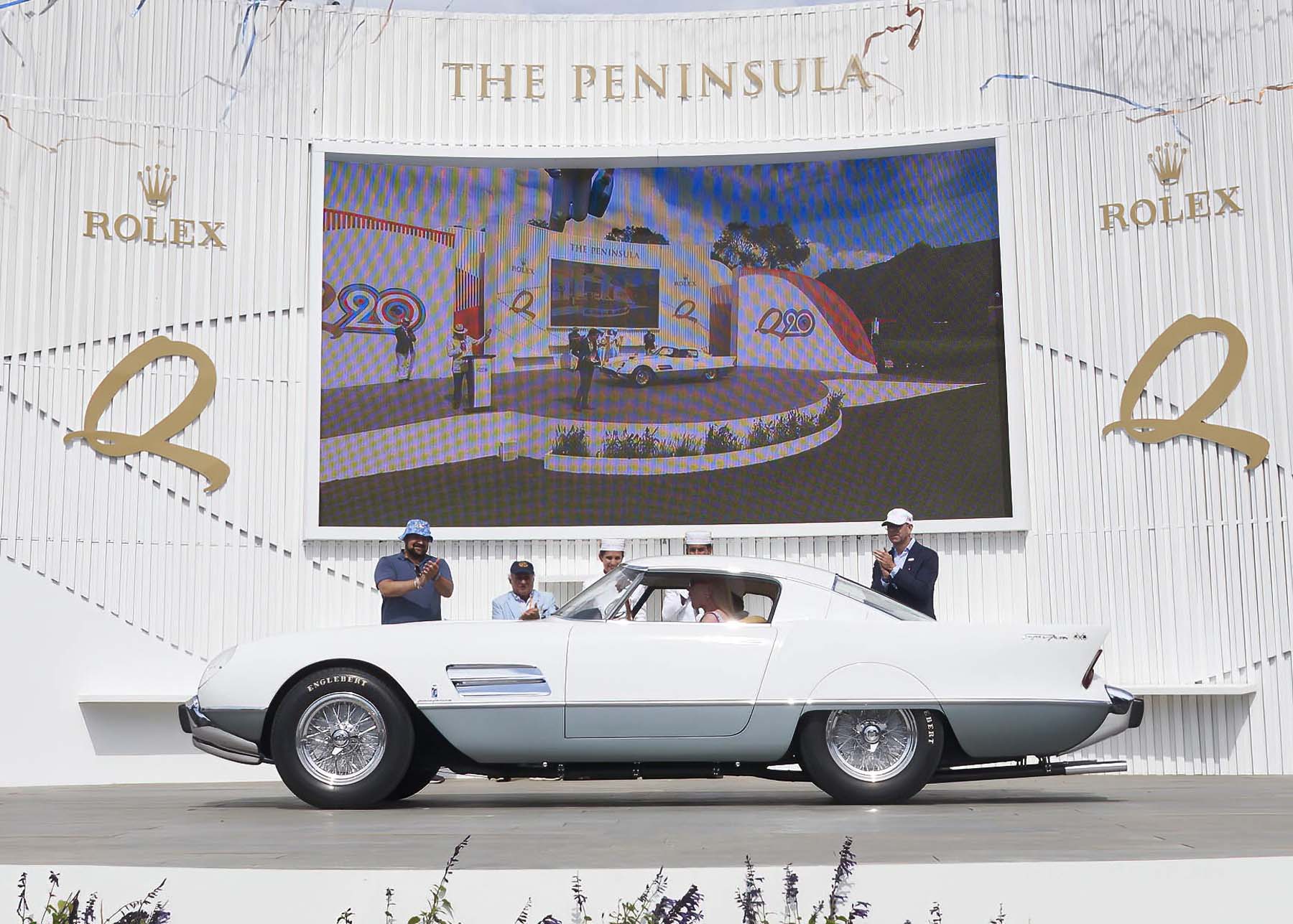 Rolex Circle of Champions
"Best of Show"
1956 Ferrari 410 Superamerica "Superfast 1"
Anne Brockinton Lee – Nevada
Spirit of The Quail
1949 Lancia Aprilla Supergioello
Nigel Churcher – Costa Rica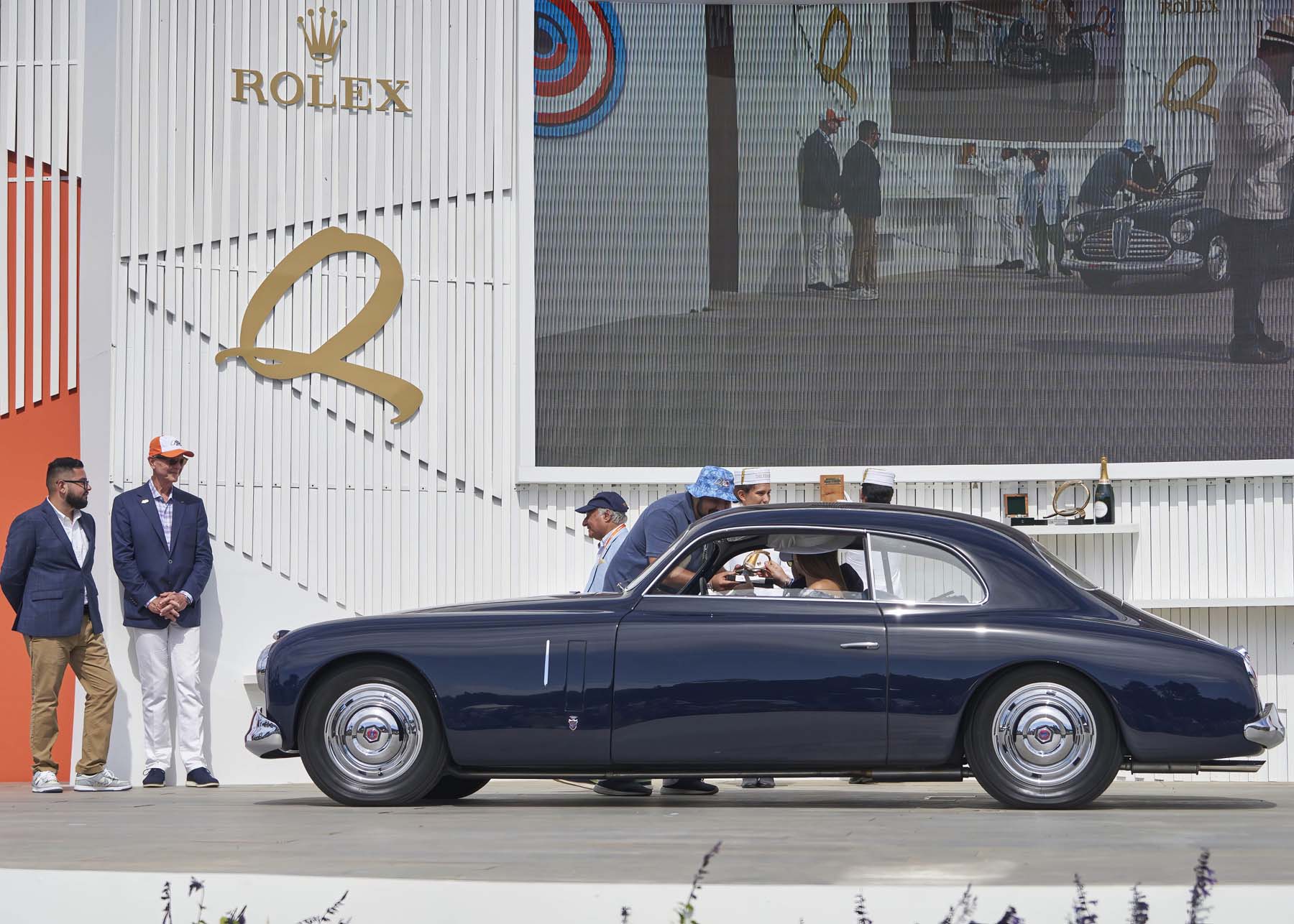 Car Park Concours de Quailegance
1993 911 Baja
Serif Ozcan
Hagerty Drivers Foundation & Preservation Award
1962 Lancia Appia Convertible Vignale
Bronson Page & Michael Baum – California
The Art of Bespoke Award
Magneto Magazine
1953 Delahaye 135MS CL Spéciale Faget – Varnet Anthony Collé – Switzerland
ArtCenter College of Design
1973 Cooper Sport Pack Rover
Rowland Cheeks- California
Early Bentley 1950s R-Type Coupé
1952 Bentley R-Type Continental Prototype
Anne Brockinton Lee – Nevada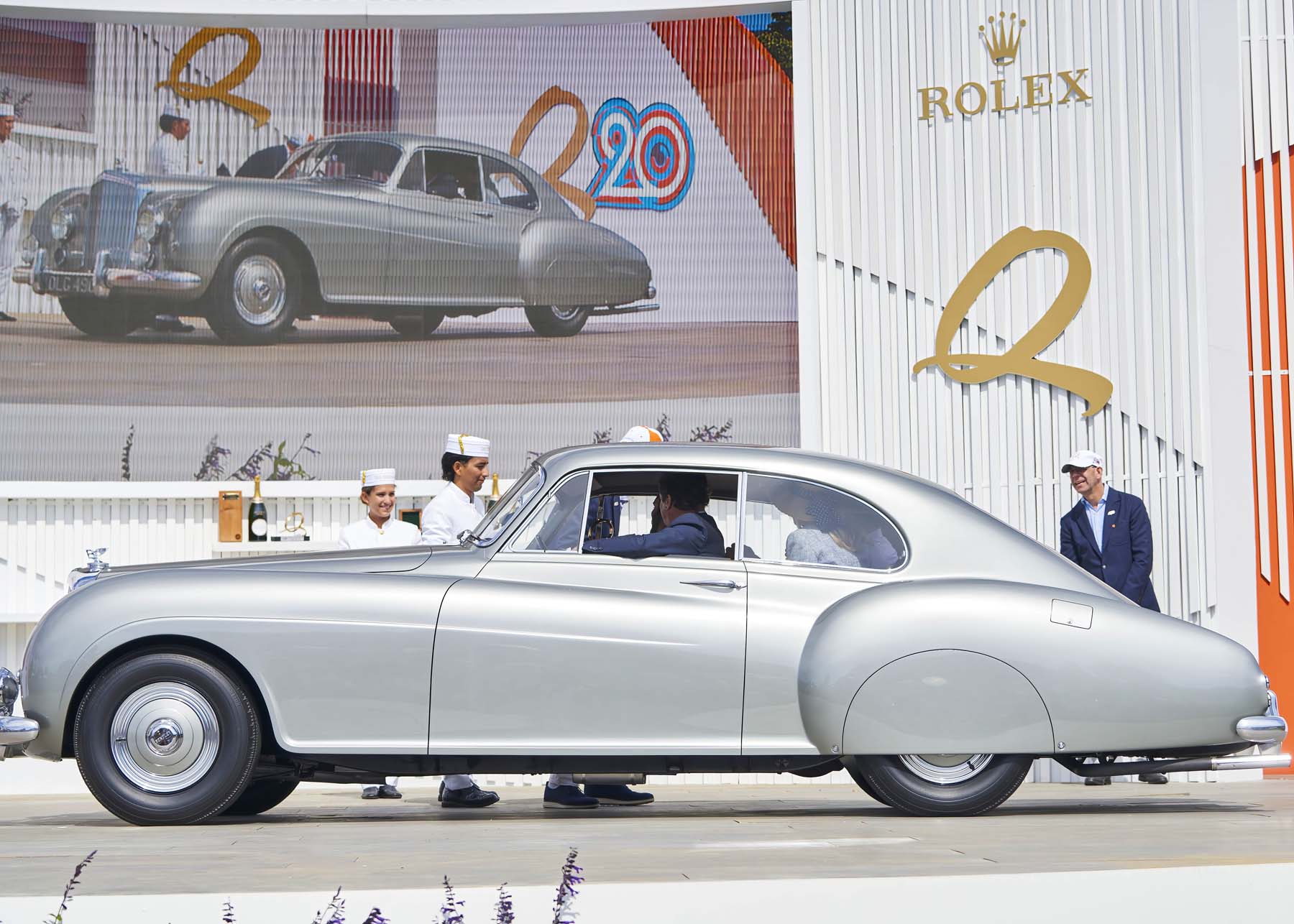 50th Anniversary of the
1973 RS Carrera 911 Carrera 2.7 RS Lightweight
Liz & Reid Vann – Missouri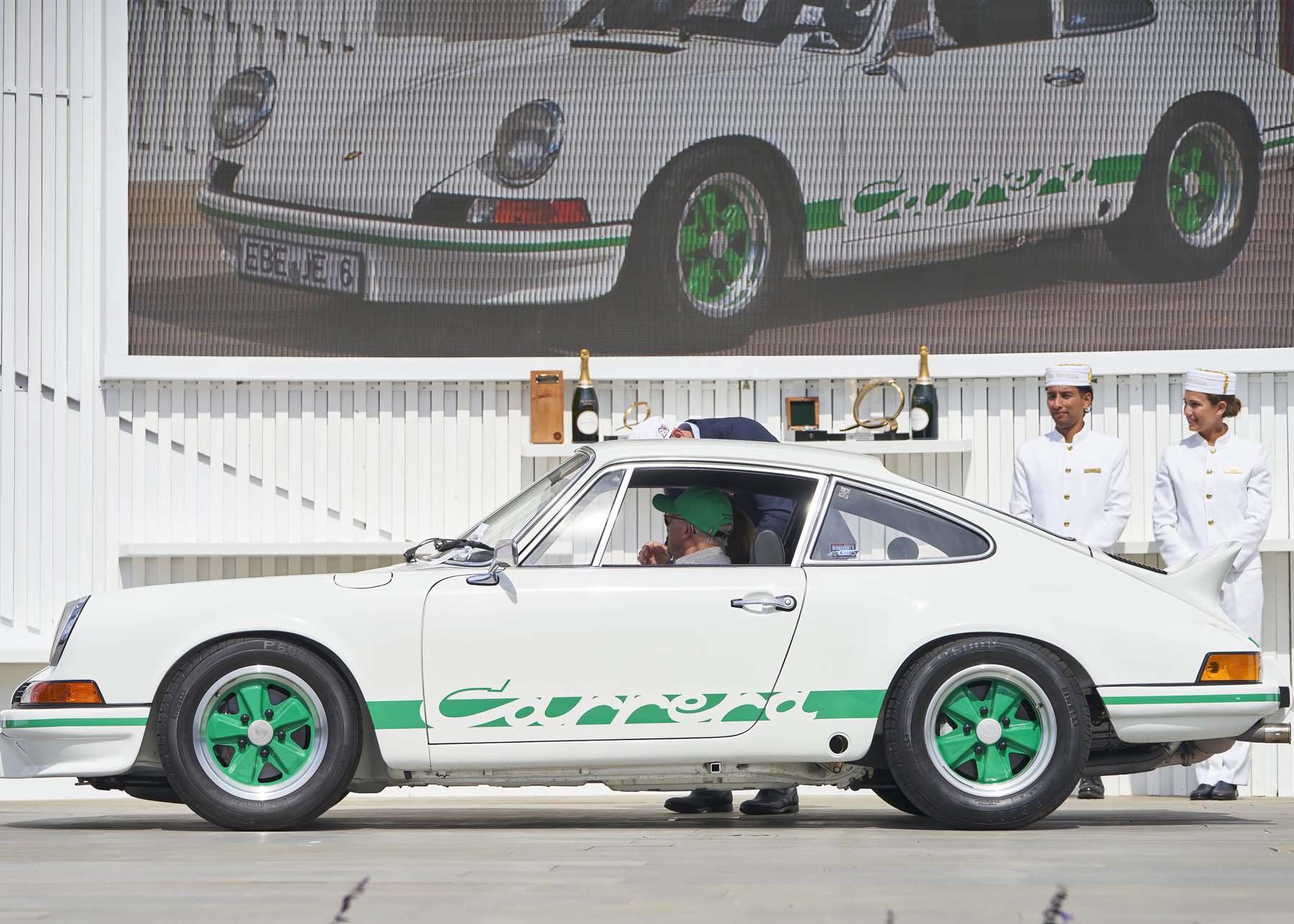 Porsche 959s
1992 Porsche 959SC
Bruce Canepa – California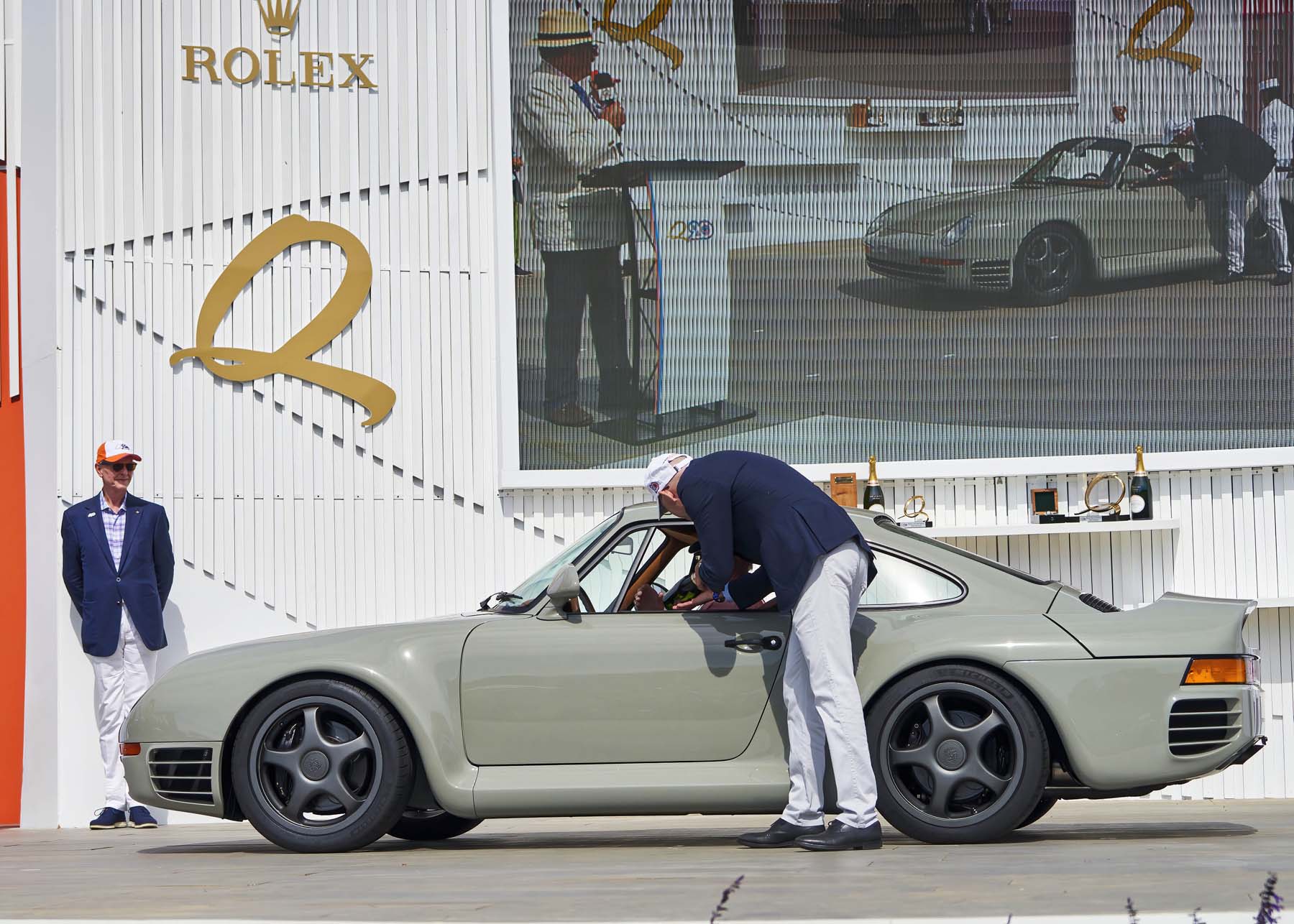 Eyes on Italian Design
1967 Bizzarrini Strada 5300
Michael Kerns – California
The Great Ferraris
1958 250 Pontoon Testa Rossa
Tom & Gwen Price – California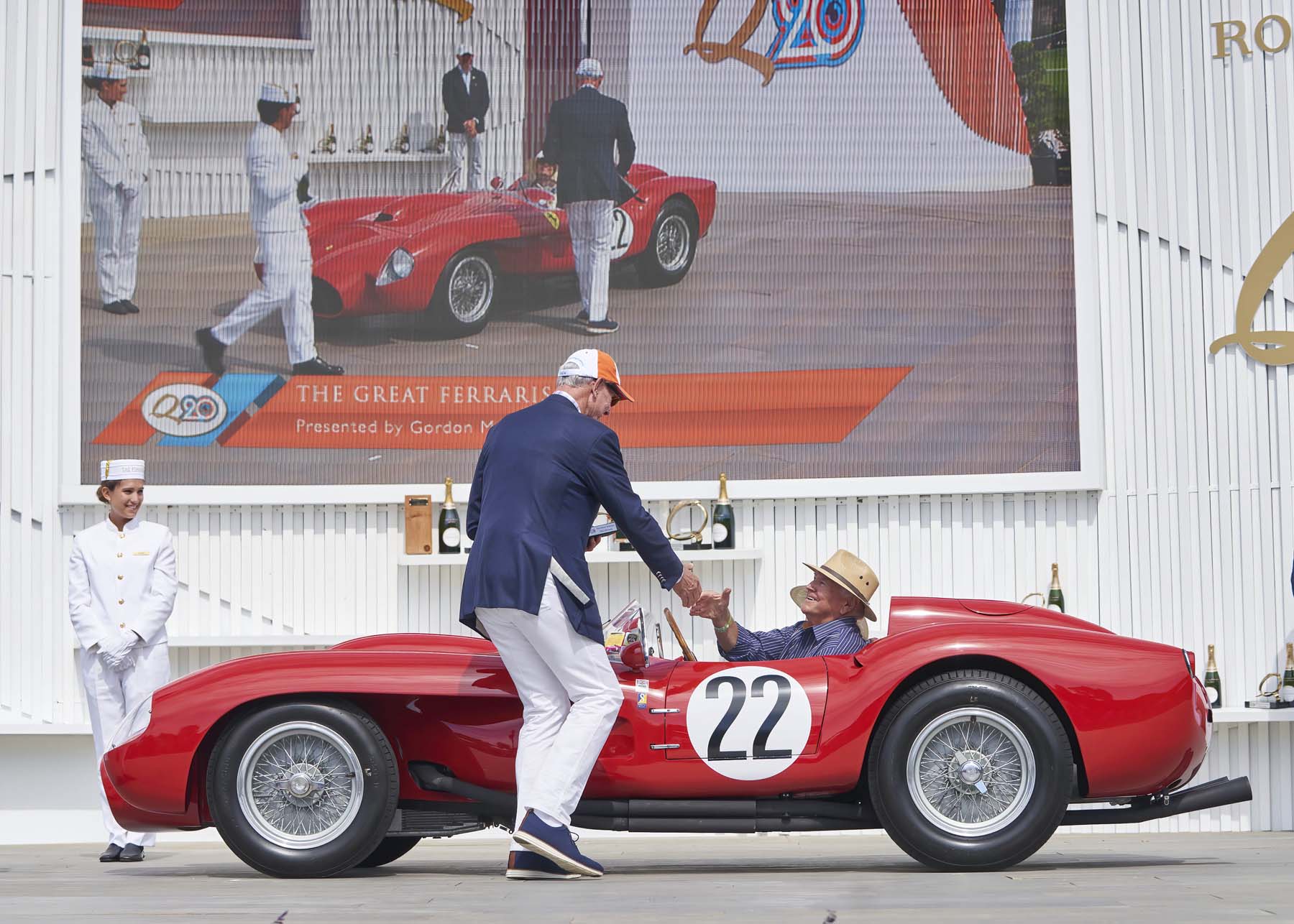 Custom Coachwork
1956 Chevy Corvette Special
Martin Beaulieu – California
Pre-War Sports & Racing Cars
1938 Jaguar SS100
Tom Krefetz – California
Post-War Sports 1945-1960
1957 Alfa Romeo 1900 CSS Zagato "Double Bubble"
Ken & Dayle Roath – California
Post-War Sports 1961-1975
1969 Iso Grifo 7 Litre
Paul Roesler
Evolution of the Supercar
2022 Bugatti Centodieci
Anonymous
Sports and Racing Motorcycles
1991 Yamaha YZR500
Wayne Rainey – California
Champagne yes. White gloves, no
Event founder Gordon McCall strives to ensure every guest is a VIP, with access to all of the gourmet food pavilions, complimentary champagne, and a fantastic automobile display on the lawns at Quail Lodge and Golf Club. Car owners don't have to worry about teams of judges swabbing the undercarriage of their vehicle for dirt; no traditional judging teams exist. Instead, both show attendees and industry specialists determine award recipients. As Gordon once told me, "Cars represent fun!" and experiencing The Quail on it's 20th Anniversary was fun times 10!
Gallery