Back in 1977, a group of Atlanta car folk had a need for speed but didn't want to end up in the local jail. They came upon the perfect location in Braselton, Georgia. Road Atlanta. The 2.54-mile, 12-turn course was the perfect place to have some high-speed fun. The event was an immediate hit. At that first event, it was dubbed The Walter Mitty Challenge.
Now in its 44th running, the name has been shortened to The Mitty, but it has grown to be one of the largest classic racing events on the east coast of the U.S.
The trip from New York to Georgia was a long one, but all that is forgotten when you enter the track and hear the unmuffled sounds of racing engines.
The word these days is inclusiveness. And there was plenty of that spread out over eight racing groups. Like the weather, if you don't like a certain racing group, just wait a few minutes, and it changes, and I am sure you will find something to cheer on.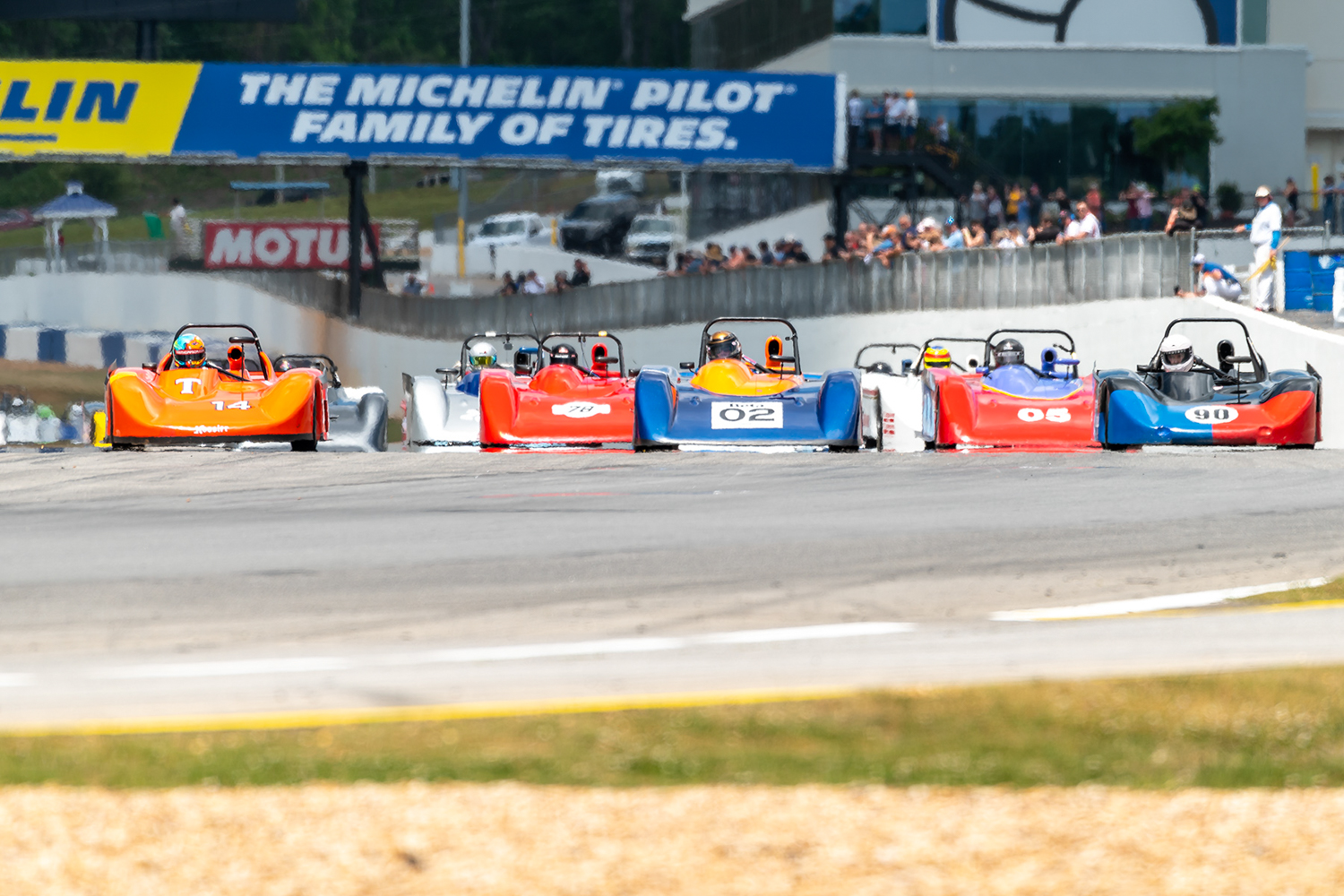 The featured marque this year was the Sports 2000. They may seem a bit cookie-cutter, but you start looking closely, and you see a big difference and many different iterations. Lolas, Shannons, Swifts, Tigas, and Carbirs by the score. John Webb created sports 2000 at Brands Hatch. He saw smaller and smaller fields in Group 6, 2-liter sports cars due to escalating prices to run them. Using a low-cost production-derived version of the Ford Pinto engine to power the new category, Sports 2000 was born. Multiple manufacturers got into the act and created numerous takes on the theme. So now we have a close, well-fought competition to watch.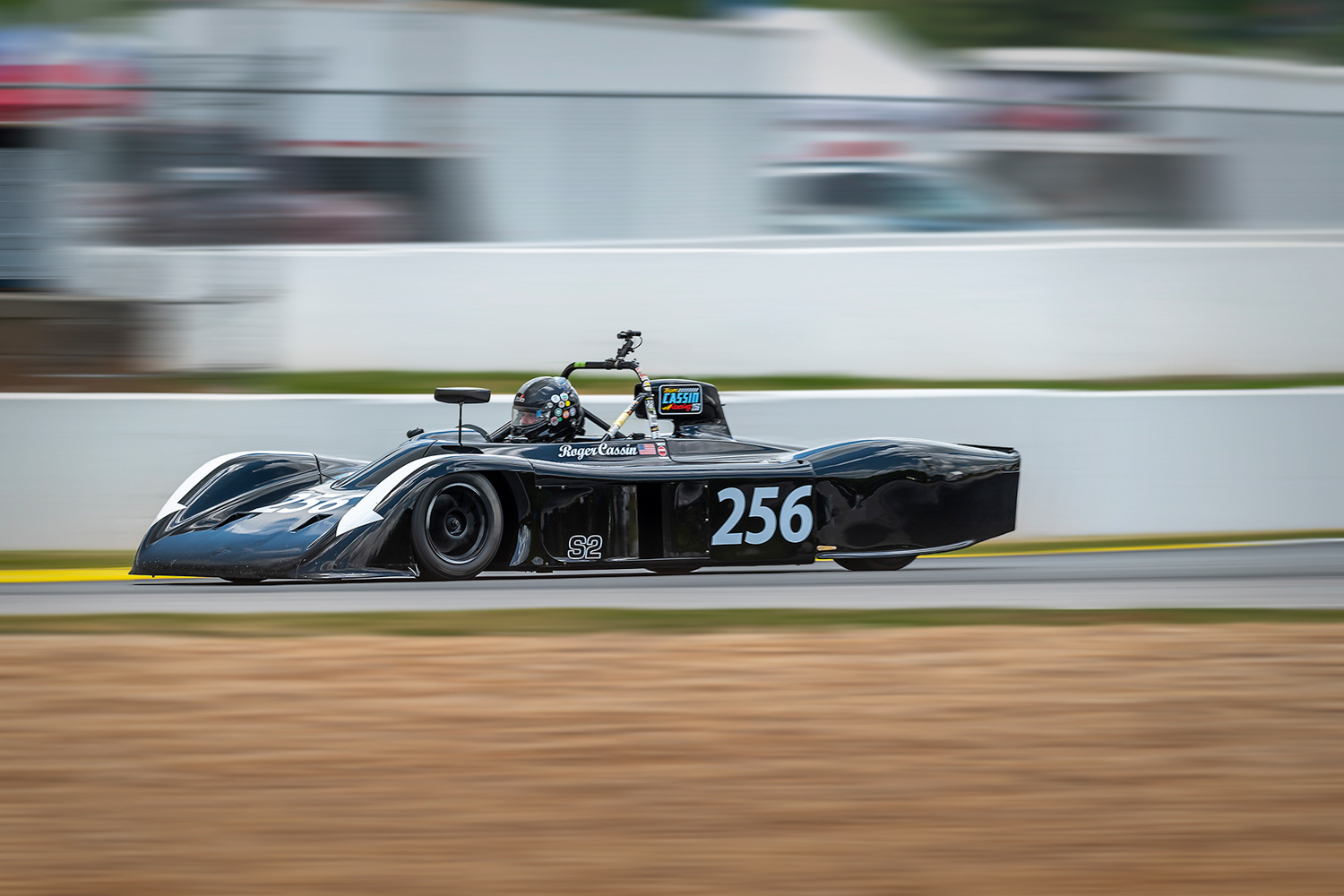 Roger Cassin was in the middle of it all in his 1988 Swift DB2. When Roger signed up to run, there were about 25 cars; then it was 30 in the end, 52 cars were running. As a racer, Roger can see why the S2000 is so popular. They are wonderfully balanced and responsive machines. They are dependable and highly competitive. Power output is around 150 hp, so there is a lot of driver input to make a difference, but the time differential between first and last in a 52 car field is only 10 seconds, so those drivers were working hard and working well in concert.
But if you want more variety, you don't have to go any further than the next race. A stand-out rare machine is Jim Freeman's 1967 Matich SR3.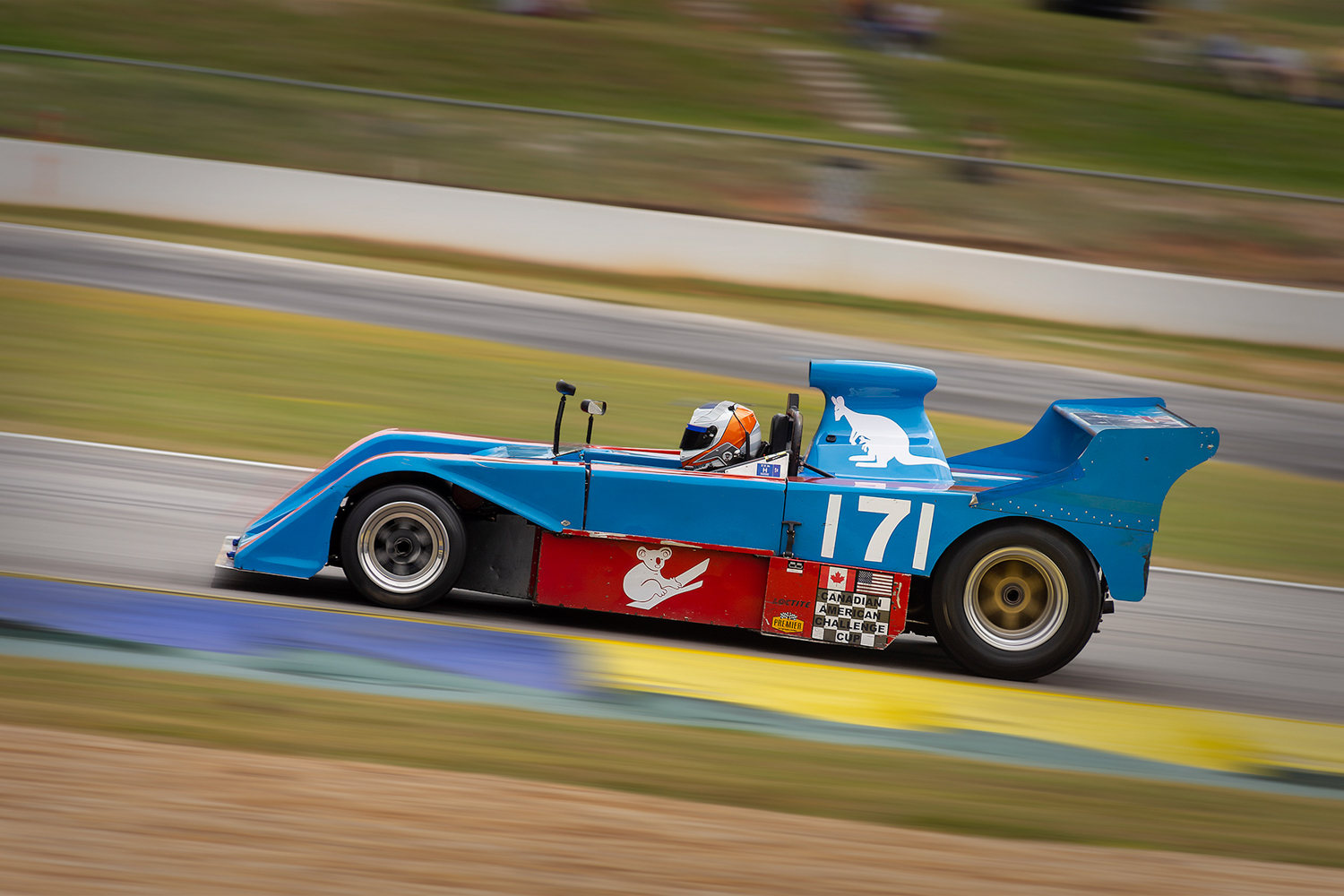 Frank Matich was an accomplished Australian racer in the 60s and 70s. In the late 60s, Matich started work on creating his own car with the help of Bob Britton. The result was the Matich SR3 powered by a 4.5-liter Oldsmobile engine. From there, Matich moved on to Formula 5000. Jim acquired the racer in 1988 and has been running it ever since. At 1670 lbs with 740 hp coming from its motor, it's a fast, well-balanced beast.
But if that's not to your taste, you always have Porsches. How about a 924 GTS Clubsport, or maybe a 356 Speedster, or a 911 S or RS, plenty to choose from.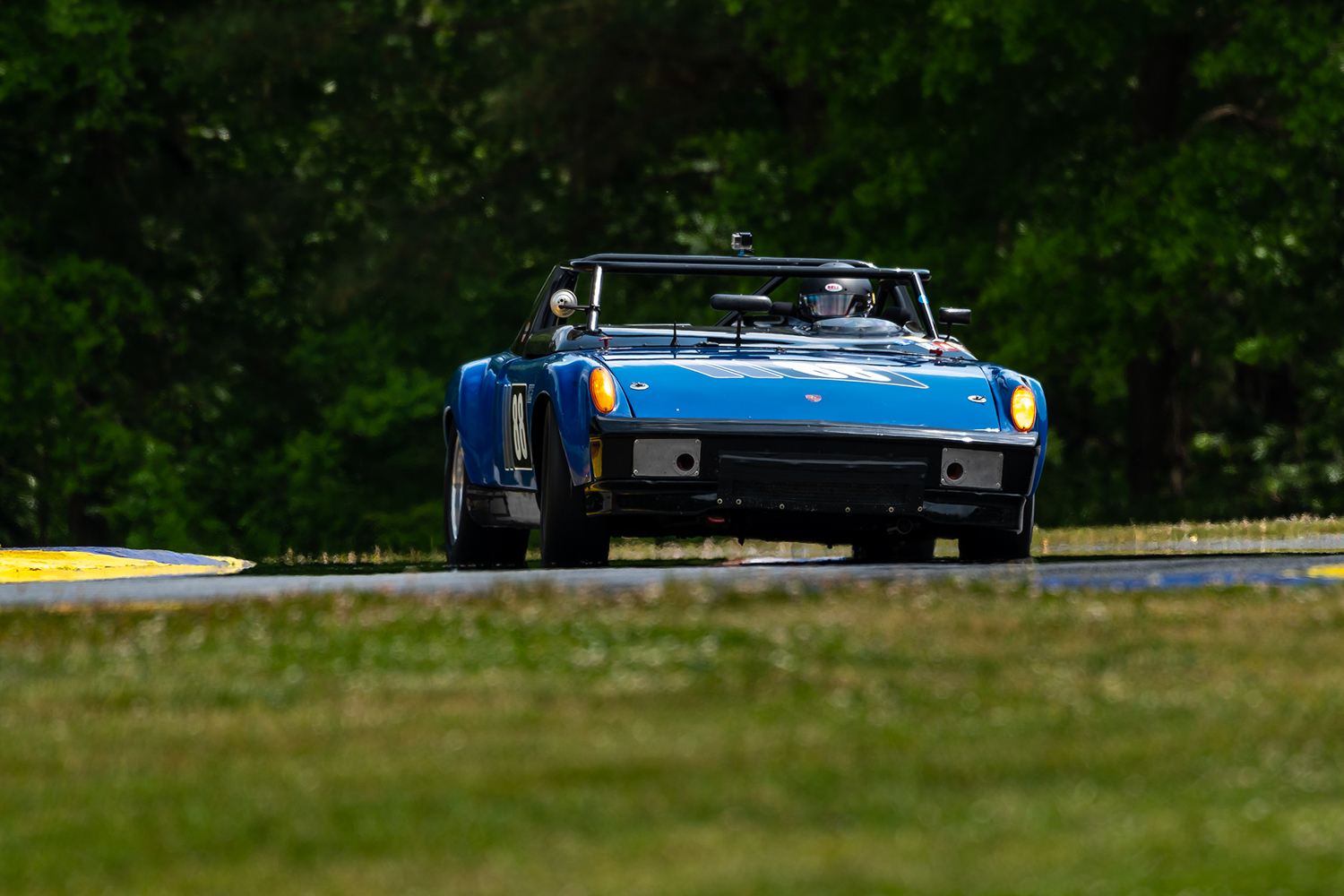 Maybe another air-cooled rear-engined machine, this time from America.Not your taste?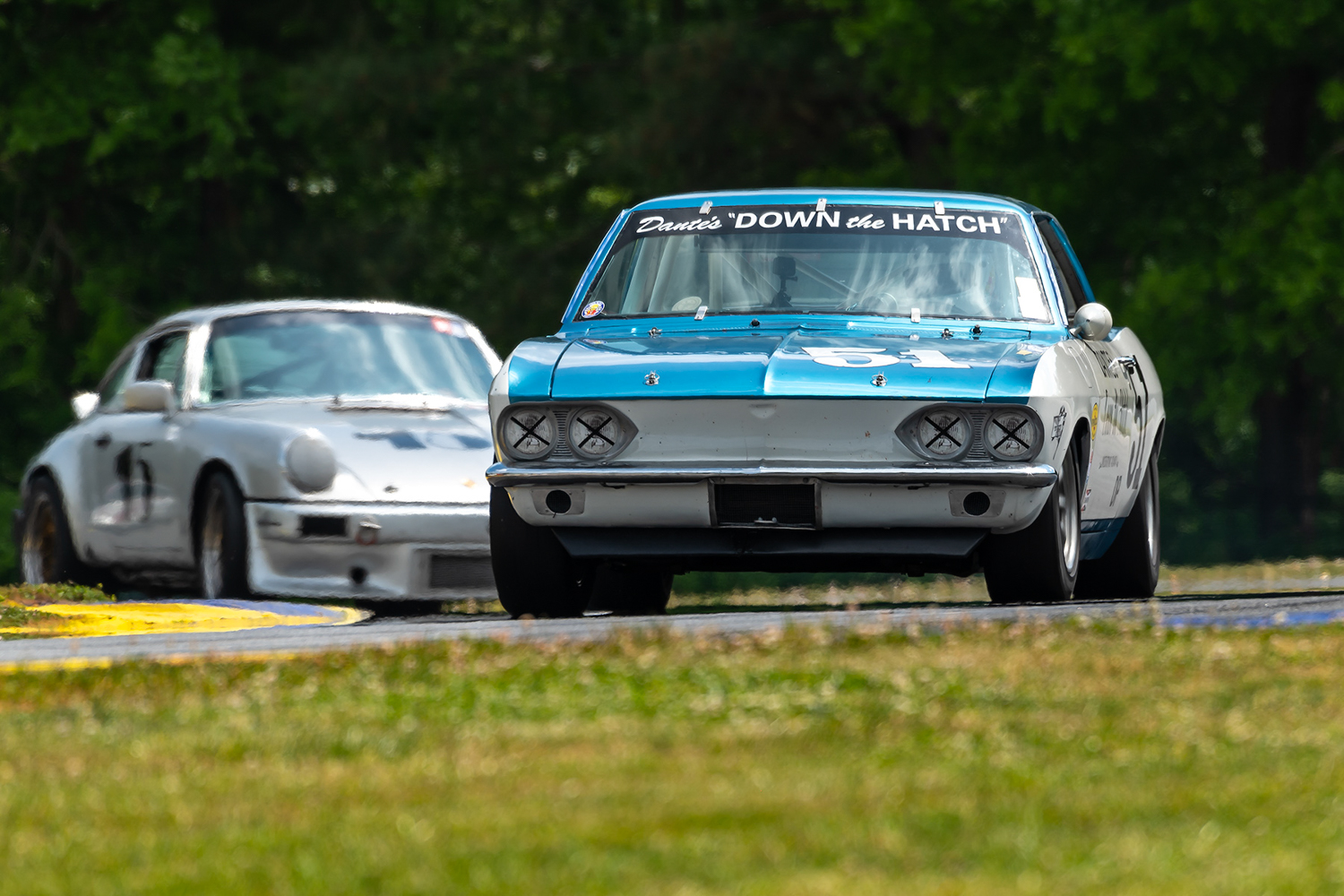 How about something rare and British? Maybe 1 of 44 Chevron B8s built. The Chevron was built in Bolton in Lancashire. The company was founded by Manchester-born Derek Bennett, a talented engineer and successful racing driver in the Clubman's Formula category.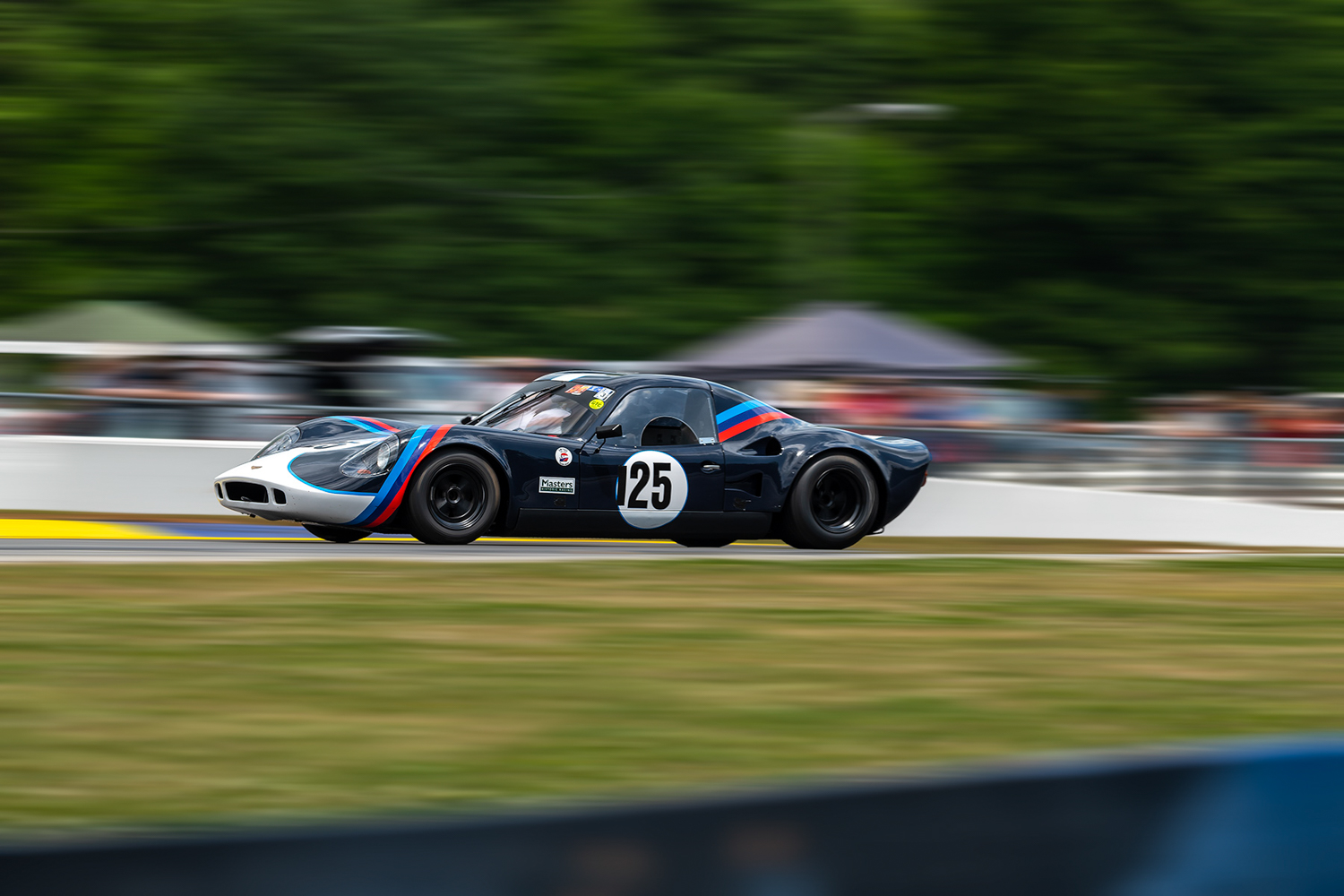 A 2 liter 230 hp M10 BMW motor powers the B8, one of the prettiest Sports-racers there is. The driver said it sticks like #!T?%& ad it goes like #!T?%&. In less technical terms, it is well balanced, it holds the road, and is extremely quick. Its driver proved that many times during the weekend.
Then there is a true unicorn that has been turning laps at Road Atlanta for many years at the hands of various Woerheide family members.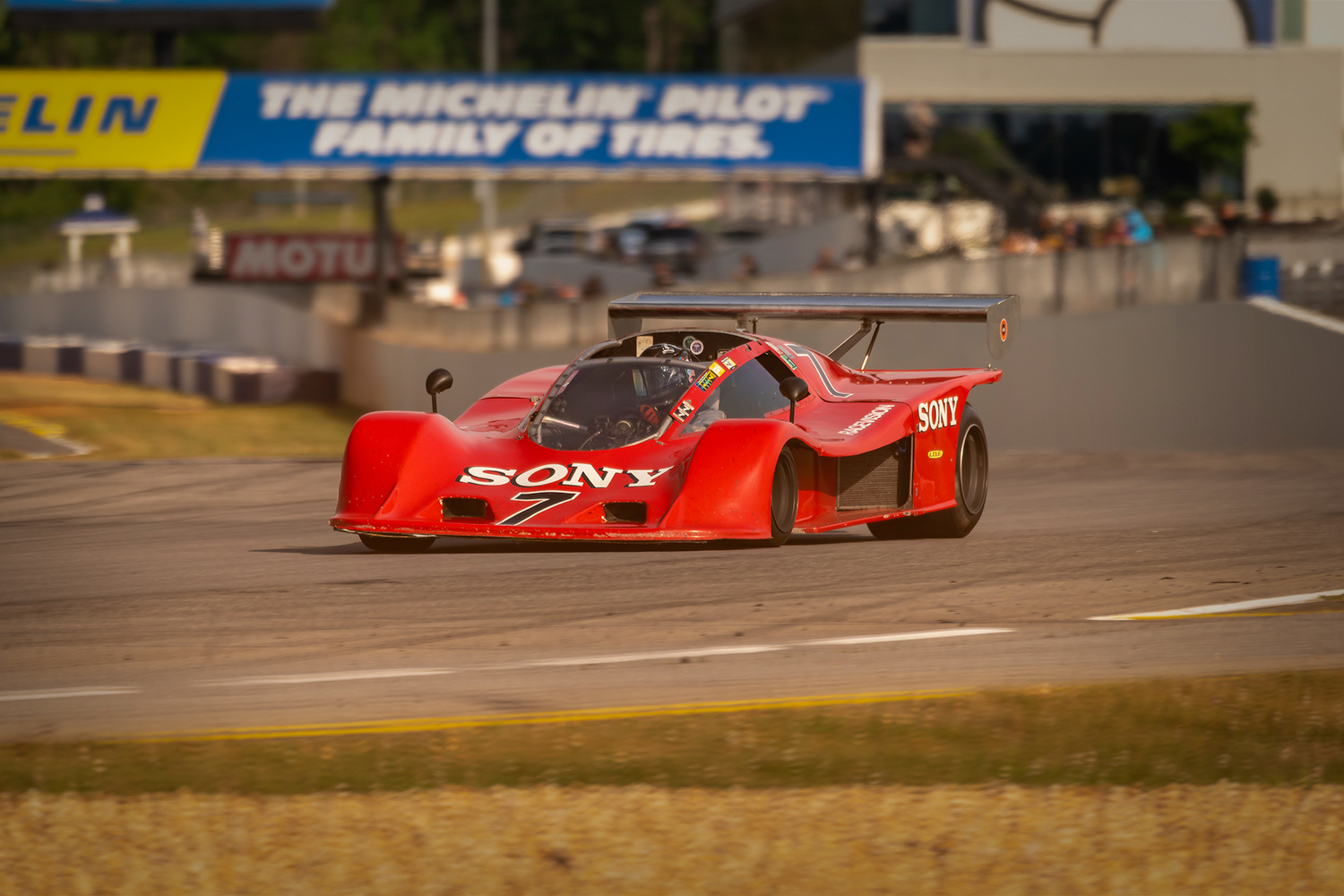 The 1977 Lola T332C HU55 Schkee. The Schkee is a re-bodied Formula 5000. A low-slung center seat machine that was part of the relaunch of the Can-Am series in 1977. It is a wild standout amongst the other race cars.
Then you have a competitor like David Porter, who doesn't like sitting around, so he brings a couple of cars to Road Atlanta.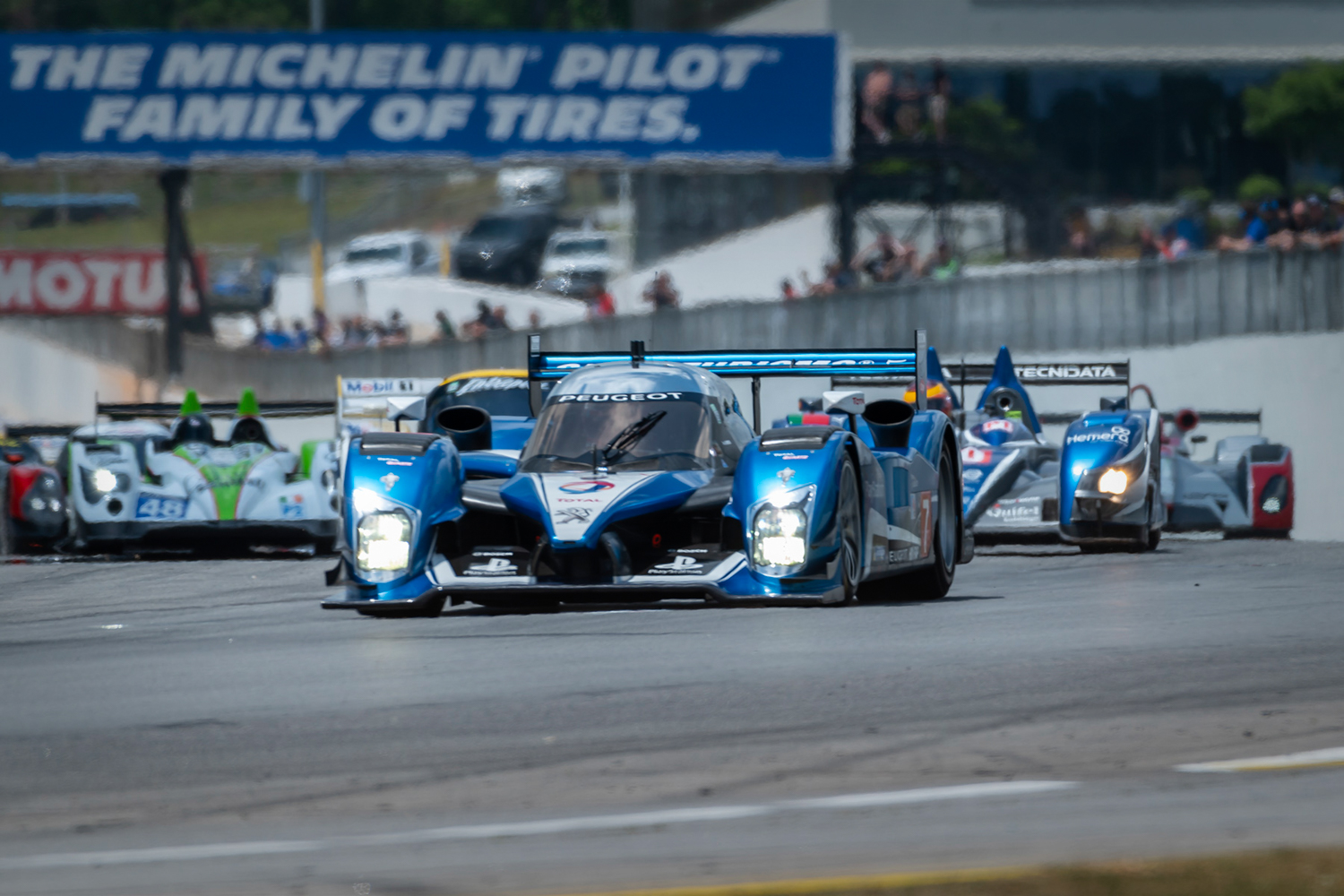 The first was a 2007 Peugeot 908 Hdi FAP, and the second was a 1973 Ford Escort RS1600. He loved running both balls to the wall; he just had to remember one had less horsepower and a lot less brakes. Also, the diesel-powered Peugeot has 880 ft-lbs of torque 750 hp in a 1900 lbs car, and the Escort, if lucky, has 200 ft-lbs of torque 230 hp in a 1900 lbs car. That being said, the Escort is very much a rocket ship, but you do have to stay in the power band to be competitive, and it is a real adventure to slow it down. The Peugeot is all about commitment and intestinal fortitude. The G-forces and torque are immense; you shift gears as quickly as you can grab the paddles. At the same time, it can be very forgiving as you don't always have to worry about what gear you are in as all that torque never lets you bog down, but with the Escort with its manual shift, you have to be on top of the gearbox at all times.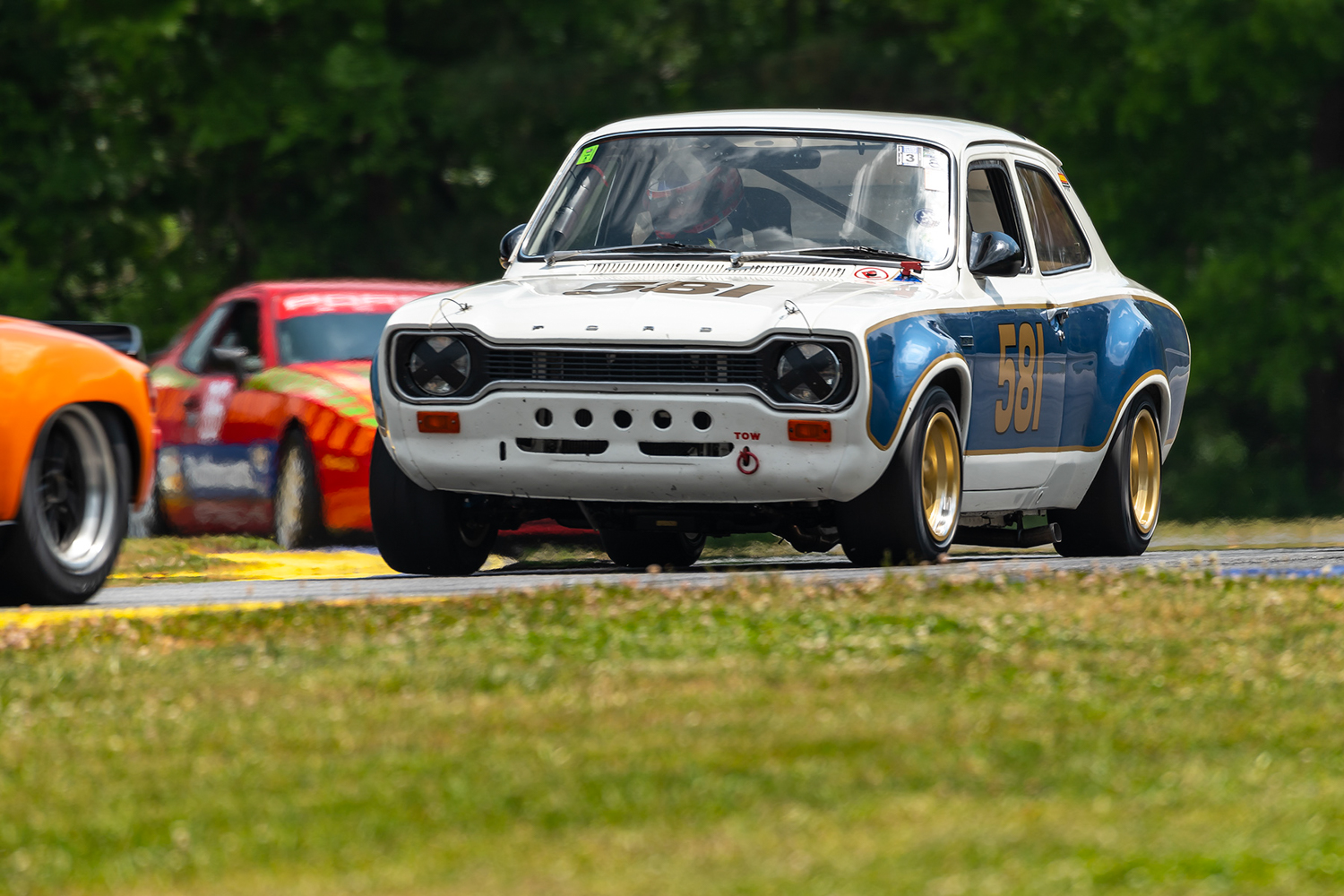 The Escort makes a lovely sound, whereas all you hear in the Peugeot is the gearbox. Two very different machines, but two great drives handled masterfully. Another northerner planning to run two cars at the Mitty was Mitch Eitel. Unfortunately, his 1975 Dino 308 GT 4 came up with a cracked rotor and was out of action, but he made do with his 1975 Chevron B31. Mitch's first experience at Road Atlanta was in a Lola B212, a great car, but not in the same league as the Chevron. The Chevron is a brilliantly comfortable car to drive.
Another Derek Bennet design, the B31, was the evolution of the B26. The B31 is fitted with a 2-litre Hart 420R straight-four engine producing 290 hp.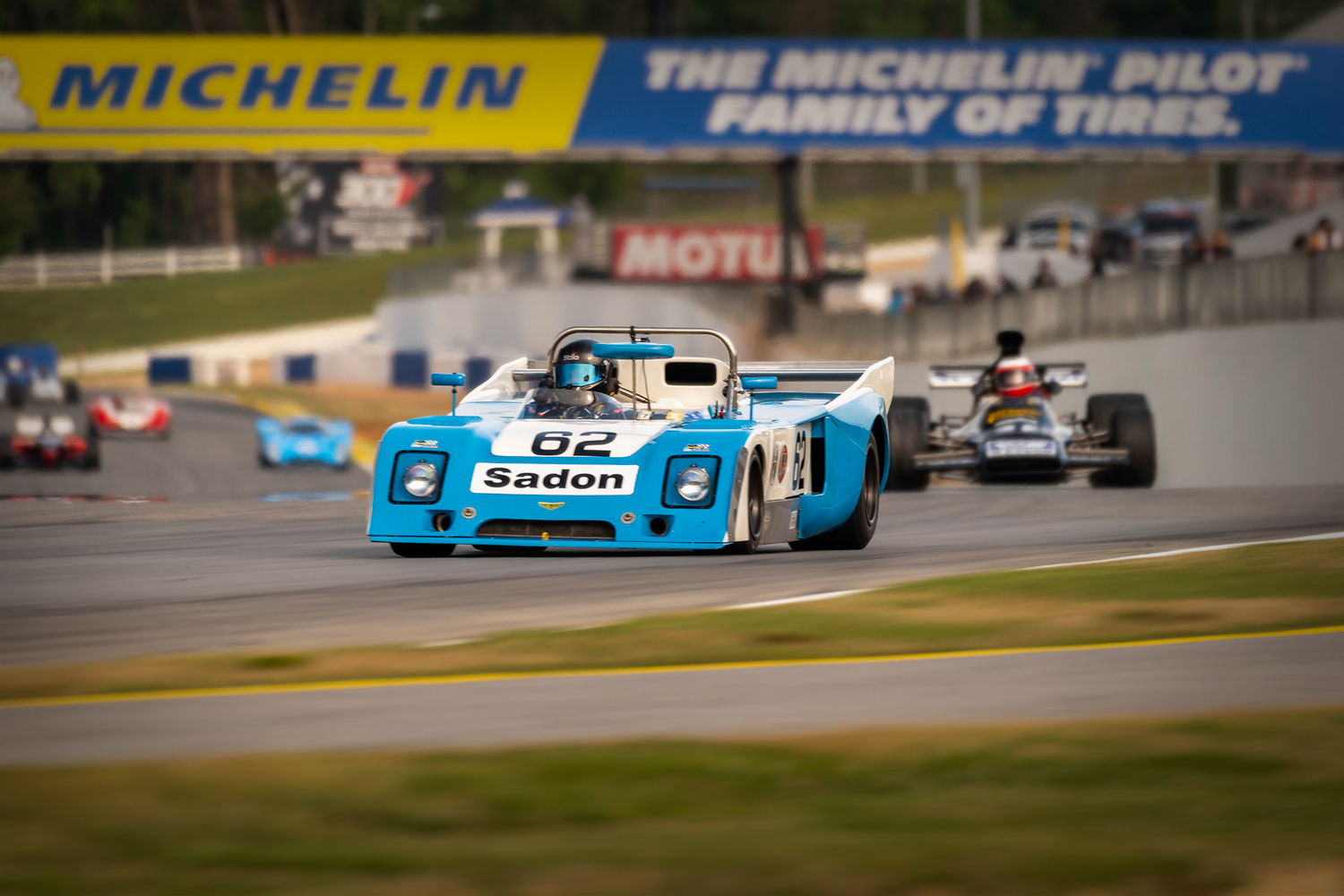 Mitch found the track very challenging as well as intimidating. Mitch remembers from his first time there the speech Dorsey Schroeder made at the driver's meeting. "You're at Road Atlanta; this is a he-man track." Mitch agrees with that; you do a lot of work getting around the course, and there is a lot to learn to pick up valuable seconds in different places. Mitch found the B31 very well suited for the track, but he hasn't found a track that it is not suited to. The car is very quick but feels safe, the architecture of the car is very comfortable and confidence-inspiring. This was very obvious as Mitch was taking on cars with more displacement and horsepower. It was the perfect match between man, car, and track.
Still not satisfied? Maybe what you need is some ground-pounding, All American Days of Thunder action. Group 8 brings it with a vengeance.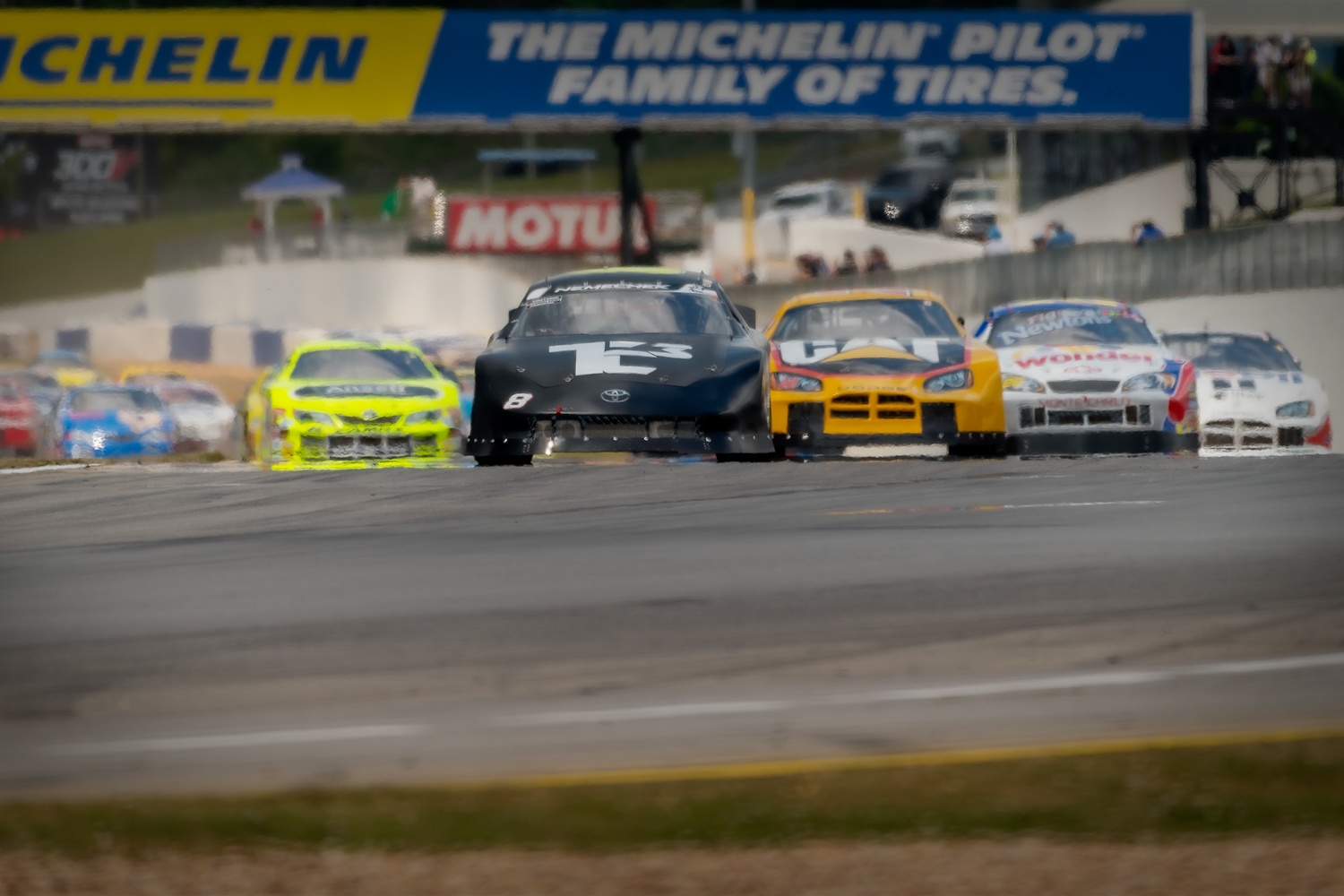 Over 20 big nasty NASCAR machines bellowed and snorted around the road course, with ex-pro Joe Nemechek leading the pack and showing the others how it's done. All the cars you cheered on in the past, plus a nod to the big screen with a Talladega Nights liveried 2006 Chevrolet Monte Carlo driven by Ryan Tomson.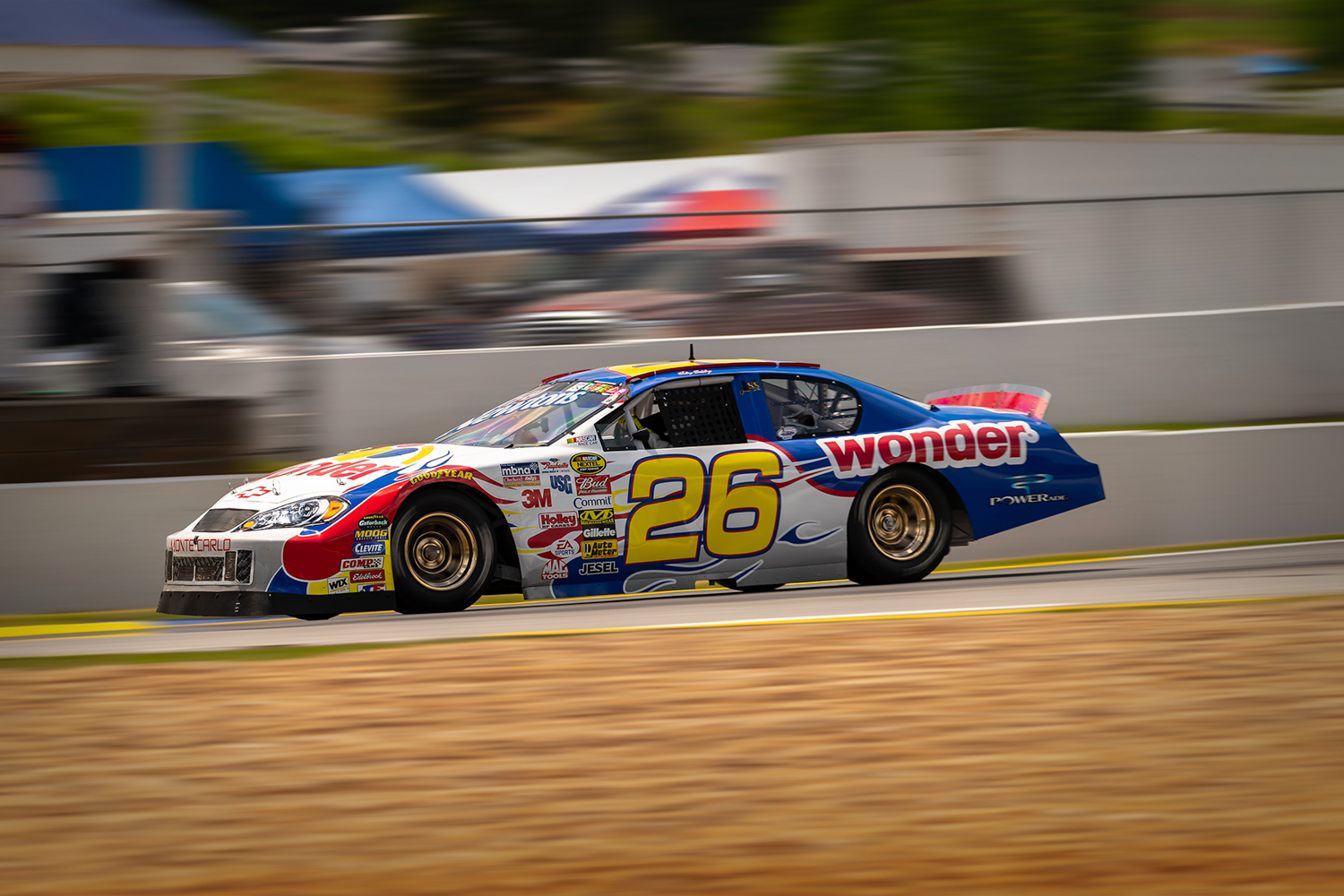 Like the James Thurber character the race was named after, the competitors are living out their daydreams, racing the cars of the past, doing battle with other drivers and having the time of their lives, and giving the spectators daydreams of their own.