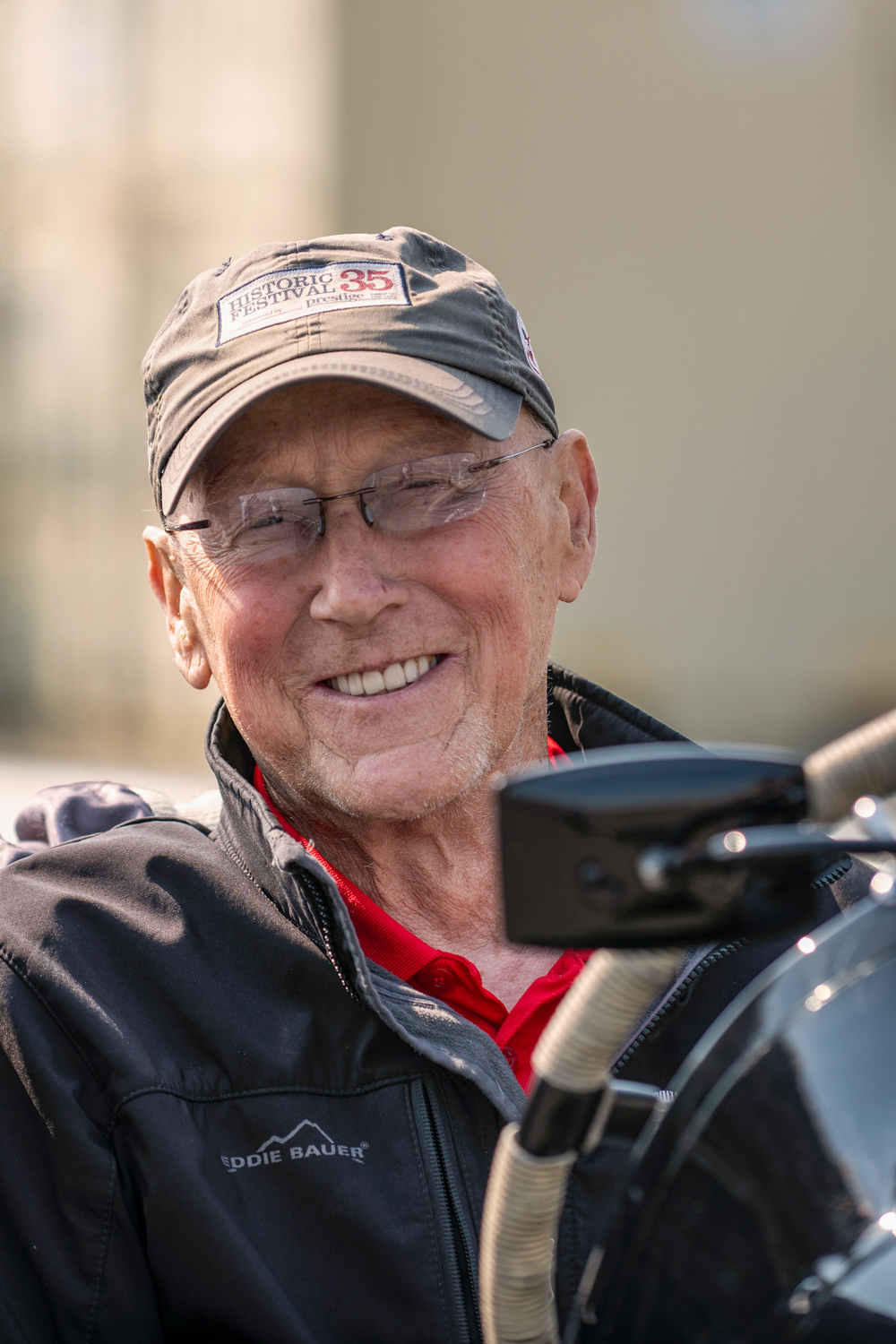 This past summer Dennis Gray had the opportunity to interview his longtime friend Giddings. Sadly, this would prove to be the last interview with one of sport's truly great ambassadors.
Peter Giddings and his cars will be missed. He was one of the best. Pre-war Alfa Romeos, Lancia D24 and D50, 250F Maserati, Bugatti Type 55, Delage, Ferrari Lusso and others, each presented and driven as their builders had intended…and who could forget the Great Danes… the last, the wonderful "Havoc."
I can only offer condolences to his wife Judy. 

Dennis Gray
Tell me about the early years…the kind of stuff that sets the tone.

Giddings: I was born in Eastbourne, Sussex, in the '40s…you are not going to get any closer than that as I fibbed about my age when obtaining my first driving license!
Education at that time was difficult, We had weary, shell shocked teachers who taught by rote. It would seem that in order to make up for the tragic loss of so many young lives in World War II, the prime objective of my school was to supply replacement fodder for the military.
Innocently, I got close, passing my exam for a junior officer position, but luckily for me, I failed due to my poor eyesight…imagine what a different life I would have led!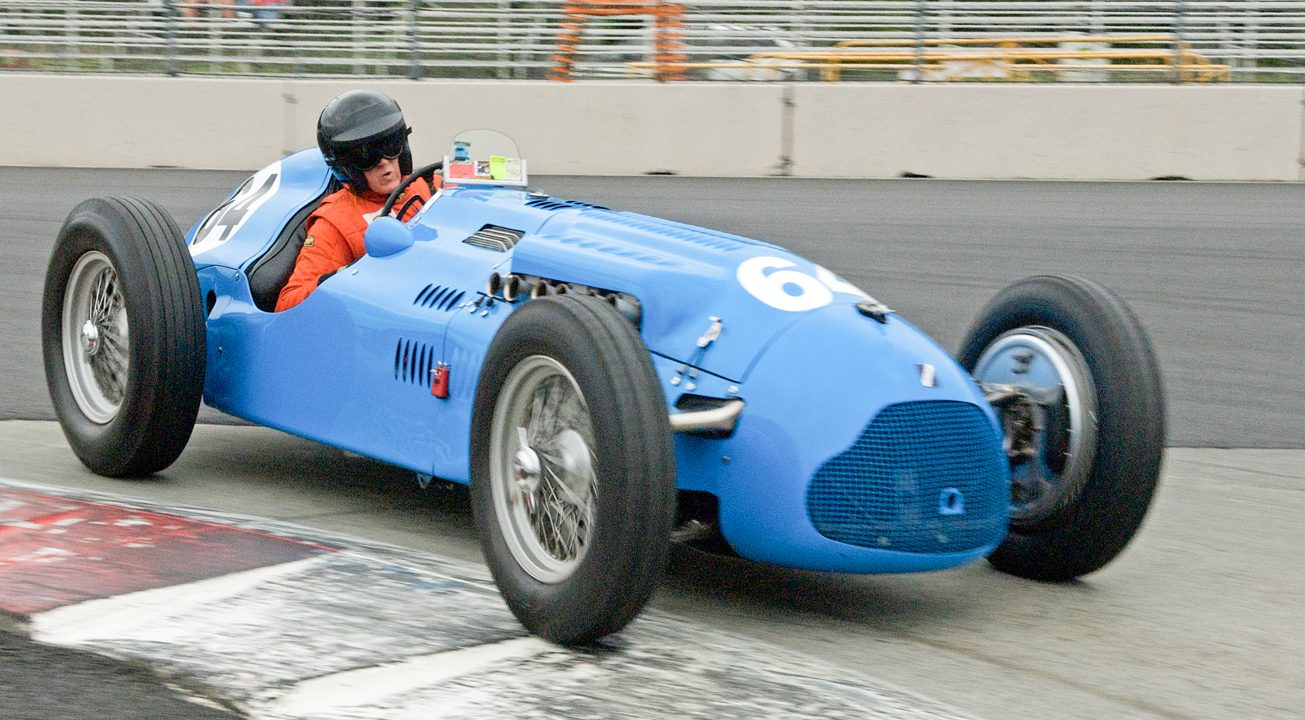 My passions included electronics and, to this day, creative writing. As a recipient of several Golden Quill Awards, one of my favorite pieces on Moss, which will also help to explain the origins of my passion for historic racing. Whenever we chat with Stirling and Susie, we always remind them that Stirling has a lot to answer for! All of this led to an involvement with early tape recording. We had a mobile and permanent studio, and recorded many of the greats and the good. To this day, I am still involved with audio and communications.
At that time, I was involved with a Swiss conglomerate, designing early multi-track recorders, plus working on a retainer for a German transducer designer.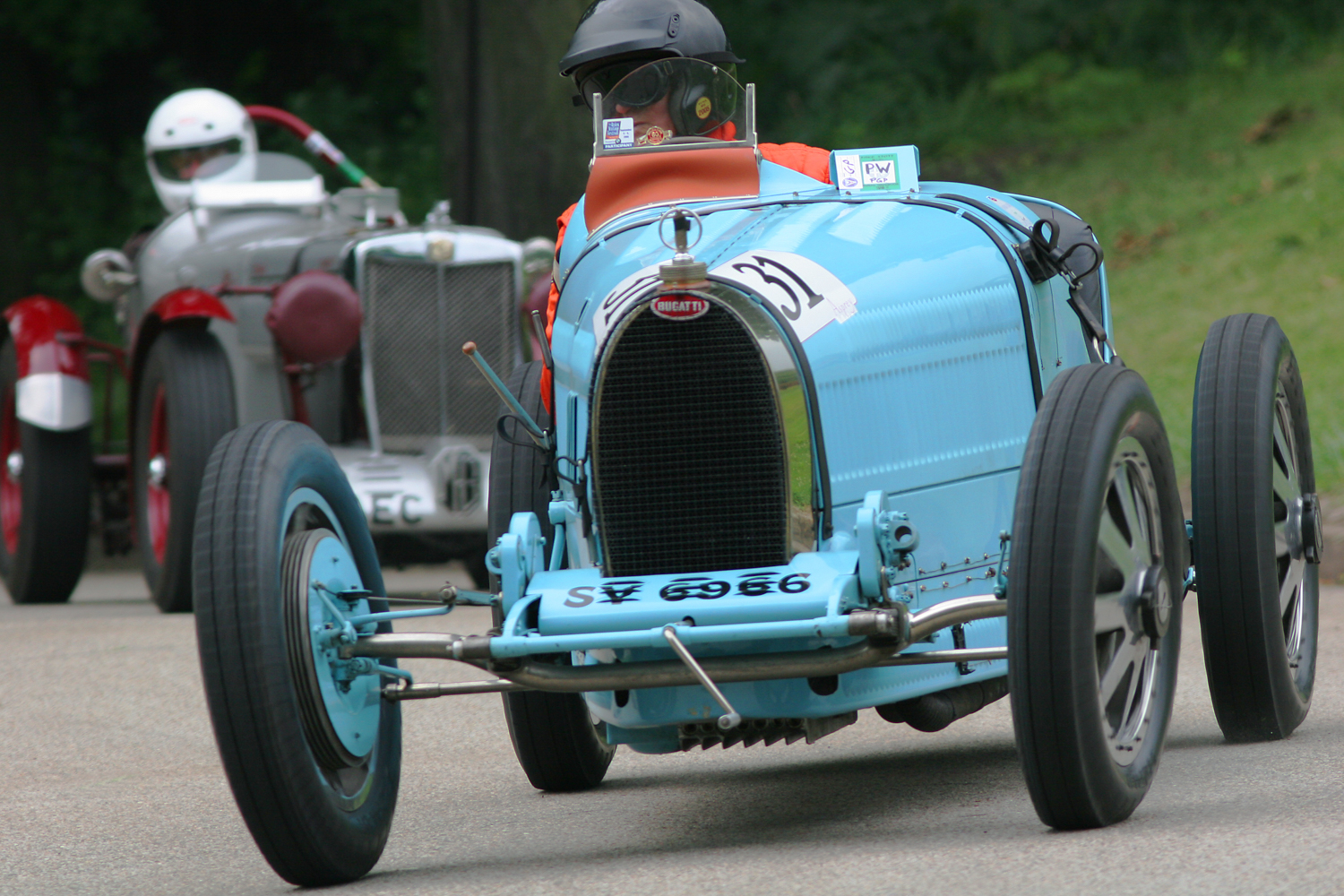 In 1971, these two pioneering companies, weary of their USA representation, asked me to move to the States, and help set up a facility for them on Long Island. Judy and I were newly married, foot loose and fancy-free so we accepted.
Car wise, our "calling card" upon arrival was our restored 1924 Lyons Bugatti, majestically towed by our Gurney Nutting Sedanca de Ville Rolls-Royce.
To our absolute joy and relief, Long Island turned out to be a hot bed of pre-war car activity, leading to memorable friendships with the irrepressible "Austie" Clark, Freddie Willits, with his wonderful single-seater 35C Bugatti, Rene and Maurice Dreyfus, Bill Wonder (Maserati 300S), Peter Magnuson, Judy Stropus (OSCA), Jim Haynes (post-war Frazer Nash), the Lefferts, Jim McAllister (Birdcage Maserati and Alfa 8c), Miles Coverdale (Bugatti 55), et al.
Thus, my USA racing began at iconic tracks, such as Watkins Glen, Lime Rock, and Bridgehampton.
When did you make the move to California?
Giddings: We remained in New York from 1971 to 1976, by which time we had discovered the lure of California.
By this point in time, we owned a number of businesses, and I was traveling extensively.
One of the reasons we moved was that my friend, Tom Spalding, had asked me to join him at Spalding Racing, where we pioneered Race Vision, one of the first—if not the very first—company to produce real-time motor racing on TV, and you will know this, Dennis, as you were our brilliant team photographer.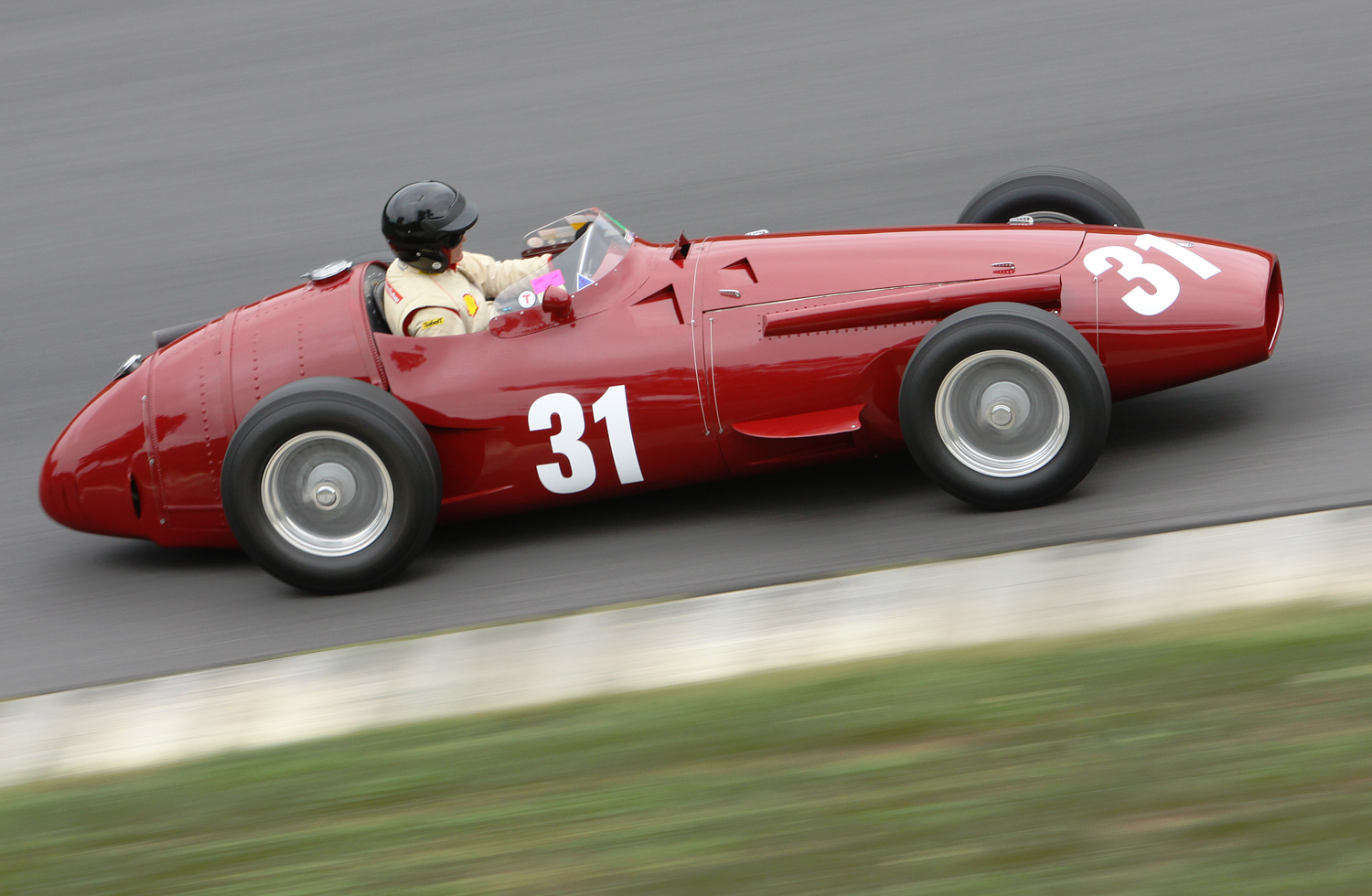 What was your first exposure to motor sports?
Giddings: My mum was avid about motor racing. Thus, I enjoyed thumbing through her albums of Kodak Box Brownie black-and-white photographs of Brooklands.
For sixpence at a jumble sale, I purchased a copy of "The Boys Book of Motor Racing" (on my bookshelf to this day), and started to read about the greats of racing.
As we lived close to Goodwood, I was caught umpteen times getting in under the fence.
Eventually a representative went to see my mum who explained, "I don't know where it comes from ….he just loves his Dinky toys and car books … I really don't know what to do."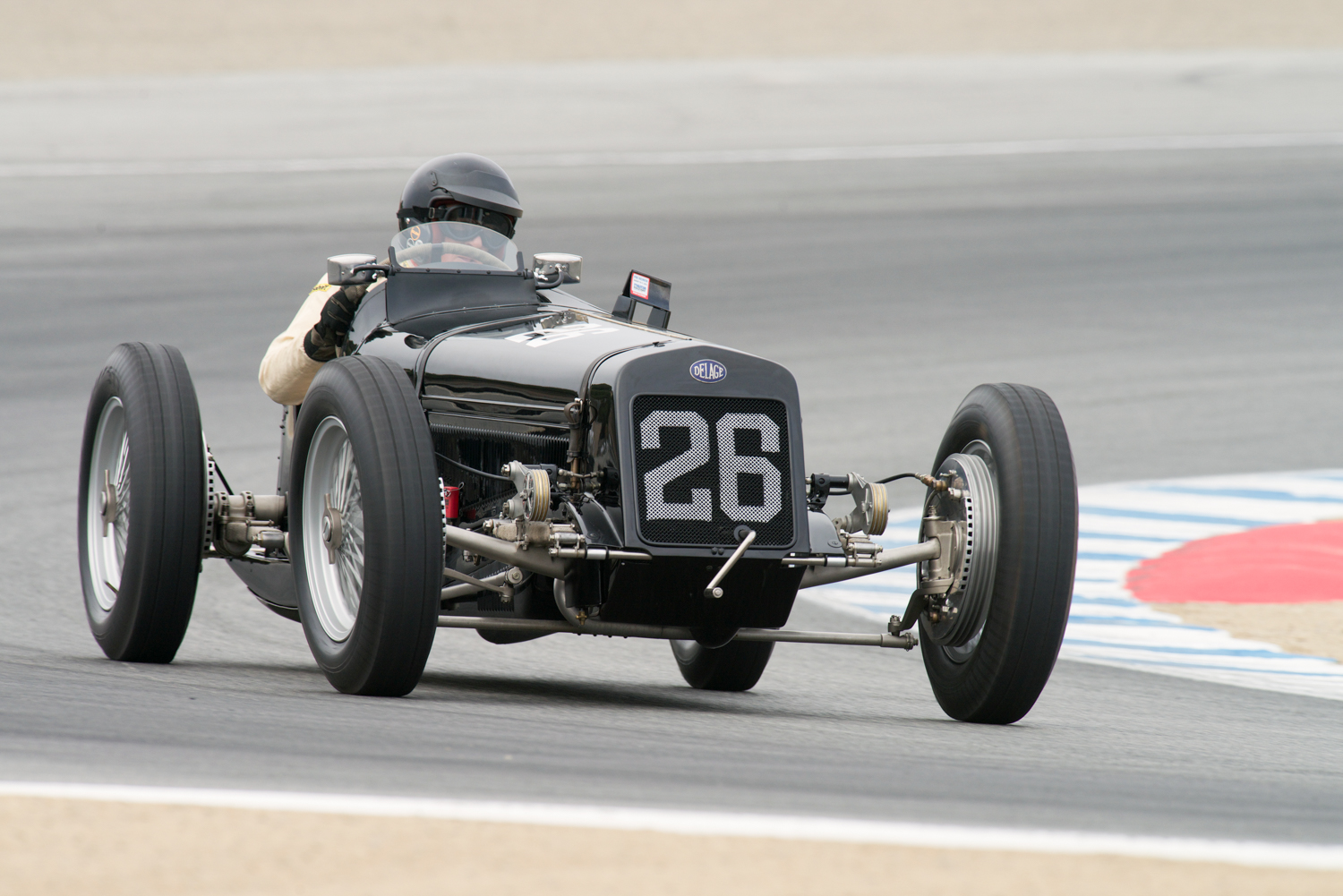 "Well, Mrs. Giddings, we shall come up with a way for him to come into the circuit through the gate, and we shall put him to work as a timekeeper's spotter/ assistant, and we shall even supply him with a boxed lunch."
The timekeeper's tower was the tallest building on the track. Thus I got to see and meet all of the leading drivers of the day. In the meantime, I was busy delivering newspapers, groceries, "gigging" at various jazz clubs, venues, and dance halls, earning as much money as I possibly could.
Eventually, I scraped together enough money to buy my first racecar, which I drove to Goodwood. Unfortunately, I was rejected by the scrutineer, because I did not have a reverse gear.
Looking and feeling pretty unhappy, I bumped into our chief timekeeper, Mr. Ebblewhite, whose father was the chief handicapper and timekeeper at Brooklands, who asked me why I was looking so glum.
I explained that I had been rejected from my very first race, and he told me that I needed to talk to Mr. Mathews. It turned out that Mr. Mathews was previously the chief scrutineer at Brooklands.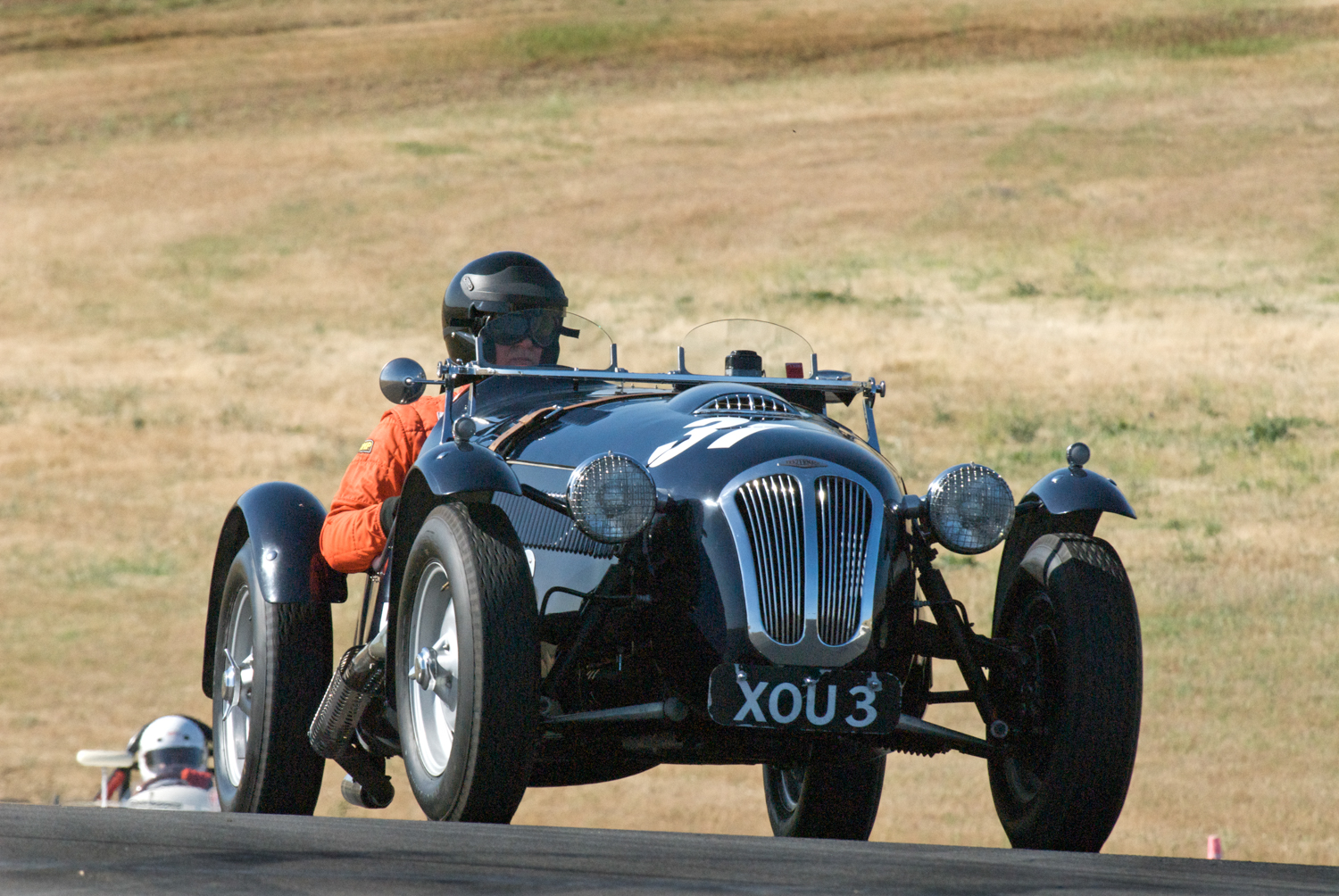 Looking over at my 1926 chain-driven Frazer Nash "Union Special", Mr. Mathews asked whether I had any spare chains, which I kept in an old green galvanized bucket.
Immaculate in his pressed grey flannel trousers, polished shoes, white shirt, Brooklands tie, and blazer I was horrified when he took out an oily length and instructed me to pull the back seat out of the "Frash."
He then wrestled around with the chain, installing it between the bevel gear drive and the back axle. Walking several yards away he fished out of his top pocket a white handkerchief and told me that when he lowered it, I should simultaneously release the clutch.
Mr. Mathews dropped the hanky, I dropped the clutch, there was a loud bang, and a snake of broken chain slithered out behind me, whilst my car rolled back a couple of inches. "Young man, you have got a reverse gear, and you can race."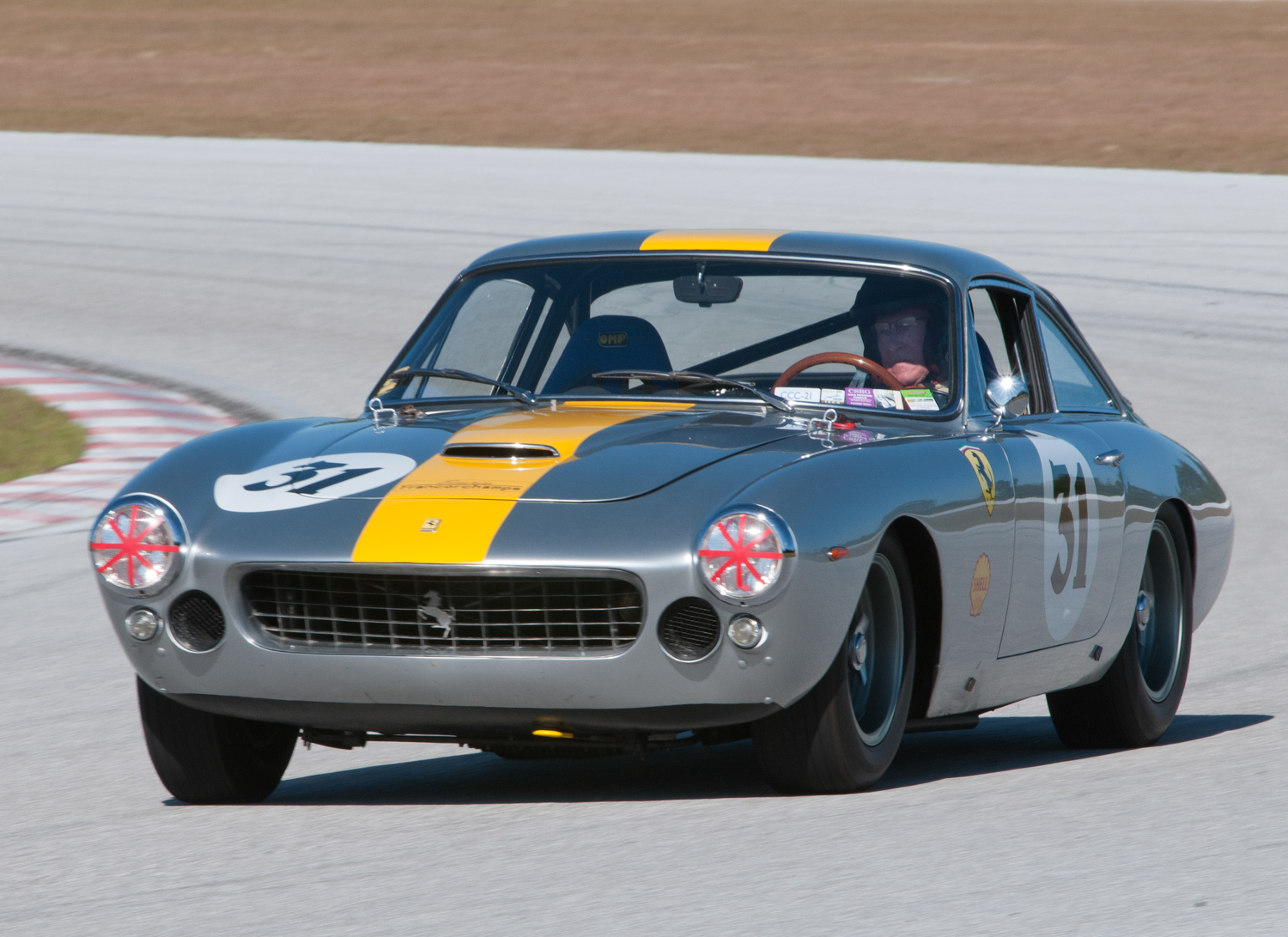 Understand I was not vintage/pre-war racing …. I simply had an old car, because it was all I could afford.
I was competing against Jaguar E-Types, Austin Healeys, TR Triumphs, TVRs, ACs and the like, and everyone was looking down their noses at me.
It would be wonderful to say that I won my very first race, but if memory serves me correctly, I did make it to the podium with a third place.
Thus, from early on, I learned that a confidently driven pre-war car could be competitive against the cars of the day.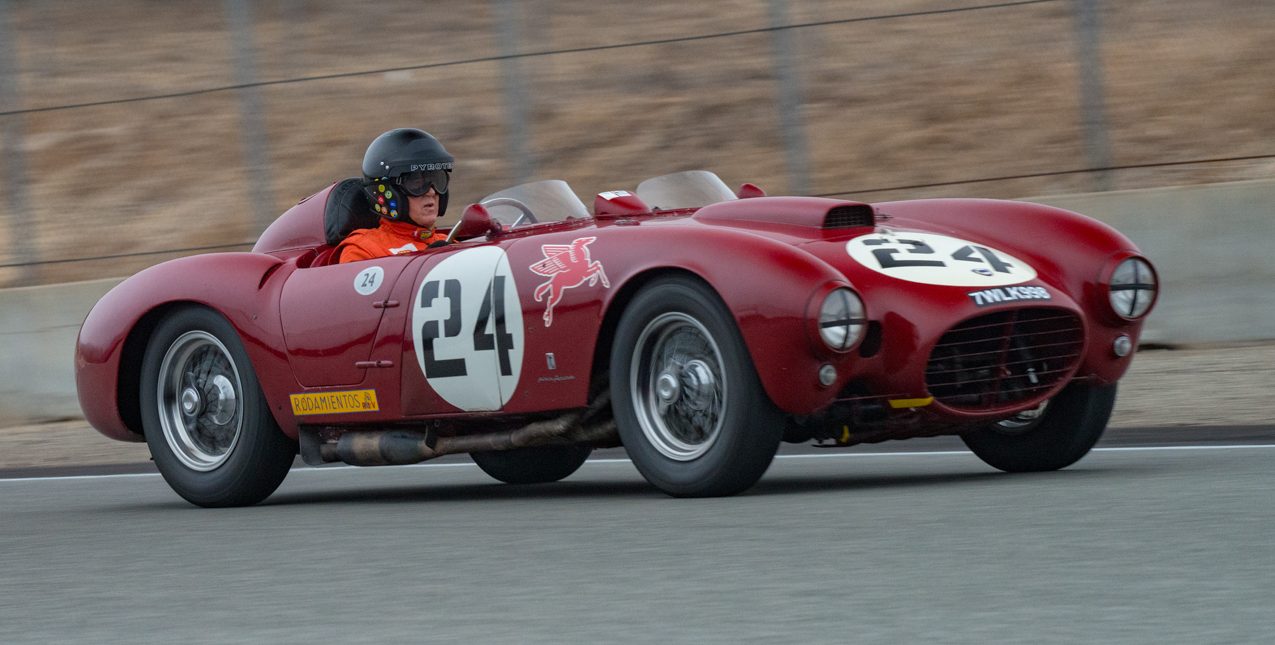 What do you own and race today?
Giddings: We have Lancia D-50A(r), D-25/5(r), Lambda, Alfa Romeo Tipo C 8c-35, Monza, and 1750, along with a Bugatti or two, and perhaps most important of all, my ex-Richard Seaman 1926 Delage 15-S-8.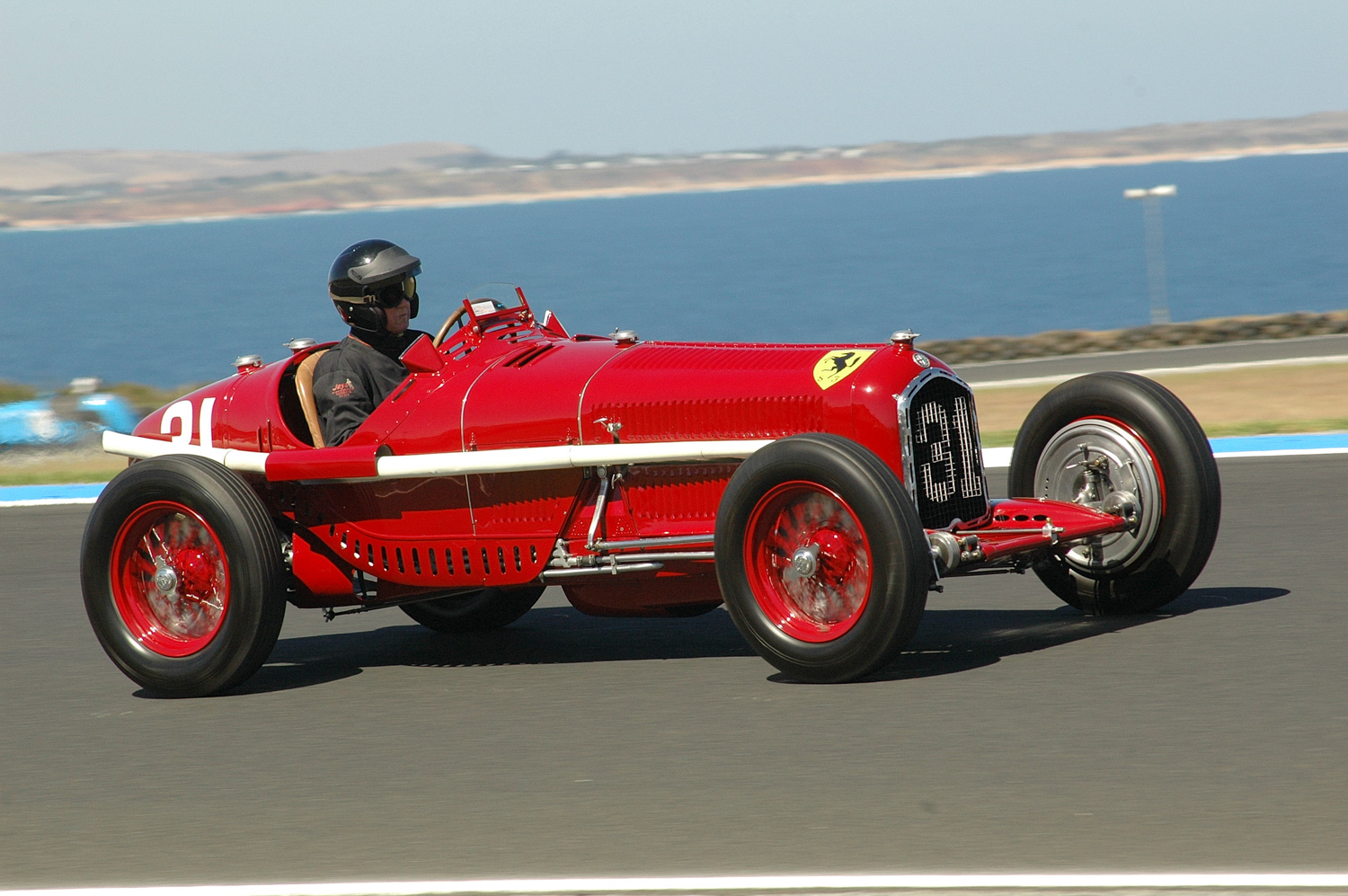 Coincidentally, the Monza by model number should have been called the Tipo B, but instead as this version of the 8c Alfa, fresh out of the box, came 1st, 2nd, and 3rd at the 1932 Italian GP held at Monza, Alfa said that henceforth this model of Alfa should be called the Monza.
Sometimes I have difficulty remembering where all of my cars are. Because of the logistics involved and the cost of moving cars around the globe, I am like a sailor who has a lady friend in every port. I have cars on the east coast, the west coast, in England and Australasia!
Why do you race so many pre-war Alfa and '50s Lancias?
Giddings: Early on my cars could only be acquired one at a time, because that was all I could afford.
Nevertheless, I had a sine wave of cars I wanted to experience. I had no trailer, no tow car, and thus if I drove my racecar to a meeting—be it at Wiscombe, Firle, Crystal Palace, Silverstone, Oulton Park, or Goodwood—and it broke, then I was stuck.
Back then, my sine wave shifted backwards and forwards between Alfa Romeo and Bugatti.
When Judy and I married, we honeymooned in our 1750 Alfa. We raced and rallied that car throughout Northern Italy. This was a true test for Judy.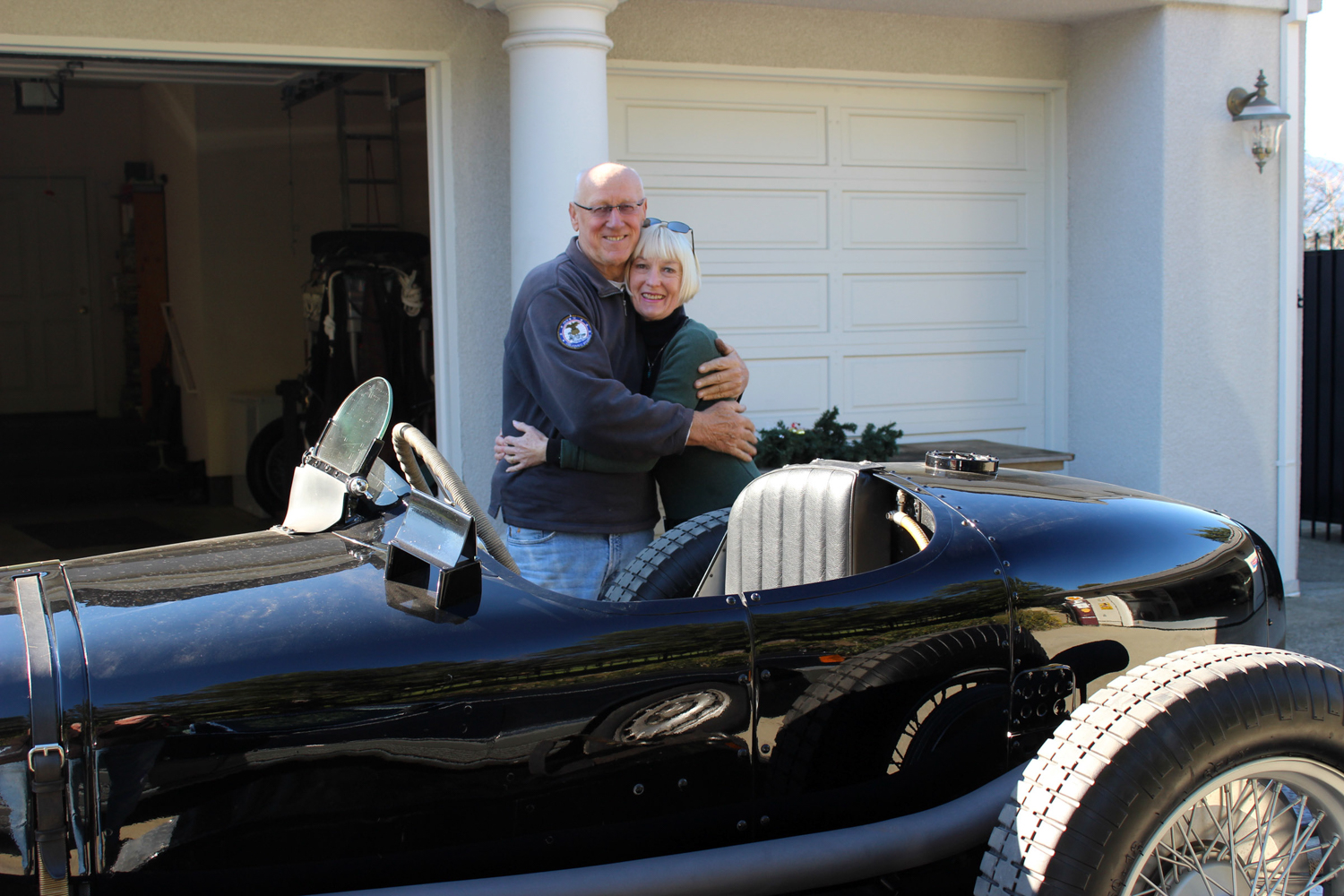 On one occasion, we were guests of Ferrari at Monza. I have photos of Judy looking more than a little unhappy with her fingers in her ears, and you can just read her expression, "What have I done marrying this crazy guy?!"
The reason for my love of the pre-war Alfa was that they were all brilliant designs and visions of a man called Vittorio Jano.
Jano eventually left Alfa (or was asked to leave!) because the poor man was being asked to produce competitive cars—my Alfa Romeo Tipo C 8c-3 being an example—on a comparative shoe string, against the might of Mercedes-Benz and Auto Union.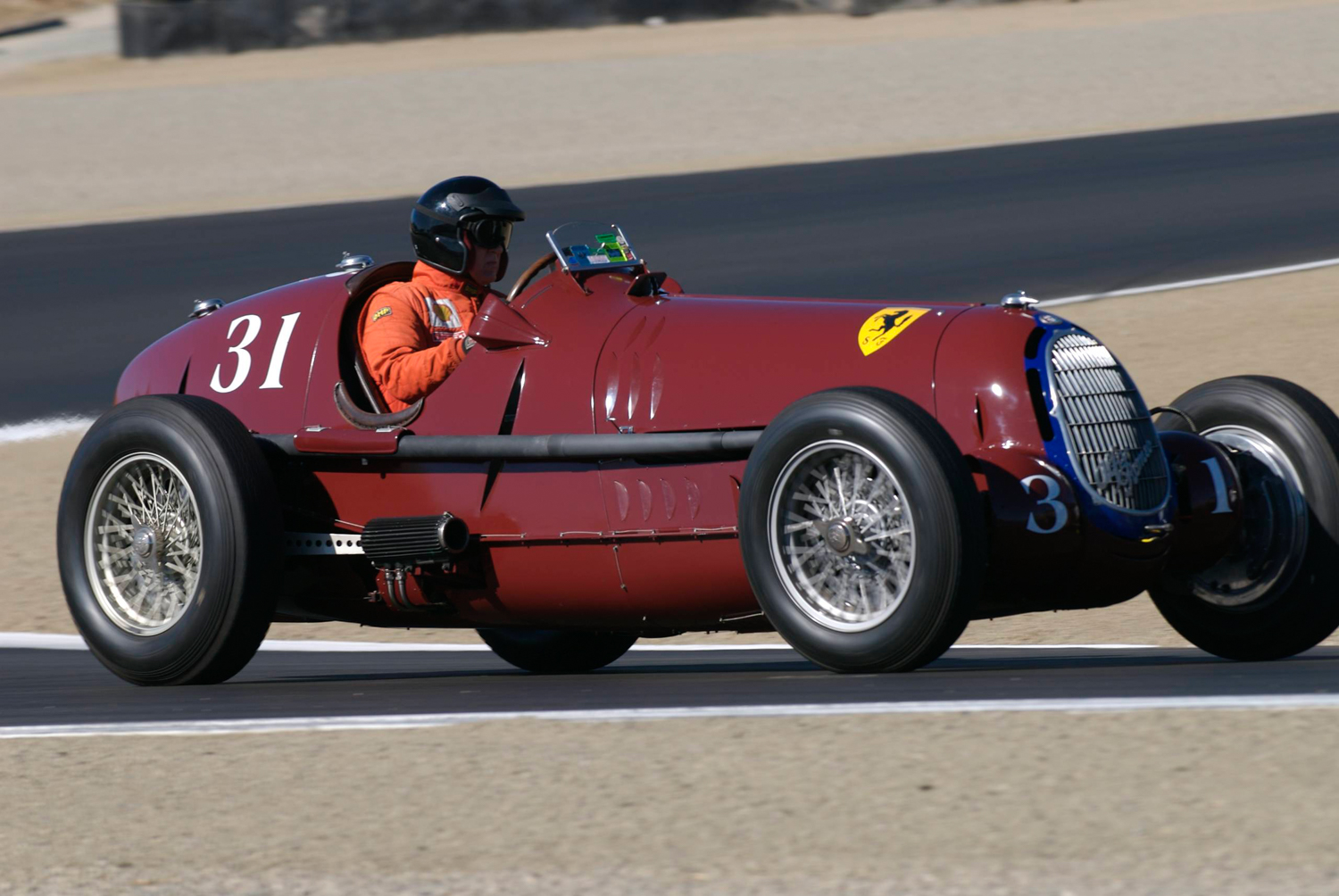 Exceptional drivers like Nuvolari (the greatest of them all, in my opinion), would occasionally achieve a win, but clearly the Alfas, Maseratis and Bugattis were all swamped by these high tech, and heavily subsidized, German teams, so this was truly a David vs. Goliath period in motor racing history.
To everyone's relief, Jano, upon leaving Alfa, joined Lancia and with the two '50s Lancias that I own today, I can experience the book ends of his great career.
In short, I have wanted to experience, first-hand, how far Jano had come with his design and technology philosophy since his Fiat/Alfa days.
What do you find special about the D50?
The D50 was as radical in its day as any car we have seen since. Again, a very low budget effort. In fact, racing put Lancia out of business, and thus these wonderful Lancias ended up with Ferrari whose own GP car at the time was the Super Squalo, which was hopelessly non-competitive.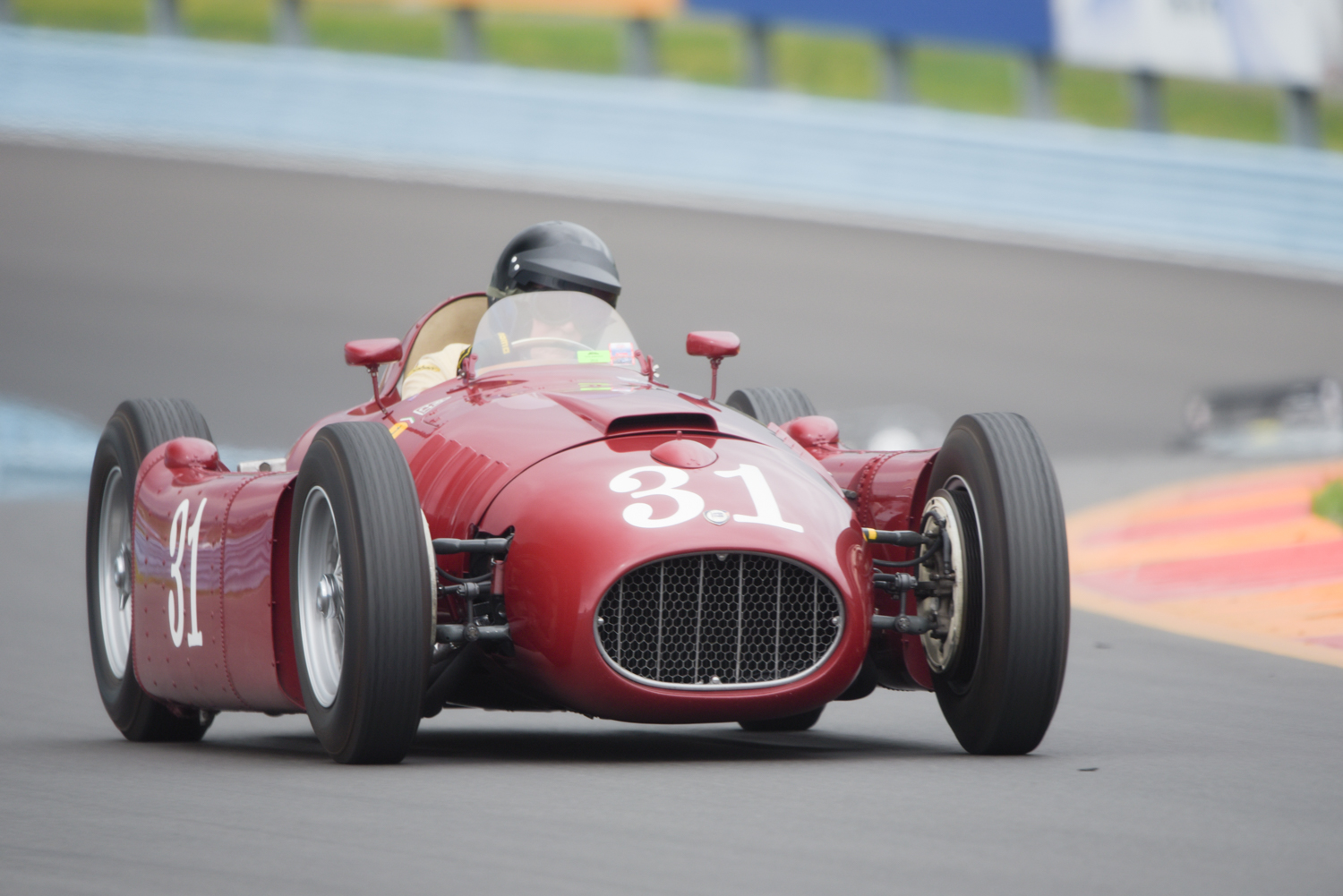 D50s certainly saved Ferrari's hide. By that time, of course, Jano was heading up a design team, and certainly could not claim 100% responsibility for any of the Lancias of the period.
Sadly, the great Jano, having been told that he had a terminal illness committed suicide. There was a subsequent autopsy, and he was found to be 100% healthy.
[button link="https://sportscardigest.com//subscription-account/subscription-levels/" color="blue"]For over 6,000 more articles like this, click here to subscribe[/button]