This is a little-known story, but the real father of Riverside Raceway was Jim Peterson. I thought this would be a good time to tell it, because the new Riverside International Raceway Museum is having a "Legends of Riverside" celebration on March 27-29. It might be appropriate to include at least some remembrance of Jim.
During the fifties on the West Coast, Peterson raced a light green 1954 XK120 roadster. His California Sports Car Club and SCCA-LA Region permanent number was 83. He won so many races that he was often referred to as the "Jag Master."
I was racing a rather tired XK120 then, and most of us in the over-1500-cc production group got to know one another. Among others, the group included 300SL pilot Rudy Cleye, the visionary who conceived the idea of a raceway near Riverside. When initial financing dried up, Rudy convinced wealthy sportsman John Edgar to put up the necessary construction funds, and selected Jim Peterson as the general contractor.
In 1956, GM replaced the Corvette's original six-cylinder engine with a V-8. Jim was selected to prepare and race the new model, the first time a Corvette had been in serious competition on the West Coast. There was much debugging to do, and Jim's efforts helped in the car's later success.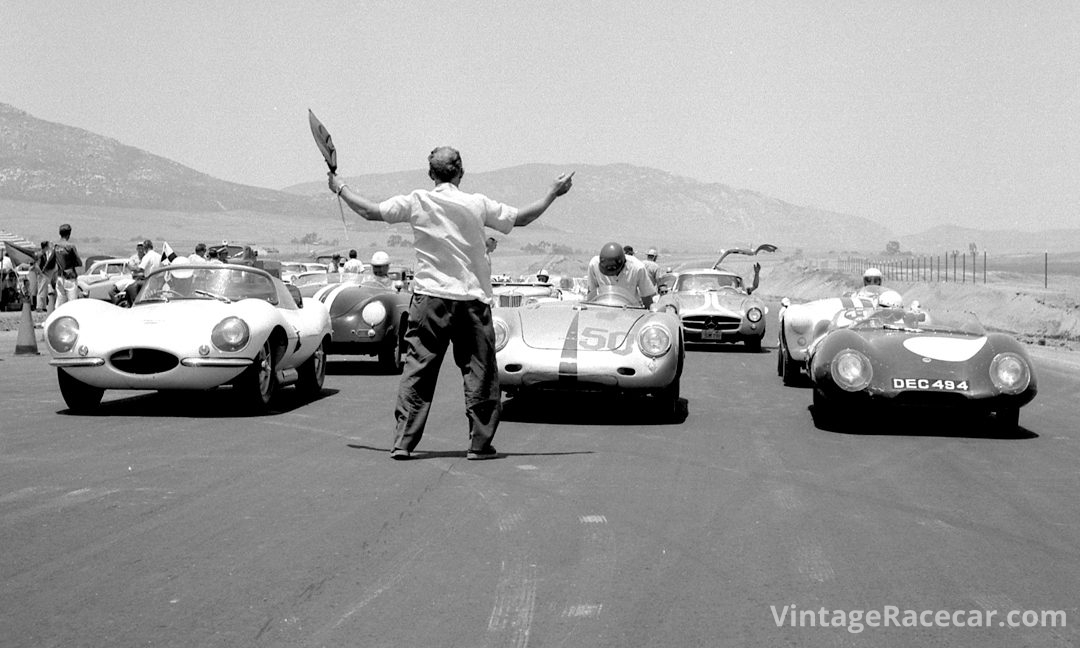 With two exceptions, Jim's racing was confined to Southern California. Jim was a general contractor with offices and an equipment yard in Pasadena. Although he surely had the talent, his business kept him from spending any serious time on the sport.
After the 1956 season, Jim retired from racing at the insistence of his wife, Margie, and sold his Jaguar to me. He participated again in only one event, the 1957 Palm Springs SCCA National. Jim had been appointed race chairman and I was his assistant, so we went to set up the course  early in the week. Saturday was a short five-lapper to determine Sunday's starting positions. I had entered his old XK120, and as we were lining up on the pre-grid, I called to Jim: "Why don't you give it a go one last time. Margie will never know!" He agreed, put on my helmet, and got behind the wheel.
The Sports Car Journal reported: "Saturday's over-1500 production race got off to a flashing start… The big surprise of this event was the return of old Jag-Master, Jim Peterson. Jim tooled Art Evans's XK120 to a magnificent 3rd, in front of Mercedes, Corvettes (including Andy Porterfield), Ace Bristols, etc. In fact, he had a battle with Ron Ellico in his 300SL for his spot that may have been the high point of the afternoon." Actually, Jim was gaining on the leaders and, had the race been longer than five laps, probably would have won.
Peterson built quite a number of structures during the fifties, mostly in the Pasadena area, and before starting construction at Riverside, spent several months in Europe touring various courses. During the trip, he visited the Jaguar factory at Coventry where he purchased an XKSS, one of the few that had been made before the fire at the factory destroyed the tooling.
When Jim and the car arrived back in California, he would occasionally drive it from his home to the Riverside site, a round trip of about 130 miles. As time allowed, I would accompany him. At the site, Jim drove a surplus Army Jeep around the property, planning the course layout. Although others have claimed credit, I know from personal experience that Jim not only built the track, but also designed it.
In those days, the raceway site was located near a highway (U.S. 395) that went from Riverside to San Diego. (It still does, but now it's a freeway.) The property for the raceway was just north of March Air Force Base, where we had raced in 1953 and '54, courtesy of General Curtis Le May. Just south of the base, 395 was long and straight.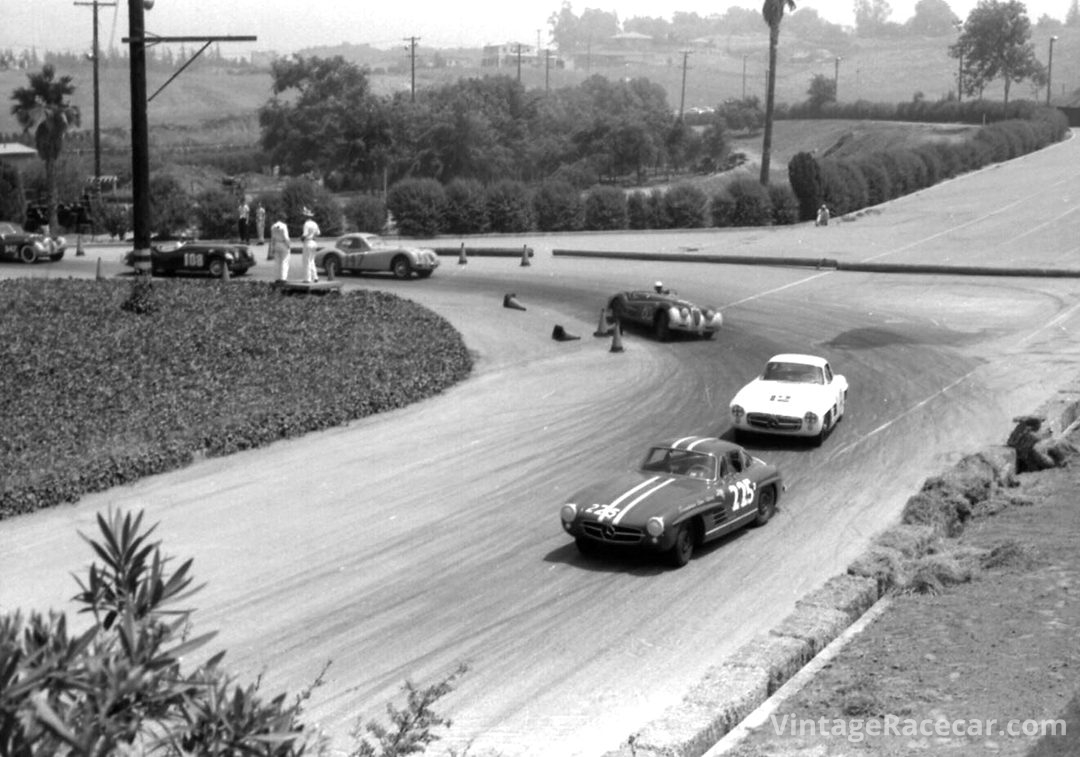 One day Jim told me, "I want to see just how fast this thing will go." So we started off down the highway. After we passed the base, he floored it. In the XKSS, the tachometer was in front of the driver and the speedo in front of the passenger. Soon the needle started to approach its limit, 180 mph. I was supposed to tell Jim when it reached 180. When I did, he backed off, turned around, and drove sedately back. Afterward, he said he didn't believe the speedo was accurate because of tire expansion.
Occasionally, Jim would drive his XKSS around his quiet residential neighborhood. To put it mildly, this attracted some attention, often from a gendarme. When a patrol car would set off after Jim, he would speed away, but the problem was that the officers knew where he lived. A friend—Dr. John Valentine, an SCCA official—lived across town. Jim had an arrangement with Dr. Valentine to leave his garage door open with an empty space. When a patrol car got after him, Jim would get far enough ahead so the officer couldn't see him, then drive into Valentine's garage and close the door. This tactic caused great glee among local sports car aficionados. One night though, Jim had to stay over with the Valentines.
When Riverside was completed, Jim led a procession of cars around for the very first lap in his XKSS. This time I wasn't in the passenger seat because I was taking pictures. The following year, he sold the car to Steve McQueen. The first race at Riverside was held by the California Sports Car Club on September 21–22, 1957. Sunday's first race was for production cars under 1500-cc. A friend of ours lost his life in his MG on Turn 6. This put a pall on what should have been a great day. In the main event, my friend Carroll Shelby ran into a dirt bank and was ferried to the hospital with face cuts that required 70 stitches. After that first race, I was never very happy with Riverside.
Later in the decade, Peterson was elected Regional Executive of the SCCA Los Angeles Region. A bitter conflict in Southern California had developed between the Los Angeles Region and the then-independent California Sports Car Club.
Things started to come to a head in 1961. The chain that pulled the plug was an accident at an SCCA Pomona event on July 9, 1961, when one spectator was killed and 14 injured. Peterson, RE of the sponsoring L.A. Region, was also the race chairman. Numerous lawsuits ensued.
The L.A. Region of the SCCA had been having some serious differences with those who governed SCCA National in Westport, Connecticut, for some time. The Pomona incident was the last straw and finally, on November 24, 1961, SCCA National (undoubtedly hoping to extricate itself from lawsuits) revoked the L.A. Region charter and offered it to Cal Club. On November 25, the Cal Club board voted unanimously to accept the offer. This created a furor in both camps and a bitter conflict ensued.
Incensed, Peterson demanded a hearing before the SCCA National board as specified in the by-laws. Failing that, he threatened an injunction that would tie up racing in Southern California. Peterson and many L.A. Region members, determined to continue business as usual, scheduled races for 1962. SCCA National threatened legal action to require the L.A. Region to "Disassociate itself from SCCA and desist from using their name and insignia."
Whereupon, the group, a California Corporation, associated itself with the professional United States Auto Club. The defunct Region changed its name to the United States Sports Car Club, a division of USAC, with Peterson its president. The battle continued between Cal Club and the USSCC for the few available Southern California courses, with each threatening to ban drivers who raced in the other's events.
Peterson, along with the Pomona Elks Club, scheduled a race at Pomona for July 21 and 22. In an unexpected move, while under threat of a drivers' boycott (which would have been a financial disaster for both), the USSCC and Cal Club decided to merge. While the details were being worked out, Cal Club threw its weight behind the Pomona event. Before racing started, the two club presidents, Peterson and D. D. Michelmore, paraded around the track together in the course car to the cheers of the drivers. After the race, both men stepped down and the merger became final.
I know that the conflict, as well as the lawsuits, took a heavy toll on Jim. Perhaps as a result, he became an alcoholic, in and out of rehab for years. Eventually, his wife left him and he became estranged from his two sons. In 1977, he died of cirrhosis of the liver. He used to call now and then, and a few weeks before his death, he called my office. I asked how he spent his days. He'd lost his driving license and didn't even have a car, living by himself in a very small apartment in Altadena, a few blocks from the palatial mansion where his family once lived. He said he'd get up in the morning, walk a few blocks to the liquor store, buy a quart of vodka, take it home and drink it.
Jim and I were best friends. For some time during the fifties, I was single and would have dinner several evenings a week at the Peterson home. His family—Jim, his wife Margie, and their two boys—were my surrogate family. We socialized and went on trips together. Even after all these years, I tear up when I think about Jim.