The 2001 Targa Florio Autostoriche Rally, November 3-4, came closer to recreating the fabulous Sicilian road racing event of the past than many attempts in recent years.
In spite of some initial uncertainty about whether the Targa would take place – fuelled by world events – 80 cars arrived with 54 in the competition class, 20 in the touring group, and another 6 demonstration machines from the Alfa Romeo Museum at Arese. Enormous efforts by Alfa Romeo's historic racing arm, Scuderia del Portello, ensured a recreation of the atmosphere of the 1960s and 1970s, with a significant group of Alfas present to be driven around the 72-kilometer Piccolo Madonie circuit by some of the Targa Florio greats.
Nino Vaccarella was joined by Arturo Merzario, Sandro Munari and Vic Elford in taking spirited runs in racecars that included the Disco Volante, 6C 3000CM, 33/2 Daytona and the Lancia F and M Specials. At Collesano, Vaccarella was stopped amidst the cries of "Viva Nino," as the three-time winner drew thousands of Sicilians out to cheer him on.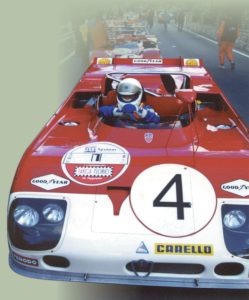 The competition stages were immensely serious, in spite of the light-hearted atmosphere, and it consisted of 10 special stages over 2 days, essentially 3 laps of the famed circuit. This year's event was a thinly disguised road race, with some of the fastest cars running with codrivers barking pace notes and cars reaching very high speeds on the open sections and fast corners.
Overall victory went to the Porsche 911 Carrera of Maurizio Plano and "Davis." Other notable drives included spectacular stage performances by the two Tipo 33s of American Joe Nastase and the BMW 3.0 CSL of Germans Schackinger and Romeo, which was clearly driven at 10/10ths all the way – in spite of more than one huge fishtailing incident between the numerous trees!
Submitted by Ed McDonough