The Sportscar Vintage Racing Association (SVRA) has announced that three-time Indianapolis 500 winner Johnny Rutherford has accepted the role of Grand Marshal for the June 14-17 Brickyard Invitational. Rutherford is the latest in a long list of Indianapolis 500 winners and Indy car champions to appear at the Indianapolis Motor Speedway Fathers' Day weekend event. Rutherford served as Grand Marshal for the SVRA's U.S. Vintage Racing National Championships for the golden Bell Racing National Champions Helmet trophy at Circuit of the Americas (COTA) last November.
"All of us at SVRA are honored to have Johnny as our Grand Marshal at the Brickyard," said SVRA CEO Tony Parella. "The fans there know him well for his brilliant drives for McLaren and the Chaparral Yellow Submarine. It's an honor to work with such an icon and ambassador for our sport."
"The COTA event with SVRA more than lived up to my expectations for outstanding historic cars and quality vintage racing," said Rutherford. "It's always a great day to come back to Indy and have the opportunity to see so many familiar faces and engage some of the best racing fans in the world."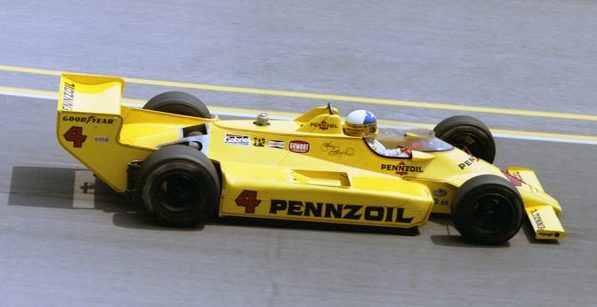 Rutherford's career spanned 35 years, beginning in 1959 when he raced modified stock cars, and included Indianapolis 500 victories in 1974, '76, and '80. The 1980 triumph helped propel him to the Indy car championship that year. He won a total of 28 Indy car races during a storied career that also included three pole positions for the Indy 500 (1973, '76, and '80). Other career highlights include winning the 1965 United States Auto Club (USAC) sprint car championship and the 1963 Daytona 500 qualifying race for Smokey Yunick – back when the contest awarded championship points. He competed in 35 NASCAR races from 1963 to 1988 and was invited to the International Race of Champions (IROC) five times.
Rutherford's success and dignified manner earned him the affectionate nickname, "Lone Star JR," with fans and media. Since retiring, Rutherford has stayed close to racing with a busy schedule that included serving as the IndyCar pace car driver, numerous media appearances including radio commentary for live race broadcasts, and public speaking. His eloquence and knowledge have earned him the reputation as one of the sport's top goodwill ambassadors.
The Indy Legends Charity Pro-Am is the Saturday feature event of the Brickyard Invitational. A field of Indianapolis 500 veterans will be in 1963 to 1972 vintage Corvettes, Camaros and Mustangs of SVRA "Group 6" A and B Production.  The professionals will be paired with amateur drivers, splitting their stints at the wheel. The entry list for that event includes such top names as Al Unser Jr., Paul Tracy, Jimmy Vasser, Max Papis and Willy T. Ribbs. Additional Indy 500 drivers will be announced as they enter in the coming weeks.
In addition to the Pro-Am, there will be a festival of other activities at the Brickyard Invitational including the Sunday, June 17 feature race by the professional Trans Am series headed by 2017 champion and emerging superstar, 20-year-old Ernie Francis Jr. The Hagerty Insurance "shine and show" car corral is also returning, along with vintage motorcycle racing, and 500+ vintage racers ranging over 100 years of automotive history racing in SVRA Groups 1 through 12. An oval exhibition featuring a race car show of judged competition for the A.J. Watson and Sir Jack Brabham trophies led by track historian Donald Davidson will also take place.
The weekend is also the second of three stops for the Pre-1920 Exhibition Series during the season. The first is at Sonoma Raceway in June and the third at Watkins Glen in September.
The Pre-1920 cars involved are extremely rare, in some cases the only example in existence. Long retired brands including Mercer, Packard, EMF, and Locomobile are part of the series. The National that finished seventh in the first Indianapolis 500 in 1911 is entered. These unique and amazing machines will be part of their own run group so, these are not static displays, they are real, running machines. Those machines will also have a special paddock corridor with in-period tools, spares, and other equipment on exhibit. Drivers and riding mechanics will dress in the apparel of the early days, including leather helmets.
SVRA sponsors Jaguar and Land Rover will also be on hand to present arrive and drive experiences. Anyone with a valid driver's license and closed-toe shoes can drive the cars. Professional drivers will coach fans that want to challenge their skills and feel the performance of a Jaguar F-Type on a certified autocross course.
Form ore information visit www.svra.com