As part of Renault's 50th anniversary celebrations in 2022 for the Renault 5, the French manufacturer debuted its R5 TURBO 3E show car at the Chantilly Arts & Elegance 2022 event on  September 25th.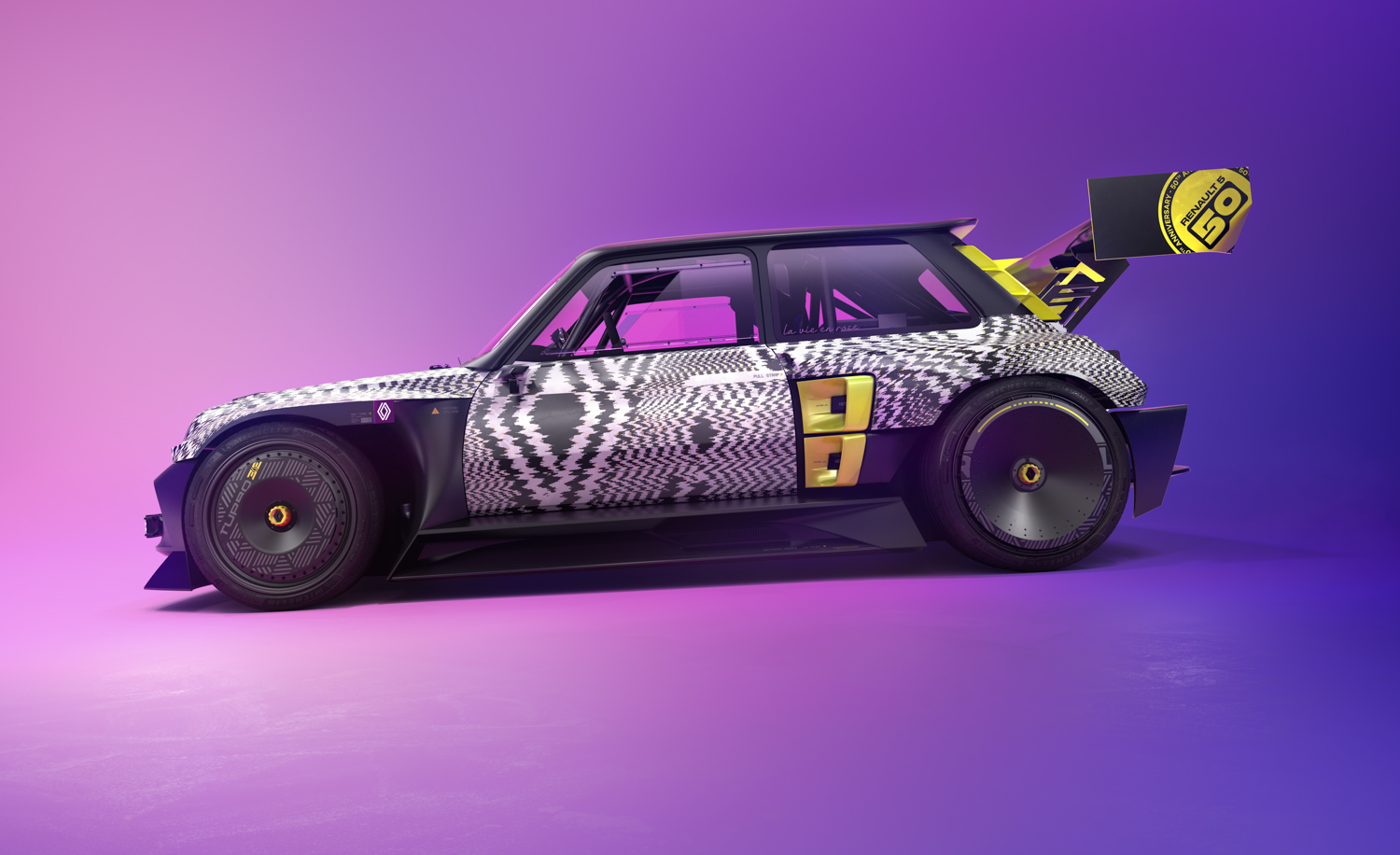 This all-electric show car's contribution to the Renault 5's 50th anniversary celebrations is a contemporary take and tribute to the most celebrated sports versions – the Renault 5 Turbo and Turbo 2. It has been named R5 TURBO 3E because it follows the Turbo 2 with the "E" standing for electric.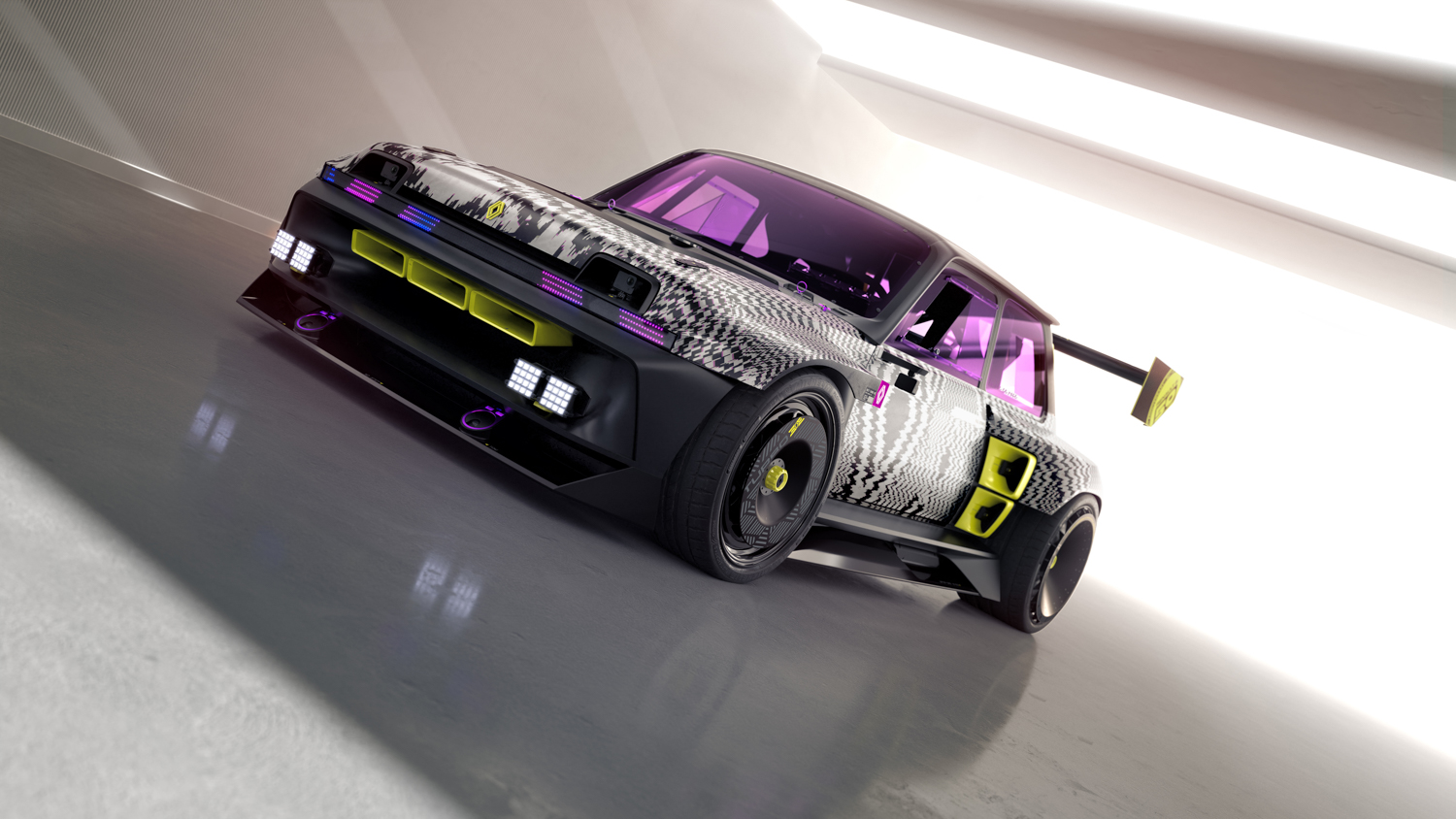 Renault's Vice-President Design, Gilles Vidal said, "Renault 5 TURBO 3E combines ultra-tech design and wilful exuberance with numerous references to the world of car racing and video games. This combination propels the show car into modernity and technology, and it's at the frontier between the real and virtual realms. This pure electric "drifter" demonstrates that electric cars can also be fun with incredible performance!"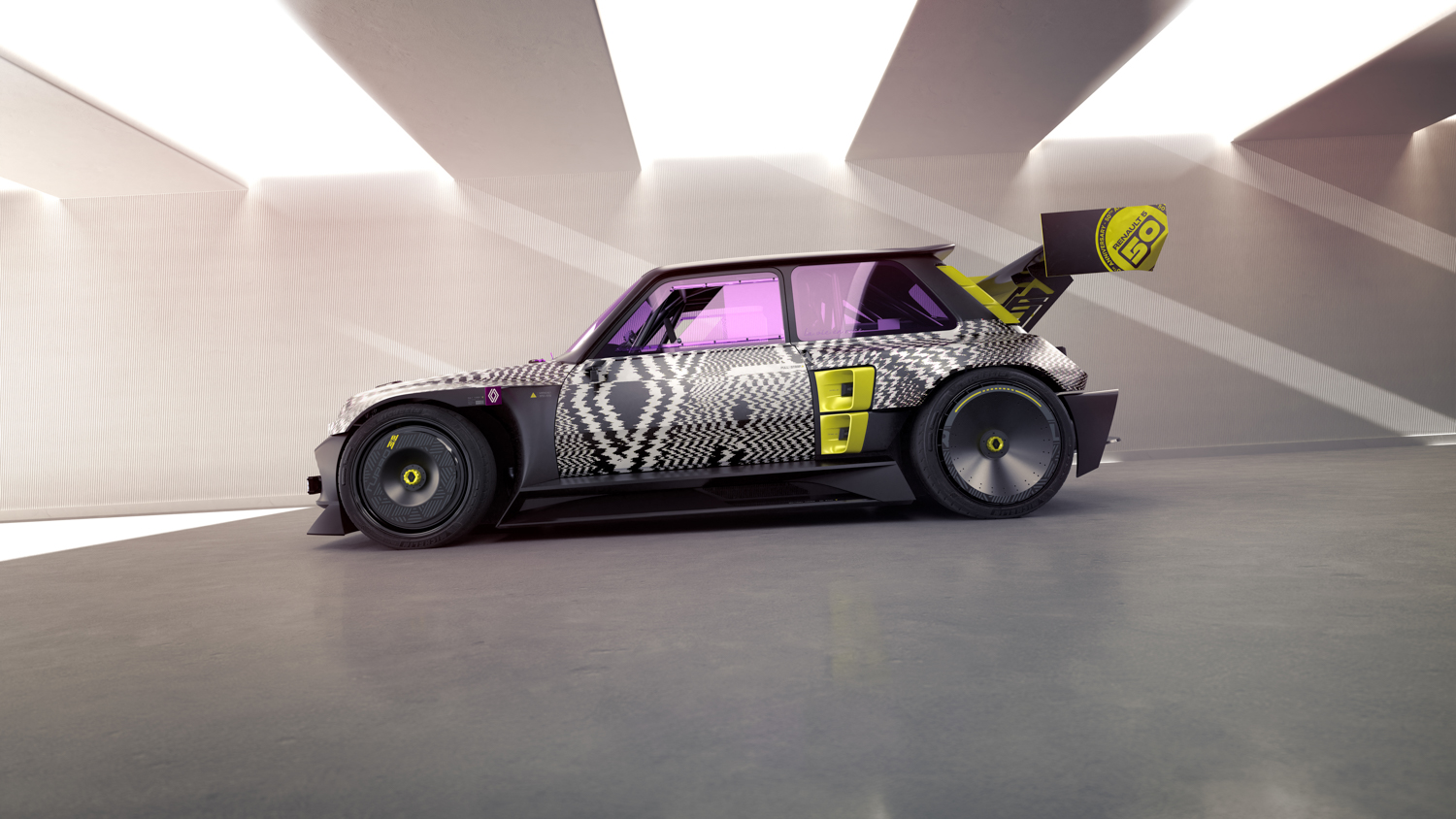 R5 TURBO 3E is another example, alongside the Renault 5 Prototype, of the "electric rebirth" of a flagship model of the brand. Renault is electrifying its history to better prepare its all-electric future in Europe by 2030.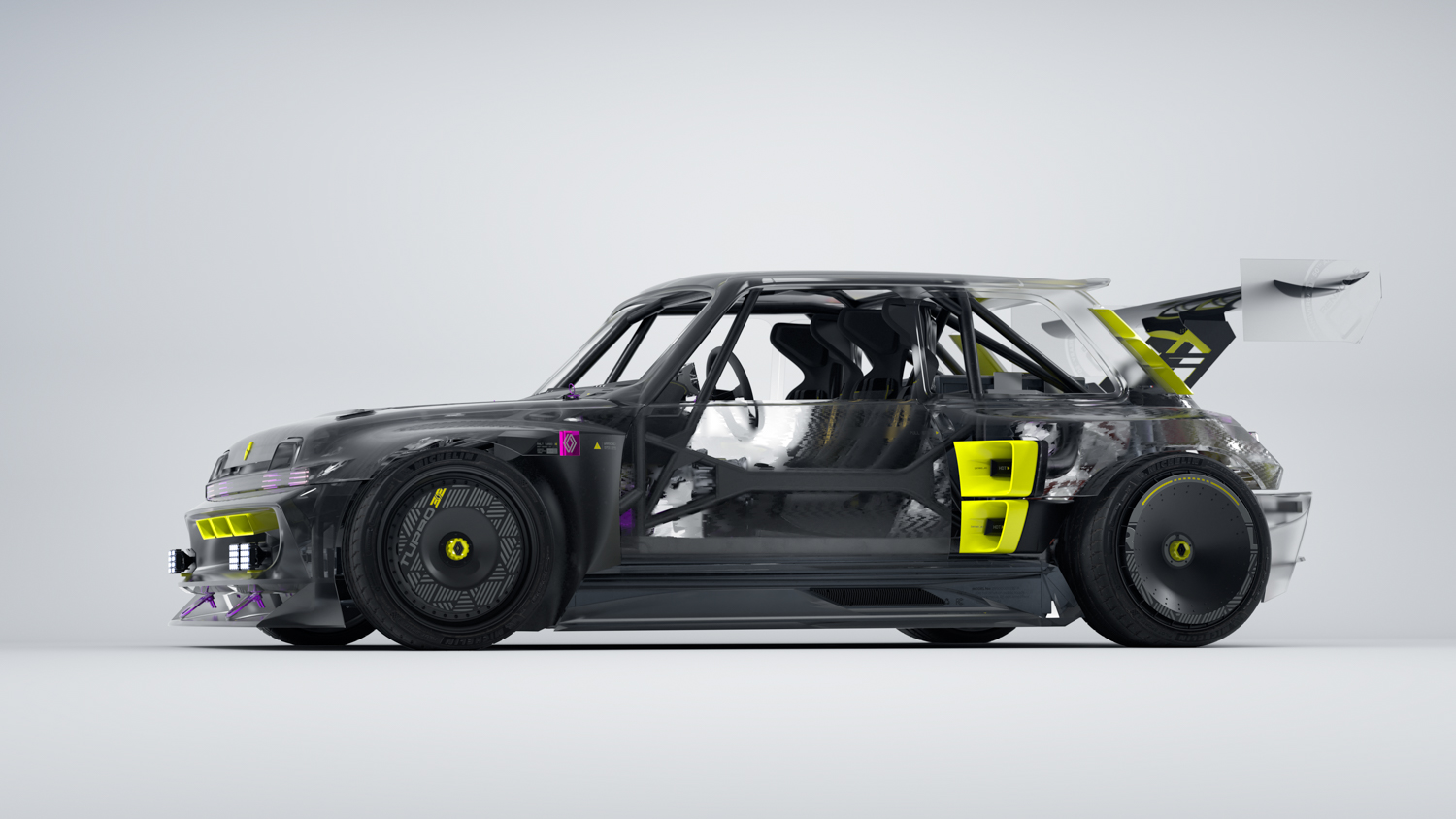 The R5 TURBO 3E is engineered for performance and tracks. It's an all-electric, rear-wheel drive, pure drifter. Like its iconic predecessor, it is strictly a two-seater. However, the rear now houses the powertrain – two electric motors, each moving one of the wheels, with the batteries in the middle under the floor.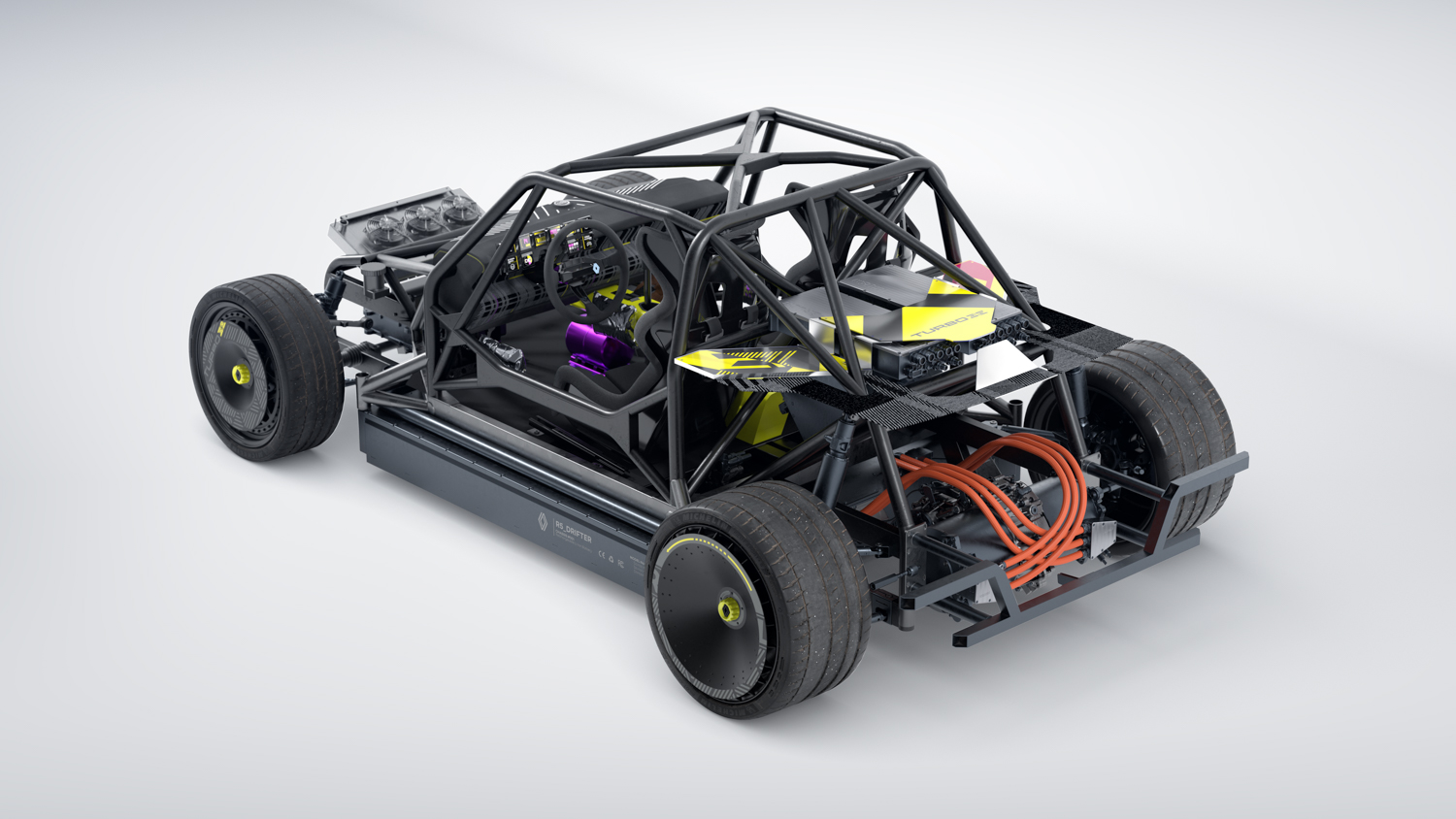 R5 TURBO 3E is built on a tubular chassis, protected by a flat base and shielded by roll bars approved by the Fédération Internationale de l'Automobile (FIA). The motor has 280 kW (eq. 380 hp) of total power and 700 Nm of instantly available torque.
This new-generation R5 Turbo 2 can reach a top speed of 124 mph. Its 42 kWh battery has plenty of capacity for several laps or a raging gymkhana. In these situations, it has a 50-plus steering angle so it's easier to dodge obstacles.
"A work of art with exaggerated lines, inspired by the videogame universe, with hints at the Renault 5 and Renault 5 Turbo inside as much as out." This was the brief handed to the teams working with Sandeep Bhambra, Chief Designer for Renault concept cars, for the R5 TURBO 3E show car.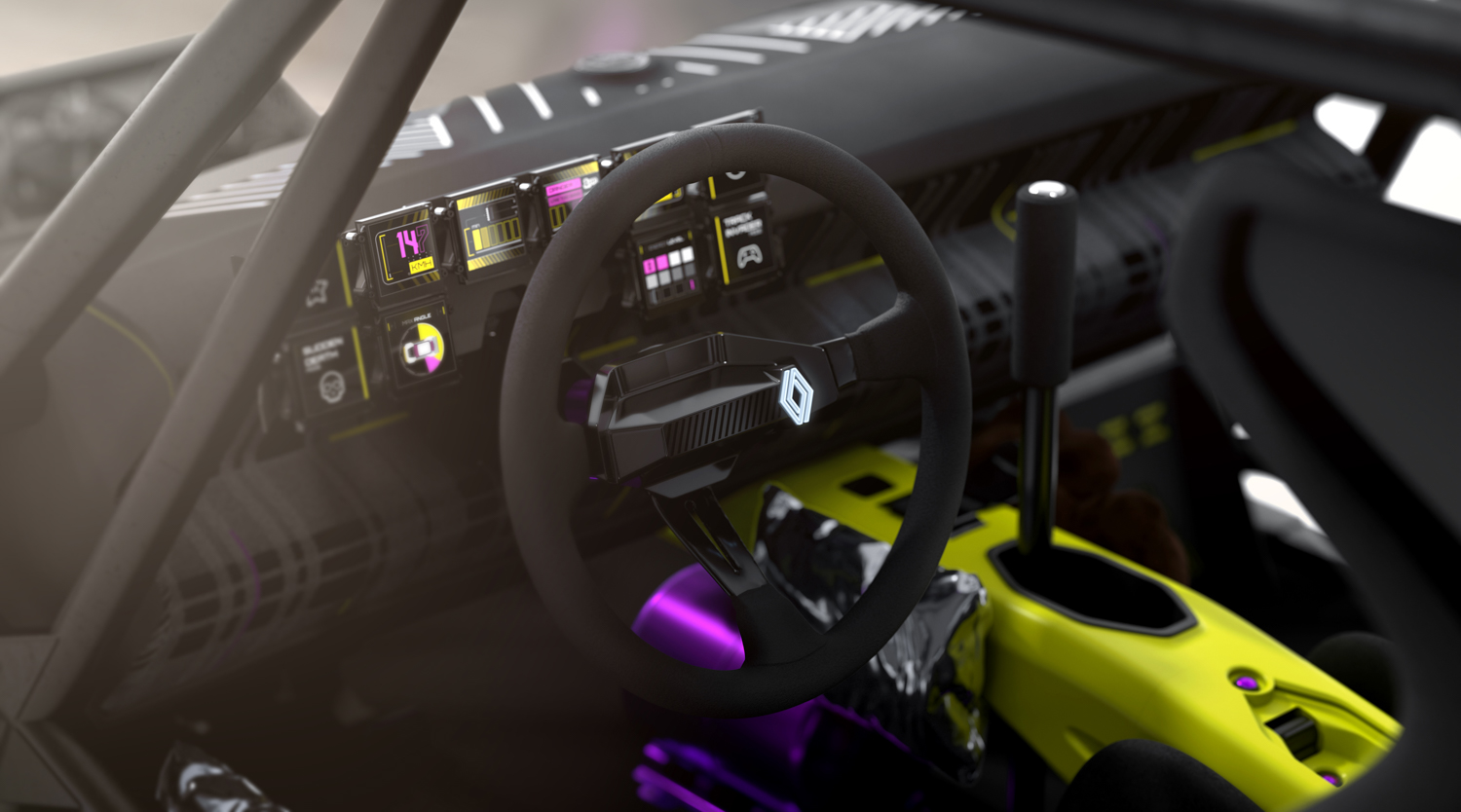 The bonnet, doors and cockpit are the same shape as their predecessors – but this time the body is made of carbon fibre. R5 TURBO 3E, in other words, is unmistakably part of the dynasty. It also has a fresh take on the Turbo 2's iconic air inlets on the rear fenders. It is 2.02 metres wide (25 cm more than its forbear), 4 metres long and 1.32 metres high. Its most striking feature is its huge rear spoiler that pulls the car to the ground, even on the wildest drifts.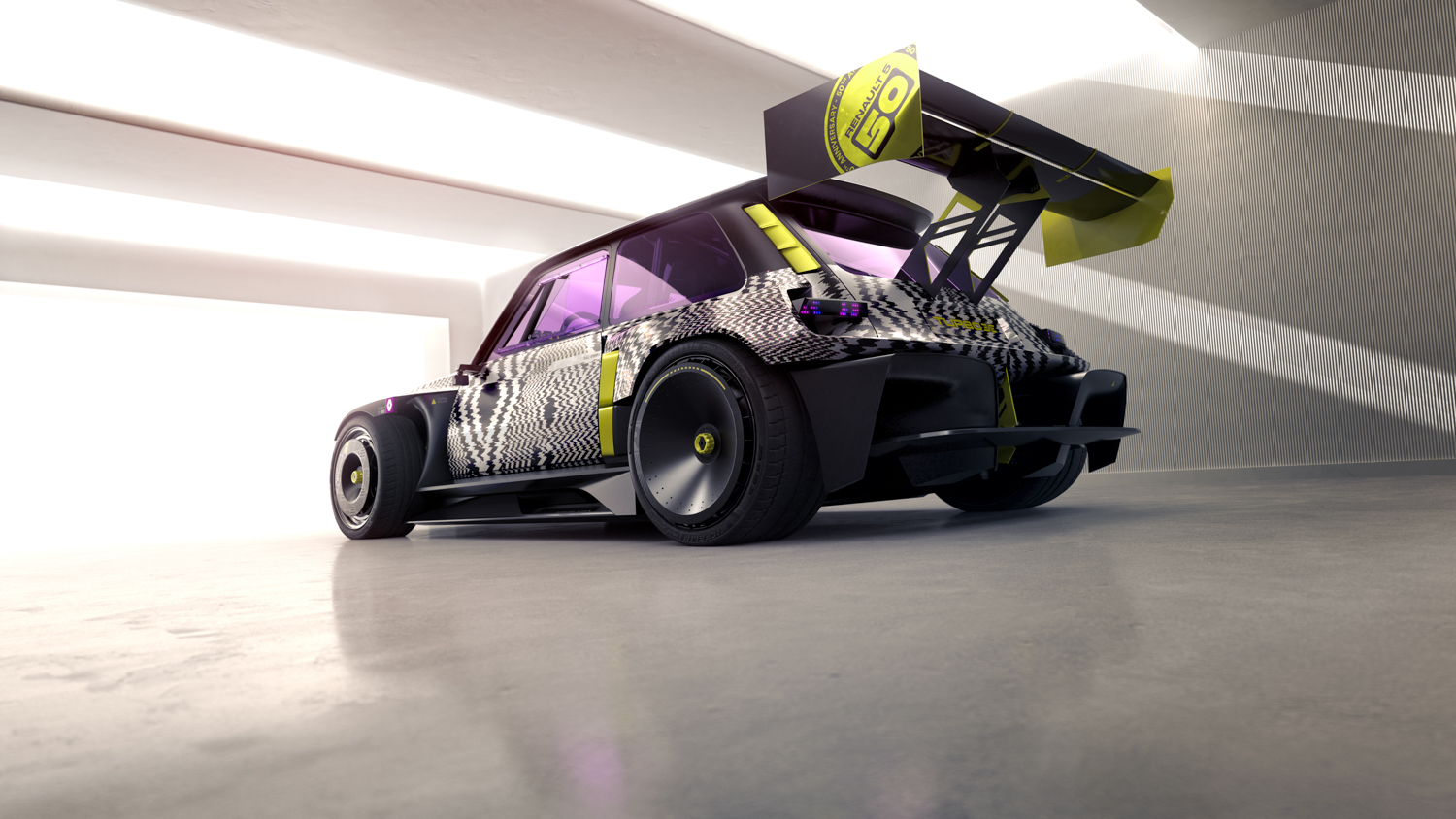 Length: 4.006 m including the rear spoiler
Width: 2.02 m
Height: 1.32 m
Wheelbase: 2.54 m
Front overhang: 625 mm
Rear overhang: 740 mm
Chassis: tubular (+ flat base + FIAapproved roll bar)
Weight: 980 kg (+ 520 kg of batteries
Front tyres: 225 x 35 R19
Rear tyres: 325 x 25 R20
Powertrain: All-electric
Power: 280 kW (eq. 380 hp)
Torque: 700 Nm
Battery: 42 kWh lithium-ion
Full charge: 2 hours with a 380V/32A charger
Top speed: 200 km/h
0 to 100 km/h: 3.5 sec (3.9 sec in Drift mode)