The search for speed has motivated every racer since the dawn of the sport, obsessively driving them to go as fast as possible in pursuit of victory. In those early days, of course, the velocities being chased were much lower than those eventually achieved, and the cars were rudimentary relics in comparison with the ground-based missiles they would become. With the passage of time, the accumulation of automotive knowledge fostered advances in technology that raised the rate at which the races were run and, while dutifully witnessing this progress, the sport's dedicated corps of reporters and record-keepers made careful note of each new milestone marked and barrier broken.
The fastest track of all was usually the Indianapolis Motor Speedway, which measured 2.5 miles in length. Built by developer Carl Fisher and opened in 1909, the four-cornered "Brickyard" gave drivers ample room to explore the limits of their machines. Although starting positions for 1911's inaugural Indianapolis 500 were determined by the order in which the entries were received, precisely measured qualifying laps — called Time Trials — were soon adopted to set the starting lineup, and in 1916 Indy's 100 mph barrier was broken by no less than Barney Oldfield, who stopped the clocks at 1:27.70, for an average lap speed of 102.623mph.
When Oldfield cracked the century with his blue Delage, most "Indycars" were stripped-down, spindly creations — with second seats for riding mechanics — that rolled along on narrow passenger-car tires wrapped around tall wire wheels. The badges they wore came from some of the world's top carmakers, among them Peugeot, Duesenberg, Sunbeam, Maxwell, Premier and Frontenac, as well as Delage. With natural evolution these early expressions of the racer's art became ever slimmer and sleeker as designers sought to establish whatever advantage they could over their competition.
Four decades of such mechanical progress produced a selection of slick, slipstreamy specials called "roadsters" and, In 1957, the grand Italian autodrome at Monza hosted the first of two annual events — known as The Race of Two Worlds — on the verdant park facility's steeply banked 2.6-mile oval. Those contests pitted America's fastest cars and drivers against their European counterparts who, as it turned out, were not quite up to the task.
Because the Indianapolis 500 actually counted as a round of the Formula 1 World Championship during the 1950s, the Europeans were not completely unfamiliar with the Indycars, even though they differed somewhat in essential specification from their F1 equivalents.
Ten Indy roadsters from America were thus sent to challenge a similar number of European machines over three 63-lap heats totaling 500 miles, but the Indycars had Monza handled. Tony Bettenhausen's supercharged pole speed of 176.818mph in the beloved Novi-powered Kurtis KK500F outlier established a new world closed course speed record in '57, and the following year Jim Rathmann averaged 166.756mph for the 500 miles in John Zink's Watson-Offy to win the fastest race yet run, anywhere by anyone.
Back in the USA, Bill France was busy building his Daytona International Speedway — 2.5 miles around, with turns banked at 31 degrees — and wanted the speed record for his new facility once it opened in 1959. He convinced the United States Auto Club to bring its Indycars to race there, and a 100-mile National Championship contest was duly scheduled for Saturday April 4, 1959. Unfortunately, during a test session several weeks before the race, veteran driver Marshall Teague was killed in the crash of his Sumar Special Streamliner, but USAC decided to proceed as planned.
It proved a fateful choice. On the last of the race's 40 laps, promising youngster George Amick died after losing control of his Bowes Seal Fast Epperly-Offy and hitting the wall exiting Turn 2, which ignited a sickening series of flips and rolls that scattered debris the length of the backstretch. Neither Dick Rathmann's pole-winning lap at 173.210 mph with the Sumar Kurtis KK500G roadster, nor the 176.887logged by Amick in second-day qualifying had managed to hit France's target, but it didn't matter. The Indycars of the day were simply unsuited for Daytona's high-banked layout, and never ran there again.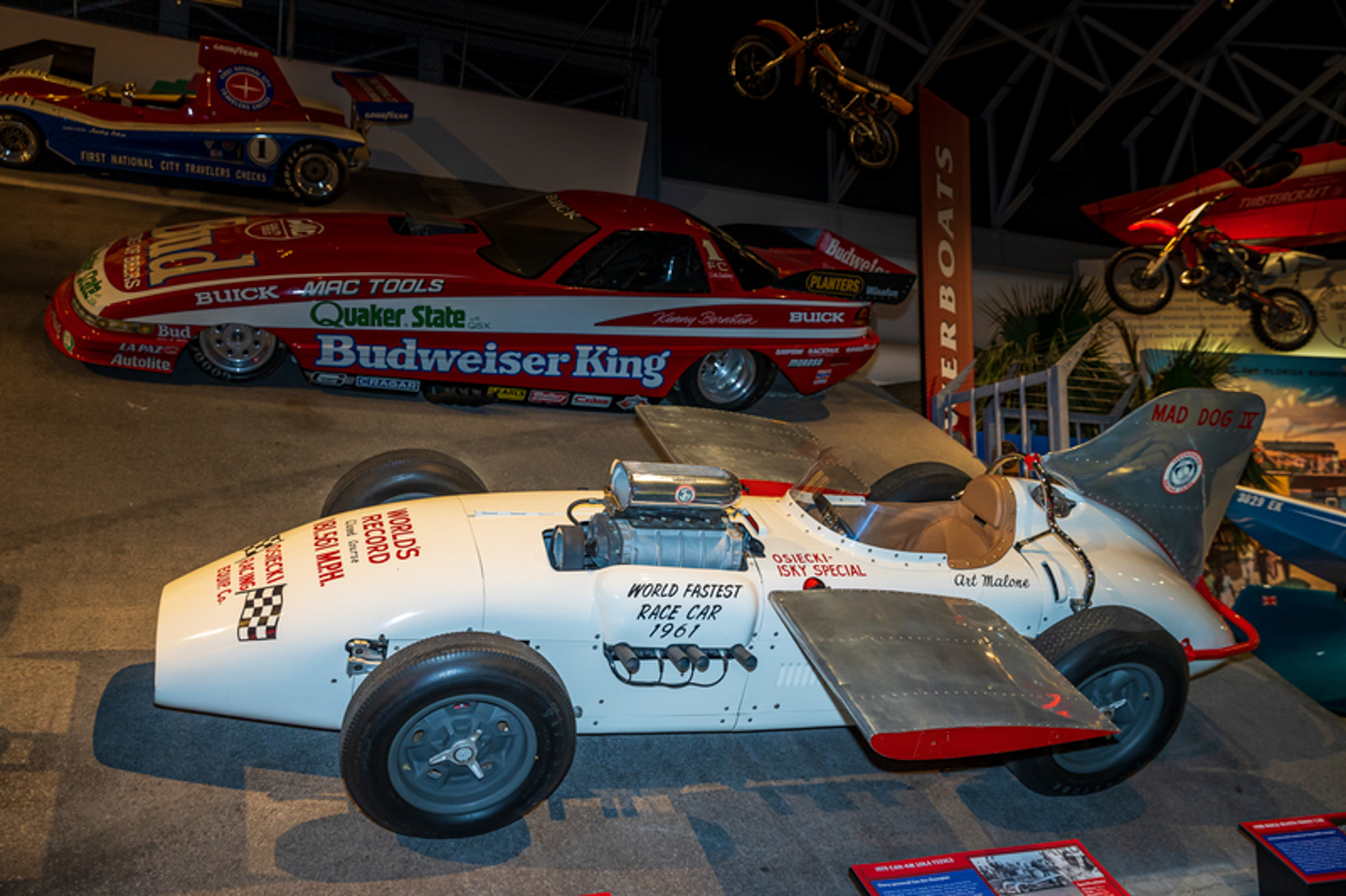 France then offered a $10,000 prize for anyone who could lap his Florida tri-oval in 50 seconds or less, posting an average speed of 180 mph or more. Among those answering the challenge was veteran race mechanic Bob Osiecki, who acquired and modified a Kurtis Indy roadster chassis originally built for Firestone's tire testing program. With guidance from Georgia Tech aerospace professor John J. Harper, Osiecki ultimately installed a supercharged Chrysler Hemi engine, then added side wings and a dorsal fin aft of the cockpit. He called this final version Mad Dog IV and hired young drag racer Art Malone to drive it. In late August of 1961 Malone completed the mission, turning a lap at 181.561mph to better Bettenhausen's Monza mark and collect France's cash. He and Daytona would reign for nearly 11 years.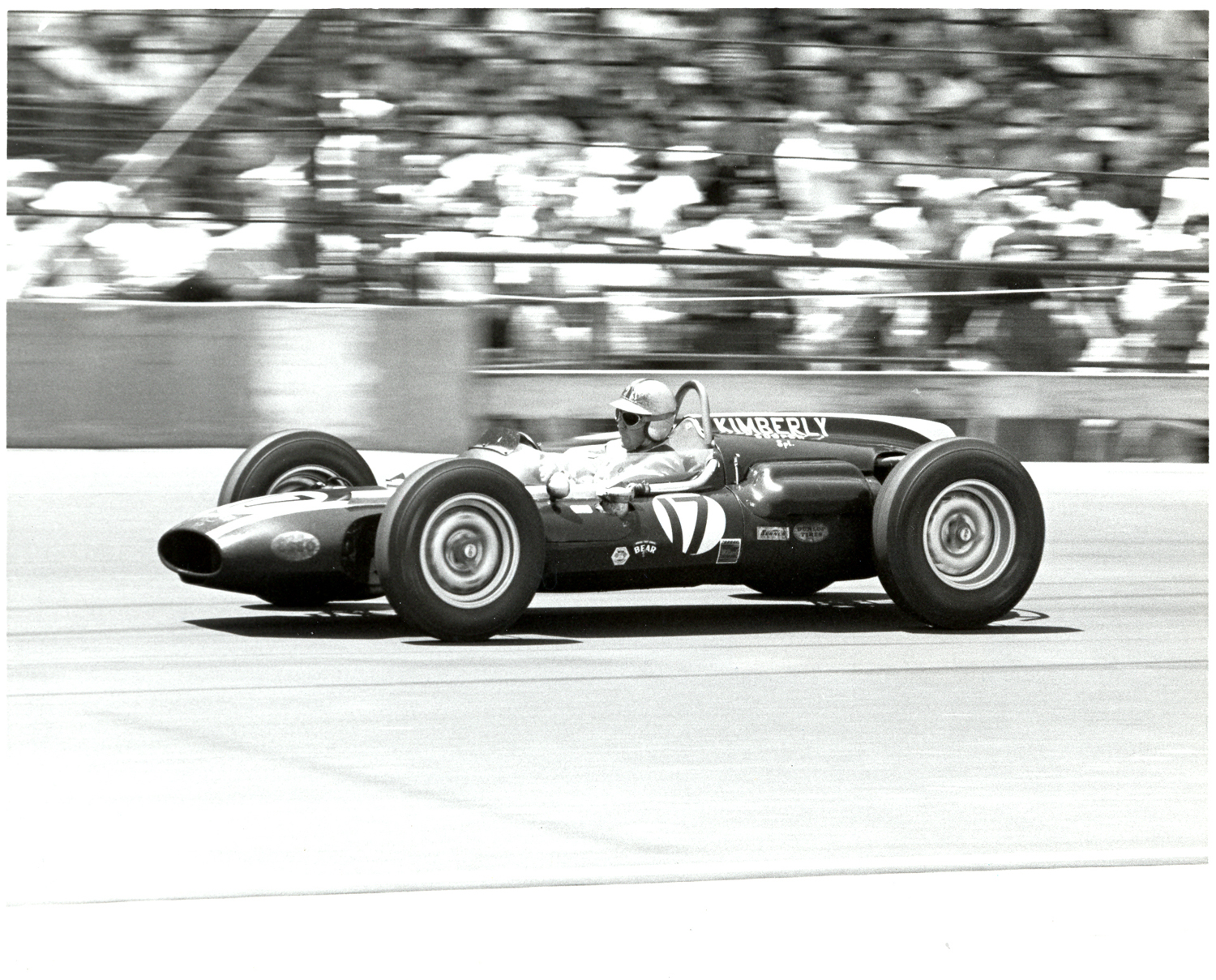 Nineteen-sixty-one was also the year that the rear-engined revolution began at Indianapolis as Jack Brabham and John Cooper entered an over-bored but underpowered Climax-engined F1 Cooper and pushed open the door to the future. The next year — the first that the track's racing surface was entirely asphalt save for the commemorative Yard of Bricks at start/finish — Parnelli Jones broke Indy's 150 mph barrier in J.C. Agajanian's front-engined Watson-Offy roadster. By registering the Speedway's first sub-one-minute lap in 59.710 seconds — an average speed of 150.729 mph — Jones initiated a nearly annual revision of Indy's lap record. By 1971, it had reached 179.354 mph, as Peter Revson took Pole for that year's 500 with a new track record four-lap average of 178.696 in the works McLaren M16-Offy.
A year later, following a broadening of USAC's aerodynamic regulations, Indy's bravest drivers began flirting with 200, although none managed to master the necessary magic. Fastest of all, when the clocks were officially ticking, was Bobby Unser, who wheeled All American Racers' Olsonite Eagle to new one- and four-lap records of 196.678 and 195.940. Such year-on-year increases — more than 17 mph in both standards — had never been seen before nor ever would be again. Bobby's love for his new car was evident: "It was so far ahead of the competition that it was incomprehensible."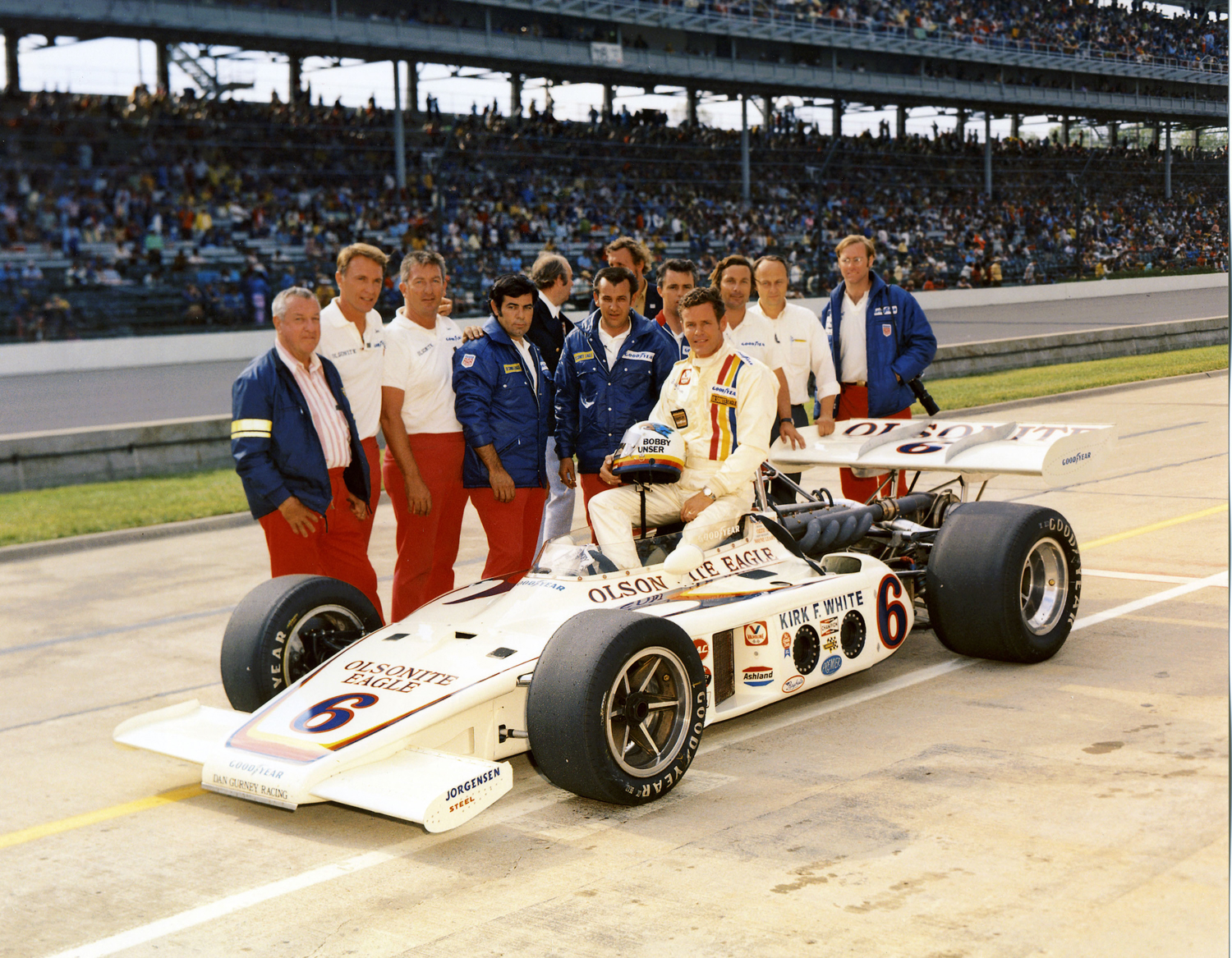 Although Unser's Eagle led the opening 30 laps on race day, on the 31st its distributor rotor broke and ruined his day. Teammate Jerry Grant nearly won the race in AAR's purple "Mystery Eagle" team car, surging to the front in the late laps only to be derailed by a misplayed pit stop as Mark Donohue earned Roger Penske his first Indy win with the Sunoco McLaren M16B-Offy.
"We should have won the 1972 race," acknowledged AAR boss Dan Gurney, "but we were pushing the engine envelope a lot, and we didn't have a large test track or lots of dynamometers to take good care of the reliability side. That probably accounted for Bobby's early retirement. When Jerry made his last scheduled pit stop we were leading, but a few laps later he came in for an unexpected tire change. We'd lost our radio about three laps into the race, so I had to guess why he was coming in.
"The only thing I could think to do was to add some fuel, so I waved Jerry into Bobby's slot, but he gesticulated that he needed a change of front tire. It had gone out of balance and was shaking, and he didn't have a strap to keep his head from falling over, so he was trying to drive with his head on his right shoulder. He thought he might not make it, so it was one of those nightmare situations. In the pandemonium I tried to tell the crew not to put fuel in after all, but they hooked up for about six seconds. We changed the wheel, by which time we'd lost over a lap, and Jerry came out behind Mark Donohue. He unlapped himself and finished second, but George Bignotti had witnessed the fuelling from Bobby's rig, which was against the rules, and he protested to the officials. As a result, they stopped scoring our race at Lap 182 and Jerry ended up 12th."
Unser's Indy pole that May had been the fifth in his wicked record-setting string of eight straight new-track-record pole position performances stretching back into the previous season. That streak would end at Milwaukee, in August, following a disputed qualifying session that led Gurney to withdraw Bobby's entry in protest. Three weeks later at the Ontario Motor Speedway, Indy's slightly wider Southern California clone, racing's 200 mph barrier would be officially broken — but it wouldn't be Unser doing it.
Milestone Maker
AAR's quest for the 200 mph lap began with its new car, the 7200-series Eagle-Offenhauser, but there were, of course, other contributing factors. USAC's new rules had finally permitted teams to mount true wings, as long as they were neither attached directly to the suspension nor adjustable while the car was moving. Unlike the winglets that had begun appearing in the late '60s, these wings were huge. Their outer edges extended to the centerline of the tires and, in consort with the advance of technology into the realm of treadless — not quite yet "slick" — tires brought an unprecedented escalation of Indycar speeds.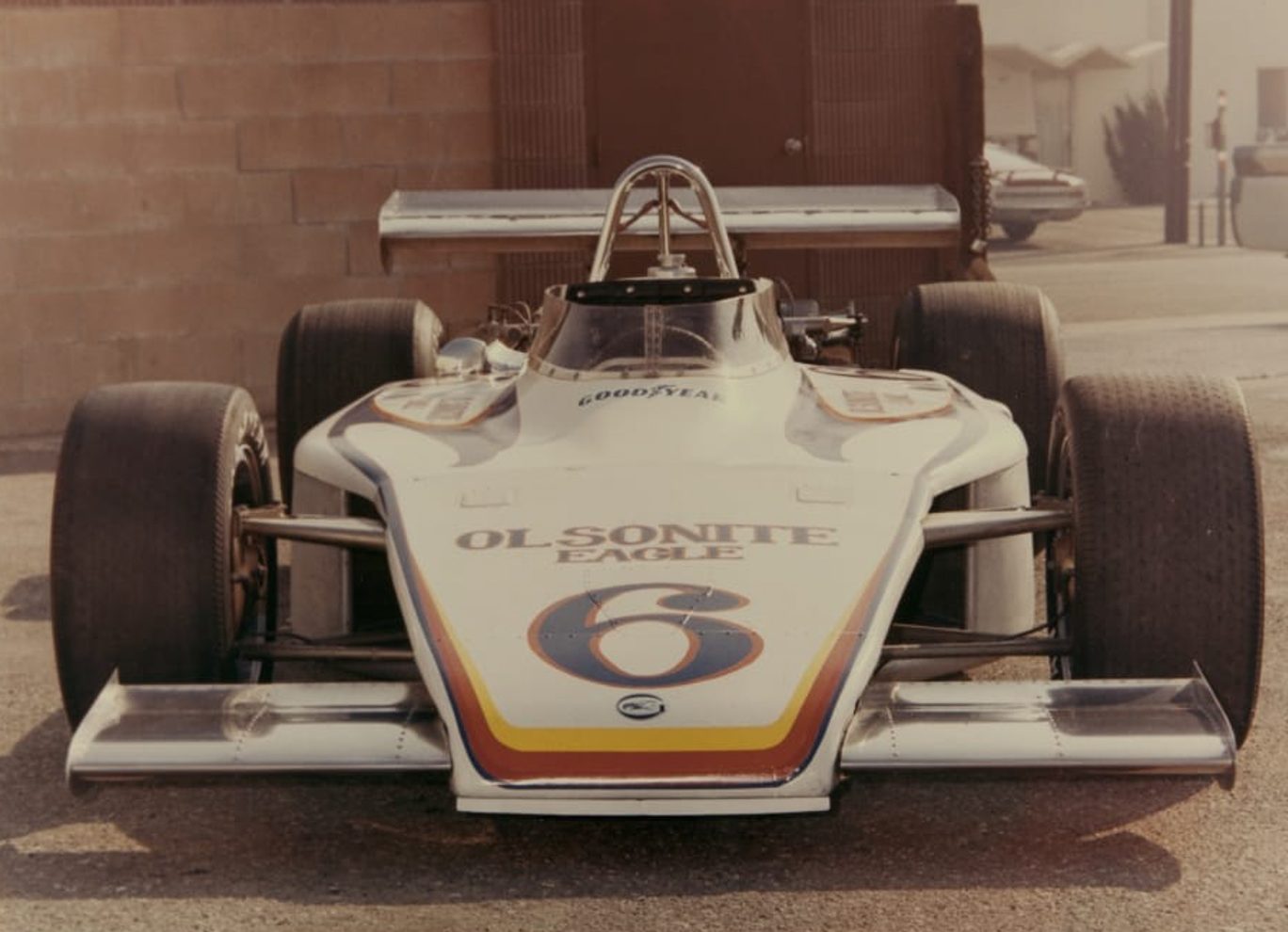 "What we did with our '72 Eagle," declared Gurney, "was try to build a nice home for the Offy engine. That meant very good cooling. The realization that we were looking at big jumps in speed took us into new territory from the structural standpoint, so we also had to build it more robust to maintain a degree of safety. Roman Slobodynskyj, the head of our design group, was very good at packaging a car, which in the end dictates how safe and efficient it is. Roman was consistently very good in those areas. He was good across the board, but from the packaging standpoint, he was excellent.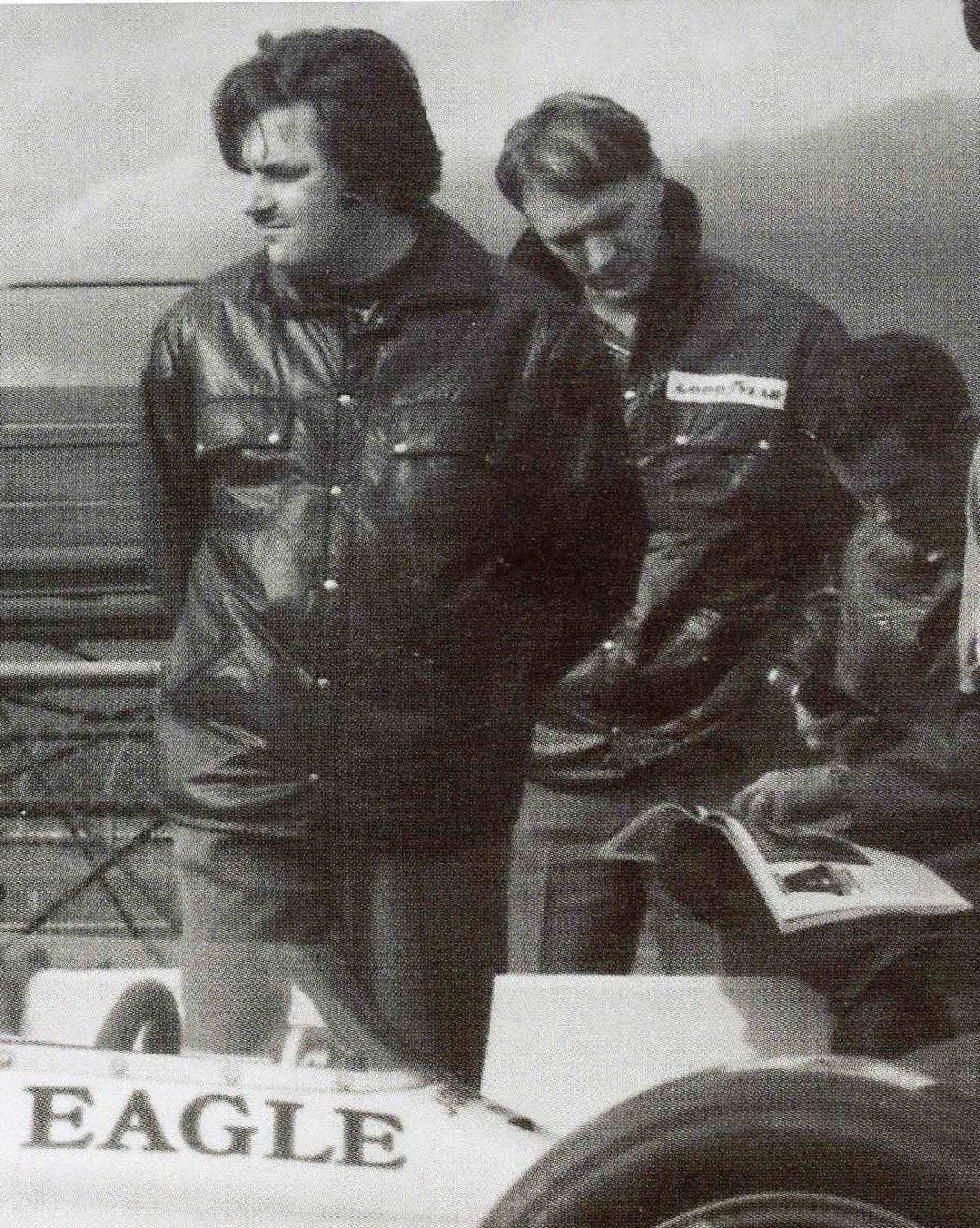 "In those days, before they learned that it was better to work together," Gurney continued, "the chassis people used to dictate to the engine people and the engine people would dictate to the chassis people. Guys like Dick Jones, Art Lamy and Art Early worked for Champion Spark Plugs (concentrating on the Offy because all the Fords used Autolites), and they were pretty emphatic about what was important. Cooling was high up their list, but aerodynamics were pretty far down. Eventually, you found out that you needed both, and both had to be done in the most efficient way. That's where Roman's packaging was good."
The '72 Eagle was Slobodynskyj's first full design for AAR. "I was trying to make it as good as possible," he explained. "I didn't think I was going to reinvent the world. We were carrying 75 gallons of fuel, and in previous cars the tanks were spread out through the length of the car and were fairly tall. I thought that the fuel should be more centralized so that as you burned it off, you wouldn't change the weight distribution. It also should be as low as possible so that you would get pretty decent airflow.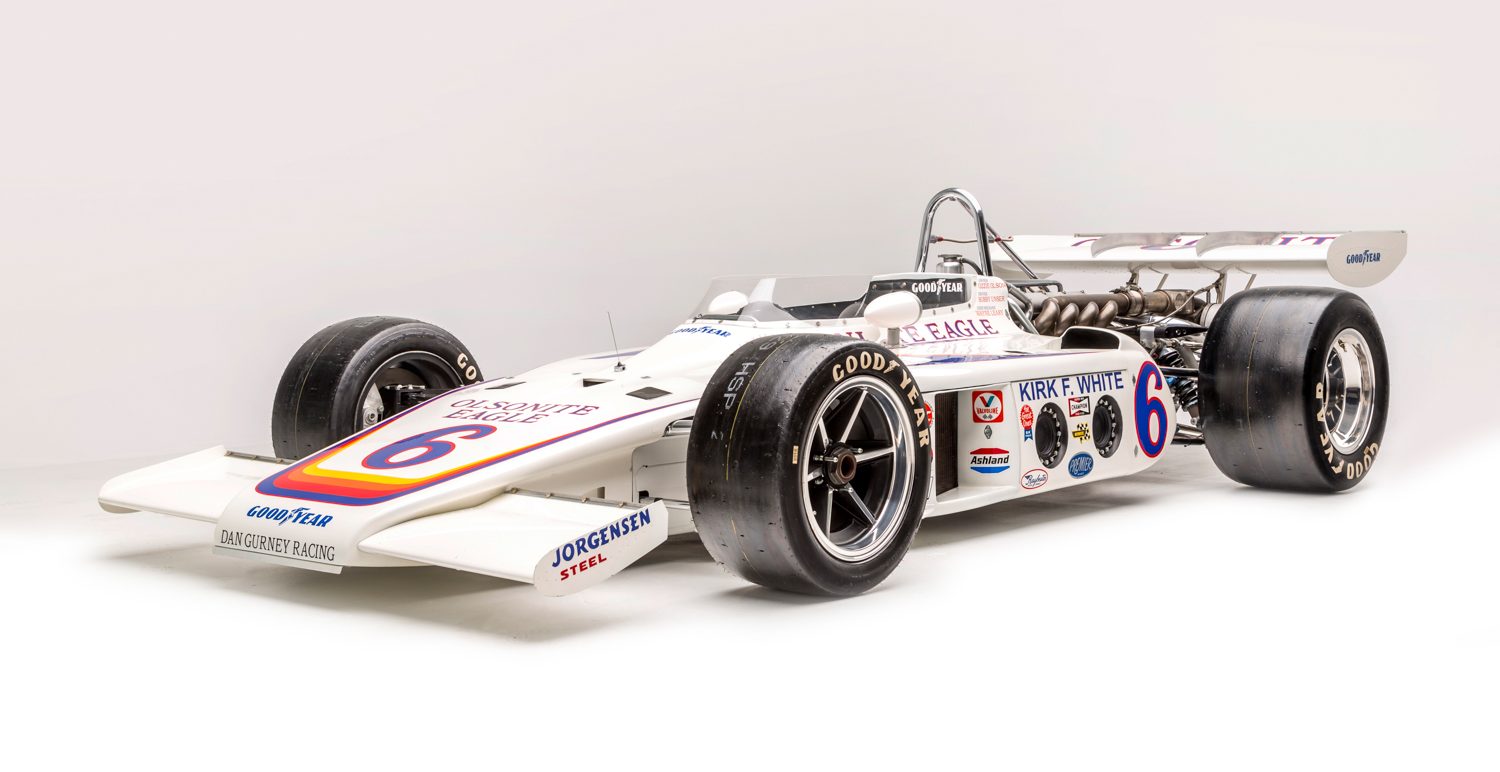 "The whole thing looked pretty clean aerodynamically, compared to some of the others. I also spent a lot of time on the geometry on the car, trying to fix the roll centers so they were as constant, relative to the Center of Gravity, as possible throughout the wheel travel. I wanted to get the polar moment down and also, by keeping everything nice and low, feed the wings as well as possible. I think we were probably ahead on aerodynamics and, of course, we had good engines. It was also the drivers. It was a total package."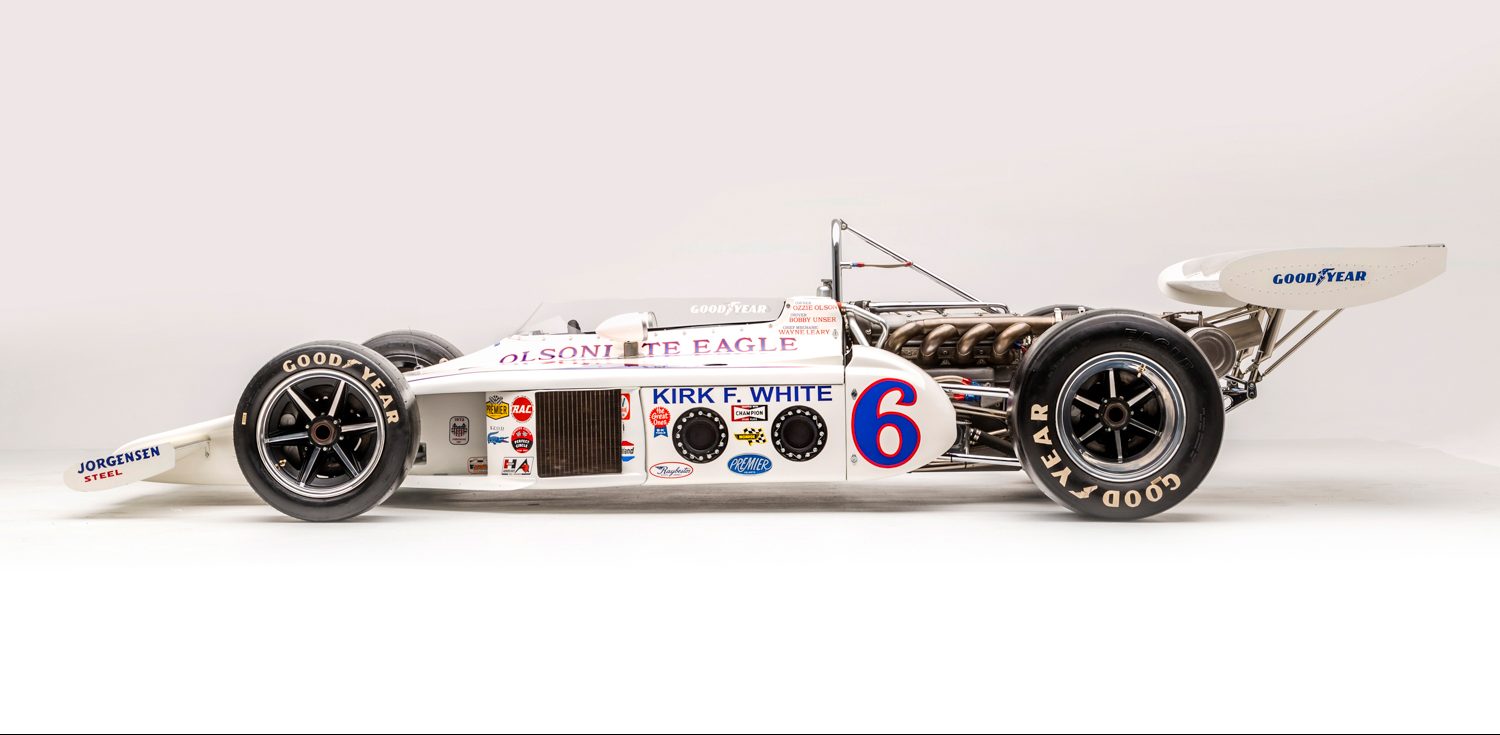 The experts at Indy agreed. AAR's 7200-series Eagle was that year's hands-down winner of the SAE's Louis Schwitzer Award for excellence in design, and Unser's crew chief Wayne Leary earned Mechanic of the Year honors. All the recognition may have been welcome, but in reality the new car was little more than another case of dedicated racers optimizing the prevailing regulations in pursuit of a competitive edge.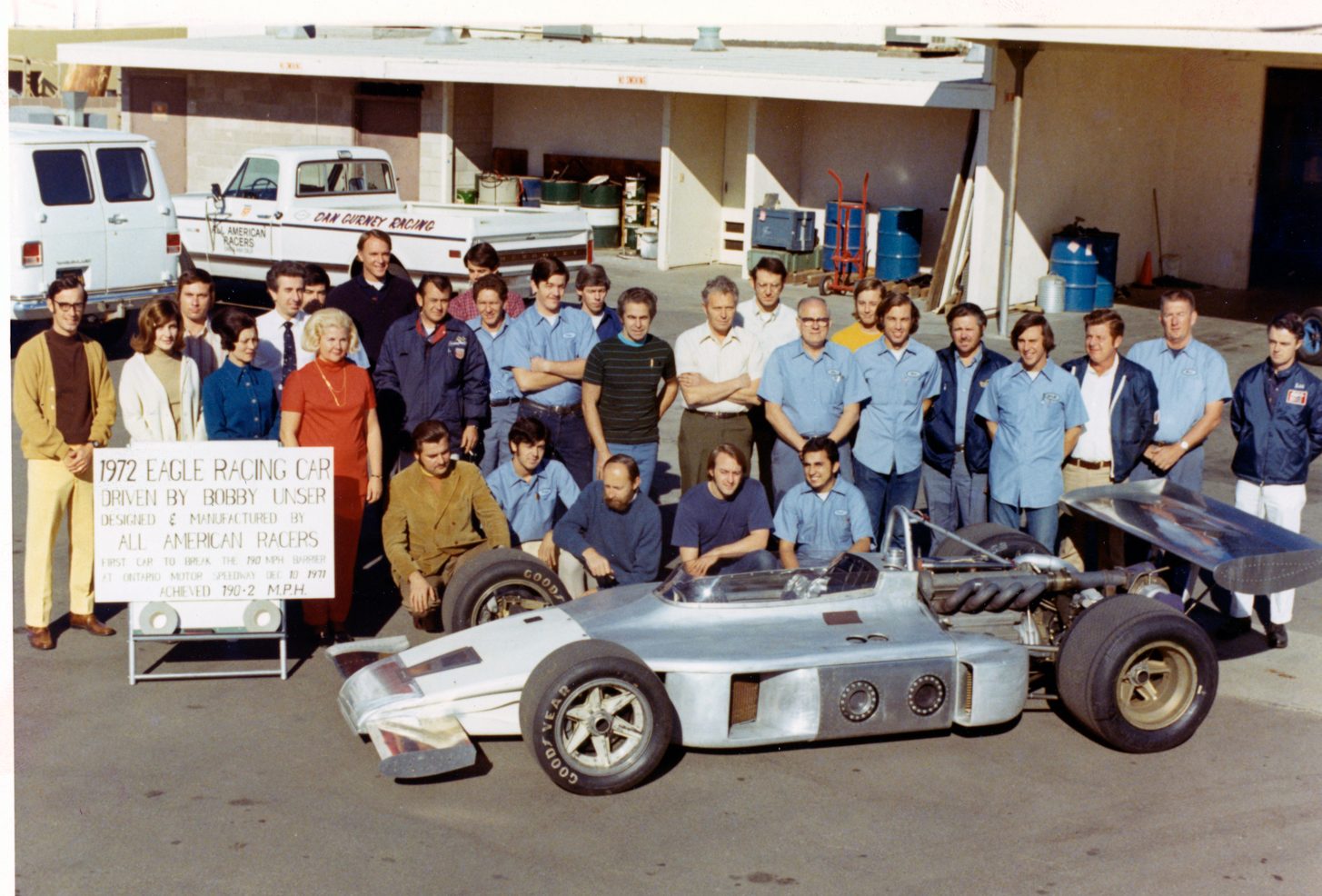 When Unser had taken the prototype out for its first shakedown run at Ontario on December 10, 1971, he clocked a lap at just over 190 mph! "The '72 Eagle was absolutely a good car when It was designed," he enthused, "and we did a bunch of development on that car, all of it gains, but the car was so good in the beginning that we just made little gains. Like wings. We became experts on wings, and during those days AAR was the absolute best! We had a lot of knowledge, and all of our development was good. Then all of a sudden, (engine builder) John Miller comes up with horsepower, and god help the rest of them. It wasn't even a race then."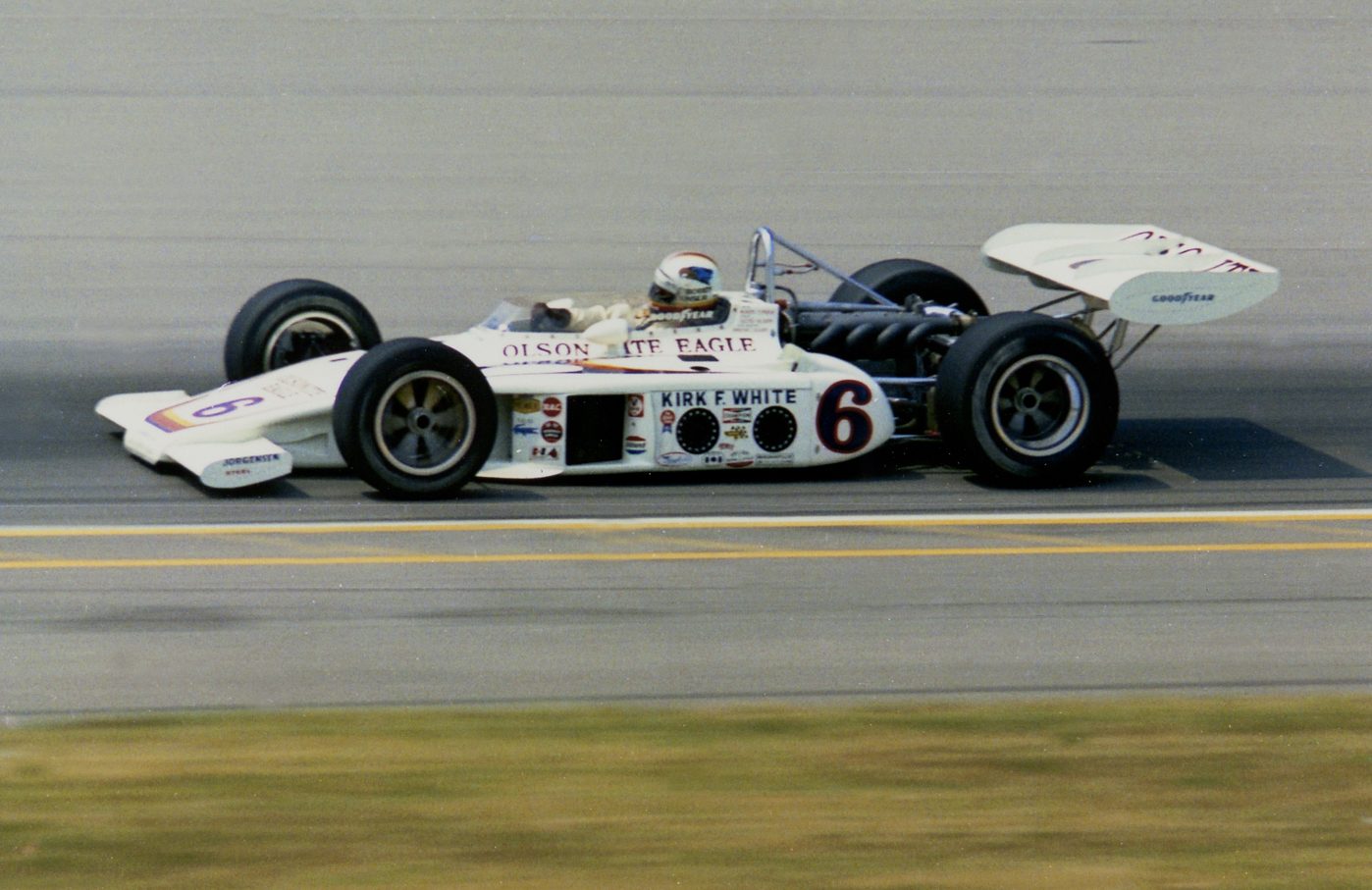 Unser described taking Pole Position at Indy as "so easy to do it wasn't even funny. By that time I had really perfected getting the car to handle the way I wanted it to. It was really good, and keeping the secrets was the biggest problem that I had.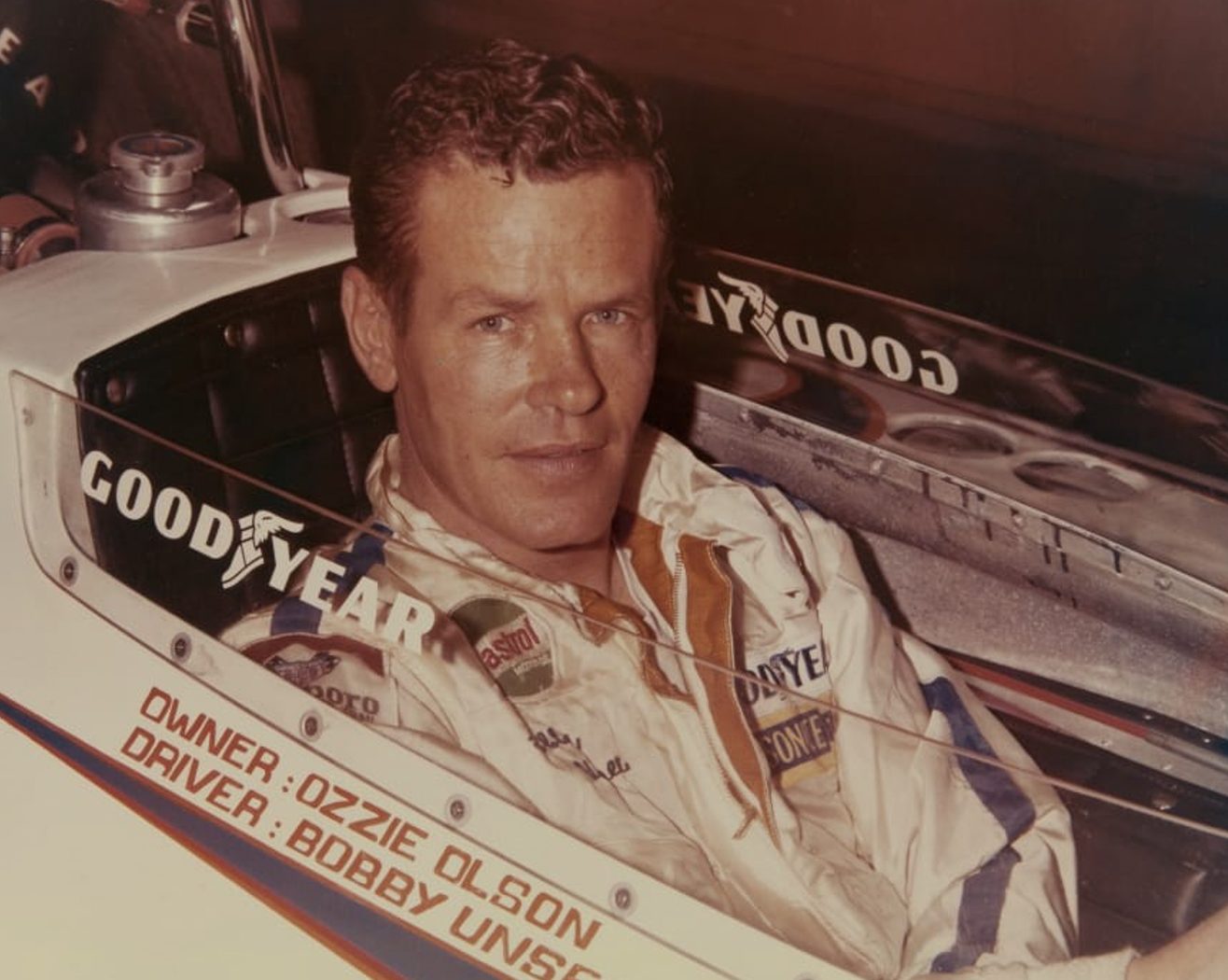 "I had made a deal with Dan when we started, and we always agreed that anything I did during testing, he'd always get a good, honest answer out of me — or a good honest guess. I'd never slack off the throttle to hide something. I would never lie or cheat in testing. And that was with Goodyear, or with Gurney or with any owner that I ever drove for. But, whenever we'd go to the racetrack for race day — that would include practice, qualifying or the race — it's Bobby's deal. Not Jerry Grant, not whoever else Dan might have hired, it's not for those guys. They get the same stuff I get; they have the right to do the same job I do, and god bless 'em they oughta go do it. I used to have big problems with Dan that way because he always thought it would be nice if I would take his other drivers — whoever they might be — and babysit them and help them along.
"Well, I'm the guy who's trying to make a living here. I'm not trying to make a living for those guys. It wasn't that I disliked them, but when it comes down to business, I'm a businessman. I'm hard, I know that, but I do it intentionally. I'm not there to help them out."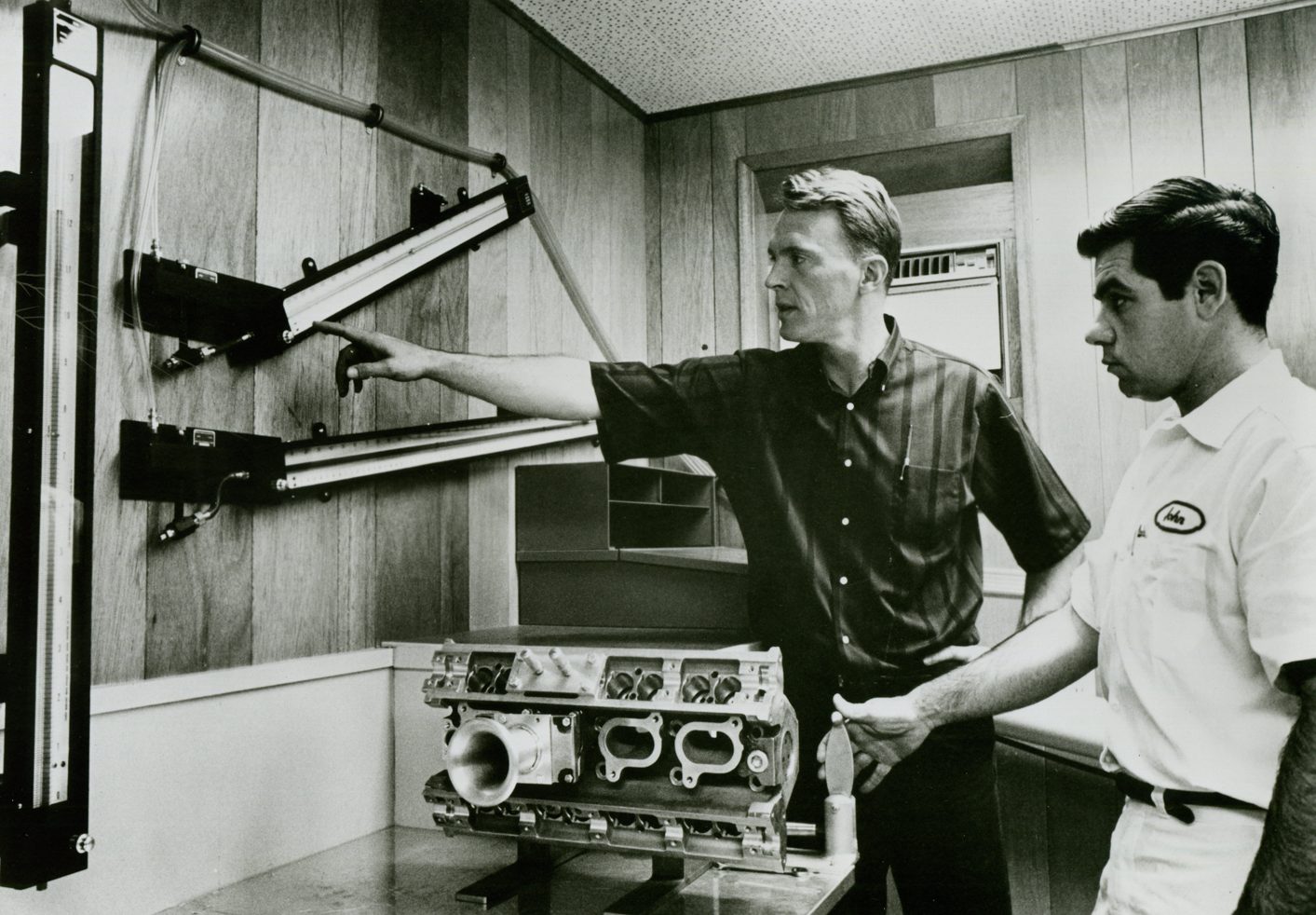 Unser's exploits were enabled by turbocharged, short-stroke Offenhauser four-cylinder power plants built by AAR engine master John Miller. Miller had commissioned Drake Engineering to produce grooved and lightened pistons to his design, then coupled them with special short connecting rods from Fred Carillo and added Leo Goosen-designed crankcases with two oil scavenge pumps instead of the usual one.
When everyone arrived at Ontario for the Labor Day weekend California 500, the plot, as they say, thickened, and history found itself looming on the horizon. To improve stability for that race, AAR had widened the Eagle's track both front and rear, a tweak that would become standard equipment on all the '73 Eagles. When Bobby abandoned first-round qualifying with engine troubles, however, the door swung open for his teammate.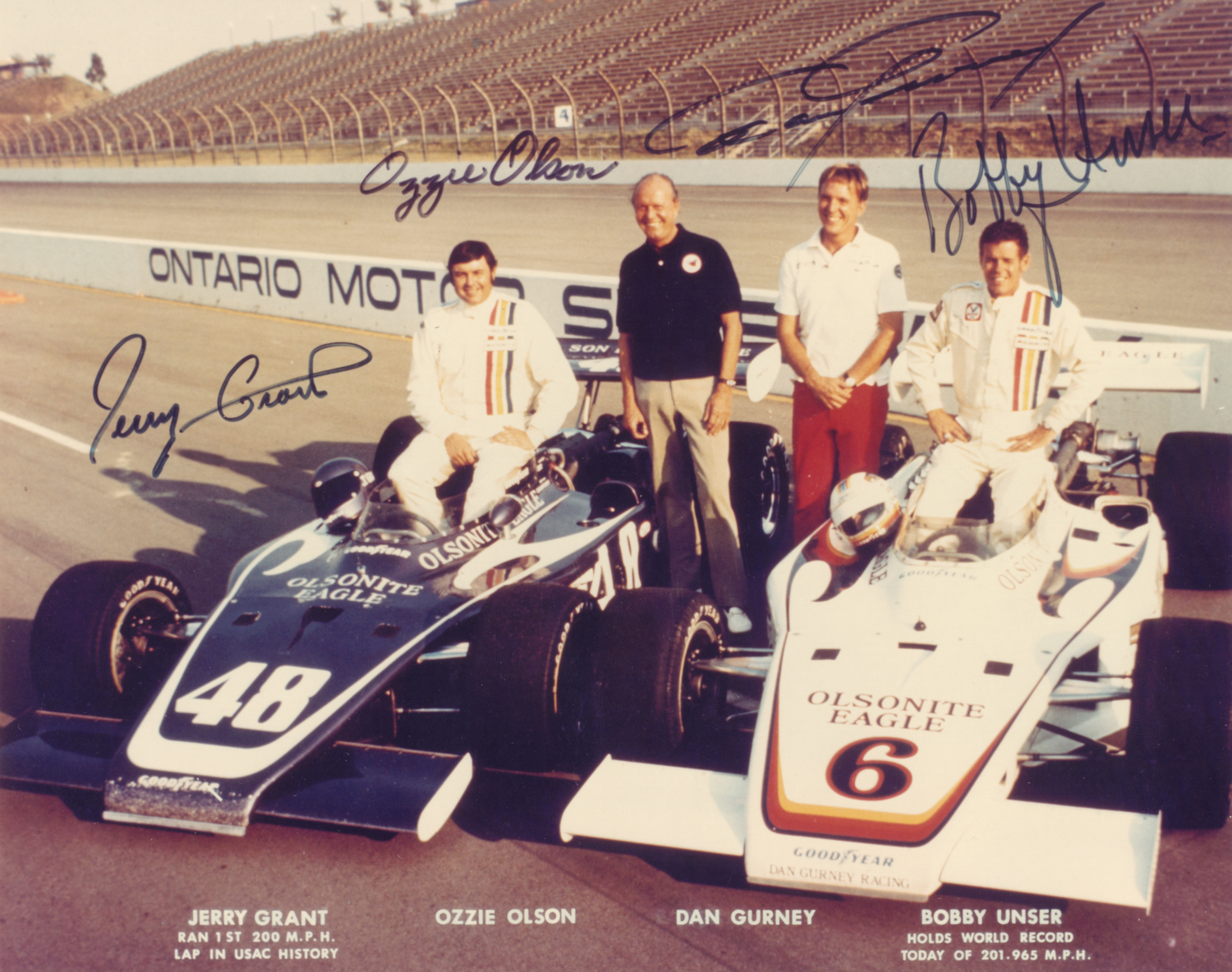 "I didn't blow the engine," clarified Unser, "I blew the intake log off the engine. The engine didn't break. John would put on the strongest, best hose clamps he could find to hold it on the injectors, but it had so much boost it would just blow it off! Of course, because I shut it down so quickly, everybody thought that the engine blew, but it didn't. I ran the same engine the next day, and the only difference was that John went and got some really big heavy tie-wraps, and tie-wrapped that intake log to the injector manifold. Then it didn't jump off, so I had my horsepower all the time."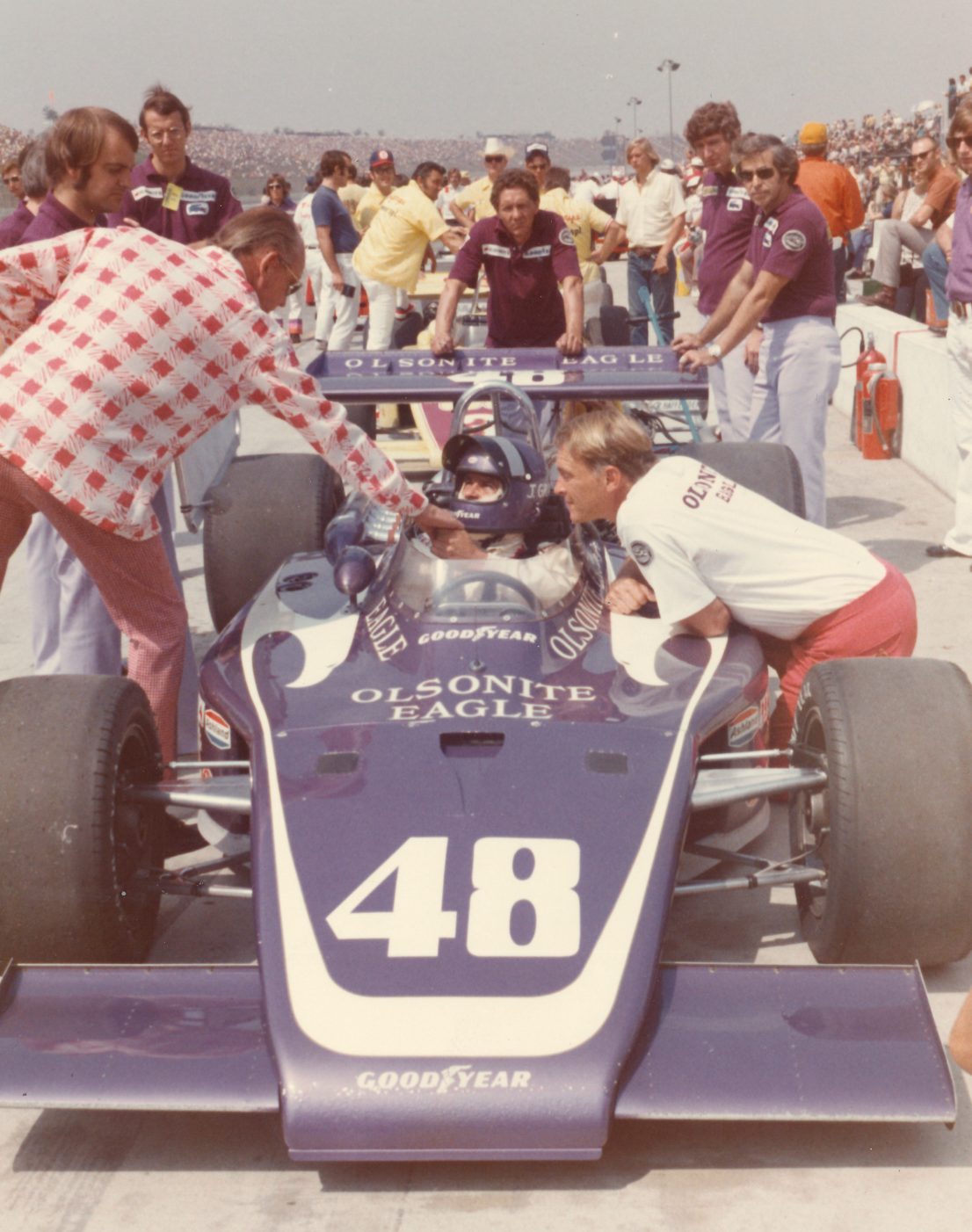 Teammate Grant, somehow, didn't suffer the same malady, and took immediate advantage of the opportunity on offer.
"Bobby was going to be the one running for the pole and the 200 mph lap," Grant admitted, "but he had no engines left. They had to go back to the shop (an hour away in Santa Ana), so they asked me, 'Do you want to go for the 200?' And I said, 'Yes' just like that. It was like asking an alcoholic if he wants a beer.
"Anyway, I get in the car and go on down to the line, and Miller's sitting there and he says, 'You've got more horsepower than you've ever felt before.' As I'm moving up the line, he says, 'Do you think you could stand a little more?' Of course. Then he comes back and says, 'You've got a lot of horsepower.' I said 'Good.' Then we got up to where we were ready to go and Miller says, 'We got a little more, do you want to have it all?' Of course!
"So I went out and, knowing that I had this horsepower, I short-shifted — took off in first and got into second real quick, and as soon as I came up in second it broke loose and I went to third. First lap around was like I had a double-A Fueler! I took the green flag and there wasn't a lap out of the four that I didn't get sideways. I scraped the wall, white-walled the tires, and had to change my line. In those days you braked for the turns, not much, but you trail-braked and you had to be careful because you could upset the chassis and crash immediately. Each lap I went faster, and on the third lap I got quite a bit out of shape and when I came back around they held up 200-plus, so I backed down and came around the fourth lap and it was 199 something. The next day Bobby went out and went faster."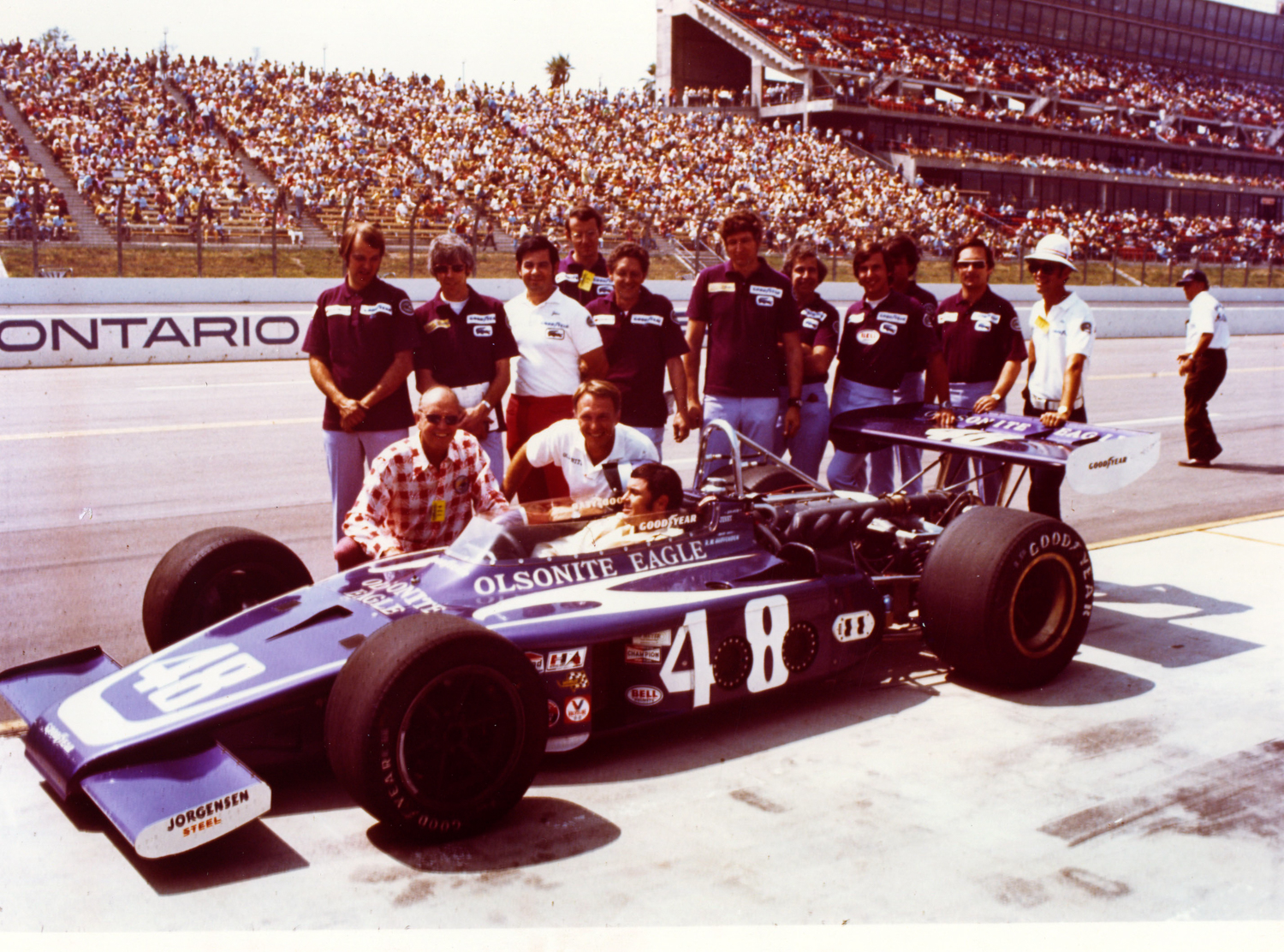 Grant's third lap registered at 201.414, making it racing's first official lap of more than 200 mph, and his four-lap average of 199.600 put him on pole for Sunday's 500-miler. "So," Jerry concluded, "the two things that people will remember about me is either winning or not winning Indy, and the first 200 mph lap."
"If you give him what I developed," Unser complained, "all he has to do is push the throttle down and he goes fast. That's how he got his 200 mph lap. Without me that just doesn't happen, and it just wasn't fair for Dan to give Jerry the opportunity to do that when I had a slight mechanical failure."
Unser's only solace came in second-day qualifying when he surpassed Grant's new standard almost before the ink could dry, setting new one- and four-lap records of 201.965 and 201.374, respectively. Neither driver had any luck in the race, however. Incredibly, polesitter Grant's engine blew up on the pace lap, while Unser dashed up from 23rd on the grid to lead laps 45 through 55, but had to quit the chase after 73 laps when … his engine failed. The race was won by Roger McCluskey in Lindsey Hopkins' American Marine McLaren M16A-Offy.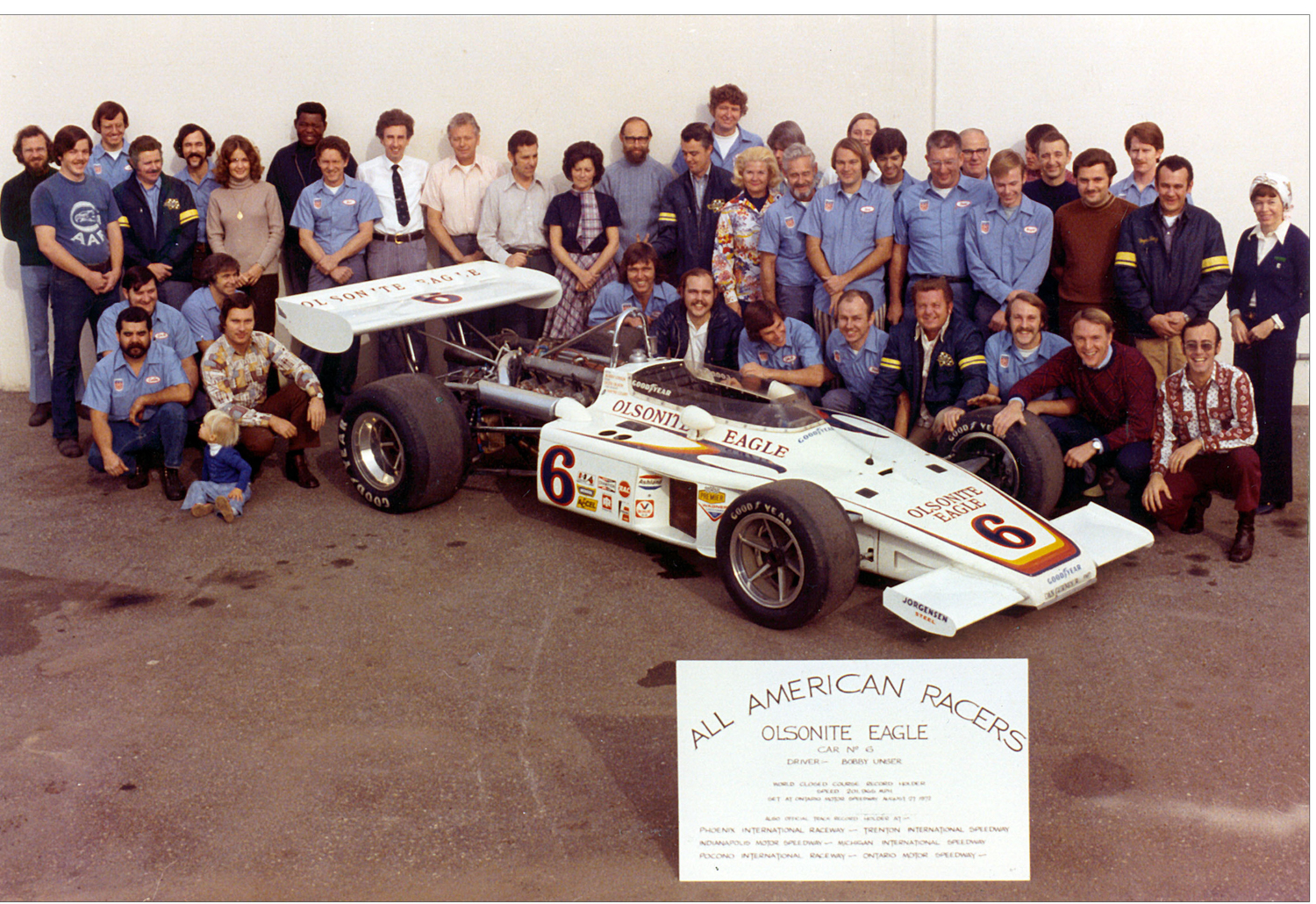 Sense and Sensibility
The rewriting of the record book was curtailed in 1973, however, after tragedy struck at Indianapolis and forced a major re-think. First, veteran driver Art Pollard was fatally injured when he lost control of Bob Fletcher's Eagle-Offy on the first day of qualifications, then on the twice-delayed race day rising star Swede Savage crashed his Patrick Racing Eagle heavily and in the ensuing conflagration suffered grievous injuries that would claim his life five weeks later. Making matters even worse, a crewman with the Patrick team, Armando Teran, was struck and killed by a safety truck rushing down the pit lane against traffic toward the Savage crash scene.
In the wake of that "Fire and Rain 500," it was the rulebook that was rewritten. USAC quickly trimmed back the wings, restricted turbocharger boost and reduced fuel tank capacity by nearly half, which achieved the desired result of restraining speeds. Thus would nearly five years pass before Tom Sneva cranked off Indy's first official 200 mph lap, hitting 200.535 while qualifying Penske's Norton Spirit McLaren M24-Cosworth on pole for the '77 500.
With terminal financial woes having taken Ontario out of the picture, incremental increases over the next two decades pushed the lap record at Indianapolis ever higher, until 1996. Then, driving Fred Treadway's Reynard 94i-Ford Cosworth, Arie Luyendyk established the single-lap standard of 237.498 mph that still stands today!
This continuing progression of speed at Indy was disrupted, however, by the wholesale rule changes enacted the following year with the full implementation of the Indy Racing League. Although speed had itself not been a bone of contention in the dispute between the track and the car owners, the resulting IRL cars were, by design, some 20 mph slower.
Because the rival Championship Auto Racing Teams series implemented no such restrictions of its own, in September of '97, during Friday practice for the season-closing Marlboro 500 on the brand-new 2.0-mile, moderately banked California Speedway in Fontana, Mauricio Gugelmin became the first to crack 240. He told Associated Press reporter Mike Harris about it afterward: "I think nobody's comfortable at these speeds. I'm not. I feel like we're pushing the laws of physics."
The next day Gugelmin duly took pole for the race with an even faster official qualifying lap at 240.942 mph in PacWest Racing's Reynard 97I-Mercedes-Benz. On the same track three years later, Gil de Ferran upped that mark to 241.428 with Team Penske's Reynard 2KI-Honda!
With those nearly incomprehensible four-miles-per-minute moments came the sobering realization that perhaps such speeds should be reined in lest disaster strike again. Further reductions of turbocharger boost, coupled with aerodynamic adjustments, helped keep the lid on, with the ultimate resolution coming in 2008 when CART and the IRL finally put an end to their divisive split with a merger that reunited them under the IRL's existing spec-car philosophy.
Because every racer naturally wants each new car to go faster than the last, the lifeblood of thoroughbred auto racing through the years was always its ongoing technical innovation, its venturing into the unknown in search of something new and improved. Recently, however, that developmental "window" has narrowed somewhat as the focus of the sport's rule makers has correctly turned toward containing speeds and mandating safer cars rather than encouraging the exploration of further frontiers.
So, while Indycar lap speeds beyond 200 mph may be common in today's one-spec superspeedway racing, it's unlikely we will ever see 250. Still, it's easy to understand why so many cherish those days when the only laws that mattered were the Laws of Physics.