During the Fifties and Sixties, one of the most popular sports car racing venues in the West was Palm Springs. The very first race organized by the California Sports Car Club was held there on April 16, 1950. The location had a lot going for it. It is a resort with plenty of hotels and nightlife. And events are unlikely to be rained out even during winter months.
My family has a second home in Palm Springs which, not coincidentally, both John Von Neumann and Vasek Polak also had homes on this same short street. In 1984, the day before Thanksgiving, John and I were visiting Vasek, having a glass or two of wine, reminiscing about the old days. I said, "Why can't we have vintage races here?" Vasek remarked that he thought it would be impossible. John just said, "Harrumph." He was never that interested in older cars. His garage always contained the newest Ferrari and Bentley.
However, at the time, I was friends with Frank Bogert, the then-mayor of Palm Springs. As young boys, we belonged to the same hiking club. Frank had been on the city council almost as long as anyone could remember and he was more or less considered "Mr. Palm Springs." (Frank is gone now, but there's a very large statue of him on his horse in front of city hall.)
I must have had too much wine, because when I got home, I called Frank and reminded him of the old days when we had sports car races in town. I also told him about the then-growing phenomenon of vintage racing. At that time—before Indian gambling casinos—the city needed an economic shot in the arm. So Frank decided to have a vintage race. Fortunately, in Palm Springs, whatever Frank said, went!
So, Thanksgiving morning, Vasek and I drove all over town looking for a suitable site. The FAA had decreed that there could be no racing at airports, so our original venue was out and we had to avoid residential areas. The only possibility at that time was the area where the convention center is now. At its next meeting, the city council approved the idea and Frank ordered the Chamber of Commerce to cooperate. We decided on the 1985 Thanksgiving weekend for a date.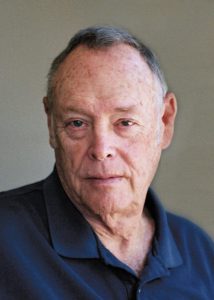 I contacted VARA (Vintage Auto Racing Association), then the only vintage racing group in Southern California and their board agreed to provide the organization. The chamber appointed a race committee and many meetings followed. The chamber was to provide the physical layout including ticket sales. VARA was to provide entrants, officials and rules.
I attended a VARA event at Riverside and, much to my surprise, found there were no spectators. Hey, I thought, this is not what Frank has in mind. Having some experience in show biz, I knew what would garner publicity and bring a crowd would be stars. So I set about to organize something I called "Vintage Formula One." In January, I called my friend Stirling Moss in London and talked him into coming. He got Innes Ireland to come along too. I had a friend whose wife worked for British Airways and she persuaded them to provide tickets. The chamber got the headquarters hotel to provide complimentary rooms. So we were off and running with two of the biggest names in recent racing history.
Next I contacted some folks I knew had suitable cars and talked them into letting Stirling and Innes drive them—not too difficult a persuasion. In February, I recruited Sam Hanks and Rodger Ward; in March Dan Gurney and Phil Hill. Dan promised to take his Spa winning F1 Eagle out of the Cunningham Museum and run it. More press releases got more mentions. In April, it was Bobby Unser and his Eagle, then owned by Ron Kellogg. Ron persuaded the original entrant—Jorgensen—to crew the car. By then, my buddy Bruce Kessler called to say that the Palm Springs revival was becoming the talk of the town (Hollywood).
Vasek and I had laid out an almost two-mile course. But part of it utilized half of a divided road—Tahquitz-McCallum—leading to the airport and the police chief decided that closing it would cause too many traffic problems. Another part went by the post office and the postmaster proclaimed that the race couldn't go by the facility because it was open on Saturday mornings. So our original course shrunk to about a mile.
While the chamber had manpower, it needed guidance on building a track. I thought our original hay bales were not great barriers. My friend John Fitch suggested water-filled plastic barrels. We were able to purchase a large number of pickle barrels for a small price, since the FDA doesn't allow them to be reused for food. The fire department agreed to fill them on the Friday before the weekend. In addition, we acquired some concrete "K-rail" barriers, as well.
Meanwhile, more and more stars of yesteryear were coming on board. We ended up with a total of 19 with 12 F1 licensees and the balance Indy runners. In addition to Stirling, Innes, Sam, Rodger, Phil, and Dan, we had Jay Chamberlain, Pete Lovely, Bob Bondurant, Ronnie Bucknum, Denise McCluggage, and George Follmer among others.
The Vintage Formula One was to be Sunday's featured event. For Saturday, we organized a Fabulous Fifties reunion, an exhibition race with more than 50 drivers who had driven there during the Fifties. We talked some of the VARA entrants into loaning their cars. For the most part, we tried to match car and driver; Phil Hill in an XK120, for instance, and Dan Gurney in a Speedster. The late Duncan Emmons loaned Bill Pollack an Allard and so on.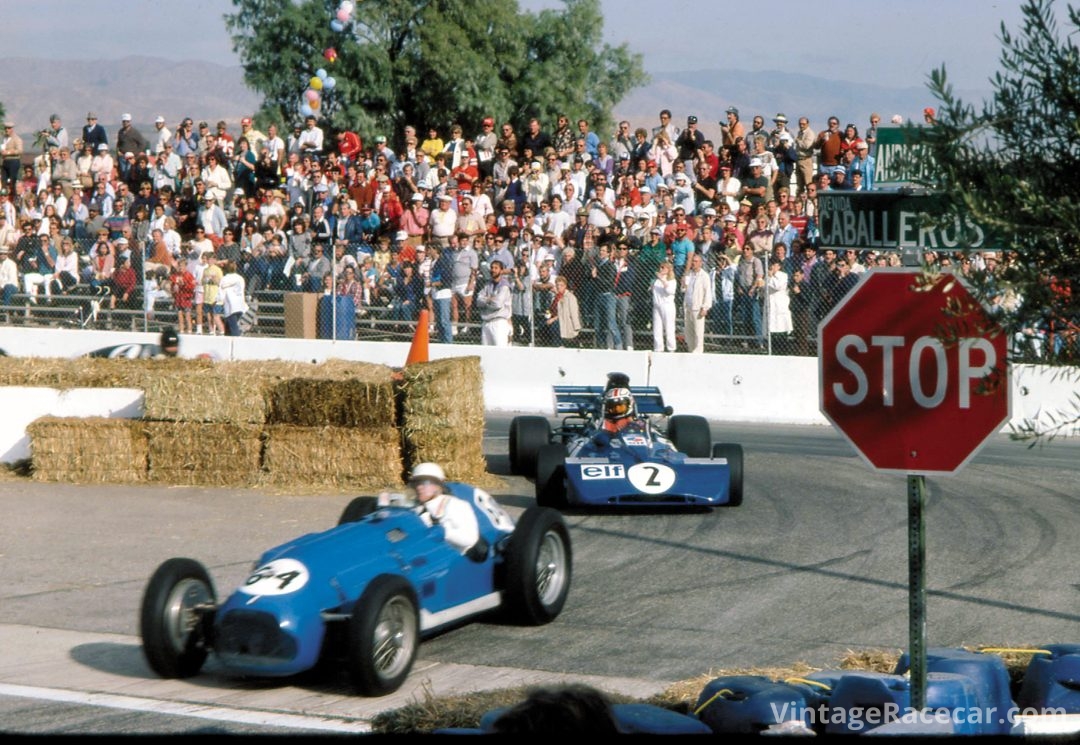 Meanwhile as we got into the fall, the thing was turning into a full-time job and my phone was ringing off the hook at all hours. My wife told me if I ever did this again, she would leave me.
We had no budget for paid advertising, but we were getting quite a bit of publicity by then and the hotels were filling up. Bill Pollack, for instance, hadn't driven since 1958. He brought his entire extended family and reserved almost 20 rooms. By race time, people were staying as far away as Indio and Banning. On race weekend, the chamber sold more than 24,000 tickets. In fact, by Sunday afternoon, they ran out and so started letting everyone in for free!
When Thanksgiving week arrived, it was accompanied by what was reported as one of Southern California's biggest storms on record. It even rained in Palm Springs! Nevertheless, we soldiered on. The chamber volunteers and the firemen were out on the streets putting it all together. And would you believe Saturday dawned sunny and warm. The weather held through Sunday and then more rain came on Monday.
The only serious problem occurred after Vintage Formula One practice. To get back to the paddock, the cars had to drive on a street not part of the course. It was lined with police on either side and with yellow tape to keep spectators back. A 12-year-old boy ducked under the tape and ran into a wheel on the Ferrari Bob Bondurant was driving. The boy's mother had abandoned him to watch the race while she shopped on Palm Canyon drive. The boy was shook up, but not really injured. Even so, the paramedics took him to the hospital, where he was released shortly thereafter. It turned out his mother was going to law school and working part-time for a Los Angeles law firm. So she started writing letters to everyone concerned demanding a large settlement and threatening a lawsuit. On advice of counsel, her correspondence went unanswered. Just before the one-year time limit for filing suits expired, she did, in fact, file. But she made a legal mistake. The incident occurred on a city street. In California, suits against municipalities must be filed within six months, rather than the year that applies to all else!
The revival weekend turned into a happening. The Los Angeles Times devoted an entire section in its Monday edition. Japanese and English press were there too and we got great stories in Road & Track and AutoWeek. A few of my friends remarked that this would never happen again. As it turned out, they were right.
Not wanting to become a professional promoter, I had invited Steve Earle and Chris Pook to come and observe, hoping that one of them would take over. Both made proposals to the council, but Pook was selected. As I told the council, I thought that was a mistake. If Steve had been the promoter, Palm Springs might have turned out to be Monterey south. Vintage racing continued there for a few more years, but never really lived up to its initial promise.