This year's Liège-Brescia-Liège Rally for Triumph TRs in July was a great success, with 26 TRs from 1953 to 1976 taking part. The rally closely follows its historic, original 1958 route, but split over 10 days instead of the original continuous 60 hours with just one 8-hour break. Still formulated as a navigational endurance challenge, with three circuit tests, the rally can optionally be driven as a tour – but none of the TR owners were interested in that option, all battling to find the route controls and win at least a class award, if not win overall.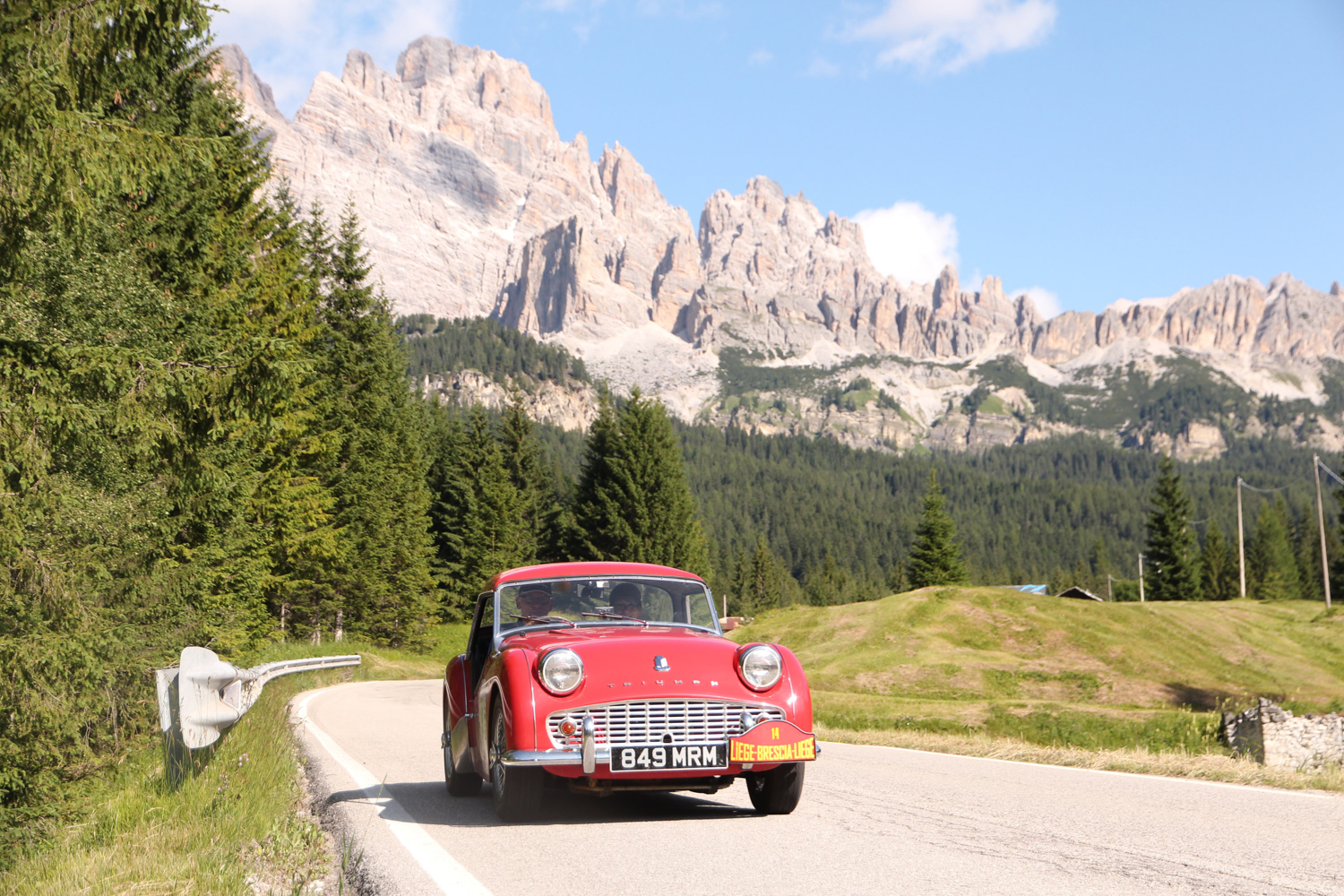 The spectacular route heads over the Belgian Ardennes into Germany, then climbs up into the Dolomites, crossing Austria to Italy then heading east into Slovenia and over the challenging Vrsic pass before dropping down to Ljubljana where the rally takes a day's break, allowing competitors to service their cars and enjoy this delightful, cosmopolitan capital city.
By this stage, the roads had already tested the cars – some were battling on after repairs, while two had retired. Vincent Paccellieri, running with his 20-year old son in the oldest car, the first Triumph TR in Europe that was shown at the 1953 Paris Motor Show, had a catastrophic front hub failure on the first day. Undaunted, he persuaded a friend to drive from the south of France to Germany with a spare hub, replaced it at the side of the road and caught up with the rally at midnight.
The camaraderie on the event was terrific, competitors all helping each other and enjoying the company of fellow TR enthusiasts. On the first night in Italy, the Italian TR Register came in force to greet the rally and dine together – and would later help competitors source parts and find good local repair shops. The weather was superb throughout – making the scenery all the more stunning and the roads more enjoyable, but also increasing the strain on cars and crews as heat and dehydration took their toll.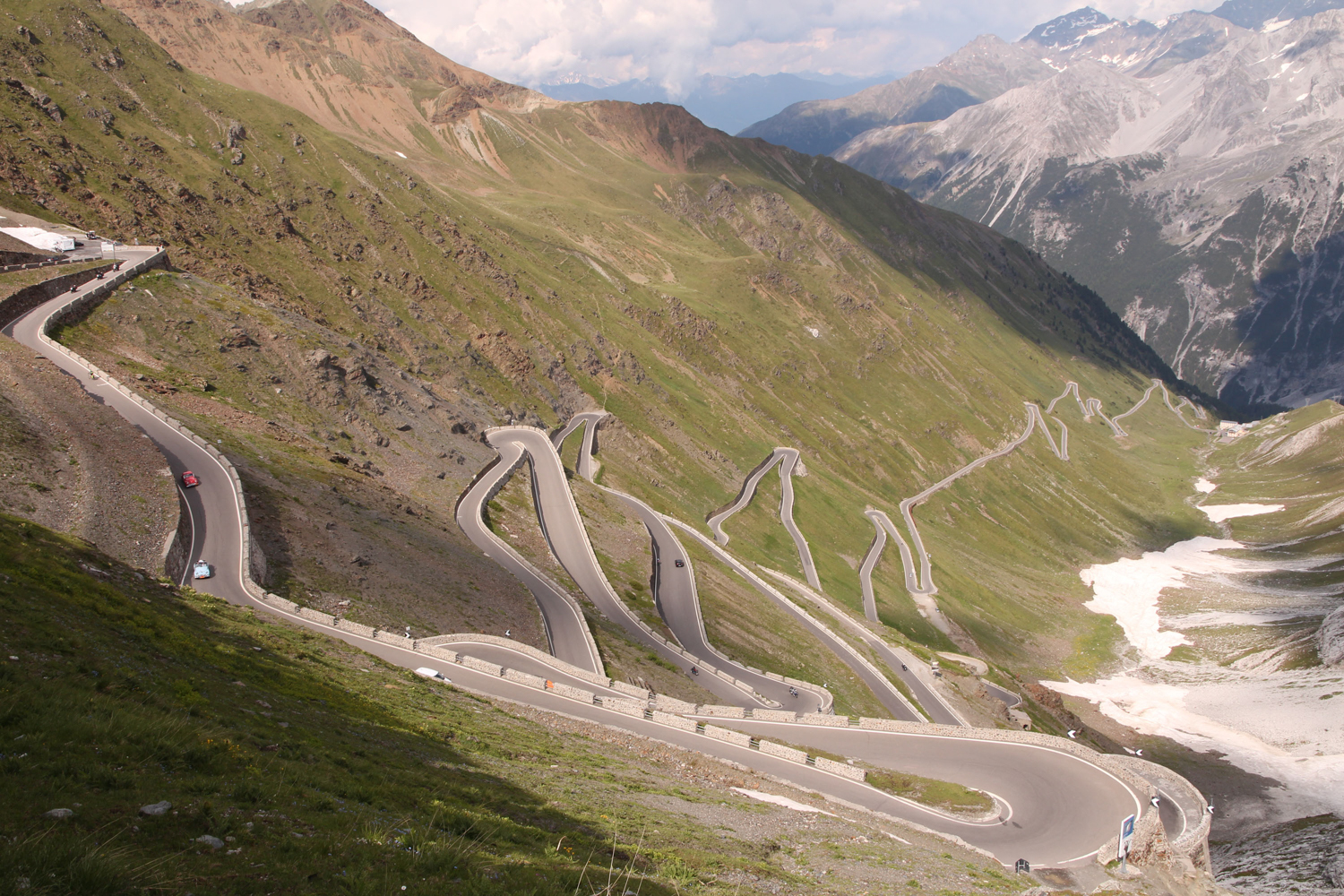 After the break in Ljubljana, the rally heads west, back up into the Dolomites to take on historic greats such as the Passo di Pordoi, Passo Stelvio and Passo di Gavia. The rally tackles 15 major mountain passes – in 1958 most would have been gravel, but now all are tarmac, so the rally takes in a 10km gravel road section in Slovenia to give competitors a feel for the extra challenges those 1958 crews faced. Just as then, the rally triumphantly enters Brescia to a reception in a central Piazza, now accompanied by police motorcycle outriders and staying in a stunning historic palace hotel. Now the rally also takes in visits to motor museums and the spectacular Schloss Lichtenstein in Germany, and after a glorious drive through sweeping country roads in Germany and Belgium, it finishes at the evocative Abbaye de Stavelot, which houses the Spa Circuit Museum.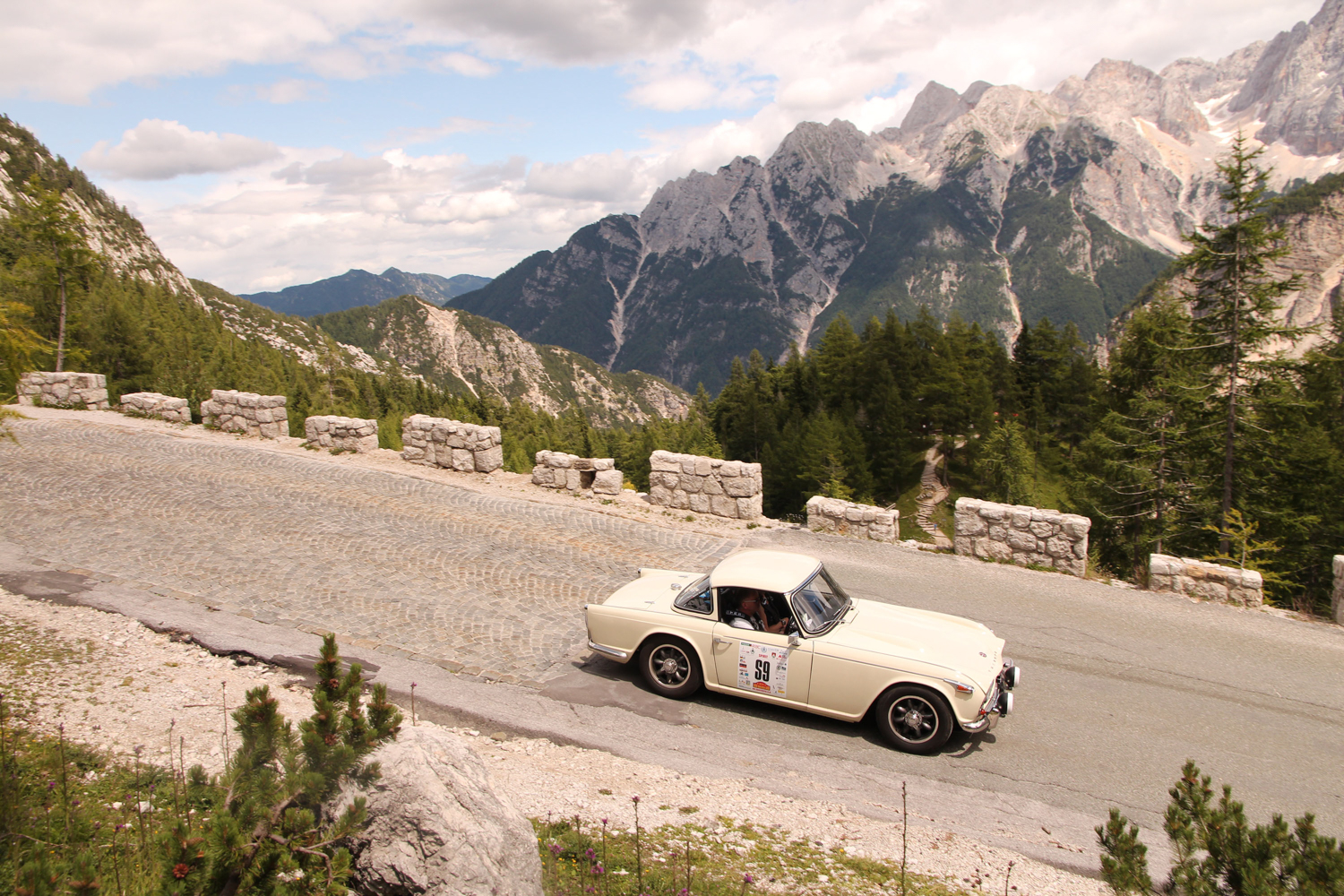 Circuit tests in Germany and Italy help to select the overall winners: the event is divided into two categories: Authentic for cars of a type that were around when the original rally was run; and Spirit for later types. Authentic winners this year were Andy English and John Smallwood, who had battled mechanical issues throughout the event in their TR3A, closely followed by U.S. father-and-son team Jeff & Jeff Givens in a TR3A that Jeff senior has owned for 50 years and driven 390,000 miles, and Iain Paul and James Butler in a gorgeous Apple Green TR3A that was a factory team rally car in the 1950s.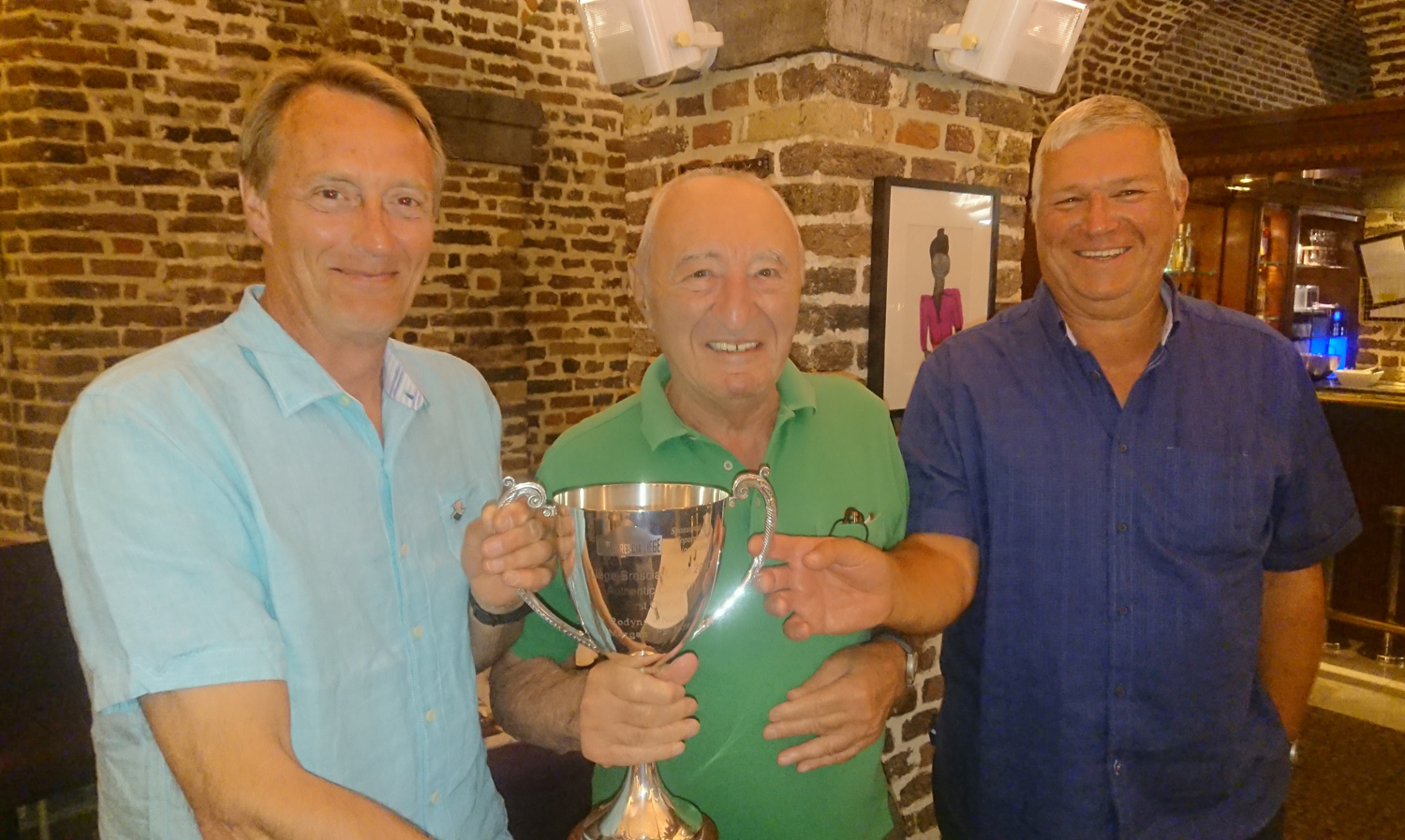 Spirit winners were Liz Wakefield and Mike Jones in their super-reliable TR4A, just one second ahead of Paul & Jan Gerring in a superb replica of the 1960 TRS Le Mans cars – with TR Register Vice Chair and Editor Dave Burgess and Wayne Scott in Dave's stunning TR6 not far behind.
Entries are already coming in for Liège-Brescia-Liège 2020, which will be for all models of MG – entries so far range from a 1932 K2 Magnette to a 1990 RV8, with T-types, As, Bs and Cs in between, but there's still room for more!
Liège-Brescia-Liège Final Results
Posn     Car                                          Names                                     PCs      Test      Total
AUTHENTIC CATEGORY
1          11    1960 TR3A          Andy English/John Smallwood      0          2          22
2          8      1959 TR3A          Jeff & Jeffery Givens                         0          0          2
3          7      1957 Wrks TR3AIain Paul/James Butler                   0          4          32
4          6      1957 TR3             Mike Wing/Caroline Metcalf         0          2          60
5          5      1957 TR3             Andrew & Gill Heywood                 0          18        102
6          9      1959 TR3A          Ian Vincent/David Wilson              40        6          110
7          S3    1954 TR2             Neil & Sue Revington                      0          10        126
8          14    1960 TR3A          Nick Sharp/Kate Handley              20        4          140
9          12    1960 TR3A          Andy Jackson/John Broadley         0          8          196
10        4      1956 rally TR3    Jeff & Lesley Roberts                      60        8          262
11        1      1953 TR2             Vincent & Arthur Paccellieri         0          4          502
12        2      1954 TR2             Mike & Frances Grace                    300      100      1920
13        3      1954 TR2             Michel Goldé/Jean-Louis Gillet    –          –          Rtd
N/A     10    Skoda                 Eleanor & Graham Goodwin          –                      Tour
SPIRIT CATEGORY
1          S9    1966 TR4A          Liz Wakefield/Mike Jones               0          2          10
2          S1   1960spec TRS    Paul & Jan Gerring                            0          2          12
3          S12  1972 TR6             Dave Burgess/Wayne Scott           0          4          26
4          S10  1967 TR4A          John & Jane Hicks                            40        4          92
5          S2    1961 TR4             David Hankin/Karl Boulton           0          2          94
6          S4    1962 TR4             Simon Hendra/Nigel Kendall        60        4          110
7          S11  1972 TR6             Ian Barker/Sheila Hutton              80        14        156
8          S6    1963 TR4             Mark Rachet/Alain Lacroix           0          20        172
9          S8    1965 TR4A          Catherine & Graham Hills             40        8          330
10        S14  1973 TR6             John & Kim Durden                         80        4          726
11        S15  1976 TR6             Martin & Dorothy Goodall            80        50        1510
12        S5    1963 TR4             Andrew Kirkham/Katrina Mackay-          –          Tour
TEAMS
Team 7 (7, S1, S2)                  138
Bollox (6, 14, S3)                   326
Two 2s & a 3 (1, 2, 5)             2524
Liège-Brescia-Liège Special Award Winners
Team Prize – Team 7 – Iain & James TR3A, Paul & Jan TRS, David & Karl TR4
Ladies' Prize– Best performance by a lady driver – Liz Wakefield
Veteran's Award– TS11, Paris Motor Show TR2, Vincent and Arthur
Concours Award – Jeff & Lesley Roberts, TR3 that took part in the 1956 and 1957 Liège-Rome-Liège rallies
Spirit of the Rally Award by RAC – presented by Simon Courtney – Mike & Frances Grace, 1954 TR2
Driver's Trophy – showing the men how it's done – Liz Wakefield
Navigator's Trophy- 1957 Apple Green Works TR3A, novice navigator Dr James Butler