The Automobile Club De L'Ouest (ACO) held it's 2nd bi-annual Le Mans Legends race on June 14, this year featuring Le Mans veteran and Le Mans specification "sister cars" from the years 1959 to 1971.
Qualifying was held for the 47 entered Legend cars on Thursday for one hour before the "big boys" had their 2nd qualifying attempt that evening. The Nick Mason Ferrari 512S was dominant with a time 3 seconds faster than the next car. With such notable and quick entries as Ford GT40, Lola T70, Chevron B16, Porsche 917K and Ferrari 330 P3 the qualifying and race were easily dominated by these later more refined racecars. The remainder of the field held a varied entry list of cars ranging from AC Cobra, Ferrari 250GT, Jaguar E-Type and Maserati Birdcage to Lotus 15, MGA, Alpine A210, TVR and Alfa Romeo TZ1. Notable in the field were two American entries, a Lotus 15 driven by Duncan Dayton/Sid Hoole and the Alfa Romeo piloted by World Champion Phil Hill and Joe Colasacco.
The two-hour race was held on Saturday just before the start of the 2003 24-Hours of Le Mans. While the sky was cloudy and threatening rain, the precipitation never materialized, allowing the cars to race in dry conditions. At the drop of the green flag, Willie Green's Ligier JS3 took the lead, however, Nick Mason's 512S Ferrari, driven by Mark Hales, quickly overtook the Ligier and posted the race's fastest lap with an average speed of 115 mph. Un­fortunately, the 512S succumbed to trouble on the 7th lap and was unable to continue. Phil Hill's Alfa also had difficulty and completed only the first lap.
The race soon settled into a slugfest between the fast equipment of Willie Green's Ligier and the Chevron B16 of Quinou/Hitchins, the Lola T70 of Jones/Amey, and the Porsche 917K of Le Mans veteran David Piper. In the end, the cars remained in that order with Willie Green claiming the overall victory and the 2nd place Chevron of Quinou/Hitchins winning the category for '68-'71 cars up to 2000 cc. In other categories, the Ford GT40 of Chiles/Ingram won the group for '65-'67 cars over 2000 cc, while the Anglo-American duo of Duncan Dayton and Sid Hoole won the category for '59-'64 cars up to 2000 cc in their Lotus 15.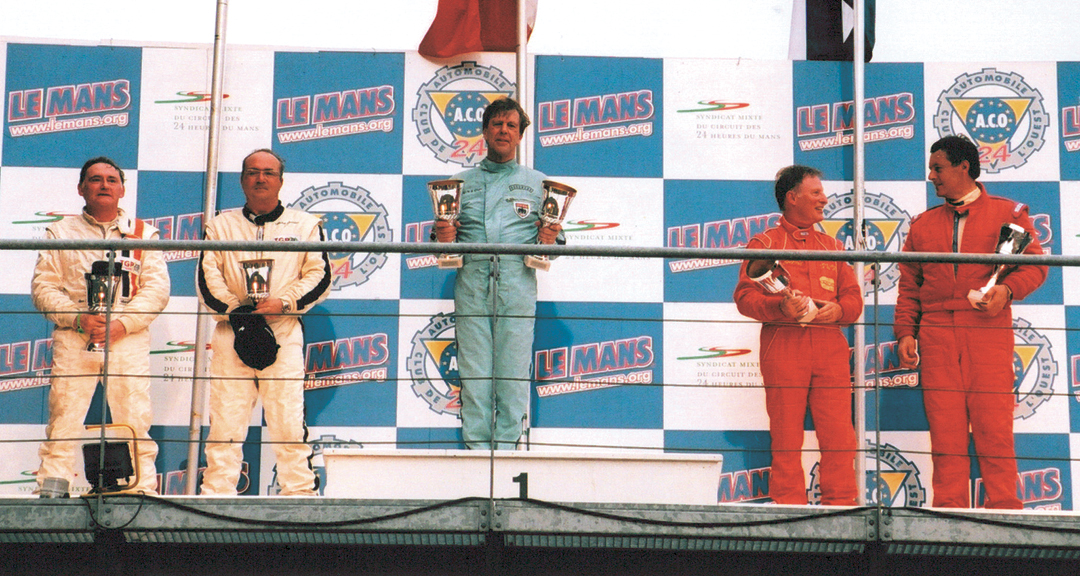 All in all, there were a few unfortunate shunts precipitated by spirited driving and a few mechanical DNF's that resulted in a total of 34 cars finishing the race with nine cars on the lead lap.
Submitted by Greg P. Johnson