Brian Redman and Cris Vandagriff ,of the Historic Motor Sports Association (HMSA), announced that the Formula 70 race at this year's Jefferson 500 at Summit Point Raceway in West Virginia, May 20–22 will officially be named in honor of the late Charlie Gibson. The Charlie Gibson Cup will become an annual award presented to the winner of the Formula 70 race.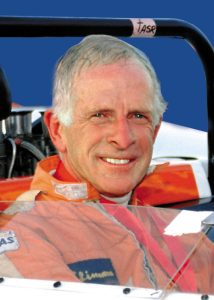 "Charlie raced these cars back in the day, and was a major supporter of their acceptance into the vintage world" said Vandagriff. "Charlie's sprit and enthusiasm were legendary; we are honored to create this award in his name."
"Charlie Gibson was the most enthusiastic, honest and hard-working person I ever met in motor racing. He is a great loss to motorsport, his friends and family. We hope this award will perpetuate his memory and ideals," added Brian Redman, HMSA's director of competition.
The Formula 70 race consists of open wheel racecars from the 1970s that were raced in the North American Formula Atlantic series by some of the greats in the sport, such as Bobby Rahal, Danny Sullivan and Gilles Villeneuve.