The 3rd annual Grand Prix de Monaco Historique, held on May 18-19, preserved the character of the world's most famous Grand Prix with a combination of outstanding cars, a superb level of driving skill (among most of the competitors), unpredictable weather, parties, auctions and a frantic period of 10 days of modern and historic Grand Prix action. Most of those in attendance for the historic races had little interest in the following week's Grand Prix, though the appearance of F1 drivers Alex Yoong and Takuma Sato in historic Lotus racers changed that for some.
A number of important cars appeared from America for the Pre-1979 F1 race, including the Ferrari 312 of Todd Morici, the McLaren M23 of Steve Earle, the ex-Cevert Tyrrell 002 of John Delane and the ex-Stewart Tyrrell 004 of John Dimmer. The pair of Tyrrells were easily among the most popular cars with the capacity crowd, as the two Americans had gone to great lengths to capture the feel of the time with matching period driver suits, helmets painted in Stewart's and Cevert's colors and full team apparel.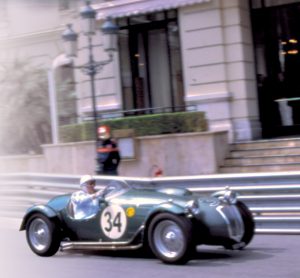 Practice on Saturday saw only the Formula Junior cars managing a dry session, however race day proved to be bright and sunny. In Sunday's races, Denis Welch won the Formula Jr. event in his Merlyn (as he had two years ago), while David Franklin put in a fine performance in the Pre-1959 Sports Car race in a Ferrari 750 Monza (a car formerly used for ice racing.) Phil Hill was to drive the Alfa Romeo 6C 3000CM now owned by Laurence Auriana but it failed to start after clutch trouble in practice. The Pre-1934 Grand Prix event saw a terrific battle in practice between the Bugatti 35B of Julain Majzub and the Type 51 of Charles Dean. Dean got the jump on Majzub who crashed at St. Devote after braking too late, though not injuring himslf too seriously. All told, some 34 cars suffered damage in accidents over the course of the weekend in spite of good driving by most people.
Flavien Marcais was beaten from pole in the Pre-1961 Grand Prix race by the Connaught C-Type of Martin Stretton. Stretton won again in the Pre-1979 F1feature race, after Minardi driver Alex Yoong led impressively until his Classic Team Lotus 72 stuck in 5th gear while the safety car was out. Despite Saturday rain and a significant number of damaged cars, this year's Monaco Historic Grand Prix proved to be the best yet – leaving everyone hungry for the next one in 2004.
Submitted by Ed McDonough