The recent British "fuel crisis" failed to stop the third edition of Lord Charles March's Goodwood Revival Meeting, though the pundits had been predicting that all social and sporting events would come to a grinding halt.
In fact, thousands of period-attired racing fans managed to find their way to Goodwood, many by train and specially arranged coaches. Fortunately, very few of the competitors were stopped by the late September unavailability of fuel which lasted for several days.
The entry list was again an autograph hunter's paradise, with many of the regulars on hand… Stirling Moss in several cars, Dickie Attwood, Danny Sullivan, Brian Redman, Tony Brooks, Jackie Oliver, John Surtees, Jack Brabham, Alan Jones, and Jochen Mass… all vying with not only serious vintage racers but a number of new comers to the scene. Trevor Taylor made his long-awaited return to racing driving a Lotus Elite in the RAC Tourist Trophy One-Hour event with Malcolm Ricketts. Veteran American racer Chuck Daigh made his first appearance at Goodwood in nearly forty years, having a demonstration run in one of the two front-engine Grand Prix Scarabs present. Daigh was somewhat over-awed by the warmth of the reception he received from the knowledgeable British crowd, while the sight of the two F1 Scarabs of Ali Lugo and Don Orosco was a real crowd puller. VRJ got Daigh talking about some of the great Scarab moments from the early 1960s, such as the time Stirling Moss was "sneaked" into the car during practice for the 1960 Monaco Grand Prix: "Oh, yes, that was Lance's car. Lance (Reventlow) just wanted him to try it. We were having quite a few problems, and he went out and went faster than Lance, of course, but we were having so many problems it wouldn't have made any difference."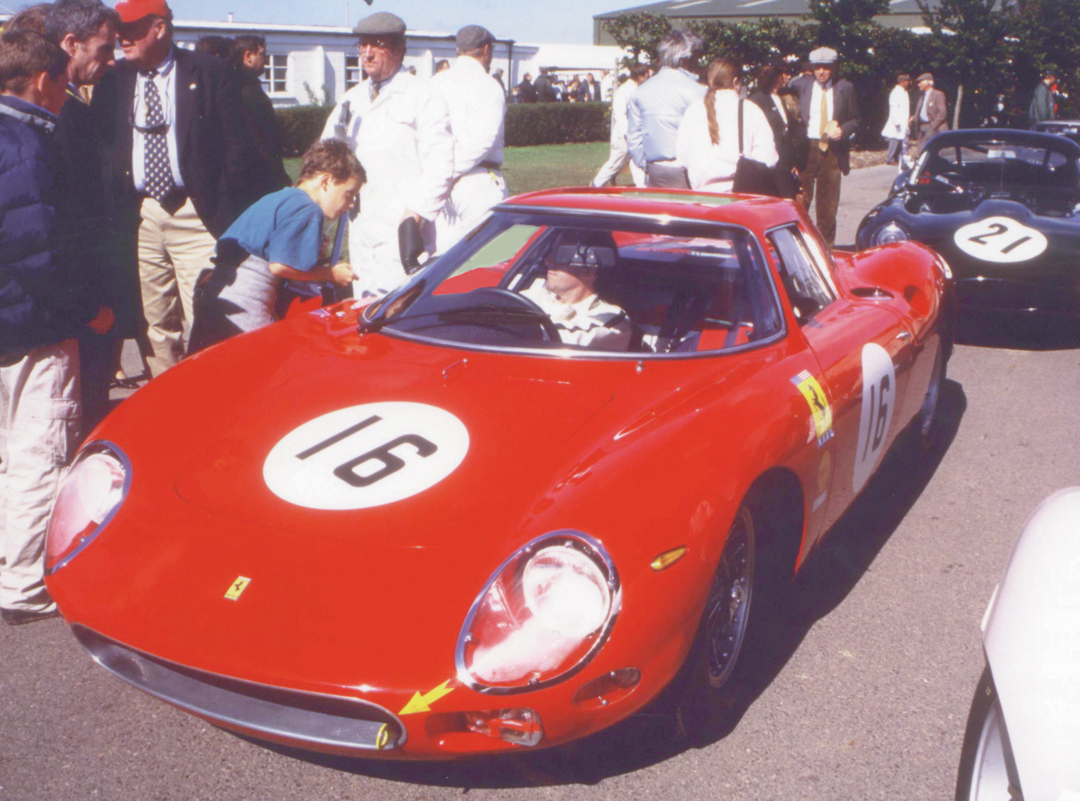 This year's revival meeting paid tribute to John Surtees and Jim Clark, bringing together dozens of important cars driven by the two World Champions. Surtees, of course, needed no static tribute as he managed to put David Piper's Ferrari P3 well into the lead of the Tourist Trophy race – only losing to Danny Sullivan's Cobra after a slow driver change. Surtees was immensely quick around the Goodwood circuit, turning laps as fast as he had done in the 1960s.
In spite of Nigel Corner's horrific and spectacular accident on the grid of Sunday's pre-1960 F1 race, in which he barrel-rolled his Ferrari Dino down the start-line straight and was flung some 20 feet into the air, he suffered relatively minor injuries, and the two-day race spectacular remained free of further incidents. Can Goodwood keep it up? We'll have to wait until next year to know.
Look for Photo Gallery coverage of the Goodwood Revival in next month's VRJ.