In several sections of this month's issue, you'll find coverage of just a small sampling of the constellation of events that now make up the week of the Monterey Historics. It seems like every year, in this column, I make some comment on how it couldn't possibly get any bigger or sustain any more ancillary events, and yet every year at least one or two new functions get added to the mix. Usually, it all starts off with the Monterey Pre-Historics (a full race weekend, in its own right, for many of the excellent cars that there just wasn't room enough for on the main Historics weekend!), then the middle of the week is now taken up with Tony Singer's fast-growing Automobilia show, the Pebble Beach Rally and the Ocean Avenue Motor Club lunch. By Friday, it is The Quail Motorsport Gathering, Concorso Italiano, racing at the track and the start of a weekend full of racing, auctions and at least a dozen or more other events and special dinners. I used to naively think I could do it all, that was until it started taking two full days just to collect all the necessary credentials!
However, one exclusive event that I've come to look forward to each year is a Friday night dinner that Mercedes Benz holds out at the Lodge at Pebble Beach. Now I know what you're probably thinking, "Oh, sure! Some fancy, dinner to wine and dine the jaded journalists." And while that is probably partially true, surprisingly enough, that's not the reason I like to go. Believe me, by the time Friday night rolls around, I'm already so exhausted from the week of planning, meetings, travel and activities, I'd just as soon collapse in a dark room with a cool cloth on my forehead.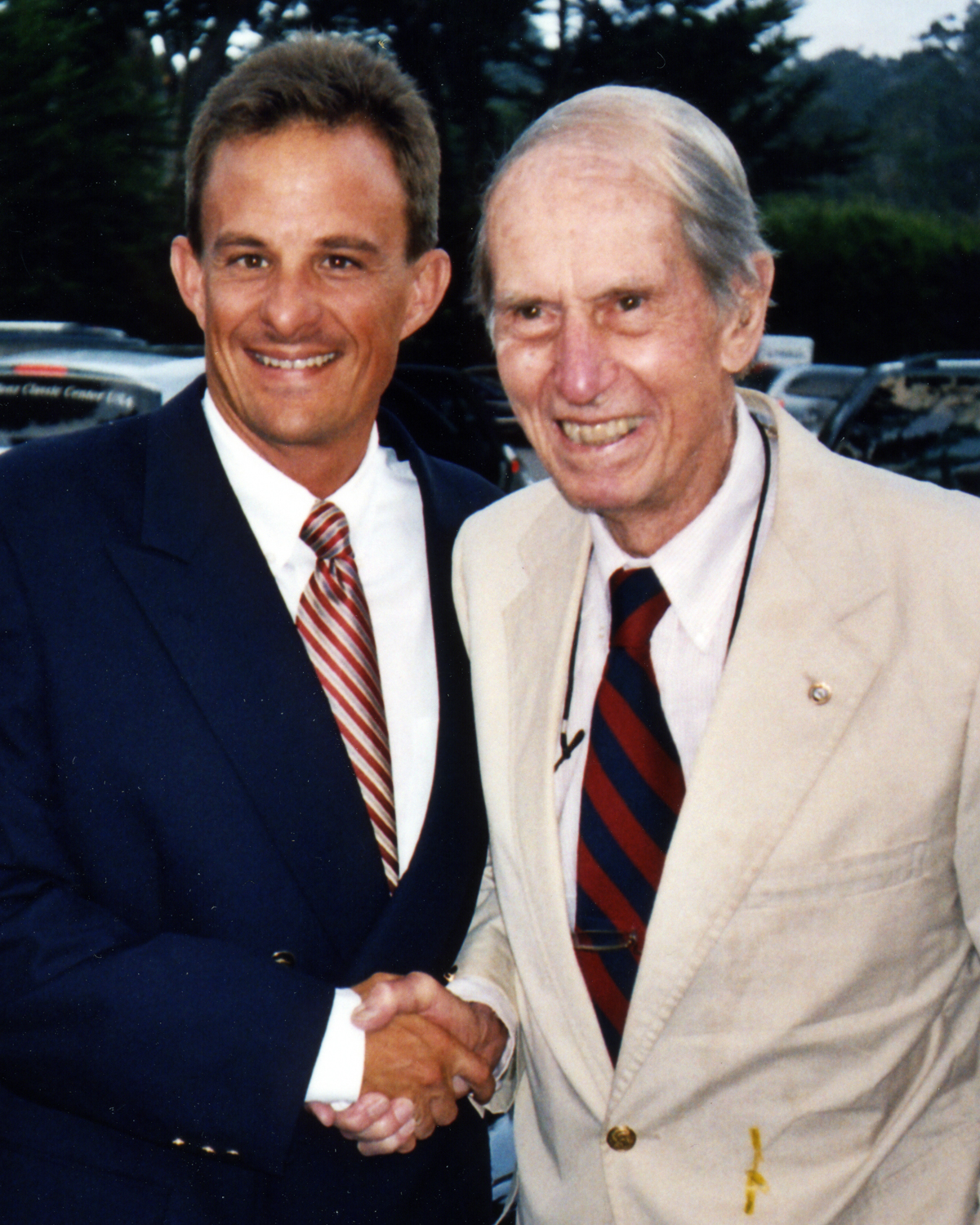 No, the reason I love these dinners is that they are a rare opportunity to spend time with, and listen to, some of the greatest legends of motorsport. Last year's dinner was a tribute to Sir Stirling Moss that included a mesmerizing discussion by Moss on his epic win in the 1955 Mille Miglia. Hearing Moss, in his own words, talking about what he and Denis Jenkinson did and went through was one of those magic evenings that any self-respecting enthusiast would give his left castellated nut for.
This year's event was every bit as special, as the honoree was the only American to ever join the Mercedes factory team, John Fitch. If you've read this magazine for any length of time, then you are likely well versed on the innumerable successes and achievements of John Fitch. Celebrated war veteran, accomplished racer, car builder and safety expert, Fitch has led an exemplary life, and fortunately for all of us, shows no sign of slowing down. I caught up with John briefly before the dinner and asked him about his latest record attempts at Bonneville in Bob Sirna's souped-up Gullwing. Fitch—sharp as a tack at 89(!)—strikes a big grin and then jumps into the technical difficulties they've fought the past few years getting the engine to hold together and make enough horsepower to take the record. And with a glean in his eye, Fitch goes on to tell me that he's already organized his trip back to Bonneville next year to try again (at 90!!), and if that doesn't pan out, then he'll just keep coming back until he gets it done.
Whenever I get the chance to talk with Fitch, I'm always impressed by how personable and interested he appears to be. He really has no reason to remember my name, or take time from his day to talk with me, but he always does. And when he talks with you, you come away with the genuine feeling that he was interested and cares—and as far as I can tell he treats everyone that way. It's the mark of a true gentleman.
During the dinner, other legends like Stirling Moss and Phil Hill paid their respects, before Fitch took to the stage and spoke about his time racing for Mercedes in such races as the Carrera Panamericana, the Mille Miglia and the 24 Hours of Le Mans. Considering I can't remember what I had for lunch yesterday, his recall of those events 50 years ago—down to the minutest detail—is nothing short of startling. As I sat there, soaking up as much of his firsthand memories as I could, I was struck yet again by the profound importance of being able to hear these stories directly from the source, rather than by someone else's interpretation of his memories. I came away feeling very thankful that Mercedes continues to support giving these legends a platform to tell their stories and that we in the racing community still have the opportunity to enjoy the legacy and graciousness of one of the sport's last true gentleman racers.