Five Team Penske Indianapolis 500-winning cars will form the core of the Silver Anniversary Amelia's "Penske Indy Winners" class.
1972 McLaren M16B/Offenhauser – Mark Donohue's record setter and Team Penske's first of 18 "500" winners
1988 Penske PC-17/Chevrolet – Rick Mears' Indy pole car and "500" winner
1994 Penske PC-23 Mercedes-Benz 500I Al Unser Jr wins in "The Beast"
2009 Dallara IR-06/Honda – Helio Castroneves' third Indy "500" winner
2019 Dallara DW-12/Chevrolet – Simon Pagenaud's pole winner and Team Penske Indy 500 win number 18!
Team Penske's first Indy 500 winner — the McLaren M16B/Offenhauser of 1972 (pictured above) — will share Amelia's field with Rick Mears' all-conquering PC-17/Chevrolet of 1988, "The Beast," the 1,000 horsepower Mercedes-Benz 500I V-8-powered 1994 Penske PC-23 driven by Al Unser Jr, Helio Castroneves' third Indy 500 winning Dallara IR-06/Honda of 2009 and Simon Pagenaud's 2019 500 winner, the Dallara DW-12/Chevrolet, that brought Team Penske its fastest and record-setting 18th Indy 500 victory last May.
In 1972 Mark Donohue won the 500 at record speed (162.962 mph) in Penske's Sunoco blue McLaren M16B powered by a turbocharged version of Offenhauser's venerable DOHC four-cylinder. That record stood for a dozen years until it was broken by Team Penske's Rick Mears.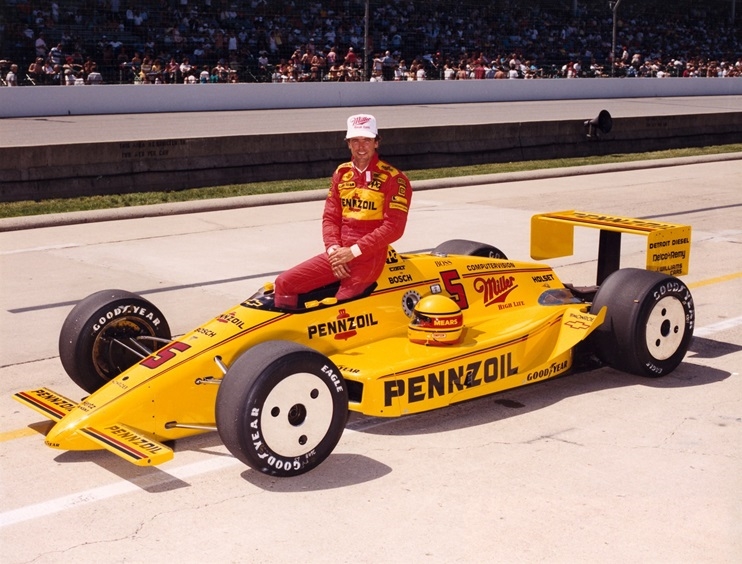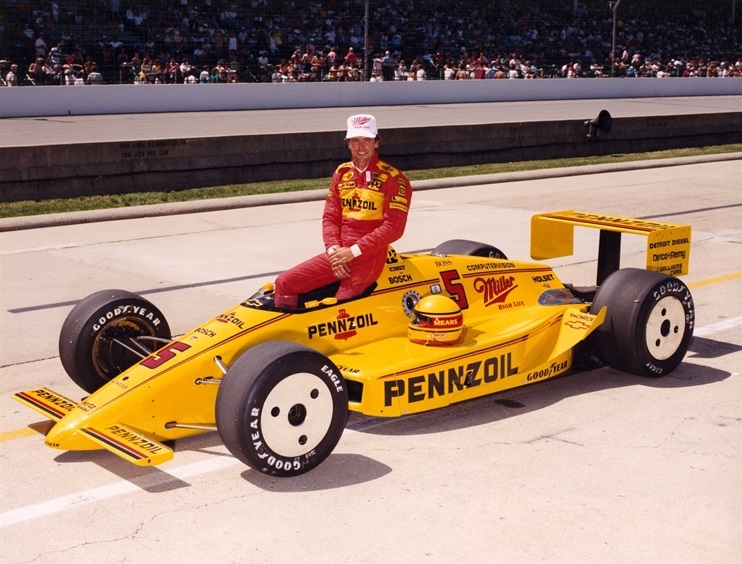 The 1988 PC-17 was the first Nigel Bennett design for Penske Cars. It ended an Indy dry spell for the marque when team leader Rick Mears took the pole in the 1988 season opener at Phoenix leading until a touch with a lapped car forced retirement. When Danny Sullivan took the pole with his Chevy-powered PC-17 at the Long Beach Grand Prix the writing seemed to be on the wall for the 1988 Indy's Month Of May.
The 1988 Indy-winning PC-17 was a landmark car that swept the entire front row of the "500" grid for the first time in Indy history. Pole man Rick Mears and Penske teammates Danny Sullivan and Al Unser Sr. locked out the Lolas and Marches and Rick Mears went on to win the third (and slowest) 500 of his extraordinary career. The trio of PC-17s led 192 of the 1988 500's 200 laps in an unprecedented display of speedway dominance. It was Team Penske's seventh Indy victory in their 20th 500 appearance.
None of Team Penske's 18 Indy 500 winners illustrates Penske's famous "Unfair Advantage" like the 1994 500 winning PC-23 powered by the famed Mercedes-Benz 500I "pushrod" turbocharged V-8 engine. It was nicknamed "The Beast" because of its extraordinary power.
The turbocharged Mercedes-Benz V-8 500I, created and developed in secret, would exploit a loophole in the Indy 500 rulebook that was written to encourage American car manufacturers to provide race engines based on turbocharged pushrod "production-based" engines. Team Penske drove the 1000-plus horsepower 500I through that loophole and put their PC23 in Indy's victory lane to score the legendary team's tenth 500 victory with Penske drivers Al Unser Jr (the winner) and Emerson Fittipaldi leading all but six laps. Within weeks the 500I engine was effectively banned by new rules.
Within the year a new format for The 500 tried again to level the playing field with spec cars and spec engines. In the quarter century that has passed since that day Team Penske has won The 500 eight more times. The 1994 Indy 500 is still seen as a cautionary tale by those who compete with both Mercedes-Benz and Team Penske.
In 2009 Team Penske's 15th Indy 500 win was Helio Castroneves' third "500" victory with the Brazilian becoming the first foreign-born three-time winner of the great race and tying a record by winning the race three times in the same decade (2001, 2002, 2009). The victory came from the pole position and is uniquely memorable for Helio's signature post-race victory celebration when he again climbed the safety fencing on the front straight. His crew joined in the climb, including Roger Penske! Perhaps The Captain was celebrating Castroneves' record $3 million payday that bumped the Brazilian's Indy career earnings mark over $10 million!
In 2019 Team Penske's record-obliterating 18th Indy 500 victory again came from the pole position. Simon Pagenaud's Chevrolet-powered Dallara DW-12 led 116 laps, taking the lead for the final time with just over one lap to race. He became the first pole-sitter to win the 500 since 2009 when Helio Castroneves logged his third and Team Penske's 15th victory.
"The cars of Team Penske have been a pivotal part of the Indy 500 for half a century," said Bill Warner founder and Chairman of the Amelia Island Concours d'Elegance. "These Team Penske cars made motorsport history; a few changed Indianapolis forever. Having these five Team Penske Indy 500 winners for the 25th annual Amelia Concours is an honor."
"Today a Penske company owns The Indianapolis Motor Speedway," said Warner. "Penske's stewardship of these and many other significant race cars speaks with eloquence and clarity to the future of the Indianapolis Motor Speedway and The 500."