A unique Duesenberg reprised its early role as Concours winner by taking the top prize at the Pebble Beach Concours d'Elegance.
This year, 40 classic cars from 18 countries and 33 states pulled onto the competition field of the Pebble Beach Concours d'Elegance, and the car named Best of Show was the 1932 Duesenberg J Figoni Sports Torpedo of Lee R. Anderson Sr.
"This rare Duesenberg marries American might with European style," said Concours Chairman Sandra Button. "It did well in some early rallies and concours. Then, its history took a turn, with chassis separated from body. The story of its resurrection is one of pure passion."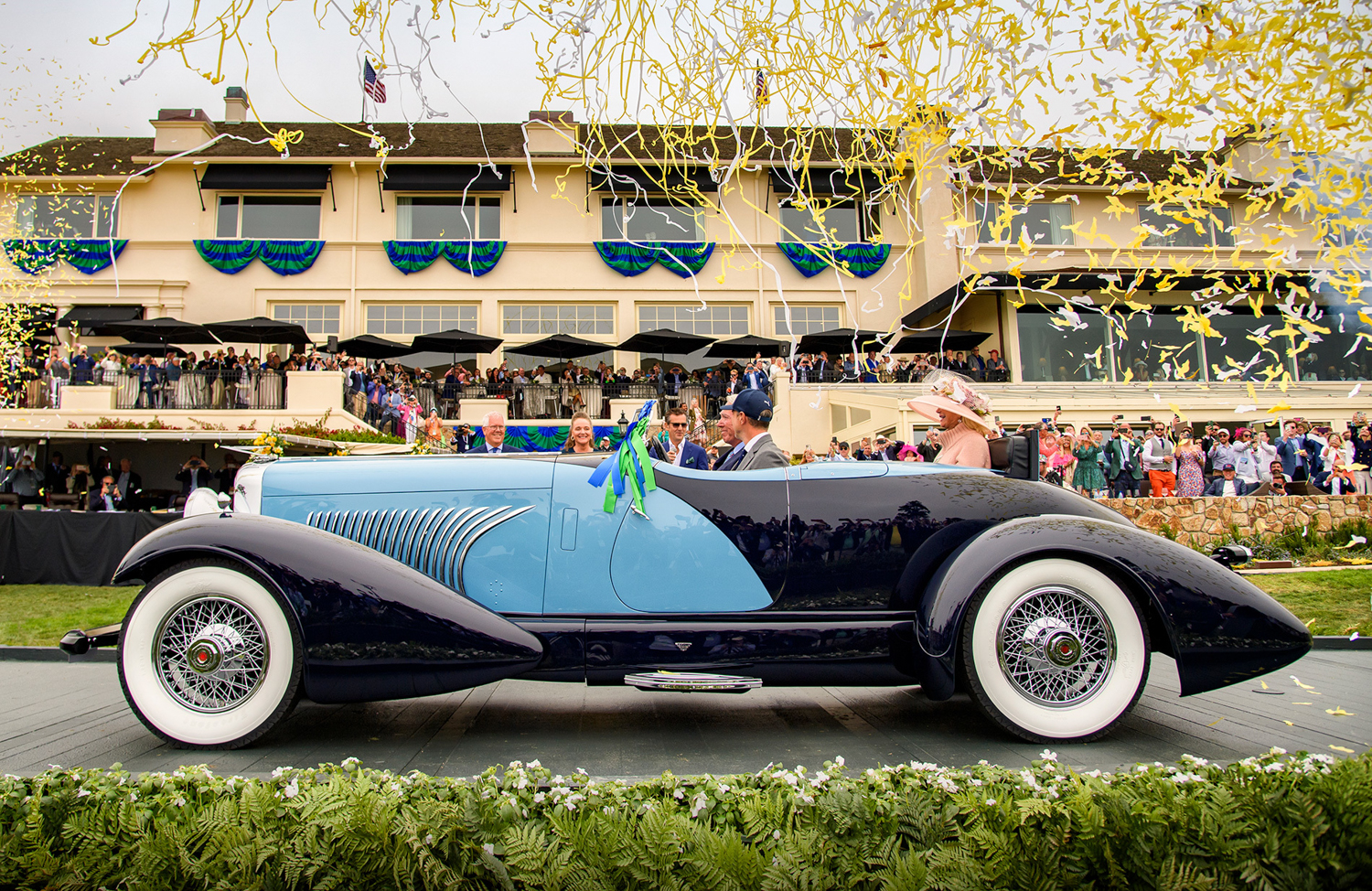 An American car last won Best of Show in 2013, when a 1934 Packard Twelve took the top spot. Duesenberg has long been the winningest American marque at Pebble Beach, with six prior wins;  this win brings its total to seven.
"My goodness, we're overwhelmed," Penny Anderson exclaimed. "We just can't believe we won Best of Show! We've met so many people through the years, enjoyed all the people that participate. It's just a joy and an honor to be here."
"We've been doing this for years, and we've come close in the past," said Lee, "but we've never won actually, so Penny is right, it's overwhelming. All the preparation—the story behind this car is just amazing. There's only one Figoni Duesenberg, ever ever, and it's this one right here. So, it's like all these things coming together to make a real champion. We're so excited."
This year's race for Best of Show featured other strong contenders, including Fritz Burkard's 1937 Talbot-Lago T150C-SS Figoni & Falaschi Teardrop Coupé, Sam and Emily Mann's 1930 Duesenberg J Graber Cabriolet, and Merle and Peter Mullin's 1951 Talbot-Lago T26 Grand Sport Stabilimenti Farina Cabriolet.
The Pebble Beach Concours raised more than $2.67 million for charity this year, bringing the event's total charitable donations to over $35 million to date. Through the Pebble Beach Company Foundation, the primary charitable partner of the Concours, these funds will benefit more than 95 local charities, impacting the lives of more than 10,000 children annually in Monterey County.
The 72nd Pebble Beach Concours d'Elegance will take place on Sunday, August 20, 2023, and will celebrate famed coachbuilder Joseph Figoni and Pegaso. Additional 2023 features include Invicta, Mercedes-Benz S / SS /  SSK, McLaren, Alvis, and American Dream Cars of the 1950s—with more features to be announced in the early fall. For more information on the Pebble Beach Concours visit www.pebblebeachconcours.net.