Denise McCluggage, the renowned automotive journalist and pioneer female auto racer, has been named Grand Marshal for the 2004 Gold Cup Historic Races at VIRginia International Raceway, scheduled for the weekend of June 11–13.
The 2004 Gold Cup Historic Races will feature Women in Racing, and all female racers are encouraged to participate. In addition to the regular racing classes, there will be a special "All-Women's Race" added to the schedule at no additional charge to entrants.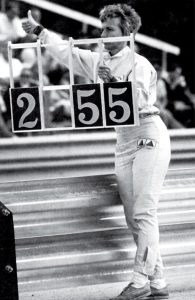 McCluggage is a very significant figure in the history of American motorsport. As one of America's first female sportswriters, she covered auto racing and skiing for the "New York Herald Tribune" in the 1950s. Additionally, she also became an accomplished racer in her own right, competing on both the domestic and international scene with distinction.
"I'm delighted to be returning to VIR," McCluggage said. "Many intervening years have dimmed my recollection of what I drove or how I did, but I do remember this lovely race course was on everyone's list of favorite places. I really look forward to June."
For more information, visit the track's Web site at www.virclub.com or contact VIR at (888) RACE 099.