I have been making the trip up to Vermont to watch the Mt. Equinox Hillclimb for many years… and getting there is half the fun. So, when a friend at Jaguar offered me a brand new F Type R coupe in Tourmaline Brown, I grabbed the keys before they could change their mind.
The R is the big cat in the F-Type line. You have the P450 RWD and the P450 R-Dynamic AWD. Both put out 444 HP from their 5-liter supercharged engines. Taking them to a top speed of 177 MPH and 0 to 60 in 4.4 seconds. Then there is the R. A little extra voodoo is sprinkled on this one. The same 5-liter engine now puts out 575 HP with a top speed of 186, and 0 to 60 now takes 3.5 seconds.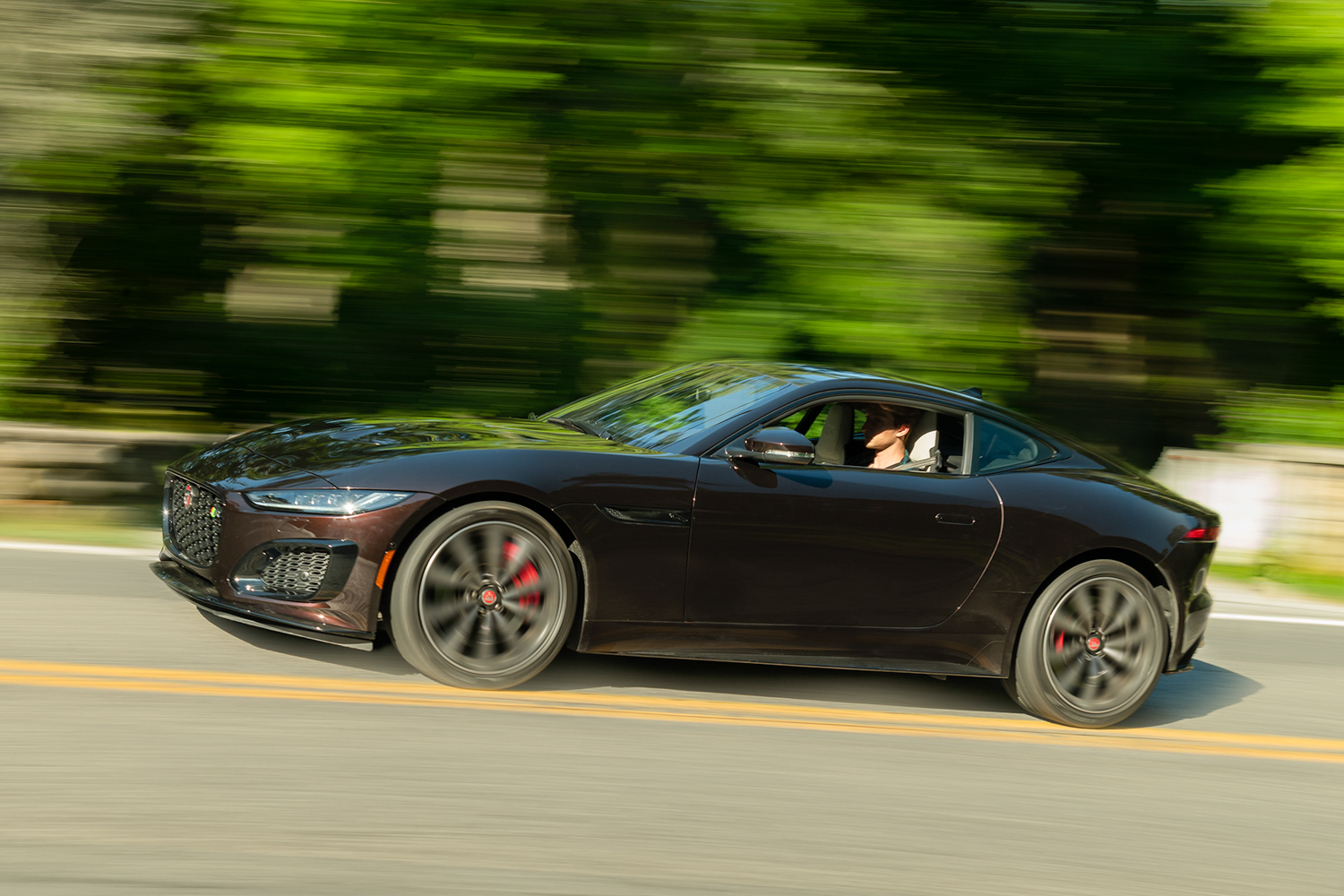 The designers of the F-Type have obviously spent a good deal of time with the original E-Type. The new car has the long hood and abbreviated back end of the original without falling back on the retro styling of some other manufacturers. The look is crisp and modern, but with a definite tip of the hat to its progenitor. The new Jag may have grown into more of a GT car than an all-out sports car, but that takes nothing away from its street cred. It is a beast and does everything a good sports car should do, with a little extra. It is a true two-seater, but there is room for your stuff, and it has all the mod-cons without seeming to be too digital.
It still has an old-school feel even though it is loaded with plenty of electronics. It would be lovely to have a third peddle and a proper gearshift, but you can forgive the Jag for these shortcomings. It can be the docile kitten around town, but with a few adjustments on the center console, the fierce jungle beast is unleashed.
It has a proper growl that gets better as your foot goes down and the RPMs go up. The seats hold you nicely as you let loose with some shenanigans on a winding road. Even with the rear wing deployed, the view behind you is still viable, hopefully without blue lights filling your mirror.
There is still plenty of Jaguar heritage coursing through the veins of the F-Type. Surprisingly, classic car lovers acknowledge the pedigree. Instead of being shunned as a modern conveyance, it was excepted as a contemporary interpretation of a well-loved line of big cats.
The F-Type stands out in the GT world. An Aston would set you back a great deal more green, and I don't think you would be any more wowed by it. A Mercedes is great but has less soul. The Jag has just the right mix of sports car and GT to tick all the right boxes. A cat and mouse run with a couple of Alfas made for a spirited and fun ride home and the perfect end to a great weekend.
Jaguar/Land Rover plans to go all-electric in 2025 and launch E-models of its entire lineup by 2030. So the F-Type R will be one of the last Jaguars with a growl.
Grab one quick before they go silent.