As usual Goodwood played host to thousands of historic car racing fans dressed in a fantastic assortment of period gear along with hundreds of pre-1966 cars over the September 16–18 weekend. Of course, none of that would be considered in anyway usual unless you have fallen under the Revival spell. Unusual, in fact unique, was the wearing of black armbands to mark the death of Queen Elizabeth ll, which many visitors did, with two minutes silence falling over the circuit each day in commemoration, then it was back to rasping exhausts, screeching tires and rock-n-roll music.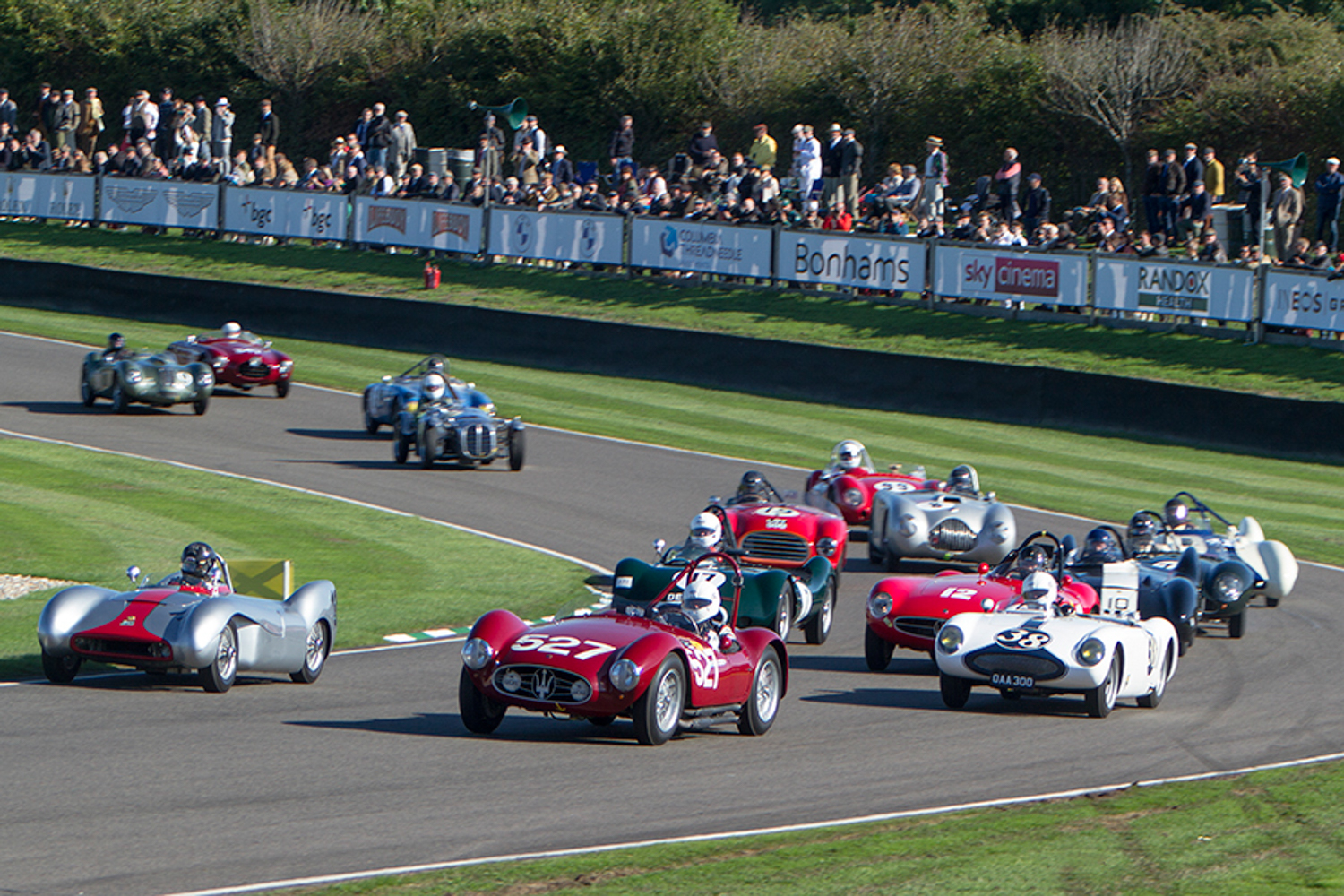 If it's "usual" you want Goodwood did not disappoint providing the expected plethora of rare and priceless competition machinery to be raced within an inch of its life around the fast and sweeping West Sussex circuit. Unusual are always the Revival sideshows, it has to be said that the event has become more than a historic car race meeting. Upon entering the circuit visitors were confronted by a crashed flying saucer apparently staged to coincide with the 75th anniversary of Roswell incident in New Mexico but stories abounded around the circuit that aliens were out there somewhere.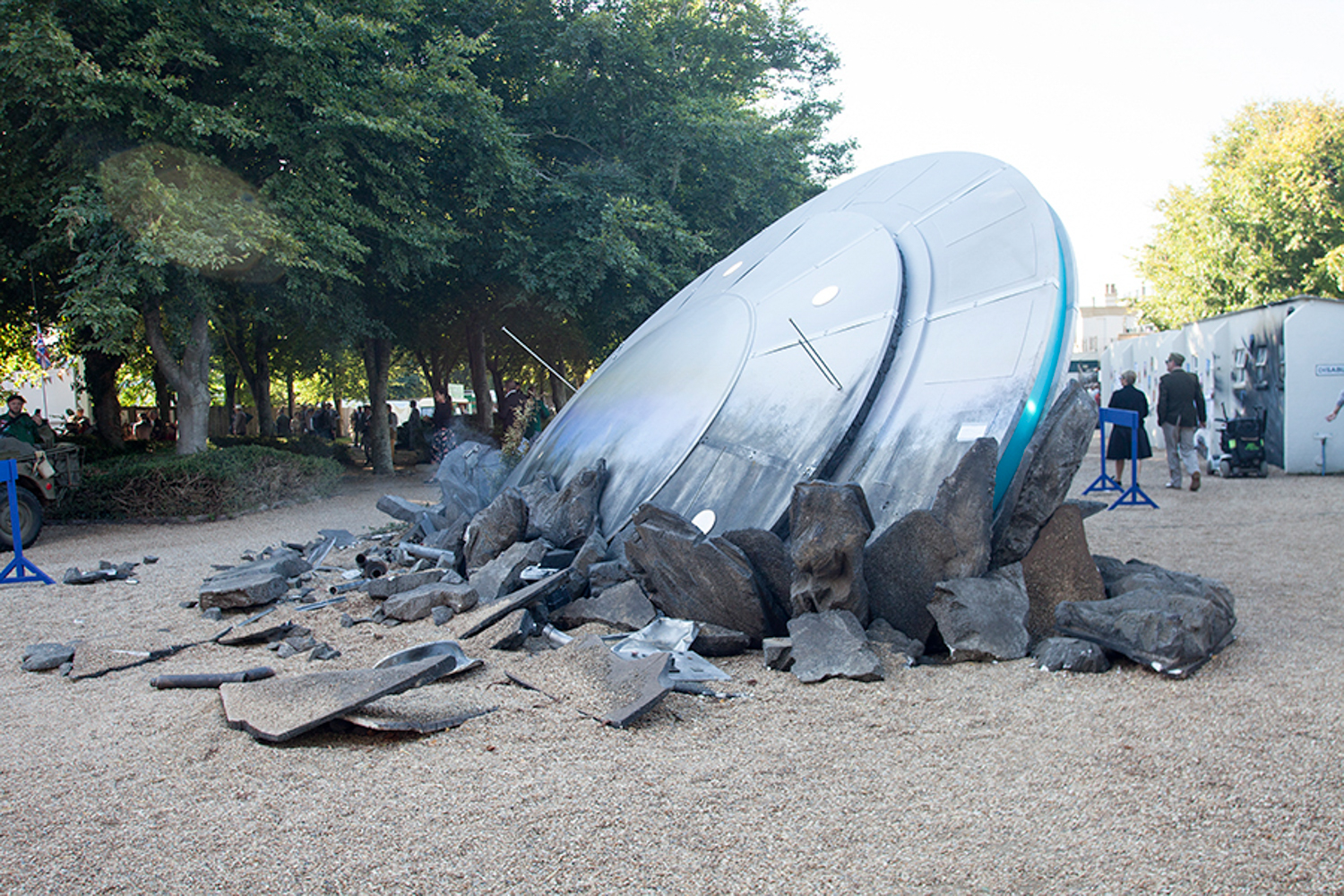 Goodwood's exclusive Drivers' Club had been transformed to represent Tutankhamun's tomb complete with sphinxes, palms and yards of sand, quite what the drivers made of this centenary celebration of the original discovery went without comment. Revive and Thrive Village was an area devoted to recycling and reusing with demonstrations ranging from vintage motorcycle repair to reupholstery.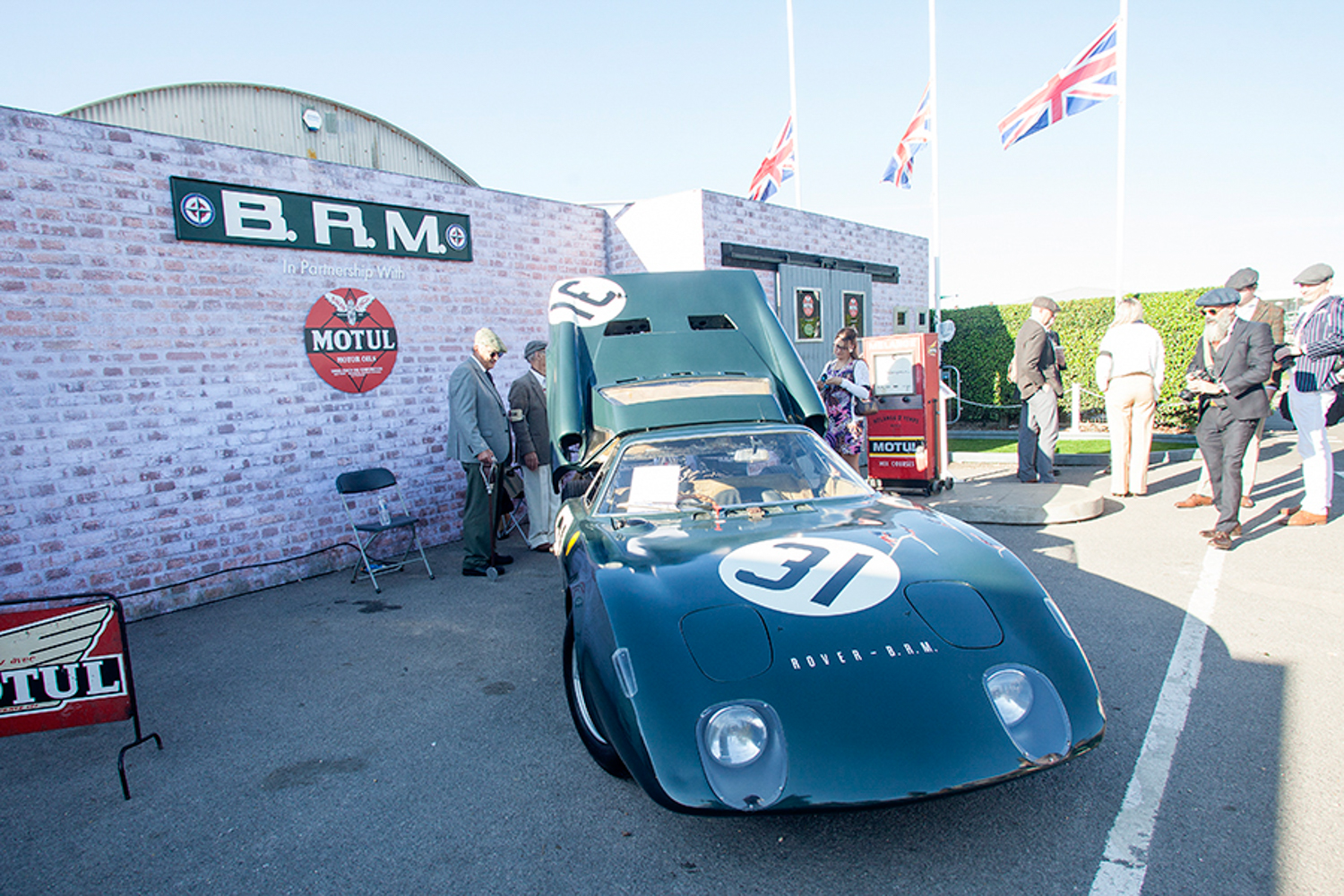 Two usual additions to the on-track action that defiantly don't fall into the sideshow category are Saturday's Bonhams Auction and the Freddie March Spirit of Aviation concours. Perhaps not as high as usual, the auction achieved a 67% sell through rate with two of the headline sales amounting to a McLaren takeover. Prominently displayed on a plinth center stage at the auction tent was a bent, battered and rusty racecar frame accompanied by a seized Oldsmobile engine plus a few bits of running gear all backed by a photo that showed not only was this the remains of a 1961-64 Cooper-Zerex but the first sports-racer chassis to wear the McLaren Team badge…the hammer came down at £911,000! A 2009 Mercedes SLR McLaren 722s also shook the auction when this immaculate green roadster with just delivery mileage almost doubled its estimate selling for £687,000. Automobilia however brought the most surprising result to the sale when a collection of 21 1934-39 Brooklands race cards and programs fetched 4 times their estimate selling at £4,080.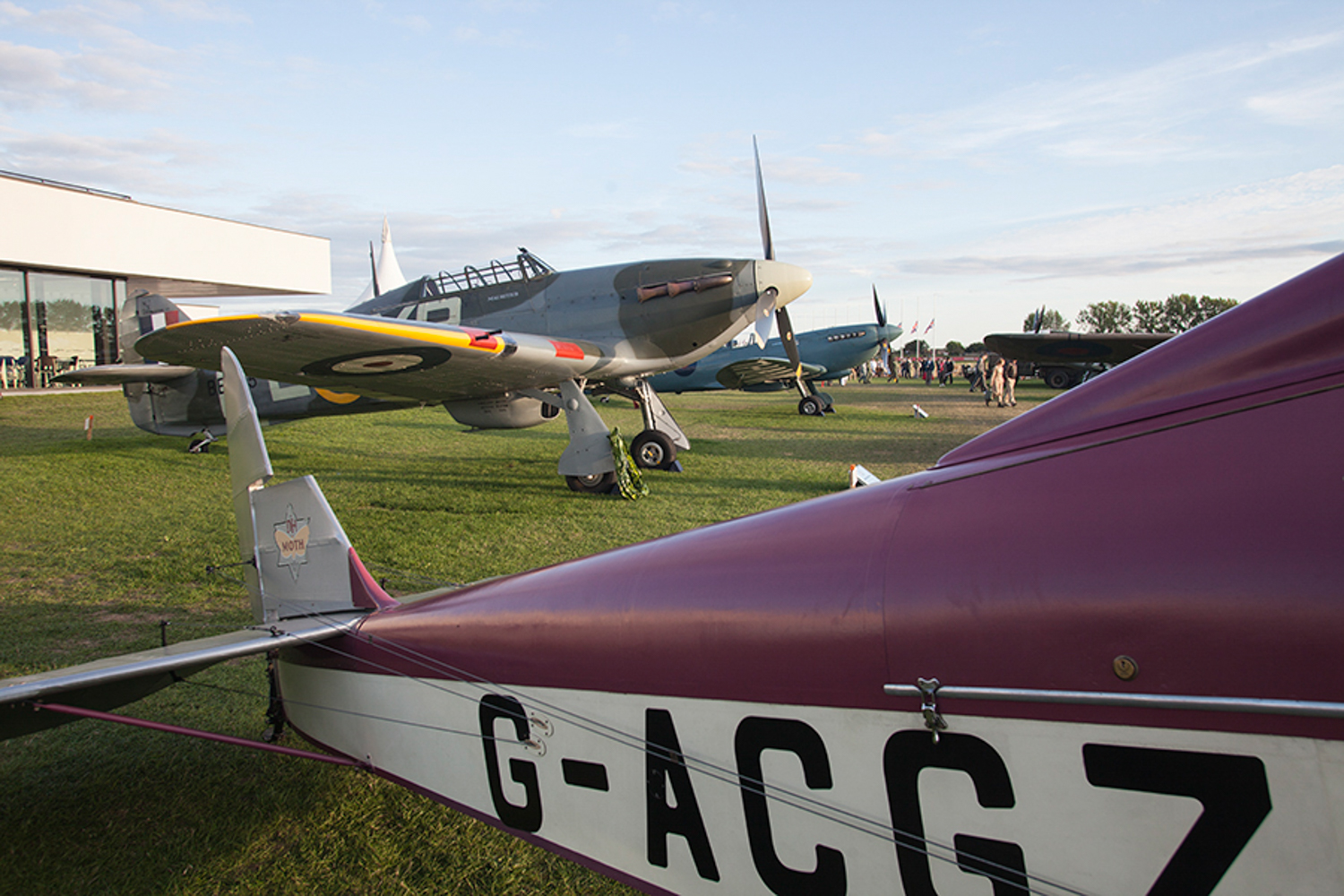 Aviation has always been an integral part of Goodwood with the perimeter roads of wartime airfield Westhampnett forming the circuit, to honor this the Freddie March Spirit of Aviation Concours is held on the lawns surrounding the Flying Club. Open to all visitors the concours this year included rarities such as Miles M65 Gemini, de Havilland Devon, Messerschmitt BF108, 3 Spitfires and the competition winning Hawker Hurricane,  perhaps not quite as rare but a crowd pleaser nonetheless was the huge Catalina PBY.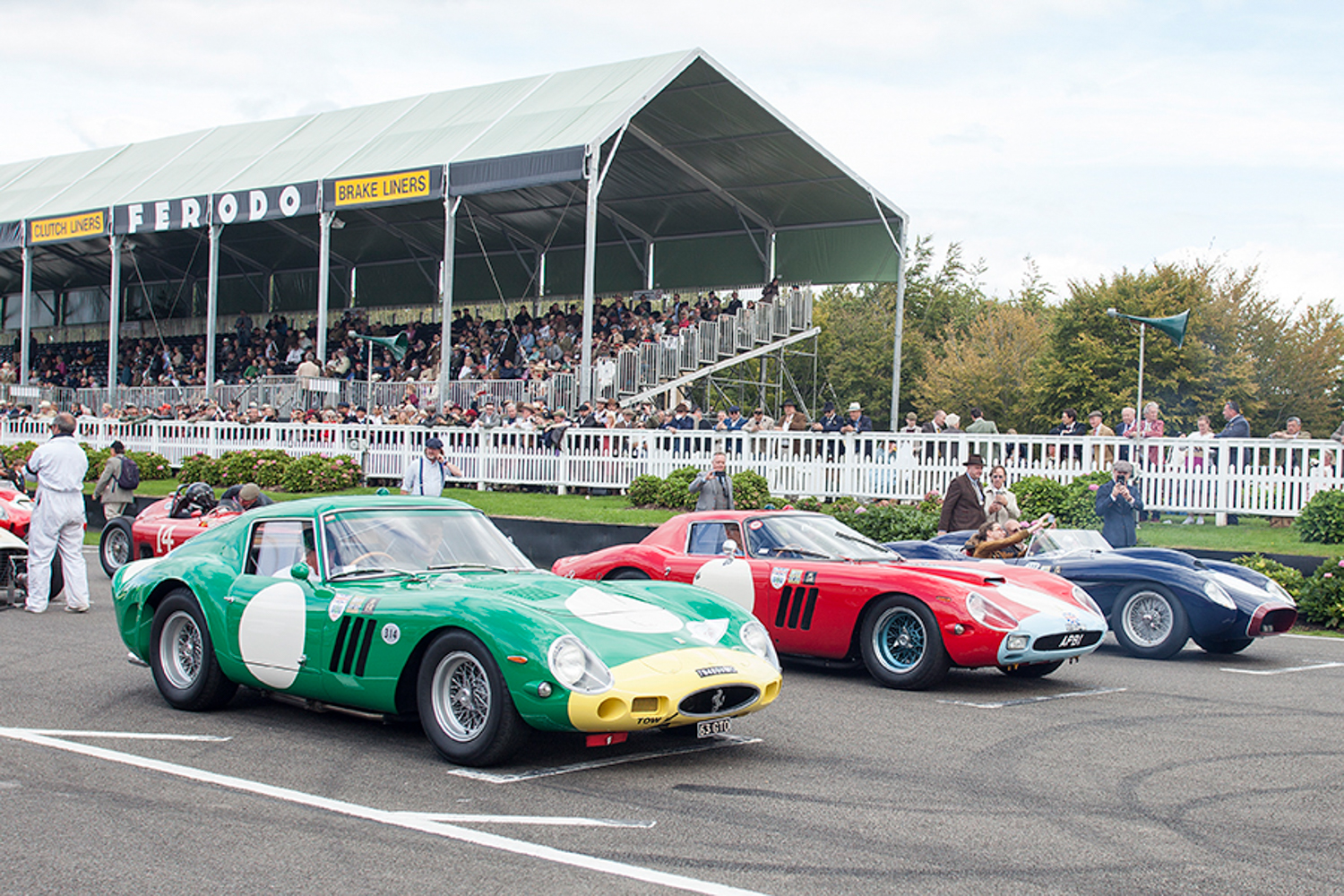 Back on track, the racing was punctuated, as usual, by anniversary parades, Ferrari at 75 was a must fielding 50 competition models from the great marque's history. Most noticeable were two Le Mans winning chassis, the 1949 166 MM Barchetta and the 1963/4 275P, two GTOs that Stirling Moss drove to win the Goodwood TT in 1960/1, a 365 P2/3 that won the 1965 Targa Florio and the 1951 375-5 that provided Ferrari with their first GP win in the hands of Froilan Gonzalez at Silverstone that year. With Jackie Stewart, Derek Bell, Arturo Merzario, Henri Pescarolo, Gerhard Burger and legendary privateer David Piper on hand to complete the line-up.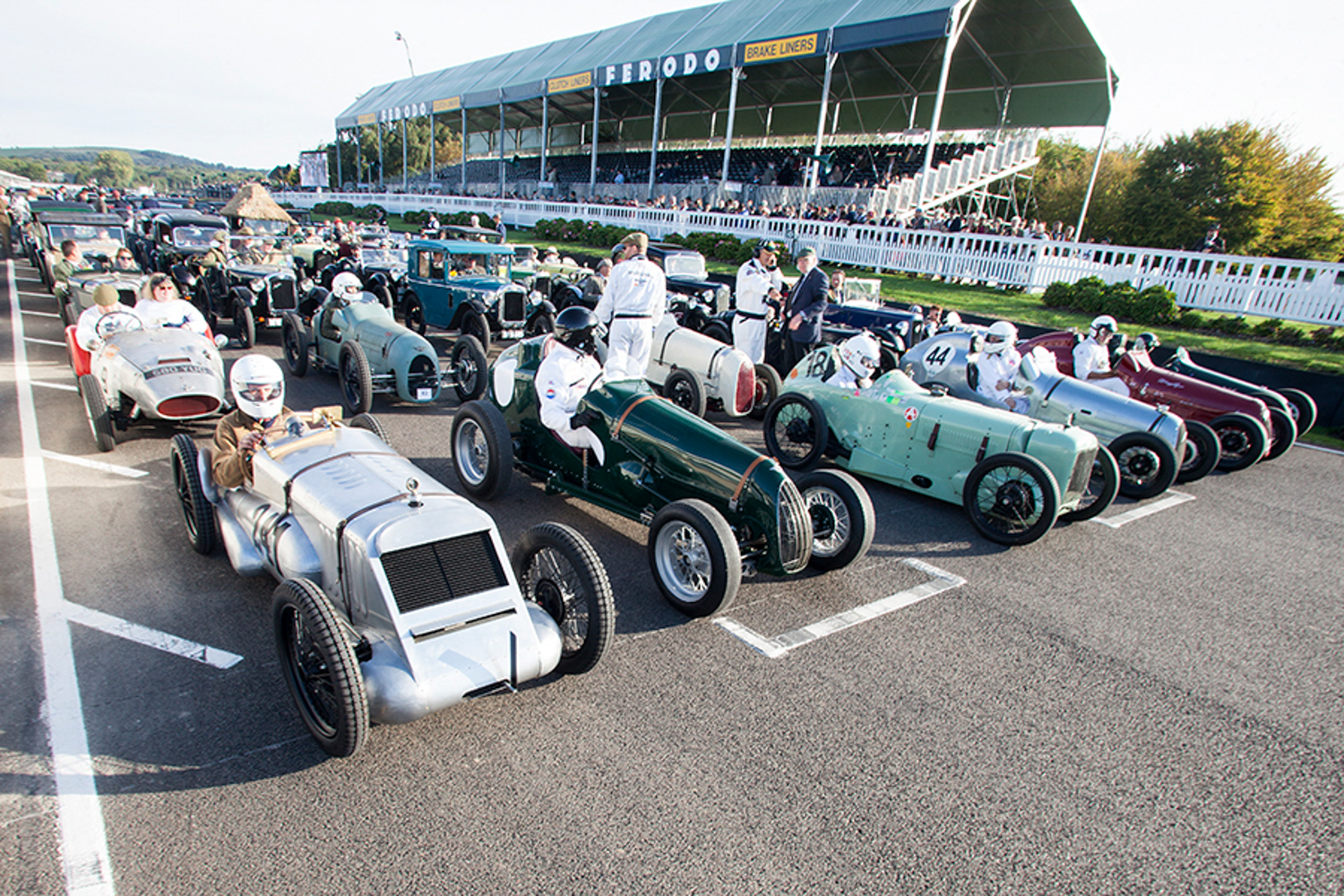 Marking the diamond anniversary of Graham Hill's first World championship was a parade of 30 cars tracing his career with Graham's 1962 title-winning BRM P578 'Old Faithful' being driven by son Damon who was in high spirits on Saturday celebrating his 62nd birthday. A century of Austin 7s brought 150 examples of the diminutive "every man's" car in all its incarnations out to parade at 9:00am each day, a little car that provided a big display.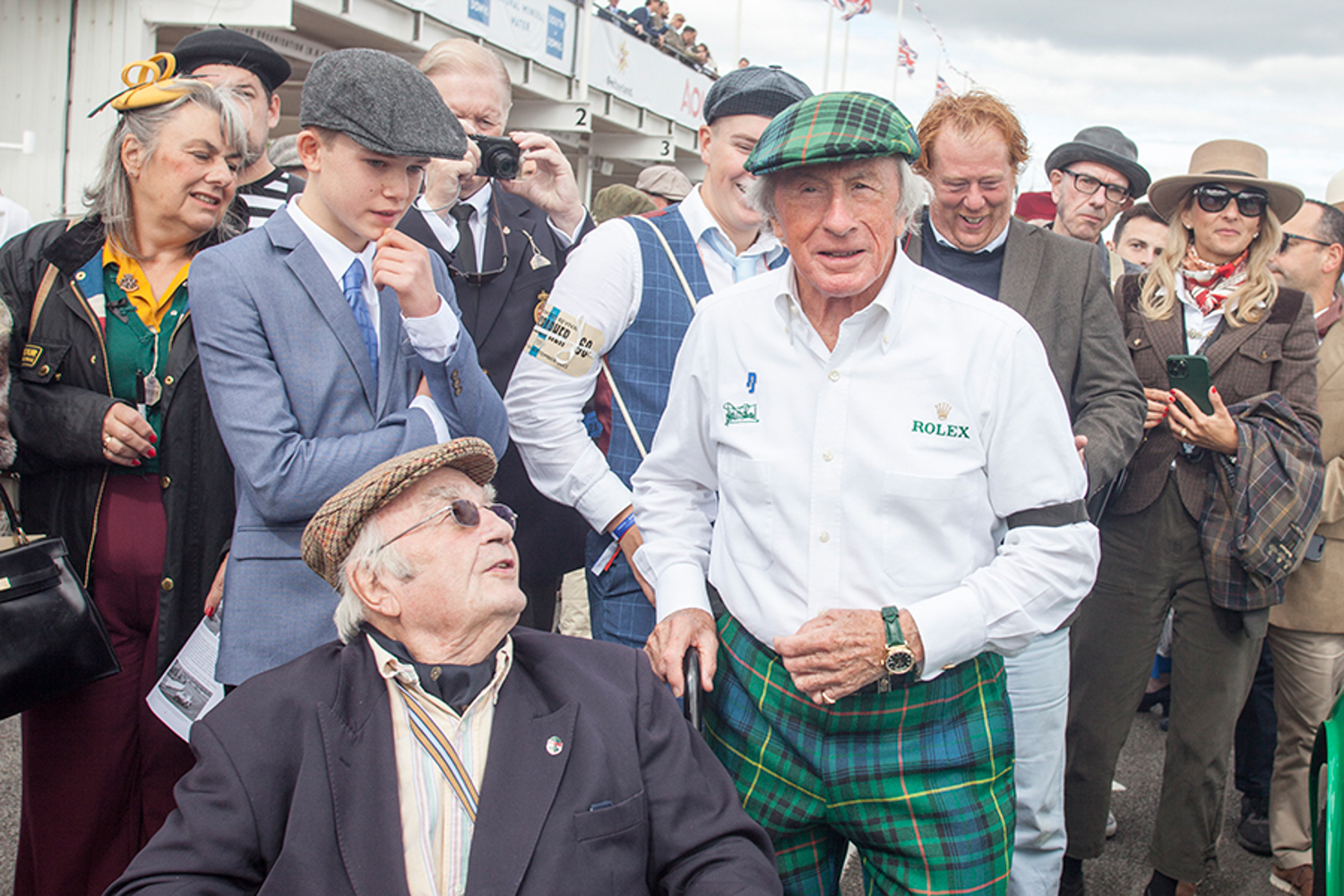 Perhaps the black arm bands were not just to mourn Elizabeth ll for most of the great names associated with the Revival competition cars are also no more, sadly we shall not see them reunited with their machinery again. Fortunately, younger greats are filling their shoes with Emanuele Pirro, David Brabham, Frank Stippler, Tom Kristensen, Romain Dumas and Jenson Button all competing. Indy stars Jimmie Johnson, Dario Franchitti, Max Chilton and Scott Dixon made a welcome trip across the pond, but we must list three drivers who were around when many of these cars were new and are still racing them now, they are Richard Attwood, Derek Bell and Jochen Mass…great stuff gentlemen.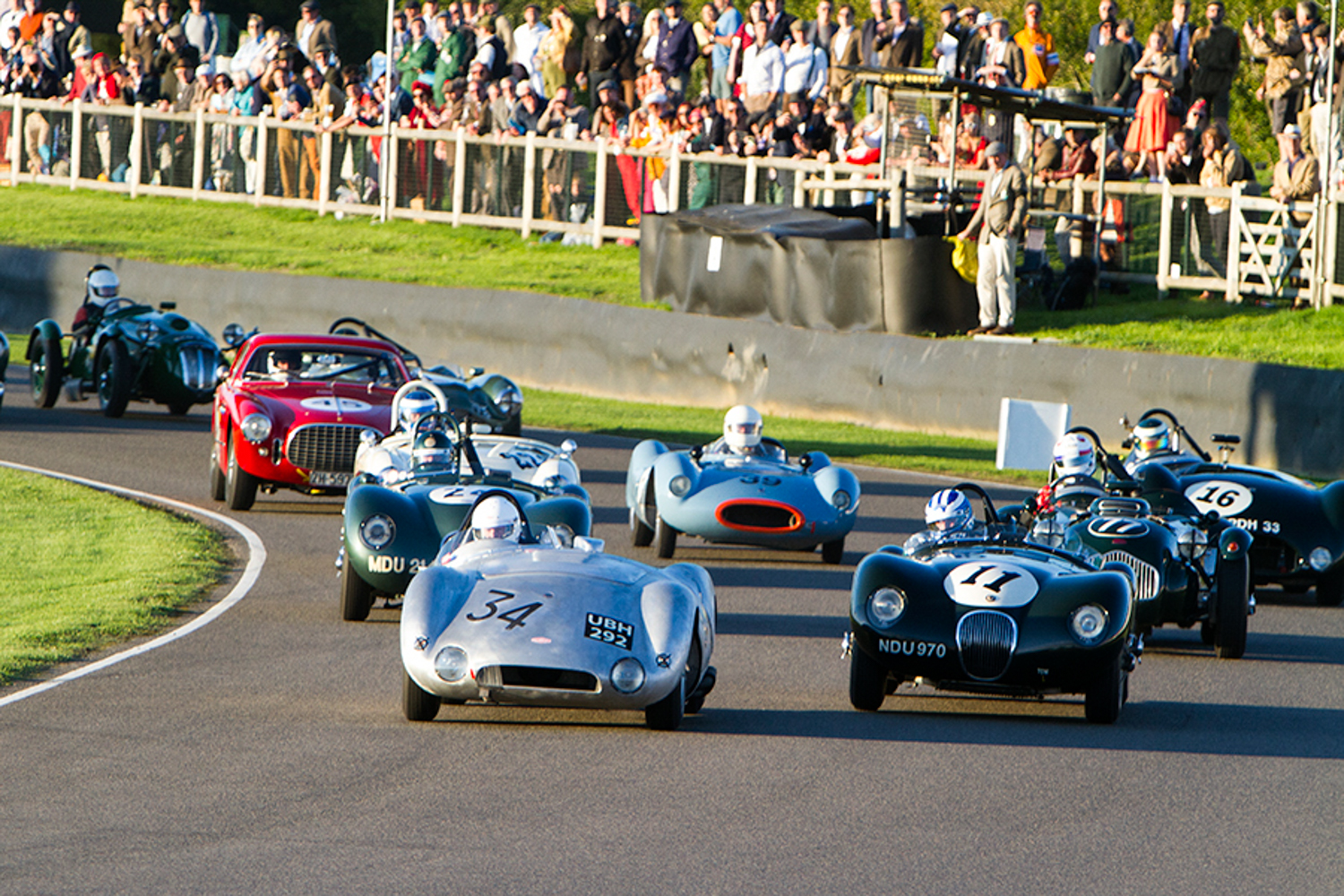 Goodwood's sweeping circuit always facilitates close racing and 2022 provided the usual wheel-to-wheel action. Friday evening's 1hr "Into the dusk" Freddie March Trophy saw the Harman/Finburgh Cooper Jaguar lose the lead with a jump start penalty allowing the C-type Jaguar of Wakeman/Hancock to take 1st place.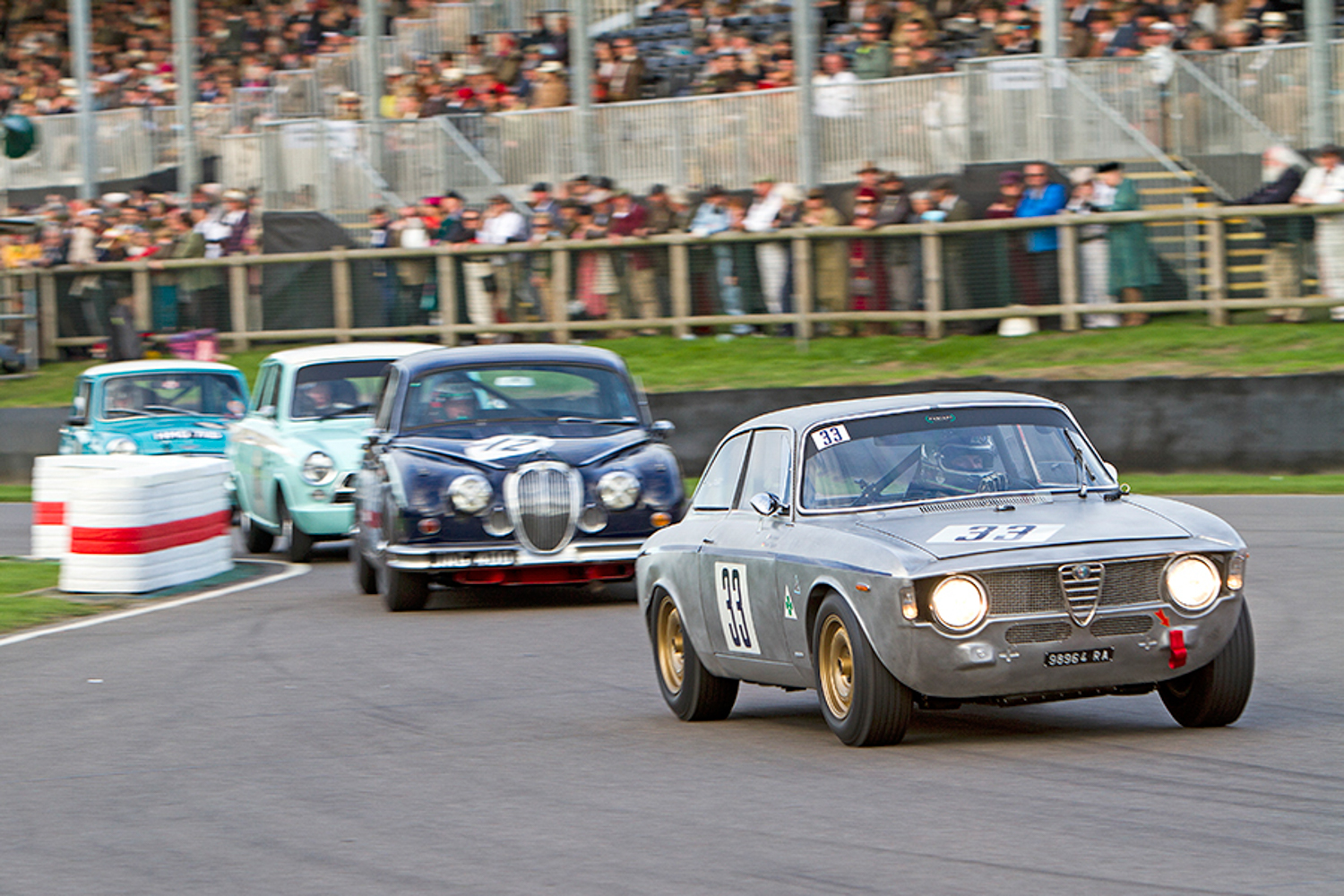 Touring car St.Mary's Trophy races provided fantastic action with the Alfa GTA of Stippler/Furiani snapping at the heals of Dumas/Shepherd Ford Galaxie for most of part 1, until Stippler lost time when an inside overtake move had the door closed on it.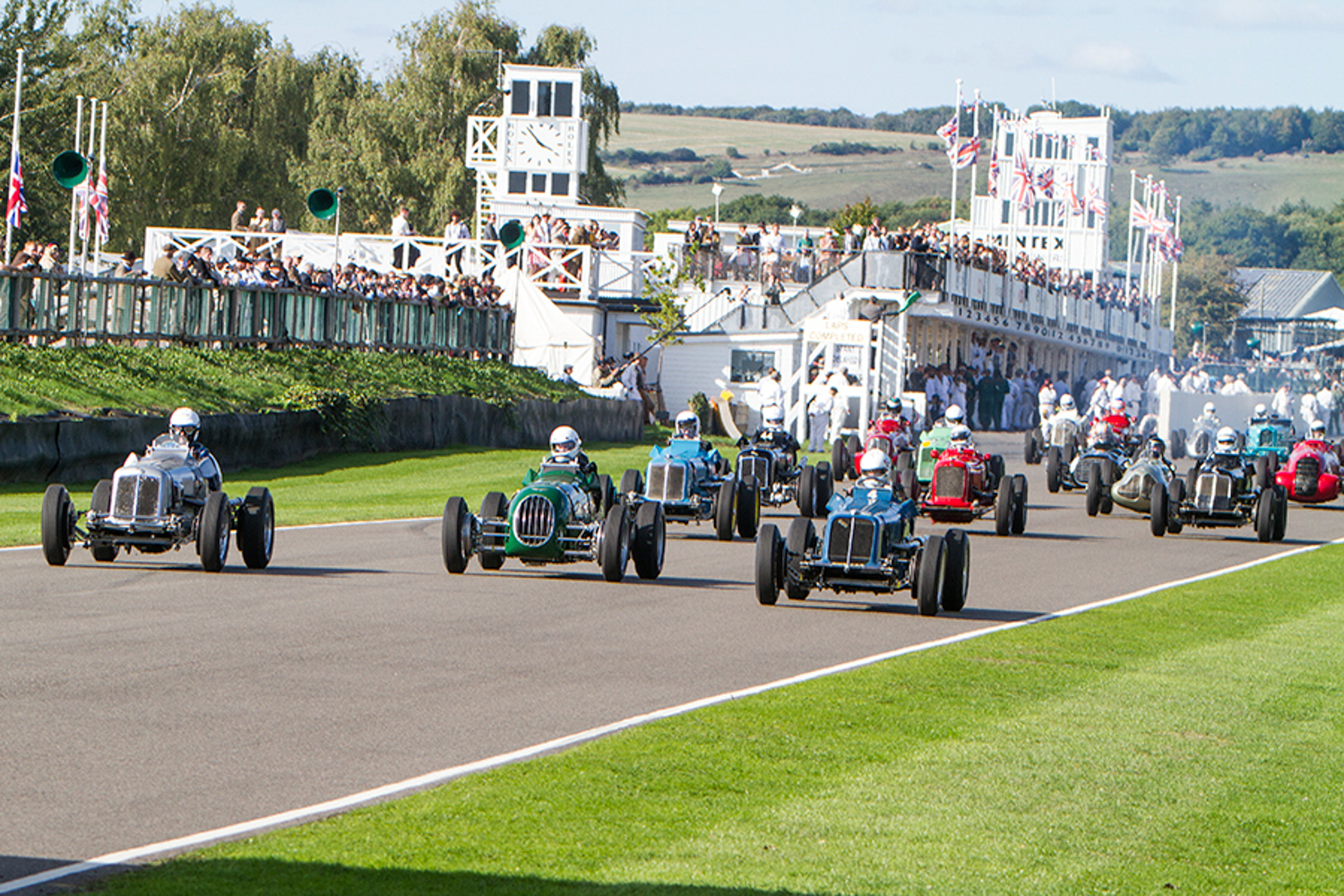 Mark Gillies snatched the Goodwood Trophy in his ERA A-type by 0.05 of a second after a race long dice with David Morris also in an ERA.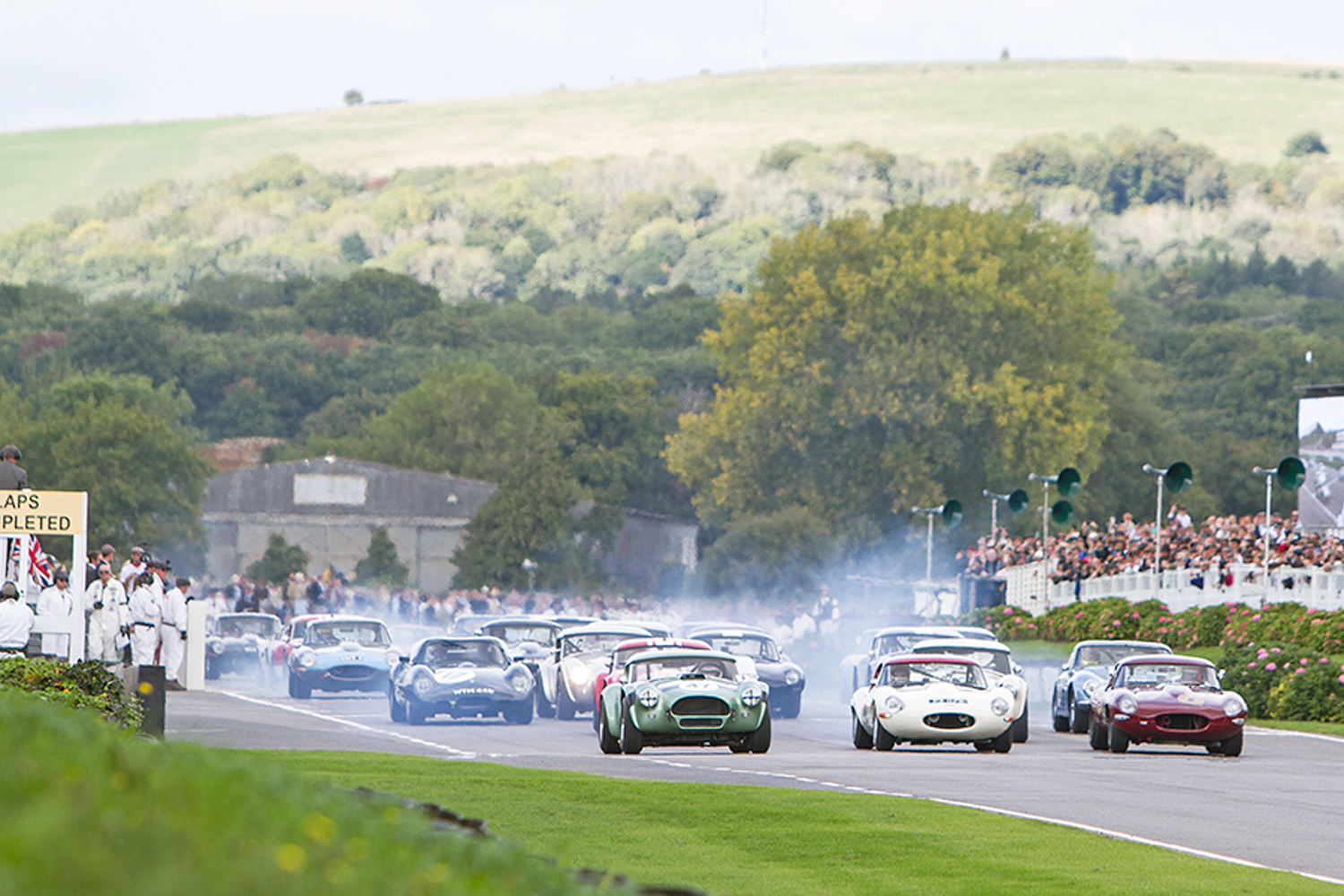 Saturday evening's 1hr 2-driver Stirling Moss Memorial Trophy race went to the Whitaker/Jordan AC Cobra "Dragonsnake" but it wasn't an easy ride. Mike Whitaker missed a gear change off the line and had to fight back up the through field, then immediately after a driver change had put them down the field, a safety car period held them back but in the final 7 laps Andrew Jordan came through to take the lead. Jenson Button stormed into the lead with his E-type during the first stint of the 1hr 2-driver RAC TT Celebration race leaving a mighty scrap for second place 20 seconds behind him. Button and Newey looked set for victory until their gearbox failed one lap after Newey took the wheel. Tom Kristensen recovered from a spin to take second place but failed to catch the Shedden/Smith leading Cobra. Another storming round of the St.Mary's Trophy contest closed the weekend's proceedings with Fred Shepard emulating his partner's victory of the previous day to clinch the Trophy on aggregate.
We are assured that, as usual, the Revival will be back again next September celebrating its 25th edition.