The Ferrari 365 GTB/4 Daytona Berlinetta is a milestone in the legacy of Enzo Ferrari's quest for sports car GT perfection. Debuting at the Paris Auto Show in 1968, this masterpiece was informally christened "Daytona" after Ferrari's 1-2-3 finish in the 1967 24 Hours of Daytona race. Underneath its sculpted body, the Daytona houses a 4.4-liter V12 engine with 352 horsepower output and a top speed of 174 mph, making it one of the fastest production cars of its era. The iconic bodywork was styled by Leonardo Fioravanti of Pininfarina. The Scaglietti-built body features a steel shell with an aluminum trunk, hood, and doors mounted over a steel tube chassis and a fiberglass inner tub. Pop-up headlights were adopted for the model in 1971 to comply with US safety standards. As automotive enthusiasts and experts delve deeper into its history, the Daytona's significance is not only about speed or aesthetics but also about how it captured a moment in time, bridging Ferrari's past with its future.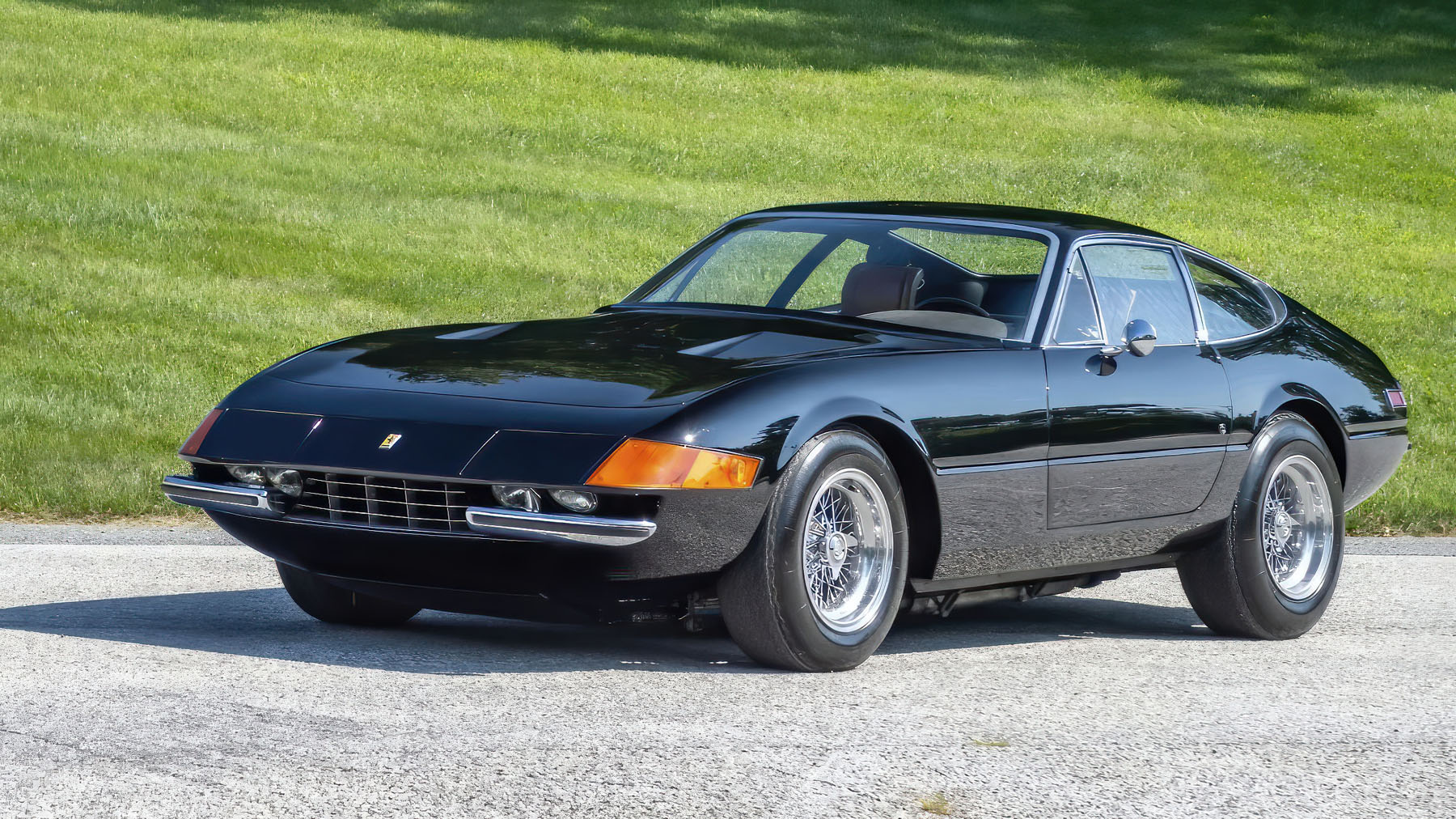 Now available
This 1971 Ferrari 365 GTB/4 Daytona is a US-market example and one of 1,284 Berlinetta coupes produced in total between 1968 and 1973. The car was delivered new to Modern Classic Motors of Reno, Nevada, and was originally owned by the Chairman of the Ophthalmology Department at the University of Nebraska. It was purchased in 1976 by its second owner and relocated to Tacoma, Washington, where it reportedly remained until being obtained by Ferrari of Beverly Hills, California, in 1994 and subsequently repainted its current shade of black.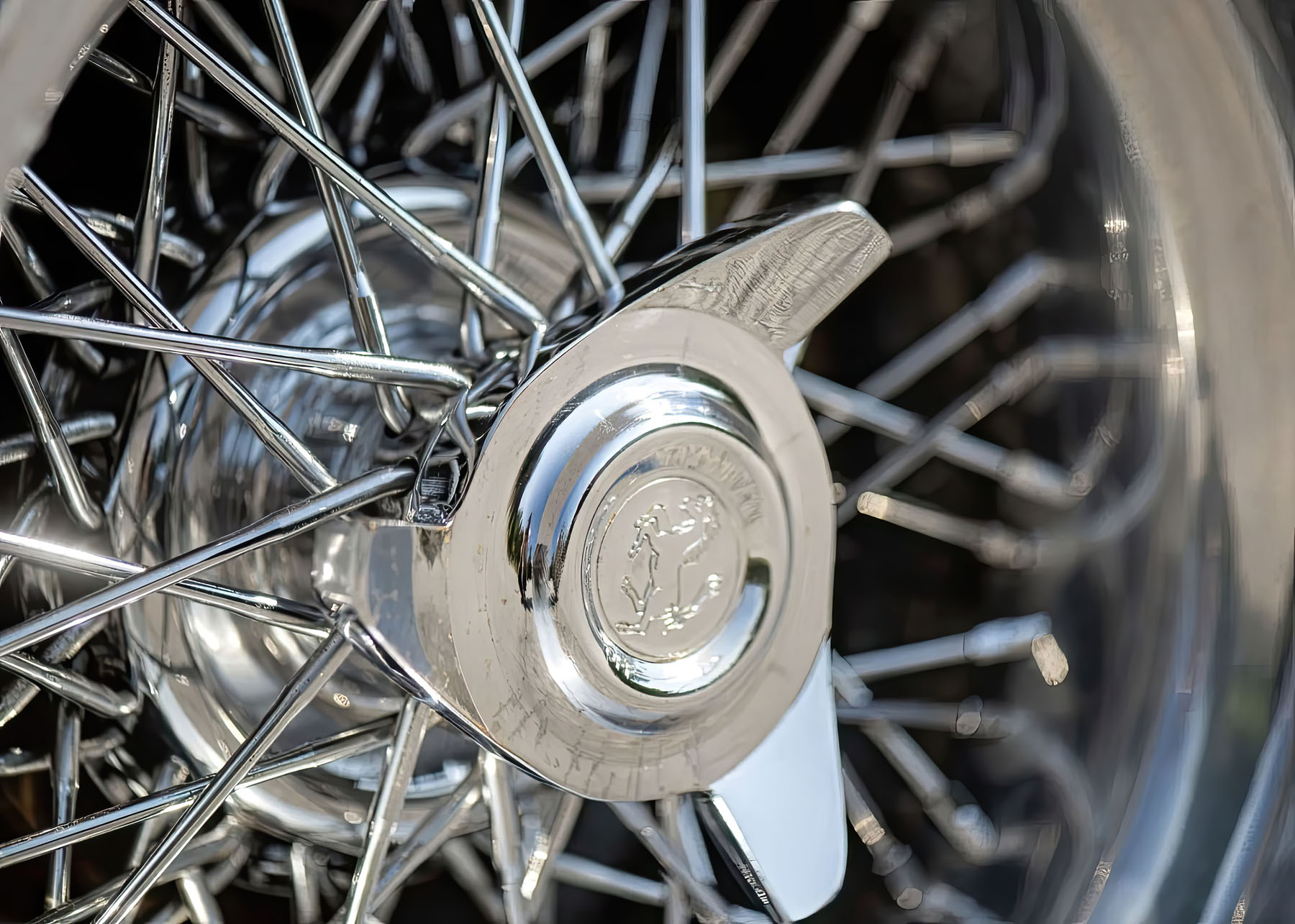 The car was moved to Illinois in 2011 and was sold on BaT in January 2021. Power is supplied by a 4.4-liter quad-cam V12 paired with a five-speed manual transaxle, and features include beige and black leather upholstery, a Tubi Style exhaust system, Borrani wire wheels, air conditioning, pop-up headlights, four-wheel disc brakes, and power windows. This Daytona Berlinetta is now offered on dealer consignment with spare Cromodora wheels, factory literature, service records, a tool kit, and a clean Maryland title.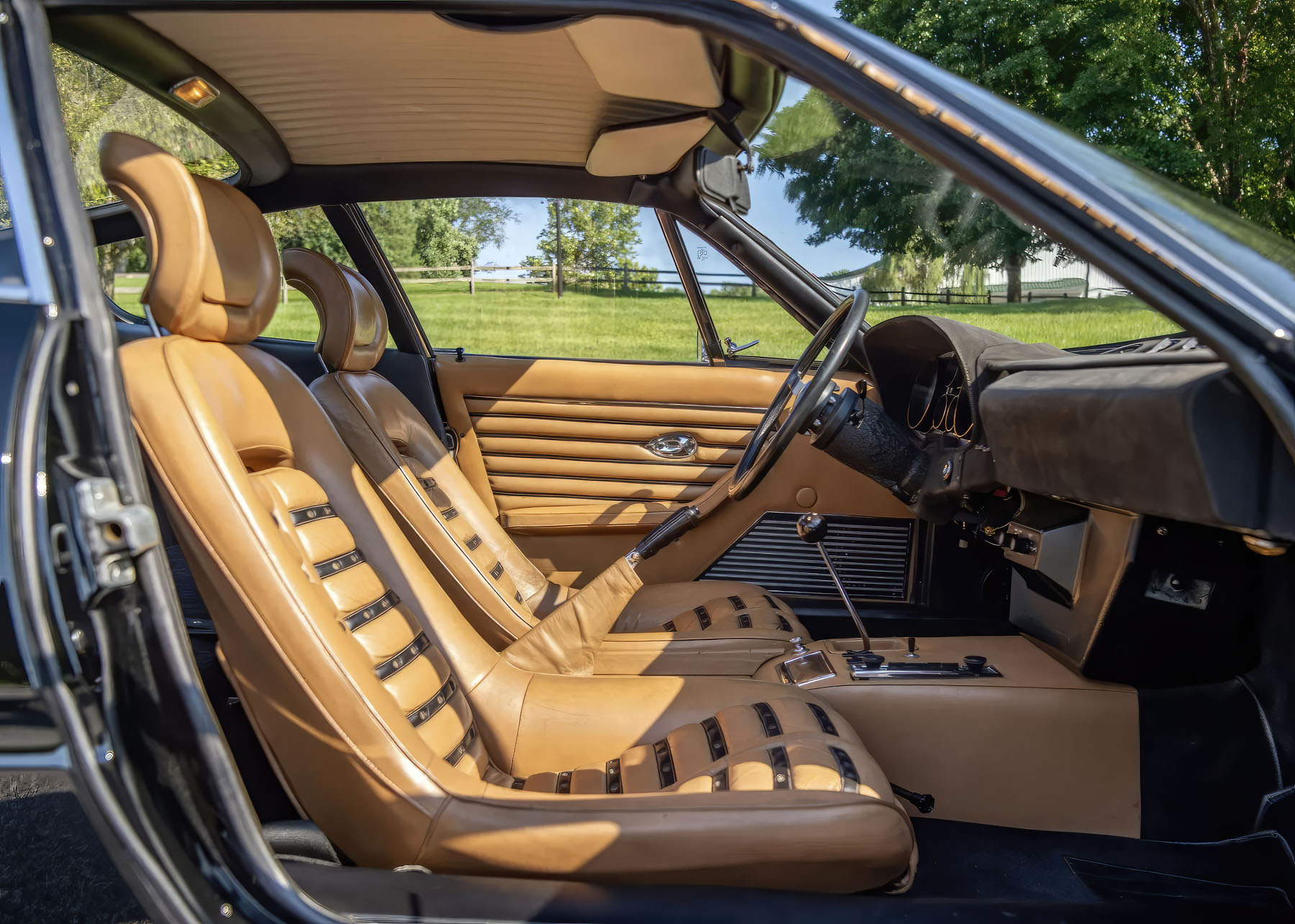 Exterior
This example was finished in Rame Metallizzato from the factory and repainted its current black shade circa 1996 by Ferrari of Beverly Hills. The lower half of the doors were refinished following rust repair in 2003, and touch-ups were also performed around the nose panel at that time. Replacement window trim was fitted in 2012, and a bump is noted on the passenger-side roof rail. Other imperfections include a cracked inner rear lens, a crack in the plastic bezel around the boot lid, and a cracked fuel door release.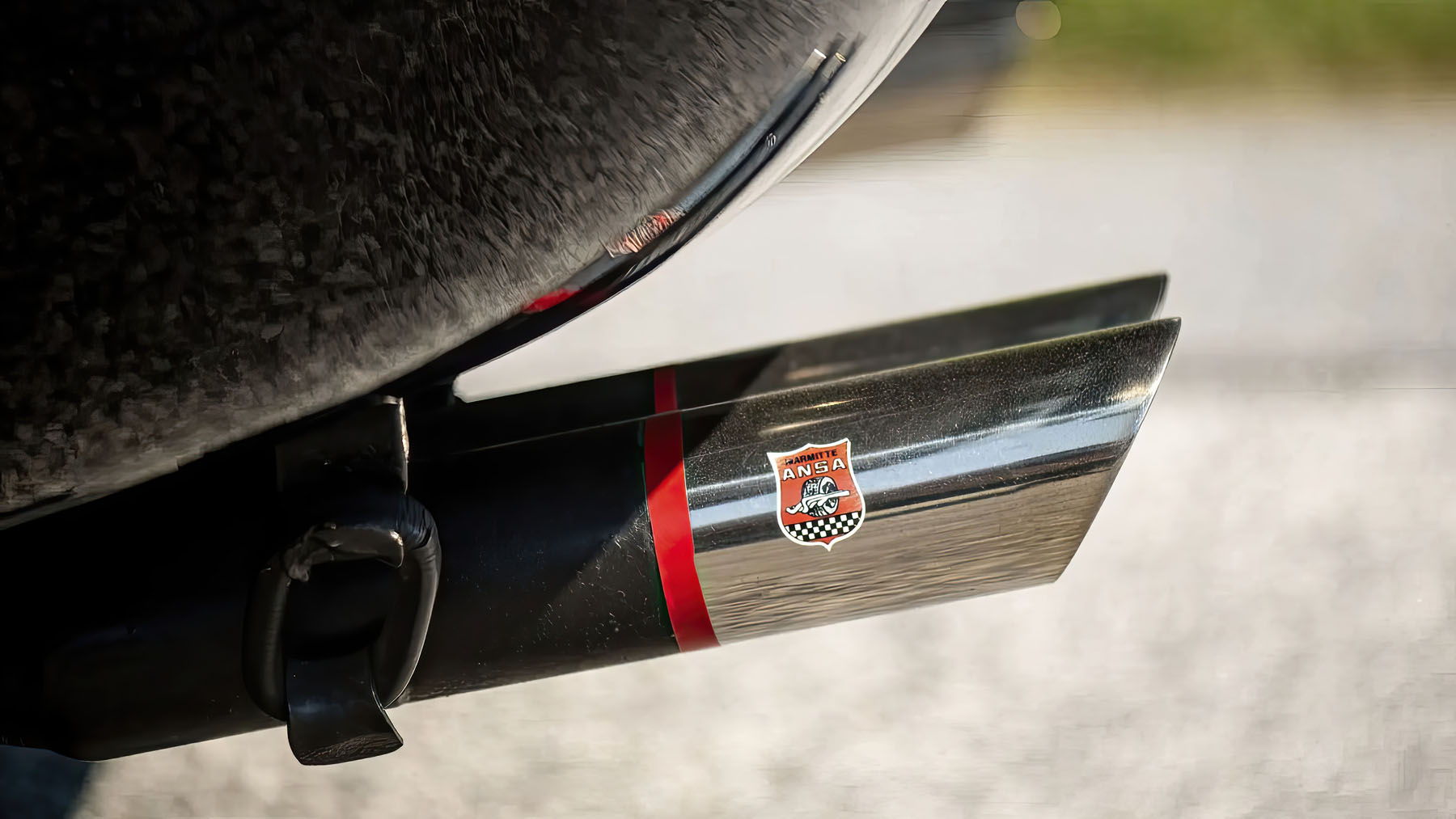 The seller reports that a paint correction was performed under current ownership. Borrani 15″ knock-off wire wheels wear Michelin XWX tires measuring 215/70 up front and 225/70 out back, and a five-spoke Cromodora spare is mounted in the trunk. The brake system features four-wheel discs, and the rear calipers were rebuilt in 2006 by Group 2 Motorsports of Seattle, Washington.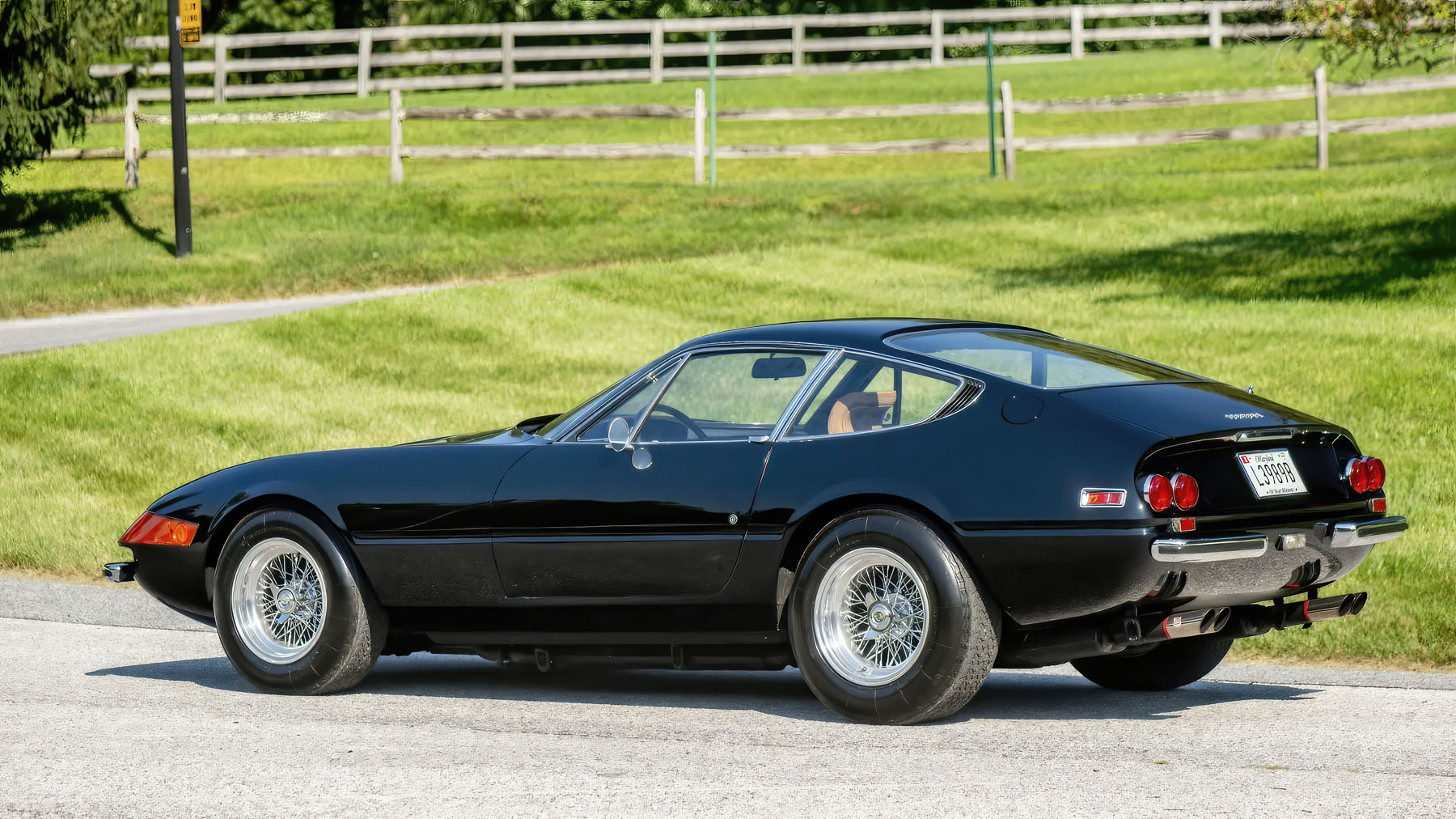 Cockpit
The cabin features seats trimmed in beige leather with contrasting black inserts and a matching center console and door panels. The piping is worn on the driver's seat. The dashboard is upholstered in black "mouse fur" material that has lost some of its texture, and black carpets line the floors. Interior amenities include a gated shifter with a dogleg first gear, air conditioning, a glovebox-mounted Pioneer CD stereo with two remotes, and power windows. The rear defroster switch and Becker Mexico cassette radio located in the center console do not work. The leather-wrapped steering wheel frames Veglia Borletti instrumentation housed in a brushed aluminum surround including a 180-mph speedometer and a tachometer with a 7,700-rpm redline. The five-digit odometer shows 57k miles, approximately 300 of which have been added under current ownership.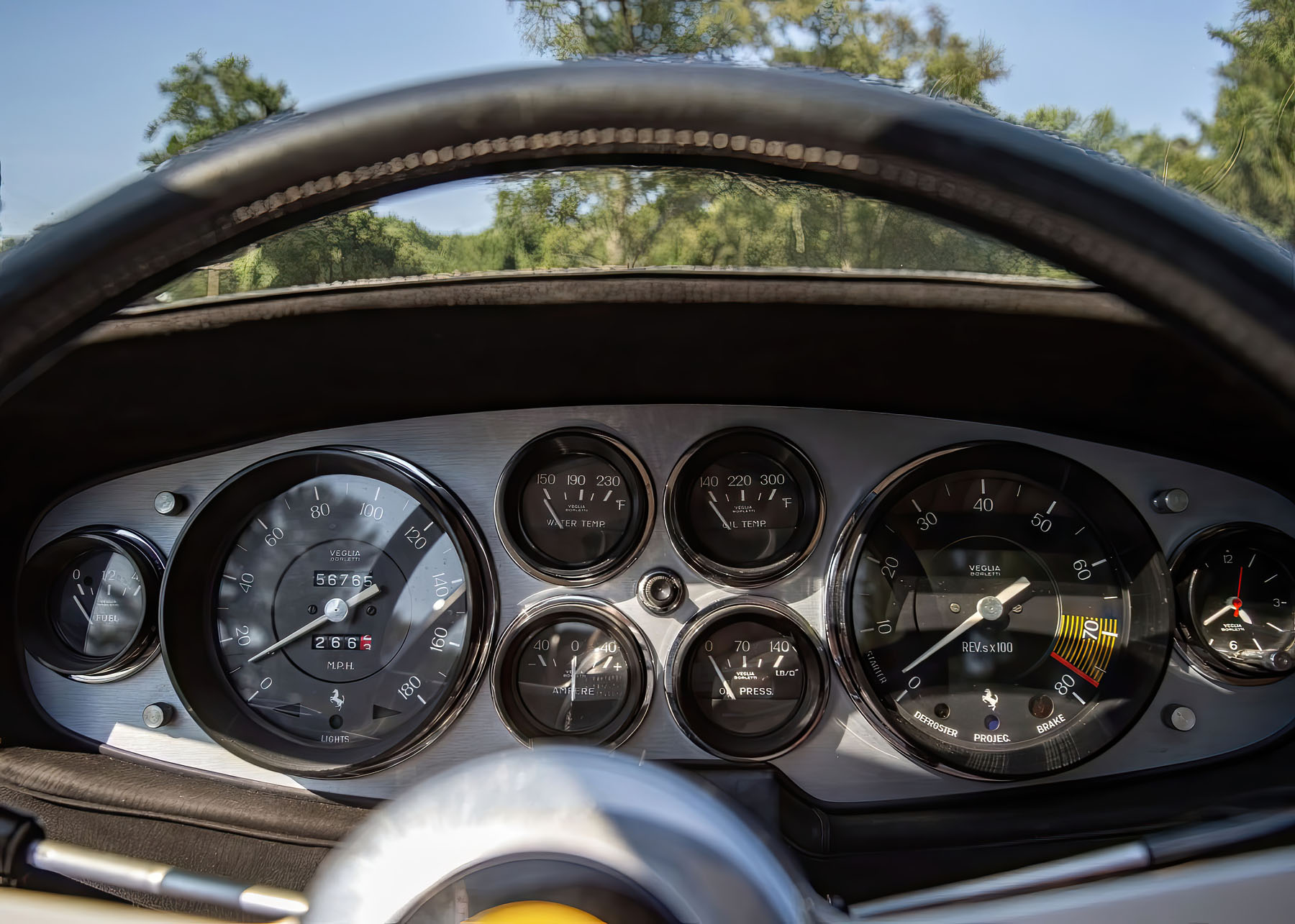 Engine
The 4.4-liter Tipo 251 Colombo V12 features a 60° bank angle, dual overhead camshafts on each cylinder bank, a dry-sump lubrication system, and six Weber carburetors. MSD electronic ignition has been added with the boxes hidden in the fender wells. An oil leak is noted from the front of the engine and right valve cover, and the air pump is disconnected. An oil change was performed in July 2022. A tool kit, jack kit, service records, and factory literature are included in the sale along with a set of knock-off five-spoke Cromodora wheels.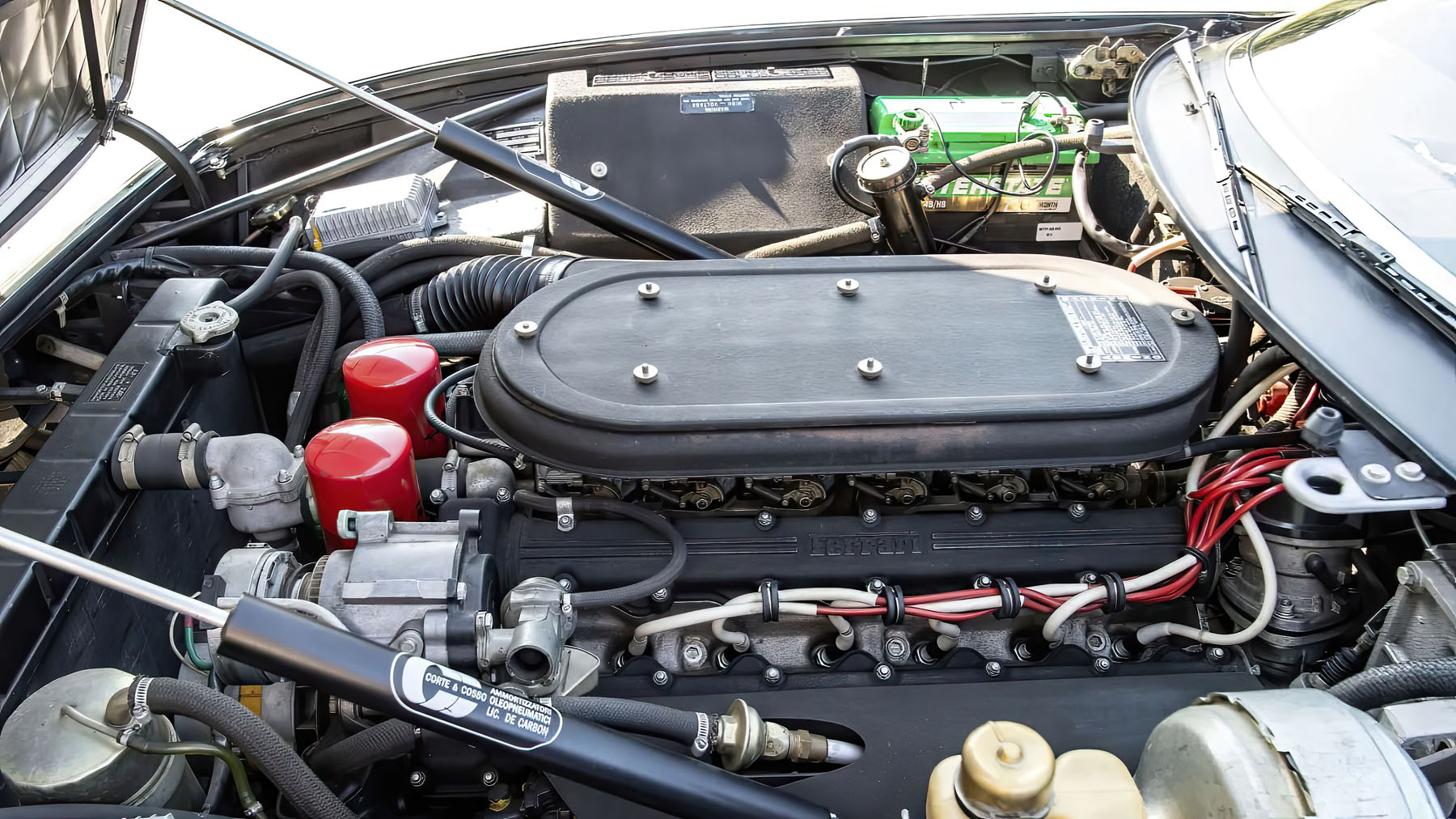 Auction information
Go here for details
All photos © 2023 Bring-a-Trailer