The final lap has been run and the chequered flag has fallen on the life and time of a man who was unambiguously born to be a racing driver, indeed he was known the world over as 'Mr Motor Racing'.  To give him his proper title, Sir Stirling Craufurd Moss, OBE, was born in 1929 to parents who had a penchant for racing cars.  Father Alfred, a dentist by trade, took part in the 1924 Indy 500 in a Fronty Ford, he finished 14th (some sources say 16th).  His mother, Aileen, drove ambulances during WW1 and became a British trials champion, so racing was truly in the blood.  Incidentally, as a true Scot, Aileen wanted her son to be named Hamish, but Alfred thought Stirling the place of Aileen's birth sounded much better – Craufurd was Aileen's maiden name. Sister Pat, 5 years Stirling's junior, was a very accomplished rally driver winning the European Ladies' Rally Championship five times in 1958, 1960, 1962, 1964–65.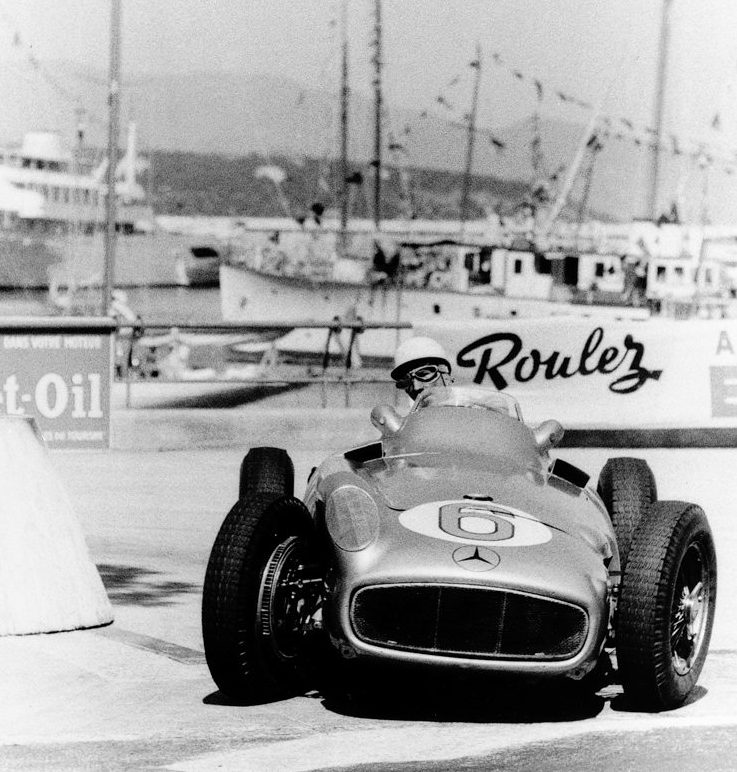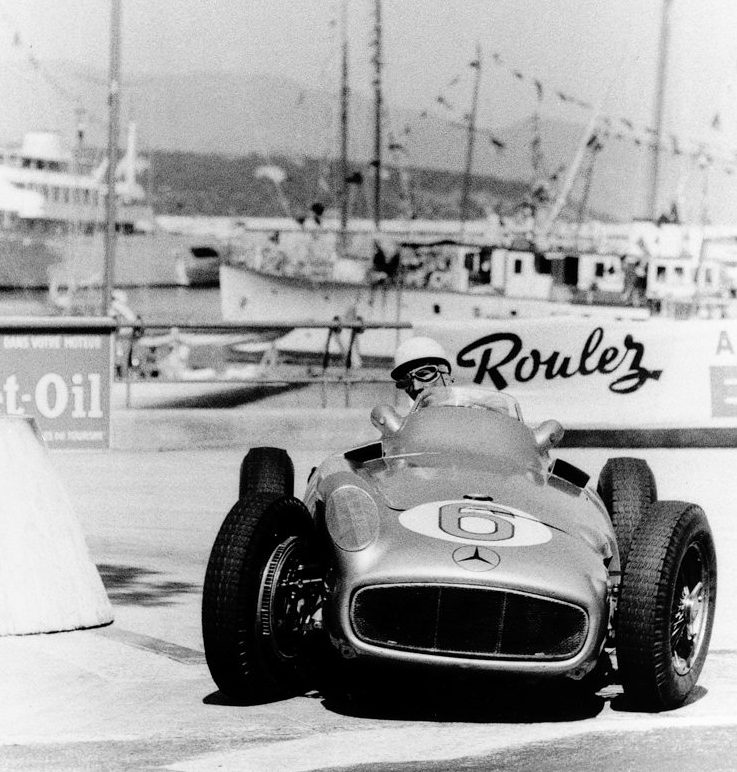 There will be many column inches written about the life and times of Stirling Moss, indeed there are many tomes littering enthusiasts bookshelves already, so in this obituary It would be impossible to include all the facts and figures about the great man.  Simply, Moss was the trail blazer for today's professional racing drivers.  He knew he couldn't work in a factory or an office block, it was the heroic, valiant, courageous and colourful world of motorsport that appealed.  A war torn Great Britain craved a peace time hero, not the fictitious comic types like Batman, Superman, or Spider-Man, a real life hero and Moss gave all he could.  Competing in around 500 races from 1948 to that dreadful crash at Goodwood in 1962, he won 212.  Unlike today's drivers it wasn't a one race series per year, Moss would sometimes compete over 60 races per year and during his racing career drive almost 90 different makes of car.  His 16 Formula One victories were not enough to give him a World Championship, although his record of four runner-up and three third places in his greatest years of Grand Prix racing, between 1955-1961, gives some measure of his mastery of his art. It was when he was in the running to win a title in 1958 he gave evidence to the race officials exonerating Mike Hawthorn from being excluded from the results after bump starting his car against the flow of traffic.  Hawthorn's second place remained intact and presented him the title.  Moss simply brushed off his intervention by saying, 'I'm sure Mike would have done the same for me.'  Commentators, journalists and many others have always bestowed the crown upon him as the greatest driver never to win a Formula One Championship, which he so richly deserved.  The greatest title he wished for was respect from his fellow drivers, which he gained immeasurably.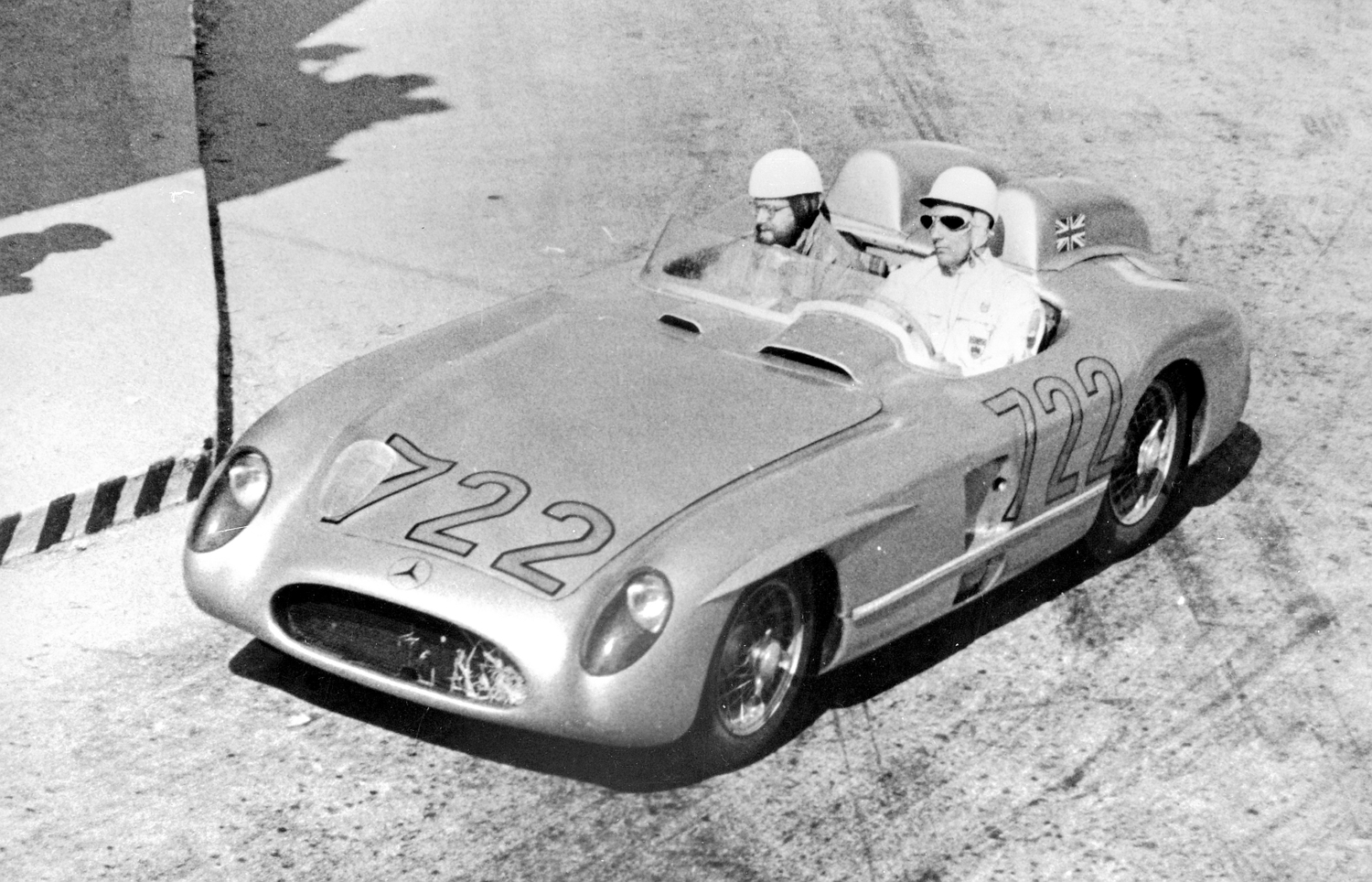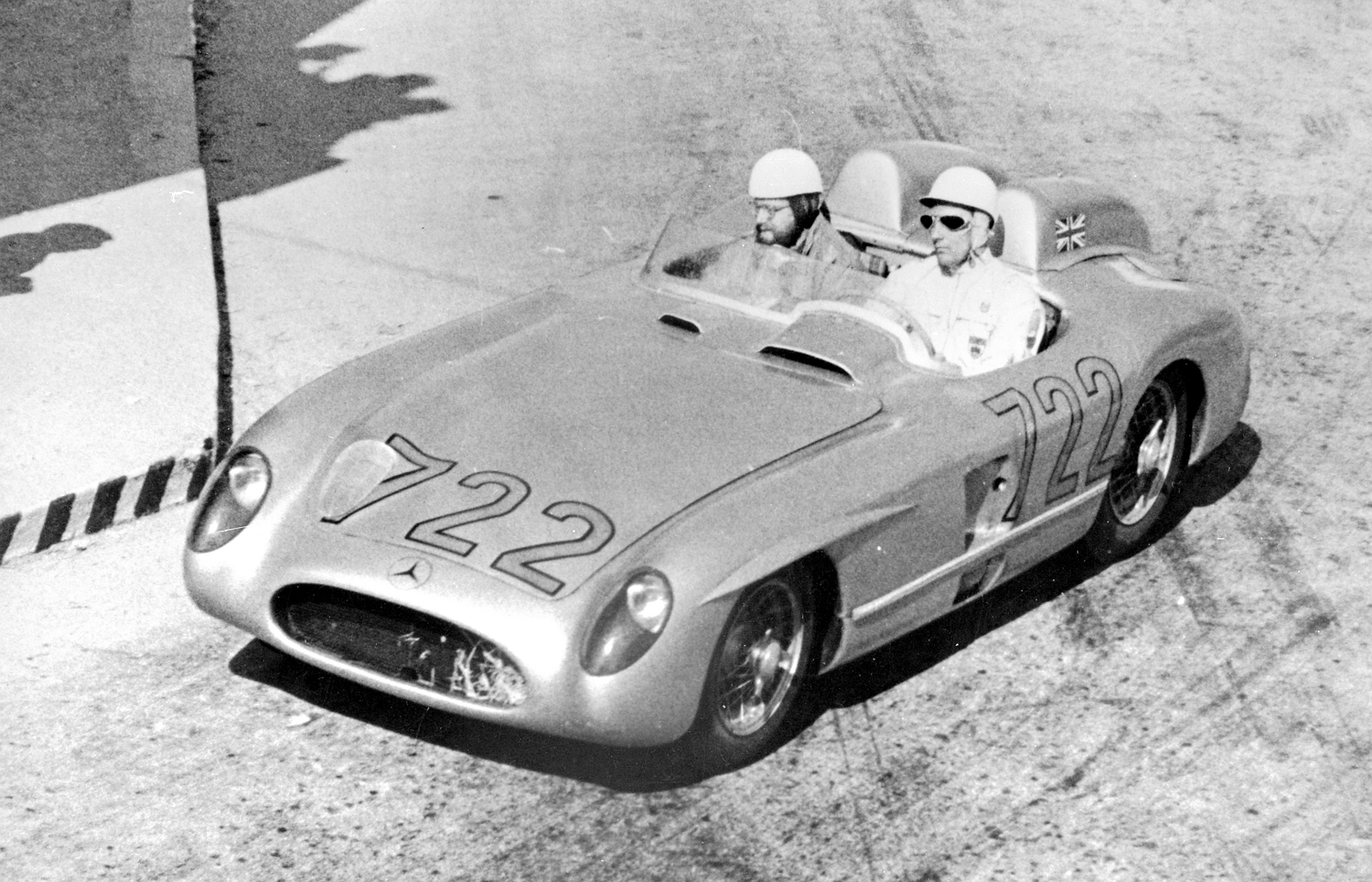 When I asked him for his most memorable moment in motor racing for a book I was compiling, his reply was unswervingly instant 'Mille Miglia 1955'.  It was possibly one of the most frightening races of his life, threading his Mercedes 300SLR through the tight and twisty tracks and roads at break neck speed unable to read the turns, undulations and ad hoc buildings until the very last minute and avoiding the many mobile chicanes including pedestrians, cattle and horse and carts.  His recollection liked it to racing at Monaco, 'It was like driving through the tunnel, where you can't see the exit of the corner until you're past the apex, but all the time, for 10 hours.'  Monaco was the venue of one of his other great victories in the Rob Walker Lotus 18 beating the all conquering 'shark-nose' Ferraris.  Whilst confident of his ability he wasn't the type to brag or become arrogant of his racing prowess.  His signature post race wave to the crowd was an endearing quality, that was affectionately accepted by many generations to his very last competitive lap at Le Mans in 2011, racing his own Porsche RS61 at the Classic weekend at Le Sarthe.  In an interview sometime ago he regretted not racing at Indianapolis and not being allowed to race flat out at Le Mans, 'I never raced in the Indy 500. I would have loved all that bullshit. And I'm sorry we could never go flat out at Le Mans, like they can now. A really hard race for 24 hours would be something, but in my day you had to cruise to preserve the car. Actually, with the Mercedes 300SLRs in 1955, Neubauer didn't set us any limits it was down to us. I'm certain Fangio and I would have won. We had a big lead when the call came from Stuttgart at 1.45am to withdraw because of poor Levegh's accident.'  One other regret was being persuaded to race a front wheel drive Audi in the British Touring Car Championship in 1982.
Despite the tragedies, Moss was always thankful of driving during the period he did.  The camaraderie of the drivers, the ambience of a race weekend during the 1950s and 1960s was a world away from the multi-million pound F1 circus that perambulates around the globe today. Unlike Jackie Stewart, Moss believed the dangers and tragedies were all part and parcel of a racing driver's lot, 'Obviously the sport is safer now and that's a good thing. In my time I was losing three or four friends a year. But I always liked to have danger lurking on my shoulder – it was an aphrodisiac. No-one was pushing your foot to the floor. You went as fast as you could, and the faster you went, the greater the erection and the greater the pleasure. I believe that racing should be dangerous. If you don't like it you should do something else.'  To prove not everyone  was tolerant of Moss's driving style, in April 1960 when testing a Mini on a public road the local constabulary charged him with dangerous driving – he was subsequently fined and banned from driving for 12 months.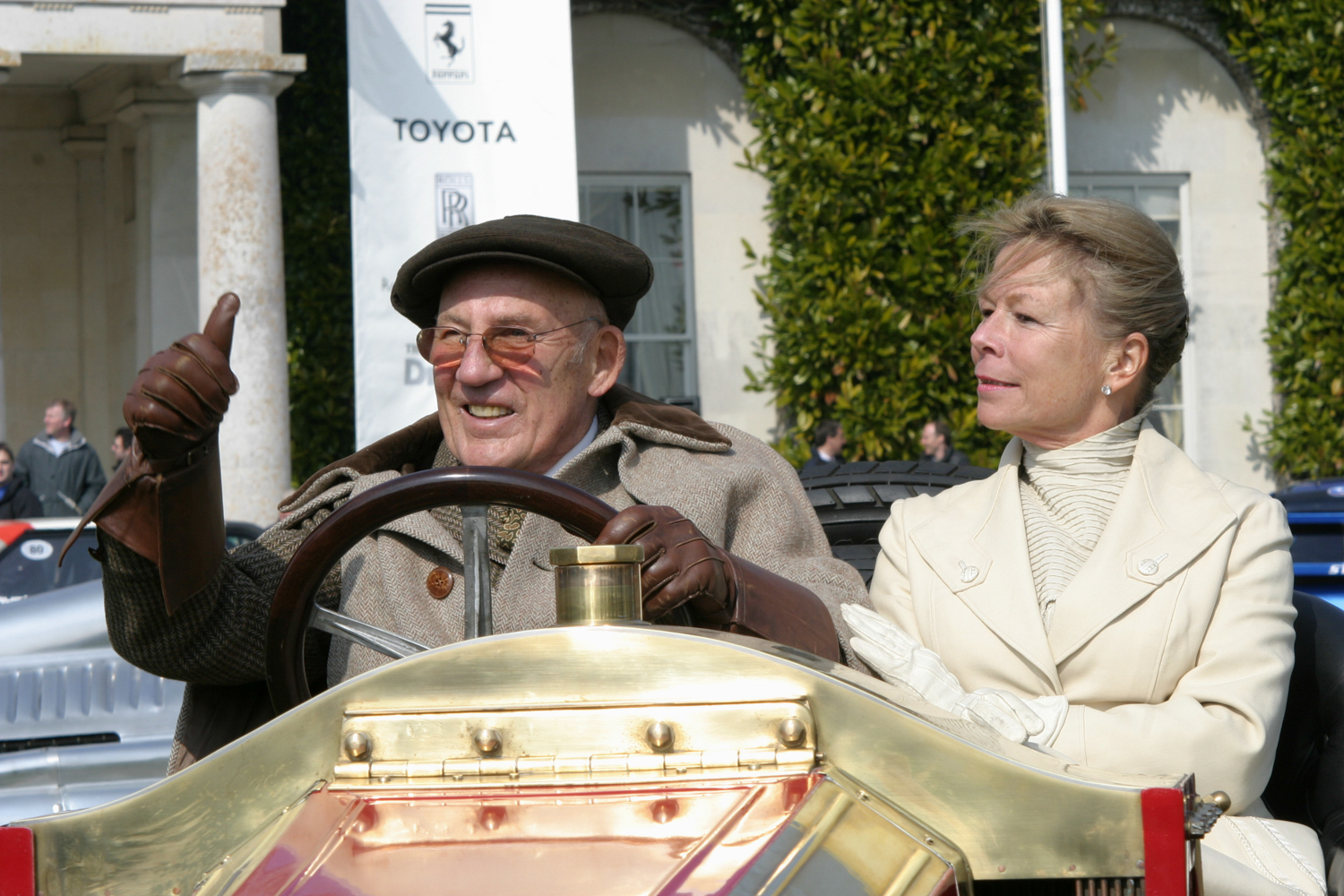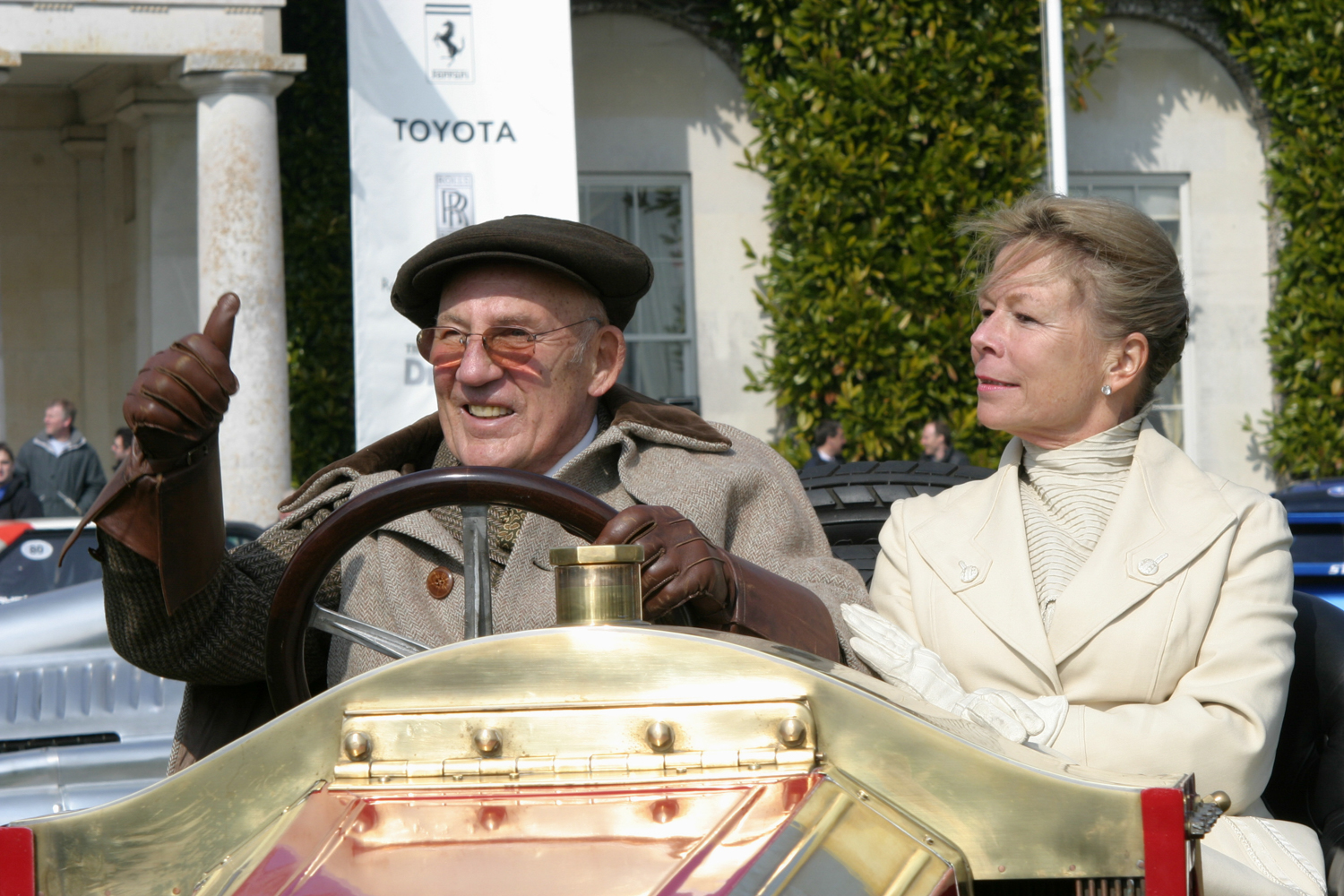 After his racing career, Stirling Moss forged his own brand and excellence as an ambassador of the sport commentating, after dinner speaking and the face of many products and services.  Everything from Insurance to pills for erectile dysfunction were on his radar, he concurred he'd almost always agree to sell his time across the world for whatever function – if the price was right.  I recall many shows and events he'd attend and the hundreds of fans who'd queue to get their book, model car, or their particular piece of memorabilia signed.  He'd always say, 'A book not signed by me must be the most valuable as I've signed so many'.
His political incorrectness seemed to put him on a par with many of his generation including the Duke of Edinburgh who 'put their foot in it'.  A couple of instances come to mind when he severely upset the Lesbian, Gay, Bi-sexual and Transexual communities by saying he wanted a 'masculine' actor playing his part should a film be made of him and he also perturbed the feminists by saying he was very doubtful a woman could ever win an F1 Grand Prix as they lacked 'mental aptitude', but they were his straight up and forthright opinions.  Whilst occasionally aggrieving some he'd always remain a national and international treasure to his multitude of fans and followers who he'd make them feel so special when spending even the most minuscule amount of time with them.
Whilst being married twice before, it was Moss's marriage to Susie Paine in 1980 that has made him the most content.  Indeed, he said he would like to live for ever, as long as 'I could have Susie with me'.  Lady Moss, who embraced everything Stirling stood for, has done a great deal in organizing the logistics of many trips, social, business and racings events he's attended over the years and is the lynchpin in the business Stirling Moss Ltd.  In later years, with his somewhat failing memory, she would be the one to surreptitiously prompt him to save any awkwardness, or embarrassment.  However, in the early days, she'd not only keep the laps chart for him, but on more than one occasion was his mechanic, and very accomplished too!
Whilst many enthusiasts recall his racing accidents particularly at Goodwood in 1962, in 2010 it was the accident at his home when he fell three floors down a lift shaft that most of his latter day fans will recall.  It's says much of the strength, stamina and resilience of the man, then an octogenarian, not only surviving but recovering from such an incident.  However, sadly, it was the virus and related complications he suffered whilst travelling to Singapore in 2016 that finally called time. Throughout it all Susie never left his side.
My special moment with Sir Stirling was in 2002 when he agreed, along with Sir Jack Brabham, Roy Salvadori and Tony Brooks to attend a charity event I was organised to celebrate the 45th Anniversary of him and Brooks winning the British GP at Aintree driving for Vanwall.  I'd found out that the pair had missed out on the presentation of the Fred Craner Trophy – awarded to the first British, or Commonwealth drivers of the British GP.  So, it was left to me to complete the business of the 1958 Grand Prix, awarding the huge gold trophy to them – truly memorable!
During his lifetime Stirling Moss had many honours bestowed on him.  The most notable being made a Knight in the year 2000 honours list.  Prince Charles, stood in for Her Majesty Queen Elizabeth and dubbed him with the sword in March 2000, after previously being awarded the Order of the British Empire.  Until very recently he held the record for holding 10 Gold Stars presented by the British Racing Drivers' Club and in the mid 1990s he was inducted into the International Motor Racing Hall of Fame. You may ask where Stirling Moss felt he stood amongst the Grand Prix greats, in fact it was 4th place behind Fangio, Clark and Senna and likened himself to Gilles Villenueve, who he described as 'unbelievable to watch'.  In the mid-2000s he was also awarded the FIA Gold Star and the Royal Automobile Club's Seagrave Trophy both for outstanding service to motor racing.
As I've said, there is so much more that can and will be written about this incredible man who gave and meant so much to motor racing and his many race fans.  To Lady Susie, son Elliott, their family and friends, Vintage Racecar wishes to extend deepest sympathies.