A raucous group of 36 "Tin Tops" comprising the 1955-1969 Saloon car class will add an extra dose of entertainment as they compete in a one-hour endurance race to end the third day of the Rolex Monterey Motorsports Reunion Friday, Aug. 18. In only its second year, the drivers of the popular group put on an entertaining race that fans of all ages enjoyed.
The Saloon class is one of 14 groups participating in the Rolex Monterey Motorsports Reunion, Aug. 16-19, at WeatherTech Raceway Laguna Seca. The historic racing event celebrates its 49th year on the Monterey Peninsula, and together with the Pebble Beach Concours d'Elegance, are the founding events of the now world-renowned Monterey Car Week.
Saloon cars were in production prior to 1969 and were originally destined to be family transport. Soon, the cars turned into weekend racers. Not only are they fun to watch, but they can also navigate the 2.238-mile course with ease. Recognizable as every day drivers, the entry list includes Ford Anglias and Escorts, and Lotus Cortinas rivaling Alfa Romeo GTAs, BMW 1800s, and Mini Coopers.
"I cannot wait to race my Austin Cooper S at Laguna Seca in August! I consider this track to be one of the greatest race circuits in the world," said David Woodhouse, a longtime participant and vice president of Nissan Design America. "At the moment, I can only imagine the course will perfectly suit such a nimble, giant killing little car. Being front wheel drive, I will have some adjusting to make as the character is so different to the open wheel formula cars I am used to racing there."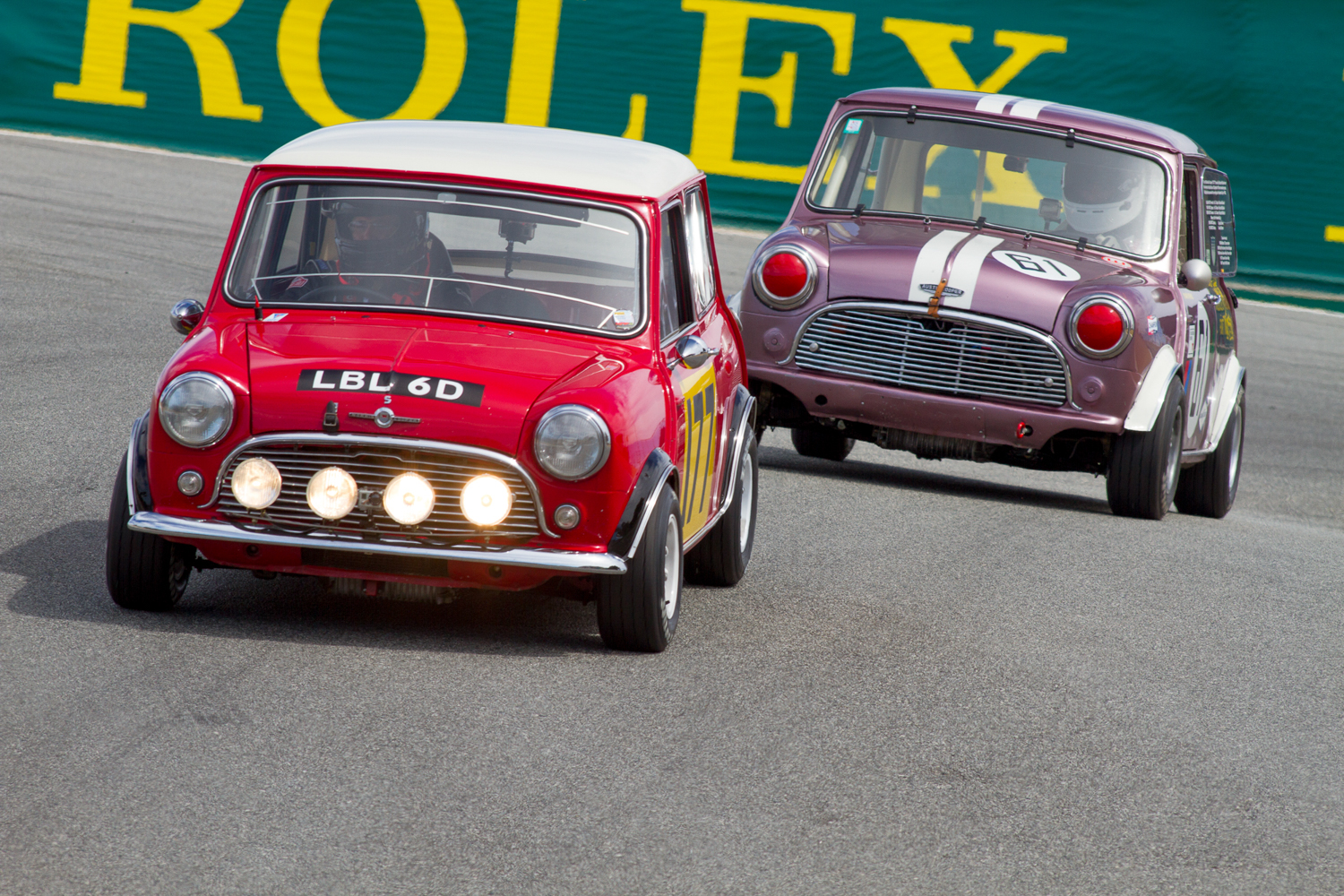 The Saloon Enduro will feature a mandatory driver change and five-minute stop during the race. As with all groups, the Saloon cars will be on track each of the four days, and some have applied for entry into the Corkscrew Hillclimb & Community Day on Sunday, Aug. 20.
"The Saloon cars are a case of 'back by popular demand,' both by visitors and drivers alike," explained John Narigi, president and general manager of WeatherTech Raceway Laguna Seca. "They were quick through the turns last year, and we'll see how much faster they may be on the new track pavement."
Entries for nine of the 14 groups have been determined after extensive vetting by the Advisory Council. The remaining groups are currently under review and are expected to be finalized within the next week to complete the grid. It is a time-intensive process to review the cars and accept the ones with provenance and period-correctness.
VIP ticket packages for the limited Legends Club, with breakfast and lunch catered by local favorite Baja Cantina and Turn 12, as well as advanced pricing on general admission tickets are available by calling 831-242-8200 or visiting WeatherTechRaceway.com.