Car Profiles
Profiles of sports, racing and vintage cars. Some of these cars are historically significant, some are about pushing the automotive technology of their time, while others are just the pinnacle of the driving experience – engaging, fast and fun. On this page we take a look at some of the most memorable sports cars of all time, all of them iconic and recognizable to any car-obsessed fan reading this site. These are the cars that get our blood flowing here at Sports Car Digest, from vintage racers to classics to the latest supercar offerings, we realize that there are myriad discussions debates over which ones are the most memorable, the most celebrated and the most remarkable. Ignore the debates and refrain from picking an overall winner. Just sit back and celebrate.
Monteverdi 375S For Sale Details: Chrysler 440 Magnum and Torqueflite automatic; Dark Blue/Tan ; 20,000 miles; This particular car is...
1967 Chevrolet Corvette Vintage Race Car Drivetrain: 1965 327 block, +.030 = 331 CID with reported 410 HP. The engine was freshened up last year with new rings, bearings, heads and aluminum intake. Richmond Super T-10 four speed. Color: Blue/Black (race interior) Miles: N/A Other Information: Reportedly weighs 2,800 lbs,...
Hot Rods are not the typical car profile you can expect from Sports Car Digest, but this is far from...
Lamborghini Countach LP400 For Sale Details: V12 Longitudinal, Mid-Mounted DOHC per bank; Red/Tan; 7,250 miles Price: Currently bid to $440,600...
SCD realizes that you have most likely seen this model or video before, especially considering it has been viewed 375,000 times on YouTube. We have viewed it at least a dozen times, but it never fails to amaze. If you have never seen this video or read the story behind...
Patina is defined by Webster's Dictionary as, "an appearance or aura that is derived from association, habit, or established character."...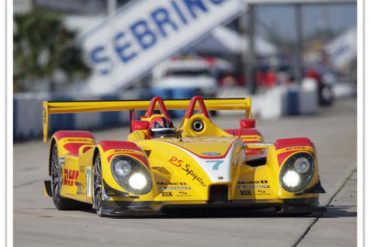 In honor of the 12 Hours of Sebring-winning Porsche RS Spyder, Sports Car Digest highlights the Porsche 917 PA Spyder....
1960 Ferrari 250 GT Pinin Farina Coupe Drivetrain: V12 outside plug engine and 4-speed transmission Colors: Russo Rubino and Tan Leather Other Information: A pre-purchase inspection was just completed on this disk brake 250 GT coupe. Comments include: Engine – "Compression and leak down is good; oil is clean, no...
The Alfa Romeo Tipo 33 was a sports racing prototype raced by the Alfa Romeo works team between 1967 and...
1967 Maserati Mexico For Sale Drivetrain: 4.7 liter V8 and 5-speed Colors: Beige and Black Leather Price: Currently bid to...
1960 Lotus Elite Series II For Sale Details: 1200cc inline Coventry Climax 4 cylinder with twin Weber 40 DCOE; close ratio ZF 4-speed; White with Blue Stripe and grey interior; Seller Fantasy Junction is asking $85,000 Market: The 2008 May – August Cars That Matter Price Guide advocates a $37,200...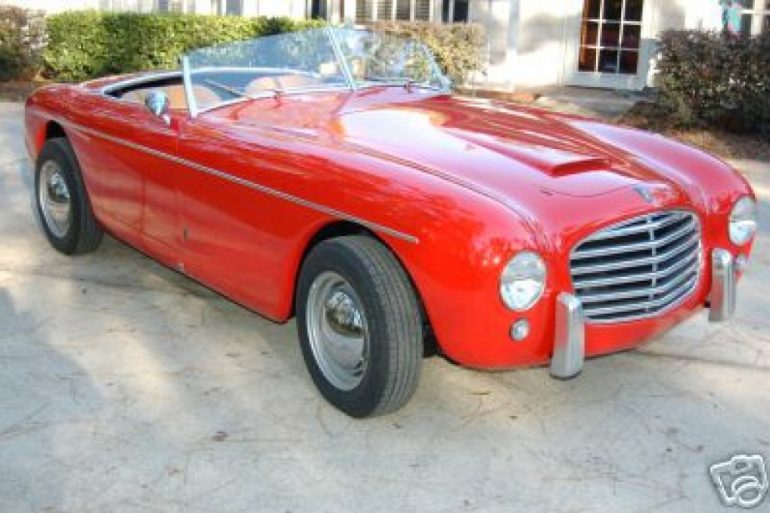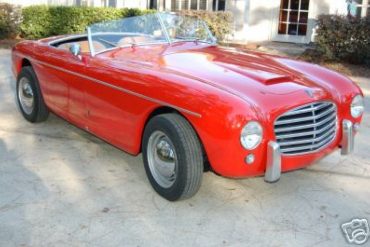 Model: 1953 Siata Daina Gran Sport Drivetrain: Non-original Alfa Romeo 4-cylinder and 5-speed Colors: Red and Tan Leather Price: Currently...
Fighting a Dino with a bull Response by Lamborghini to Ferrari 2-seater, Porsche 911 was the risky, exotic Urraco From...
1967 Alfa Romeo Giulia Sprint GT Veloce Race Car For Sale Details: 1600 race engine built by Dan Marvin; Twin 40 DCOE Webers; Sperry Stage V head; aluminum flywheel; headers and race exhaust, remote filter, oil cooler (engine and carbs are original to the car). $45,000 asking price. Source/Location: Alfa...
1933 Vale Special Roadster For Sale Details: Triumph-based 832cc 4-cylinder ; Red with Tan interior; Currently bid to $12,500 on...
1954 H.R.G. Twin Cam Sports Racer For Sale Details: 1497cc twin OHC four-cylinder built by Singer; Dark Green with Red...
Model: 1967 Porsche 911S/ST Replica     Drivetrain: 2.7 liter flat 6 and 901 5-speed Colors: Red with Black interior Price: Seller Specialty Cars is asking $79,900 Market: The 2008 Sports Car Market Price Guide suggests a $30,000 – $40,000 price range for a 911S, while the January – May Cars That...
Gracing the cover of Griot's Garage Handbook #271 are two amazing Italian machines: A 1934 Alfa Romeo Typo P3, and...
1971 Lola T-222 For Sale     Details: 509 ci 897 hp Kinsler injected Chevrolet V8 and Hewland 5-speed; Red and White...
Enzo Ferrari is best known for the cars that bear his name, but his fall-outs with employees and customers are also well documented. One of the most dramatic of these happened in the winter of 1961/1962 when a large number of key personnel left. Among them were engineers Carlo Chiti...
Danica Patrick Finally Wins – A few hours and 4,500 miles (flying "AirTranica") after becoming the first female to win...
Using the new 3.0 CSi model as a foundation, BMW created the Coupe Sport Leicht or Coupe Sport Lightweight to...
The first Chaparral, a conventional front engined vehicle, was built by Dick Troutman and Tom Barnes in 1961. In 1962 Jim Hall and Hap Sharp formed Chaparral Cars, Inc. and immediately began the design and construction of Chaparral 2, a mid-engined car with an aerospace inspired semi-monocoque fiberglass chassis. In...
Formula Junior was the class of choice for ambitious young drivers and between 1958 through until the end of 1959,...
The Ferrari F310, and its evolution, the F310B, was the Formula One racing car with which the Ferrari team competed...
The Jaguar XK120 was a rather extraordinary sports car for its time, not for any notable technology or coachwork advances, but because it achieved touring car standards of ride and comfort in a sports car which had performance exceeding that any other production car. The XK120 name referred to its...
Patrick Interested in F1 Test – IndyCar race winner Danica Patrick has set her sights on a Formula One test,...
2003 Mercedes Benz CLK DTM Factory Race Car For Sale Details: Seller Oakfields is asking £245,000 for the DTM racer....
Gracing the cover of Griot's Garage Handbook #272 is a very unusual car, a 1948 Daimler DE36 Drop Head Coupe. Not to be confused with the German automotive leviathan of the same name, the Daimler Company of the U.K. is Britain's oldest automotive marquee. Daimlers served as primary transportation for...