The T.33 SPIDER
The T.33 Spider from Gordon Murray Automotive combines the beautiful, timeless design of the T.33 with an even more immersive and engaging driving experience. With two removable roof panels, a deployable rear window and the naturally-aspirated Cosworth GMA.2 V12 behind the cabin, there is no other supercar like it. While similar to the original T.33 coupe, highlighted here on Sports Car Digest, the new Spider version is another compelling example of ingenuity.
Developed in parallel with the T.33 and sharing the same Ultralight carbon fiber monocoque construction, the T.33 Spider has been meticulously engineered to deliver the exceptional torsional stiffness needed for outstanding ride, handling and agility without adding unnecessary weight. In achieving all these targets, and by adhering to GMA's seven core principles, the T.33 Spider sets a new benchmark for open supercars.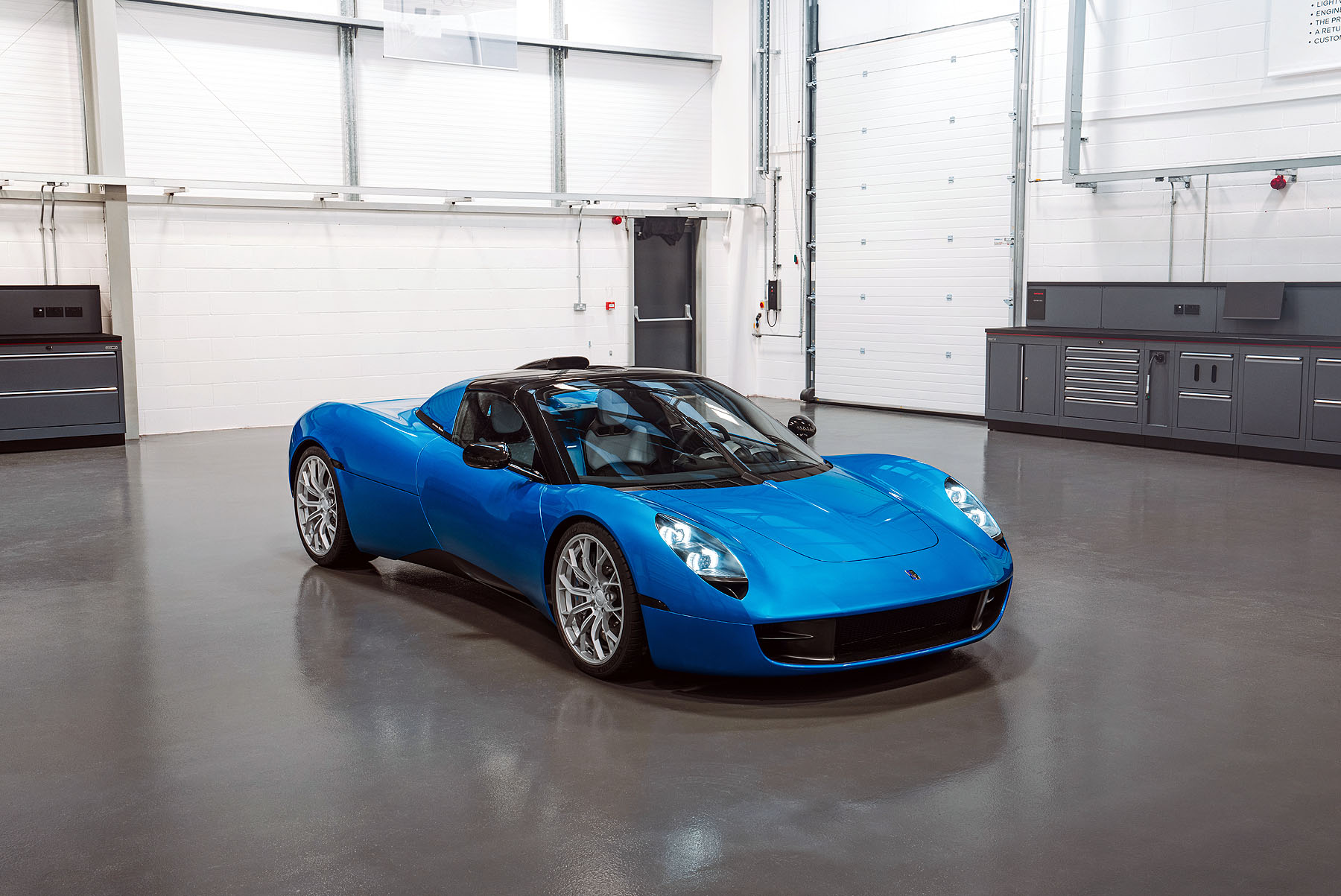 Technical Highlights
The T.33 Spider: Gordon Murray Automotive's first V12 Spider supercar
Beautiful, timeless design: Two removable roof panels and a rear drop glass deliver an authentic Spider driving experience with an unmistakable soundtrack
Design vision: In addition to all-new surfacing from the A-pillar rearwards, the Spider's fixed rear section of roof provides rollover protection, optimizes stiffness and is integral to the body design
Pure driving experience: Naturally-aspirated 617 PS Cosworth GMA.2 V12, manual transmission, rear-wheel drive and lightweight construction deliver unrivalled responsiveness and driver involvement
A truly usable supercar: The carbon composite roof panels can be stowed in the 115 litre front luggage compartment, with twin side lockers providing an additional 180 litres of storage space
Only 100 production cars will be made: Like all GMA road cars, production of T.33 Spider will be strictly limited to 100
Curated by design: T.33 Spider exterior and interior options have been curated by the Design team into four themes – including one with a palette inspired by Gordon Murray's love for a tropical shirt
Defined by the seven GMA core principles: Driving Perfection, Lightweight, Engineering Art, Premium Brand, a Return to Beauty, Exclusivity and a personalized Customer Journey
World-class craftsmanship: T.33 Spider is shaped around iStream® Ultralight carbon fibre monocoque technology and will be hand-built alongside T.33 at GMA's new bespoke facility at Windlesham in the UK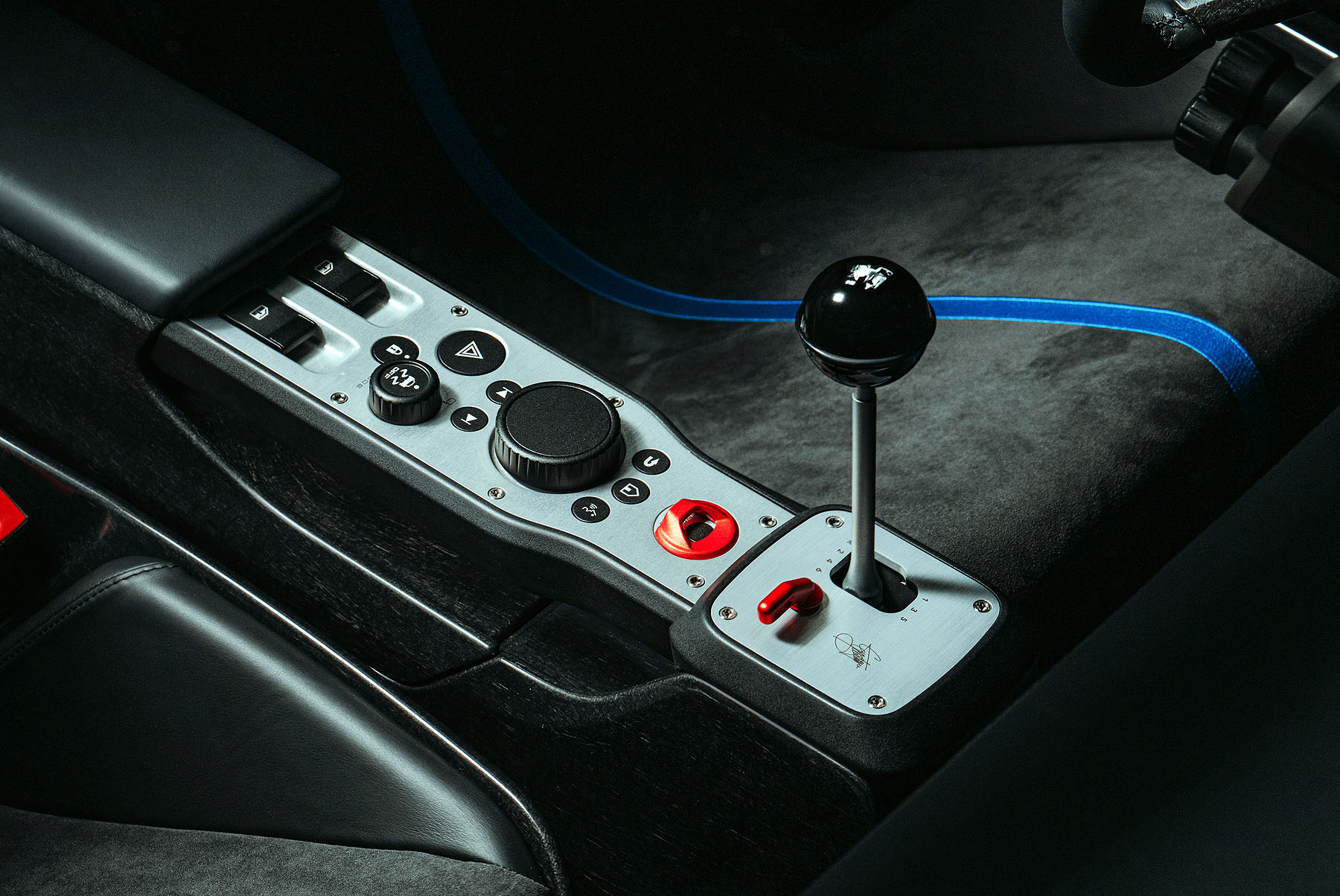 Exterior Design
Spider: an evocative name perfectly suited to the breath-taking, timeless T.33. Like its coupe stablemate, T.33 Spider is the very embodiment of GMA's Return to Beauty ethos, but with looks which promise an even more involving driving experience. Inspired by iconic designs from the 1960s but with the perfect proportions and flowing surfaces crafted from carbon fibre and executed with a purity and relentless attention to detail, this is a supercar like no other. To deliver the design vision defined by the very first sketches, every surface from the A-pillar backwards is unique to the T.33 Spider, yet it clearly shares its DNA with the T.33.
The fixed section of the roof features elegant buttresses which blend harmoniously into the rear deck, behind which are louvres which further aid engine cooling. The ram induction airbox, mounted directly to the engine itself and a hallmark feature of the T.33, becomes even more distinctive on the Spider, especially when the roof panels are removed.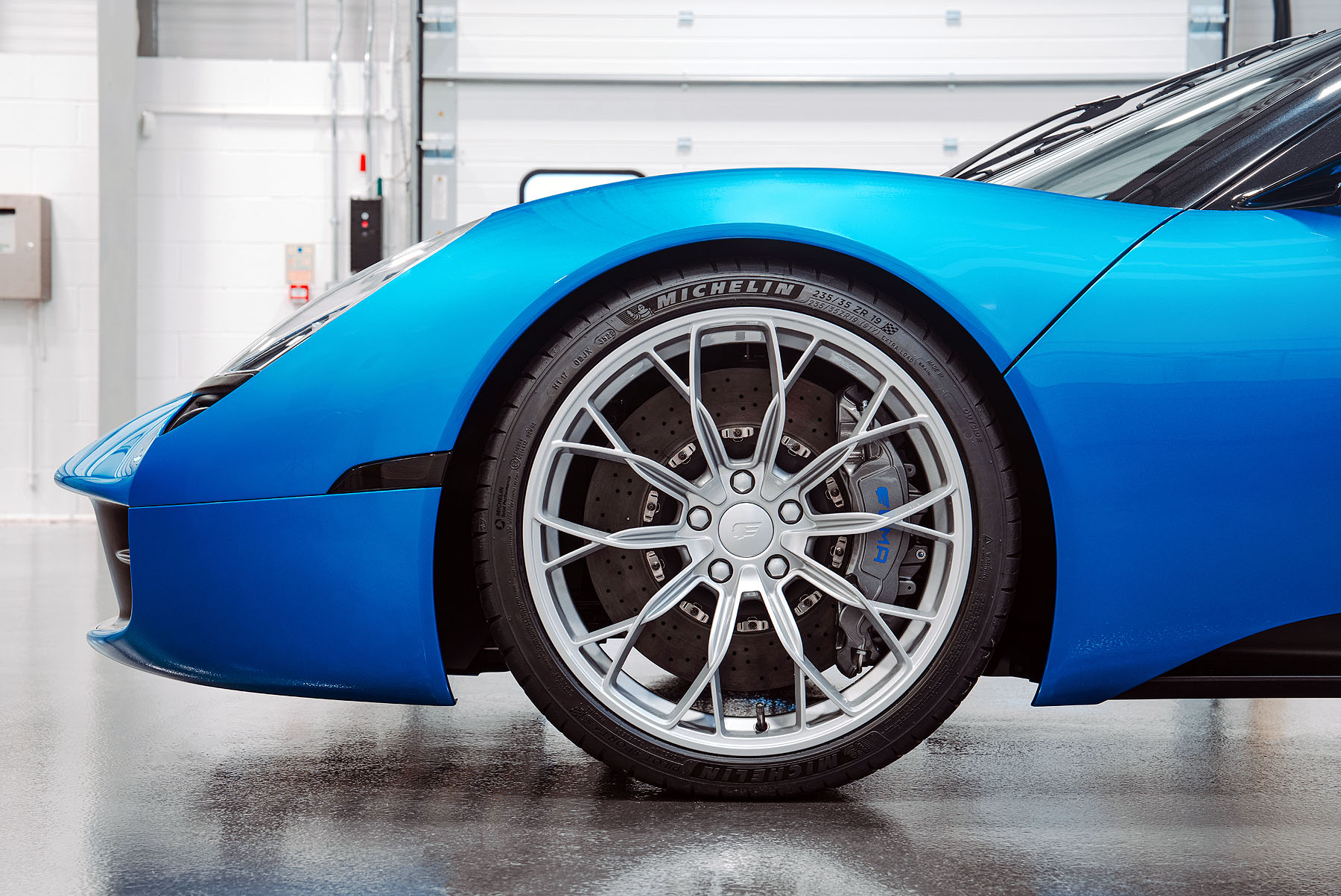 Made from lightweight carbon composite, the panels can be specified in a range of colors. To enhance usability, they can be stowed neatly in the front luggage compartment when not in use. The rear glass drops behind the rear bulkhead at the press of a switch – roof on or off – to complete the immersive Spider experience.
Seamlessly integrated into the rear haunches and opened with a button concealed under the dihedral doors, are two 90-litre stowage compartments. The mechanisms through which these doors and stowage compartments open are works of engineering art and design ingenuity – their seamless operation being vital to ensure that T.33 Spider is a truly usable supercar.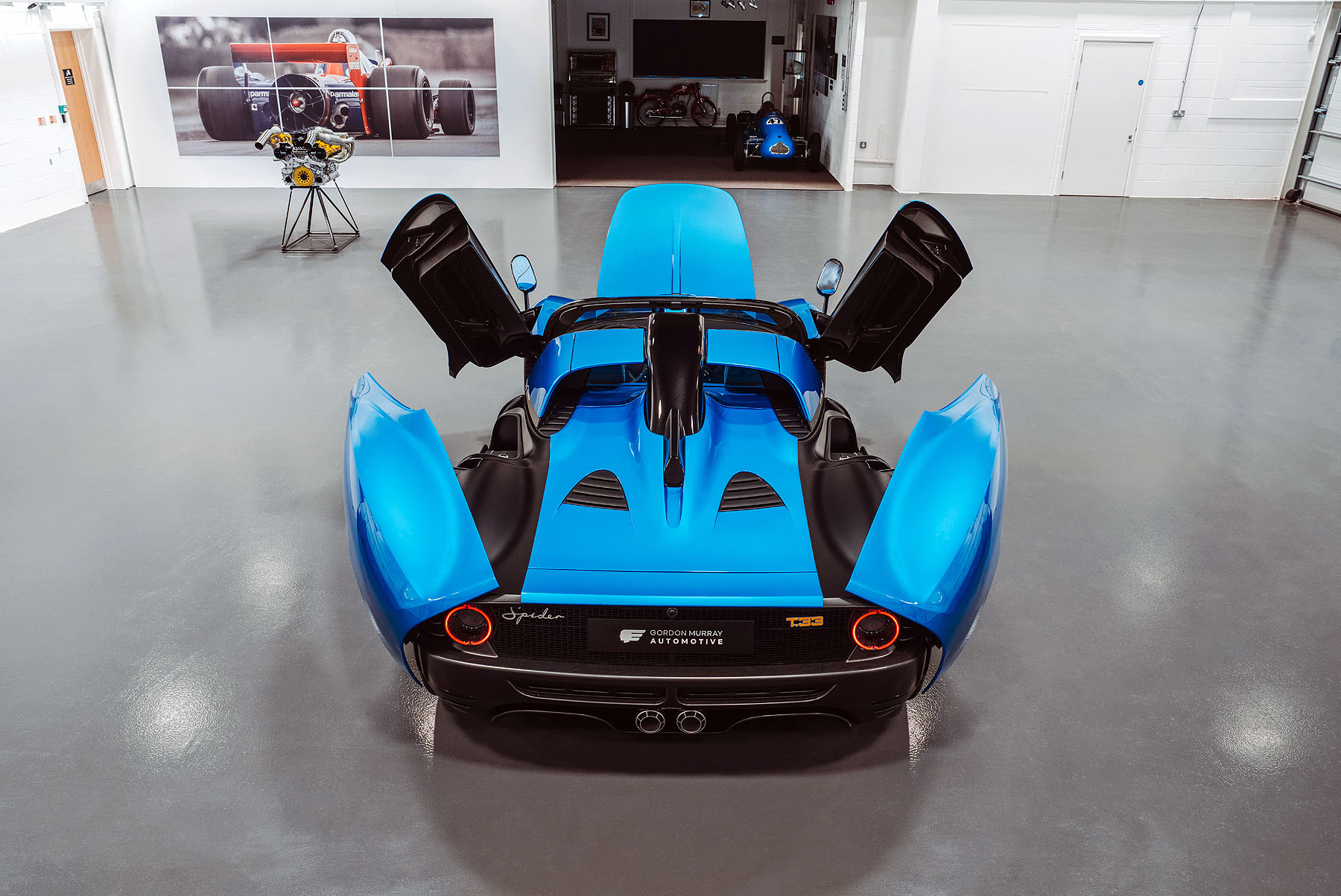 Interior Design
Simple, elegant, analogue: the T.33's interior embodies these defining qualities and delivers a truly driver-focused environment. Befitting a supercar, the focal point of the instrument cluster is the 120mm, floodlit and defiantly analogue centrally-mounted rev counter. Calibrated to 11,100 rpm it clearly signals the Cosworth GMA V12's performance potential. Either side are secondary displays for climate control and infotainment, the latter featuring wireless Apple CarPlay and Android Auto connectivity.
All of the main controls are beautifully tactile, with the carbon fibre steering wheel trimmed in leather and the perfectly-weighted pedals, gear shift lever and switchgear machined from aluminum alloy. The lightweight, race-inspired carbon fibre seats are trimmed in a combination of leather and Alcantara. As part of the customer experience, each car is perfectly tailored to its owner.
One of the unique interior features distinguishing the T.33 Spider from the coupe is that the rear bulkhead trim between the two seats is now body colored. With the roof panels removed and rear glass down, this subtly enhances the feeling of openness through the exterior color flowing into the cabin.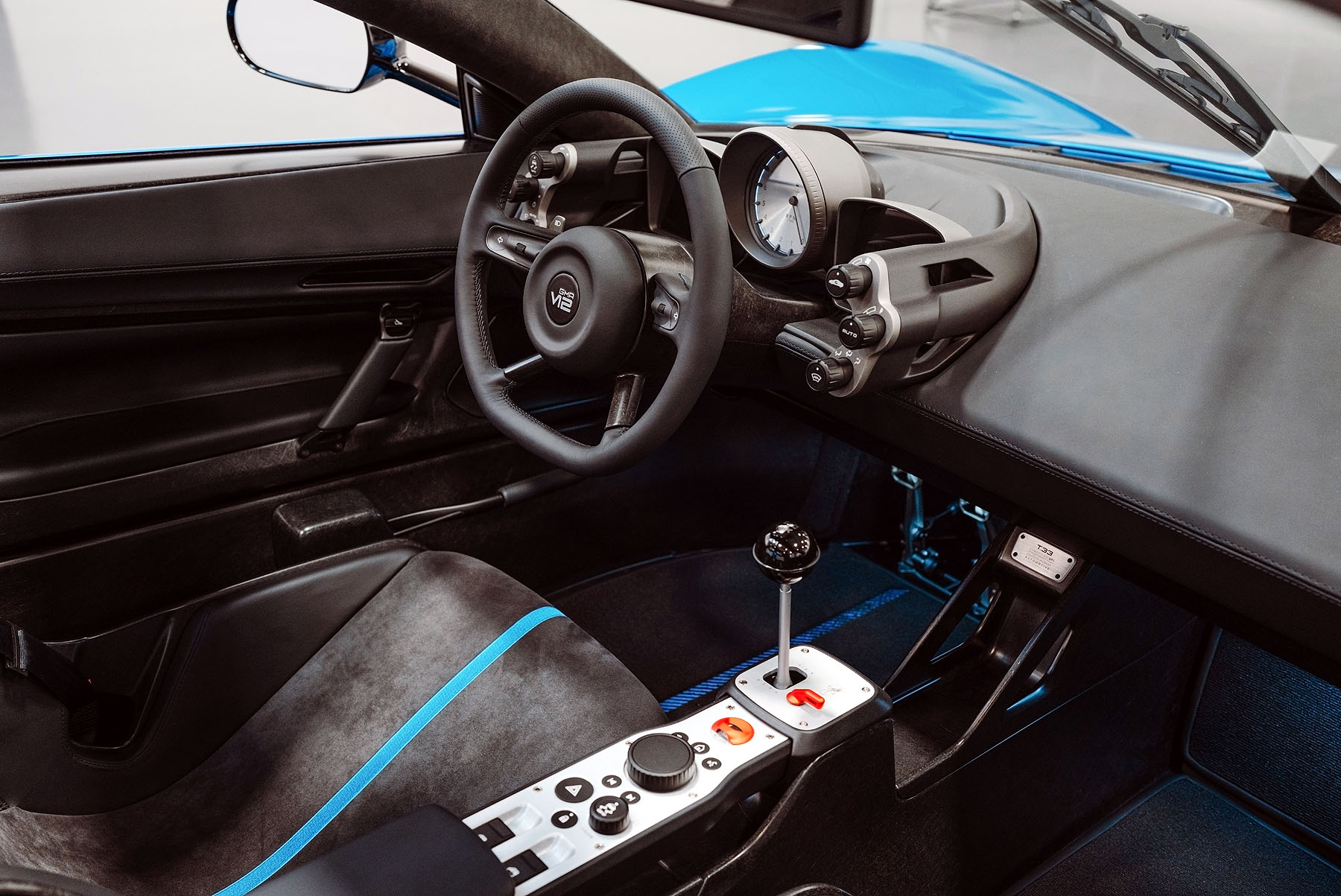 Aerodynamics
Leveraging all the experience accrued from a career designing ground-effect racing cars, Gordon Murray and his team developed the T.33 Spider's exceptional aerodynamics without resorting to the ostentatious ducts, skirts and splitters that are typically used in other supercars. Such devices would compromise the timeless design so instead, first principles were used to develop the T.33 Spider's Passive Boundary Layer Control (PBLC) system. Introduced on T.33, PBLC has been further refined for the Spider. A ground-effect inlet at the front of the car directs low pressure air underneath the floor, which is then fed into a rear diffuser with a boundary layer removal duct. In combination with the deployable active rear spoiler, PBLC delivers the ideal balance of low drag, high-downforce and superb high-speed stability, with or without the roof panels in place.
The fixed rear section of the roof, which provides rollover protection, is an integral part of the body design to optimize stiffness while delivering the design vision. Its form is carefully optimized to minimize drag and buffeting when the panels are not fitted, this faired-in design being more streamlined than the twin 'humps' behind the seats that are typical of a speedster body style.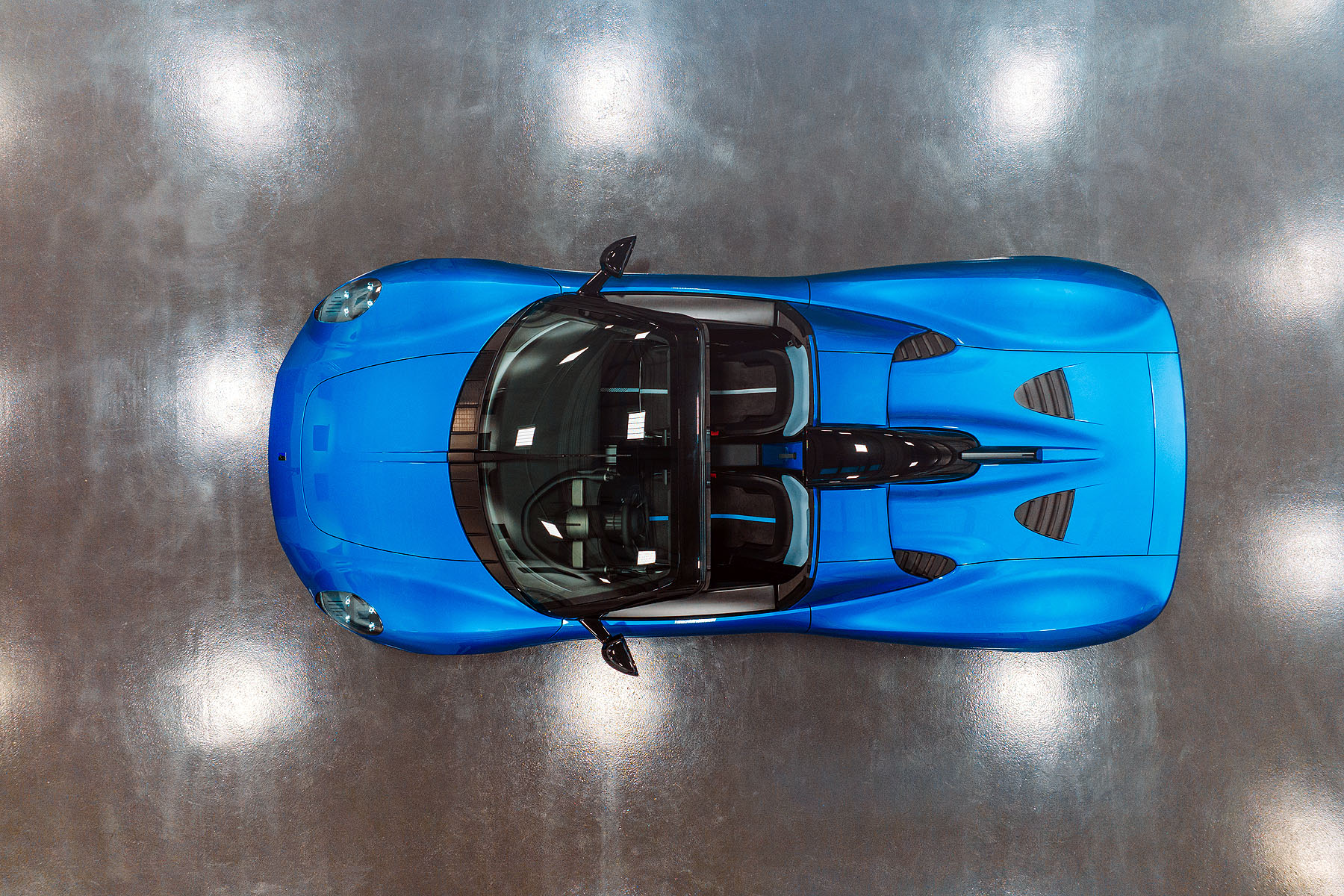 Body structure
The T.33 Spider is shaped around Gordon Murray Technologies' iStream® Ultralight carbon monocoque technology. Comprising carbon fibre composite panels bonded to extruded aluminum tubing triangulated at precision die-cast aluminum nodes, this delivers a body structure which provides the optimal balance of high stiffness, light weight, and exceptional levels of safety and occupant protection.
Developed in parallel with the coupe, the T.33 program was Spider-led, which meant that all torsional rigidity targets were set for the Spider body structure. This ensured no compromises to structural integrity and avoided the weight increases which typically arise from the traditional approach of adding reinforcements and bracing.
As a result, and a consequence of GMA's obsessive focus on weight reduction – down to single grams from every component – the T.33 Spider has a target dry weight of 1,108 kg, just 18 kg more than the coupe, and will deliver the same superlative driving experience.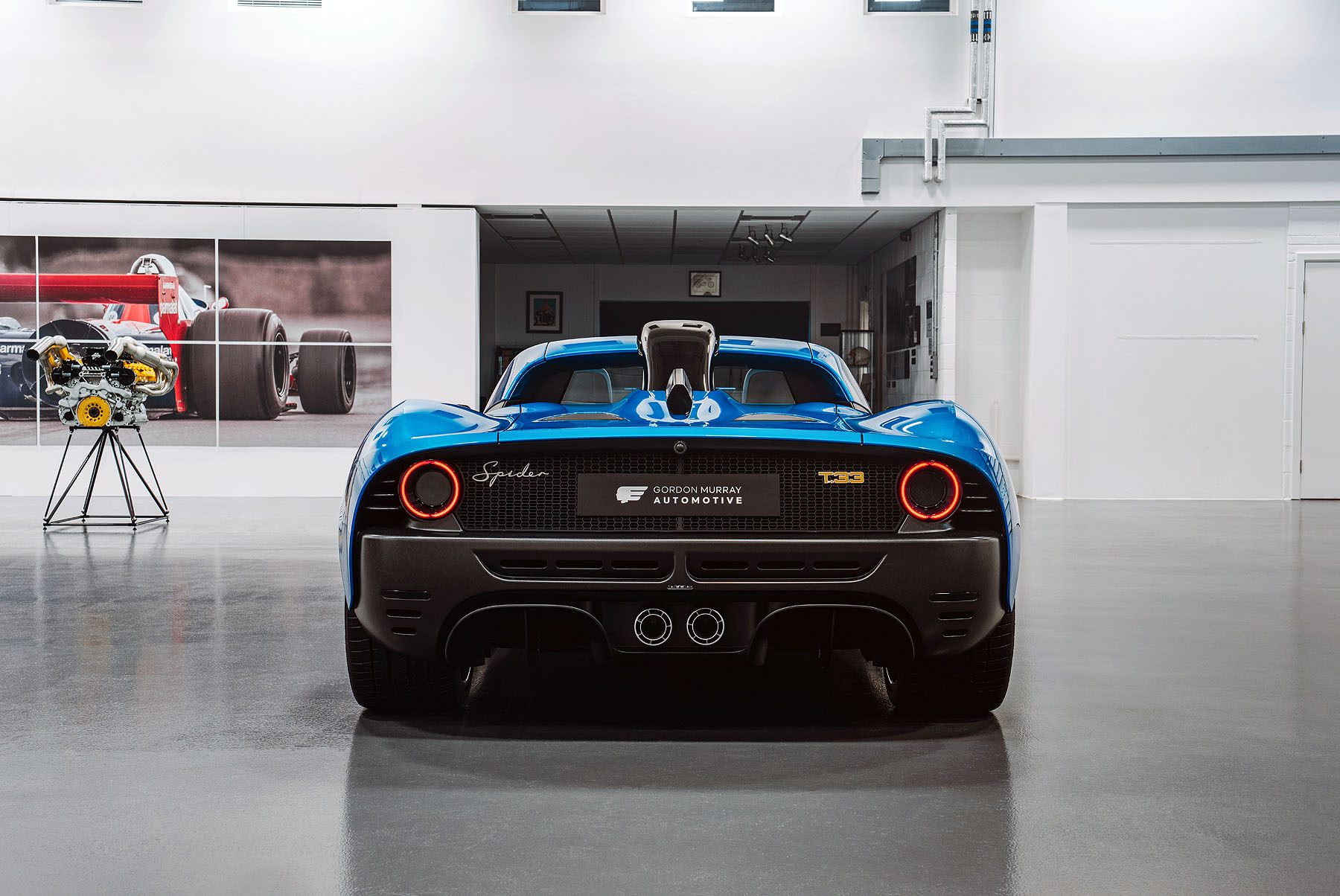 Chassis and Suspension
As befits two cars designed and developed in parallel, the T.33 Spider is engineered to meet the same demanding targets for ride, handling and steering as the T.33. The inherently light, stiff, composite body structure delivers the ideal starting point for world-class vehicle dynamics, thanks to its outstanding torsional rigidity and local stiffness around the chassis mounting points. Like the coupe, T.33 Spider features all-round double wishbone suspension, made from lightweight aluminum. The high pressure monotube dampers are of coil-over design and are also made from aluminum. GMA's vehicle dynamics team have purposefully chosen not to offer adaptive damping: in keeping with the principle of driving perfection, the bump and rebound rates have been meticulously calibrated to deliver the ideal ride and handling balance for the car.
Following motorsport practice, the powertrain of the T.33 Spider is semi-structural, with the rear suspension mounted directly to the transmission casing. To maximize the weight reduction and vehicle dynamics benefits this brings without undue noise, vibration and harshness being transmitted into the cabin, the system features GMA's Inclined Axis Shear Mounting (IASM). The IASM system uses flexible mountings to deliver exactly the right amount of isolation required for refinement while at the same time enabling precise handling.
To ensure that the T.33 Spider responds directly to every input the driver makes at the wheel, no matter how small, GMA has developed an electrohydraulic steering system. Honed over countless iterations to deliver unrivalled levels of feel, weight and feedback, it uses an on-demand electric pump to provide the power assistance. This system delivers the purity of traditional hydraulic steering but with greater energy efficiency due to the removal of the parasitic losses from an engine-driven pump.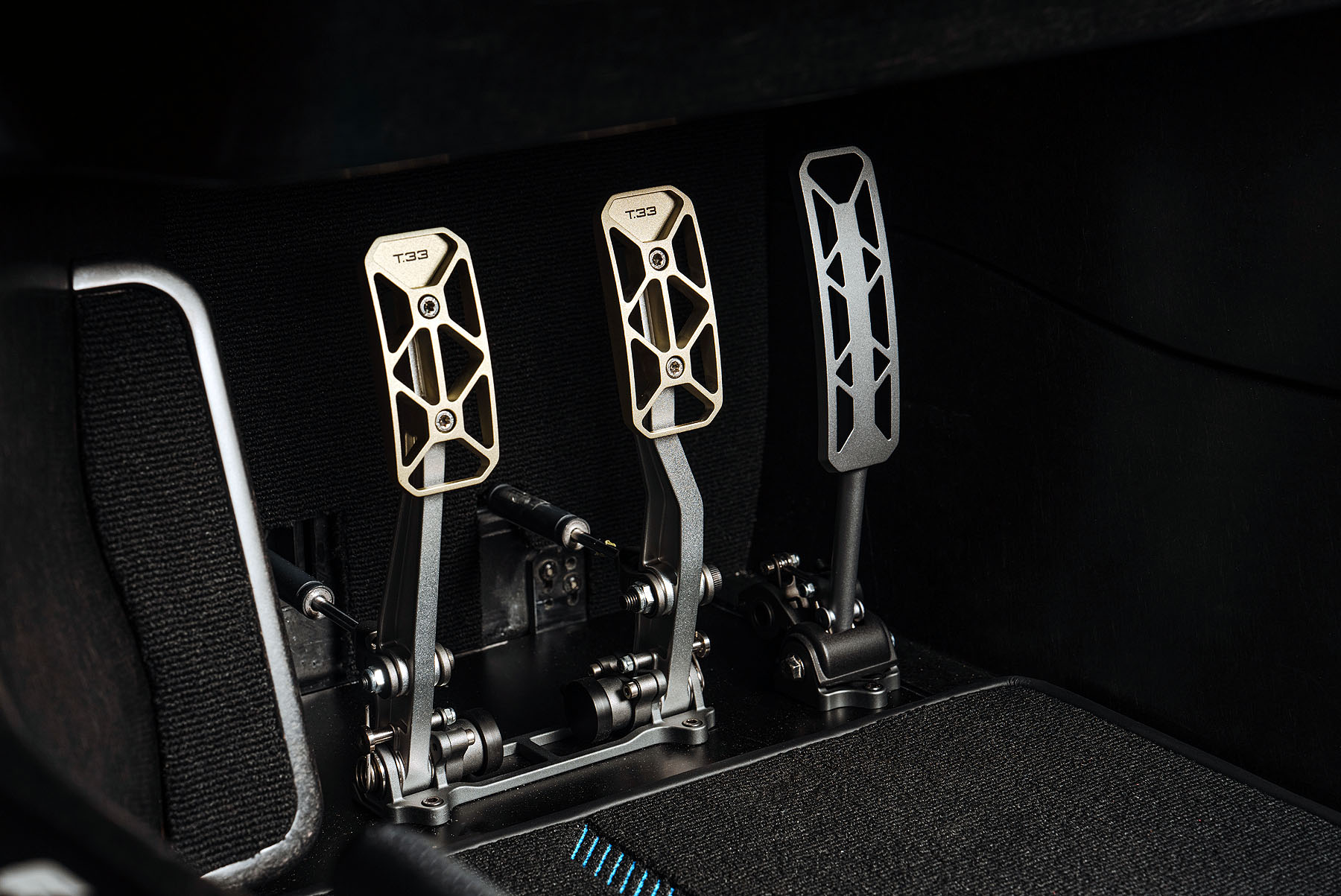 Ensuring the delivery of fade-resistant deceleration under all driving conditions, a Carbon Ceramic Matrix (CCM) braking system has been developed specifically for T.33 and T.33 Spider. Delivering an ideal combination of high thermal resistance, low unsprung mass and reduced wear, it features 370 mm x 34 mm discs and six-piston monobloc calipers on the front axle and 340 mm x 34 mm discs with four-piston monobloc calipers at the rear. In combination with the downforce provided by the car's cutting-edge aerodynamics, the CCM brakes deliver stopping power commensurate with the Cosworth GMA.2 V12's exceptional performance.
To deliver the traction and steering response demanded from the rear-wheel drive configuration, together with the minimum possible mass, the T.33 Spider, like the coupe, uses an asymmetric wheel and tyre specification. The front and rear axles feature lightweight, forged aluminum 19-inch and 20-inch wheels respectively, together with 235/35 ZR19 and 295/30 ZR20 Michelin Pilot Sport 4 S tires.
All the T.33 Spider's vehicle dynamics attributes are engineered around these tires, which are designed to deliver a combination of excellent wet and dry performance on the road as well as occasional track use. And, compared to fully bespoke tires, they offer the additional advantage of being readily available – when required, customers will not have to endure long lead-times for them to be delivered to their chosen service center.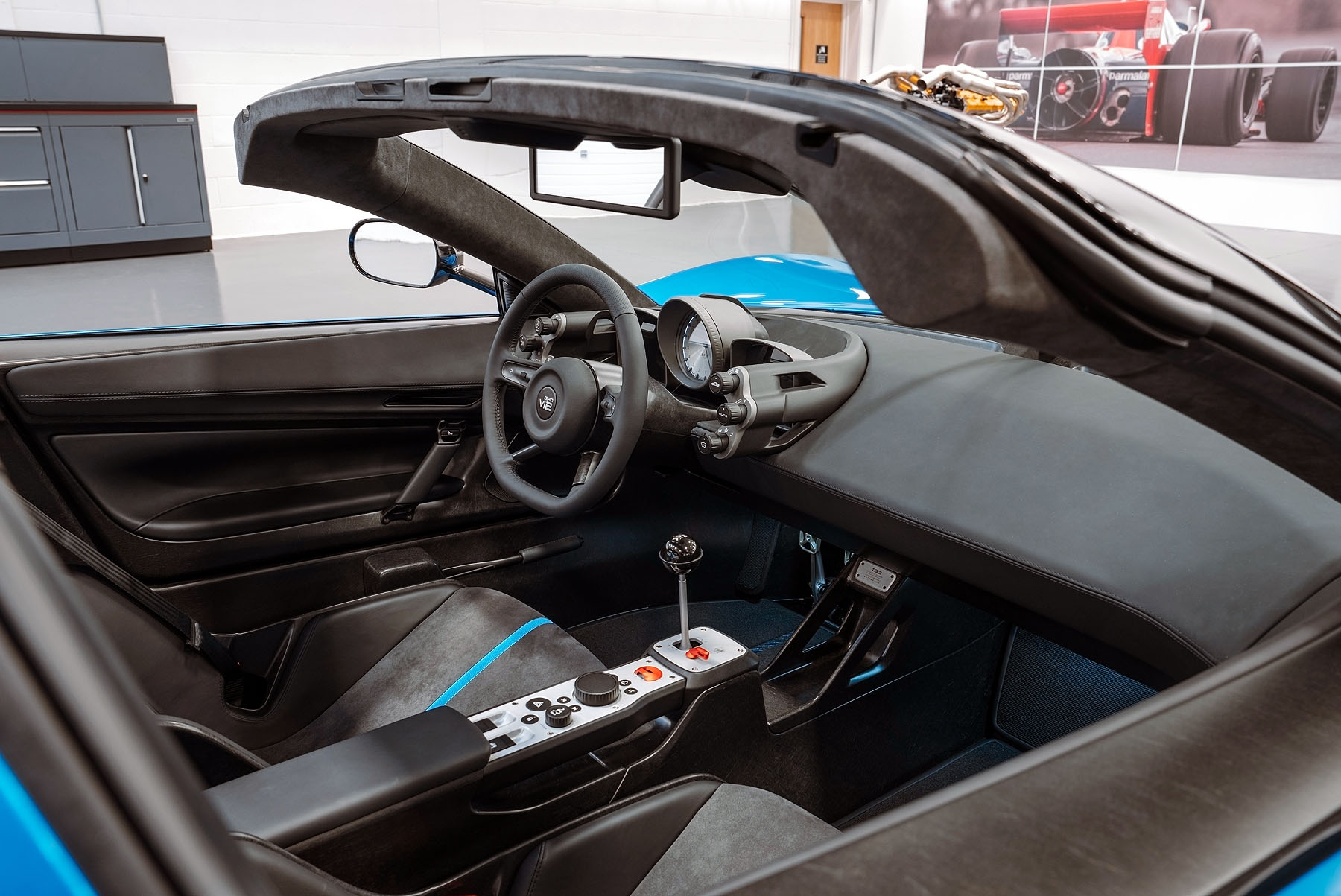 Engine and Transmission
Just like its coupe stablemate, the heart of the T.33 Spider is the exemplary Cosworth GMA.2 V12. This extraordinary all-aluminum powerplant is designed according to motorsport principles in partnership with Cosworth to deliver GMA's exacting brief: lightest, highest specific output, highest revving, fastest response.
Addressing the fundamentals of high-performance engine design, the dry-sump, 3.9-litre unit features a 65-degree cylinder bank angle for optimum packaging within the monocoque, and contributing to the car's low center of gravity. Obsessively weight-optimized, the exquisite exhaust manifolds are crafted from Inconel – lightweight and capable of withstanding extremes of temperature.
Foregoing turbocharging for the compromises this imposes in throttle response and to aural quality, the GMA.2 is naturally-aspirated, fed via the ram air scoop and four throttle bodies, together with two fuel injectors per cylinder. Together with the inherently low inertia afforded by the use of titanium for critical components such as the connecting rods, this combination delivers unrivalled responsiveness: 75 per cent of the 451 Nm maximum rated torque is available from only 2,500 rpm, while 90 per cent is maintained from 4,500-10,500  rpm. Maximum power of 617 PS is delivered at 10,250 rpm, with the engine electronically-limited to an astonishing 11,100 rpm, at which point the driver is rewarded with an unmistakable 12-cylinder crescendo before shifting to the next gear. The complete engine weighs just 178 kg: this is the world's lightest road car V12 engine.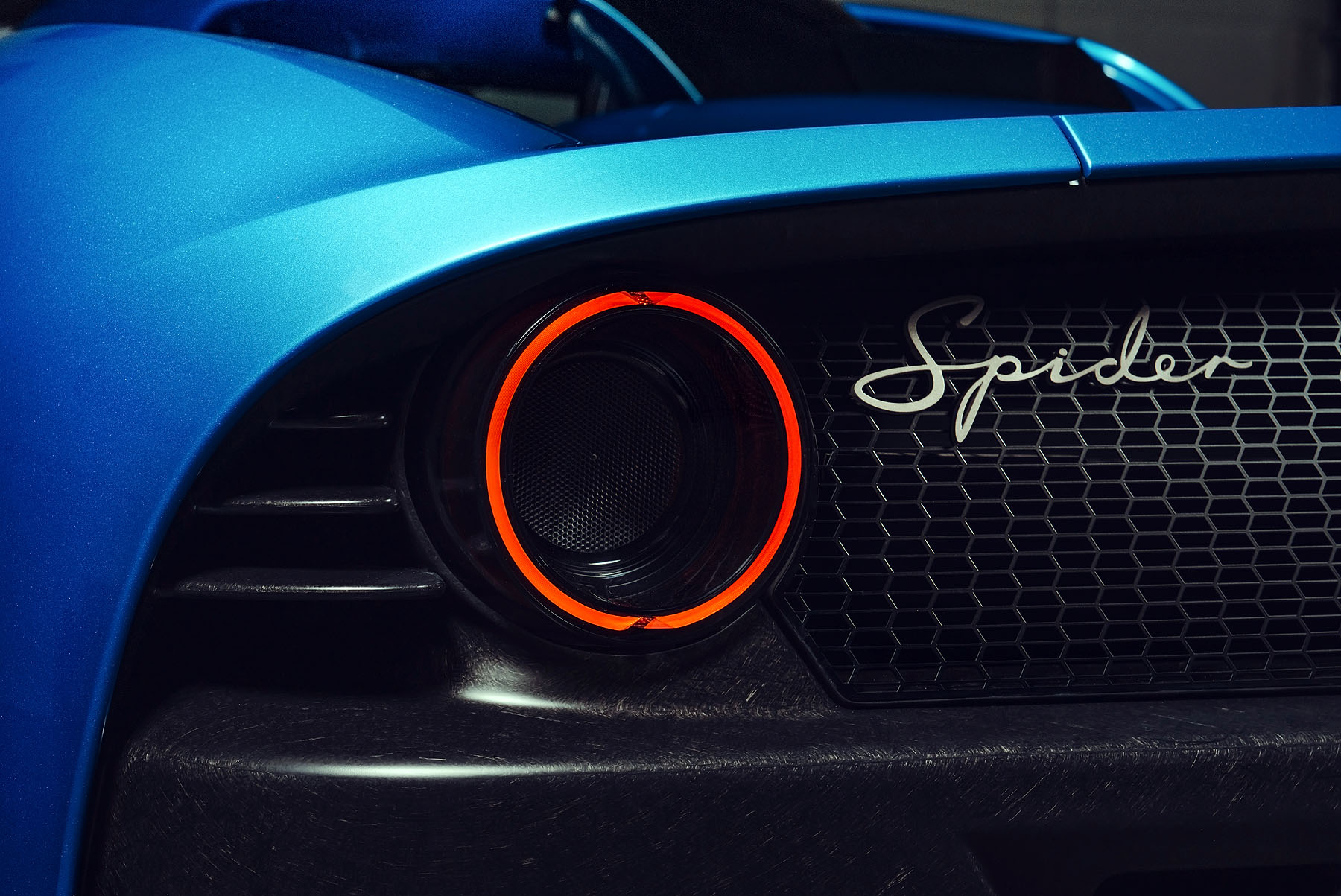 In place of the signature orange cam covers used on the GMA V12 in the T.50, those on T.33 Spider, like the T.33, are finished in yellow – a color inspired by the distinctive paintwork of the Gordon Murray-designed 1972 Duckhams Ford LM race car.
In response to overwhelming customer demand for the manual gearbox on the T.33 coupe, the Spider is offered exclusively with this transmission. Developed with world-renowned motorsport supplier Xtrac, this six-speed unit – like the V12 it is matched to – is designed to be as mass-efficient as possible. At only 82 kg, there is no lighter supercar transmission, and it delivers the quick, smooth, precision shifts that enthusiasts demand and expect.
The powertrain is completed by a multi-plate clutch which delivers the required torque capacity with minimal inertia, and a mechanical limited-slip differential. Compared with electronically-controlled units, this design ensures that the driver has ultimate control over the vehicle's responses and handling balance at all times.
Customer experience
The T.33 Spider, like the T.33, will have EU and Federal type approval. Every one of the 100 production examples will be lovingly hand-built at Highams Park, GMA's all-new bespoke headquarters at Windlesham in the UK, and each will be tailored to its customer's specific requirements.
Exterior colors have been curated into four themes by the Design team. These four themes have been inspired by, respectively, GMA's core values of Return to Beauty and Engineering Art, the Murray Atholl tartan – and then a final palette acknowledging Gordon's love for a tropical shirt. Each specific exterior color is matched to a Design team recommended interior specification – though customers are free to choose whatever they wish. Providing almost endless scope for personalization, customers may select different colors for the roof panels and rear deck. In addition to the 'Design' range of available exterior colors, customers can also option to specify a bespoke paint made to special order.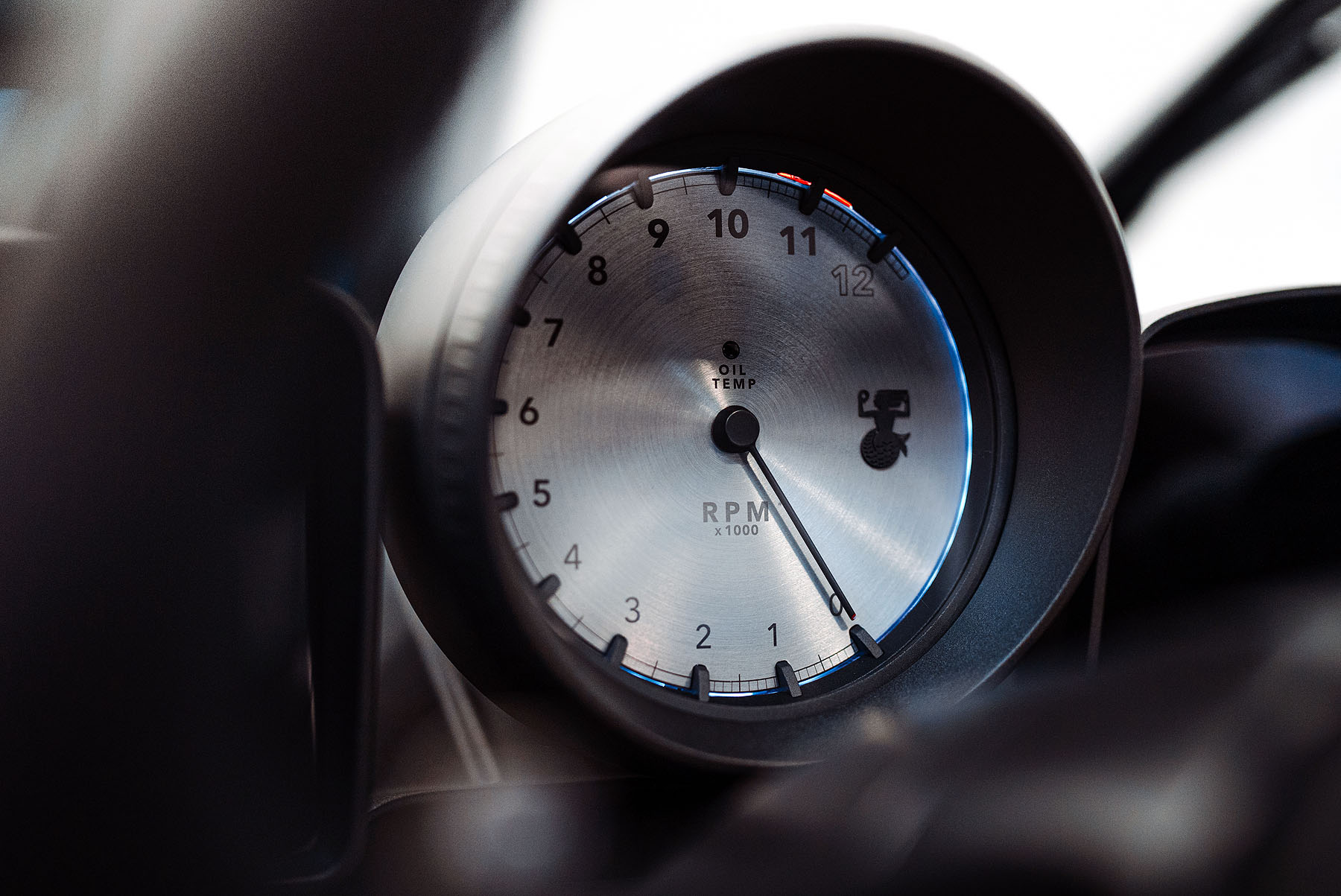 Continuing a customer experience second-to-none, GMA has ensured that owning a T.33 Spider will be as enjoyable as driving one. Headed by a Global Aftersales team, there are five Global Service Centers in select locations around the world: USA (East and West coasts), UK, Japan and Abu Dhabi. All are staffed by expert technicians trained by GMA to service, maintain and repair these unique cars. The five Global Service Centers are supplemented by a network of 14 Service Support Centers, which are also staffed by expert technicians trained by GMA. When a customer takes their car to a specified Service Support Centre, GMA will either support the Service Support Centre or send its technicians to that center to carry out whatever work is required on the car to the same exacting standards applied when it was hand-built at Windlesham.
These Service Support Centre locations are: Germany, Spain, Kingdom of Saudi Arabia, Kingdom of Bahrain, Hong Kong, Singapore, Taiwan, Australia with a further six in key states of America. GMA's network development will continue in line with its customer expectations.
Reveal Video
Top Gear Review